Confetti sprinkle cupcakes are made from scratch with vanilla cupcakes and cream cheese frosting.
Sprinkles are added to the vanilla cupcakes for a colorful effect. Topped with a delicious cream cheese frosting and more sprinkles! This is a delicious recipe to serve at kids' birthday parties, baby showers, and school bake sales.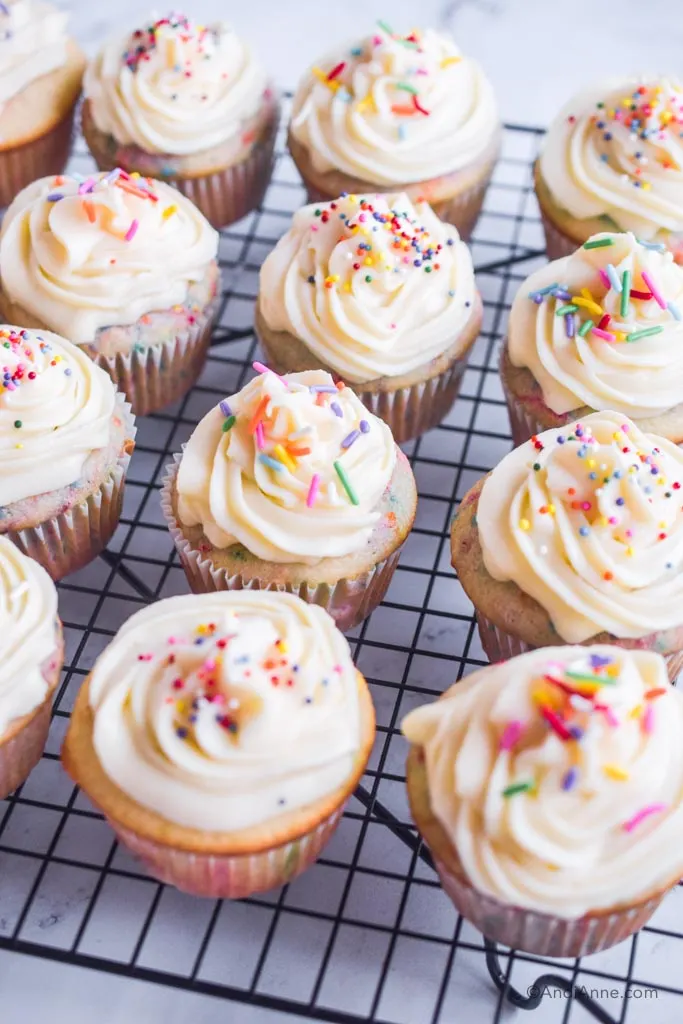 Confetti Sprinkle Cupcakes
I made these cupcakes for my daughter's class on her birthday. They were a total hit!
These cupcakes are simple and easy to make with common ingredients found at the grocery store.
Confetti sprinkles add a peek of rainbow colors to the cupcake base and cream cheese icing.
These cupcakes cost me only $6.00 to make! Cream cheese and sprinkles were the most expensive part of this recipe. But all in all, it was very cheap and affordable to make these – about $0.50 per cupcake!
Sprinkles are the perfect ingredient to add to celebration recipes including our marshmallow cake bars, these easy chocolate baked donuts and the oh-so-simple birthday pancakes.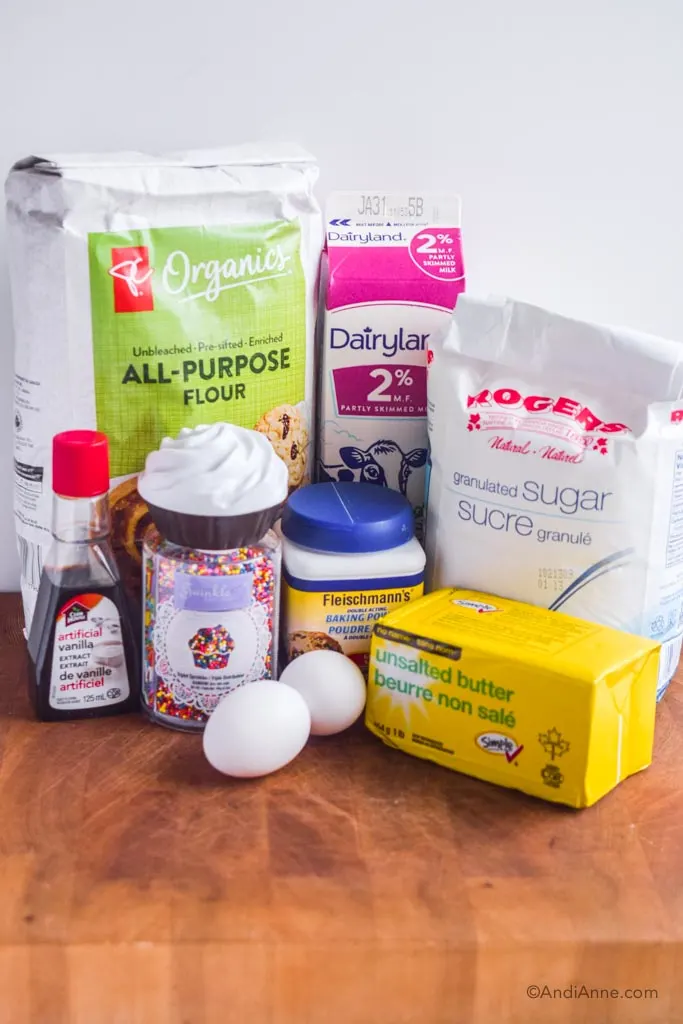 Recipe Ingredients
DRY INGREDIENTS: A combination of flour, baking powder, and salt are whisked together and mixed with the wet ingredients.
WET INGREDIENTS: Sugar and butter are creamed together and combined with eggs, vanilla and milk.
SPRINKLES: You can use jimmies sprinkles (these are longer) or nonpareils sprinkles (these are circular). I ended up using both styles in this recipe. I've shared images using both so you can see how each sprinkle style will change the batter color.
FROSTING: A simple cream cheese frosting made from cream cheese, unsalted butter, confectioners powdered sugar, and vanilla extract adds the perfect touch to these cupcakes!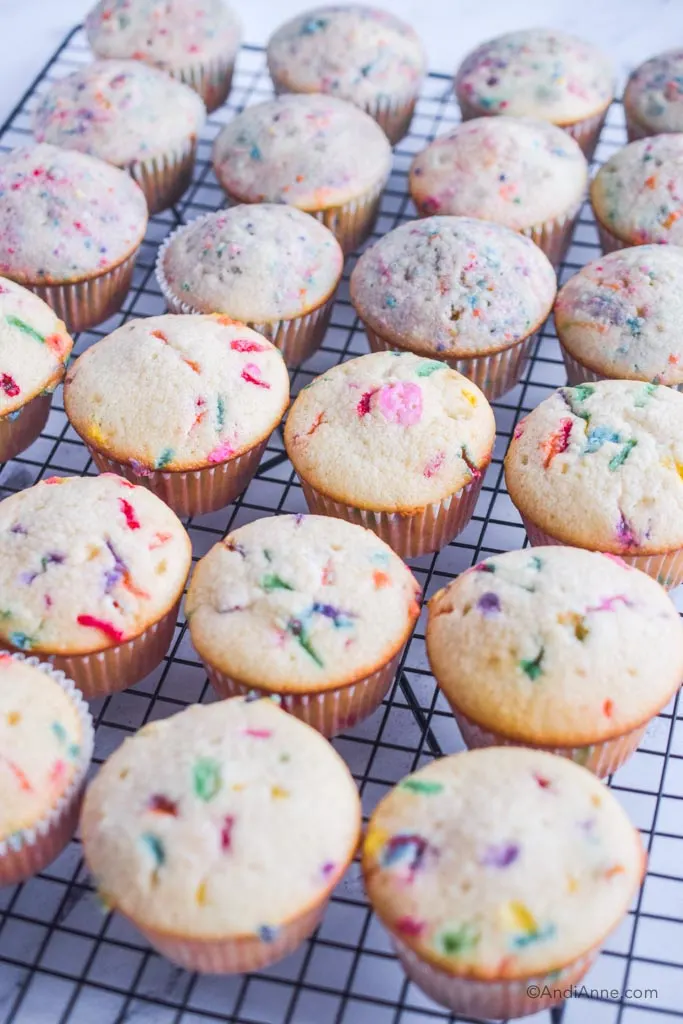 I made two separate batches of cupcakes for a school event. In one batch I used jimmies sprinkles and in the other, I used nonpareils sprinkles. I wanted to test and see how they would affect the cupcake's appearance. You can see both results in the picture above.
Kitchen Equipment Used
Here's the equipment I used to make this recipe.
HAND MIXER: A hand mixer is used to mix the batter and make cream cheese frosting.
MUFFIN PAN: To bake cupcakes in.
PAPER LINERS: I used white paper cupcake liners. Sprinkle cupcakes have the cutest flecks of color and white liners help to show it off because you can see through them.
PIPING BAG: A piping bag is the easiest way to decorate cupcakes.
COOKIE SCOOP: A cookie scoop is one of the easiest ways to add batter to the cupcake liners.
COOLING RACK: Perfect for cooling the cupcakes after baking (cupcakes should be completely cool before adding frosting).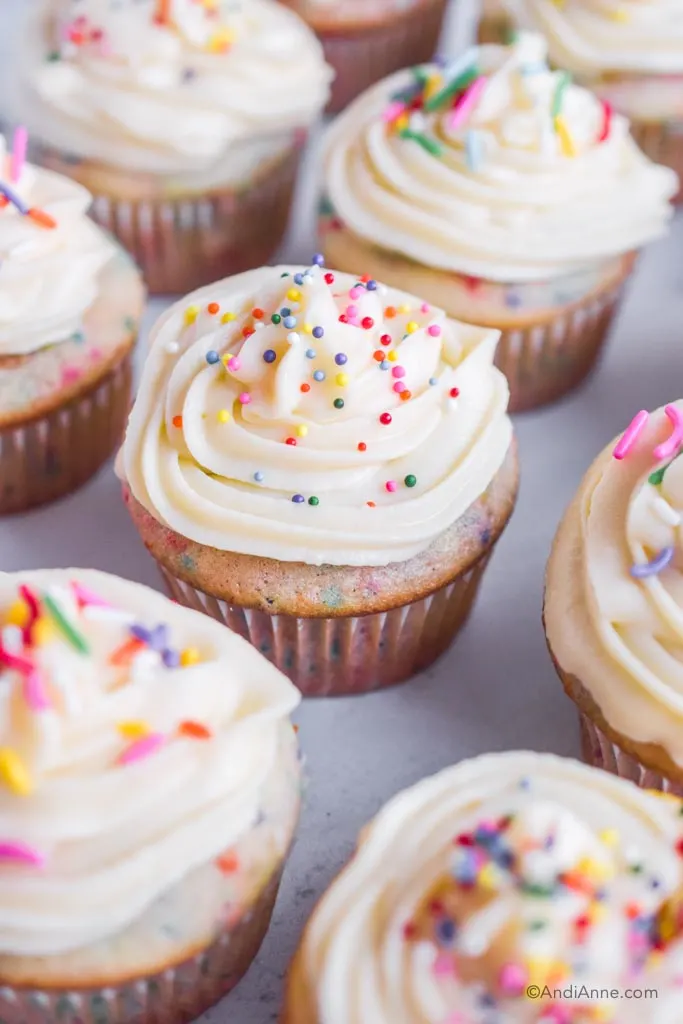 How To Make Confetti Sprinkle Cupcakes
Whisk together dry ingredients in a medium bowl according to the full recipe instructions below.
Beat the butter and sugar with an electric mixer. Add in eggs, then milk and vanilla extract.
Add half of the dry flour to wet ingredients and mix. Add the rest and mix again.
Gently fold in the sprinkles, but don't overmix.
Scoop into a muffin pan with paper cupcake liners. Bake until a toothpick comes out clean. Let cool completely then add frosting.
QUICK TIP: You can make these cupcakes 2-3 days in advance and store them in the fridge until you're ready to add frosting.
Cream Cheese Frosting
Add the butter, cream cheese and vanilla extract to a large bowl. Mix with an electric mixer until smooth and creamy. Butter and cream cheese should be softened to room temperature beforehand.
Add in the confectioners powdered sugar and vanilla and mix again. Scoop into a piping bag and add to cooled cupcakes.
Leftover cupcakes (with frosting) can be stored in an airtight container in the fridge for 3-4 days.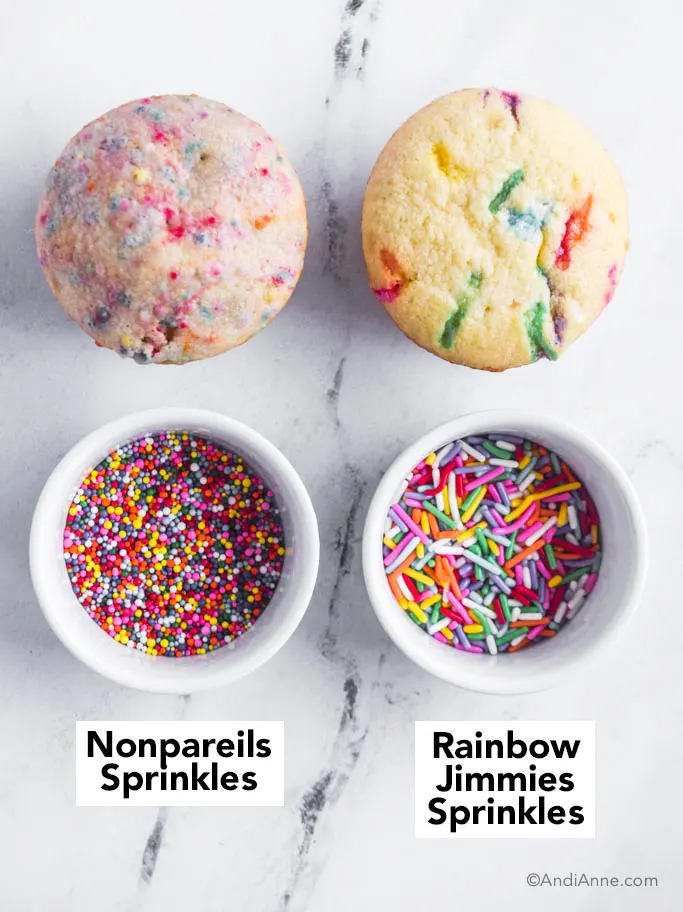 Sprinkles To Use
I made two batches of cupcakes and decided to try two different styles of rainbow sprinkles. As you can see, they produced totally different results:
Nonpareils Sprinkles: These are the small round confetti sprinkles. I find that these ones "bleed" a bit in the batter which can be a good or bad thing depending on how you look at it. Personally, I didn't mind it.
Rainbow Jimmies Sprinkles: These are the long sprinkles. These ones don't change the color of the batter, but I think you need to add more to create a good confetti effect in the cupcakes.
Personally, I liked both for different reasons. I think either style is a good choice for making these confetti cupcakes.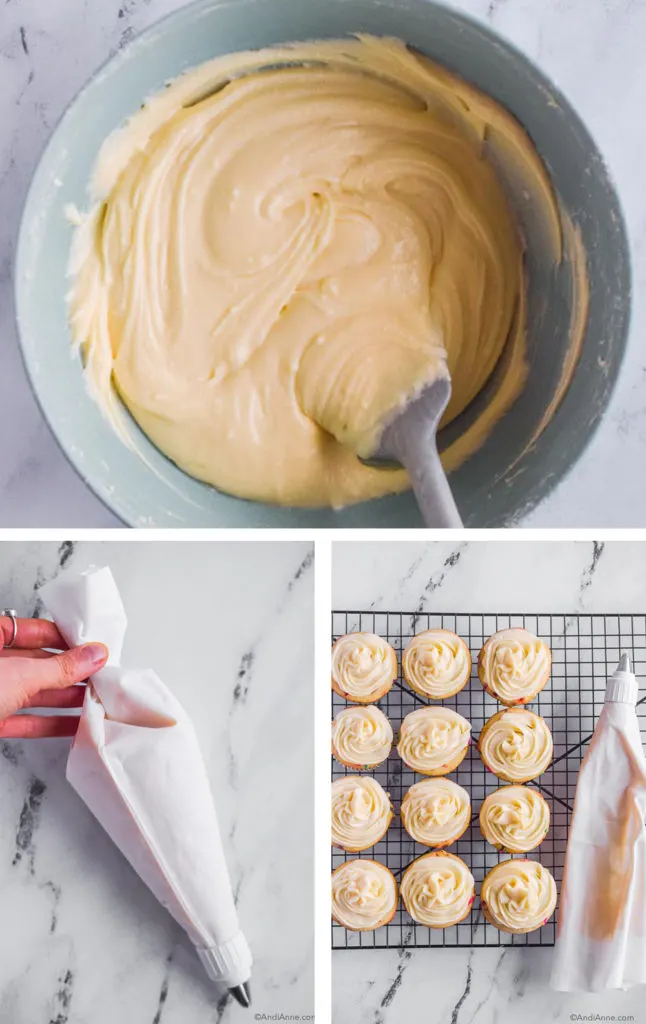 Cream Cheese Frosting Tips and Tricks
Don't Overmix: The electric mixer can warm up the frosting. This will make it runnier and harder to decorate cupcakes with. For that reason, you only want to mix until the ingredients are just combined.
Chill Frosting 30 Minutes: Once you make the frosting, add it to the fridge for 30 minutes to let it chill and firm up a bit. This will make it easier to decorate with.
Use a Sandwich Bag For Icing: If you don't have a piping bag, you can use a sandwich bag! Add the icing to the bag and seal it tightly. Then snip off the bottom corner of the bag. Squeeze the icing through to decorate cupcakes.
Store Cupcakes In Fridge: Keep the cupcakes in the fridge until you're ready to serve. This will keep the frosting nice and firm (because cream cheese frosting will soften when at room temp).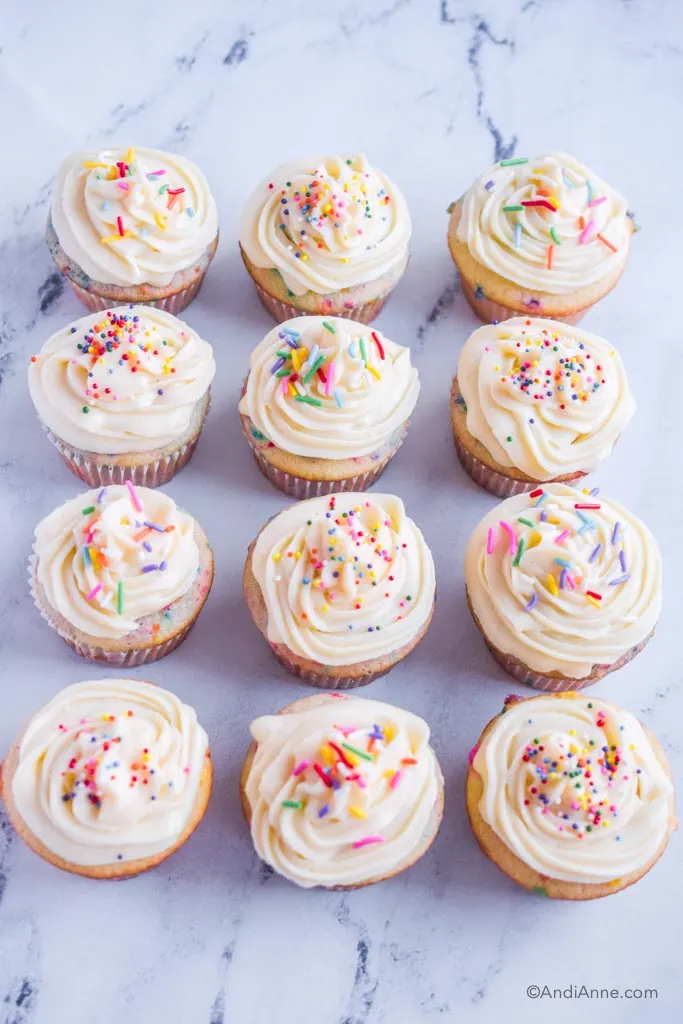 Dessert Recipes
Did you love these confetti sprinkle cupcakes? Be sure to leave a rating below!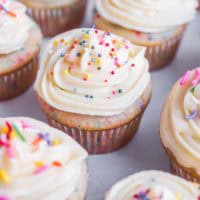 Instructions
Preheat the oven to 350°F. Line a muffin tin with paper cupcake liners.

In a medium bowl, whisk together the dry ingredients: flour, baking powder and salt. Set aside.

In a large bowl, beat together the softened butter and sugar for 2 minutes with electric mixer.

Add the other egg and mix again.

Mix in the vanilla extract and milk.

Add half of the dry ingredients to the bowl and mix. Repeat with the other half of dry ingredients. Batter will be light and creamy.

Add ⅓ cup of rainbow sprinkles to the batter.

Gently mix in with a spatula. Only stir 2-3 times – just enough for sprinkles to be evenly mixed.

Use cookie scoop or spoon to pour batter into each of the muffin cups.

Bake for 18-20 minutes, or until toothpick comes out clean when poked through the center. Remove from oven and let sit 5-10 minutes.

Transfer cupcakes to a rack to cool completely. Cupcakes should be completely cool before adding the frosting.
Cream Cheese Frosting:
Beat the butter and cream cheese until just combined. (Do not overmix as this can make the frosting too warm)

Add in the vanilla extract and mix until it's just combined.

Sift the powdered sugar through a fine mesh strainer into the bowl. Mix together with the other ingredients.

Place the cream cheese frosting in the fridge for 30 minutes to chill.

Scoop the frosting into a piping bag. (Tip: place piping bag in a tall glass to help it stand up while adding the frosting)

Frost each one of the cupcakes.

Add sprinkles to the tops of each cupcake. Store cupcakes in the fridge until you're ready to serve.
Nutrition
Calories:
299
kcal
|
Carbohydrates:
42
g
|
Protein:
3
g
|
Fat:
13
g
|
Sodium:
105
mg
|
Sugar:
30
g