This chocolate glazed donuts recipe is fresh and fluffy with the perfect chocolatey taste. Made with simple pantry ingredients including flour, cocoa powder, sugar, milk and sour cream.
After baking in a donut pan, these delicious donuts are dipped in foolproof glaze. Basically, these donuts are totally addicting and will be gobbled up the same day you make them!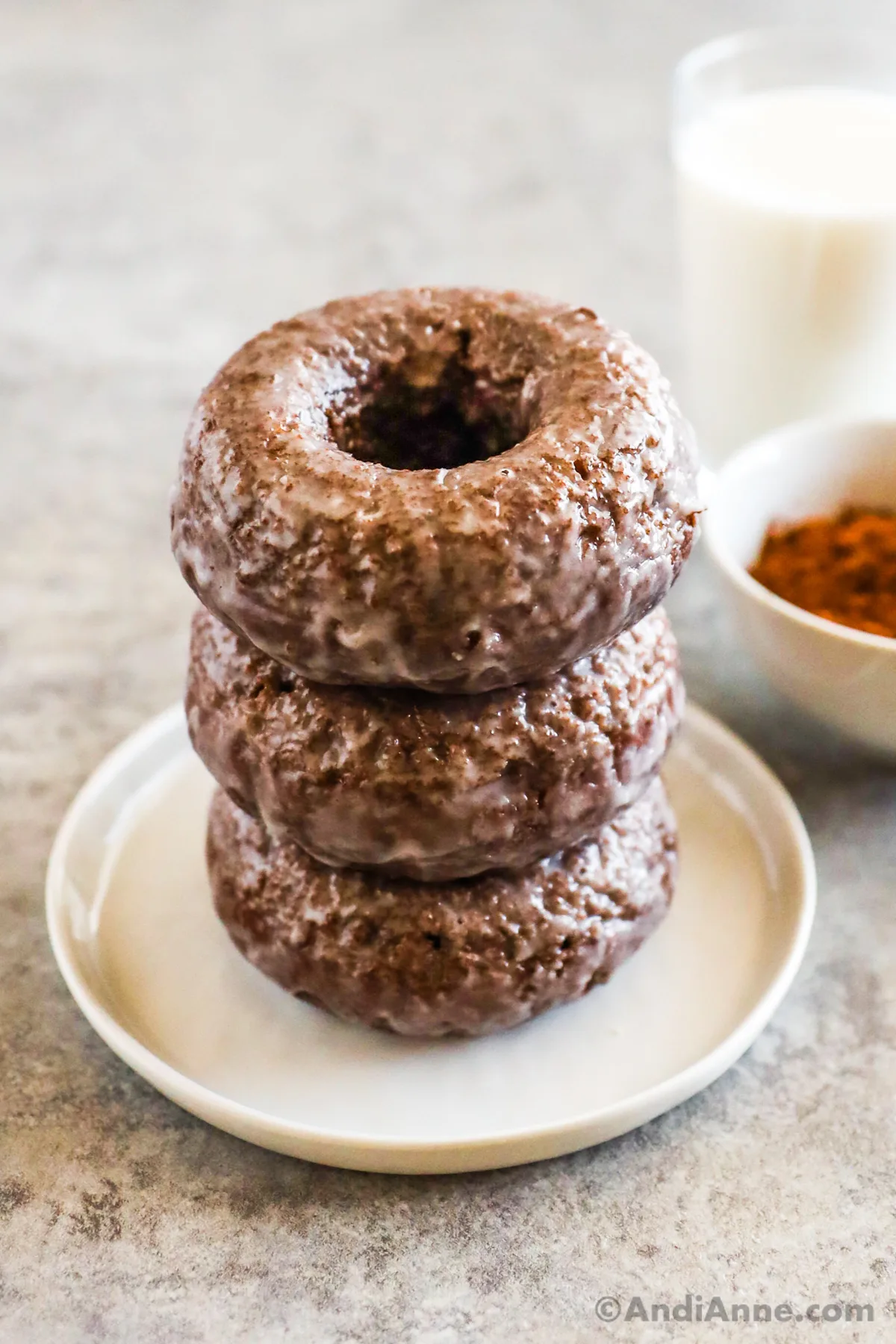 What sits perfectly next to a hot cup of coffee or a cold glass of milk? Moist, fluffy cake donuts that are still warm from the oven. If you're looking to please the chocoholic in your house or satisfy an afternoon craving, this oven-baked delicacy will be sure to please everyone.
Chocolatey Bliss
Yes, you can make homemade donuts! It's true! Shout it from the rooftops because it's actually quite easy.
I just love this easy recipe. It's totally doable – so don't let the word "donut" fool you into thinking this is a complicated recipe. Just like our cinnamon sugar donuts, these are baked not fried. That's what makes them so much easier (and healthier).
LESS MESS – Yep they're baked, not a fried donut meaning less mess… you're welcome.
SIMPLE – If you can bake muffins, you can make this recipe.
FAMILY FRIENDLY – Kids (and spouses) are going to ask for another!
Equipment Needed
These are made using a donut pan (can also be called a doughnut pan), which is similar to a muffin pan but in the shape of donuts. Baked donuts are very similar to baking in a muffin tin but in a different shape. But that's what makes them so fun!
Don't have a donut pan yet? They're easy to find these days. I have a Wilton donut pan that makes six donuts per pan. I recommend you get two pans because this recipe makes 10-12 donuts (because six donuts are never enough!).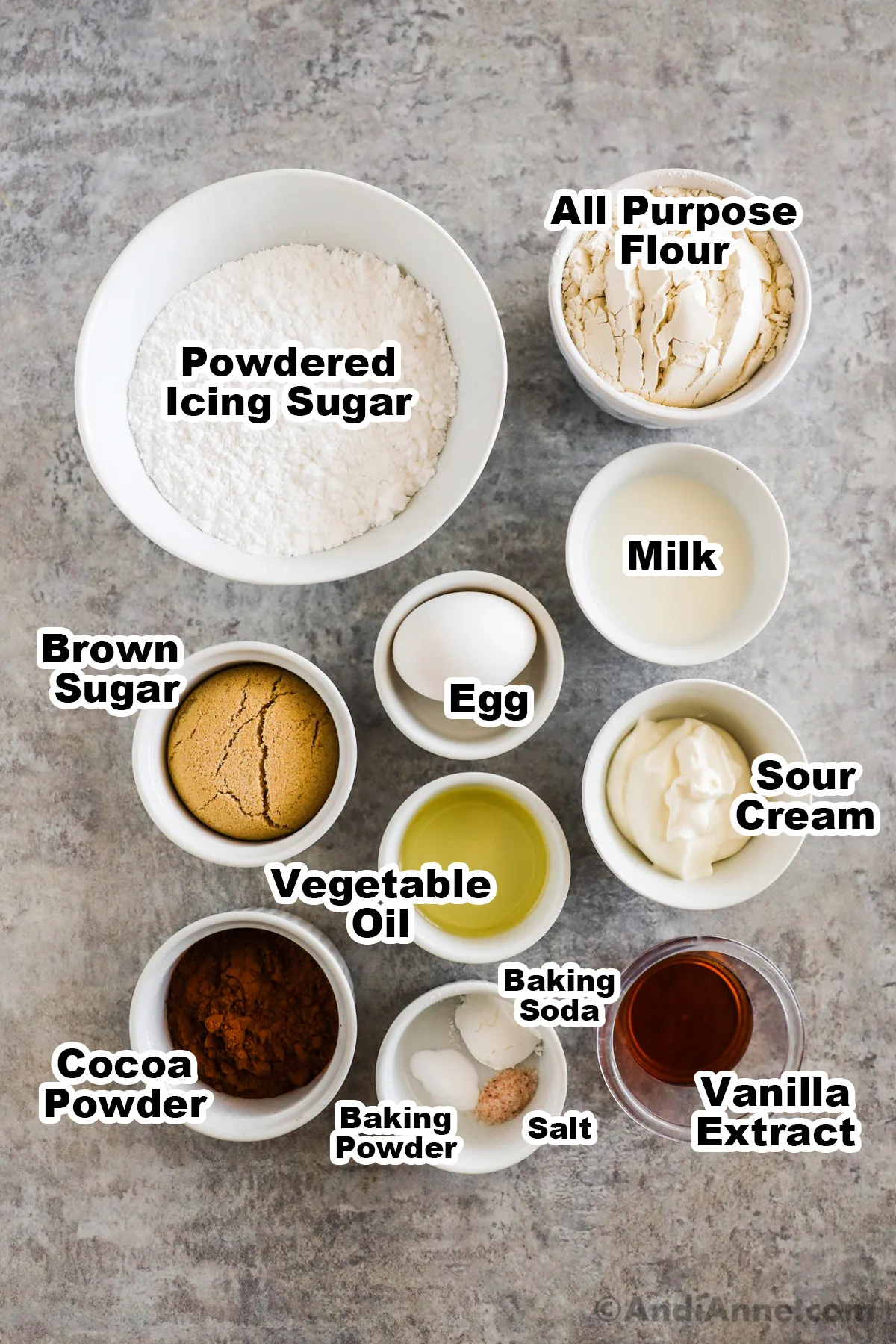 Recipe Ingredients
These addicting donuts come together with a few simple ingredients. Here's the list. (You can find full details in the recipe card at the bottom of this post):
COCOA POWDER – The higher the quality, the better the taste.
ALL PURPOSE FLOUR – Sifting and leveling will provide a more accurate measurement.
BAKING POWDER/BAKING SODA – Together, these ingredients will help the batter to rise in the oven, improving texture.
SALT – This will help bring all the ingredients together.
VEGETABLE OIL – Oil will add to the richness.
EGG – For best results, bring your eggs to room temperature first.
SUGAR – You can use brown sugar, white sugar, or coconut sugar. For a sugar-free option, try monk fruit sweetener.
SOUR CREAM – Or swap with plain greek yogurt, which will work just as well.
MILK – You can add the milk at cold fridge temperature without compromising the result. Heavy cream or plant based milk will also work.
POWDERED ICING SUGAR – Powdered sugar is needed for the glaze. You can make a sugar-free powdered version using my easy trick.
VANILLA EXTRACT – This will bring a warming, sweet flavor to the recipe.
Pro Tip: Remember to sift and level both your cocoa powder and flour for accurate measurements.
Additions
For a delicious treat, sprinkle these ideas on top of each donut right after dipping the glaze:
CHOPPED NUTS – Blitz a handful of peanuts, walnuts or pecans in your food processor and sprinkle on top of wet glaze for a little added crunch.
SHREDDED COCONUT – Toasted, shredded coconut on a warm donut is what life is all about.
SPRINKLES – A perfect way to bring the young ones into the baking experience.
DARK CHOCOLATE SHAVINGS –
Pro Tip: Add any toppings right after you apply the glaze so that they will set in place and not fall off.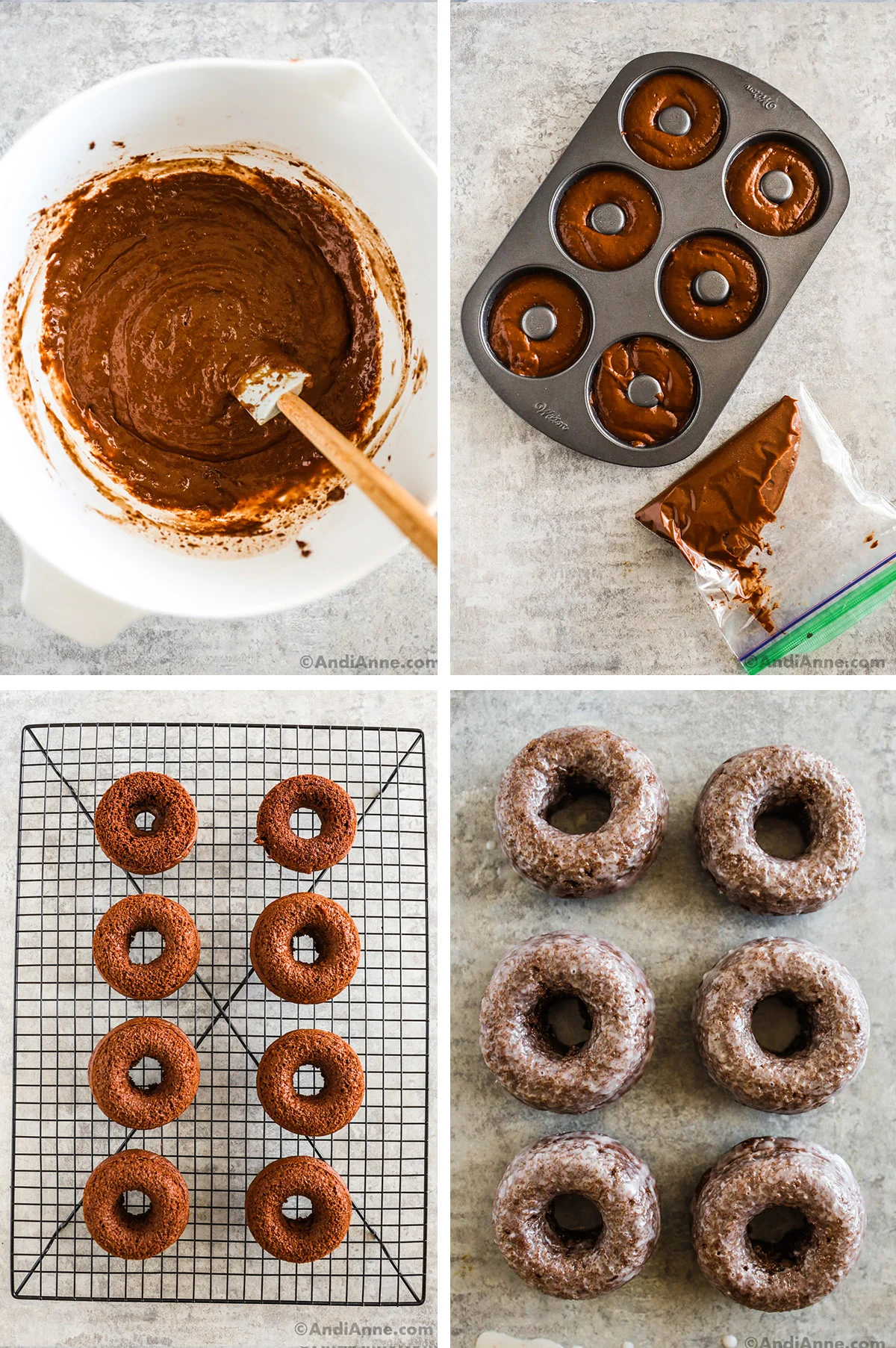 If you're attending a small gathering or entertaining guests and want to impress them all with your culinary baking skills, this recipe will have them begging you for your secret.
How To Make The Best Baked Chocolate Donuts
Pre-measure your ingredients into small bowls or have them all within arm's reach and follow the steps below:
Preheat your oven to 350ºF and use non-stick cooking spray to coat the donut pan.
DRY INGREDIENTS – Combine cocoa powder, all-purpose flour, baking powder, baking soda, and salt in a mixing bowl using a whisk or an electric mixer.
WET INGREDIENTS – In a separate large mixing bowl, combine the melted butter with the sugar, milk, sour cream, egg, and vanilla extract.
DONUT BATTER – Now, go ahead and mix all the dry ingredients with the wet ingredients until just incorporated. Try not to over-mix here or the batter will be dense.
POUR – Using a zip-lock with the corner snipped off (or a piping bag if you have one), add the batter to your pre-greased donut pan, filling each depression halfway.
BAKE – Bake for 10-12 minutes, or when a toothpick pulled from the center comes out clean. Transfer donuts to a rack to cool completely.
MAKE THE GLAZE – While the donuts are cooling, using a small bowl, add the powdered icing sugar, milk, and vanilla extract for the glaze.
ASSEMBLE – Dip both the top and bottom of the cooled donut into the glaze and place it back on the cooling rack to set. Sprinkle any toppings you would like before the glaze sets. Tip: use a sheet of parchment paper under the cooling rack to catch drips.
Pro Tip: When you bake donuts, one side will be smoother than the other side. See the picture above as an example. I always dip the smooth side in the glaze and leave the rougher side facing down. This is just personal preference.
How To Store
If any donuts survive the initial feeding frenzy, you can store these as follows:
COUNTERTOP – Donuts can be stored in an airtight container or plastic wrap for one day at most. After that, the moisture will evaporate and the donuts will turn stale.
REFRIGERATE – You can store these for up to 3-4 days in a sealed container.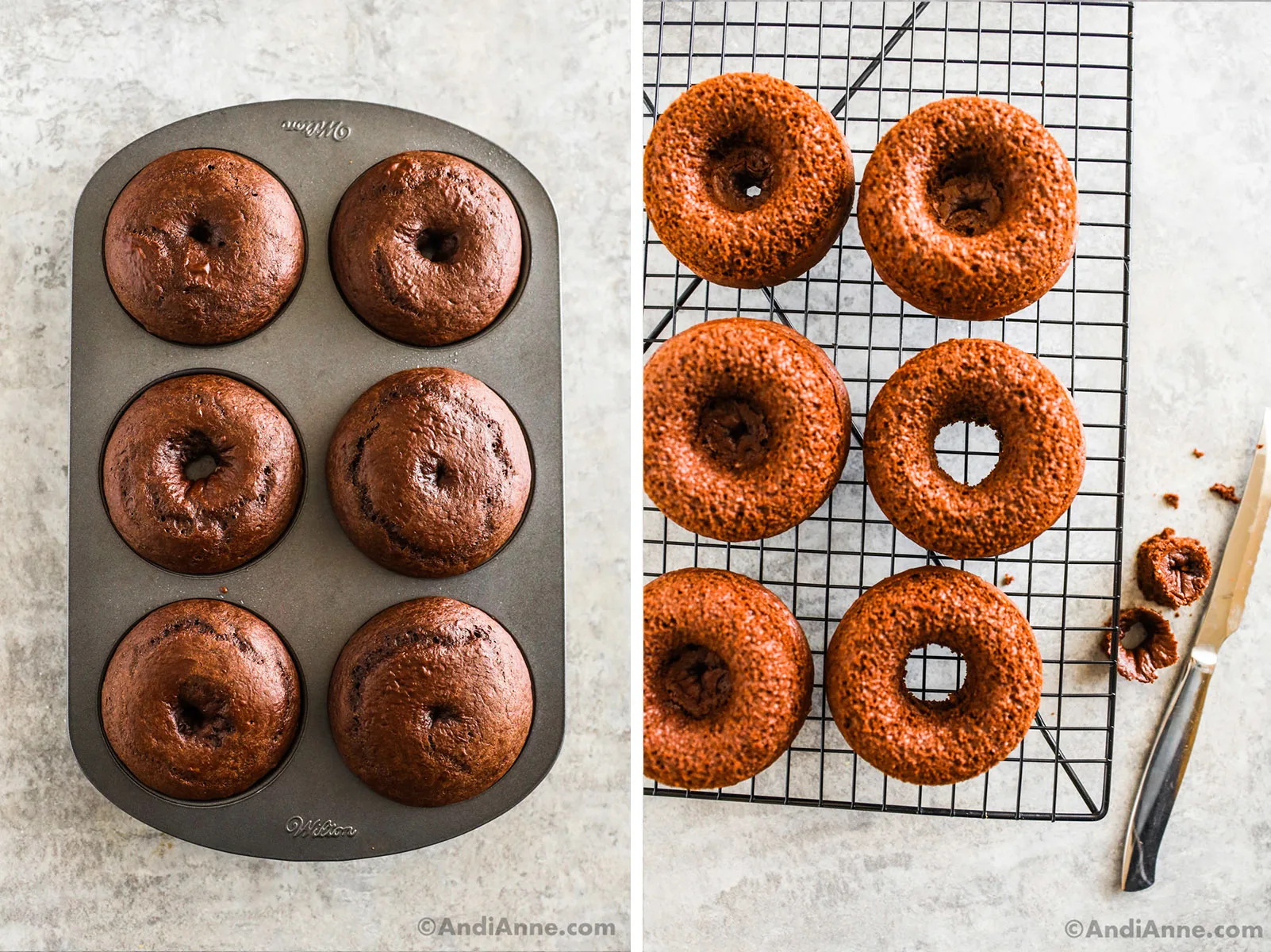 What If I Added Too Much Batter To The Donut Pan?
When filling the donut pan be sure to fill it 1/2 full. Any more batter will result in the donuts that you see above.
If this does happen to you it's an easy fix! Just flip them over once completely cooled then take a sharp knife and cut out the donut holes. After you cut it, the center should pop right out.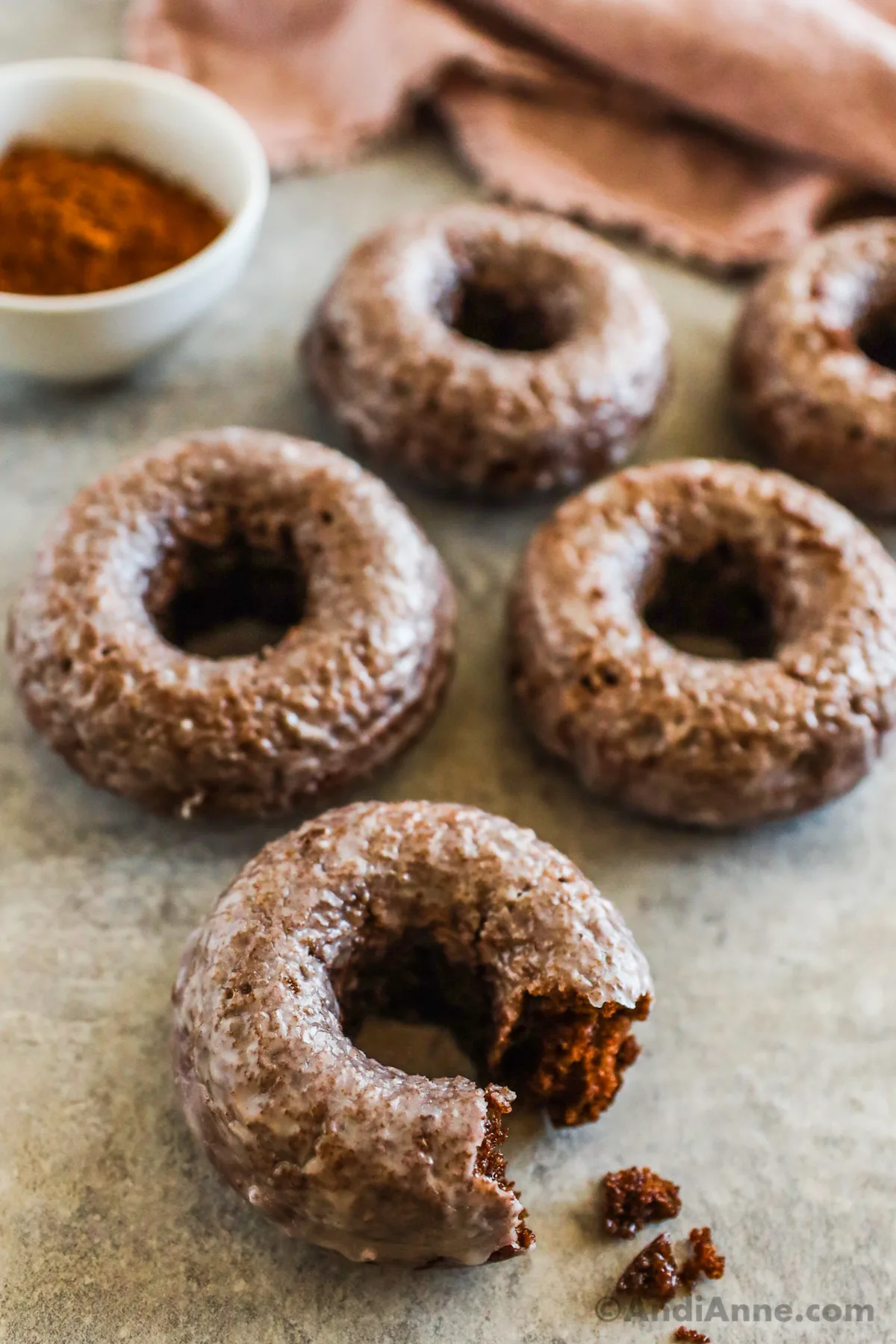 Serve These Donuts With
There are so many ways to enjoy these chocolate glazed donuts. But my favorites are:
COFFEE/LATTE – Serve alongside fresh hot coffee or try my Pumpkin Spiced Latte recipe.
MILK – Nothing will bring you back to your childhood faster than a cold glass of milk and a chocolatey treat.
Common Questions
What Is a powdered sugar alternative?
Personally, I'm not a fan of regular powdered sugar. However, you do need something similar in order to make the glaze. Luckily you can make your own powdered sugar using sugar-free monk fruit sweetener.
Why is one side of my donuts bumpy?
This is totally normal. If you see two pictures above, you'll notice that mine are bumpy on one side too. For presentation purposes only, I like to use the smooth side as the top.
Can I make these donuts dairy-free?
Yes, instead of using regular milk, you can use a dairy-free substitute like oat milk or almond milk. Or you can just use water.
Are donuts better fried or baked?
Both taste amazing, but baking is so much easier and there is no need to dispose of all that leftover oil when you're finished. Baked donuts would be a healthier option too.
What is the best donut flavor?
Fun fact: In a recent poll, the #1 choice of those asked picked glazed donuts as their favorite!!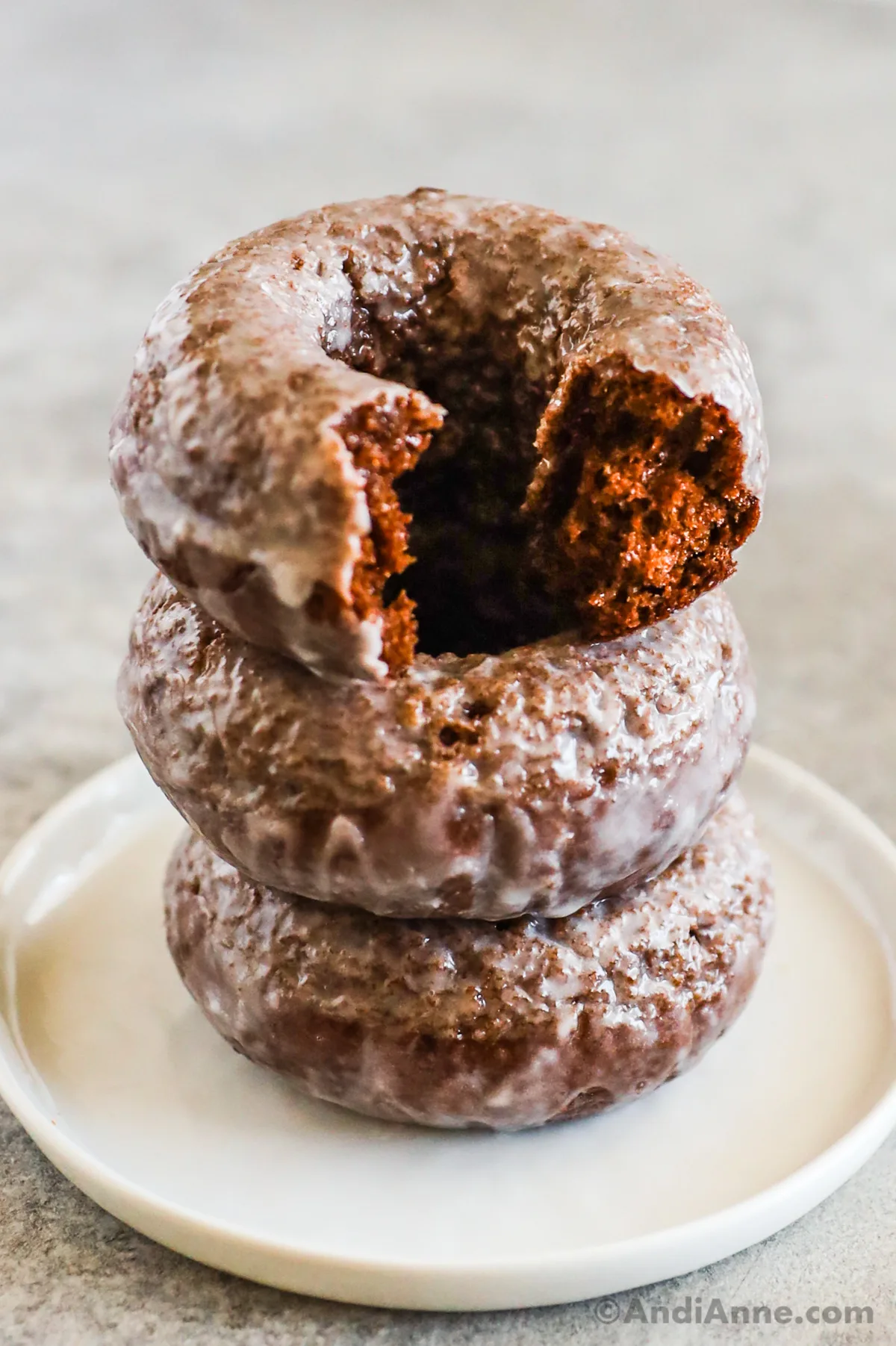 Keep this baked chocolate glazed donut recipe in mind the next time you attend a birthday party, celebration, or office function. These moist and fluffy donuts (aka chocolate doughnuts) are sure to be a hit for all ages!
These are totally addicting. No really – just ask my husband who gave me a raving testimonial… "These are the best donuts I've ever had!" as he managed to gobble up two in less than 5 minutes.
More Chocolatey Recipes
If you can't satisfy your chocolate craving with this recipe, try these as well!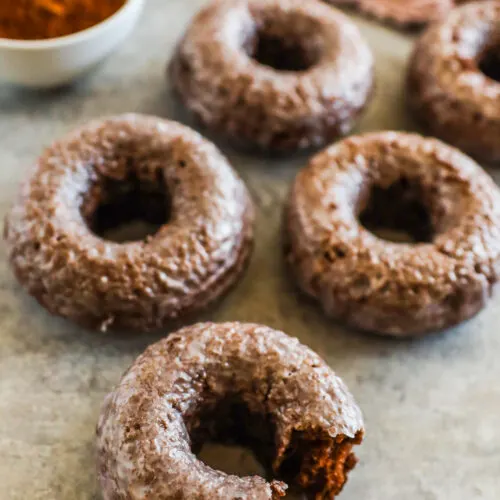 Baked Chocolate Glazed Donuts Recipe
These chocolate glazed donuts are baked in the oven and then dipped in a delicious glaze for the perfect chocolatey treat!
Save Recipe!
Saved!
Pin This
Print It
Instructions
Preheat the oven to 350°F. Spray a donut pan with nonstick cooking spray. Set it aside.

Add all dry ingredients to a medium bowl and mix together: all purpose flour, brown sugar, cocoa powder, baking powder, baking soda, and salt.

In a large bowl, combine the wet ingredients: milk, sour cream, egg, vegetable oil and vanilla extract. Whisk together.

Add the flour mixture to the wet ingredients and mix until just combined. Do not overmix.

Add batter to a sandwich bag and snip off a corner. Pour into the donut cups halfway full (it's better to under fill than over fill as the donuts will rise while baking).

Bake for 10-11 minutes, or until a toothpick comes out clean when poked in the center.

Transfer donuts to a wire rack to cool compleltely. Cut out the inside holes of any donuts that need it using a sharp knife.

While donuts are cooling, mix together the glaze. Add the powdered icing sugar, milk and vanilla extract to a bowl. Mix together.

Dip the top and bottom of each donut into the glaze. Place back on the wire rack for glaze to harden.

Tip: Place a sheet of parchment paper underneath to catch any glaze drips.
Recipe Notes:
How To Store
COUNTERTOP – Donuts can be stored in an airtight container or wrapped in plastic for one day at most. After that, the moisture will evaporate and the donuts will turn stale.
REFRIGERATE – You can store these for up to 3-4 days in a sealed container.
Nutrition
Calories:
181
kcal
|
Carbohydrates:
37
g
|
Protein:
3
g
|
Fat:
3
g
|
Saturated Fat:
1
g
|
Polyunsaturated Fat:
0.2
g
|
Monounsaturated Fat:
1
g
|
Trans Fat:
0.002
g
|
Cholesterol:
22
mg
|
Sodium:
146
mg
|
Potassium:
99
mg
|
Fiber:
1
g
|
Sugar:
26
g
|
Vitamin A:
89
IU
|
Vitamin C:
0.1
mg
|
Calcium:
65
mg
|
Iron:
1
mg
The nutritional information provided is an estimate and is per serving.