Powdered Sugar Alternative
Disclosure: This post may contain affiliate links.
Powdered sugar alternatives are easy to make at home. Whether you want a sugar-free alternative, or want to skip using refined sugar, this post will show you easy options that you can use in your recipes.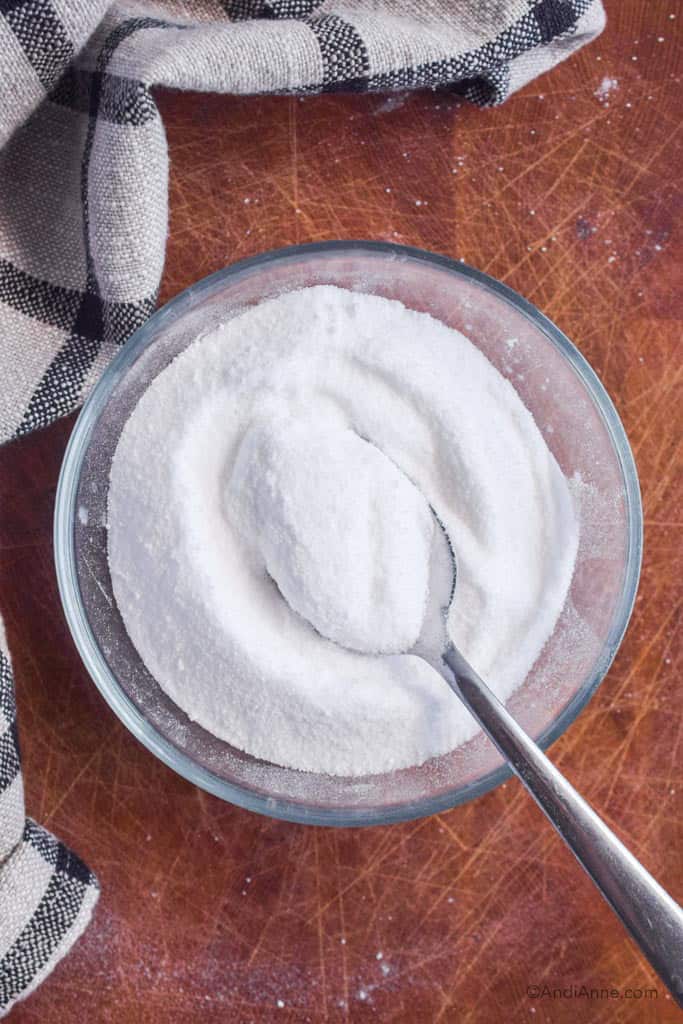 Powdered Icing Sugar Alternatives
Not everyone wants to use powdered icing sugar in their recipes. For many of us, it's too sweet, and it's a refined sugar that we may want to avoid.
In the last couple of years, I've completely transitioned out of using refined sugar in our home. Instead, I use coconut sugar, maple syrup and lakanto monk fruit sweetener. But there's one problem… what if a recipe calls for powdered icing sugar? This is frustrating if you want to make buttercream icing or as a glaze on top of cakes and donuts that require powdered icing sugar.
Luckily there is an easy solution that you can make at home! Yep, you can make your own powdered sugar alternative using any granulated sweetener you choose. It's so simple, and you won't need to spend more money on an extra bag of sweetener to store in the pantry.
Traditional powdered icing sugar is actually made using granulated sugar which is turned into a fine powder. We can easily recreate this process using any granulated sweetener we choose and a blender. Today I'm showing you how to make a sugar-free option using lakanto monk fruit sweetener and another option with coconut sugar which contains no refined sugar.
How To Make Your Own Powdered Sugar
The steps to making your own powdered sugar alternative are actually very easy. This will work with any type of granulated sugar.
Add a granulated sweetener of choice to a blender.
Blend for 10-20 seconds until the sugar turns into a powder.
If you want the powdered sugar to be really fine, pour it through a fine-mesh strainer to remove any large clumps.
Pour into a glass container for storage or measure straight into a recipe you're using.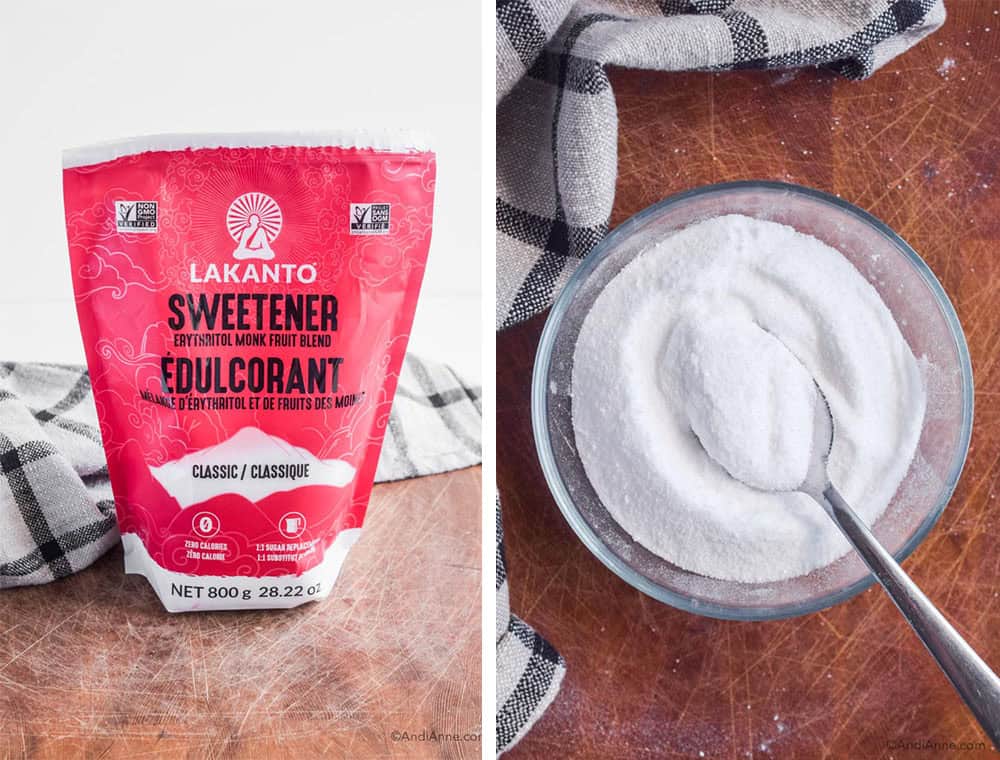 Making Powdered Sugar Alternative Using Lakanto Sweetener (Sugar-Free)
If you want to make powdered "sugar" that's actually sugar-free, you can use lakanto monkfruit sweetener. It is a granulated sugar replacement that you can use in your baking recipes at a 1:1 ratio. This sweetener has zero calories and uses a monk fruit erythritol blend that won't spike your blood sugar levels like normal sugar would.
I made powdered sugar with this sweetener for my chocolate baked donut recipe. I used it to create the chocolate glaze on top of the donut and it worked perfectly! This is my husband's favorite dessert on my blog – he loves eating one as a treat with a cup of coffee.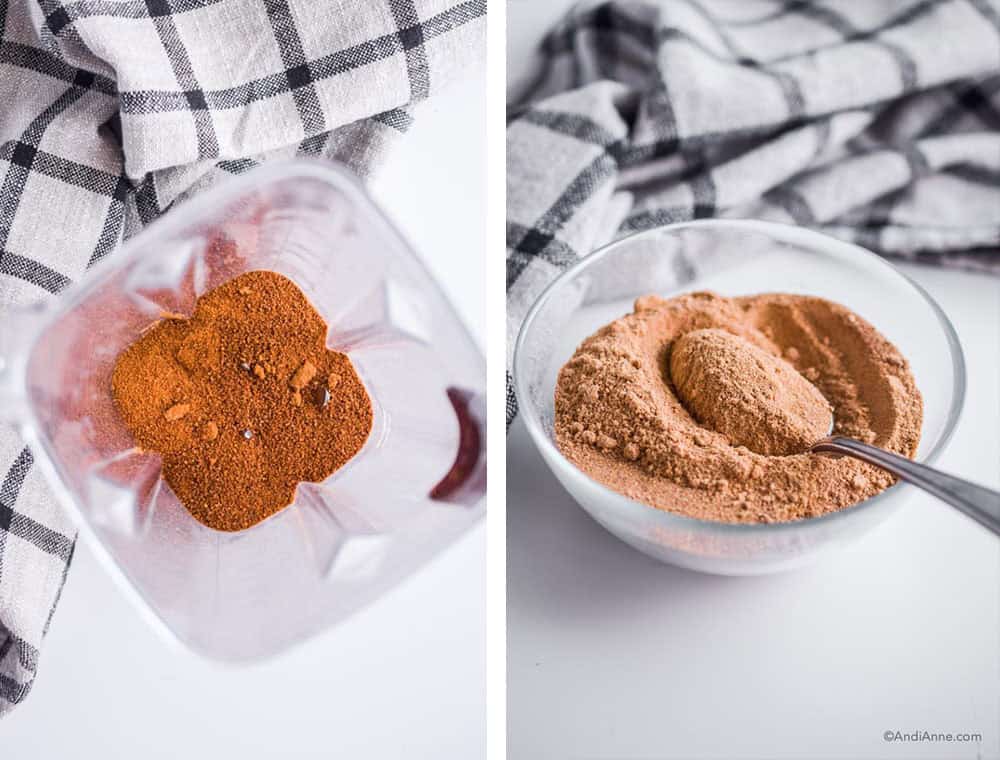 Making Powdered Sugar Using Coconut Sugar
If you're not as concerned about having a sugar-free powdered sugar alternative, then try using coconut sugar. Coconut sugar is my go-to granulated sugar for all my baking recipes! It adds a more natural flavor to baking and it's available at most grocery stores these days. I get mine from Costco but you can also buy it online from Walmart.
The only difference is that coconut sugar is brown so it might change the color if you're using it for a white icing or white glaze. The color will look more neutral or beige. You can still add food coloring in your icing if required for the recipe. I personally don't mind the change in color – it's a small price to pay for avoiding traditional refined powdered sugar, in my opinion.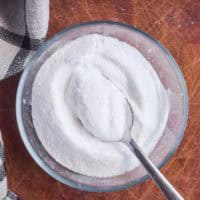 Homemade Powdered Sugar
Powdered sugar alternatives are easy to make at home. Whether you want a sugar-free alternative, or want to skip using refined sugar, this will show you two easy options that you can use in your recipes.
Print
Pin Recipe
Instructions
Add the granulated sweetener (lakanto or coconut sugar) to a blender. Blend for 10-20 seconds or until the sugar turns into a powder. There might still be a few clumps which is fine.

Pour powdered sugar into a fine mesh strainer overtop of a bowl.

Sift the sugar through to remove any clumps.

Store in an airtight container in a cupboard until ready to use.
Recipe Notes:
Nutrition info:
Lakanto sweetener has 0 calories. It's made with erythritol and monk fruit extract.
1 tsp coconut sugar has 20 calories and 4 grams of sugar. It's made from coconut flower blossom nectar.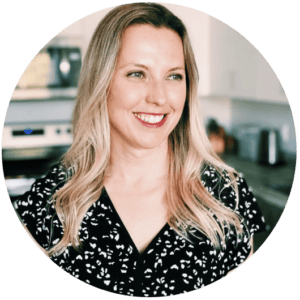 About Andi Anne
Welcome to Andi Anne! Here we focus on simple recipes that are easy to follow with lots of images to guide you along the way! We've created over 500 recipes for you to explore and try out in your own kitchen.