Edible Brownie Batter
Disclosure: This post may contain affiliate links.
This edible brownie batter is made from simple baking ingredients including flour, milk, cocoa powder, butter and sugar. All topped with chocolate chips for perfection! You can easily modify this batter in so many by adding candies, chopped nuts, crushed Oreo cookies and more.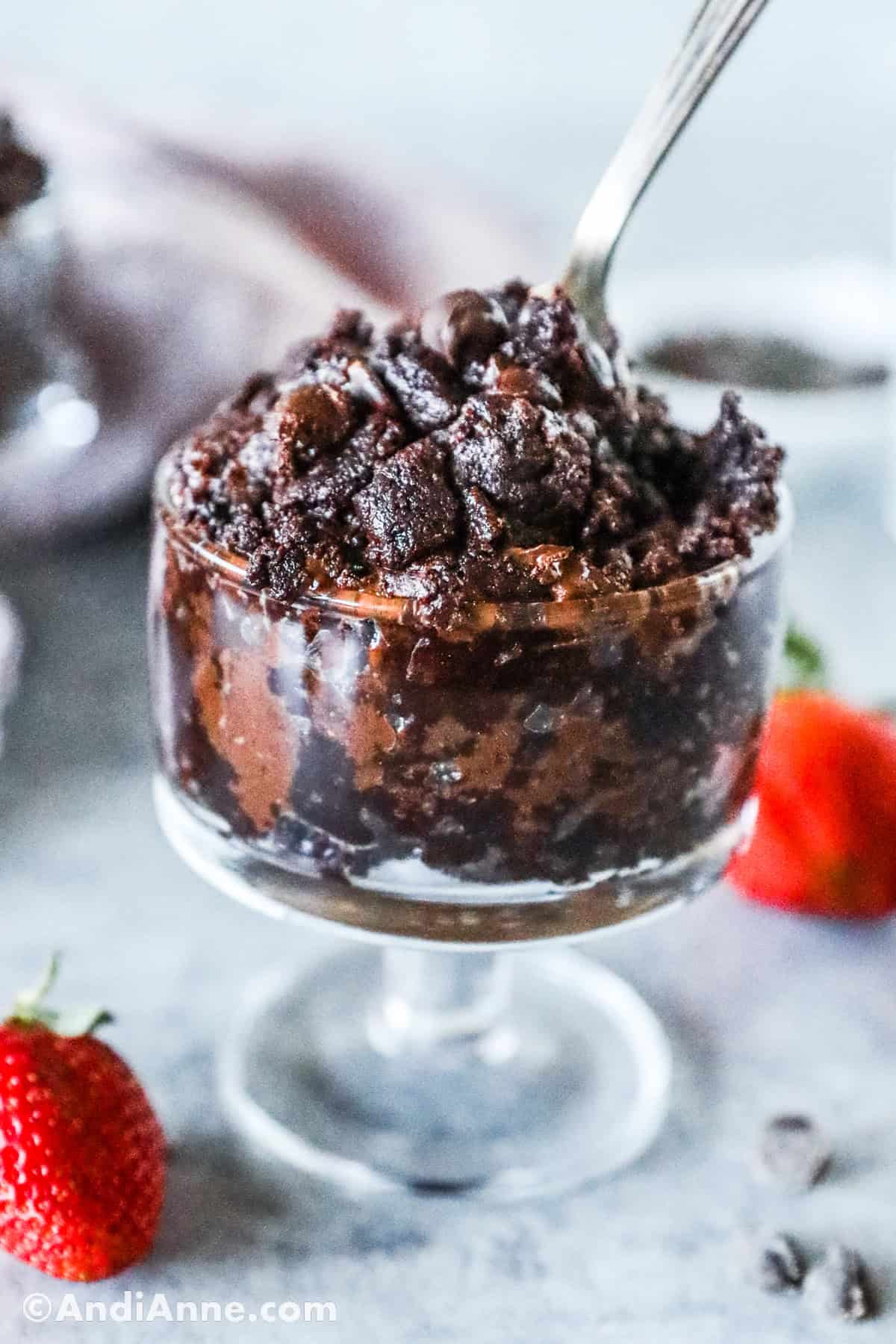 Decadent No Bake Dessert
Who doesn't love a chocolatey no-bake treat!? We certainly enjoy our no bake chocolate oatmeal cookies and 10 no bake granola bar flavors. But if you're looking for an easy dessert recipe that can be whipped up fast, this is it!
Traditional brownie batter is not safe to eat because of the raw eggs and raw flour. But this recipe is different! It tastes just like the real thing! As long as you heat treat the flour, this dessert is totally safe to eat. There is no eggs and no oil added to the recipe.
RICH IN BROWNIE FLAVOR – It's dark and chocolatey
EGG FREE – No eggs are required for this recipe.
NO OVEN REQUIRED – This is a no-bake recipe! The microwave will be needed to melt butter and heat the flour.
FAST TO MAKE – All you need is 10 minutes to make this quick and easy dessert.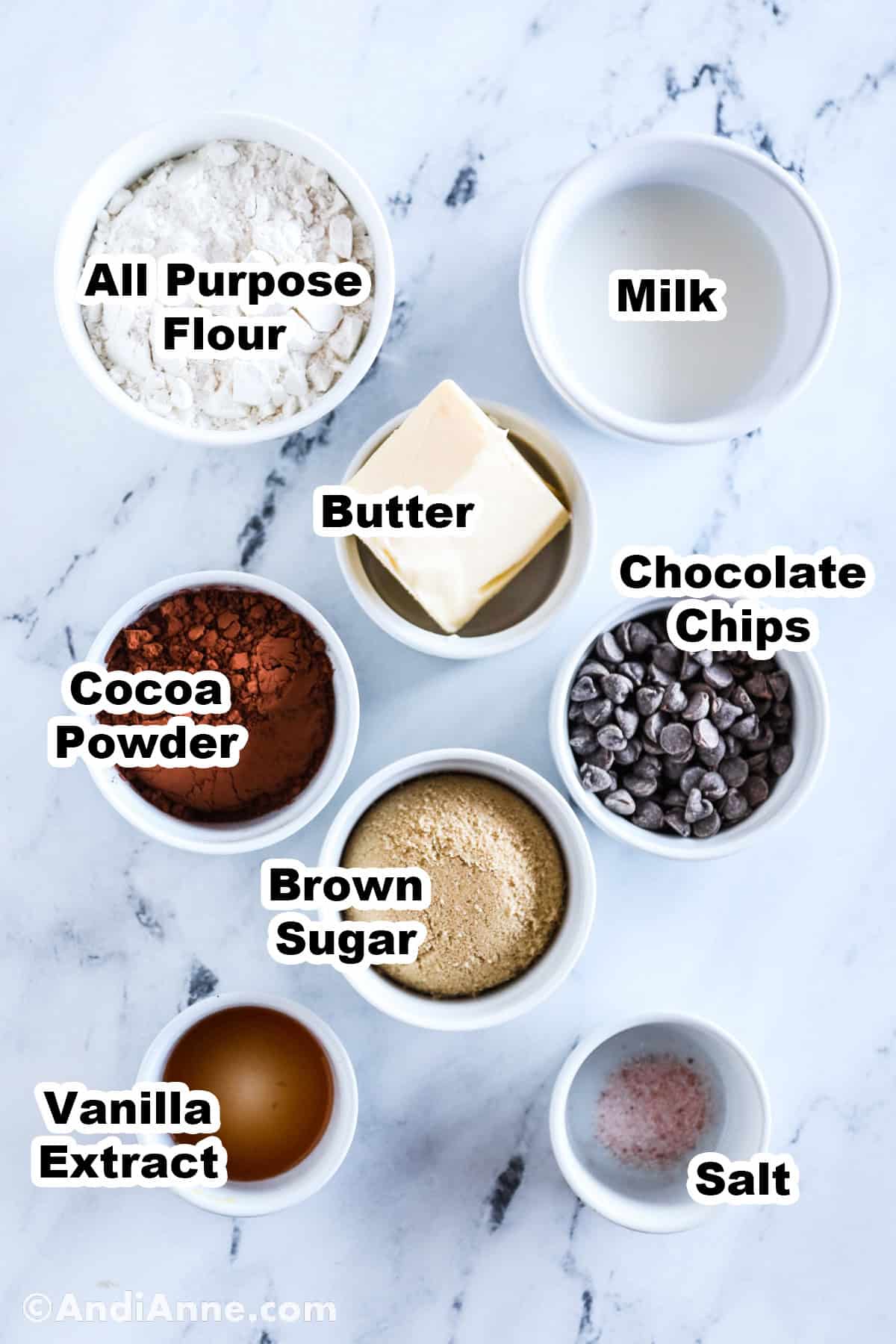 Recipe Ingredients
Traditional brownie batter is runnier in consistency. This batter is thicker and much more satisfying to eat. Here's what you'll need to make the recipe (scroll down to the recipe card for full details):
SUGAR – I used granulated sugar. This recipe would also work with brown sugar, coconut sugar, or monk fruit sweetener (it's sugar-free and a 1:1 replacement).
FLOUR – All-purpose flour gives the perfect batter consistency. It will need to be heat-treated first (i'll explain that below). You can also use almond flour, coconut flour, or gluten free flour.
COCOA POWDER – This will add chocolatey flavor. Be sure to use unsweetened cocoa powder.
CHOCOLATE CHIPS – Any style of chocolate chips will work. I used semi-sweet chocolate chips. I would love to try chocolate chunks next time!
MILK – Needed to form the batter-like consistency of the dessert. Water or plant-based milk will also work.
BUTTER – Unsalted butter is melted and mixed with sugar and milk.
VANILLA EXTRACT – Added for more flavor.
SALT – A pinch of salt is used, but optional.
Pro Tip: Raw flour needs to be heated before use to prevent any harmful bacteria. You can either microwave or bake it for a few minutes. I'll explain how in the recipe card below.
Additions
This brownie batter is versatile and additional ingredients can easily be added. Here are a few ideas:
CHOPPED NUTS – Slivered almonds, chopped walnuts or pecans would add a crunchy texture.
SEEDS – Sunflower seeds or pumpkin seeds can be roasted or raw with shells removed.
DRIED FRUIT – Raisins, dried mango chunks, or cranberries.
FRESH BERRIES – Fresh raspberries, blueberries and sliced strawberries.
CANDIES – Add mini M&Ms, sprinkles, gummies, and anything else you can think of!
COOKIES OR CRACKERS – Crush up Oreos, graham crackers, or any other favorites.
COCONUT – Add shredded or flaked coconut to the batter.
PEANUT BUTTER – Try drizzling a bit of peanut butter warmed in the microwave on top of this dessert!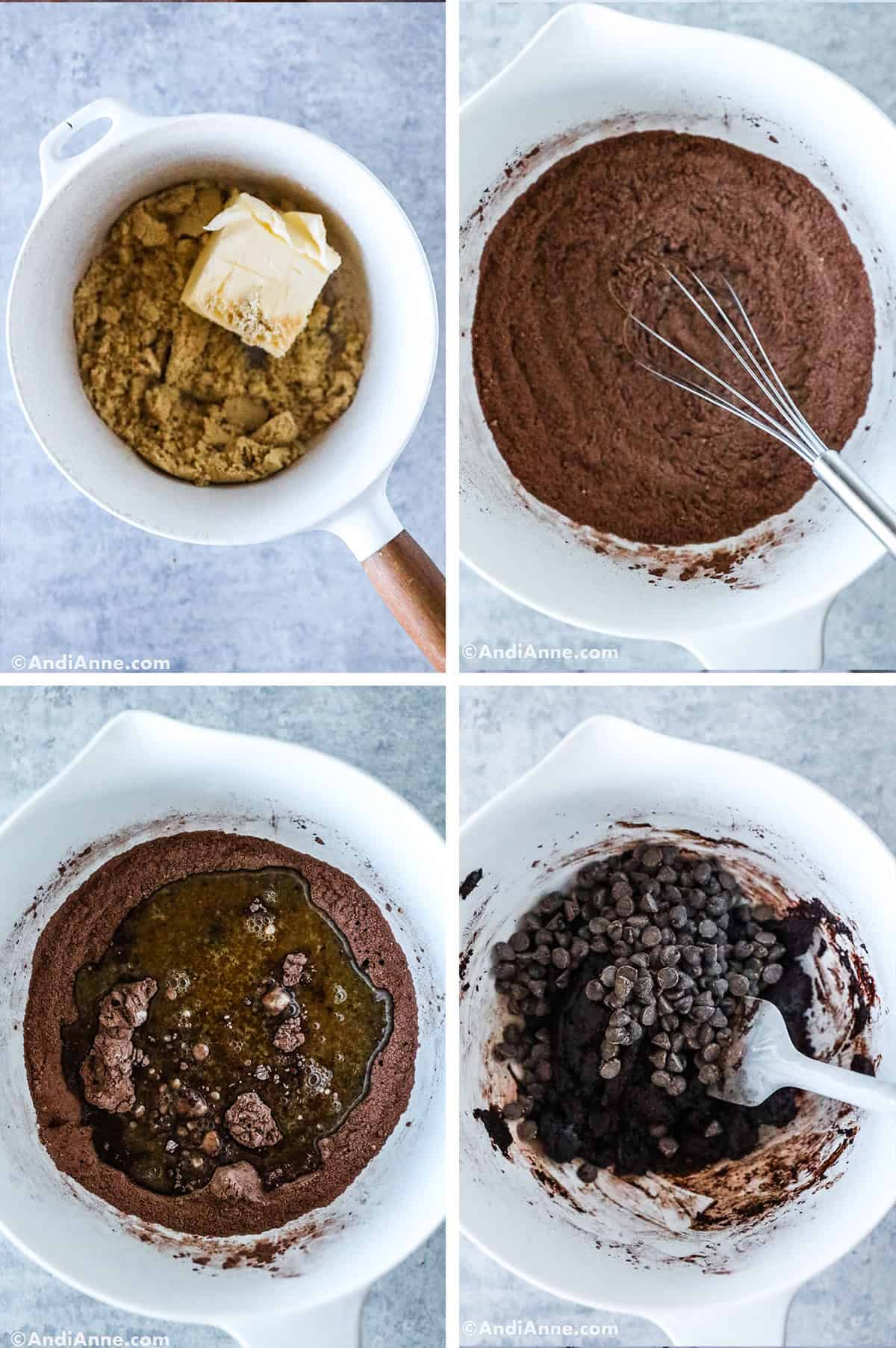 How To Make Edible Brownie Batter
PRETREAT FLOUR – Heat the flour in the microwave or bake in the oven for a few minutes.
MELT – In a small pot, melt the butter, sugar, and milk together. Remove from heat and add in the vanilla extract.
DRY INGREDIENTS – Mix together the flour, cocoa powder, and salt.
MIX – Pour the melted butter and sugar into the bowl of dry ingredients. Mix everything together then fold in the chocolate chips.
Pro Tip: Test out the chocolate batter before adding chocolate chips. If you want it a bit runnier, you can at 1-2 Tbsp of milk and mix in. Keep repeating until you reach your desired consistency. For us, the chunkier style is perfect!
Storing Leftovers
This recipe will take less than 10 minutes to make. Leftovers can be chilled or frozen:
REFRIGERATE – Store the recipe in an airtight container, or tightly wrapped in plastic for up to 3-4 days.
TO FREEZE – Add to a freezer container or bag removing as much air as possible, and freeze for up to 3 months.
TO SERVE – If frozen, thaw before serving. This dessert can be served while it's still warm or cold. Personally, I prefer to let the brownie batter sit at room temperature for 15 minutes to soften. I find that this is the best texture.
Ways To Use Edible Brownie Batter
There are so many ways to enjoy this chocolatey dessert! Here are a few ideas:
ON ITS OWN – Scoop into a bowl and dig in with a spoon. This dessert tastes best when served warm at room temperature (not hot). But it can be served cold too.
FRUIT DIP – Slice up apples, bananas and strawberries and serve with this delicious recipe.
ICE CREAM – Add the brownie batter to a bowl and top with vanilla or chocolate ice cream.
SPREAD – Spread it onto graham crackers or cookies.
WAFFLES – Add a scoop alongside waffles or pancakes.
DESSERT BITES – Use a cookie scoop to roll into balls and chill or freeze for quick treats.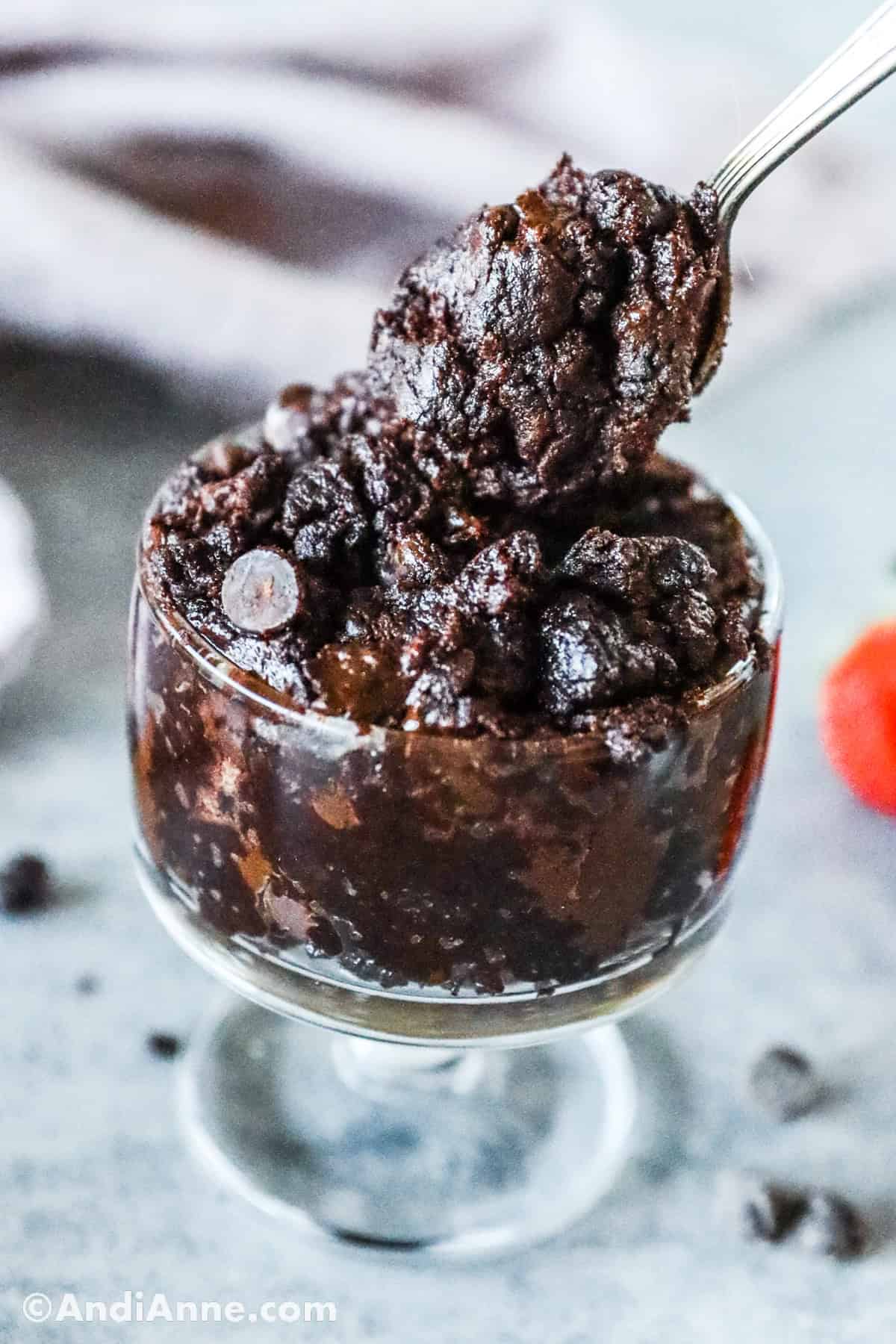 Common Questions
Is it safe to eat traditional brownie batter?
Traditional brownie batter contains eggs and raw flour. So no it's not safe. However, this recipe tastes just like the real thing and is totally safe to eat without baking!
How do you heat treat flour?
It's really easy! You can add the flour to a bowl and microwave it for 1-2 minutes. Or spread it on to a baking sheet lined with parchment paper. Bake at 350F for 5-8 minutes.
Is it safe to eat heat-treated flour?
Yes, once the flour has been heat treated in the microwave or oven it is safe to eat. This will kill the possible harmful bacteria that could be in the raw flour.
Can I use almond flour instead?
Yes you can. It will change the flavor and texture of the batter slightly, but will still be good! You do not need to heat treat almond flour, but you might need to add more milk to get the right consistency.
How to Make Brownie Batter With Boxed Cake
If you prefer the from-scratch method that I used, just scroll down to the recipe card below. But it's also super easy to make edible brownie batter from a boxed cake mix.
Ingredients Needed – For the boxed cake method you'll need 1 box of brownie mix or chocolate cake mix, ½ cup butter, ½ cup heavy cream and ½ cup chocolate chips.
Here's how to make it:
Heat the brownie mix – Add the dry brownie mix contents to a bowl and microwave for two minutes in 30-second intervals, stirring between each one.
Melt butter – Add ½ cup of butter to a bowl and microwave for about 15-20 seconds, or until melted.
Mix – Add ½ cup of melted butter, ½ cup of heavy cream to the dry brownie mix. Mix everything together. Place in the fridge to chill for 30 minutes to thicken.
Add Chocolate – Once the batter has thickened a bit, fold ½ cup of chocolate chips. Serve and enjoy!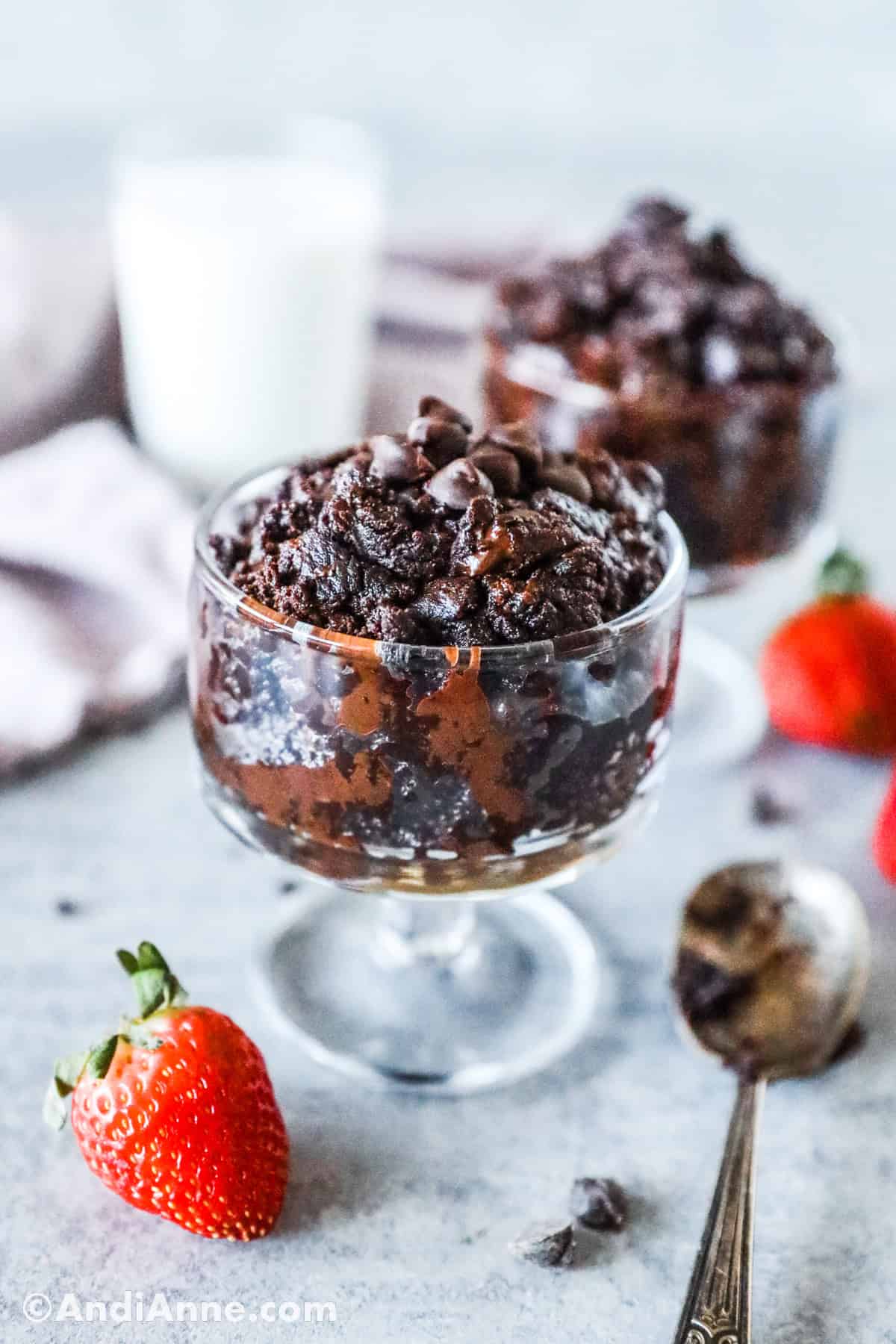 Nothing beats a chocolatey sweet treat that's easy to make! This brownie batter dessert uses simple ingredients from your panty and refrigerator to curb that sweet to craving!
More Dessert Recipes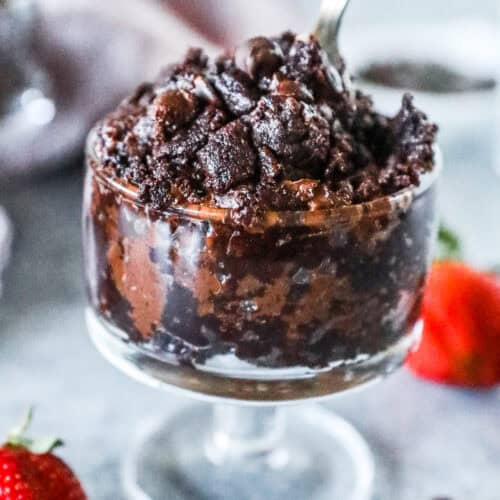 Edible Brownie Batter
Tastes just like real brownie batter and is totally safe to eat! Takes only 10 minutes to make.
Print
Pin Recipe
Instructions
Treat The Flour:
Microwave the flour in a bowl for 1-2 minutes, OR spread onto a baking sheet lined with parchment paper and bake at 375°F for 5 minutes. Let the flour cool a few minutes.
Assemble The Brownie Batter:
Add butter, sugar and milk to a small pot. Stir and heat through until butter is melted. Remove from heat then stir in the vanilla extract. (see notes for microwave method)

In a medium bowl, mix together the flour, cocoa powder, and salt.

Add the melted butter mixture to the dry ingredients. Stir everything together. Let cool for 10 minutes to thicken.

Fold in the chocolate chips.

Add to bowls, serve and enjoy.
Recipe Notes:
Microwave Instructions: 
Raw flour can be microwaved in 30-second increments to prevent any bacteria, stirring between each for a total of 2 minutes. 
Butter can be melted in the microwave for 20-30 seconds, then mix with the sugar, milk and vanilla extract. The sugar will be a bit grainier using this method (stovetop will help dissolve the sugar).
Leftovers can be chilled in the fridge up to 5 days or frozen up to 3 months.
Nutrition
Calories:
562
kcal
|
Carbohydrates:
70
g
|
Protein:
6
g
|
Fat:
32
g
|
Saturated Fat:
20
g
|
Polyunsaturated Fat:
1
g
|
Monounsaturated Fat:
7
g
|
Trans Fat:
1
g
|
Cholesterol:
63
mg
|
Sodium:
303
mg
|
Potassium:
293
mg
|
Fiber:
5
g
|
Sugar:
39
g
|
Vitamin A:
734
IU
|
Calcium:
61
mg
|
Iron:
3
mg