This moist and fluffy chocolate mayonnaise cake recipe is so easy and delicious. Made with just four ingredients and topped with a quick frosting for a delicious dessert.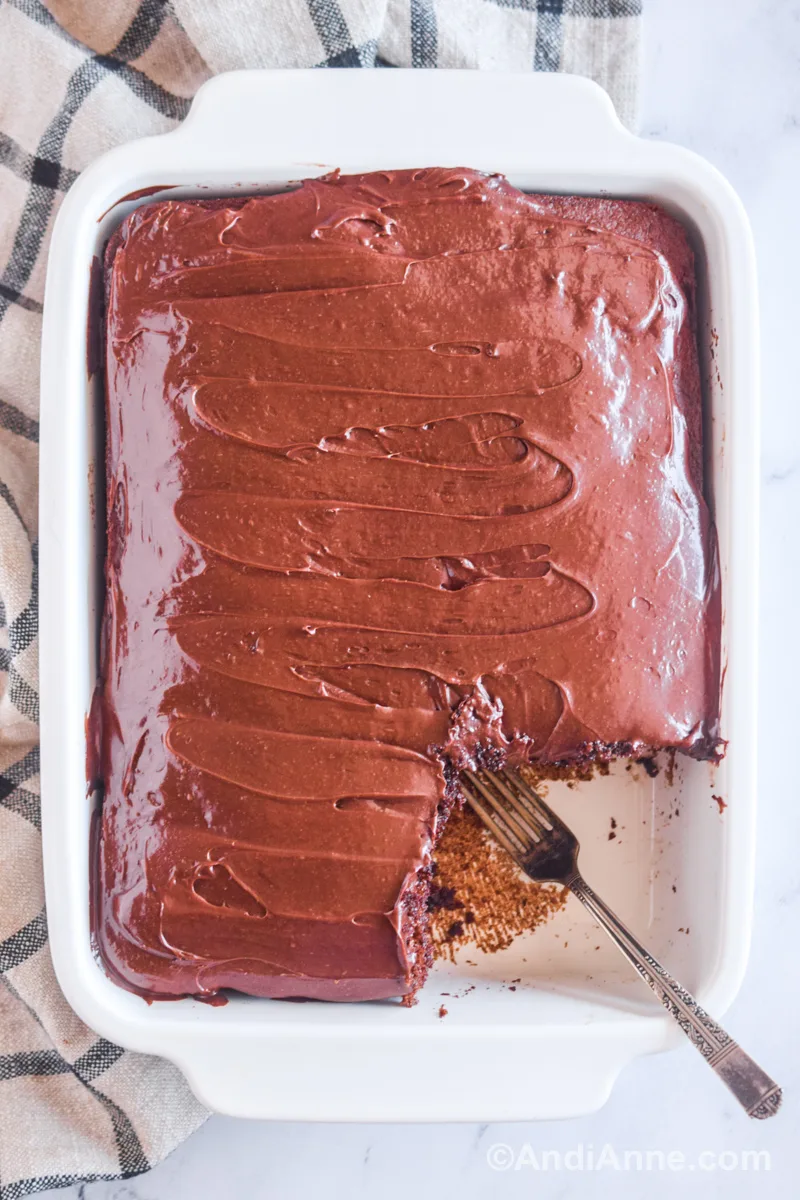 If you're looking for an easy dessert recipe that uses a cake mix, this is it. With just four ingredients you'll have the fluffiest chocolate cake to serve on any occasion. Although we do love making our classic devil's food cake from scratch, today's recipe keeps things really simple.
Can You Put Mayonnaise Cake?
It might sound weird to put mayonnaise in a cake, but you'll be surprised at the results. Mayonnaise is basically a mixture of oil and eggs, both of which are used in most cake recipes. And mayonnaise adds moisture and creates a fluffier texture.
This quick chocolate cake recipe will surely become a new go-to dessert idea for a variety of reasons. Here's why you'll love this recipe:
Only 4 Ingredients – A cake mix, some eggs, milk, and mayonnaise are all you need to make this delicious cake!
Easy To Make – All ingredients are dumped and mixed in one bowl. Then the batter is poured into a baking pan. It couldn't be easier!
Inexpensive – It's a cake that costs less than $5 to make. Perfect to serve at birthdays or any other celebrations where you're craving chocolate.
Mayonnaise cake is a style of cake that's been around since the 1920s. It is said that Hellman's company created a chocolate cake recipe to use their mayonnaise with.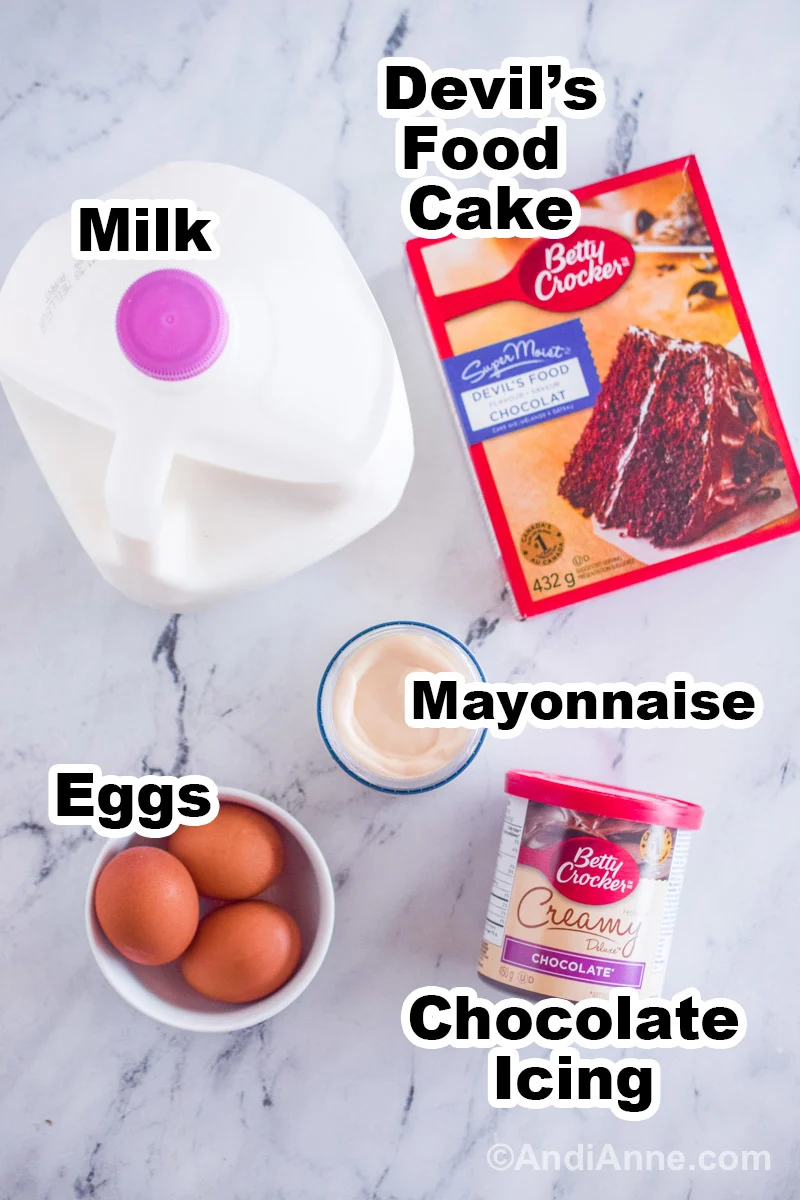 Recipe Ingredients
Although we do love making cakes from scratch, today's recipe uses a boxed cake mix to make life easier. We believe there's a time and place for both. Here's what you'll need to make this recipe:
Devil's Food Cake Mix: A box of devil's food cake mix will give this recipe the perfect flavor.
Mayonnaise: Hellmans, Miracle Whip, and any other brand of mayonnaise will work for this recipe.
Eggs: Three eggs are used to create structure and stability in the cake.
Milk: Milk moistens the batter and adds protein.
Frosting: This cake doesn't need a topping, but a tub of creamy chocolate frosting tastes delicious!
Pro Tip: Use a full-fat mayonnaise for this recipe. A light mayonnaise can still work but the cake won't be as fluffy.
Ingredient Variations and Additions
Feel free to add some additions to the wet cake batter. Here are a few ideas:
Chocolate Chips: 1 cup of white or dark chocolate chips to the batter.
Nuts: For added crunch try adding 1 cup of your favorite chopped nuts to the batter.
Alternative Cake Mix: Try this recipe with a different cake mix like dark chocolate fudge, yellow or white cake mix.
Sprinkles: Try adding 1/2 cup or 3/4 cup of sprinkles for a birthday celebration. These could be rainbow sprinkles or chocolate sprinkles. Rainbow sprinkles would work best with a yellow or white cake mix.
Frosting: Dark chocolate fudge, cream cheese, white frosting, our amazing cannoli dip or strawberry frosting would change the look and still taste great!
What Does Mayonnaise Do For A Cake?
Mayonnaise is a mixture of oil and eggs and could replace both of those ingredients. However, it can also just replace the oil like we did with this recipe. Mayonnaise helps to create moisture and a fluffier cake. Also, you can't taste the mayonnaise at all!
How To Make A Chocolate Mayonnaise Cake
This super moist chocolate cake with mayonnaise recipe is quick and fast. Just dump all ingredients into a bowl to mix, then pour into a dish to bake. Here's an overview with full instructions at the bottom of this post:
Prep – Preheat the oven to 350°F and spray a 9×13 baking dish with oil.
Mix Ingredients – Add the cake mix, eggs, mayonnaise, and milk to a bowl. Mix together thoroughly by hand or with an electric mixer.
Bake – Pour the batter into the prepared baking dish. Bake it for 30-35 minutes, or until a toothpick comes out clean when poked through the center. Remove from the oven and let it cool completely.
Add Frosting – Once the cake is cool, spread a tub of chocolate frosting on top with a spatula. Slice into pieces and serve.
Pro Tip: Let the cake cool completely before adding frosting. Typically, I like to chill my cakes overnight in the fridge and add the icing the next day.
Ways To Serve
Chocolate cake is easy to serve on its own, but can also be served with a variety of toppings to round out the dessert. Here are some ideas:
With ice cream – A scoop of vanilla ice cream would be perfect with this chocolate cake.
Tea or coffee – add your favorite beverage and enjoy! we also love to serve with hot chocolate for a true chocolatey experience.
Whipped cream – A dollop of whipped cream makes everything better. Real whipped cream or cool whip are both options.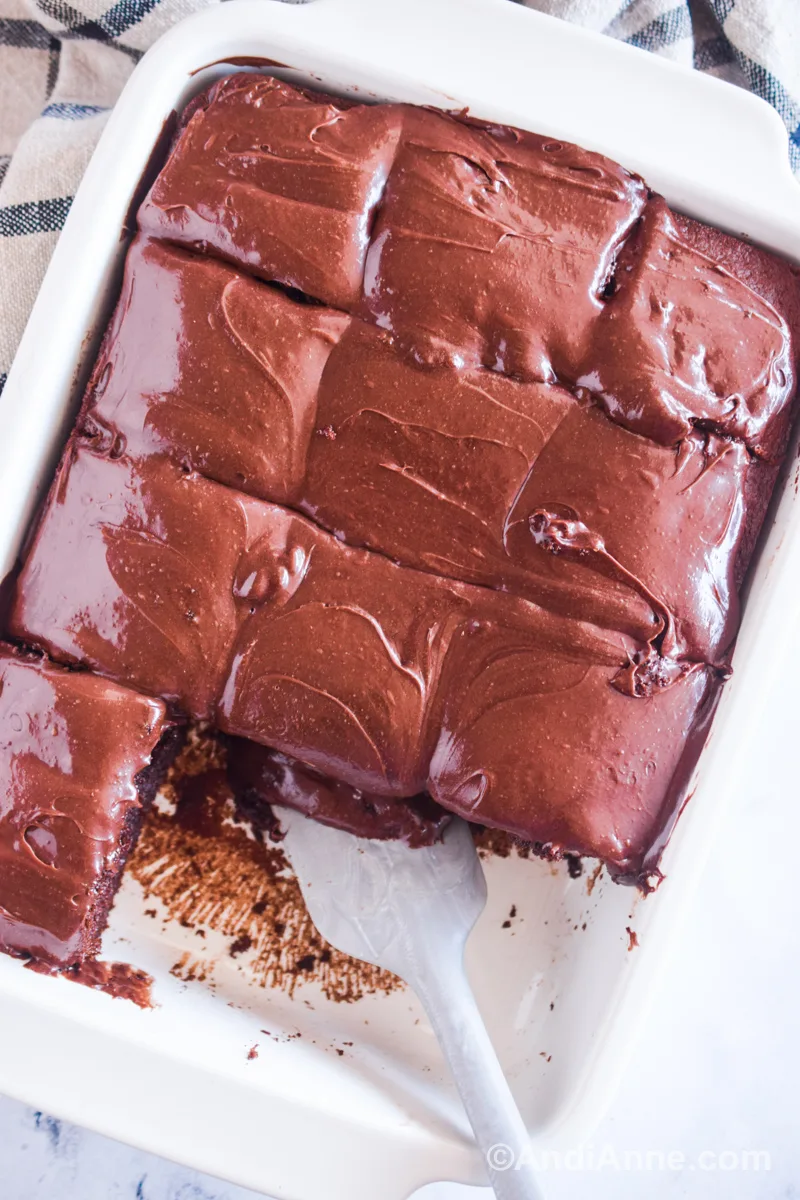 How To Store
Room temperature – This cake can be stored in a cake box or on a plate covered in plastic wrap to keep it moist and fresh. It will keep on the counter up to 3-4 days.
To refrigerate – Some people prefer to refrigerate their cakes, but this isn't required. If you choose to, you can store it in an airtight container or covered in plastic wrap for up to 4 days.
To freeze – Unfrosted cake can be frozen for up to 3 months.
Common Questions
Should I use Hellman's or Miracle Whip?
Both will work for the recipe. You can't taste the mayonnaise at all once the cake is baked. However, I do recommend a full-fat mayonnaise. It will provide a fluffier cake texture.
What brand of mayonnaise works best?
Any brand of full-fat mayonnaise will work best for this recipe.
Can I bake this in a round cake pan?
I haven't tried it personally, but you should be able to divide this into two round cake pans. The cooking time will need to be adjusted
What Does Mayonnaise Replace In A Cake?
Mayonnaise can replace oil and eggs in a cake. For this recipe, we are still adding eggs and only using it to replace the oil.
Why Do People Put Mayonnaise In A Cake?
It's a traditional style of cake that was invented in the 1920s by Hellmans company. Originally mayonnaise was added to a chocolate cake recipe. Mayonnaise is made up of oil and eggs, both are components of most cake recipes which is why it can be used.
Does Mayonnaise Taste Good In A Cake?
After the cake is baked, you can't taste the mayonnaise at all! But the results of added mayo are a moist cake with fluffy texture.
Can you make this cake with a different cake mix?
I think so! Again, I haven't tried it and can't guarantee it will work. But most cake mixes should work with this method. If you try it with another cake mix, let me know how it goes.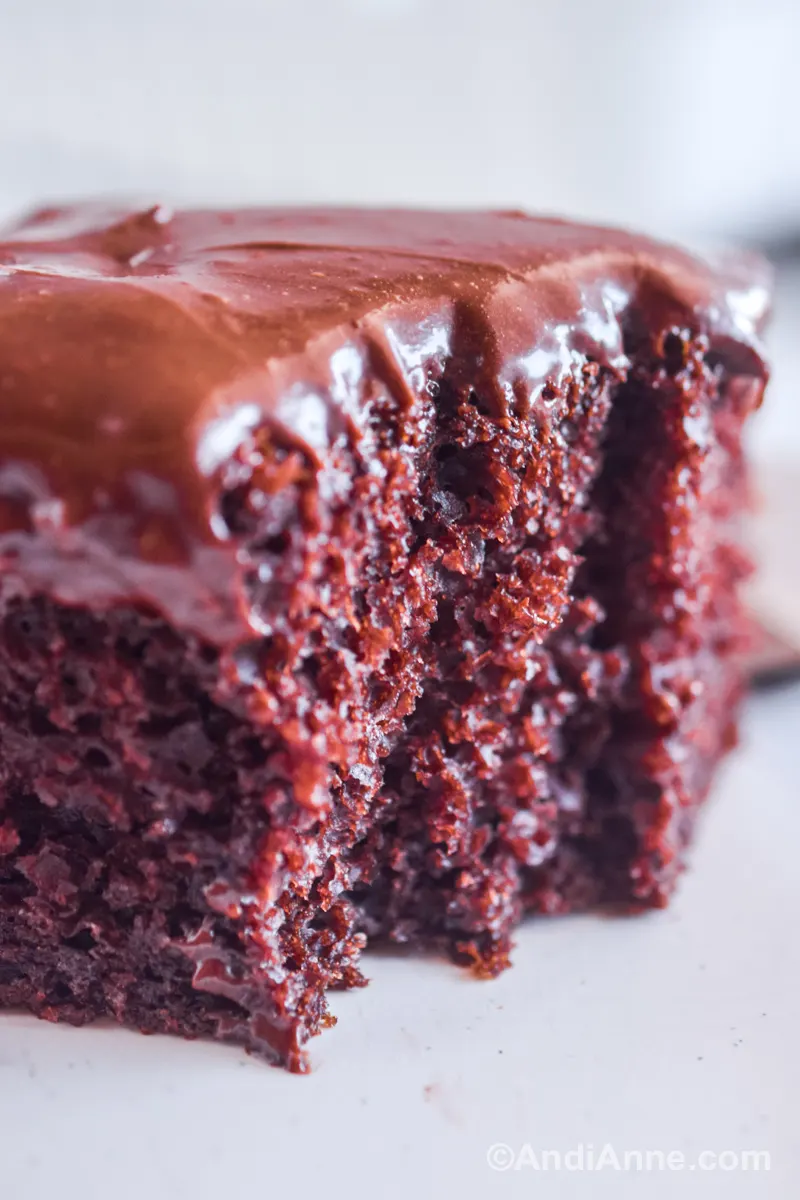 This chocolate cake with mayonnaise recipe will not disappoint! The moist and fluffy cake can be topped with frosting or served with a side of ice cream. If you love quick and easy cake recipes then this is one to keep in your back pocket for future celebrations.
More Cake Recipes
If you love cake as much as we do, then we know you'll enjoy some of these other delicious ideas: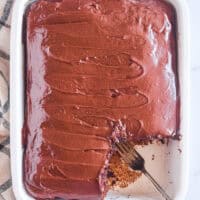 Ingredients
15

oz

devils food cake mix

3

eggs

1 ⅓

cups

milk

1

cup

full fat mayonnaise

-

any brand will work

16

oz

chocolate frosting container
Instructions
Preheat the oven to 350°F. Spray a 9×13 baking dish with non-stick cooking spray.

In a large bowl, mix together the devils food cake mix, eggs, milk and mayonnaise.

Pour the batter into the baking dish. Bake for 35-38 minutes, until a toothpick comes out clean when poked in the center. Let the cake cool completely.

Once cake is cooled, spread the frosting on top with a knife or a spatula.

Slice into squares, serve and enjoy!
Nutrition
Calories:
461
kcal
|
Carbohydrates:
51
g
|
Protein:
5
g
|
Fat:
28
g
|
Saturated Fat:
6
g
|
Polyunsaturated Fat:
11
g
|
Monounsaturated Fat:
9
g
|
Trans Fat:
0.04
g
|
Cholesterol:
52
mg
|
Sodium:
506
mg
|
Potassium:
251
mg
|
Fiber:
1
g
|
Sugar:
37
g
|
Vitamin A:
117
IU
|
Calcium:
97
mg
|
Iron:
2
mg