This strawberry pineapple cake is light and fluffy with a beautiful presentation. The base of the cake is a lovely pink color made with diced strawberries, crushed pineapple and jello powder, with the creamiest pineapple fluff frosting and more fresh fruit.
Serve this easy dessert recipe during strawberry season at picnics, 4th of July celebrations or Canada day celebrations, mother's day, at birthday parties, baby shower, potlucks or summer barbecues.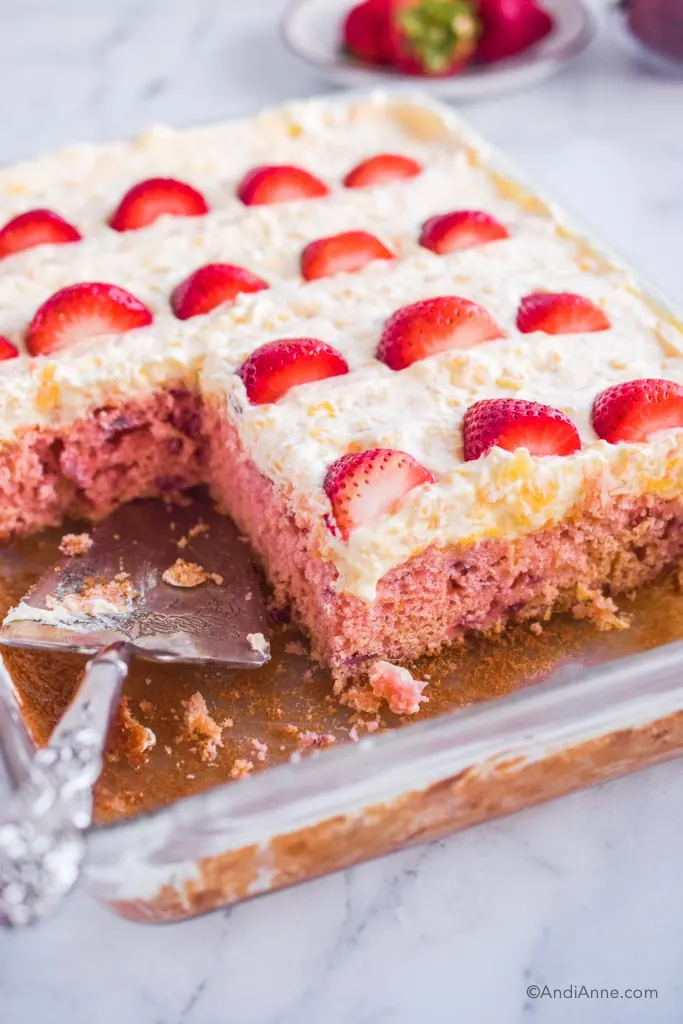 Easy Strawberry Pineapple Dump Cake
Your guests will love the flavor combination of pineapple and strawberries.
This is a wonderful celebration cake and something the whole family will love.
With fresh fruit like pineapple and strawberries, this cake has wonderful flavors.
The light and fluffy cake is made with diced strawberries, crushed pineapple and strawberry jello powder for color and a hint of strawberry flavor.
The whipped pineapple topping makes the perfect frosting. It's easy to make using whip cream, pudding mix and crushed pineapple.
Serve with vanilla ice cream and more fresh berries.
We just loved eating this cake at a family birthday party. I will definitely be making this cake again.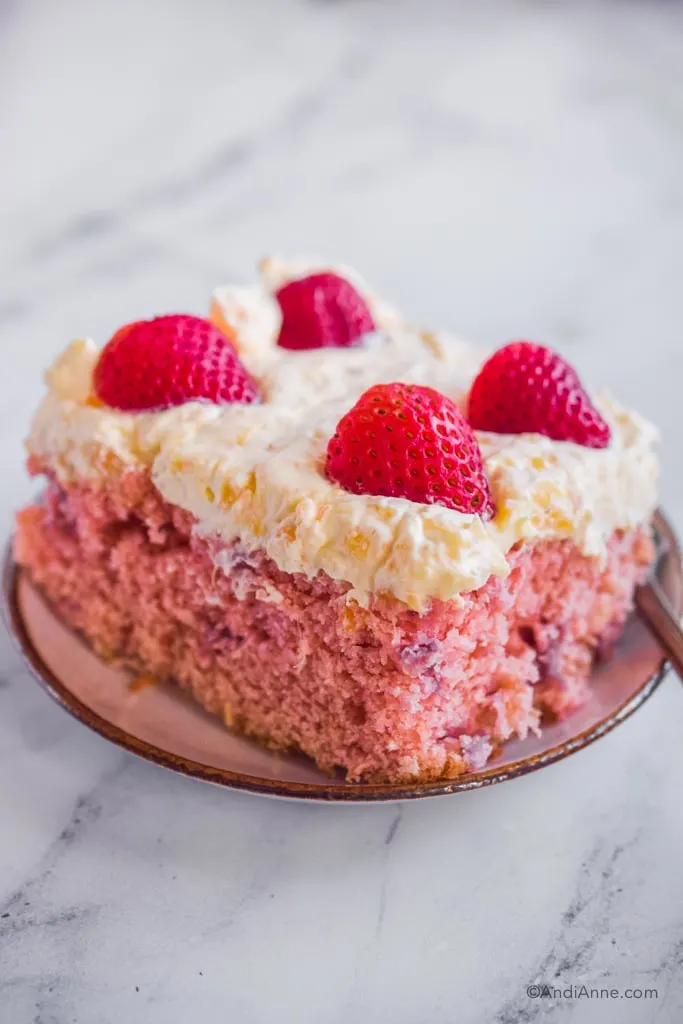 Recipe Ingredients
FLOUR: Cake and pastry flour provides the perfect consistency and will give you the fluffiest results.
STRAWBERRIES: A package of strawberries are diced small and mixed in with the cake batter. Freshly sliced strawberries also decorate the top of the cake.
PINEAPPLE: A can of crushed pineapple with pineapple juice drained is added to the cake batter and whipped topping. Pineapple chunks will not work for this recipe.
STRAWBERRY JELLO: This is used for flavor and to turn the cake pink.
CAKE BATTER: You'll need unsalted butter that is softened at room temperature, granulated sugar, milk, baking powder and baking soda, salt, eggs and vanilla extract.
TOPPING: Crushed pineapple, whipping cream and vanilla pudding mix create the whipped pineapple topping.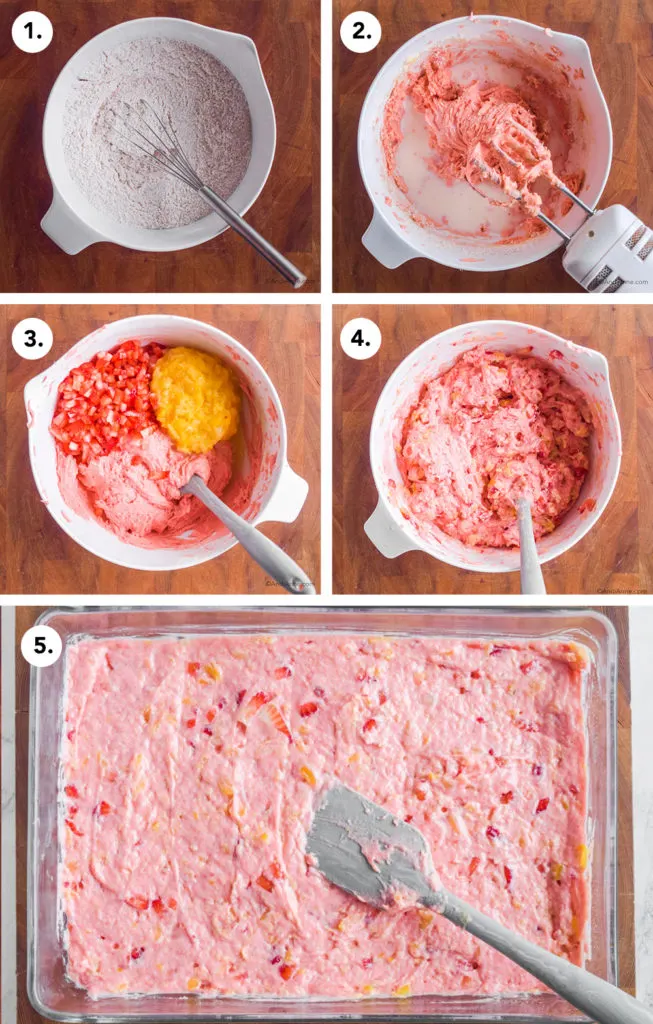 How To Make Strawberry Pineapple Cake
Mix together the dry ingredients together and set aside.
With a hand mixer, beat together the room temp butter and sugar. Add the eggs and vanilla extract.
Add ⅓ of dry mixture at a time to wet ingredients and mix together according to full recipe instructions below.
Gently fold in finely chopped strawberries and crushed pineapple. Pour into greased baking dish and bake.
Beat whipping cream. In a separate bowl, mix pineapple and pudding mix. Fold into whipped cream. Let chill 30 minutes.
Spread the whipped topping over the cake and top with fresh sliced strawberries.
Leftover cake can be stored in an airtight container in the fridge up to 4-5 days.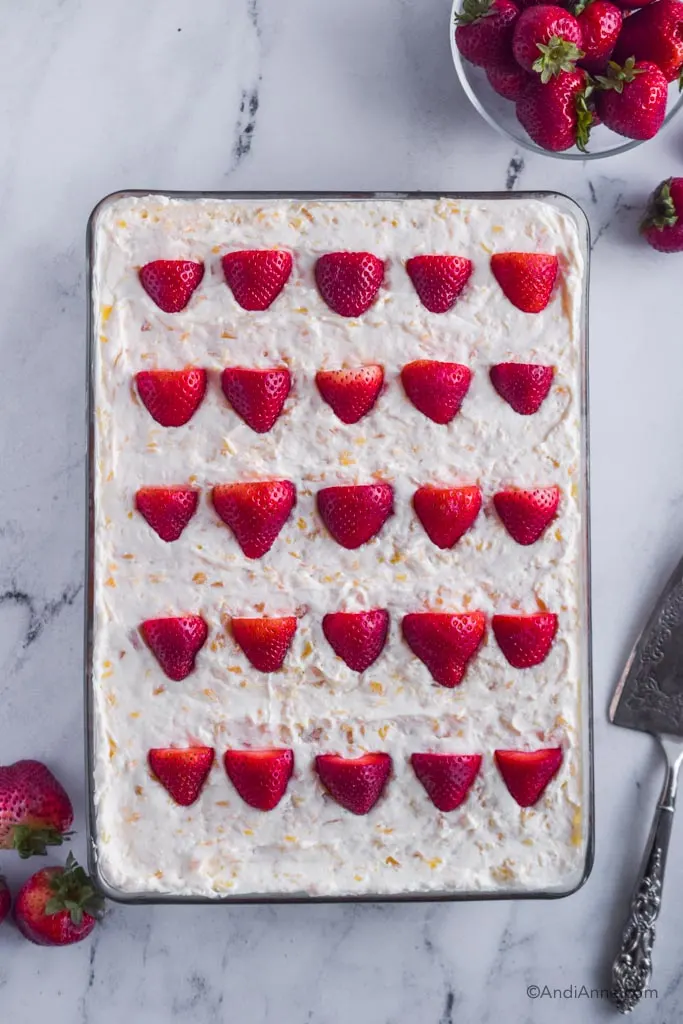 Recipe Tips
Make Cake And Topping The Night Before: I ended up baking the cake and storing it in the fridge to chill overnight. I also made the whipped topping the day before and left it in a bowl to thicken in the fridge. The next day I assembled the cake: Spread the whipped pineapple topping, slice fresh strawberries and decorated the cake.
Use Fresh Strawberries: It's important to use fresh strawberries for this recipe. Frozen strawberries will give soggier results.
Chop Strawberries Small: You'll get a more evenly baked cake if you dice the strawberries small.
Strain The Pineapple: It's important to use a fine-mesh strainer to drain the crushed pineapple completely from all excess juice for the whipped topping. Otherwise, you might get runnier results.
Grease Baking Dish: Be sure to spray the 9×13 baking dish with nonstick cooking spray before pouring in the cake batter.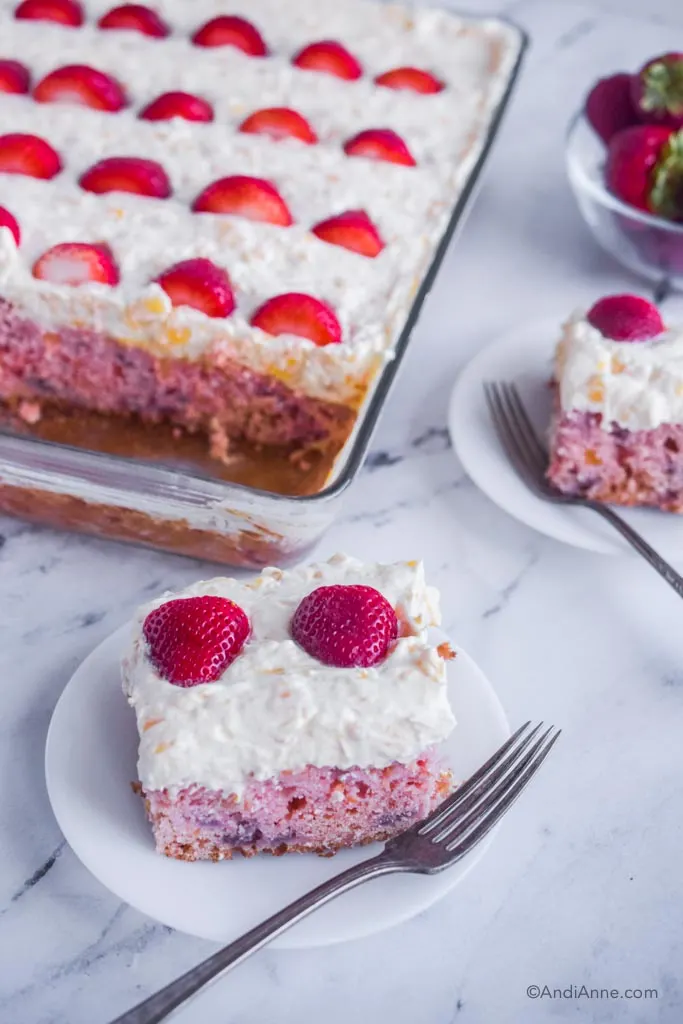 More Strawberry Recipes
Did you love this strawberry pineapple cake? Be sure to leave a rating below!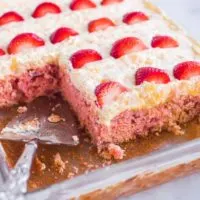 Ingredients
Whipped Pineapple Topping:
Instructions
Make The Cake:
Preheat the oven to 350°F. Spray a 9×13 baking dish with nonstick cooking spray or a bit of vegetable oil.

In a medium bowl, mix together the dry ingredients: cake flour, strawberry jello powder, baking soda, baking powder, and salt. Set aside for now.

In a large bowl, use a hand mixer to beat together butter and granulated sugar.

Mix in the two eggs and vanilla extract.

Add ⅓ of the dry flour mixture.

Mix in another ⅓ of the dry flour mixture.

Add the last ⅓ of the dry flour mixture.

The batter will look pink and similar to this.

Chop ⅔ cup strawberries into very small pieces.

Add the chopped strawberries and strained crushed pineapple to the cake batter.

Gently mix together just enough until everything is combined. Do not overmix.

Pour the batter into the greased 9×13 baking dish. Spread out evenly with a silicone spatula.

Bake the cake for 32-38 minutes, or until a toothpick comes out clean when poked in the center. Let the cake cool completely on a wire rack before adding whipped topping (I like to add the cake to the fridge for a few hours or overnight).
Whipped Pineapple Topping:
Add 1 ½ cups of crushed pineapple to a fine mesh strainer to remove as much excess liquid as possible. Set aside while it drains.

In a large bowl, beat the whipping cream until it's light, fluffy and forms soft peaks (this took me 8 minutes). Set aside.

In a separate smaller bowl, stir together the strained crushed pineapple and pudding mix.

Pour the pineapple pudding mixture into the whipped cream. Gently mix together.

Place the pineapple whipped topping in the fridge to chill minimum 30 minutes or longer (I let mine sit overnight).
Cake Assembly:
Slice 5-6 strawberries in half.

Pour the whipped pineapple topping over top of the cake and smooth with a spatula.

Add strawberries on top in rows.

Slice into pieces, serve and enjoy!
Recipe Notes:
Cake can be chilled in fridge overnight before assembling with topping.
Topping can be made night before assembling and chilled in the fridge.
Leftovers will keep in the fridge in an airtight container for 3-4 days.
In a pinch for time? Use a carton of cool whip instead and mix with crushed pineapple.
Cake can be baked in two round cake pans to create two cake layers. Spread the whipping cream in between each one and add frosting on top.
If you're in a pinch, you can use yellow cake mix or strawberry cake mix for the base of the recipe. Just follow the cake mix box directions.
Nutrition
Calories:
391
kcal
|
Carbohydrates:
38
g
|
Protein:
5
g
|
Fat:
26
g
|
Sodium:
181
mg
|
Sugar:
22
g
The nutritional information provided is an estimate and is per serving.