Let's talk about family traditions.
Do you remember the biscuits your grandma used to make, sweet smelling fresh out of the oven? Waiting to eat them felt like an eternity, but once you did, you tasted so much more than the buttery flakiness. You tasted your grandmother's love, her warmth, her kindness. They were like a big ol' grandma hug.
If you were to make those biscuits today, they would immediately transport you right back to being 7 years old, anxiously waiting for the first bite of love.
Smells can be really powerful with our memories. So can family traditions.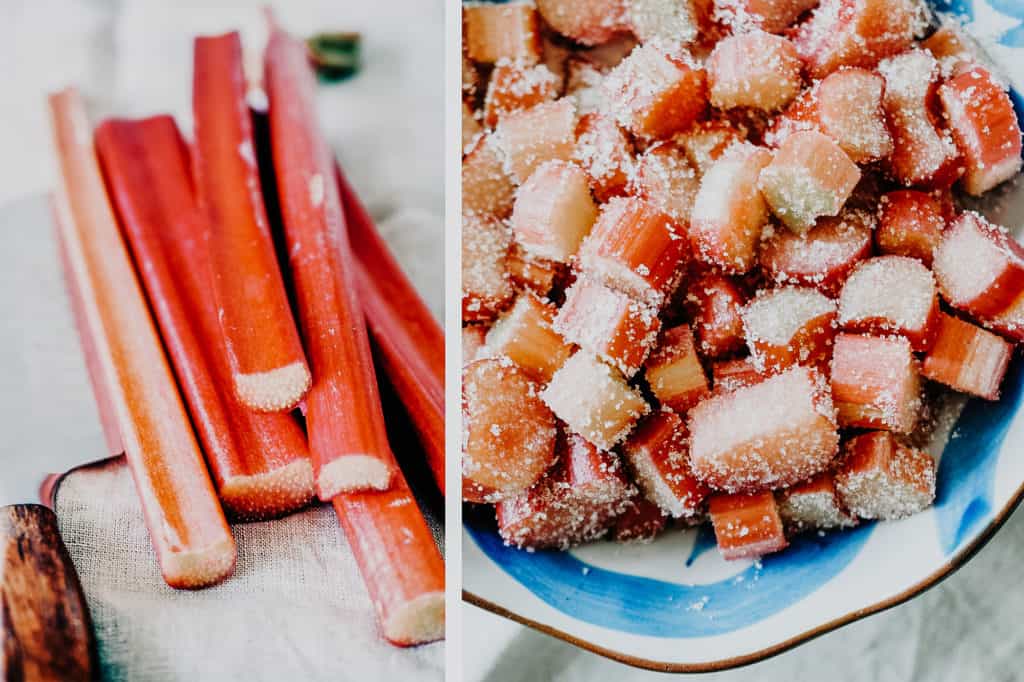 I absolutely love that we can create family traditions with just a simple recipe. Preparing that dish and letting your children love and cherish it for a lifetime.
Starting new traditions is a beautiful gift you can give.
Choose recipes that you feel drawn to. Making them over and over again.
This strawberry rhubarb crisp is one of our traditions.
The beginning of Spring is the perfect time to celebrate with fresh fruit in season, like rhubarb.
This recipe will smother your entire house with an incredible smell as it bubbles and crisps in the oven. Once cool, you can serve with a scoop of ice cream. Eat it together out on the deck enjoying the sunshine and conversation.
Strawberry Rhubarb Crisp
Ingredients
Rhubarb Filling:
2 cups rhubarb
2 cups strawberries
1/4 cup coconut sugar (or regular sugar), and 3 Tbsp
1/5 Tbsp cornstarch
1/2 fresh squeezed lemon
1 tsp vanilla extract
Crumble Topping:
3/4 cup oat flour
1 cup rolled oats
1/2 cup unsalted butter, cut into small cubes
1/2 cup coconut sugar (or regular sugar)
1 tsp cinnamon
1/2 tsp sea salt
Instructions
Preheat oven to 375°F.
For strawberry-rhubarb filling: In a medium bowl, mix rhubarb with 1/4 cup coconut sugar. In another bowl add strawberries and 3 Tbsp coconut sugar. Let both sit for 10-15 minutes. Juices will start to form at the bottom of the bowl. Strain the juices from each fruit. Combine the fruits into one bowl and toss them with cornstarch, lemon, and vanilla extract. Create a single layer on the bottom of the baking dish.
For the crumble topping: In a medium bowl, combine oat flour, oats, unsalted butter, coconut sugar (optional), cinnamon, and sea salt in a large bowl. Mix together with a pastry cutter (or fork, or hands) until the mixture clumps together. Sprinkle over the top of rhubarb and strawberries using your hand. I like to leave a little space on the edges, exposing the fruit, to add a little color aesthetically to the final dish.
Bake for 40-45 minutes or until the top is golden brown and crispy with the fruit bubbling. Let cool for 30 minutes before serving. Eat alone, with ice cream, or plain greek yogurt. This dessert will store nicely on the counter for up to two days.
Notes
See more family-friendly recipes on our website: www.andianne.com
Nutrition Information:
Yield:

8
Serving Size:

1
Amount Per Serving:
Calories:

268
Total Fat:

13g
Saturated Fat:

7g
Trans Fat:

0g
Unsaturated Fat:

5g
Cholesterol:

31mg
Sodium:

151mg
Carbohydrates:

36g
Fiber:

3g
Sugar:

19g
Protein:

4g
Please note: This nutrition information is only an estimate and was created using Nutritionix