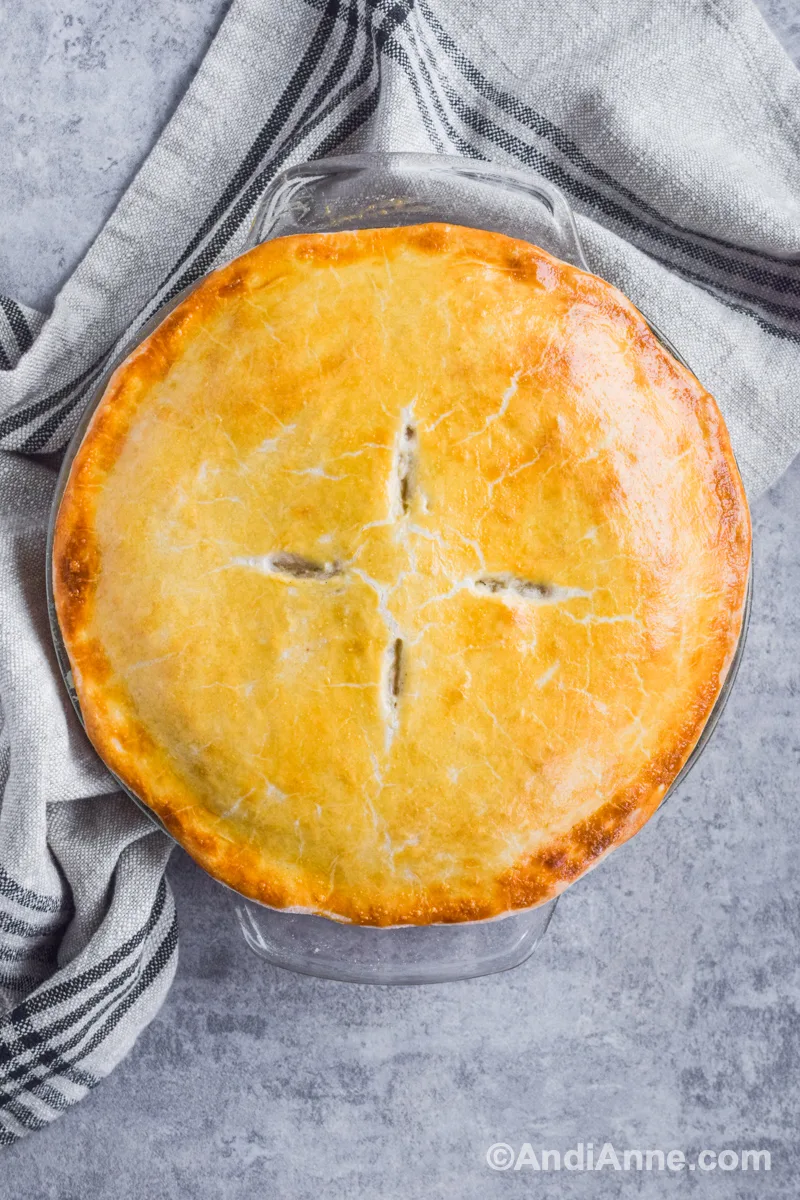 A flaky homemade pie crust that you can use for all your pie recipes! Once you get the hang of it, you'll swear off store-bought versions because this is just too easy and so much cheaper to make.
Make this pie crust with only 4 ingredients! Use it to bake sweet and savory recipes like our carrot pie or delicious turkey pot pie. This recipe makes two pie crusts so you can use them both at once, or freeze on for later.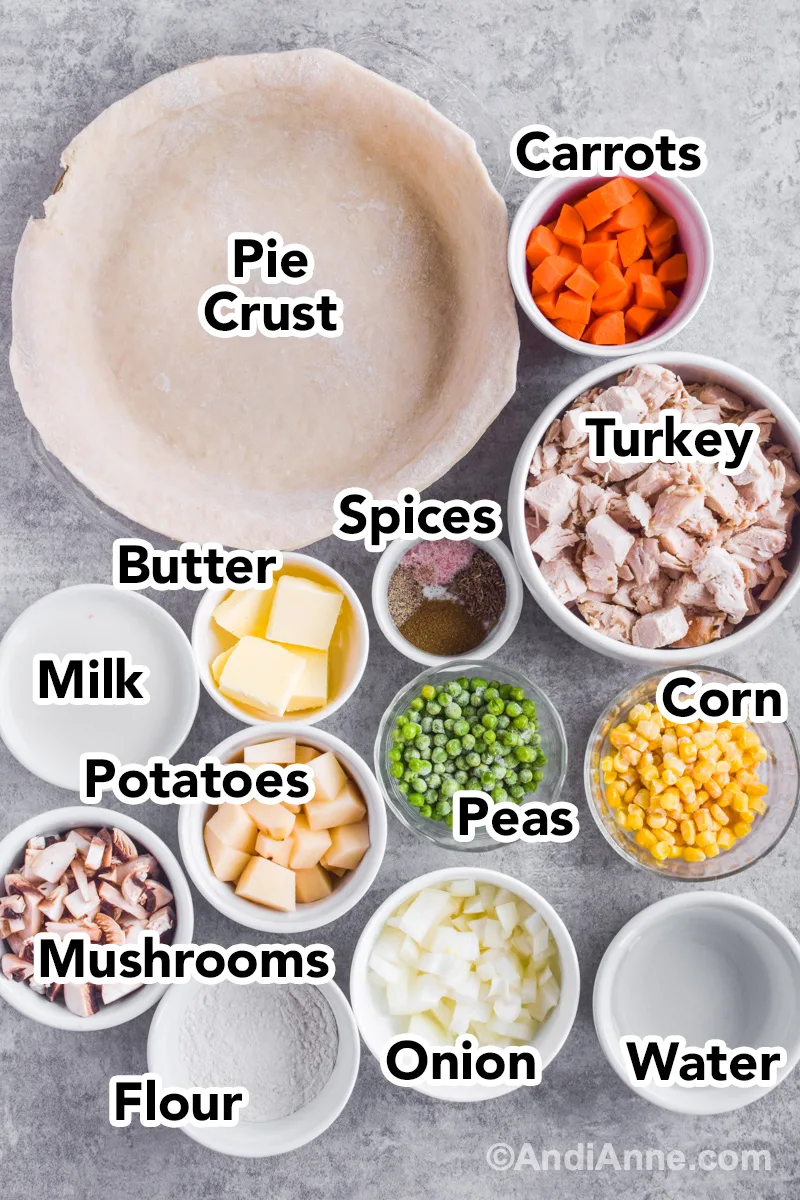 Flaky Homemade Pie Crust Step-By-Step Instructions:
Add flour and salt to a large bowl and mix together
Slice butter into small cubes then add to the flour bowl.
Using a pastry cutter, mash into the butter over and over again until it starts to break down into smaller crumbles. They will be about the size of peas.
Pour the ice cold water into a bowl and add an ice cube. Take 1 Tbsp at a time and pour into the flour mixture and stir. Keep repeating this until it is just mixed enough to form a dough ball.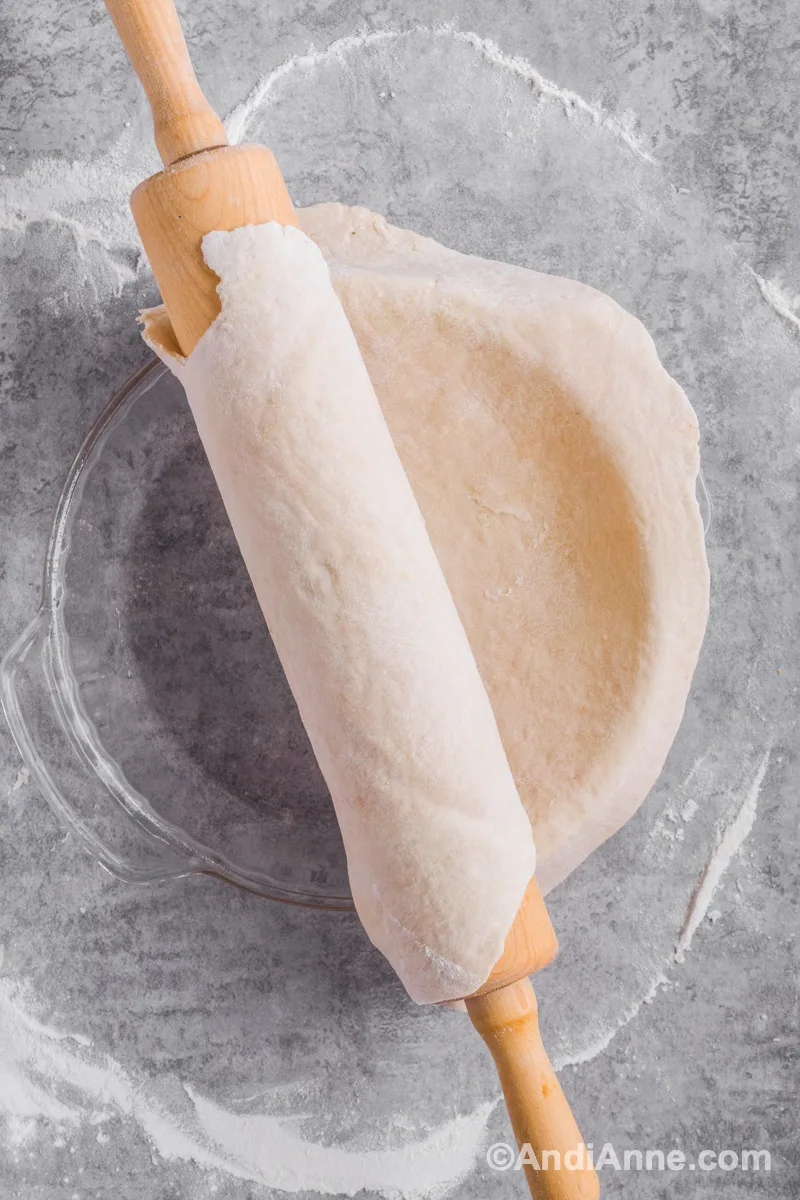 It's important not to make the dough too wet. It will look crumbly, similar to the picture above (top left).
Once it's reached this consistency, use your hands and start kneading it into a ball. If it starts to stick together, then that's a good sign you've used enough water.
If it doesn't stick together, add 1 Tbsp of water and try again.
Sprinkle some flour onto your clean countertop and place the dough. Divide it into two even balls. Set one aside.
Roll out one ball into a 12 inch circle, rotating the rolling pin around to help create the roundness. It's okay if it isn't a perfect circle. But you want it to be bigger than the pie plate.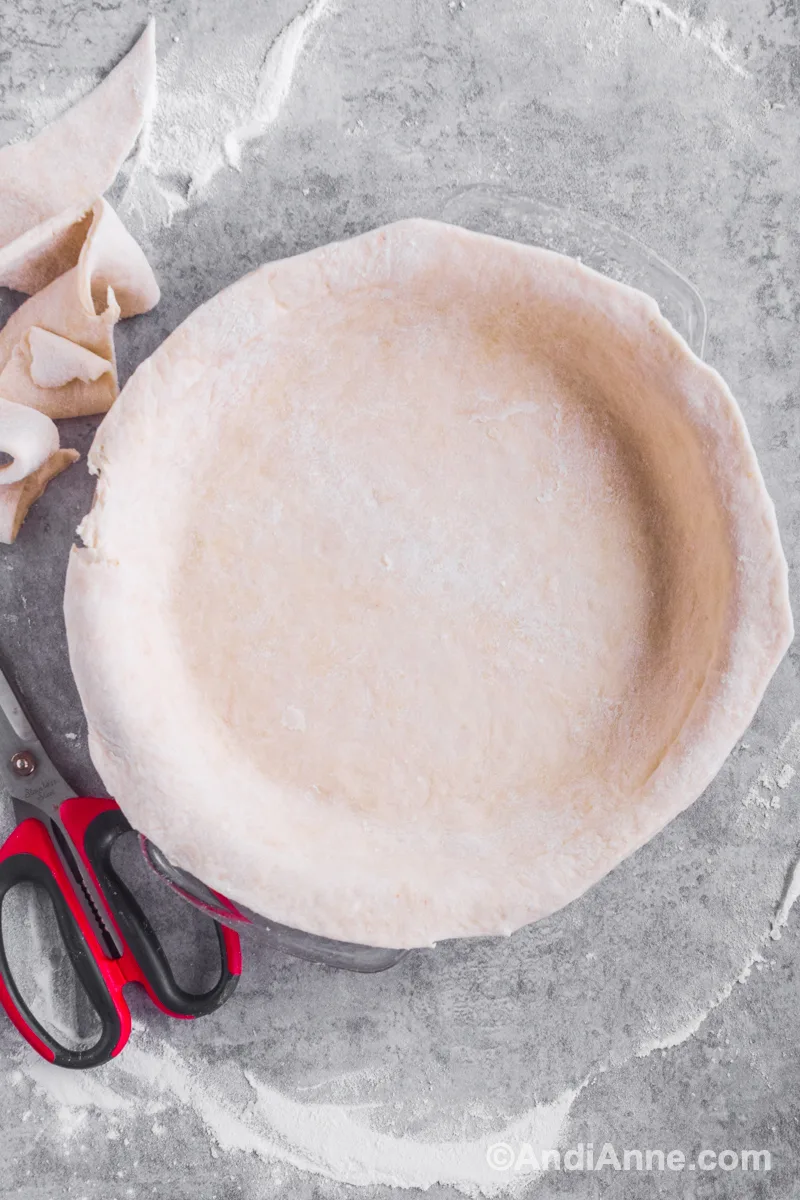 To pick up the dough, gently re-roll it onto the rolling pin.
Place the dough over the edge of the pie pan, then unroll it from the rolling pin to lay it on. If it isn't straight, just gently re-roll it and try again.
Press with your fingertips into the bottom and sides of the pie pan. Use a pair of kitchen scissors to trim the edges with about a 1/2 inch overhang.
If you have any holes or spaces that need filling, use the pie dough scraps to fill them. Press that dough in so that it sticks.
Some recipes will require that you bake the pie crust before you add the filling. Other recipes you won't need to and will bake everything at once.
Follow the pie recipe instructions that you're making to see if you need to bake it before adding filling or not.
Tips To Make a Double Crust Pie
Not all pies have a top crust. For example, a pumpkin pie. But if the pie recipe you're using calls for a top crust, then here are instructions on how to add one.
Roll out the second piece of dough using the same instructions above.
Use the rolling pin to gently pick up the dough, and re-roll it over top of the pie. If it doesn't go on straight, just re-roll and try again.
Once it's evenly over top, trim the edges with kitchen shears to a 1/2 inch overhang.
If you have any holes you can use the pie dough scraps to cover them up. Just press the dough into the holes to fill them.
Pinch the bottom crust and top crust together so that they seal. No need to do anything fancy. Pies always look great no matter what!
Use a sharp knife (not a butter knife) to cut a few slits into the top of the pie to release steam.
Brush with an egg wash and bake according to recipe instructions. The result will be a delicious homemade flaky pie crust!
Make Ahead Tips
You can make this pie dough ahead of time and store it in the fridge or freezer.
To free the dough: Make sure to divide the dough into two balls, so you have only one pie crust in each ball. Wrap with plastic wrap, and place in a freezer bag with a use-by date, name and instructions.
To refrigerate the dough: Divide the dough into two balls, then place in an airtight bag or container in the fridge for up to one week. If it is longer, I recommend freezing the pie crust dough instead.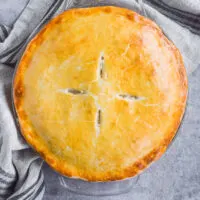 Instructions
In a large bowl, mix together flour and salt.

Using a pastry cutter, blend the cold butter pieces into the flour until it forms a pea-like texture.

Add the cold water 1-2 Tbsp at a time and mix. Do this until the dough becomes crumble and moist, but not sticky.

Form the dough into a ball, then divide in half.

On a floured surface, roll out the dough into a large 12" circle, rotating the rolling pin as you go.

Re-roll the dough onto the rolling pin to transfer on top of the pie pan. Roll back out and allow a 1/2" overhang removing any extra dough with kitchen scissors.

Press the edges and bake according to recipe instructions.
The nutritional information provided is an estimate and is per serving.