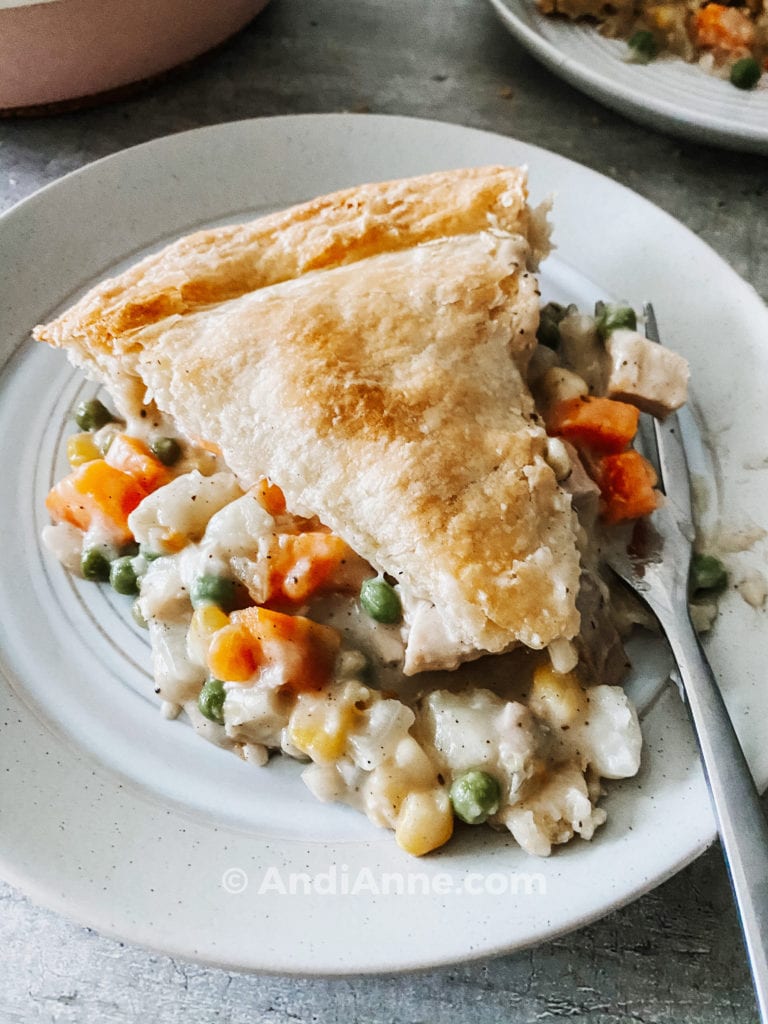 Turkey Pot Pie is a delicious way to enjoy your leftover turkey from Thanksgiving or Christmas. This recipe has a creamy, gravy-like filling that's loaded with vegetables and inside a flaky pie crust.
The beauty of leftover turkey is that there are a variety of recipes you can make with it, and this turkey pot pie is certainly one of my favorites.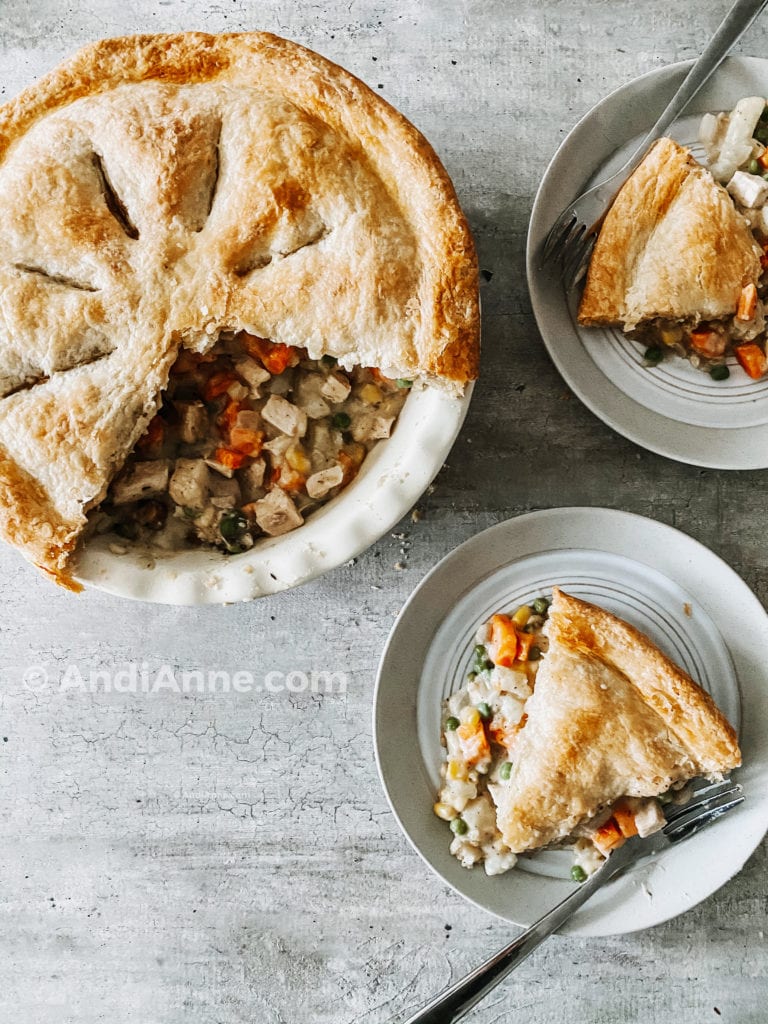 Turkey Pot Pie – What's in it?
This turkey pot pie is made with a variety of delicious vegetables including carrots, potatoes, mushrooms, peas and corn.
These are combined with a creamy sauce flavored with poultry seasoning and the chopped leftover turkey pieces.
You can easily substitute any veggies for whatever you have in your fridge. If you want a quicker assembly, try using a bag of frozen vegetables.
However, nothing beats fresh vegetables with both taste and consistency, so taking the extra step to peel and chop them is always worth it.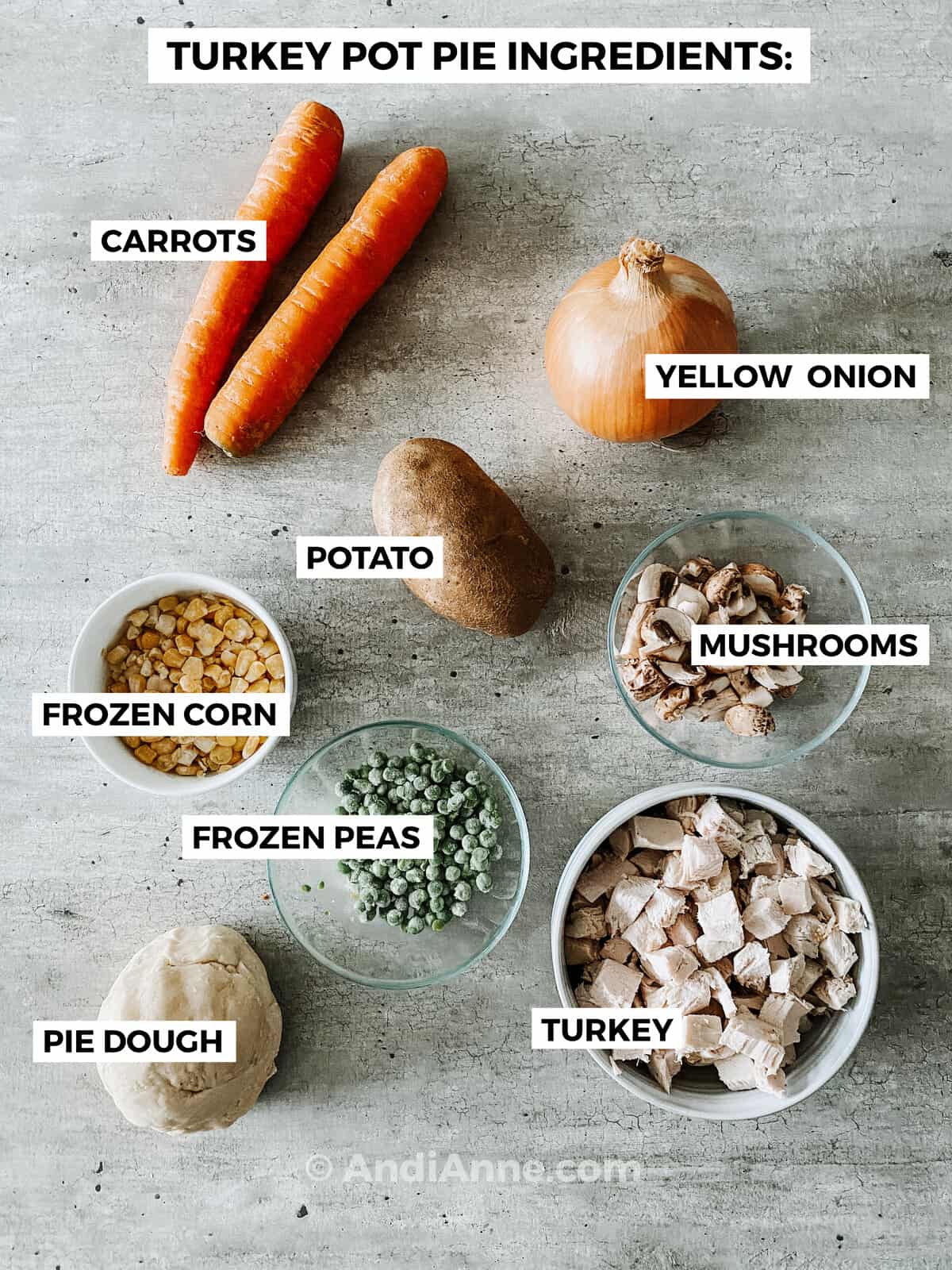 How Do You Make Turkey Pot Pie?
There are two main steps to creating your turkey pot pie, the filling and the pie crust.
I recommend making the pie crust first and letting that chill in the fridge while you make the pie filling.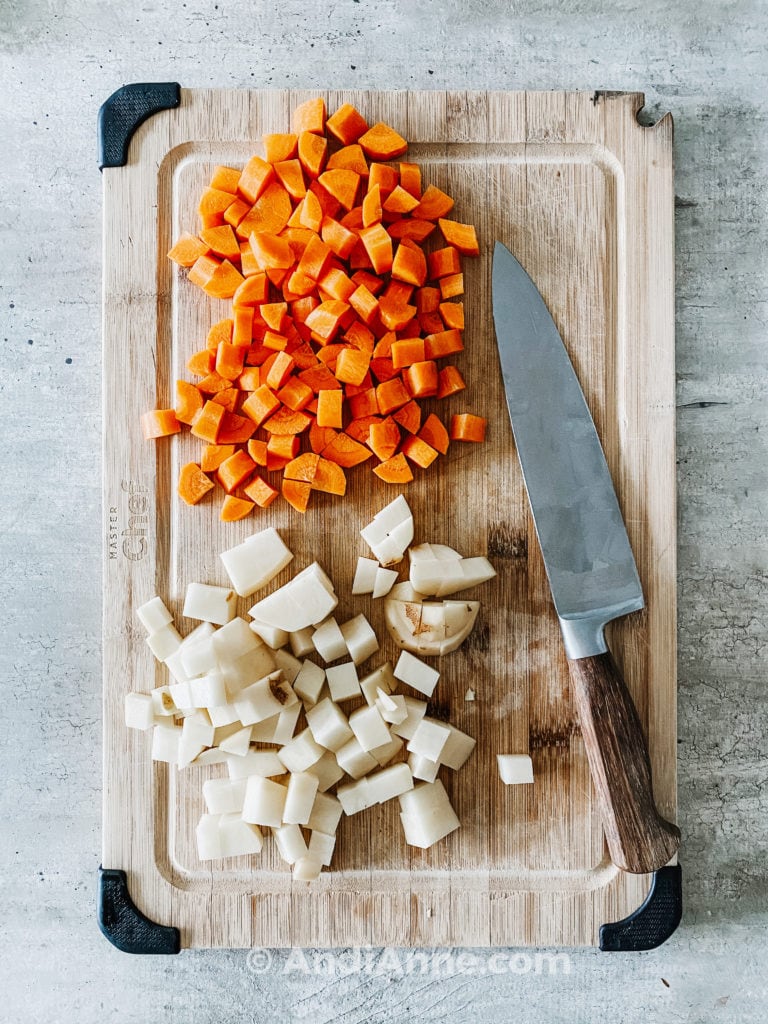 Heartier vegetables, like carrots and potatoes, will need to be boiled first.
To speed up this process, I chopped these vegetables into smaller pieces so that they would cook faster. My potatoes and carrots were ready within about 8-10 minutes of boiling.
The rest of the filling can be made in one pot. First, start with the onion and butter (you could also use cooking oil) and cook until the onion becomes translucent.
Next, add flour, poultry seasoning, dried thyme, and salt and pepper (to your taste).
Once you mix that well, you can add the water and milk. Let this mixture start to bubble, but whisk constantly.
It will start to thicken and form a gravy-like sauce. Let cook for another 1-2 minutes then remove from the heat.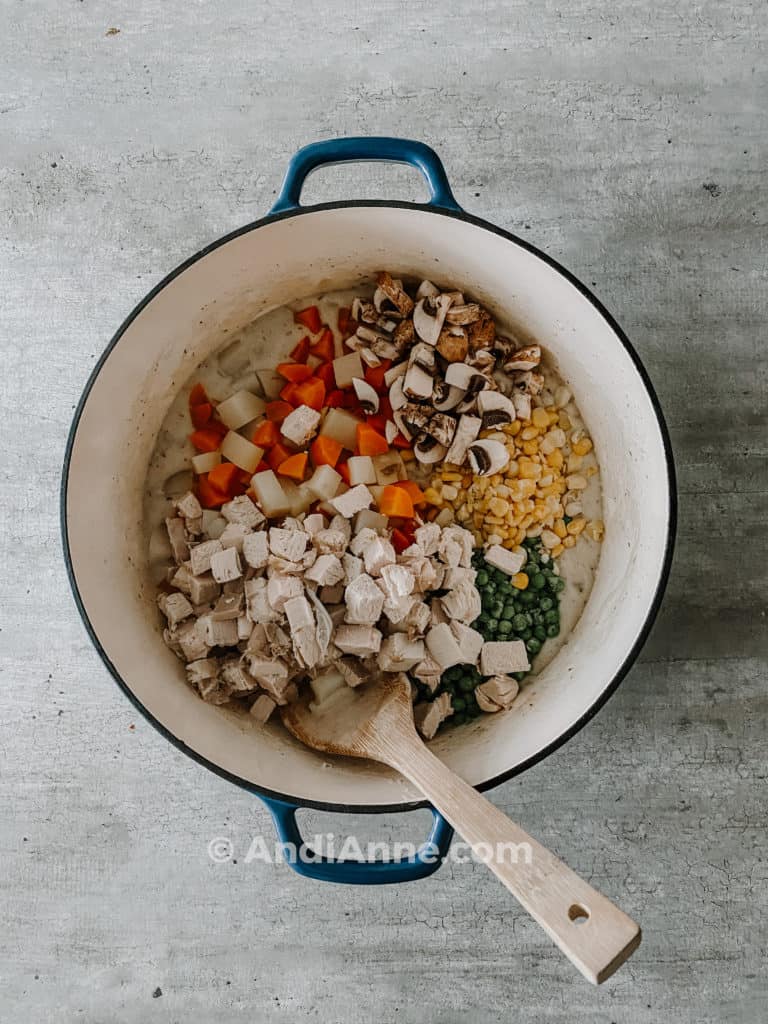 Add in all the vegetables: potatoes and carrots, peas, corn, and mushrooms. Then add the chopped leftover turkey.
Season with more salt and pepper (I like to use a lot here so feel free to flavor to your liking). Mix everything together so that it's evenly coated with the sauce.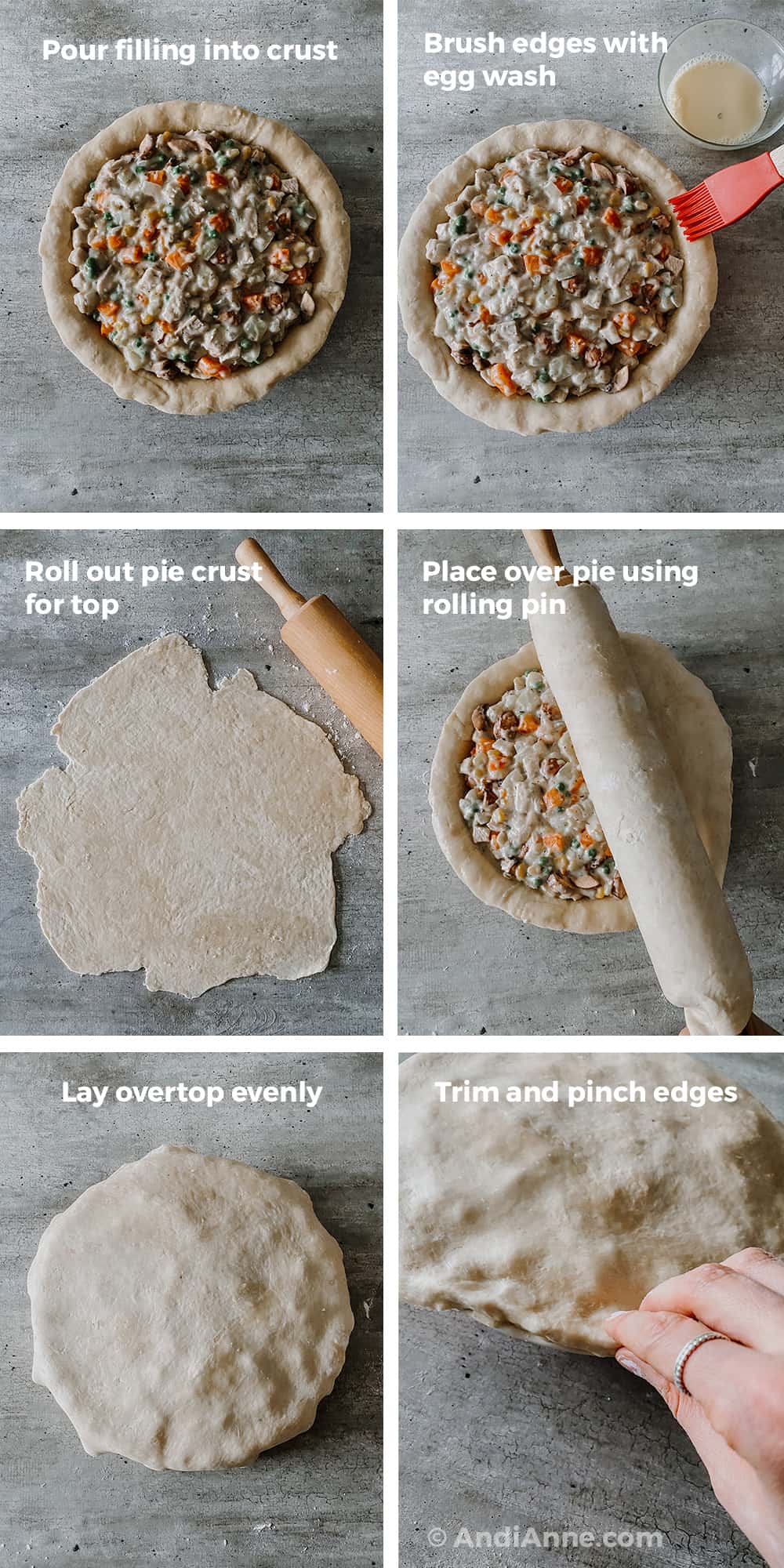 Turkey Pot Pie Crust Tips
If you are nervous about making a pie crust for this recipe, don't worry! I wrote an entire post about how to create a double pie crust that will walk you through it step-by-step. I also included tips for common mistakes and how to fix them.
I am not a perfect pie maker. I used to be very intimidated by homemade pies, so I can totally relate.
The key to a good pie crust is in the cold butter and cold water. If you follow the instructions and take your time, you should be able to create this pie crust with no problem.
The pie crust can easily be made in advance to help save time. You can freeze the dough and thaw it out for later, or you can make the dough the night before you prep the turkey pot pie recipe.
I ended up doing everything at once. First I started by making the pie crust and rolling out one piece into the pie pan.
Then I let the other pie dough (reserved for the top crust) chill in the fridge while I prepared the pie filling.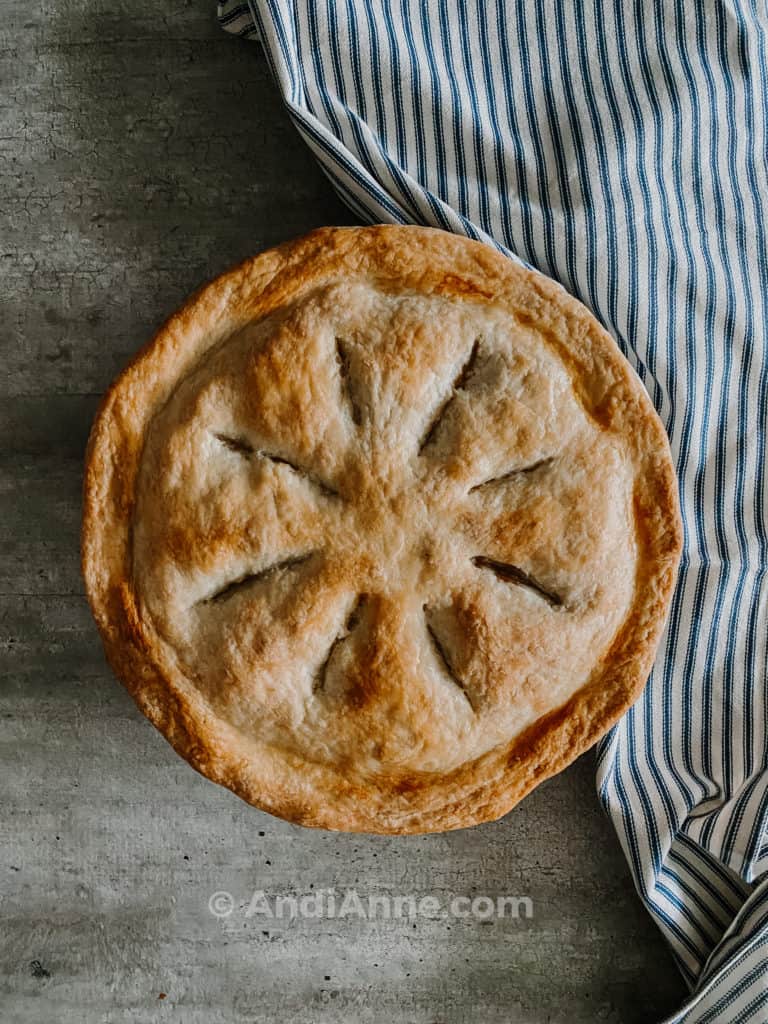 Tips and Tricks
Replace turkey with cooked chicken. This recipe will taste great with either!
Prep the dough ahead of time and freeze it. I like to make double batches of the dough when I have spare time and freeze extra for a different pie recipe that I'll make in the future.
Boil the hearty vegetables in advance, such as potatoes and carrots. These can be stored in a container until you're ready to make the recipe.
Use frozen vegetables or leftover roasted vegetables instead to save time. These don't need to be pre-cooked and be added straight to the pie mixture.
Add leftover stuffing, mashed potatoes, or squash – it will all taste good.
Try using other root vegetables including parsnips, beets, and rutabaga. Chop them into small cubes before boiling them in water to soften and cook.
Use my double pie crust recipe for all tips and tricks related to the turkey pot pie crust.
More Dinner Recipes To Try
Turkey Pot Pie
Easy turkey pot pie recipe using leftover turkey or leftover chicken. Use leftovers for a simple and delicious dinner.
Print
Save Recipe
Saved!
Ingredients
1

potato, peeled and chopped small

½

cup

carrots, peeled and chopped small

¼

cup

salted butter

½

onion, diced

⅓

cup

flour

½

tsp

poultry seasoning

½

tsp

dried thyme

salt and pepper, to taste

2

cups

water

¾

cup

milk

1

cup

chopped mushrooms

-

about 4-5 mushrooms

½

cup

frozen peas

½

cup

frozen corn

3

cups

cooked turkey, chopped or shredded

Double pie crust

-

store bought or homemade
Instructions
In a small pot, add potatoes and carrots. Fill with water and bring to a boil, then reduce to simmer. Cook until potatoes and carrots are soft. Drain water and set aside.

In a pot or dutch oven, add butter and onion over medium-high heat. Cook until the onion turns translucent.

Add the flour, poultry seasoning, dried thyme, salt and pepper. Mix together.

Whisk in the water and milk, stirring frequently. Bring to a boil then let simmer for 1-2 minutes, until the sauce has thickened. Remove from heat.

Add cooked potatoes and carrots, frozen corn, frozen peas, mushrooms, and chopped turkey to the sauce. Season with salt and pepper then mix everything together so that sauce coats evenly.

Spray the pie plate with nonstick cooking spray. Line with one of the pie crusts and trim edges. Pour in the turkey filling. Brush edges with egg wash.

Place second pie crust on top and trim edges. Pinch edges together and brush the top crust gently with more egg wash.

Use a sharp knife to cut 4-8 slits in the pie crust to help release steam.

Bake for 35-40 minutes, or until the crust turns golden brown and the filling begins to bubble. Let sit for 15-30 minutes before serving.
Recipe Notes:
Turkey can be replaced with cooked chicken (shredded or chopped)
Frozen vegetables or leftover roasted vegetables can be used in replacement.
Check crust while cooking to make sure it isn't browning too much. If it is, try covering it with aluminum foil.
Nutrition
Serving:
8
g
|
Calories:
190
kcal
|
Carbohydrates:
17
g
|
Protein:
12
g
|
Fat:
9
g
|
Cholesterol:
44
mg
|
Sodium:
116
mg
|
Potassium:
408
mg
|
Fiber:
3
g
|
Sugar:
3
g
|
Calcium:
47
mg
Nutrition Info Note: The actual number of servings will depend on your preferred portion sizes and the size and number of what you make. The nutritional values provided above are just an estimate. Actual numbers will vary based on brands you choose and the ingredients you use.
If you're looking for more specific details (for example, to track your macros) then I recommend adding specific brand ingredients and this recipe to a food tracker app on your phone.
---
Did you enjoy this recipe? Save it to Pinterest!