Ground Turkey Orzo in Tomato Sauce is a hearty meal packed with flavor! Ground turkey, orzo pasta, heavy cream, tomato sauce, and a few other savory goodies combine to make a creamy comfort meal that is guaranteed to leave you satisfied.
Ground Turkey is one of the cheapest meats you'll find in the meat aisle. Its versatility allows it to take on additional flavors and it can be used in many different recipes like my Teriyaki Ground Turkey With Rice, or this delicious Ground Turkey Sweet Potato Skillet.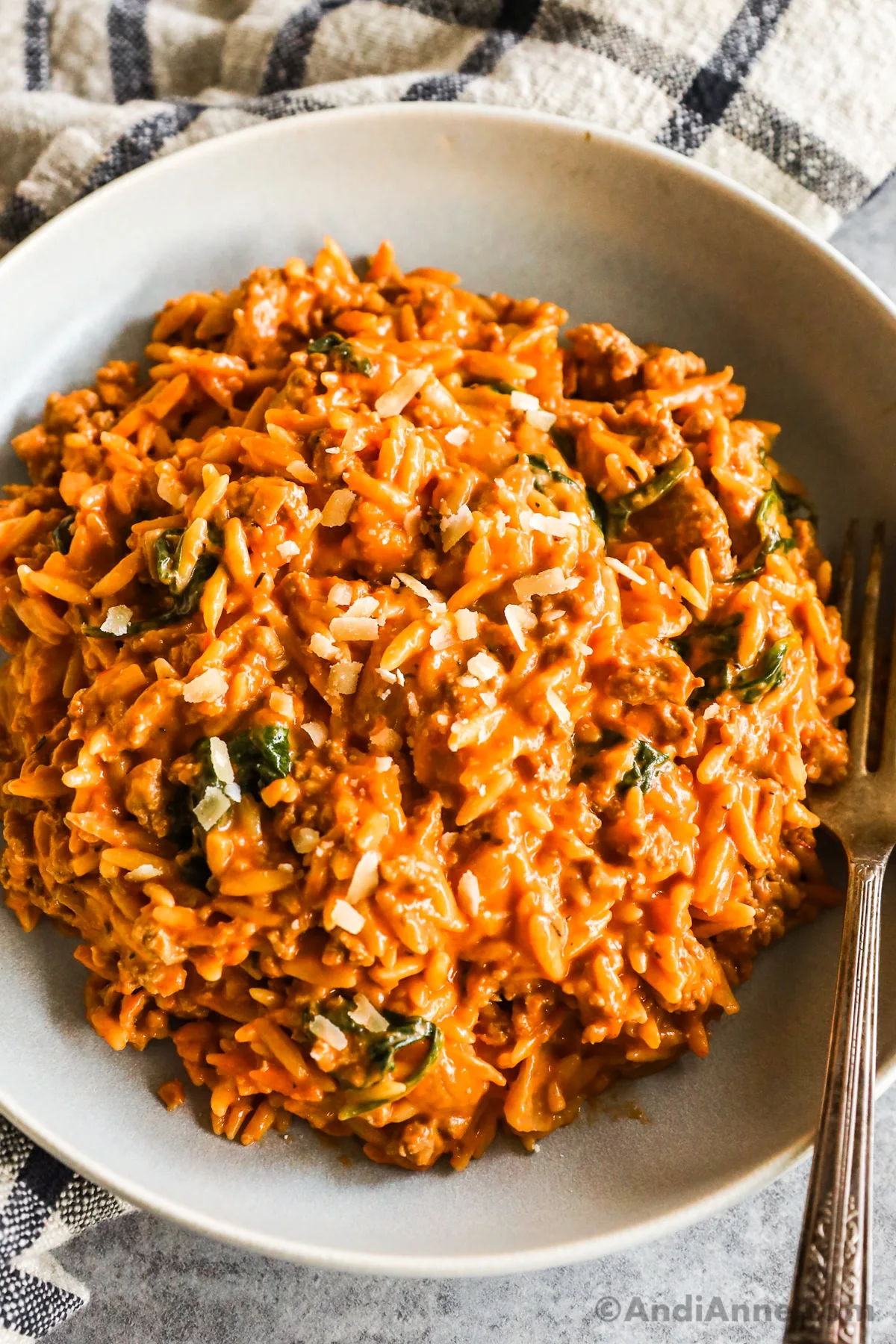 Creamy Tomato Ground Turkey Orzo
This Ground Turkey Orzo in Tomato Sauce recipe welcomes your choice of vegetables to be incorporated. If you have some extra veggies lying around they'll likely fit right at home soaking up the flavors of the tomato sauce, turkey, and parmesan cheese.
This dish is easily paired with a side of Dutch Oven Bread and/or salad. And, leftovers are easily stored in the fridge or freezer for future meals.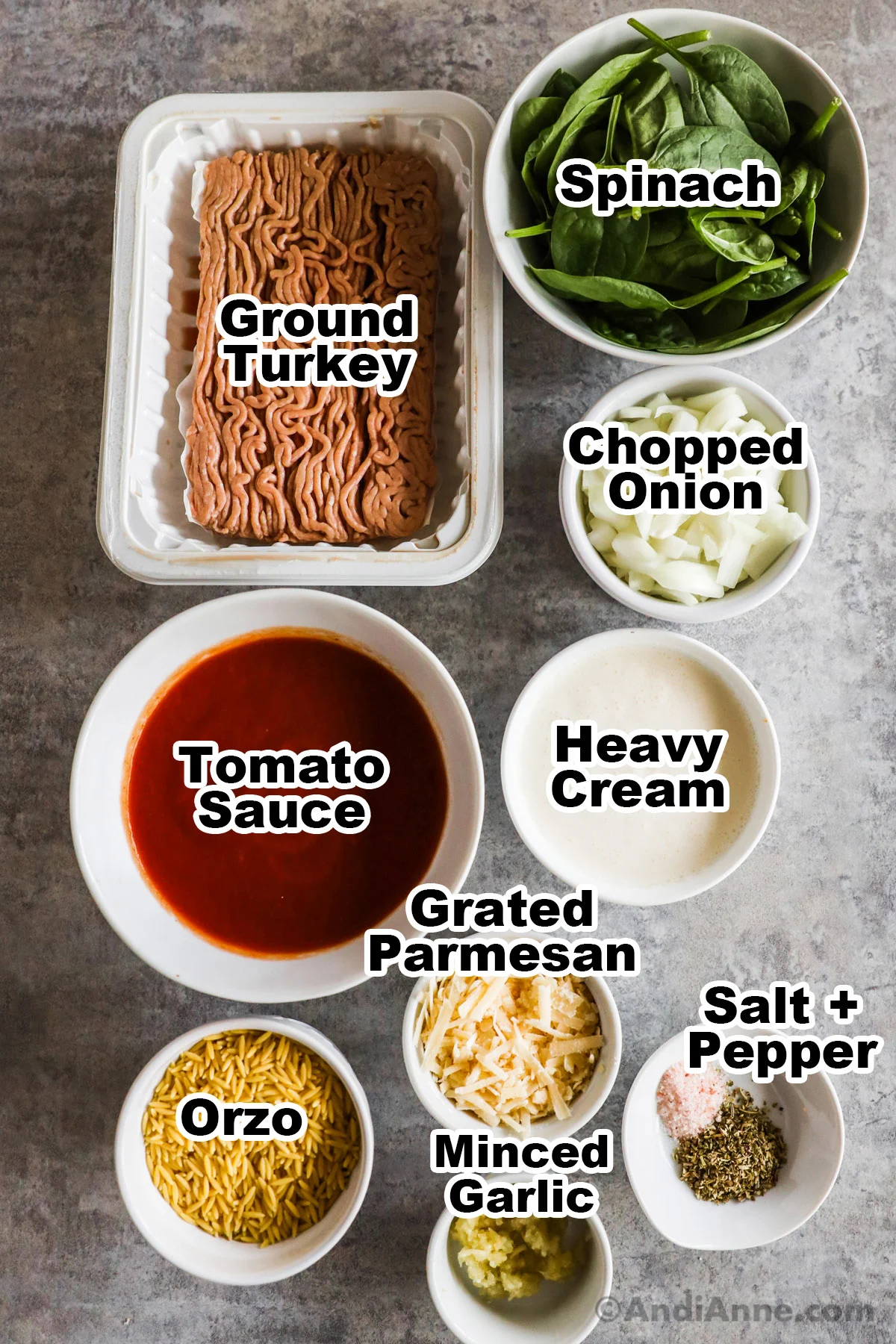 Recipe Ingredients
The best part of this recipe is how very little the ingredients cost. The second-best part is how easy it is!
The following is a quick overview of the recipe ingredients.
Detailed ingredients can be found in the recipe card at the bottom of this blog post.
LEAN GROUND TURKEY – You can buy lean ground turkey fresh or frozen. If using frozen, be sure to thaw completely before frying.
ORZO PASTA – Orzo pasta adds texture to many dishes. Something I always have on hand.
PARMESAN CHEESE – I love freshly grated parmesan cheese, but you can use any parmesan found at your grocer.
BABY SPINACH – If you can't find baby spinach, just slice bigger leaves in half.
YELLOW ONION – I used yellow onion for this recipe, but red or white onions will also work.
GARLIC – Fresh garlic is best but if you're on the go, pre-minced garlic is an option.
ITALIAN SEASONING – Italian seasoning can be made by dicing basil, oregano, rosemary, thyme, and marjoram.
TOMATO SAUCE – Canned tomato sauce is cheap and easy to use.
HEAVY CREAM – Anything with heavy cream is sure to taste amazing. You can use coconut milk, but the flavor will change.
WATER – I just used regular tap water.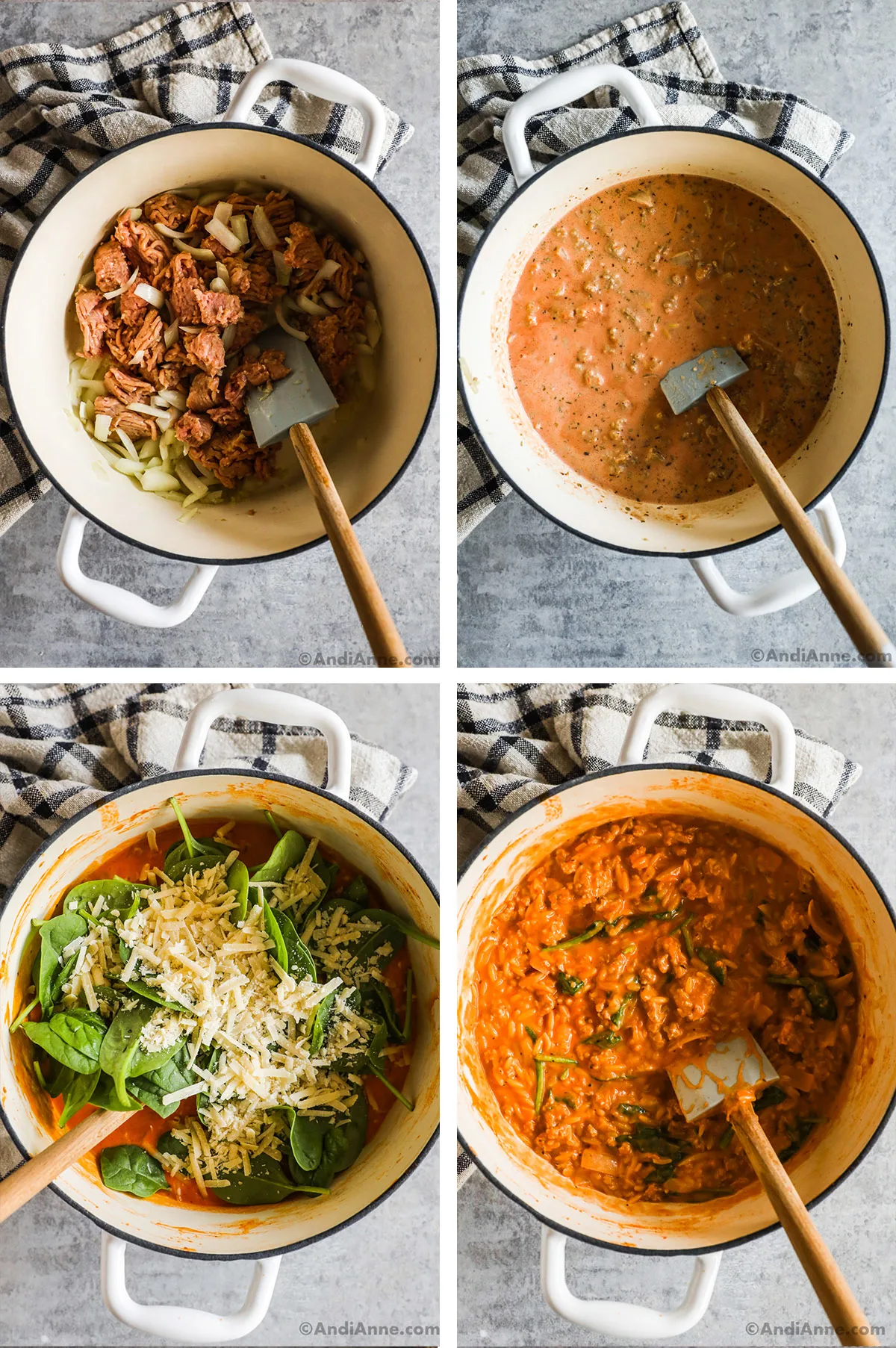 How To Make Ground Turkey Orzo in Tomato Sauce
With a few simple and cheap ingredients, this dish can be prepped and served in under 45 minutes.
For full instructions in the recipe card, scroll to the bottom of the page.
FRY – Place a frying pan on the stove at medium-high heat and add a little cooking oil to the pan. Once the oil is hot, add the diced onions and minced garlic. Give that a stir and cook until the onions become translucent.
ADD – Add the ground turkey to the pan and break apart using a wooden spatula. Cook until the turkey has browned and no longer pink.
DRAIN – Drain the excess grease by folding a single sheet of paper towel a few times and with your wooden spatula, stir it along the bottom of the pan.
COOK – Add the Italian seasoning and orzo pasta. Allow that to cook for 1 minute.
SIMMER – Keeping the heat at medium-high, add the tomato sauce, water, and heavy cream. Stir, and bring that to a boil. Now, with the heat at low medium, simmer for around 10 minutes or when the orzo is soft. Be sure to stir often to prevent anything from sticking to the bottom of the pan.
MIX – Once finished, remove the pan from heat, and add then mix the grated parmesan cheese and spinach. Cover, and let that sit for about 3-4 minutes, then serve.
PRO TIP: Dice up a fresh sprig of parsley and sprinkle over the top as a garnish.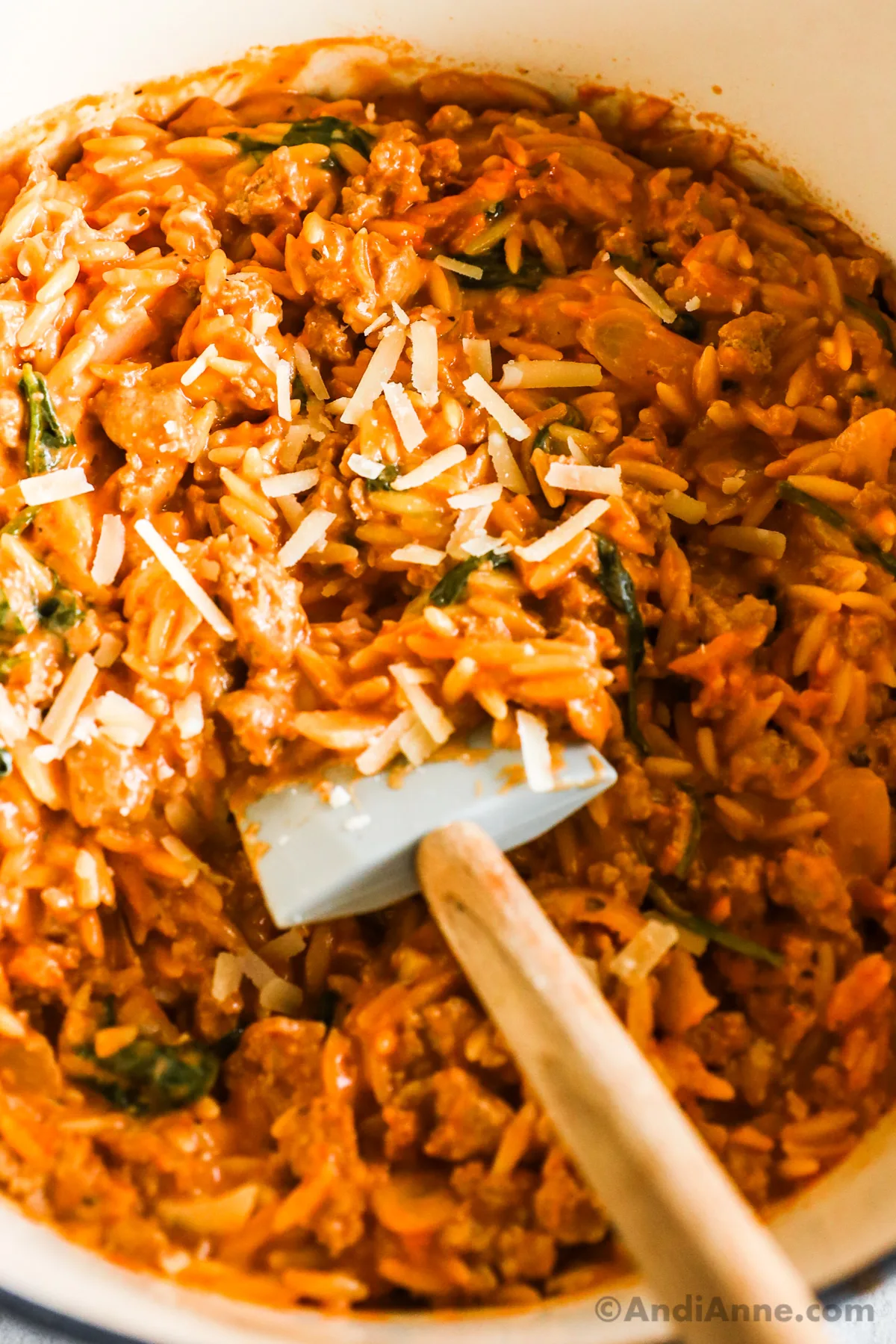 Storing Leftovers
FREEZER – This recipe contains cream which may separate during the thawing process. A slow heat over the stove will bring it back to life. Store frozen for 2-3 months.
FRIDGE – Store in the fridge covered for 1-2 days. Reheat with a microwave or stovetop.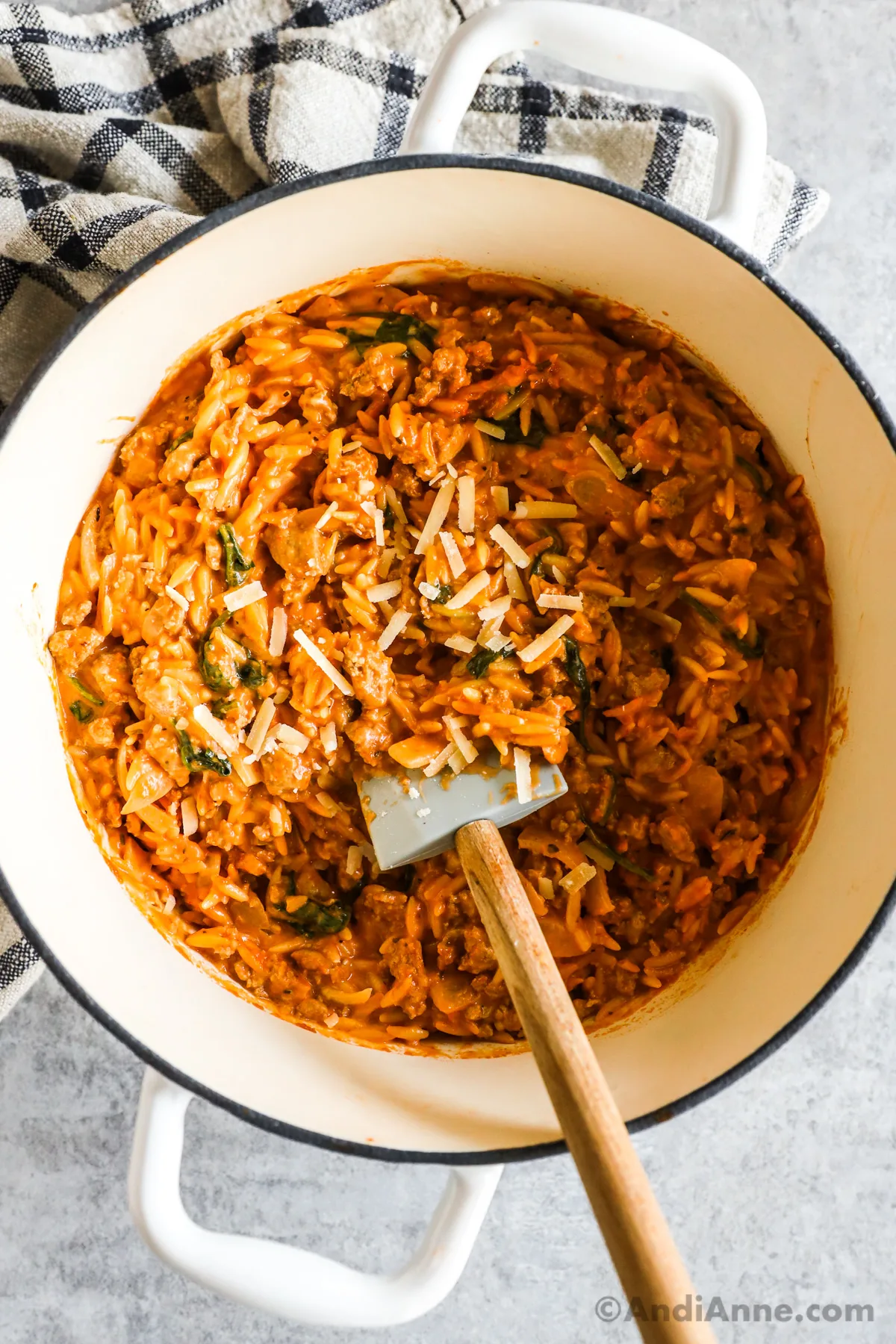 Recipe Tips
DON'T RINSE – Orzo should only be rinsed if you are adding it to a baked dish or, served cold, like in a salad. Washing it removes the starch coating which helps to hold onto sauces. For this recipe, we want the orzo to hold onto the sauce.
AL DENTE – For a firmer orzo pasta, reduce simmering time to 8 minutes.
THICK SAUCE? – As the sauce cools, it will continue thickening. Add a tbsp of water to loosen it up.
Ground Turkey Orzo in Tomato Sauce should be added to everyone's, "delicious and easy to make", list. It's cheap, simple, uses nourishing ingredients, and takes no time at all to prep, cook, and serve.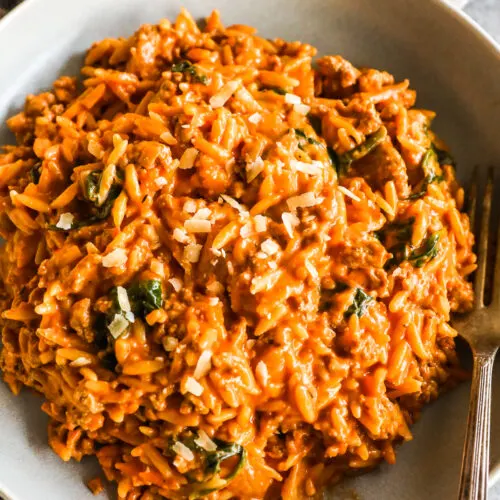 Instructions
Add the chopped onion and minced garlic to a pot over medium high heat with a bit of cooking oil. Cook until onion turns translucent, about 1-2 minutes.

Add in the ground turkey and break apart using a spatula. Cook until turkey is no longer pink. Drain any excess grease by swishing a paper towel along the bottom of the pan with the spatula.

Next add the tomato sauce, water, heavy cream, italian seasoning and orzo. Stir together, bring to a very gentle boil then reduce heat to let simmer. Stir frequently with a spatula, scraping along the bottom to prevent the orzo from sticking. Cook until the sauce has reduced and orzo is cooked, about 10 minutes.

Remove the pot from the heat, then mix in the grated parmesan and spinach. Cover and let sit for 3 minutes.

The sauce will begin to thicken as it cools. Scoop into bowls and serve with a sprinkle of parmesan on top.
Nutrition
Calories:
361
kcal
|
Carbohydrates:
24
g
|
Protein:
25
g
|
Fat:
19
g
|
Saturated Fat:
11
g
|
Polyunsaturated Fat:
1
g
|
Monounsaturated Fat:
5
g
|
Trans Fat:
0.01
g
|
Cholesterol:
94
mg
|
Sodium:
394
mg
|
Potassium:
384
mg
|
Fiber:
1
g
|
Sugar:
3
g
|
Vitamin A:
713
IU
|
Vitamin C:
3
mg
|
Calcium:
123
mg
|
Iron:
1
mg
The nutritional information provided is an estimate and is per serving.