Mushroom hamburger casserole is the ultimate easy weeknight dinner. Cheesy pasta noodles are combined with ground beef and tomato sauce in a casserole dish. Serve it with a side salad or crunchy biscuit and you'll have a dish the whole family will want seconds of!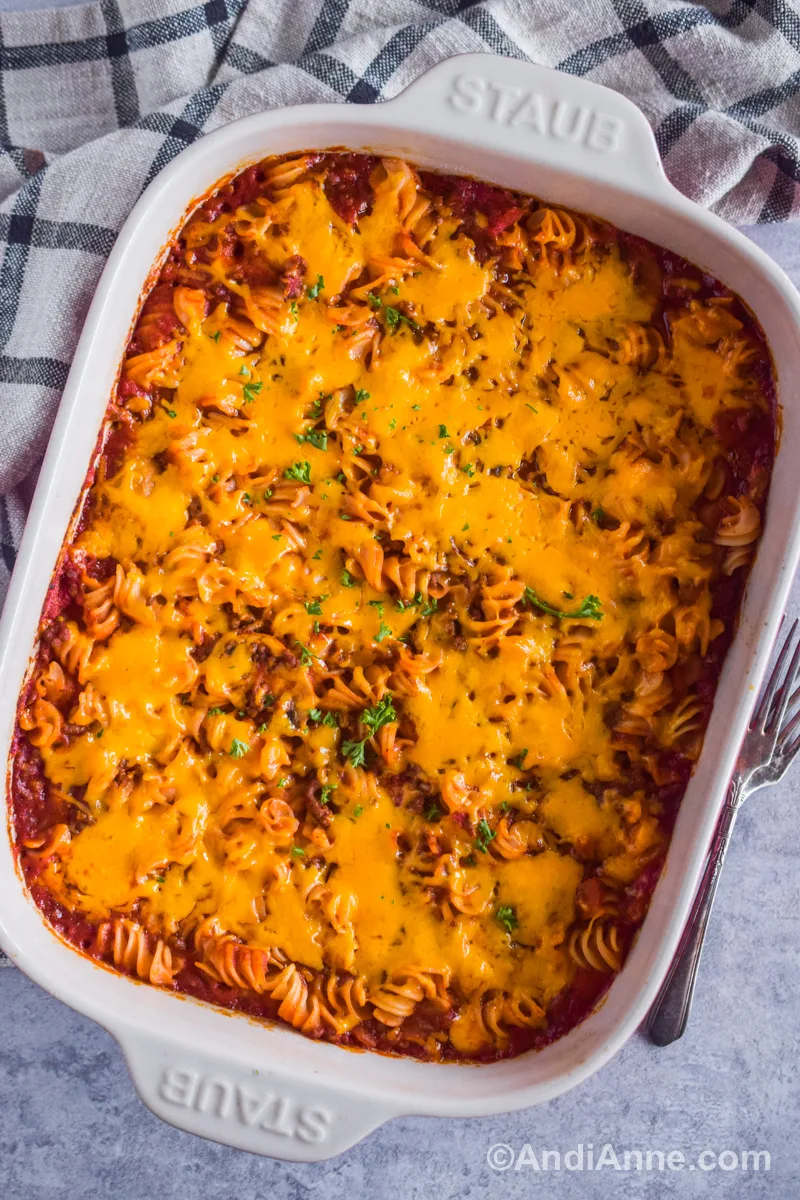 Mushroom Hamburger Casserole Recipe
Hamburger anything is a favorite around here. From the crockpot hamburger soup to our one-pot taco pasta, I'm always finding ways to use ground beef in my dinner recipes because it's affordable and so easy to cook with.
This hamburger casserole recipe will surely become a new go-to meal idea for a variety of reasons. Here's why you'll love this recipe:
Easy to make – Cook the ground beef, boil the pasta, then dump all ingredients into a casserole dish to bake!
Cheap – Ground beef is a cheaper meat option and is great for using in casserole recipes.
Family-favorite – It's a filling flavorful weeknight meal idea. With simple tastes and textures that kids even enjoy, you really can't go wrong here!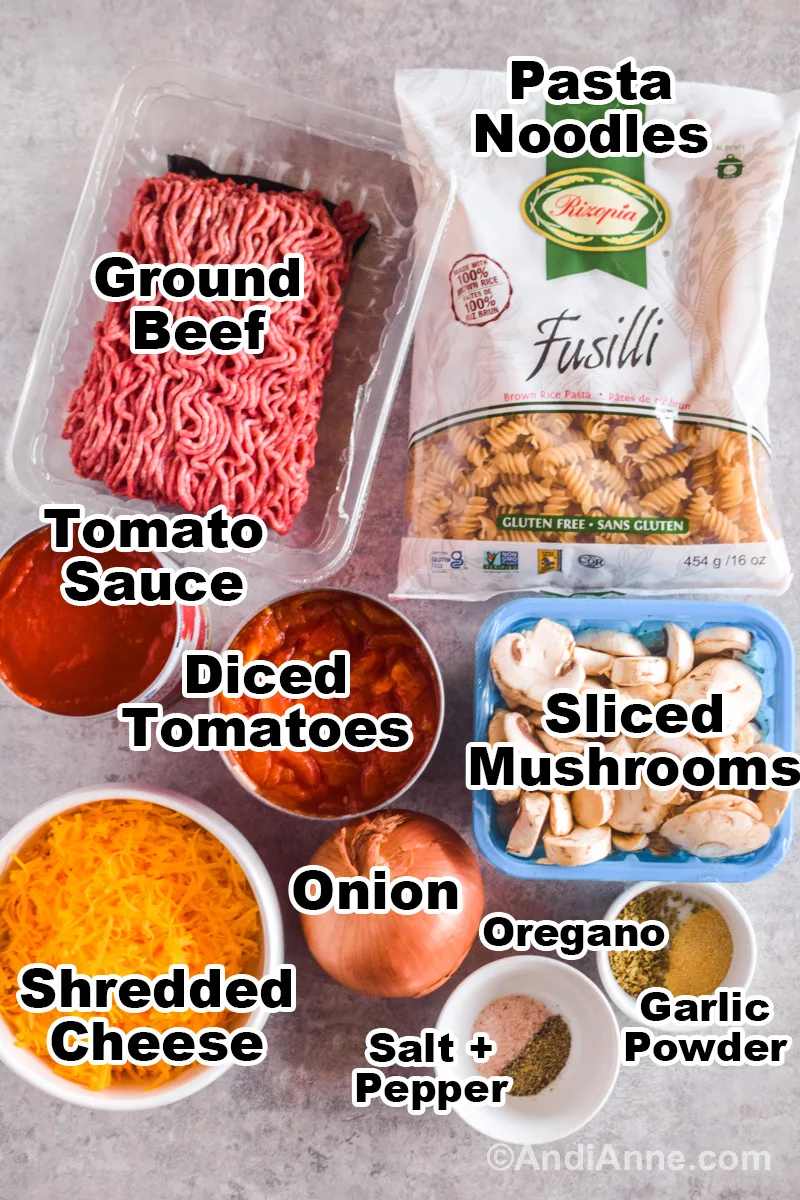 Recipe Ingredients
Many of us remember eating hamburger casserole as kids. For me, it was in a package and didn't taste nearly as good as this homemade recipe does! Fresh mushroom slices, diced tomatoes, and spiral pasta really take this recipe up a level. Here's what you'll need to make it:
Ground beef: 1 lb of lean ground beef is used. Feel free to swap with ground pork.
Pasta noodles: I like to use brown rice spiral pasta noodles, but you can use any kind of noodles you like.
Onion: Yellow onion is the most versatile with a depth of flavor. White onion can also be used with its slightly milder flavor.
Pasta sauce: Look for a 24 oz jar of pasta sauce. One with added herbs or mushrooms will work great. The more flavor the better!
Diced tomatoes: A 14 oz can of diced tomatoes keeps things easier as there's no chopping required.
Mushrooms: I recommend using fresh mushrooms as they will add a completely different texture to the casserole. Canned mushrooms
Shredded cheese: Cheddar cheese is so versatile and perfect for this recipe. Mild cheddar has a creamy subtle taste. Old cheddar (aged cheddar) has a more nutty and sharp taste to it. Colby or marble cheese would also work well for this recipe. Mozzarella cheese can also substitute for cheddar because of its mild flavor.
Spices: A bit of oregano adds earthy green flavor to the sauce. Garlic powder adds a subtle sweetness, plus salt and pepper.
Pro Tip: To cut back on costs, try cutting the ground beef in half and substituting the other half with lentils. They are a great source of protein and fiber! We do this often when making meatballs for budget-friendly meals.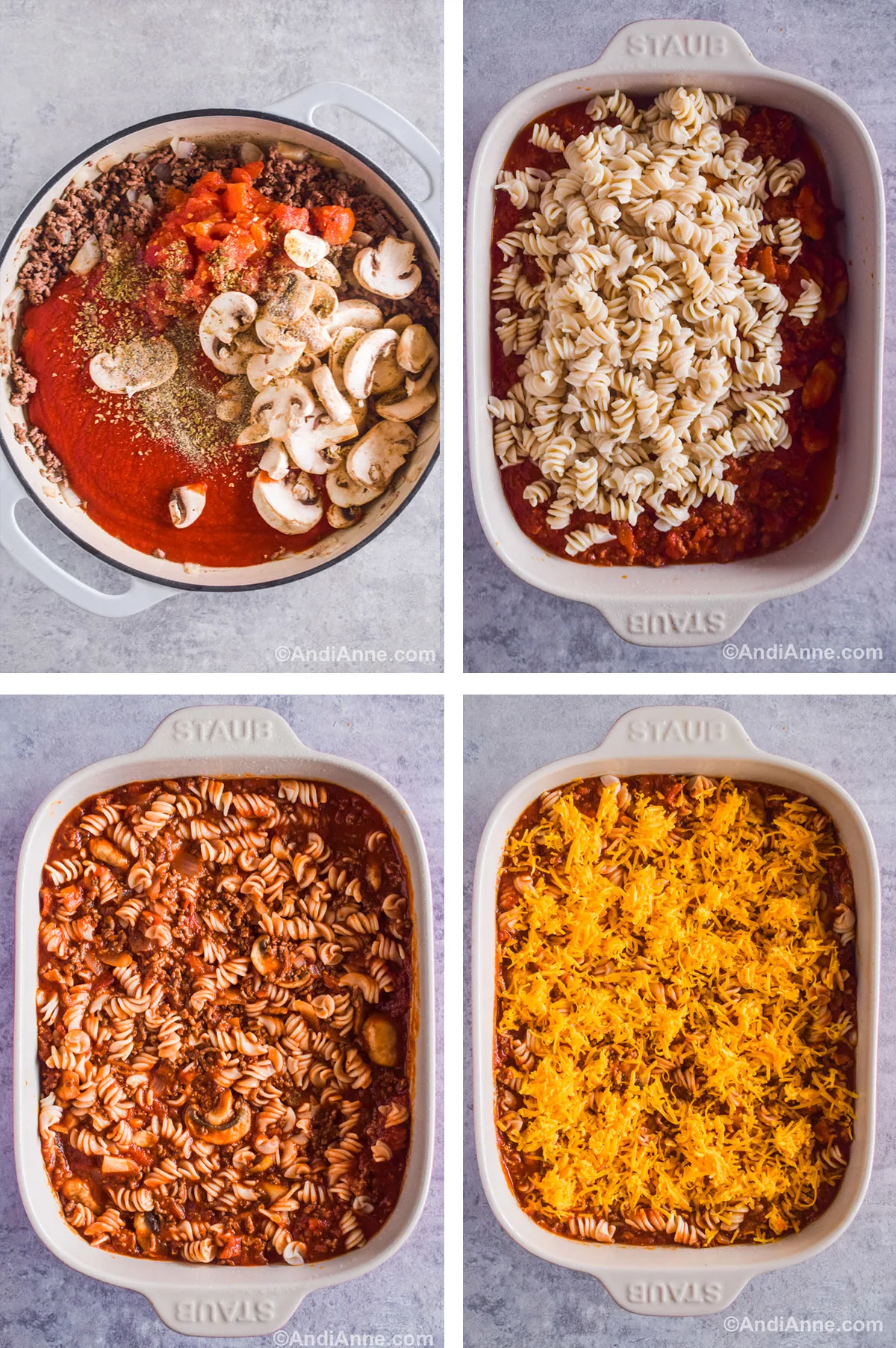 How To Make Hamburger Casserole
This hamburger casserole is so easy to make, it can be ready in a few simple steps. Here's an overview with more detailed instructions in the recipe card at the bottom of this post:
Cook pasta – Boil noodles according to package instructions. Drain and set aside.
Ground beef – Cook ground beef and onion in a skillet with a bit of oil.
Assemble – Stir in pasta sauce, diced tomatoes, mushrooms, and all spices. Add in cooked pasta. Pour into a casserole dish and top with shredded cheddar cheese.
Bake – Bake at 350°F for 30 minutes and let cook before slicing and serving.
Pro Tip: Cooking your pasta ahead of time makes this meal even more of a breeze. Boil the pasta in water, drain and rinse earlier in the week. Then store in the fridge in an airtight container until you're ready to make the hamburger casserole.
Common Questions
Can I use mozzarella cheese instead of cheddar cheese?
Mozzarella cheese melts beautifully and has a mildly sweet taste that pairs well with pasta dishes. I would work great in replacement of cheddar cheese.
How do you know when hamburger casserole is cooked?
Because the ground beef is already cooked in advance, there's no need to worry about an undercooked hamburger casserole. Baking at 350°F for 30 minutes is enough time to ensure that the casserole is fully warmed through and the cheese is melted and bubbly.
Should I cover my hamburger casserole with foil while baking?
Some people prefer to cover their casserole with foil for 20 minutes and then remove it for the last 10 minutes. We haven't had any problems with baking without foil for the full 30 minutes so we stick with that method. It's just personal preference.
Pro Tip: Batch prep ground beef in advance. Sometimes if I find a sale on ground beef I will stock up and cook it all in one big batch with some onion. Then I'll freeze 1 lb each in freezer bags. I frequently use it in casserole dishes and skillet meals so this saves time and money.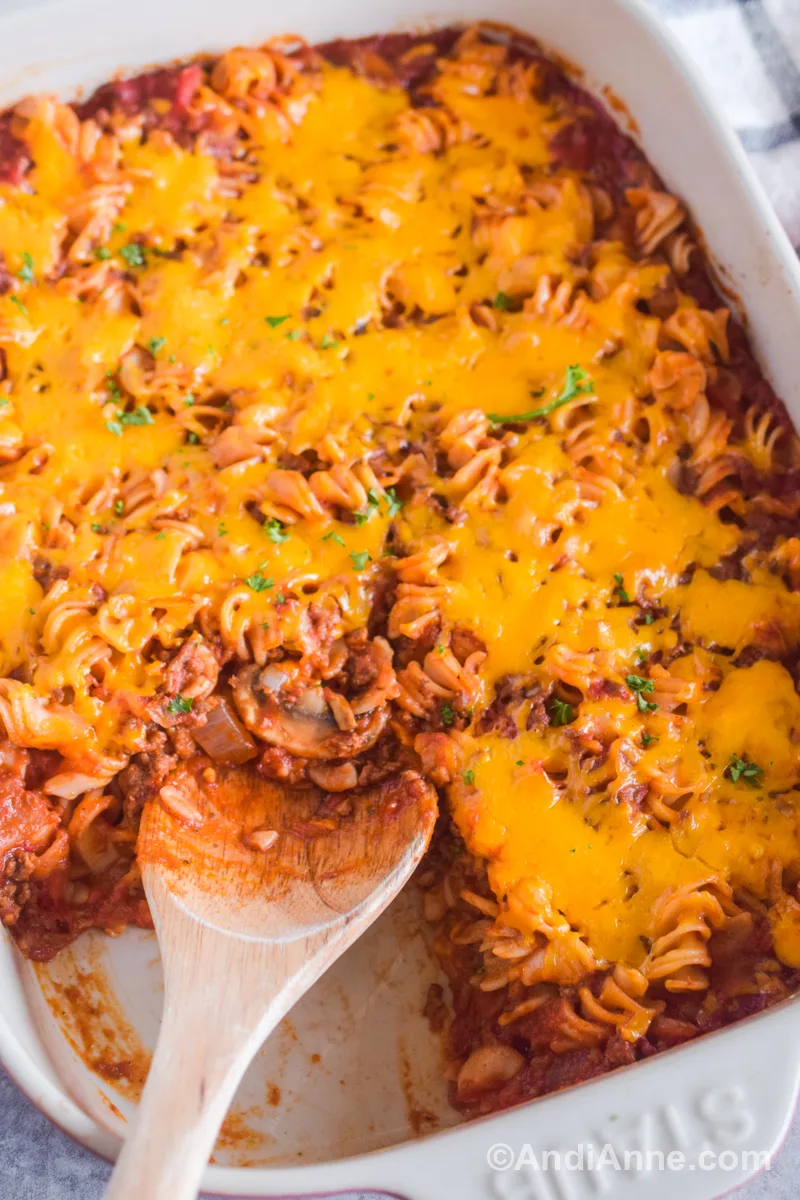 To Serve With
Hamburger casserole is easy to serve on its own, but can also be served with a variety of sides to round out the meal. Here are some ideas:
Storing leftovers
You probably won't have trouble with leftovers lasting too long (this recipe is a crowd-pleaser and your family will probably gobble it up). However, here are some tips for storing extra:
Refrigerate – Let the hamburger casserole cool completely, then cover it with plastic wrap. Chill in the fridge.
To freeze – Slice into squares and individually wrap in plastic wrap. Add all pieces to a freezer bag and store them in the freezer for easy lunches.
Future freezer meal – Prep all ingredients in an aluminum casserole pan and cover it with plastic. Store in the freezer for 1-3 months. When ready to eat, thaw in the fridge and cook for 25-40 minutes or until the cheese is bubbly and the casserole is heated all the way through.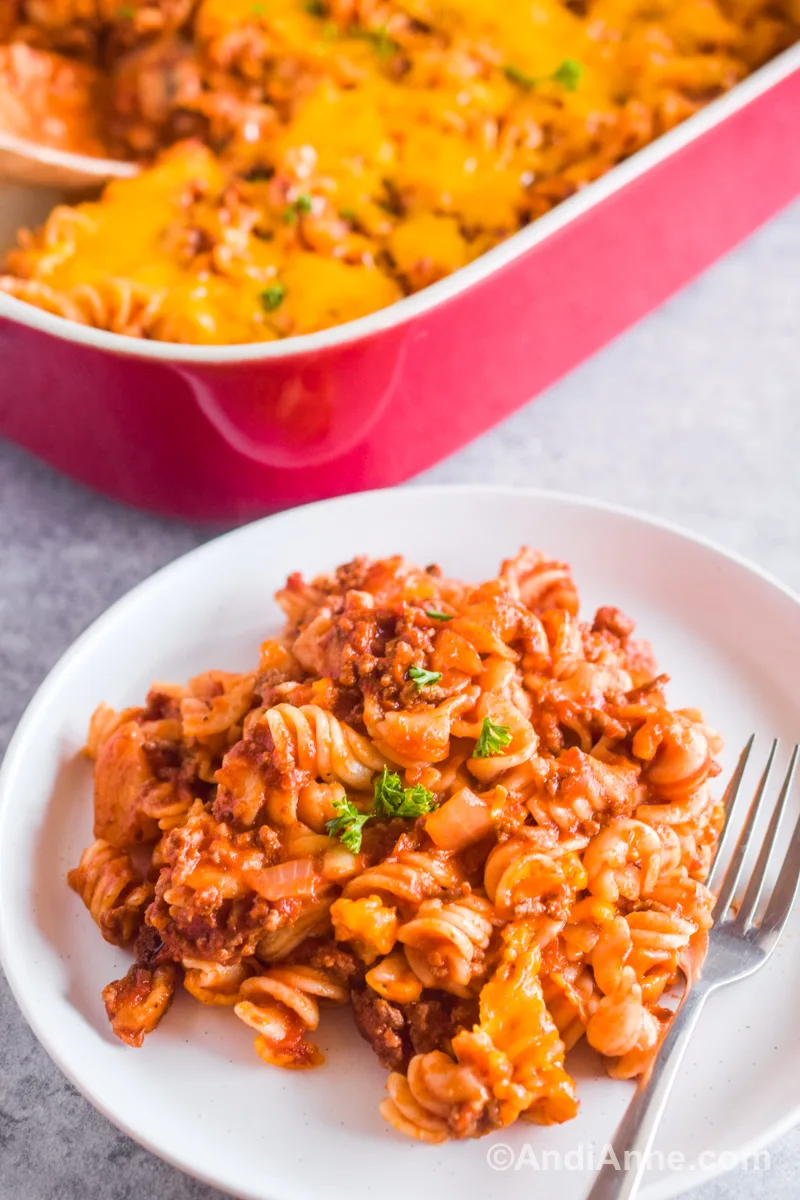 A classic recipe like hamburger casserole is the best comfort food. We are sure you're going to love making this all Winter long for the perfect filling meal!
More Casserole Recipes
If you love casserole recipes as much as we do, then you are sure to find some more favorites in these recipes below:
Mushroom Hamburger Casserole
The ultimate easy weeknight dinner. Cheesy pasta noodles are combined with mushrooms, ground beef and tomato sauce in a casserole dish.
Save Recipe!
Saved!
Pin This
Print It
Instructions
Add noodles to a pot of boiling water and cook according to package instructions. Drain and set aside.

In a large pot over medium high heat, coo the beef and onion until beef is browned and onion turns translucent. Drain any excess grease.

Add the pasta sauce, diced tomatoes, mushrooms, oregano, garlic powder, salt and pepper to the pot and mix together. Bring to a boil, then reduce to let simmer for 5 minutes.

Add the ground beef in tomato sauce mixture to a casserole dish. Add the cooked noodles on top. Mix everything together.

Sprinkle shredded cheese over top of the casserole. Bake for 25-30 minnutes or until cheese is melted and bubbly.

Let cool then scoop onto plates and serve.
Nutrition
Calories:
289
kcal
|
Carbohydrates:
27
g
|
Protein:
24
g
|
Fat:
10
g
|
Saturated Fat:
5
g
|
Polyunsaturated Fat:
1
g
|
Monounsaturated Fat:
3
g
|
Trans Fat:
0.2
g
|
Cholesterol:
57
mg
|
Sodium:
836
mg
|
Potassium:
725
mg
|
Fiber:
3
g
|
Sugar:
6
g
|
Vitamin A:
621
IU
|
Vitamin C:
13
mg
|
Calcium:
188
mg
|
Iron:
3
mg