One pot taco pasta is the perfect easy weeknight dinner. Ground beef, tender pasta noodles, bell pepper, onion, and corn are all cooked together in one pot for a quick and fast dinner. Everything is flavored with taco seasoning (store-bought to save time), cheddar, and cream cheese. A bowl of this recipe = the ultimate comfort food!
For more taco-flavored recipes, try our taco meatloaf, taco chicken salad, chicken taco soup, or sweet potato taco bowl.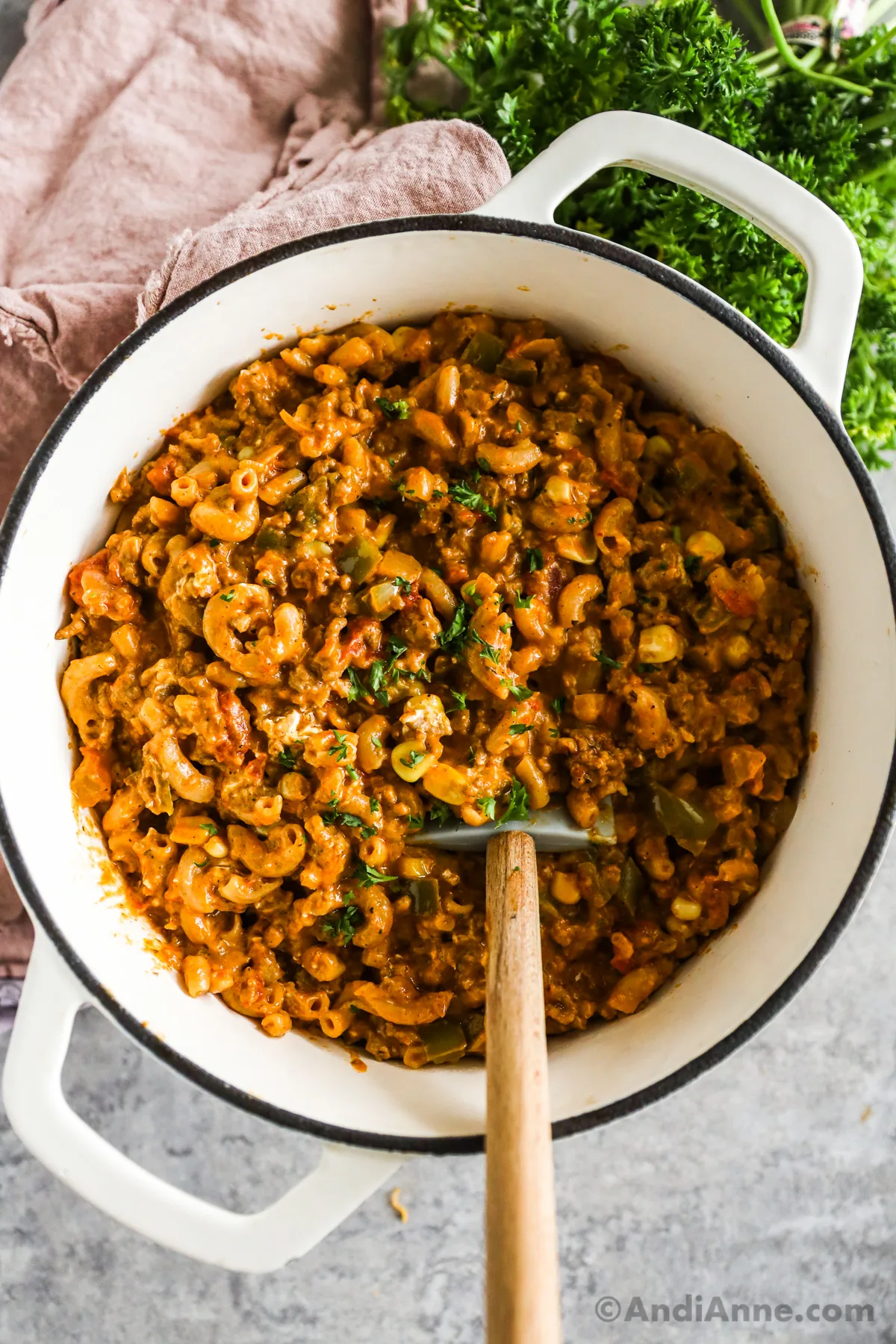 One Pot Taco Pasta
Let's talk about weeknight dinners for a sec. If you're anything like me, you want to feed your family something that is made with homemade ingredients, easy to prep, and cheap on the budget.
Can all of these things exist together!? You betcha they can – it's recipes like this one pot taco pasta that you want to save for those busy weeknights when you want something filling and simple.
SIMPLE – Ingredients are really simple here. A bit of pasta, beef, a handful of veggies, a taco seasoning packet (just buy the one from the grocery store to help save time), and cheese.
FAVORITE – Like, when I say favorite, I mean "your husband eats almost all of the pot in one day because he loves it so much" kind of good.
CHEAP – We're using inexpensive ingredients. I used medium ground beef (it's cheaper than lean) and a few paper towels to soak up the excess grease while cooking. But these ingredients still pack a lot of flavors!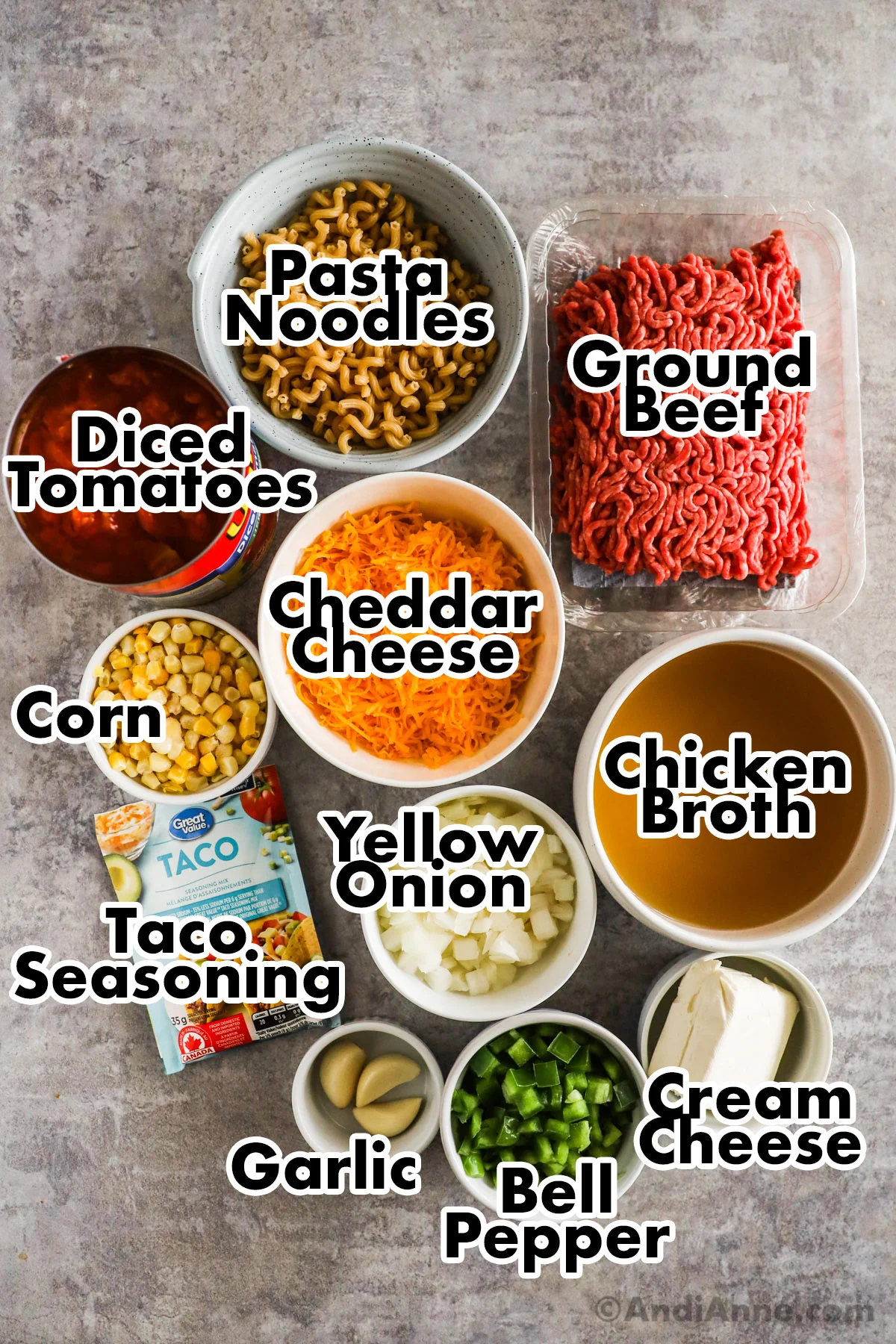 Recipe Ingredients
Lots of easy veggies, a bit of pasta, ground beef, and cheese are what make up this recipe. Here's an overview of what you'll need with the full instructions in the recipe card at the bottom of this post (just keep scrolling).
GROUND BEEF – I used medium ground beef for this recipe to help save on cost. But you can use lean ground beef too! Or try this recipe with ground turkey or ground chicken. Ground turkey is one of my favorite ingredients to use in one-pot recipes.
PASTA – You can use your favorite pasta noodles here. I used spiral brown rice pasta noodles. It's a family favorite over here. But any regular pasta including macaroni, penne, or spaghetti noodles will all work.
VEGETABLES – Grab a small yellow onion (you'll need 1 cup chopped), a small green bell pepper, frozen corn, and minced garlic cloves. A can of diced tomatoes is also added to the pot.
SPICES – This recipe uses a packet of store-bought taco seasoning to help save time. But if you prefer, try my homemade taco seasoning instead!
CHEESE – For cheese, I used 2 cups of shredded cheddar cheese and 4 oz of cream cheese that has been cut into small cubes and softened to room temperature.
BROTH – Beef broth adds flavor as it cooks the pasta noodles. You can also use water for this step.
Helpful Tip: Use medium ground beef for a cheaper option. Yes, medium ground beef is greasier than lean ground beef, but you can fold up a paper towel and swish it around with the ground beef to soak up any excess grease. Repeat that with a few paper towels and the grease will be gone! This is one of my favorite kitchen tips.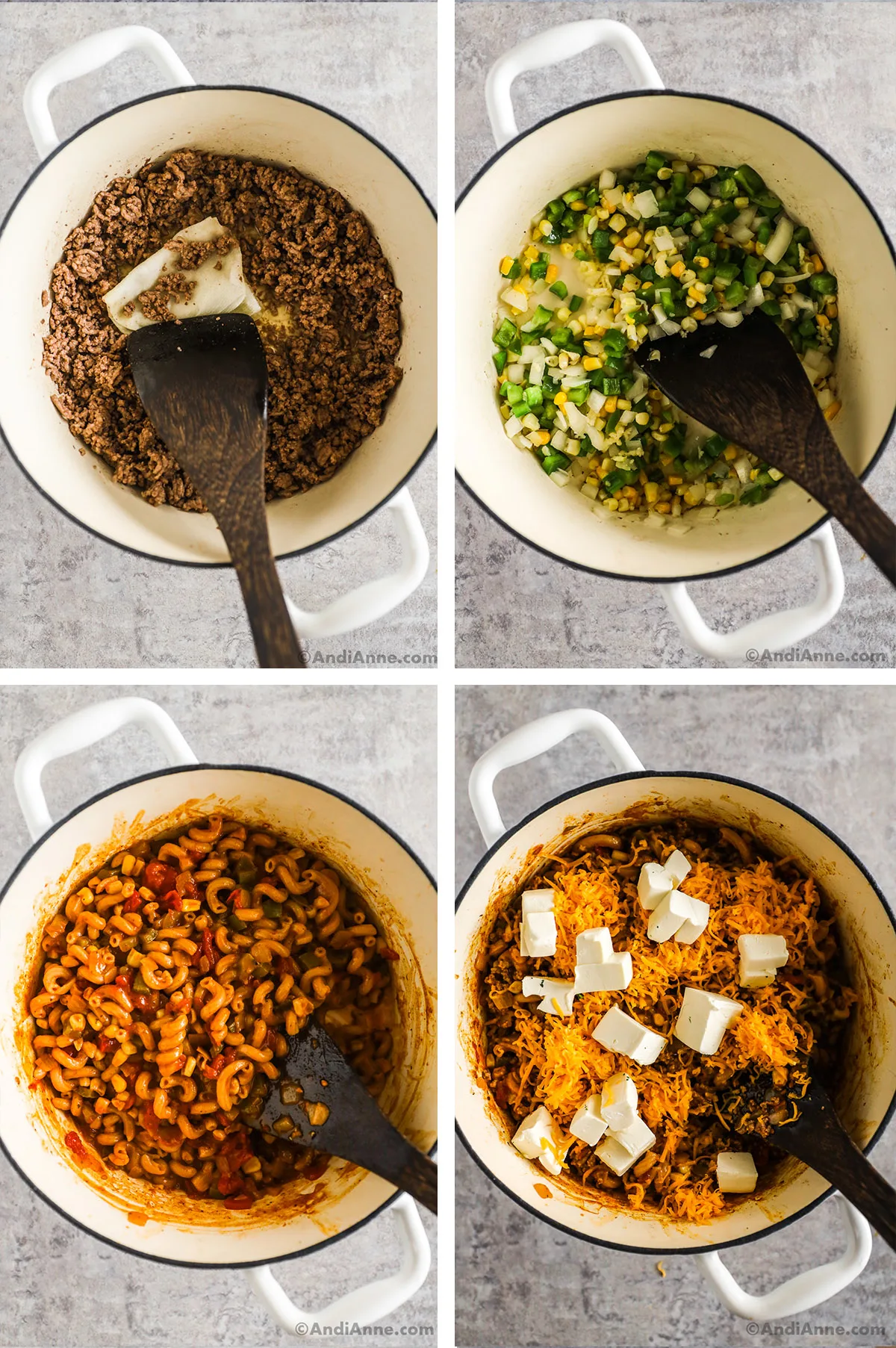 How To Make One Pot Taco Pasta
This entire recipe is prepared in one pot! I love a good easy recipe. Here's how to make the recipe with more details in the full recipe card at the bottom of this post (just keep scrolling):
BROWN THE BEEF – Add the ground beef with cooking oil to the pot over medium-high heat. Break it apart with the tip of a spatula and cook until it browns and is no longer pink. Swish a folded paper towel around with a spatula to soak up excess grease. Remove the beef to a plate and set it aside for now.
ADD VEGETABLES – Add a bit more cooking oil and the chopped onion, bell pepper, corn and minced garlic. Mix it together and cook for 1-2 minutes, until the onion turns translucent.
ADD BROTH AND SIMMER – Now add the broth, diced tomatoes (with liquid) and taco seasoning. Stir everything together then cover with a lid. Let this liquid simmer on medium-low heat until the pasta noodles cook to al dente (softened but still a bit firm).
ADD CHEESE AND BEEF – Add in the ground beef, shredded cheese and cubed cream cheese. Turn the heat to low, and cover with a lid for 1 minute. This will help melt the cheese. Once it's melted, gently stir everything together.
Storing Leftovers
Leftovers make the perfect next-day lunch! I don't recommend freezing this recipe because of the cream cheese. Usually, it turns a bit grainy after being frozen in recipes.
REFRIGERATE – First, let the recipe cool completely before adding it to an airtight container. This one pot meal can be stored in the fridge for up to 4-5 days.
TO REHEAT – Add the pasta recipe to a microwave-safe dish and cover the top with a paper towel (to avoid splatters). Heat in the microwave for 1-2 minutes then serve. This recipe can also be reheated in a pot over medium heat on the stove until the pasta is heated through.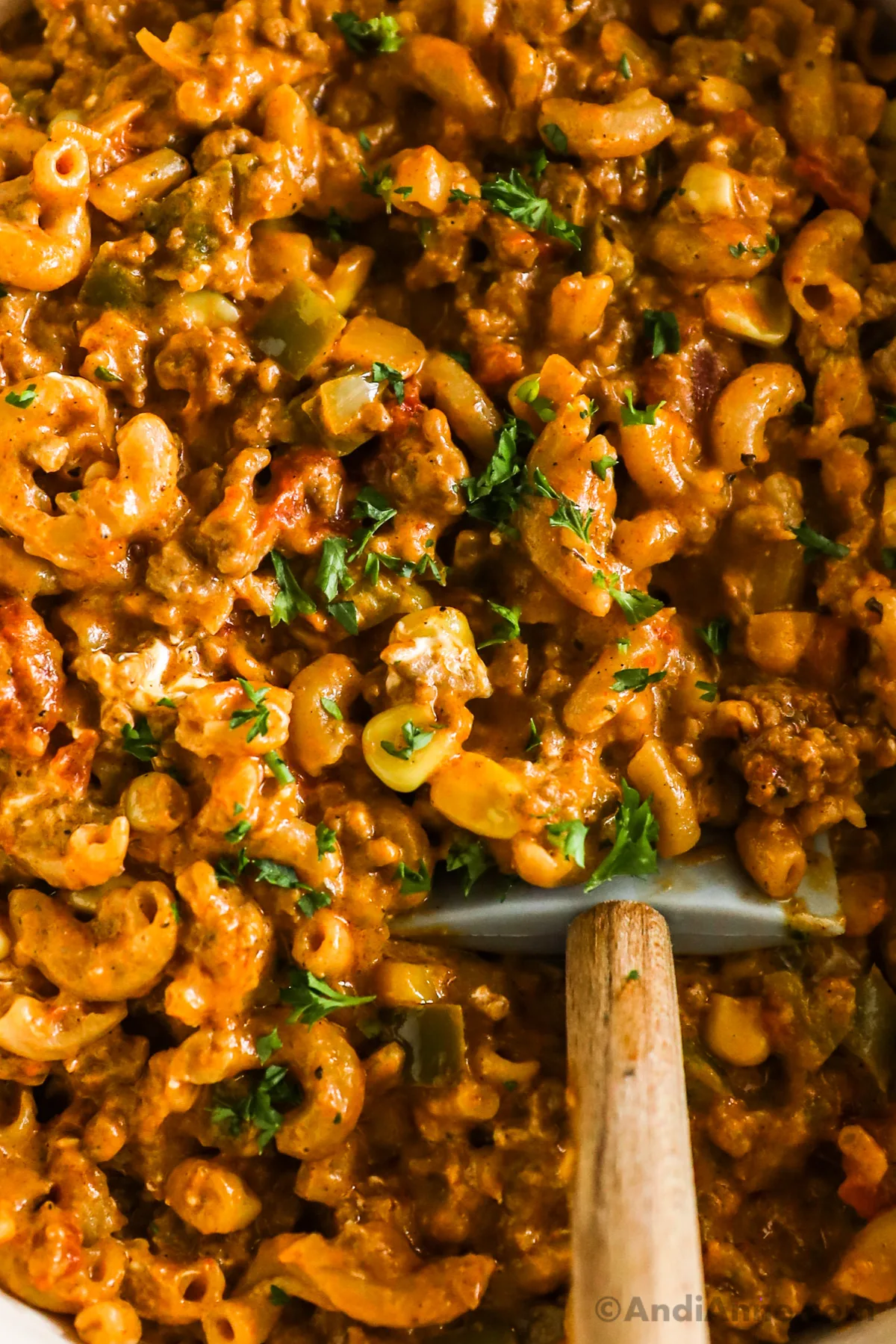 Recipe Tips
Cook the pasta al dente. The pasta should have softened but still be slightly firm. You can test this by tasting a pasta noodle while it is cooking. If you overcook the pasta, it will be mushy and break apart in the recipe.
Swish excess grease while cooking the ground beef with a folded paper towel. Move it in between the ground beef with the edge of a spatula. Repeat with more paper towel until it is all soaked up.
HEALTHY TIP – This dish is the ultimate comfort food! But if you want to cut back on the calories, add less cheese. Cheese is quite high in calories, so sprinkling a little on top at the end will cut down on this.
More Easy Dinner Recipes
Need more quick and easy dinner inspiration? These recipes are quick and easy, and all very delicious. Take a look and save a few of them for your upcoming meals.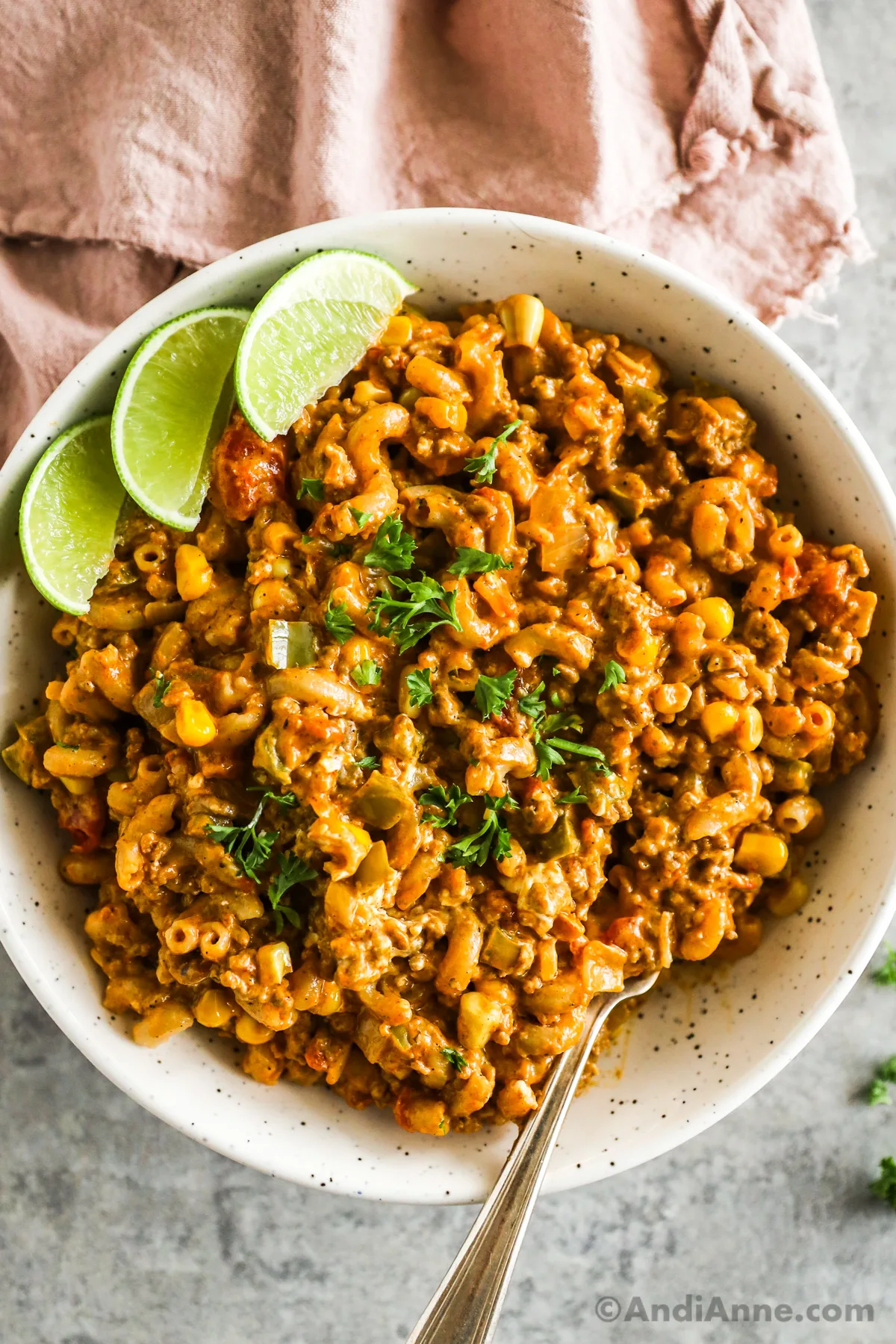 One pot taco pasta is simple, easy, and the ultimate comfort food. Filled with delicious pasta noodles, ground beef, bell pepper, onions, corn, and tomatoes. All mixed with a creamy cheesy sauce with the perfect taco flavor. Your family will love this yummy recipe!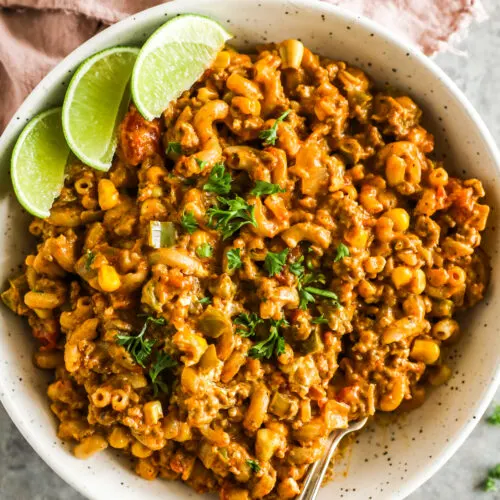 Taco Pasta
An easy 30 minute dinner with ground beef, pasta noodles, tomatoes and cheese. Everything is cooked together in one pot for easy clean up.
Save Recipe!
Saved!
Pin This
Print It
Instructions
In a large pot over medium high heat, add cooking oil and brown the ground beef until it's no longer pink. Drain any excess fat by swishing around a paper towel folded small. Transfer the ground beef to a bowl.

Add a small amount of cooking oil, garlic, onion, bell pepper and corn to the pot. Cook for 1-2 minutes, until the onion turns translucent.

Add in the broth, diced tomatoes, and taco seasoning. Turn the heat to low. Mix everything together then cover the pot with a lid and let simmer until the pasta is cooked al dente (softened but still a bit firm). Gently scrape the bottom of the pot with a spatula every few minutes to prevent burning.

Once pasta is cooked, mix in the ground beef.

Add the shredded cheddar cheese and cream cheese. Cover with a lid to let it melt. Once melted, gently stir jsut enough to mix then stop.
Nutrition
Calories:
405
kcal
|
Carbohydrates:
22
g
|
Protein:
21
g
|
Fat:
26
g
|
Saturated Fat:
13
g
|
Polyunsaturated Fat:
1
g
|
Monounsaturated Fat:
8
g
|
Trans Fat:
1
g
|
Cholesterol:
83
mg
|
Sodium:
918
mg
|
Potassium:
471
mg
|
Fiber:
3
g
|
Sugar:
4
g
|
Vitamin A:
1012
IU
|
Vitamin C:
25
mg
|
Calcium:
254
mg
|
Iron:
2
mg
The nutritional information provided is an estimate and is per serving.