This easy salmon pasta recipe is filled with flavorful ingredients like tender salmon, linguini pasta noodles, grape tomatoes and spinach – all in a delicious creamy sauce.
Whether you're wanting to serve a restaurant-quality meal for date night or impress a hungry family, this simple recipe takes no time at all. Bring a decadent indulgence to the table and don't forget the fresh cracked pepper!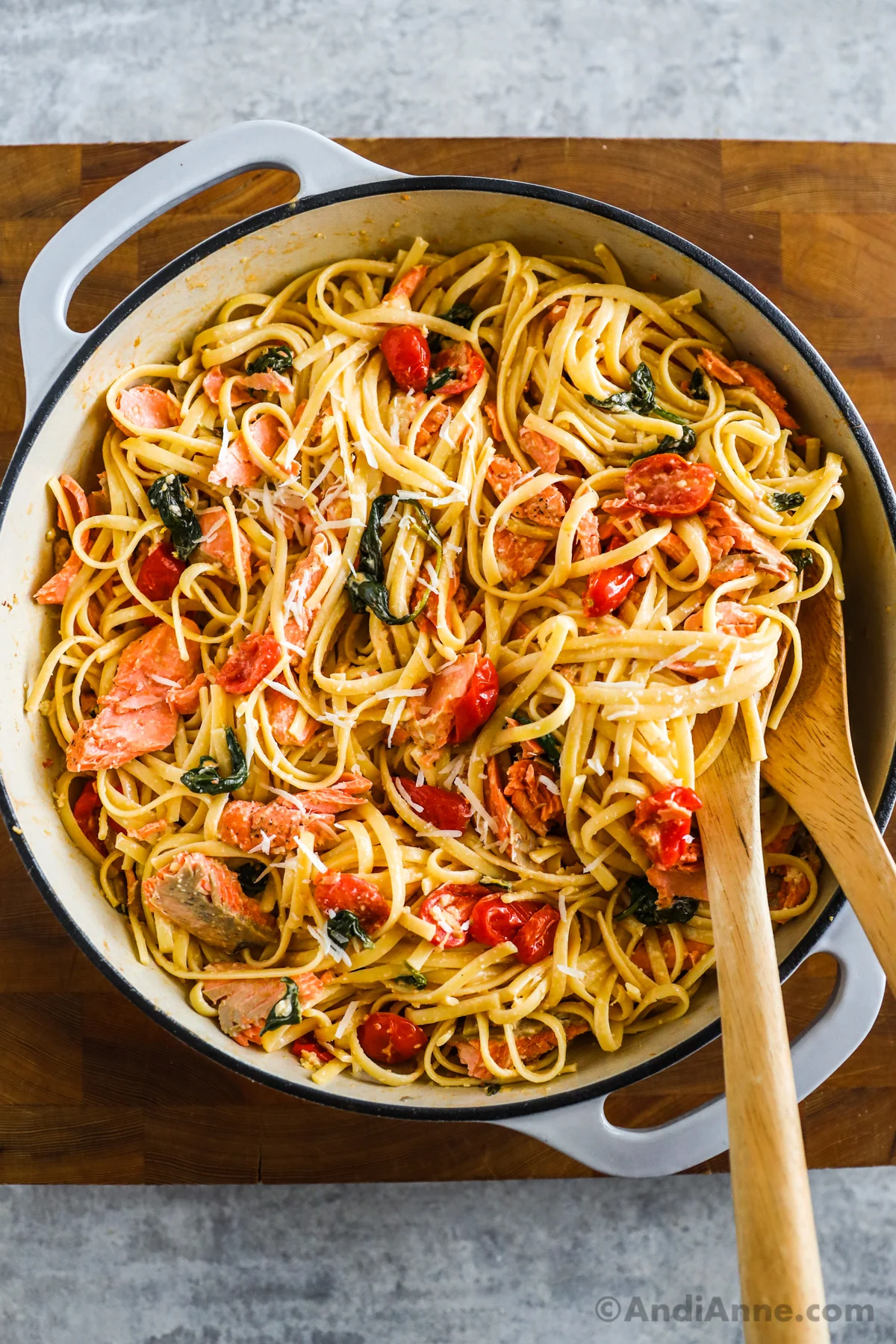 Perfect Weeknight Meal
Salmon pasta recipe is a delicious all-in-one meal made with linguine pasta as the base, tender flakes of salmon, tomatoes and spinach, all in a light cream sauce. It's very similar to our shrimp asparagus pasta but with a creamy sauce and salmon.
The salmon is pan fried for just a few minutes, then flaked with a fork. The pasta is cooked until al dente, and the sauce is made using white wine and heavy cream. The entire recipe can be cooked in one large pot, and takes less than 25 minutes!
EASY – Just a few quick steps to make this recipe!
ROMANTIC – It's the perfect meal to serve for a date night in or Valentine's day.
FLAVOR – There are so many wonderful flavors here. The savory salmon, creamy sauce and salty parmesan.
For a little extra flavor, try using one of my six easy salmon marinades. Just be sure to leave yourself enough time for the marinade to set in.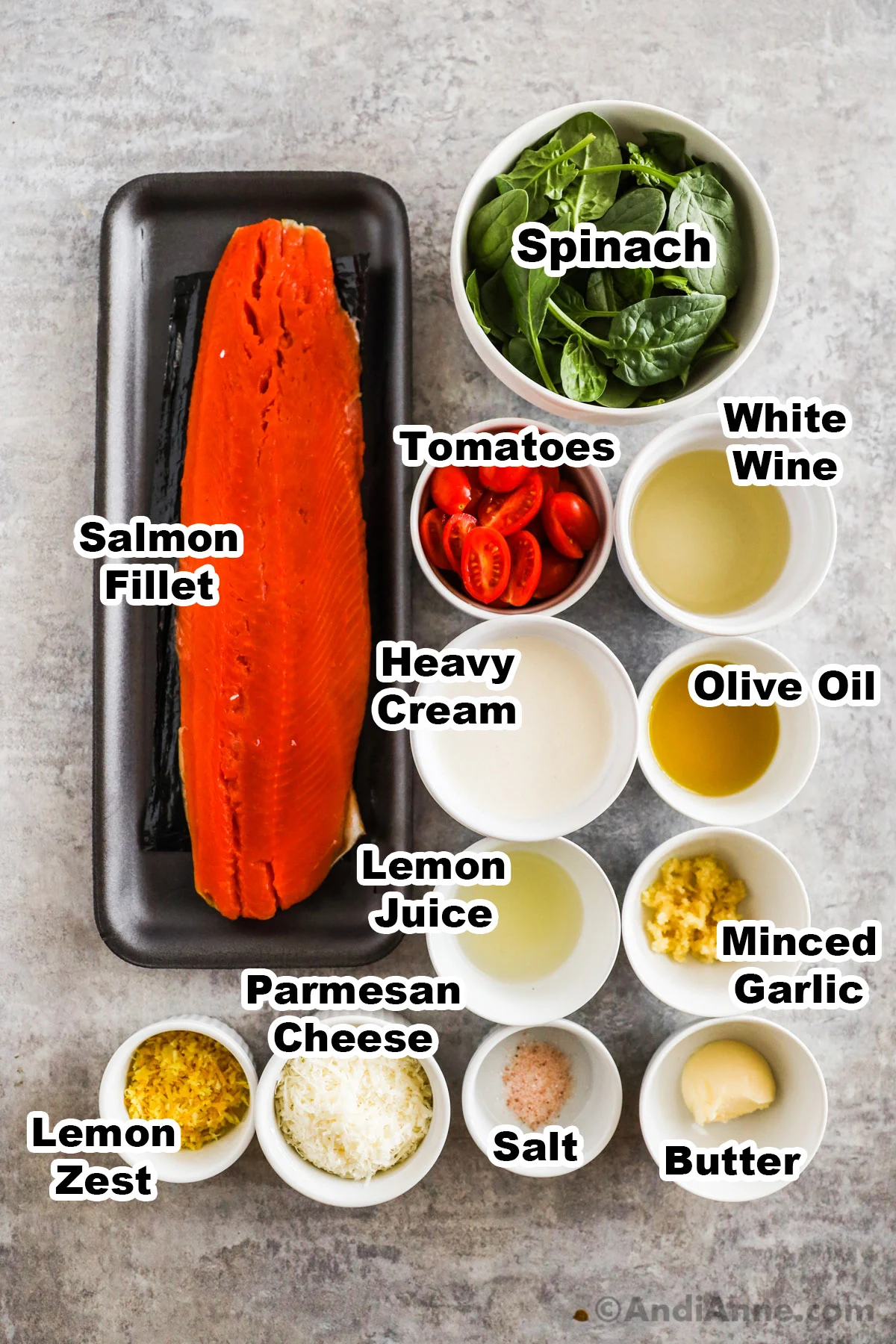 Recipe Ingredients
Check your fridge and pantry first to see if you have a few of the following items. Then, head to your local grocer and find that perfect cut of salmon! Here's what you'll need to make this easy pasta recipe:
LINGUINI PASTA – You want pasta that will hold just the right amount of this rich sauce. Linguini or Spaghetti will work perfectly. You can use regular pasta or whole wheat pasta.
SALMON FILLET – Salmon has a unique flavor all its own. You can use sockeye salmon. Try not to substitute this fish.
CHERRY TOMATOES – Not only will these bring flavor but will also add to the acidity level needed for the recipe.
BABY SPINACH – Not only will the bright green add to the already visually appealing dish but will also provide the vegetable component.
FRESH GRATED PARMESAN – An essential ingredient in most cream sauces. The flavor this adds just can't be duplicated.
WHITE WINE – Sauvignon Blanc, or a Pinot Grigio will add a bright acidity to the sauce. You can also use chicken broth instead.
HEAVY CREAM – Be sure to use a heavy cream. Anything less, and the sauce may break with the acidity from the lemon.
LEMON ZEST/JUICE – Lemon is a signature pairing with salmon and shouldn't be omitted.
GARLIC CLOVES – This will add an earthy spice and is the base flavor for most cream sauces.
OLIVE OIL/SALTED BUTTER – An oil with a high smoking point, like Olive Oil, to perfectly sear the Salmon. Salted butter will add flavor as it cooks.
SALT – Enhances flavor and brings depth and complexity to other ingredients.
Fun Fact: Farmed salmon has a lighter, more pinkish color and contains more marbling than wild-caught salmon. This is because wild salmon spend most of their time-fighting currents and evading predators resulting in a leaner-looking fillet.
Additions
Feel free to change up the recipe! Tastes can vary, and you may want to add your own touch to this signature dish. Try adding:
CHOPPED SHALLOTS – Either served on the side or mixed into the sauce, chopped shallots will add a sweet, less-than-onion flavor to the dish.
MUSHROOMS – These can be added at the same time as the garlic. Slice them small so they will cook fast.
ASPARAGUS – So good in our shrimp asparagus pasta recipe! We know asparagus would taste just as good with this one. Chop into thirds then add at the same time as spinach and tomatoes. Cook until tender when poked with a fork.
CAPERS – Sometimes served with smoked salmon, you may want to add a few of these briny morsels to your dish. Capers have a lemony tang and will bring a floral tartness to the recipe.
SUN-DRIED TOMATOES – Slice them into thin strips and add to the pan while cooking the sauce.
BASIL – Toss the pasta with fresh basil for a fresher taste.
Pro Tip: All fresh fish purchased in the store has been previously frozen to kill water-born parasites. Freezing fish locks in the flavor so don't be discouraged if you are using frozen salmon.
Substitutions
You can easily use a few alternative ingredients in this recipe to satisfy everyone at the table. Try a few from the list below:
GLUTEN-FREE PASTA – Not all gluten-free pasta is created equal. Try using brown rice pasta known for its mild flavor and texture.
COCONUT CREAM – Swap heavy cream with coconut cream for a dairy-free version.
CHICKEN STOCK – If you don't want to use white wine, you can use equal parts chicken stock instead.
TOFU – Swap the salmon with tofu. To match the texture of salmon, use firm tofu cut into bite-sized cubes. Be sure to press the tofu first, as we do in our basil balsamic pan-fried tofu recipe. This will give you crispier results.
PASTA SAUCE – You can skip the creamy sauce altogether and use pasta sauce instead.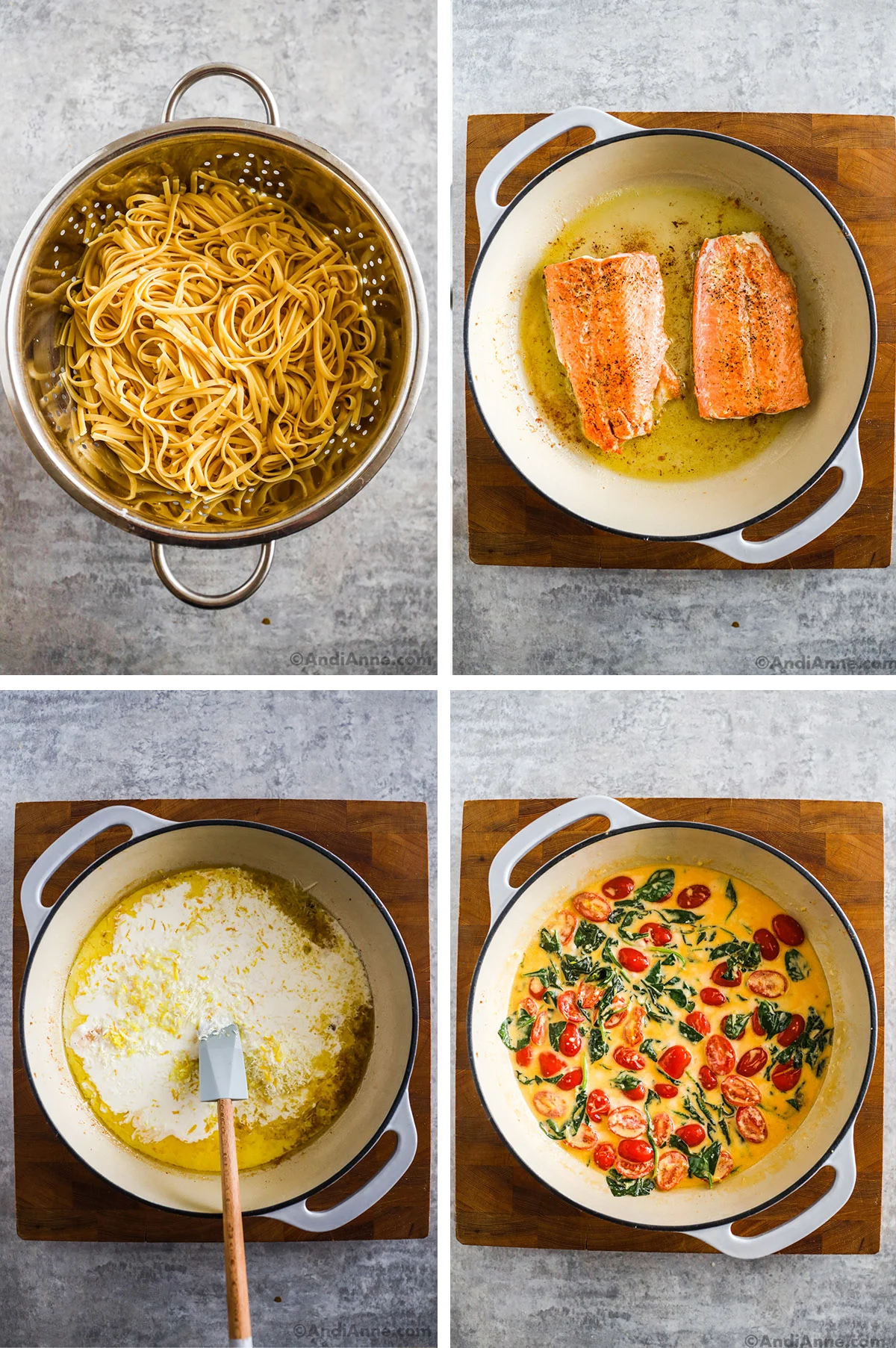 How To Make This Salmon Pasta Recipe
Romance your partner or impress your guests! This recipe will really show off your cooking skills. Here's how to make it with full instructions in the recipe card at the bottom of this post:
COOK PASTA – Cook until al dente using the package directions. Drain the pasta and set aside.
COOK SALMON – Next, place a large skillet on the stove, add oil, and bring to medium-high heat. Once the pan is at temperature, add the butter, allow to melt, and add the salmon pieces.
Sear on all sides until opaque and light pink. This won't take long.
Remove the salmon from the pan and place it on a plate then drizzle the salmon with lemon juice. Flake with two forks.
GARLIC – Now, bring a large, clean pan to medium heat, add 1 Tbsp of oil, and sauté the garlic for about a minute. You don't want to char the garlic, as this will taste bitter. Instead, sauté just until you release the aromatics.
ADD WINE – Pop the cork and add the wine to the garlic and cook for 5 minutes. This will reduce the wine slightly and cook off most of the alcohol content.
MAKE SAUCE – Finally, add the heavy cream, baby spinach, cherry tomatoes, grated parmesan, lemon zest and salt. Otherwise, mix and stir for about a minute until the spinach has wilted.
ASSEMBLE – Remove pan from heat and stir in the cooked pasta. Then you can add the salmon, carefully folding into the mixture to avoid flaking. Once plated, add a sprinkle of parmesan on top and serve!
Pro Tip: Salmon is notorious for continuing to cook slightly after it is removed from heat. It is better to slightly undercook it so that it can reach perfection.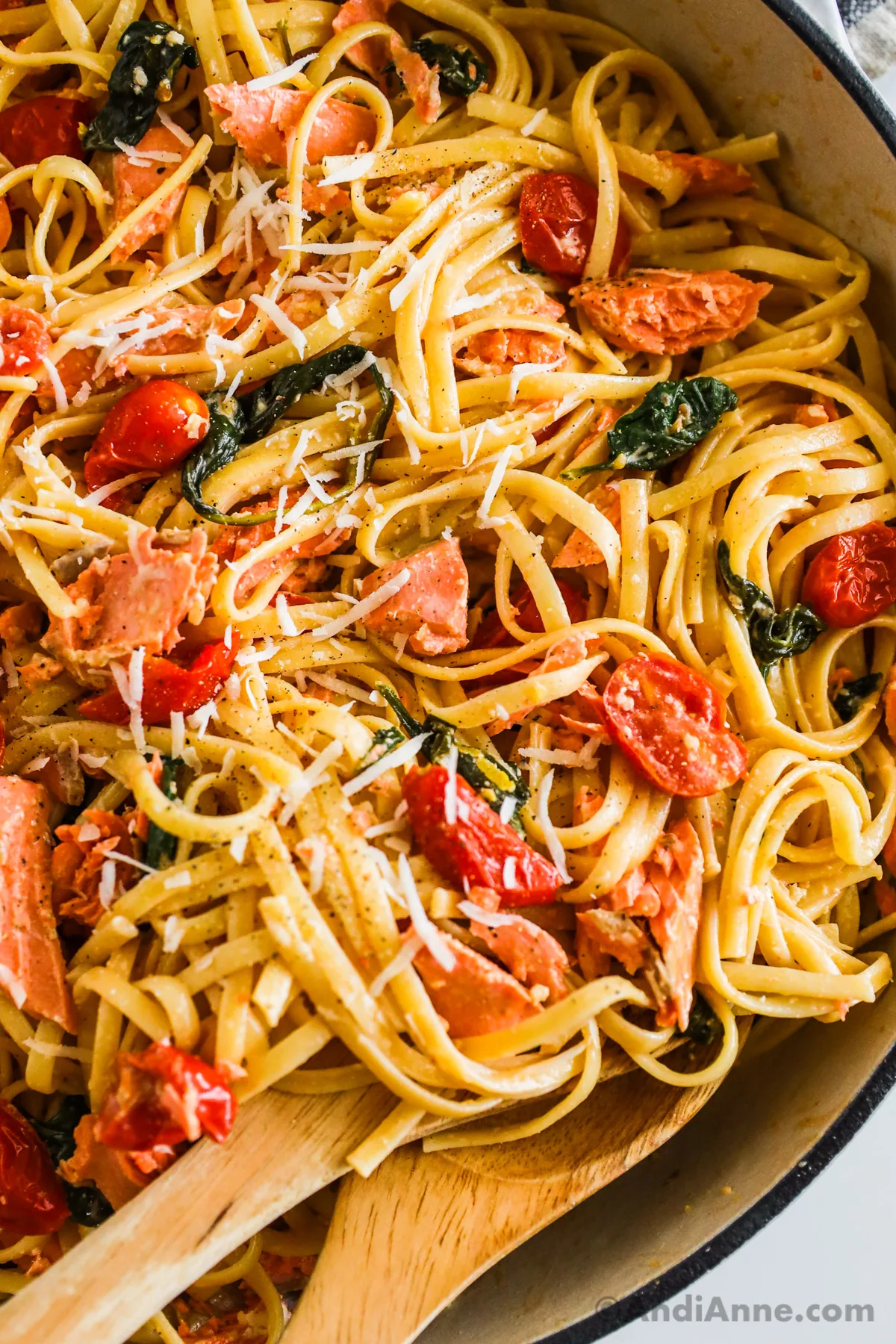 How To Store
This dish is best served fresh but can easily be reheated. Leftover salmon makes a great lunch!
REFRIGERATE – Place leftovers in an airtight container for up to 3-4 days.
FREEZE – Pasta and cream recipes do not freeze well. I don't recommend freezing.
REHEAT – Place leftovers in a pan and bring the stove to medium heat. Once heated, you may want to add a splash of heavy cream to rejuvenate. You can also heat in the microwave for a couple of minutes.
What To Serve With
This recipe makes a well-rounded meal that includes everything needed for a balanced dish. But don't hesitate to include a few sides for a hungry crowd. Here are a few ideas: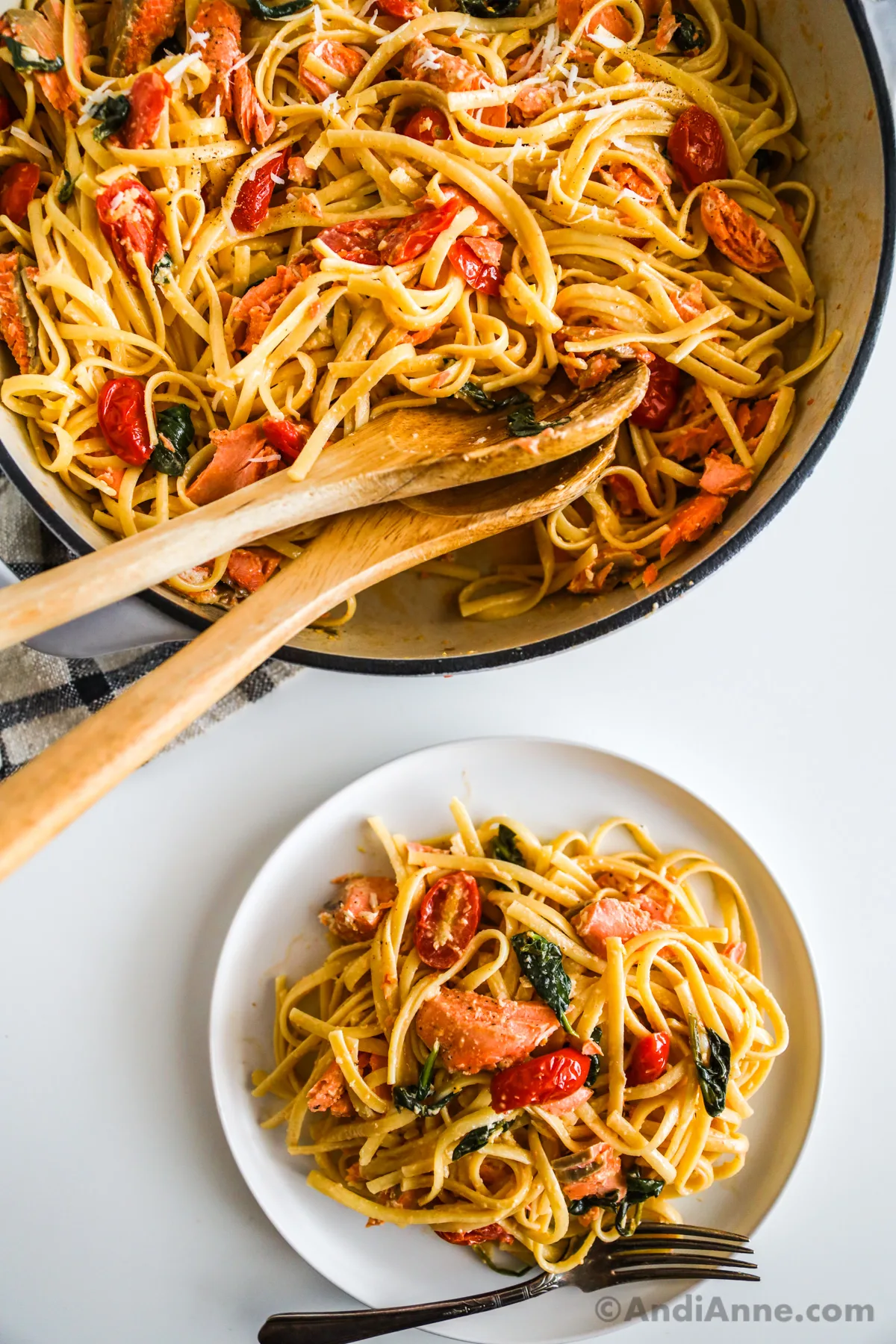 Common Questions
How do you make more flavorful salmon?
Simple spices and herbs can really enhance the flavor of salmon. Top a salmon fillet with fresh herbs like basil or chives. You can also use a marinade like one from our six easy salmon marinades.
Should I oil the salmon before seasoning it?
If you are cooking on a grill, it's a good idea to oil the salmon and then season with salt and pepper. This will prevent sticking and result in a crispy finish. Just be sure to heat the grill to a high temp before adding the fish.
What is al denté?
A French expression translated as "to the tooth". Not to be confused with undercooked, pasta is best served firm when bitten. Not hard or chalky (undercooked), or soft and mushy (overcooked).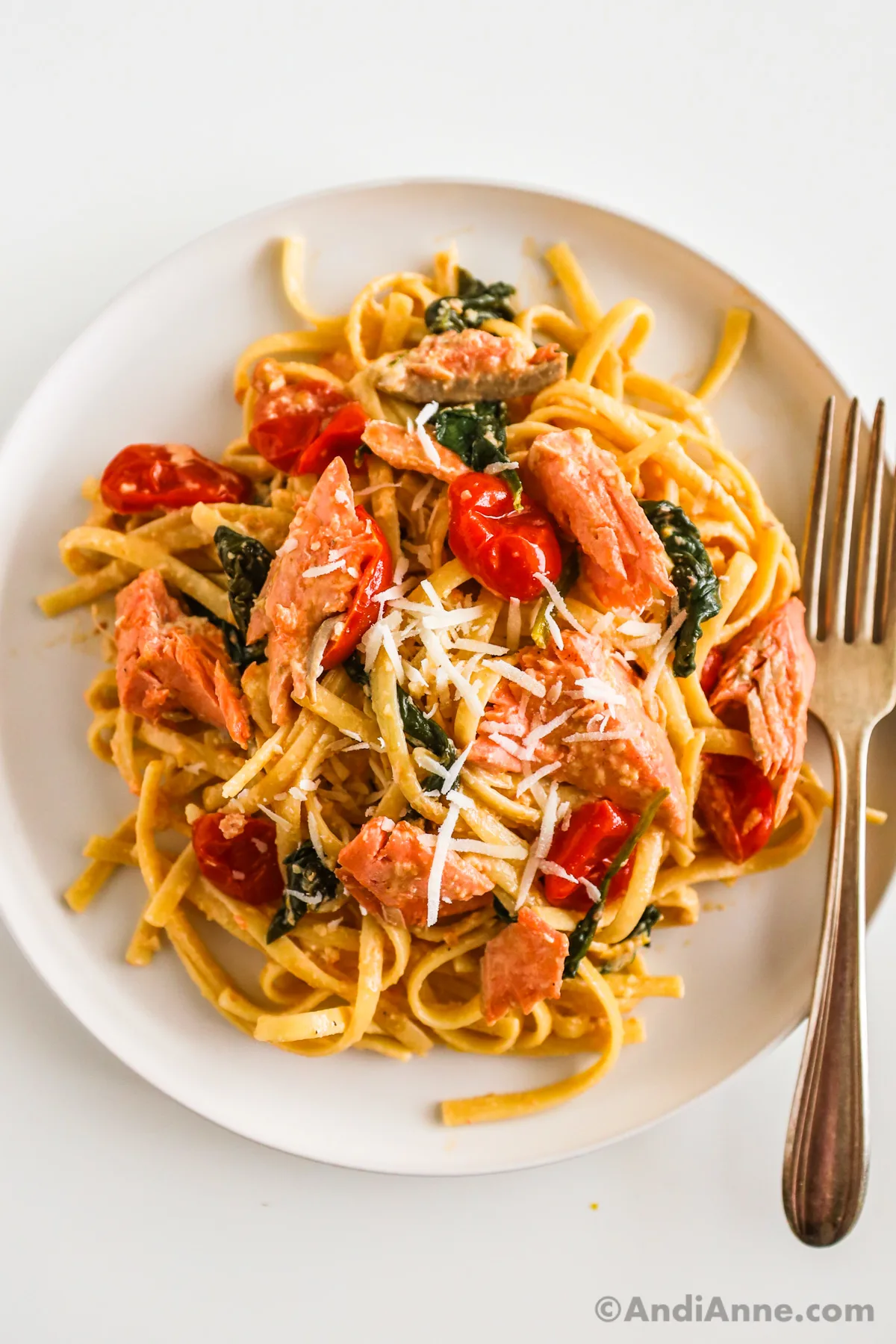 More Salmon Recipes
If you love salmon as much as we do, then you are going to love these easy ideas: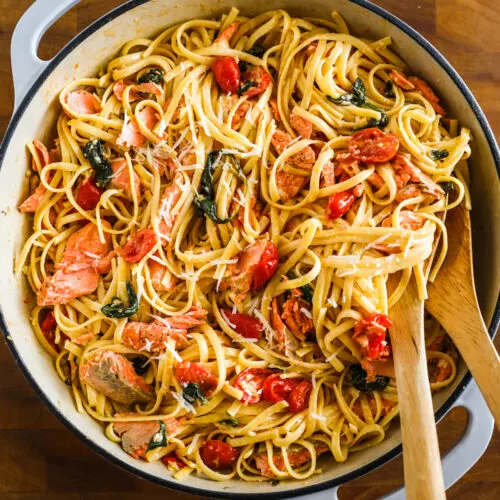 Salmon Pasta Recipe
The easiest one-pot dinner with linguine noodles in a light cream sauce, with tender flaked salmon, tomatoes and spinach. Ready in under 20 minutes!
Save Recipe!
Saved!
Pin This
Print It
Ingredients
½

lb

linguine noodles -

or spaghetti pasta noodles

3

garlic cloves

-

minced

1

Tbsp

olive oil

1

Tbsp

salted butter

½

lb

salmon fillet

½

cup

dry white wine

-

or chicken broth

1

cup

heavy cream

2

cups

baby spinach

2

Tbsp

lemon zest

2

Tbsp

lemon juice

½

tsp

salt

½

cup

grated parmesan cheese -

fresh parmesan works best

1

cup

grape tomatoes

-

sliced in half
Instructions
Cook the pasta in a large pot of salted water according to package instructions until al dente. Drain and set aside.

Season salmon filet with salt and black pepper. Slice the fish in half if it's too big to fit in the pan.

Add 1 Tbsp of butter and 1 Tbsp of olive oil to a large pan over medium high heat.

Once the pan is hot, place the fish skin-side up and sear for 2 minutes. Flip over and sear another 2 minutes.

Remove and add to a plate. Use two forks to flake the fish into large chunks and remove it from the skin. Set aside. for now.

Add the another 1 Tbsp of olive oil to the pan over medium heat along with minced garlic. Cook 1 minute.

Pour in the white wine (or chicken broth). Scrape down the bottom of the pan using a spatula to remove any baked on bits. Let the white wine cook for 4-5 minutes to let it reduce.

Now stir in the heavy cream.

Now add the heavy cream, baby spinach, grape tomatoes, grated parmesan, lemon zest, and salt. Mix together. Cook 1 minute to soften the spinach.

Remove from the heat. Add the pasta and salmon.

Toss everything together. Sprinkle with more grated parmesan if desired.

Scoop on to serving plates. Drizzle with freshly squeezed lemon and olive oil if desired. Season with more salt and pepper.
Nutrition
Calories:
428
kcal
|
Carbohydrates:
33
g
|
Protein:
17
g
|
Fat:
24
g
|
Saturated Fat:
12
g
|
Polyunsaturated Fat:
2
g
|
Monounsaturated Fat:
7
g
|
Trans Fat:
0.1
g
|
Cholesterol:
78
mg
|
Sodium:
395
mg
|
Potassium:
464
mg
|
Fiber:
2
g
|
Sugar:
3
g
|
Vitamin A:
1875
IU
|
Vitamin C:
11
mg
|
Calcium:
132
mg
|
Iron:
1
mg
The nutritional information provided is an estimate and is per serving.