Skillet lasagna takes less time to make than traditional lasagna and the results are just as delicious. It's filled with tender lasagna noodles, pasta sauce, cheese and ground beef.
Get ready for an ooey-gooey cheesy recipe that your family is sure to love!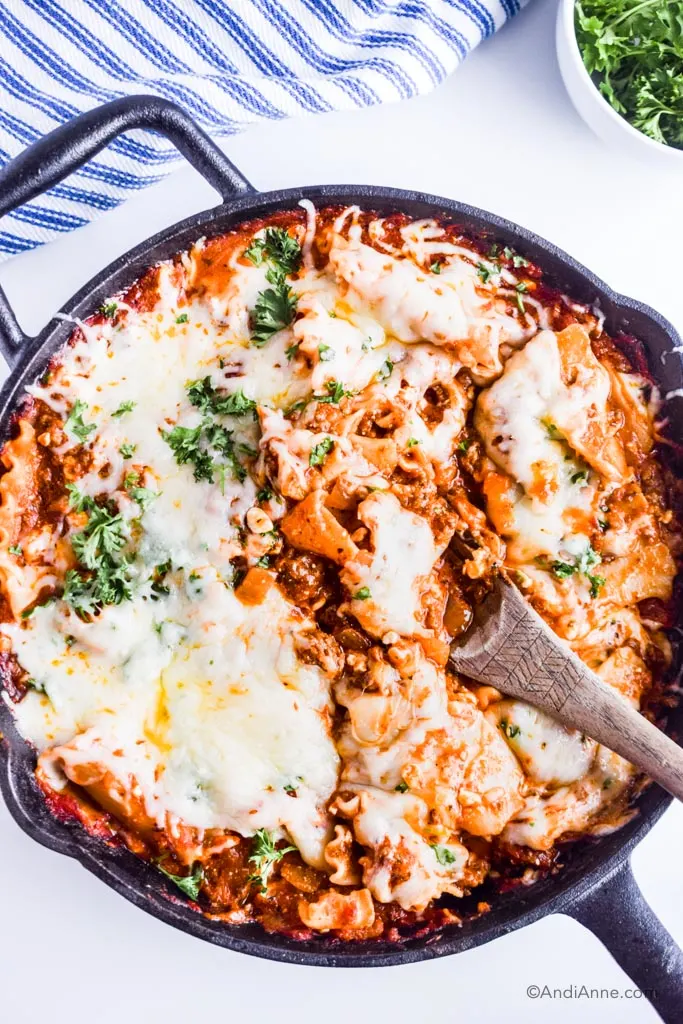 One Pot Skillet Lasagna
I love a good one pot meal because they're perfect for weeknight dinners. And comfort foods like this one make it even better. Lasagna is delicious any time of year. But it can certainly be time-consuming to make it the regular way.
Well, this easy skillet lasagna recipe takes traditional lasagna and makes it quick and fast! All you need is a large skillet (or frying pan) and a few simple ingredients to make this delicious meal.
What I love about this method is that you're not required to create layers in the same way you have to with other lasagna recipes. Instead, you get to use the same ingredients, it tastes the same but with way less effort!
It's easy to customize this meal too. For example, you can make it healthier by using gluten-free brown rice lasagna noodles, ground turkey, cottage cheese, and a low sugar pasta sauce.
You can add chopped veggies like bell pepper, broccoli, or tomatoes. Or use a bag of frozen veggies!
For more pasta recipes, you might want to check out my spinach ricotta stuffed shells, one pot taco pasta, one pot tuscan chicken pasta, one pot spaghetti recipe, and hidden veggie mac and cheese. All are tasty family-friendly meals that can be cooked quickly and fast on busy weeknights.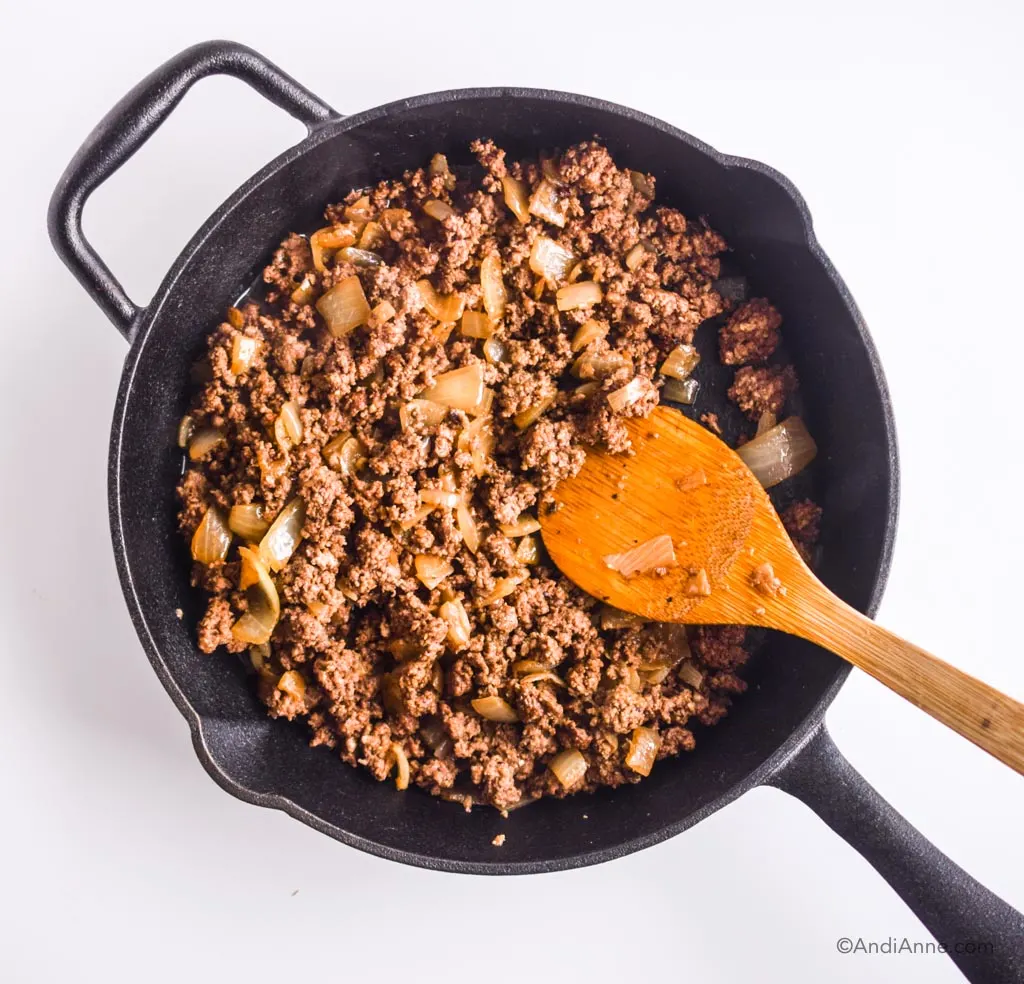 Recipe Ingredients
Here's an overview of what you'll need. Full ingredients with measurements are found in the recipe card at the bottom of this blog post.
LASAGNA NOODLES – You can also use regular lasagna noodles or mafaldine noodles. For a healthier option, I'm using brown rice lasagna noodles which are gluten-free, easy to digest, and high in fiber.
GROUND BEEF – Extra-lean ground beef will produce the least amount of grease. You can also use ground sausage, Italian sausage with casing removed, or ground turkey.
PASTA SAUCE – a large jar of pasta sauce or a jar of marinara sauce makes this recipe quick and easy. Use your favorite!
COTTAGE CHEESE – I used cottage cheese because it's lower in calories and cheaper than ricotta (which is used traditionally in lasagna). Make sure to drain the cottage cheese of any excess liquid as much as you can.
MOZZARELLA CHEESE – Shredded mozzarella cheese is sprinkled on top just before serving for that ooey gooey taste.
ONION – Use half of a yellow or white onion.
GARLIC – Minced garlic is sauteed with the onion before adding the ground beef.
SEASONINGS – Simple seasonings like Italian seasoning, garlic powder, salt and pepper are used.
Recipe Variations
CHEESE – Add some parmesan cheese for a saltier flavor. Swap cottage cheese with ricotta cheese.
VEGETABLES – Add some bell peppers, tomatoes, asparagus, cauliflower or broccoli.
FRESH HERBS – Add chopped fresh basil for a more fragrant meal. This goes well with tomato sauce!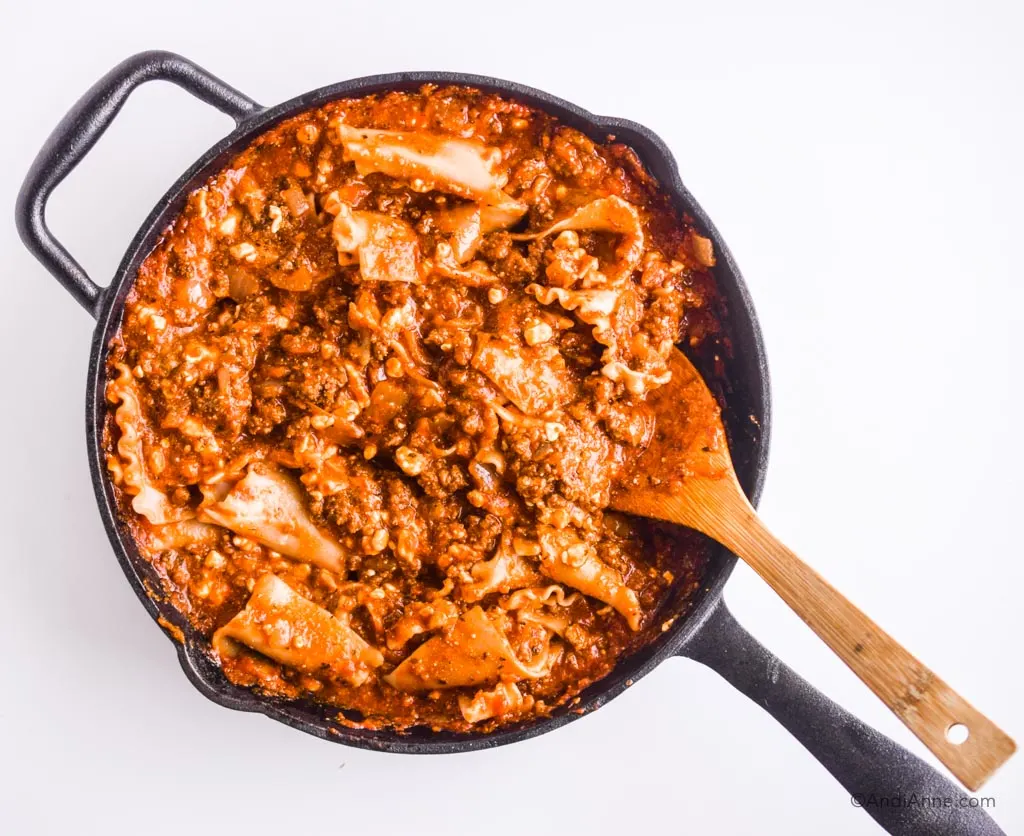 How To Make Skillet Lasagna
The process to make skillet lasagna is very simple. You'll need a skillet (or frying pan) and a pot to boil the broken lasagna noodles in. Full directions are also in the recipe card at the bottom of this post.
Here are the steps to making this delicious lasagna recipe:
BOIL LASAGNA NOODLES – Break uncooked lasagna noodles into three pieces. Then add to boiling water and cook for 7-10 minutes, or according to package instructions. Once cooked al dente, drain in a colander and rinse with cold water.
BROWN THE BEEF – While pasta is boiling, start cooking the minced garlic and diced onion with a bit of olive oil over medium-high heat in a large skillet. Cook until they turn translucent. Add the ground beef and cook until it's no longer pink.
STIR IN INGREDIENTS – Stir in Italian seasoning, garlic powder, and season with salt and pepper (as much or as little as you want). Add the pasta sauce and reduce heat to let simmer for 3-4 minutes, stirring occasionally. Add the cottage cheese and lasagna noodles. Cook an additional 2-3 minutes to warm the noodles through.
TOP WITH CHEESE – Add chopped parsley (optional) and shredded mozzarella cheese to the top of the skillet. Reduce heat and let simmer for 1-2 minutes to help melt the cheese. Remove from heat and scoop onto dishes and serve.
HELPFUL TIP: While boiling the pasta noodles, stir often to help prevent the noodles from sticking to each other, but I still had a few do this. Rinse them under cold water. Once cooled, peel apart any noodles that were stuck together during the boiling process.
How To Store
Here's how to store lasagna skillet leftovers:
FRIDGE – Let the lasagna cool completely, then place it in an airtight container and store it for up to 3-4 days.
FREEZE – You can also freeze leftovers for a future meal. Make sure the lasagna has cooled, then place it in a freezer-safe container or a resealable freezer bag. Remove as much air as possible to help prevent freezer burn. This can be stored in the freezer for up to 6 months.
THAW – You can thaw the frozen lasagna overnight in the fridge or in the microwave on defrost. Be sure to add it to a microwave-safe dish and remove any plastic beforehand.
REHEAT – You can reheat the lasagna in the microwave for 1-3 minutes, covered with a paper towel (to prevent sauce splatters), or back in a skillet for 3-5 minutes, until heated through.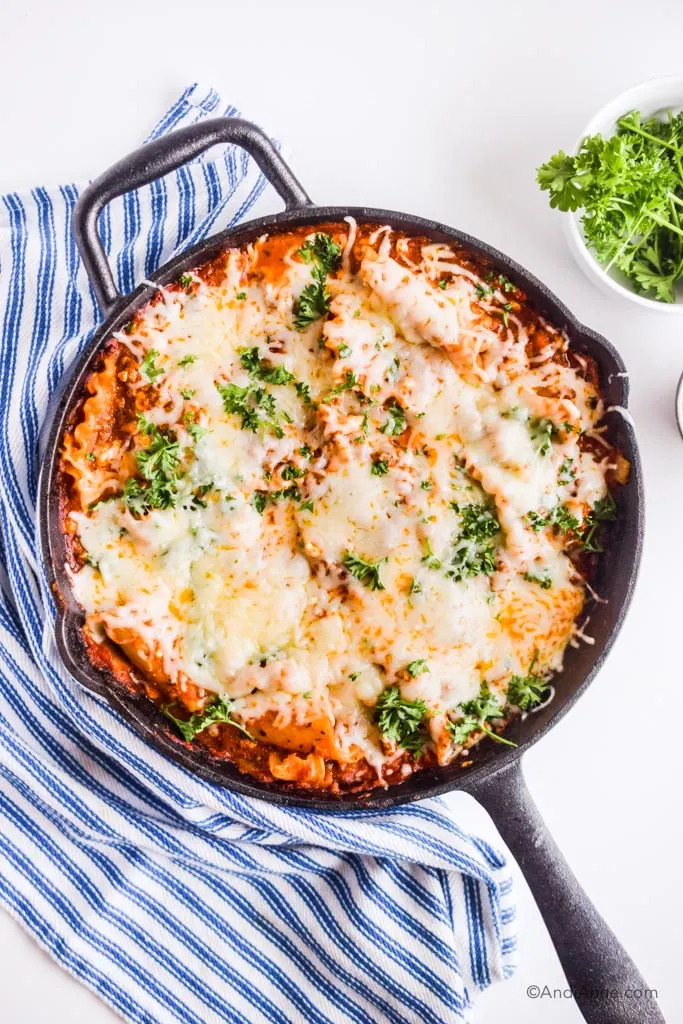 Is Skillet Lasagna Better With Cottage Cheese or Ricotta Cheese?
The answer to this will vary from person to person. But, here's why I like to use cottage cheese as an alternative to ricotta cheese in my lasagna…
Ricotta cheese isn't as versatile for a variety of dishes and is typically a bit more expensive. I don't like to use a whole container of cottage cheese in this recipe to help make it healthier, so I have leftovers.
Cottage cheese has a milder flavor and fewer calories than ricotta cheese. With leftover cottage cheese, you can spread it on toast, or eat with berries for breakfast. So basically it's more versatile, less expensive, and lower in calories.
How Do You Avoid Watery Lasagna?
To avoid watery lasagna, make sure to drain the cheese you're using beforehand. Cottage cheese tends to have a lot of liquid in the container. Avoid adding this to the recipe by adding the cheese to a strainer first to let all the liquids drain out. Blot it with a stack of paper towels if needed.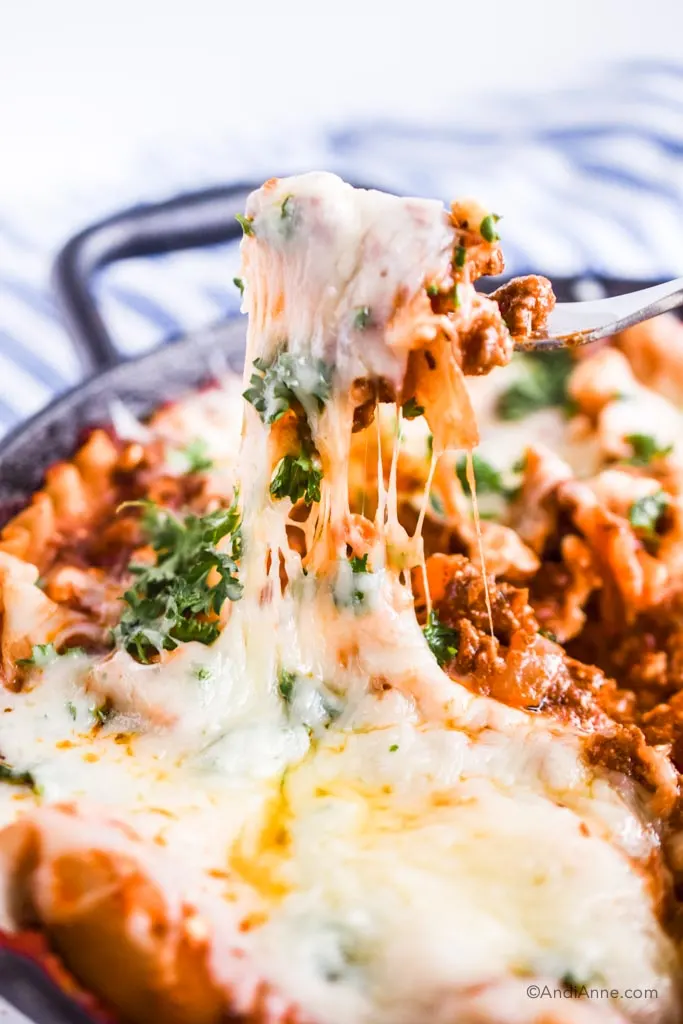 Recipe Tips
BROKEN LASAGNA NOODLES – For this recipe, each lasagna noodle is broken into three pieces then cooked in boiling water for 7-10 minutes.
TRY BROWN RICE LASAGNA NOODLES – These are gluten-free, easy to digest, and a great source of fiber. Traditional pasta noodles are made with refined flour that has been stripped of its fiber which can cause an increased spike in blood sugar levels. The fiber in whole grains like brown rice helps to slow down digestion.
LOW SUGAR PASTA SAUCE – Many pasta sauces are high in sugar and added preservatives. Choose one that has no added sugar and minimal additives like this marinara sauce.
USE LESS CHEESE – This recipe calls for 1 cup of cottage cheese, whereas most recipes use double or even triple and use ricotta cheese which typically has more calories. I'm using 2 cups of mozzarella cheese, however, you could reduce that to only 1 cup and it would still be delicious.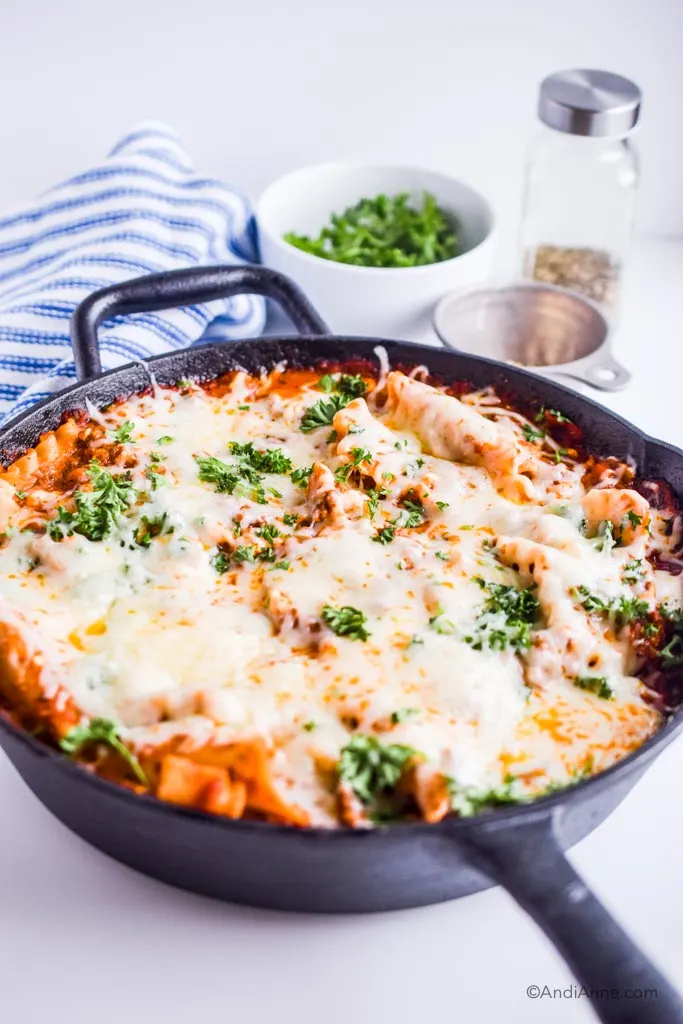 Serving Suggestions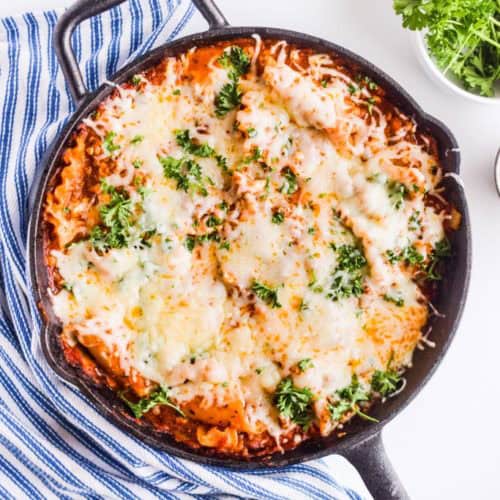 Skillet Lasagna
Skillet lasagna is quick and fast. Get ready for an ooey-gooey cheesy recipe with tender lasagna noodles and ground beef that your family is sure to love!
Save Recipe!
Saved!
Pin This
Print It
Instructions
Boil a pot of water. Break each lasagna noodle into three pieces and cook the pasta according to package instructions. Stir often to help prevent pasta pieces from sticking together. Once cooked, drain and rinse with cold water. Peel apart any pieces that have stuck together.

In a skillet over medium high heat, add cooking oil, onion, and garlic. Cook until onions become translucent. Add in the ground beef and cook until beef is no longer pink.

Stir in the italian seasoning, and garlic powder. Pour the jar of pasta sauce in and mix everything together. Reduce heat to let simmer for 3-4 minutes.

Add in ricotta cheese and the cooked pasta pieces. Mix everything together and let simmer an additional 2-3 minutes.

Sprinkle the top of the skillet with mozzarella cheese and chopped parsley (optional). Let simmer for 1-2 more minutes to help cheese melt. Remove from heat and scoop onto plates to serve.
Recipe Notes:
Storage Instructions: Skillet lasagna can be stored in the fridge in an airtight container for up to one week.
Freezer Instructions: Let the lasagna cool completely, then add to a freezer bag or container and remove as much air as possible. Seal tightly and store in the freezer for up to 3 months.
Thawing Instructions: Let the lasagna thaw in the fridge overnight, then reheat using either the microwave or oven. This recipe can be reheated at 350°F for 20-25 minutes or until heated through.
Nutrition
Calories:
378
kcal
|
Carbohydrates:
32
g
|
Protein:
22
g
|
Fat:
17
g
|
Saturated Fat:
7
g
|
Trans Fat:
1
g
|
Cholesterol:
60
mg
|
Sodium:
188
mg
|
Potassium:
413
mg
|
Fiber:
2
g
|
Sugar:
2
g
|
Vitamin A:
904
IU
|
Vitamin C:
14
mg
|
Calcium:
80
mg
|
Iron:
3
mg