Garden Salad with Herb Dressing
*This post may contain affiliate links. Please read my disclosure for more info.
This Garden Salad is a combination of cucumber, tomatoes, radishes, parsley, romaine lettuce, and sunflower seeds. It's topped with a savory dried thyme dressing. For protein, I added a hard-boiled egg. So easy and delicious!
Salads are something I've always struggled with. I don't naturally say to myself… "hmmm, I'm craving a salad"… ever. So in order to make myself eat them more often, I'm creating a salad series here on the blog. For me, salads need to be simple – with no complicated ingredients necessary. And I want them to be easy to make! I made this salad at lunchtime – it's enough to serve 4 people, so I wrapped the rest in the fridge for dinner, which we had it alongside roasted chicken.
So if you're anything like me where salads just don't come naturally to you, I get it! Give this one a try and see what you think. I promise it's really easy.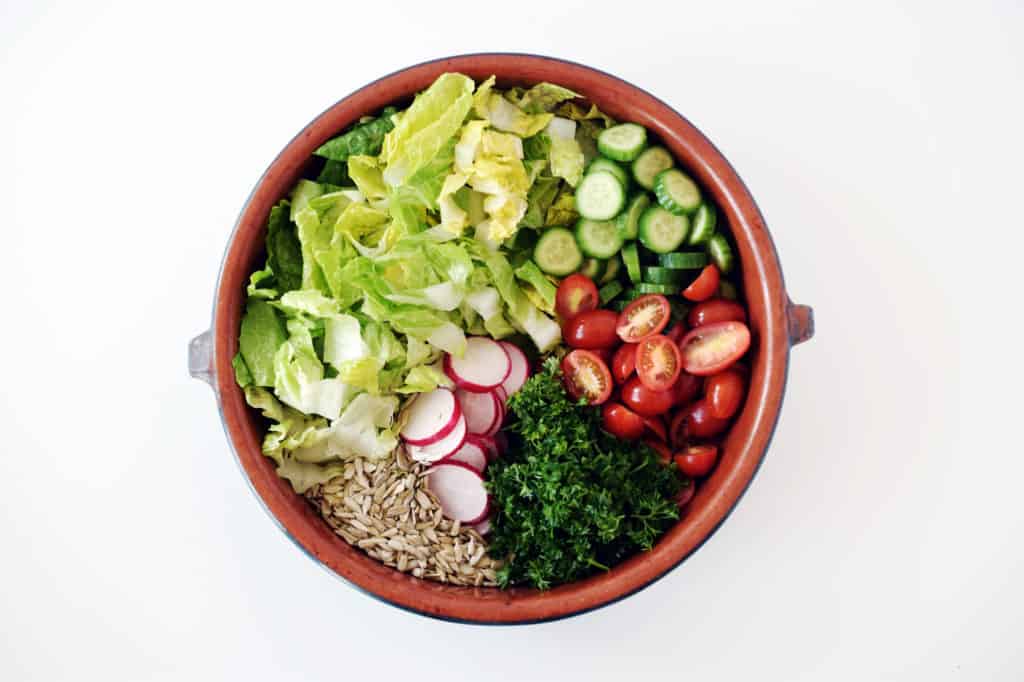 Garden Salad with Herb Dressing Ingredients
This salad contains ingredients that feel like they're fresh from the garden. And although I don't have a vegetable garden myself (*sigh*, someday) I can still pretend that these ingredients are all freshly picked, right!? This is a great salad to bring on a picnic or for a potluck. Just save the dressing in a mason jar and pour over the salad right before you serve.
Here's what's included in my garden salad:
Romaine lettuce
Cherry tomatoes
Mini cucumbers
Radishes
Parsley
Sunflower seeds
These ingredients are also easily customizable. So if you want to add carrots instead of radishes, go for it. There are no rules here. You can use whatever you'd like.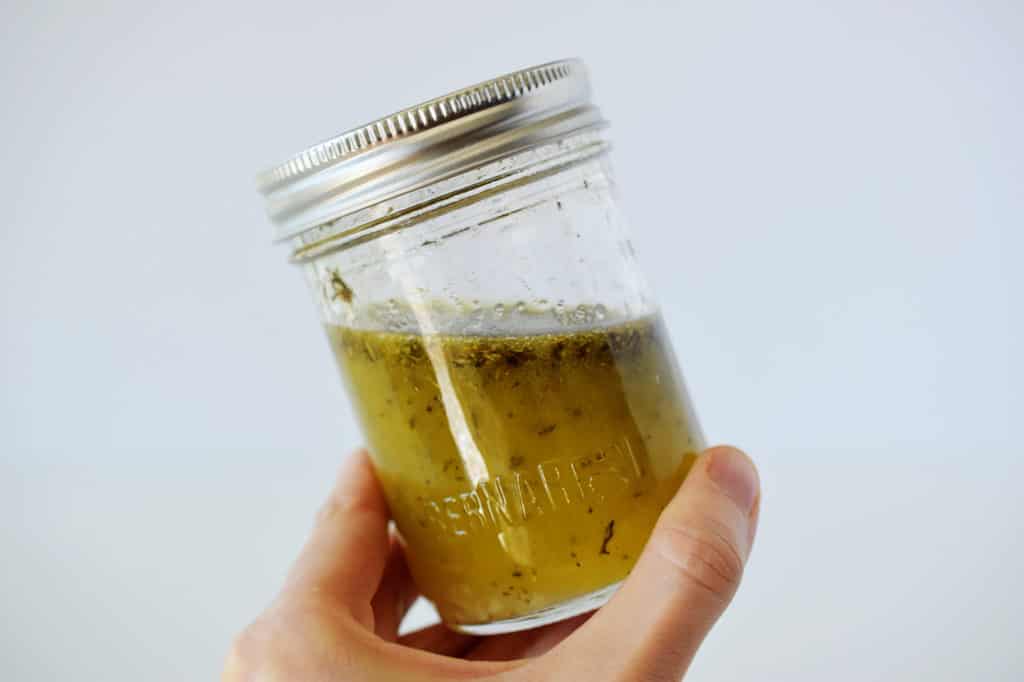 What Dressing Goes On The Garden Salad?
I created a simple dressing recipe that is light in flavor and minimal sugar from maple syrup. The main flavor ingredient is dried thyme, but you can also use fresh thyme which will smell even more amazing. Homemade salad dressings are always my go-to choice. I don't buy salad dressings from the store anymore… why? because they're expensive for what you're getting, the ingredients aren't nearly as good of quality as if you were to make it at home, annnd store-bought dressings loaded with sugar! So save yourself some money and learn to make your own salad dressings from scratch. It's super easy – you can grab my six healthy homemade salad dressing recipes to get even more flavors.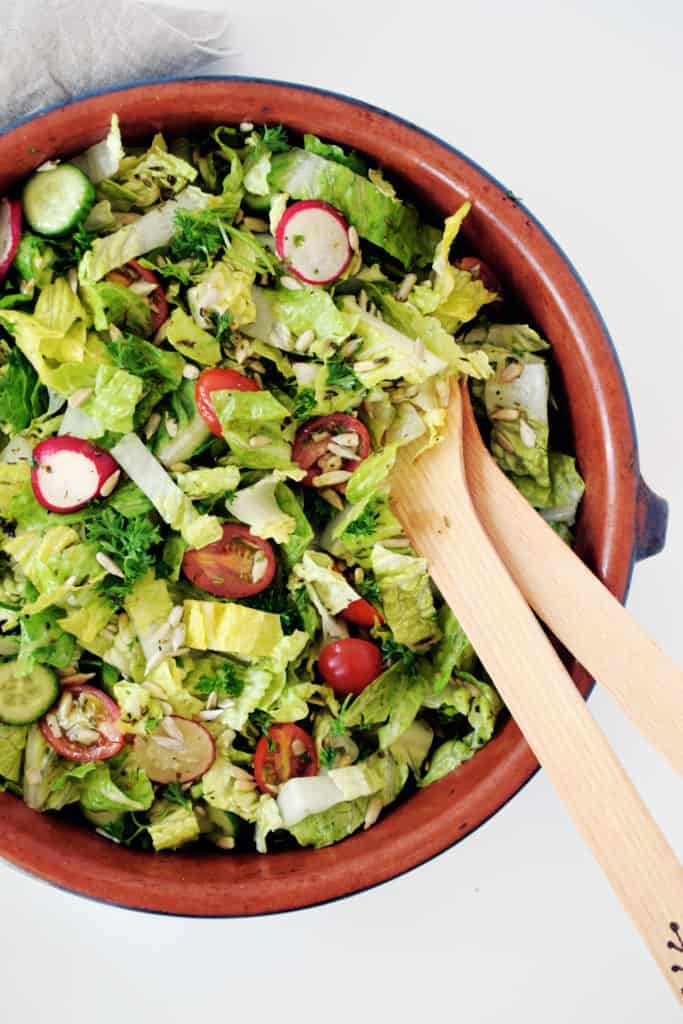 How To Make This Easy Garden Salad with Herb Dressing
With a little bit of washing and chopping, you'll have yourself a salad in less than 10 minutes. The only thing that needs cooking is the hard-boiled eggs (which are optional). The rest is easy! Here's how you make it:
Hard boil your eggs. Once they're cooked, set aside. I usually boil a bunch of eggs at once and store the rest in the fridge for later meals.
Make your dressing in a small mason jar or bowl. Add the olive oil, maple syrup, lemon juice, dried thyme, and minced garlic. Seal with a lid and shake it up.
Wash and chop all of the vegetables including romaine lettuce, cherry tomatoes, mini cucumbers, radishes, and parsley. Add the veggies to a bowl along with sunflower seeds and toss together.
Drizzle on your dressing and top with a sliced hard-boiled egg. And there you have it, one of the easiest salad recipes!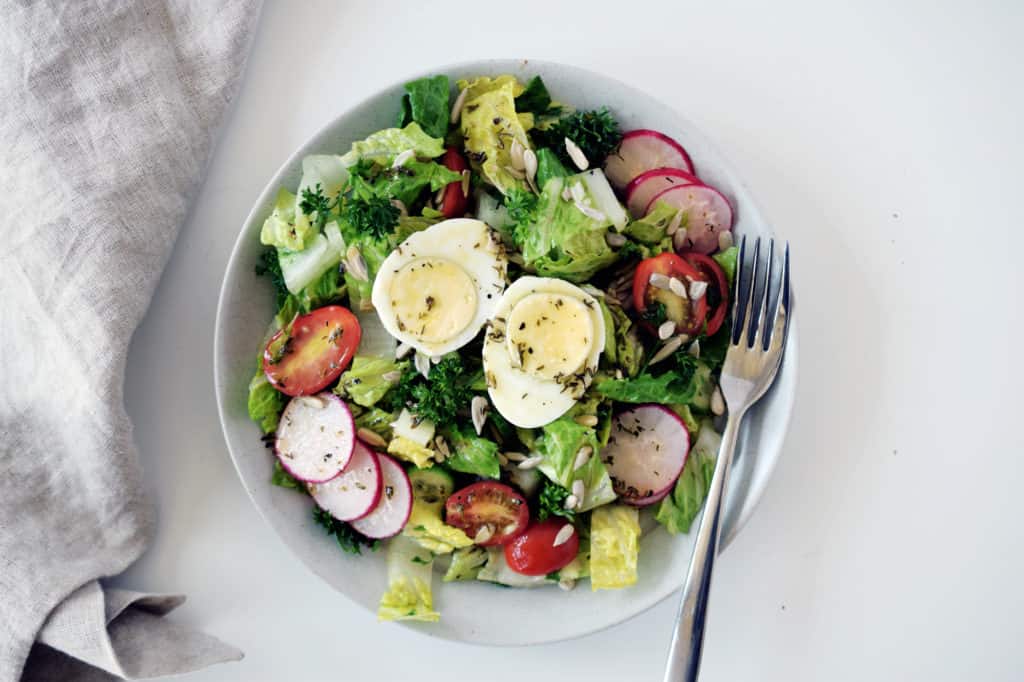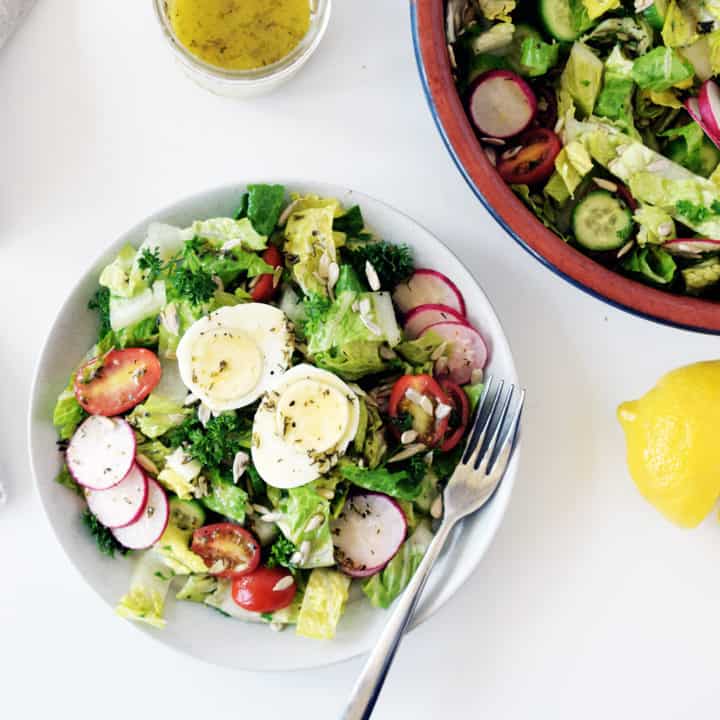 Garden Salad with Herb Dressing
Ingredients
1 head of romaine lettuce, chopped
1 cup cherry tomatoes, halved
2 small cucumbers, chopped
3 radishes, sliced thin
1 cup fresh parsley
1/2 cup sunflower seeds
1-4 hard-boiled eggs
Dressing Ingredients:
1/2 cup extra virgin olive oil
1 lemon, juiced
1/2 Tbsp maple syrup
1/2 Tbsp dried thyme
1 garlic clove, minced
sea salt and pepper to taste
Instructions
Wash and chop romaine lettuce and add to a large bowl. Add in halved cherry tomatoes, chopped cucumber, radishes, parsley, and sunflower seeds. Toss everything together, set aside.
In a mason jar, combine olive oil, fresh juice from lemon, maple syrup, dried thyme, minced garlic, sea salt, and pepper. Give it a good shake to mix it all together.
Drizzle dressing over top of the salad and mix everything together. Scoop on to serving plates and top with sliced hard-boiled egg (optional). Serve and enjoy!
Notes
See more family-friendly recipes on our website: www.andianne.com
Nutrition Information:
Yield:

4
Serving Size:

1
Amount Per Serving:
Calories:

466
Total Fat:

41g
Saturated Fat:

6g
Trans Fat:

0g
Unsaturated Fat:

32g
Cholesterol:

187mg
Sodium:

1124mg
Carbohydrates:

17g
Fiber:

6g
Sugar:

7g
Protein:

13g
Please note: This nutrition information is only an estimate as was created using Nutritionix
Did you enjoy this post? Share the ❤️ and Pin it to Pinterest!