Spinach and ricotta stuffed shells are the perfect comfort food! These jumbo pasta shells are filled with a mixture of creamy ricotta cheese, mozzarella, parmesan sautéed spinach, and other flavorful ingredients, making for a hearty and crowd-pleasing meal.
Similar recipes include our pizza pasta bake, the easy and popular creamy tuscan chicken pasta, and skillet lasagna. Serve with our dutch oven bread and quinoa salad for a delicious meal.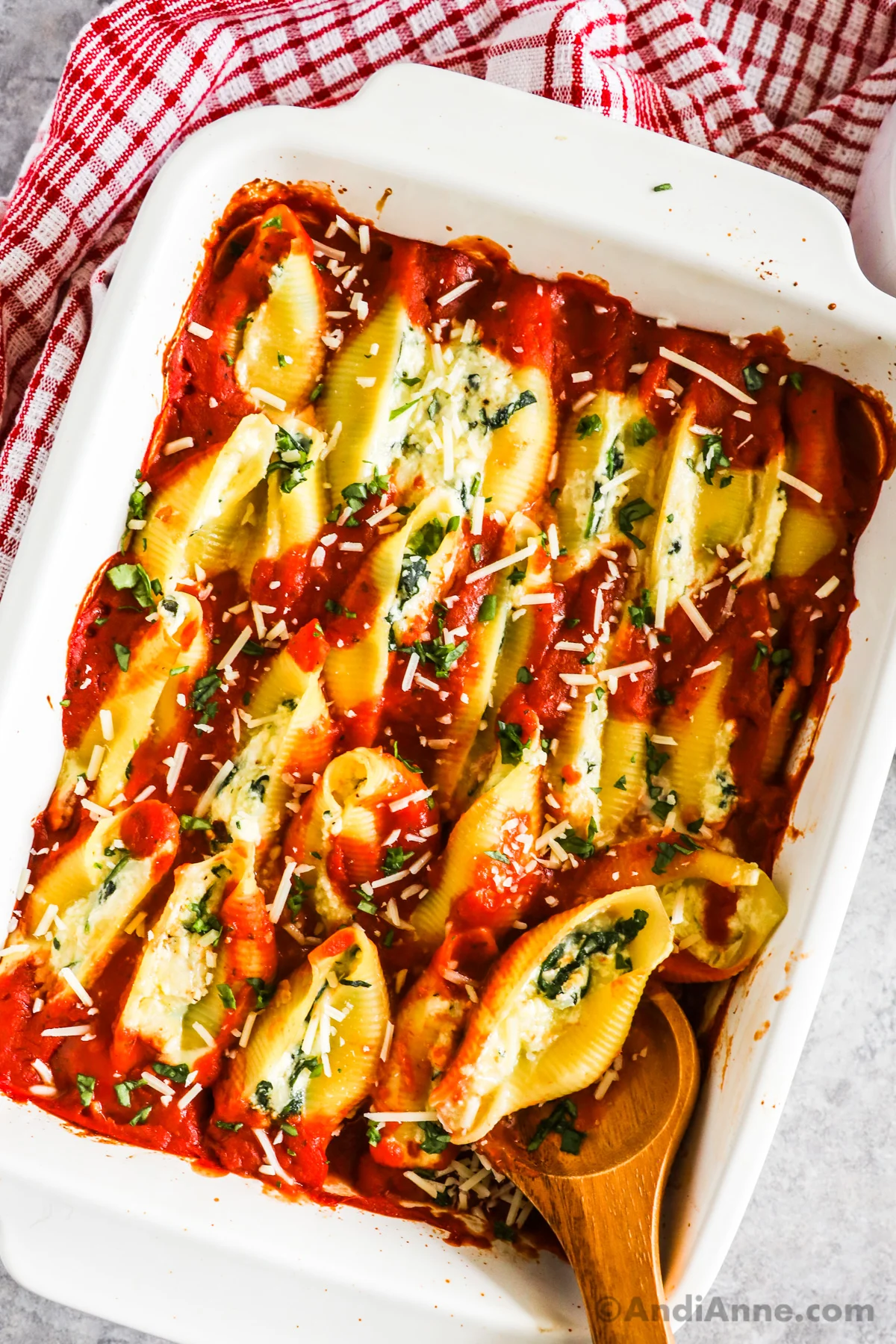 Ricotta Stuffed Shells Spinach
The combination of creamy ricotta, tender spinach, and tangy tomato sauce creates a rich and flavorful dish that is sure to satisfy your taste buds.
CUSTOMIZE YOUR FILLING – One of the best things about stuffed shells is that you can customize the filling to suit your tastes. If you prefer a creamier texture, add more ricotta cheese. If you want a little more flavor, try adding some chopped garlic or sun-dried tomatoes.
USE YOUR FAVORITE SAUCE – While marinara sauce is the classic choice for stuffed shells, you can use any sauce you like. Try alfredo sauce for a creamier dish, or pesto for a more flavorful option.
EASY TO MAKE – This recipe is surprisingly easy to make, even for beginner cooks. The most time-consuming part is stuffing the shells, but once that's done, it's just a matter of baking them in the oven.
MAKE AHEAD – This dish can be made ahead of time and stored in the fridge or freezer until you're ready to eat. This is a great option for busy weeknights or when you're entertaining guests.
SERVE WITH A SIDE SALAD – To balance out the richness of the stuffed shells, serve them with a simple side salad. A mix of greens, cherry tomatoes, and cucumber is a great option.
LEFTOVERS – If you have leftovers, they can be reheated in the oven or microwave. They also freeze well, so you can enjoy them later.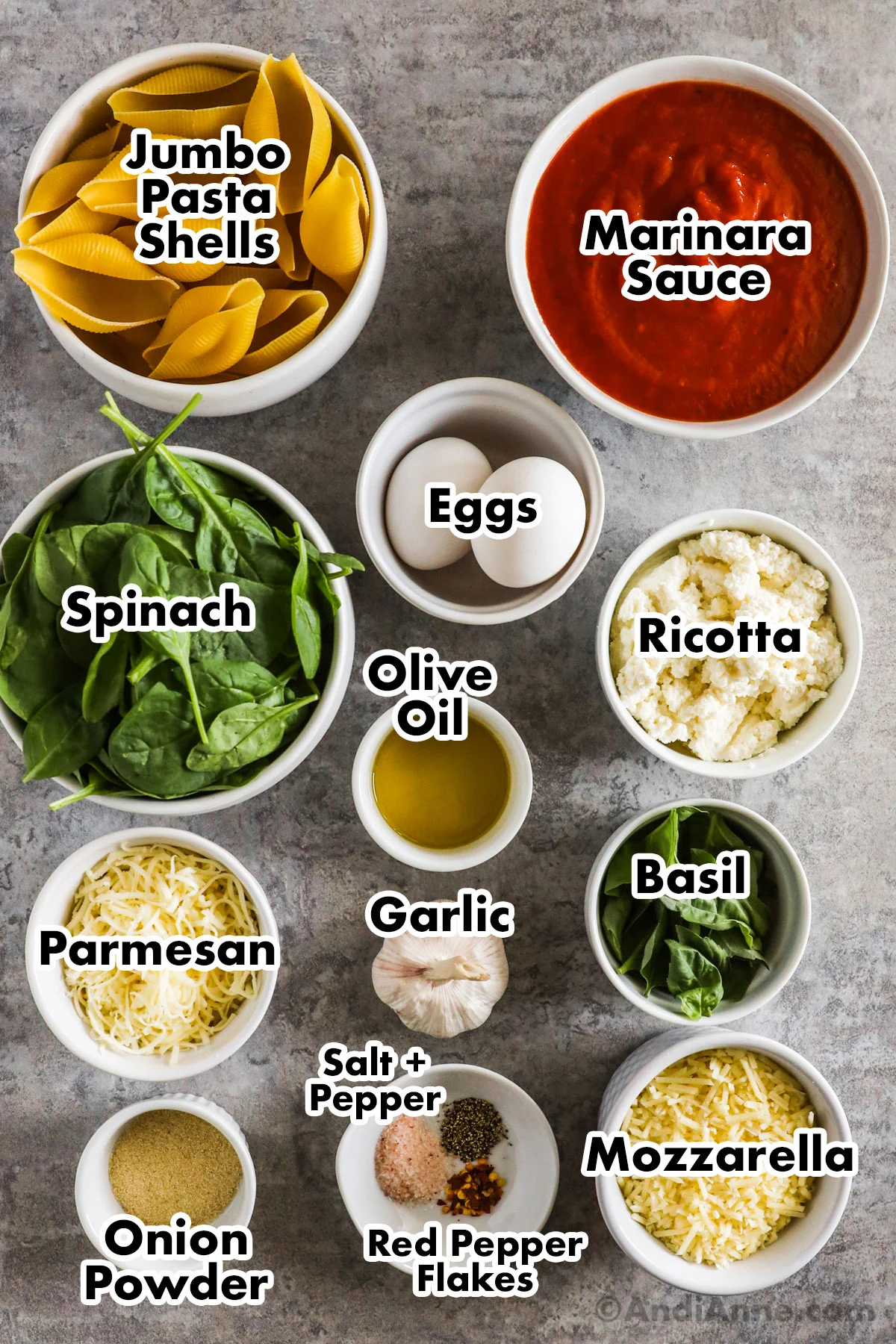 Recipe Ingredients
To make this spinach stuffed shells recipe, you will need the following ingredients:
JUMBO PASTA SHELLS – You can find them at any grocery store or online.
SPINACH – Fresh spinach is preferred, but you can also use frozen spinach. Just make sure to thaw it and squeeze out as much excess water before using it in the recipe.
RICOTTA CHEESE – This cheese is the star of the dish. You can use part-skim or whole-milk ricotta. If you can't find ricotta, you can substitute it with cottage cheese or cream cheese.
MOZZARELLA – This cheese adds a gooey, melty texture to the dish.
PARMESAN – This cheese adds a nutty, salty flavor. Freshly grated parmesan cheese will add the best flavor. Avoid the jarred parmesan version if you can.
EGGS – Eggs help bind the filling together. You can omit the eggs if you want, but the filling will be a bit more crumbly.
MARINARA SAUCE – This is the sauce that the stuffed shells are baked in. You can use store-bought or homemade marinara sauce.
BASIL – Fresh basil adds a bright, herbaceous flavor to the dish. You can use dried basil if you don't have fresh basil.
SPICES – Salt, pepper, red pepper flakes, and onion powder add flavor to the dish. Adjust the amount of spices to your taste.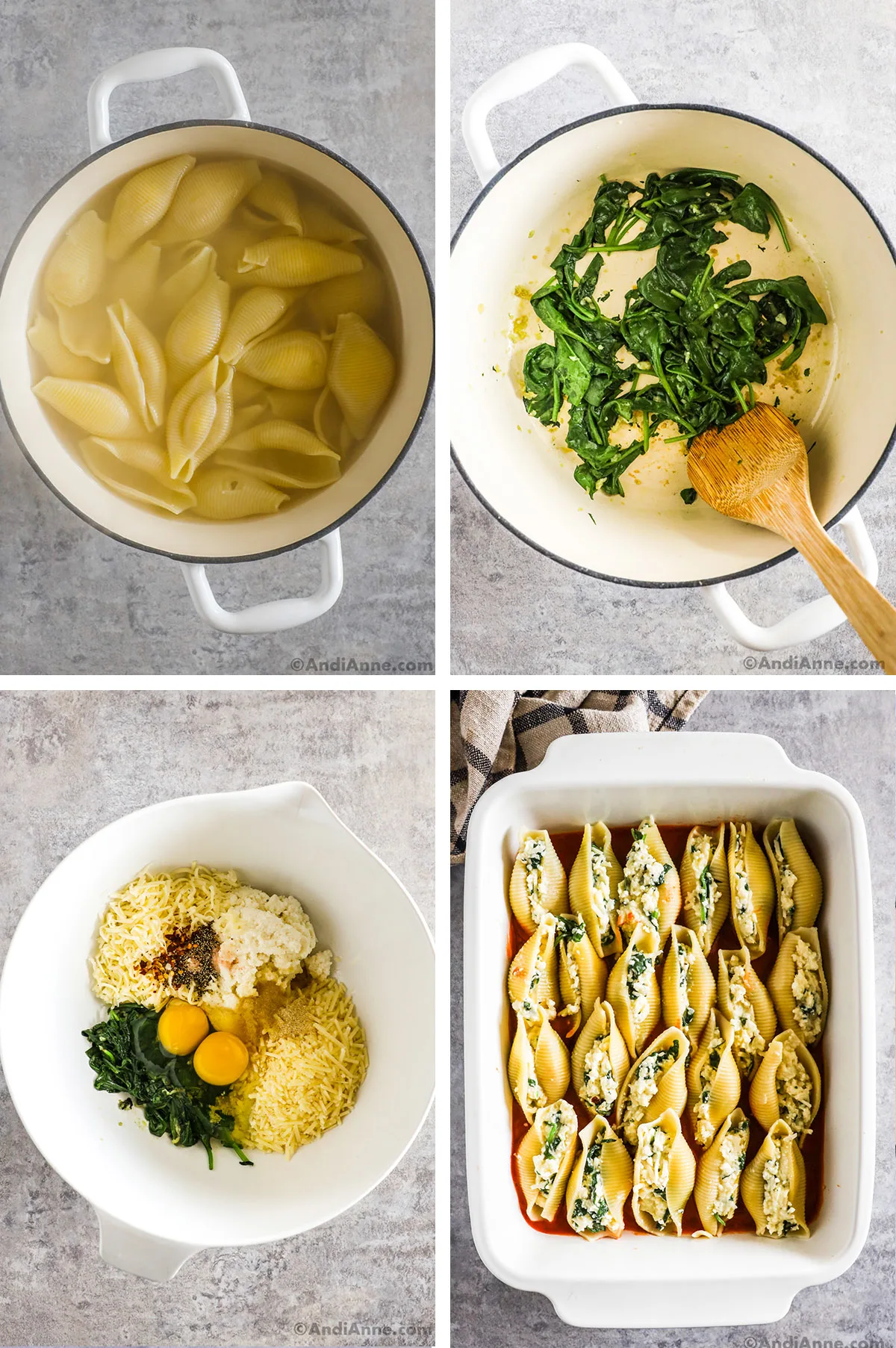 How to Make Spinach Ricotta Stuffed Shells
Making this recipe is easier than you might think. It just takes a little bit of time, but it's definitely worth it!
You can find full details in the recipe card at the bottom of this post. But here's an overview of how to make it:
BOIL PASTA – Start by cooking the pasta shells according to the package directions. Be sure to cook them until they are just al dente, as they will continue to cook in the oven. I like to rinse them under cold water to help prevent them from sticking together.
SAUTE – In a pan, saute some minced garlic until fragrant, then add in some fresh spinach leaves. Cook until the spinach is wilted and tender.
MIX TOGETHER – In a bowl, mix together the cooked spinach, ricotta cheese, shredded mozzarella, grated Parmesan, beaten egg, basil, onion powder, salt and pepper until well combined.
MARINARA – Spread half of the marinara sauce on the bottom of a baking dish.
STUFF SHELLS WITH CHEESE MIXTURE – Using a spoon, stuff each cooked pasta shell with the spinach and cheese mixture, and place them in the baking dish in a single layer on top of the marinara sauce. Repeat with the rest of the shells and ricotta mixture. Pour the other half of the marinara on top.
BAKE – Cover the baking dish with foil and bake for 25 minutes. After 25 minutes, remove the foil and bake for an additional 15 minutes, or until the cheese is melted and bubbly.
That's it! The spinach ricotta stuffed shells are now ready to be served. You can sprinkle some more fresh parmesan and chopped basil on top if you'd like. Enjoy!
HOW TO STORE LEFTOVERS
If you have any leftover spinach and ricotta stuffed shells, you can easily store them for later consumption. Here's how:
FRIDGE – Place the leftover shells in an airtight container and store them in the fridge for up to 3-4 days. To reheat, simply microwave the shells for 1-2 minutes or until heated through. Alternatively, you can reheat them in the oven at 350°F for 10-15 minutes.
FREEZE – Make sure they have cooled down completely. Place the shells in a freezer-safe container or a resealable freezer bag. The recipe can be stored in the freezer for up to 2-3 months.
THAW – To thaw the frozen shells, simply transfer them from the freezer to the fridge and let them thaw overnight. Alternatively, you can thaw the shells in the microwave on the defrost setting using a microwave-safe container.
REHEAT – Once the shells are thawed, you can reheat them in the microwave or oven following the instructions above.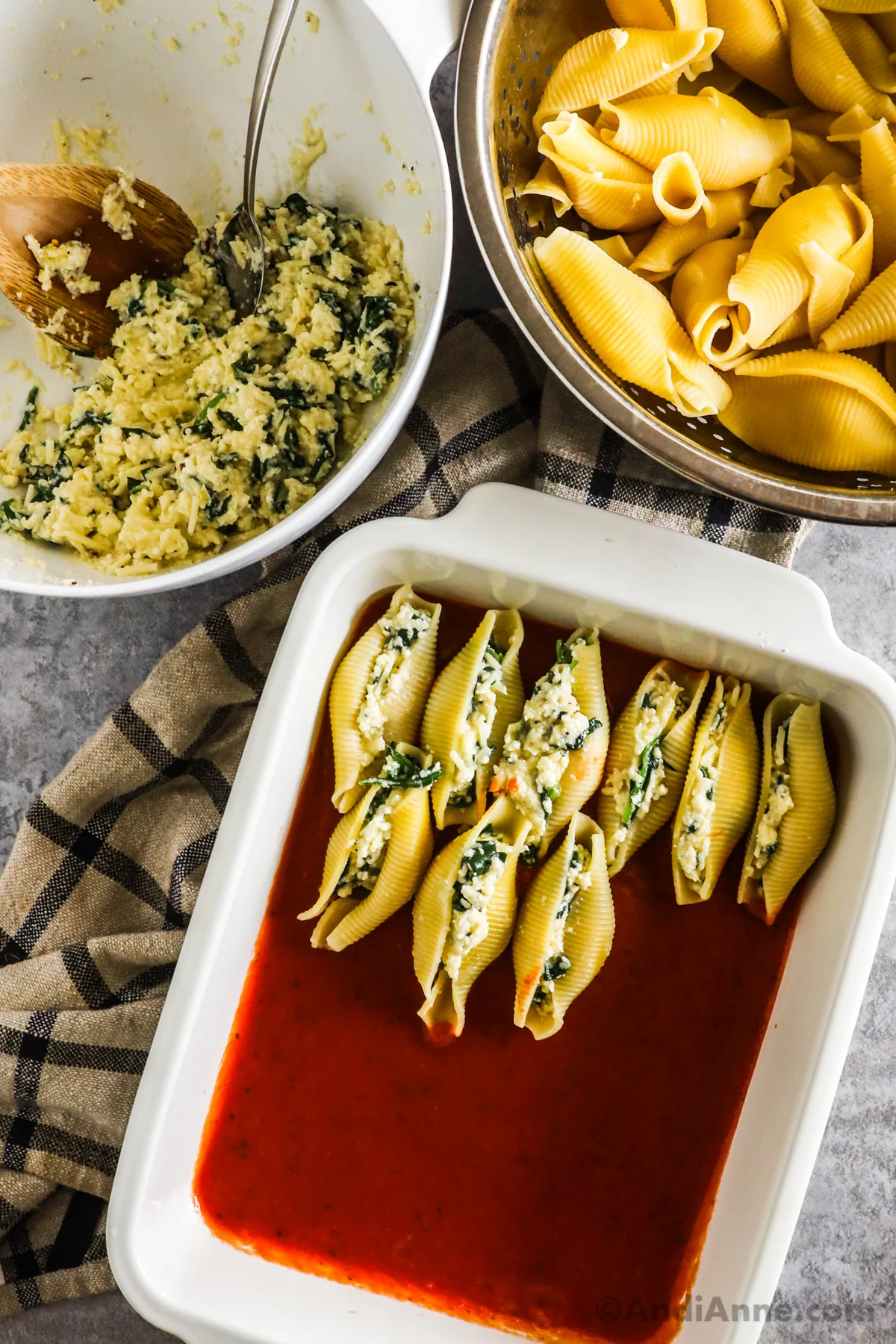 Recipe Tips
Here are some tips to help you make the perfect spinach and ricotta stuffed shells:
COOK PASTA AL DENTE – Cook the pasta to al dente, which means they should be cooked but still firm to the bite. If you overcook them, they will become too soft and fall apart when you stuff them.
DRAIN SPINACH – Be sure to drain any excess moisture from frozen spinach (if using) once it thaws. Also, after you sauté the spinach (even if using fresh spinach), make sure to drain it to remove any excess moisture. Otherwise, the excess water will make the filling watery and the shells could become soggy.
MIX THE FILLING WELL – Make sure to mix the ricotta cheese, spinach, and other ingredients well to ensure that the filling is evenly distributed.
USE A PIPING BAG OR ZIPLOC BAG – Using a piping bag or a Ziploc bag with the end snipped off can make filling the pasta shells easier. Personally, I just used a spoon to scoop it in.
COVER WITH FOIL – Cover the baking dish with foil while baking the first half will ensure that the shells cook evenly and don't dry out.
TOP WITH EXTRA CHEESE – Sprinkle on extra cheese in the last few minutes of baking. This will create a nice cheesy crust on top of the shells.
LET IT COOL FOR A FEW MINUTES – Let the shells cool for a few minutes before serving. This will allow the filling to set and make it easier to scoop and serve.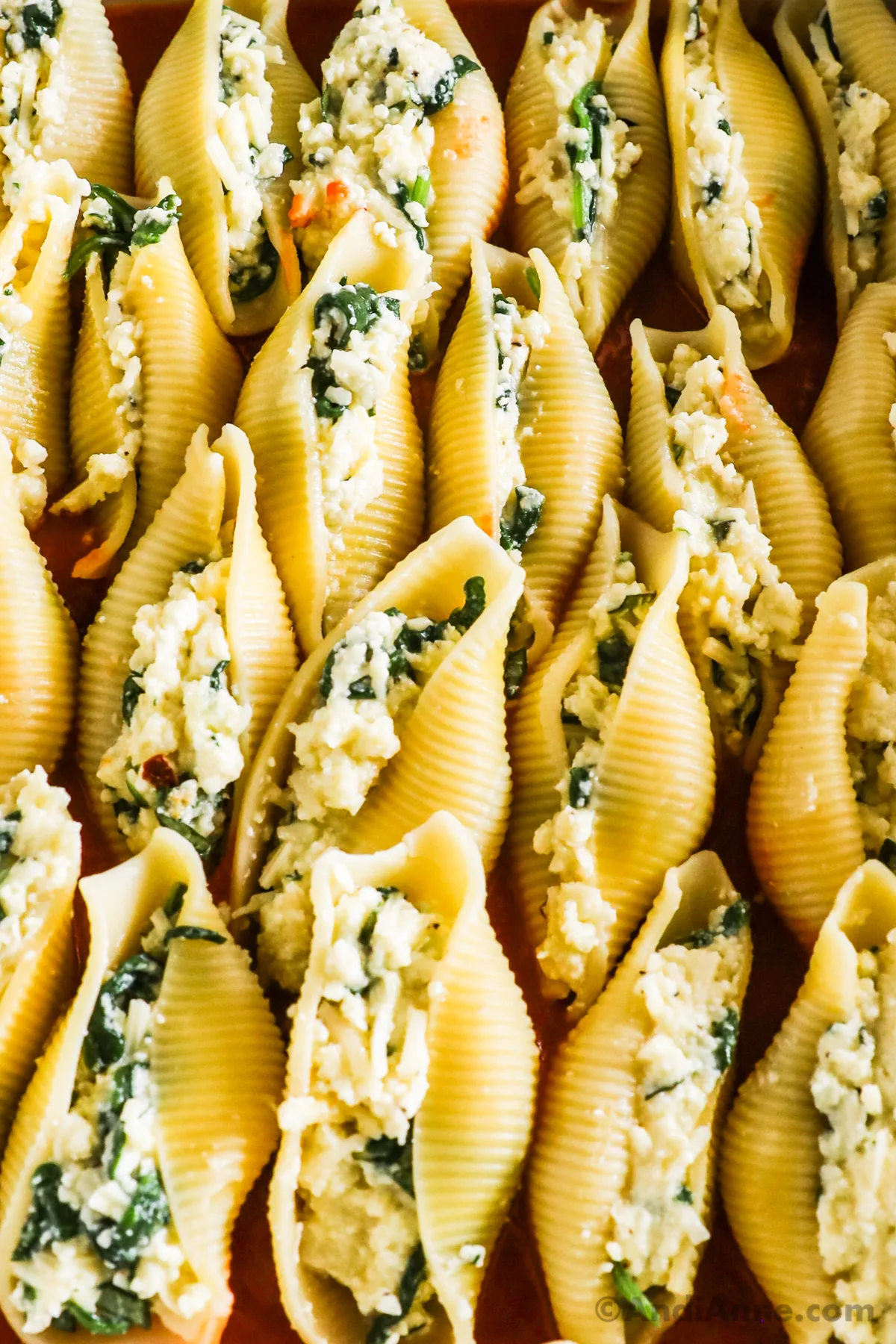 Is there a way to prevent stuffed shells from becoming watery?
Yes, there are a few things you can do. First, make sure to drain the spinach as much as possible before mixing it with the ricotta cheese.
Excess moisture from the spinach can make the filling too watery. Additionally, try not to overcook the pasta shells before stuffing them.
Overcooked shells can absorb too much sauce and become mushy. Finally, be sure to bake the stuffed shells uncovered in the last half of baking, so any excess moisture can evaporate.
What sides would pair well with spinach and ricotta stuffed shells?
A simple green salad with a tangy vinaigrette. Roasted vegetables, such as broccoli or asparagus, would also complement the flavors of the stuffed shells nicely.
If you're in the mood for something heartier, consider serving garlic bread or a crusty baguette on the side.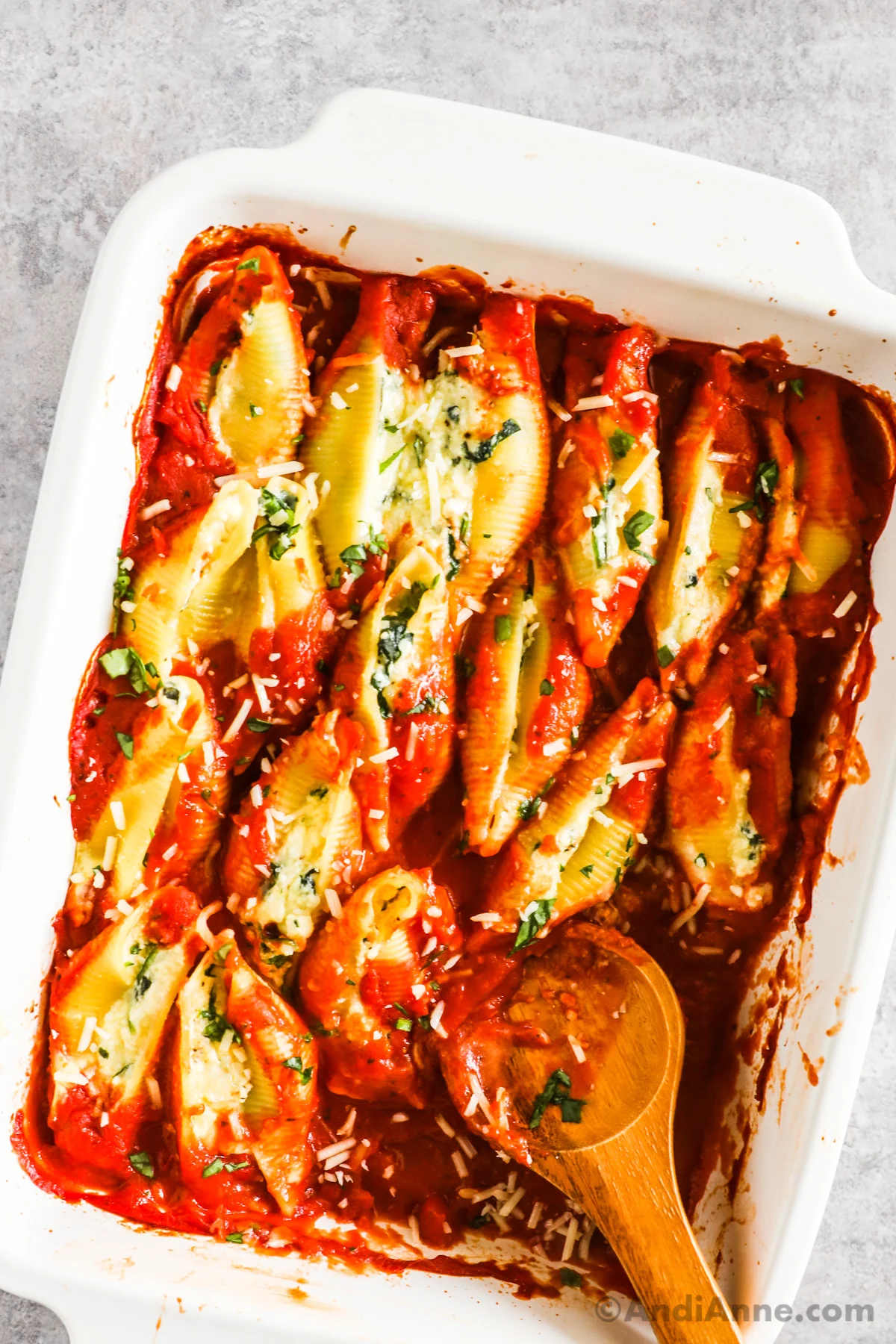 Overall, this spinach and ricotta stuffed shells recipe is a crowd-pleaser, satisfying your craving for comfort food, that you'll want to make again and again.
This recipe is perfect for a weeknight dinner because you can make it ahead of time and store it in the fridge until ready to bake. Plus, it's a great way to get your kids to eat their vegetables without even realizing it!
More Pasta Recipes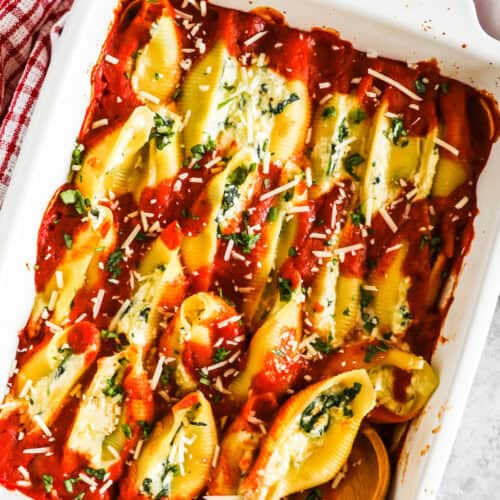 Instructions
Preheat the oven to 375℉.

Boil a large pot of hot water. Add in the pasta and cook until al dente (tender but still firm). Pour into a strainer and rinse under cold water. Set aside.

Heat a pot over medium high heat with the olive oil. Cook the garlic for 1-2 minutes, then stir in the spinach. Cook until it becomes wilted. Let the spinach garlic mixture cool for 10 minutes before moving onto the next step.

In a bowl, combine the cooled spinach, ricotta cheese, mozzarella cheese, grated parmesan, eggs, salt and pepper. Mix everything together.

Pour half of the marinara sauce into a 9×13 baking dish. Use a spoon to fill each jumbo shell with the spinach cheese filling. Place in a single layer on top of the sauce. Repeat until all the filling has been used up.

Pour the last half of the sauce overtop of the pasta. Cover the baking dish with foil and bake for 25 minutes. Remove the foil and bae for 12-15 minutes longer, until sauce is bubbling and cheese has melted. Sprinkle more mozzarella cheese on top and serve.
Nutrition
Calories:
267
kcal
|
Carbohydrates:
21
g
|
Protein:
15
g
|
Fat:
14
g
|
Saturated Fat:
7
g
|
Polyunsaturated Fat:
1
g
|
Monounsaturated Fat:
5
g
|
Trans Fat:
0.004
g
|
Cholesterol:
79
mg
|
Sodium:
942
mg
|
Potassium:
488
mg
|
Fiber:
2
g
|
Sugar:
4
g
|
Vitamin A:
2206
IU
|
Vitamin C:
11
mg
|
Calcium:
291
mg
|
Iron:
2
mg