Homemade lemonade made from scratch might be the easiest crowd-pleaser for a BBQ, or any hot summer day. With minimal ingredients, effort, and time, this simple recipe will gratify everyone from kids to adults.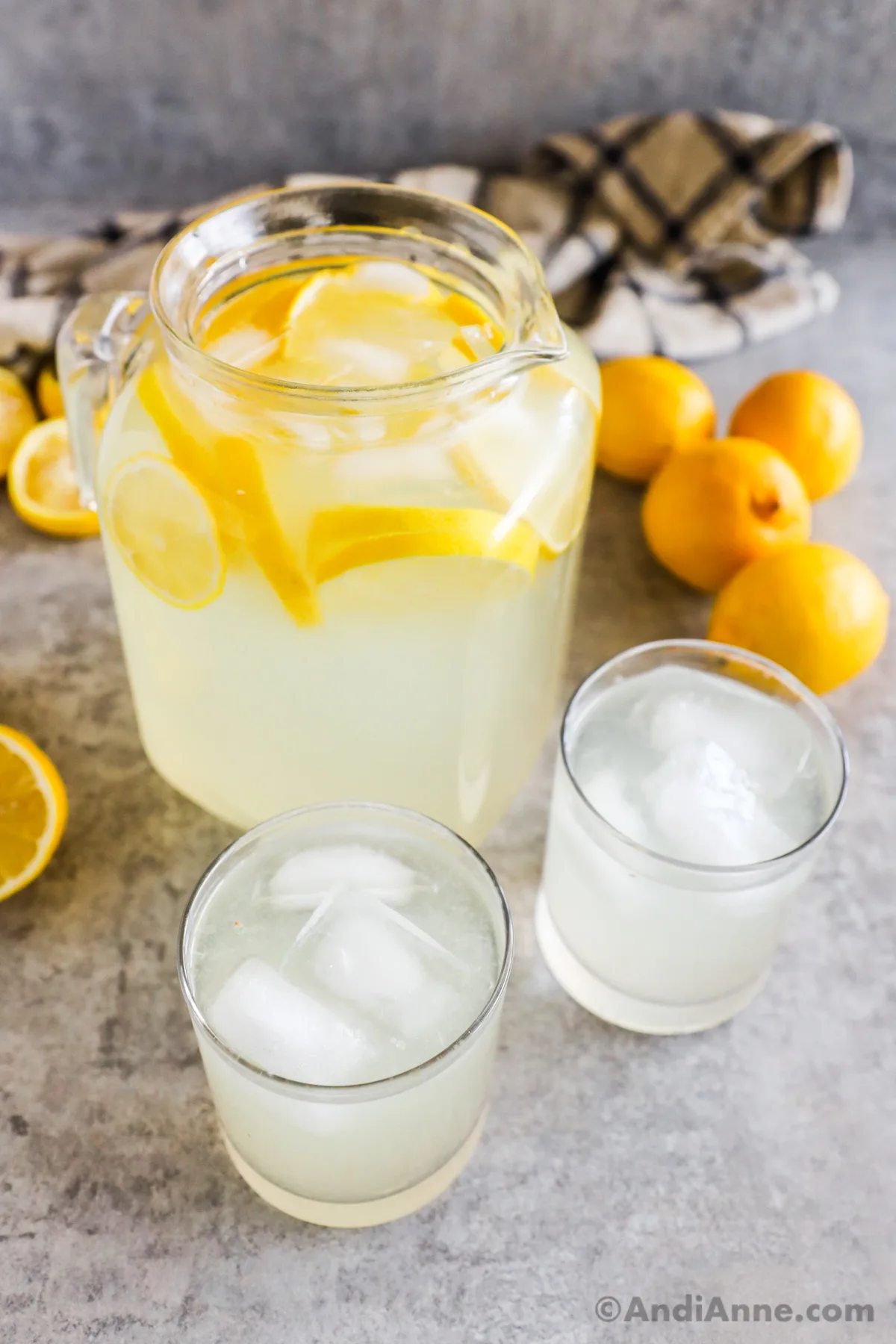 Lemonade From Home Recipe
If you want a quick and easy way to really surprise guests with a classic refreshing easy lemonade recipe, we have organized the best steps to achieve that perfect summer drink.
To make the best homemade lemonade recipe, the only ingredients you're going to need are fresh lemons, sugar, and cold water. If you want to add noticeably more complex flavors to this already delicious drink, visit the recipe tips section.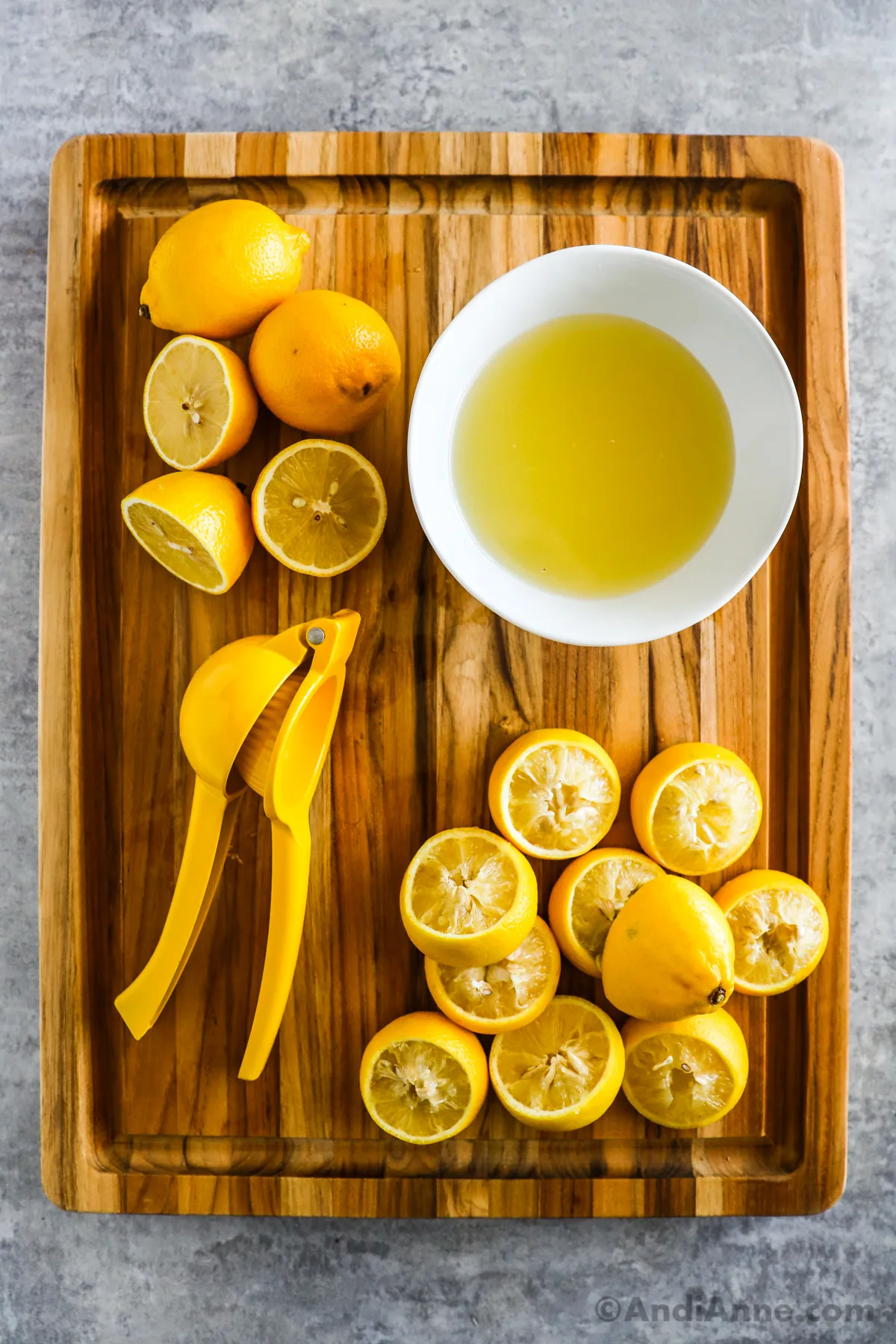 Recipe Ingredients
To make this crowd-pleasing homemade lemonade recipe you will need the following basic ingredients. Full ingredient details are in the recipe card at the bottom of this blog post.
GRANULATED SUGAR – You will need granulated sugar to add sweetness to your homemade lemonade. You can also use maple syrup or honey.
LEMON JUICE – We will be using lemons to achieve a tangy flavor. You can use bottled lemon juice if fresh lemons are not available, however, freshly squeezed lemon juice renders the best results.
WATER – Use tap or filtered water as a base to dilute the lemon juice and sugar.
ICE CUBES – Before serving, you may want to add ice to the pitcher because lemonade is best served cold. But you already knew that.
LEMON SLICES – These are more of a garnish, but make the lemonade look so pretty!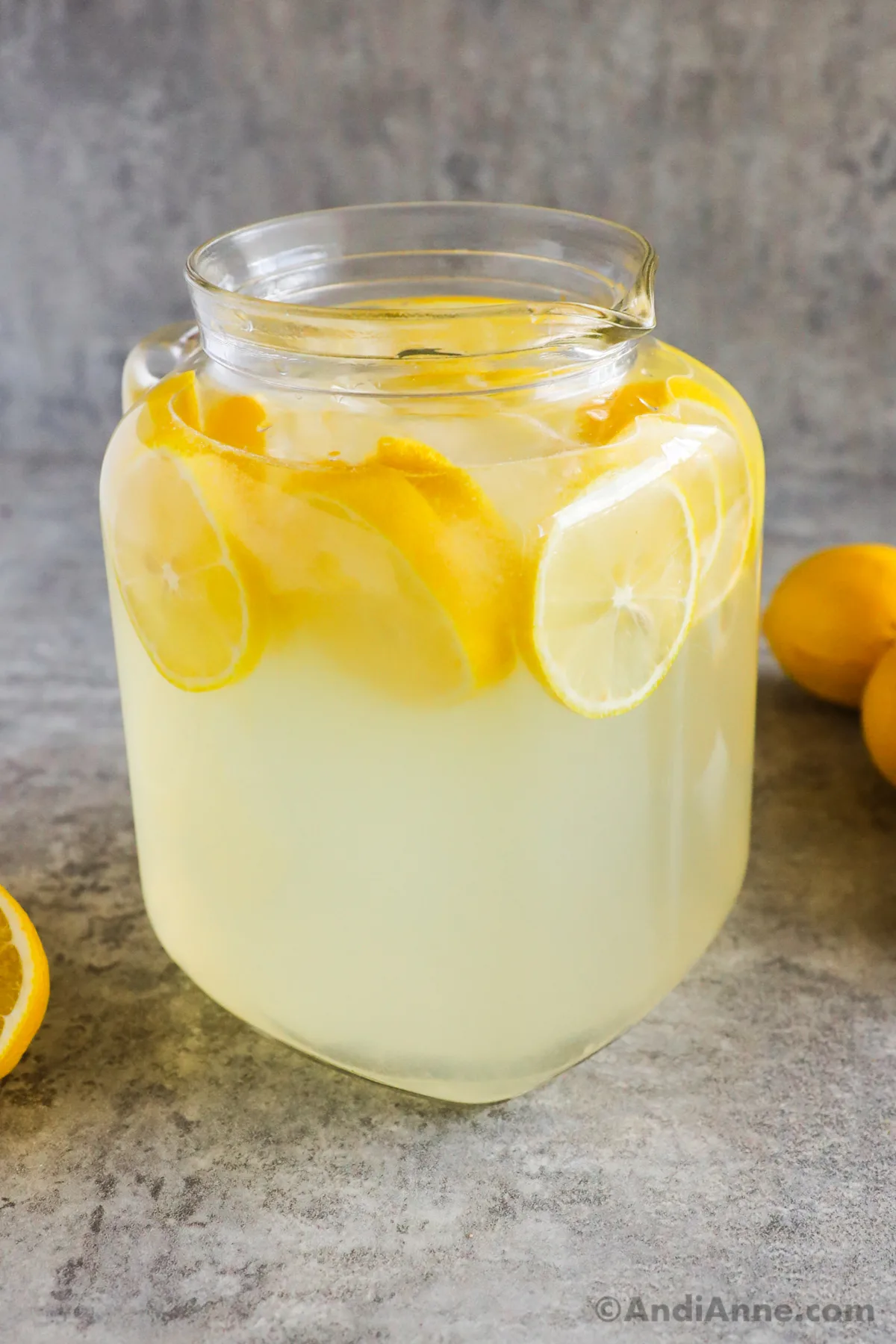 How To Make Homemade Lemonade
Ready to get started? Follow these simple steps to make the perfect homemade lemonade.
The following is a brief overview:
A full lemonade ingredients list can be found at the bottom of this post.
ROLL YOUR LEMONS – Before you juice the lemons, let them sit at room temperature for an hour or two. Next, press firmly with your palm and roll them on the counter. This will make juicing them so much easier.
JUICE THE LEMONS – Cut the lemons in half and use a juicer or your hands to squeeze out the juice. You'll need about 1 cup of juice for every 4 cups of water.
MAKE THE SWEETENER – In a small pot combine sugar and water together, heat on your stovetop over medium heat, stirring occasionally until the sugar dissolves completely.
MIX THE LEMONADE – In a large pitcher, pour the freshly squeezed lemon juice in with the cooled sugar water and stir until combined.
CHILL AND SERVE – Chill your mixture in the fridge before adding ice. Serve over ice and enjoy!
Variations
It's easy to create a variety of flavors with the lemonade base. Here are a few ideas:
PINK HOMEMADE LEMONADE RECIPE – All you have to do is blend strawberries into a puree and mix it in with the lemonade to make strawberry lemonade. Alternatively simply adding sliced strawberries or cranberry juice to the drink adds subtle flavor and color.
MINT HOMEMADE LEMONADE – First, add fresh mint leaves (6-10) to a bowl containing 1 cup of your homemade lemonade. Muddle them around with a pestle, then add them back into the pitcher of lemonade.
SPARKLING HOMEMADE LEMONADE – Try adding sparkling water or soda water in place of regular water at the last step of the instructions. It won't stay sparkling for long so serve immediately.
How To Store
Here are a few tips to keep your lemonade tasting its best.
REFRIGERATE – When not using, keep your homemade lemonade in the fridge to keep it tasting fresh.
FREEZE – Store it for longer by freezing your beverage. You can pour the lemonade into ice cube trays, freeze it then drop them into a ziplock bag.
AVOID SUNLIGHT – Exposure to sunlight can spoil your lemonade drink quickly! Try to keep it in the shade if possible.
SEAL WITH A LID – This will help to keep it fresher for longer.
Recipe Tips
MAKE A SIMPLE SYRUP – Habit leads many of us to pour the sugar directly into the lemonade. Instead, take the time to dissolve the sugar in hot water separately before adding in the lemon juice. This ensures the sugar is evenly distributed and dissolved. It really makes a difference!
ADD DEEP COMPLEX FLAVOR – If you have time, plan ahead to enhance the flavor of your simple syrup. Wash lemons, carve the yellow part of the rind from 6 lemons with a vegetable peeler, place in a small saucepan with sugar, and muddle until oils are released. Let sit for 1-2 hours. Add 1 cup of water, heat on medium, mix sugar until dissolved, and let sit for 5 minutes. Strain and use this liquid as your sweetener.
BALANCE SWEETNESS AND TARTNESS – Everyone's tastes are different so take the time to adjust to your preference. If it's too tart, add more simple syrup, too sweet? Add more lemons.
SALT – I actually find this really exciting. Salt has a way of making things taste more like themselves, so add a pinch of salt to reduce the bitterness of the lemons and enhance their flavor. Take your time adding small amounts and taste testing as you go.
FRESHLY SQUEEZED LEMONS – Always use fresh lemons for the best results because using bottled lemon juice will result in a completely different flavor. Look for lemons that are firm, bright yellow with no blemishes, and heavy for their size, these are the juicy lemons. Not too hard and not too soft is what we're looking for.
ROOM TEMPERATURE LEMONS – Plan ahead and store the lemons at room temperature. This will make the extraction process run smoothly because it allows more of the juice to flow out of the fruit.
CHILL WITHOUT ICE – We recommend chilling this sweet beverage before adding ice. Chilling the drink with ice alone will dilute it quickly. Instead, add ice just before you serve.
LEMON SLICES – When preparing your lemons to be squeezed, you can set aside slices to use as garnish adding color to the presentation.
FAQs
How many lemons will I need to make lemonade?
It's not the same every time, however, a good model to follow is: 1 cup of lemon juice per 4 cups of water (Or1L or .26gal or 33oz).
It takes roughly 6 lemons to provide 1 cup of fresh lemon juice. So in order to fill a 2L jug (8 cups) which is a large-sized pitcher, you'll need roughly 12 lemons.
What is the perfect lemonade ratio?
The perfect lemonade ratio is what tastes best to you. A rule of thumb to follow is 1:1:3 – one part lemon juice, one part sugar, and three parts water. After this is achieved, adjust to your tastes.
Can you make lemonade without real lemons?
Yes, you can make lemonade without actual lemons by using lemon juice concentrate or lemonade mix. However, the taste will not be as fresh and authentic as using real lemons.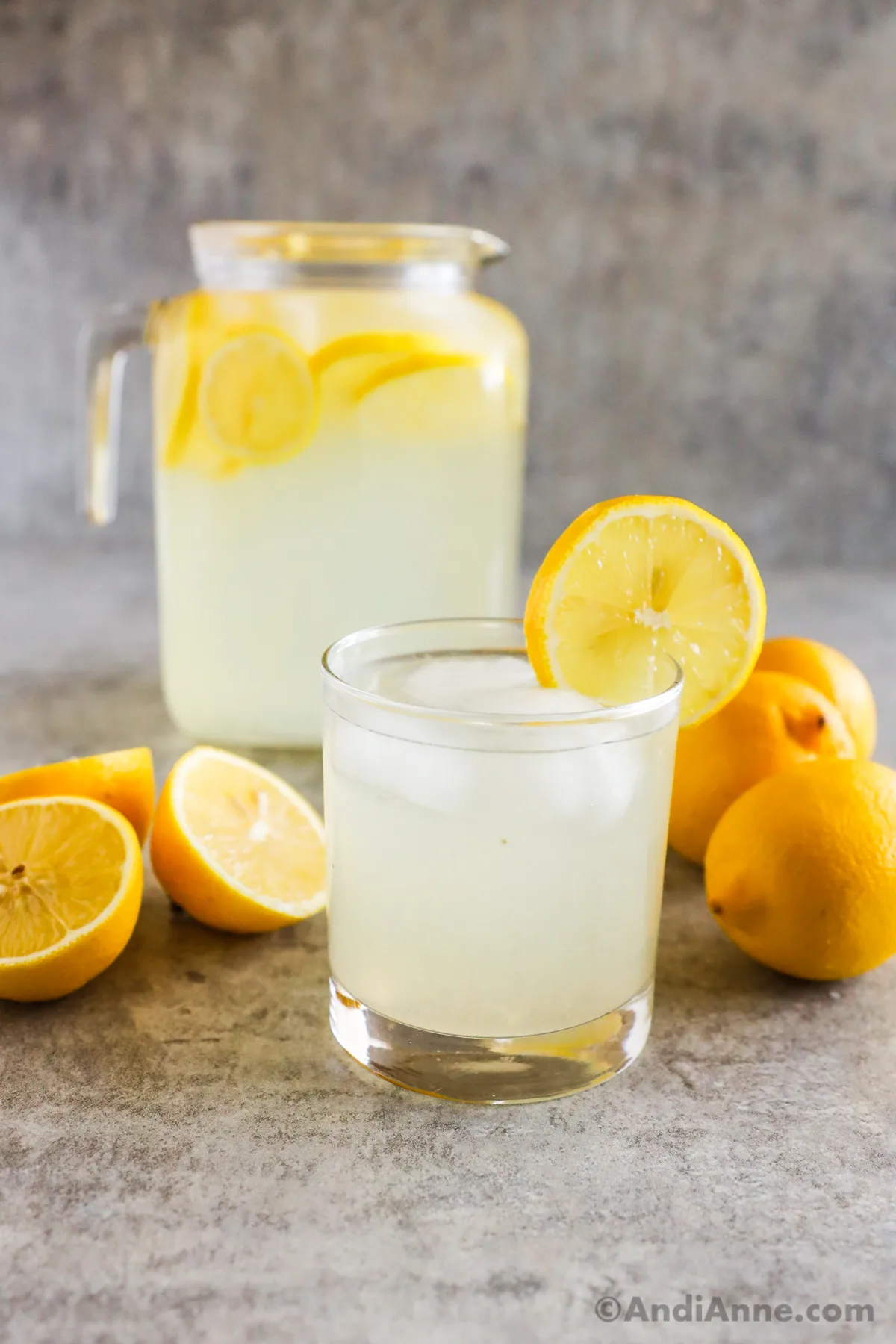 There aren't many beverages that will charm a crowd like a glass of homemade lemonade will. It's sweet, tangy, and refreshing, and partners well with summertime. With a short list of simple ingredients and steps, I hope you return to this recipe often.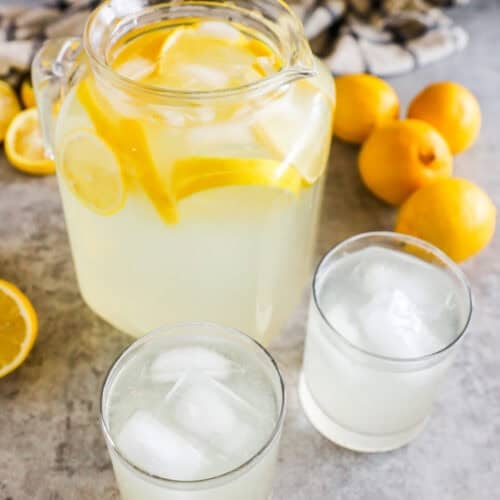 Homemade Lemonade Recipe
Made from scratch with simple ingredients, this lemonade recipe might be the easiest crowd-pleaser for a BBQ, or any hot summer day.
Save Recipe!
Saved!
Pin This
Print It
Instructions
Add 1 cup water and 1 cup sugar in a saucepan over medium-low heat. Stir slowly until the sugar has dissolved, about 2-3 minutes. Remove from the heat and let this cool 10 mins.

Add the 1.5 cups of fresh squeezed lemon juice to a pitcher. Pour in the sugar mixture from saucepan.

Add 7 more cups of water and stir together. Place in the fridge until ready to serve. Add ice and lemon slices to the pitcher just before serving.
Nutrition
Calories:
106
kcal
|
Carbohydrates:
28
g
|
Protein:
0.2
g
|
Fat:
0.2
g
|
Saturated Fat:
0.02
g
|
Polyunsaturated Fat:
0.01
g
|
Monounsaturated Fat:
0.003
g
|
Sodium:
15
mg
|
Potassium:
48
mg
|
Fiber:
0.1
g
|
Sugar:
26
g
|
Vitamin A:
3
IU
|
Vitamin C:
18
mg
|
Calcium:
12
mg
|
Iron:
0.05
mg