Honey garlic salmon is light and flaky in a lemony honey garlic sauce. This salmon tastes incredibly delicious as it's not overcooked, with a sweet and citrusy kick from the glaze. Serve with rice and steamed veggies for an easy healthy meal for your family.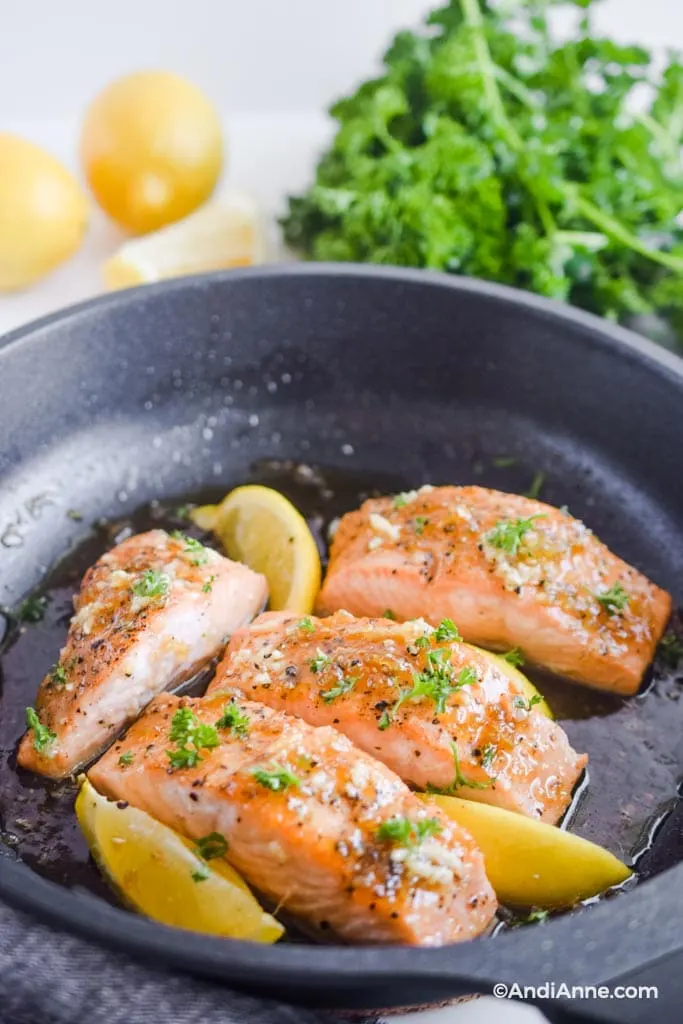 Honey garlic salmon is nutritious and packed with omega-3 fatty acids. This recipe can also be baked or grilled, but today we're cooking it in a frying pan to create the fastest recipe possible… because on weeknights that's all we really want, right?
You can use any amount of salmon you want for this recipe. If you're using a lot of salmon to feed a big family, you might have to cook in smaller batches using the frying pan. But it still won't take very long. Just double up on the honey garlic glaze recipe.
Leftover salmon (if you have any) can be used for a pasta salad, regular salad, or folded into a wrap for an easy healthy lunch.
Honey Garlic Salmon Ingredients
SALMON SELECTION– Look for a salmon fillet that is firm, uniform in size and brightly colored. Avoid fillets that look discolored or go from thick to too thin (these will be harder to cook).
SEAFOOD SUSTAINABILITY – Monterey Bay Aquarium seafood watch page provides a wealth of knowledge on sustainability and what we can do as consumers when purchasing our seafood. We were really lucky to purchase this salmon fillet through someone who caught it locally off of Vancouver Island. I realize this isn't an option for everyone. Before we moved here, I used the seafood watch guide to help make informed choices when shopping for fish at the grocery store.
HONEY GARLIC GLAZE – This honey garlic glaze is light and fresh. It won't overpower the flavor of the fish. Instead it will enhance it. The secret to this delicious flavor is extra lemon juice. It's combined with honey and minced garlic to create a really simple glaze with majority of ingredients you probably already have in your pantry.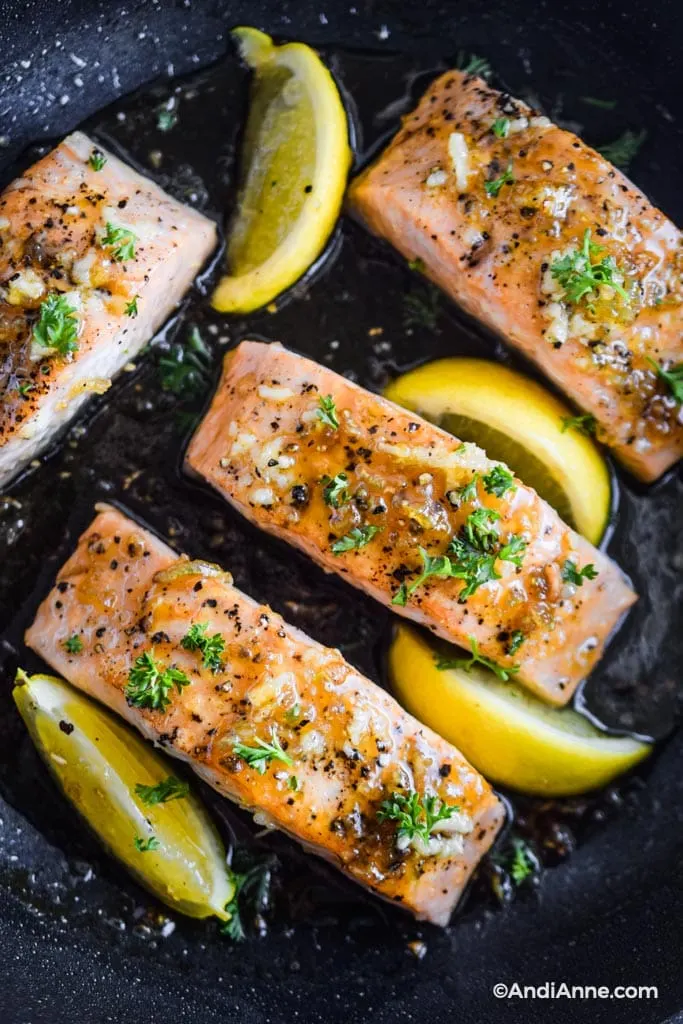 How To Make Pan Fried Honey Garlic Salmon In Just 10 Minutes
This salmon is quick to put together. Before you start making it, have your side dishes ready – get the rice going in the rice cooker, steam some veggies, roast a sweet potato, etc.
Slice the large salmon fillet into smaller serving sizes. This will help the salmon cook faster and evenly. You can also coat it with more delicious glaze this way. Generously season each piece with sea salt and pepper.
Add the honey glaze ingredients to a small bowl and mix together. Set aside.
Heat a frying pan over high heat with cooking oil. Once the pan is hot, add the salmon so skin side is facing up. Cook for 2-3 minutes then flip over so skin side is down. Cook another 1-2 minutes. I like to watch the clock during this time because I'm not a fan of overcooked salmon.
Pour the sauce over top of the salmon and cook 1-3 minutes longer. The sides of the salmon should have just turned white. At this point it should be cooked. To check you can use a fork to see if the salmon flakes easily. If it does, it's cooked. Remove from heat and spoon extra glaze over top of each piece of salmon.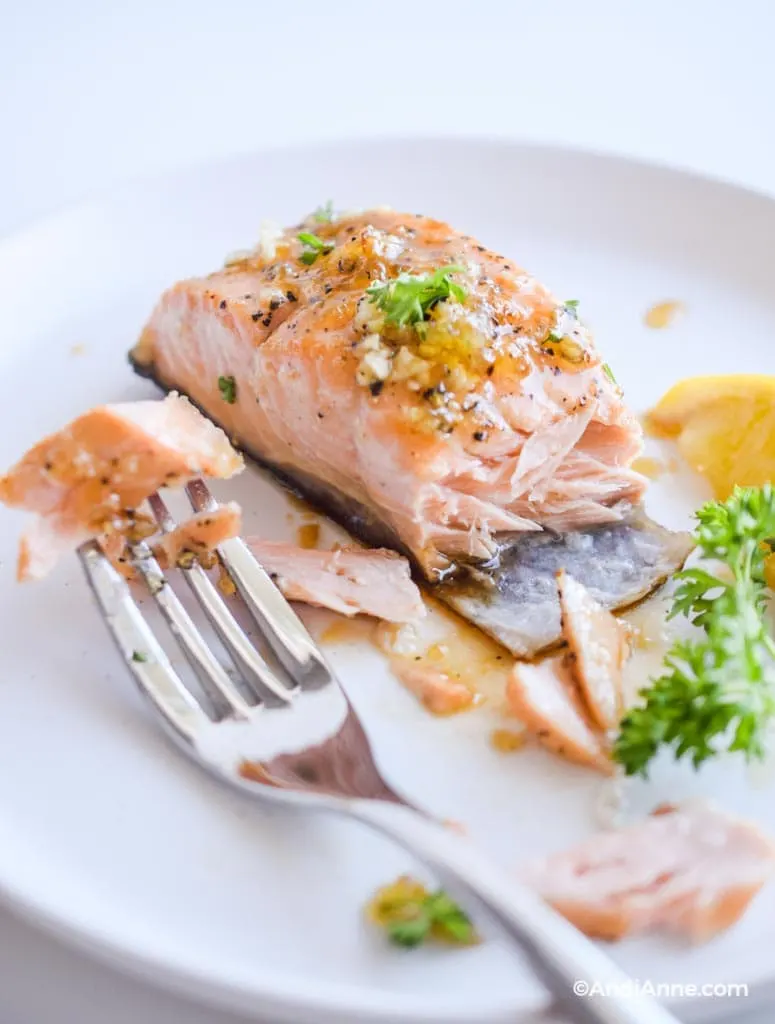 Salmon Cooking Tips
Don't overcook the salmon, which can be very easy to do. Cooked salmon will be flaky when poked with a fork, and slightly translucent in the middle.
Keep an eye on the clock as you cook your salmon. No need to cook longer than 1-3 minutes for each step. This will depend on the size of salmon fillet you have. If your salmon is very thin, stick closer to 1-2 minutes. Thicker fillets may take a bit longer.
Salmon isn't chicken. People eat raw fish (like sashimi) all the time. So you don't have to overcook fish the same way you might want to with chicken. Plus, overcooked salmon just doesn't taste nearly as good, in my opinion.
Salmon Side Dishes
Some side dish recipe ideas for your honey garlic salmon:
Honey Dijon Quinoa Salad – high in protein and loads of healthy veggies.
Baked Sweet Potatoes – this is the best way to bake them
Brown Rice or pasta
Steamed veggies (broccoli, carrots, cauliflower, green beans, asparagus, radishes, etc.)
Another great salmon recipe to try is my sheet pan teriyaki salmon with roasted vegetables. Everything is cooked on 1-2 sheet pans for this easy dinner idea.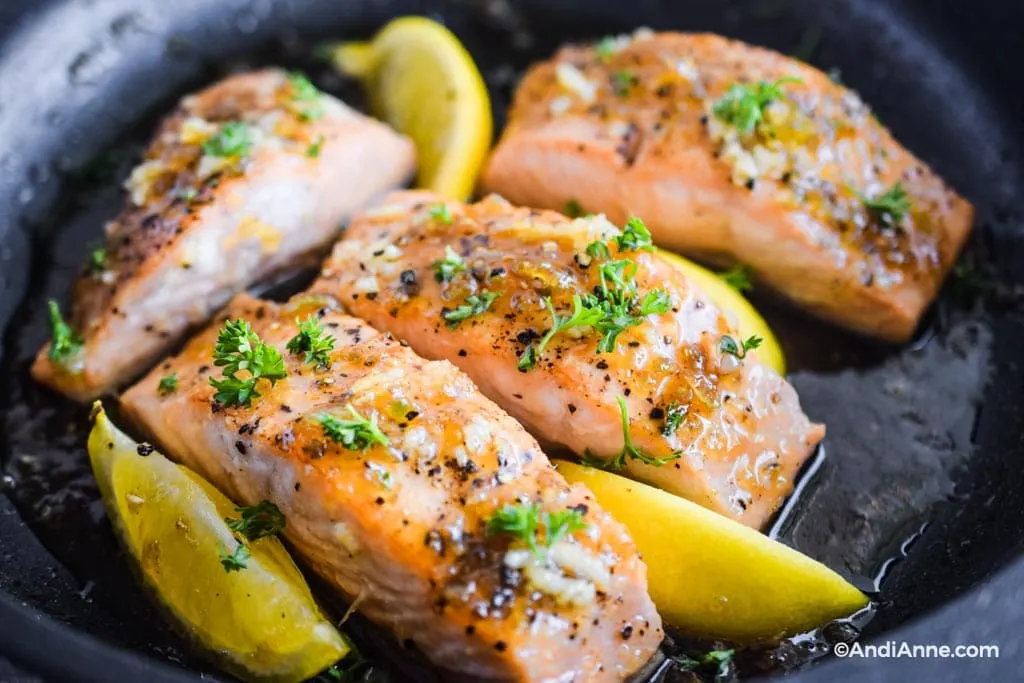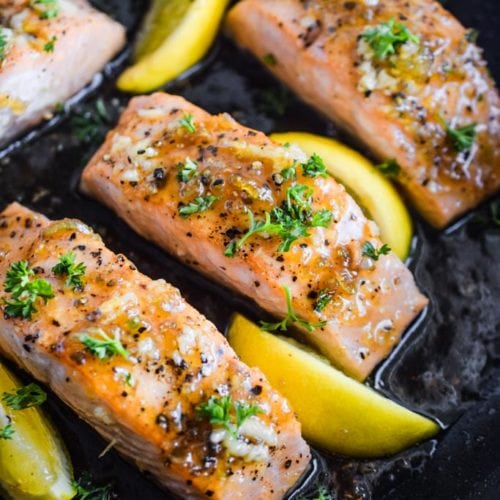 Ingredients
Instructions
In a small bowl, mix together honey, lemon juice, olive oil, and minced garlic. Season with salt and pepper. Set aside.

Cut salmon into four serving portions and generously season with salt and pepper.

Heat a frying pan with cooking oil over high heat. Once the pan is hot, add the salmon face down and sear for 2-3 minutes.

Flip salmon over so that it is skin side down. Cook 1-2 minutes.

Pour the honey garlic sauce over the salmon and cook an additional 2-3 minutes.

Remove from heat and scoop sauce over top of salmon. Serve immediately with rice, pasta or a salad.
Nutrition