This homemade Italian salad dressing recipe is made with simple ingredients like olive oil, red wine vinegar, fresh garlic, parsley, basil, oregano, salt and pepper. It's incredibly easy to make at home and costs a fraction of the price of a store-bought version, plus it uses fresh healthy ingredients!
Homemade Italian Dressing Recipe
This great Italian dressing recipe is the perfect complement to so many meals!
This homemade dressing is so simple and easy that may never go back to buying salad dressing from the store again!
I love homemade dressings because I can control the ingredients that are put into them. No excess salt or sugar or unwanted preservatives. Just the good stuff.
Not to mention that it's very budget friendly too! This will cost a fraction of the price to make at home and will use better-quality ingredients.
My favorite way to use dressings like this one is in a pasta salad, drizzled on homemade salads, or in an easy cucumber tomato salad.
I also love to marinate fish, chicken, and even vegetables using this salad dressing!
I also love homemade Greek salad dressing or using one of our six healthy salad dressing recipes for these things too. Check them out and let me know what your favorite is.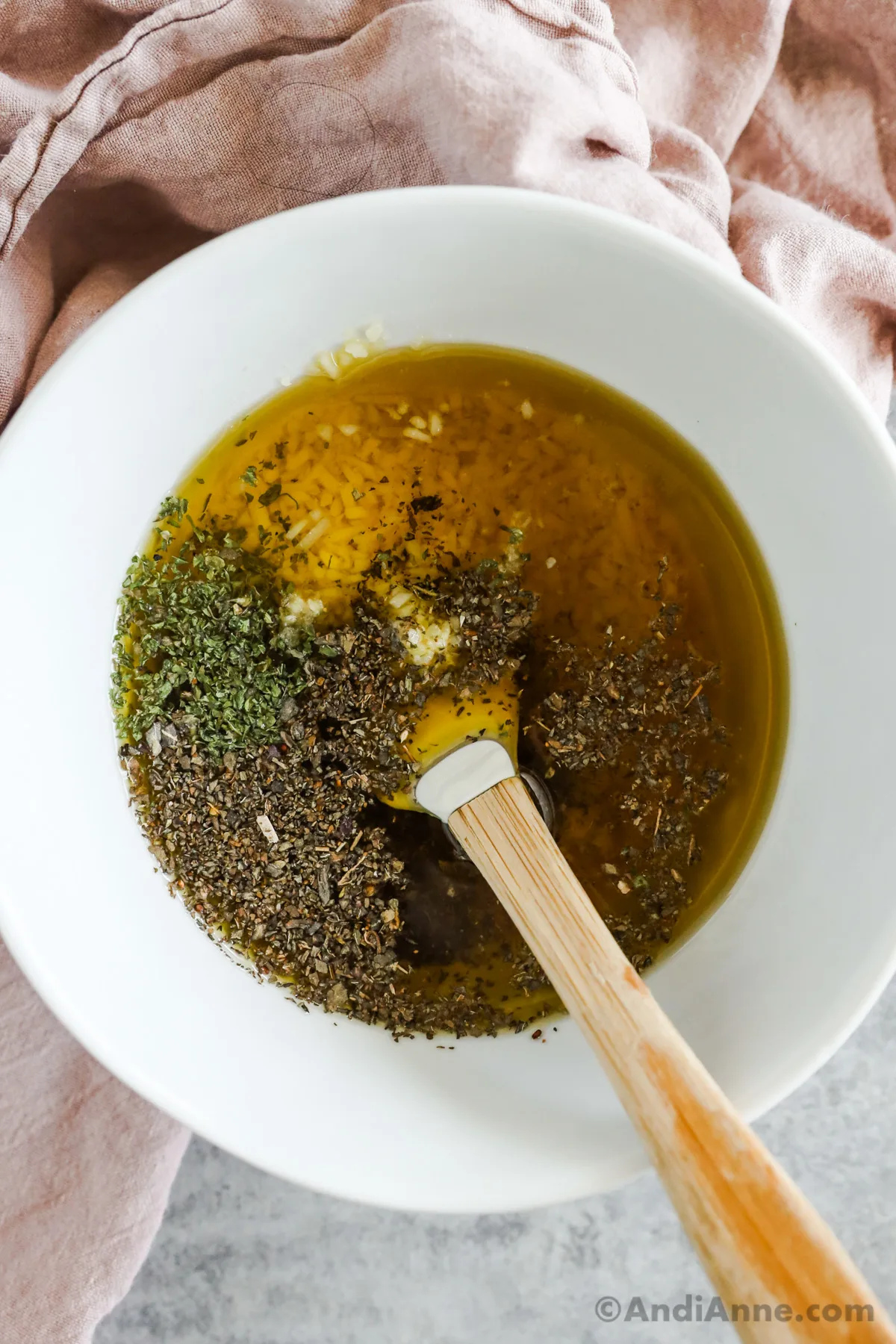 Recipe Ingredients
To make this easy homemade Italian dressing, you will need the following ingredients:
EXTRA VIRGIN OLIVE OIL – Using a good quality extra virgin olive oil will make all the difference here. Olive oil is the base of the dressing and a cheap version can really compromise the flavor. You can swap for avocado oil instead.
RED WINE VINEGAR – A bit of vinegar adds the acidic ingredient to the dressing. If you don't want to use red wine vinegar, you can also use white wine vinegar, lemon juice or apple cider vinegar instead.
GARLIC CLOVE – Fresh garlic will give you the best flavor, but isn't always an option. Garlic powder will work great too!
DRIED HERBS – A combination of dried parsley, dried basil and dried oregano will add the best earthy flavor.
SUGAR – Just a bit of granulated sugar really takes the flavor to the next level. It won't make the dressing sweet tasting, but it will balance out the savory flavor. You can also use honey or even maple syrup.
SALT AND PEPPER – A little bit of salt and freshly ground black pepper for flavor.
PARMESAN CHEESE – Freshly grated parmesan cheese is an optional ingredient, but can certainly add flavor.
This recipe can definitely be customized and played around with. You can try different ratios of ingredients to get the right flavor for you.
Variations
FRESH HERBS – Swap out any of the dried herbs for fresh herbs like fresh parsley and fresh basil. Be sure to dice it quite small.
BALSAMIC VINEGAR – Swap in balsamic vinegar instead of red wine vinegar.
RED PEPPER FLAKES – A pinch of red pepper flakes will add a bit of spiciness.
How To Make Italian Salad Dressing Recipe
Making your own homemade italian dressing couldn't be easier! Here's the easy steps to do it. Full details are in the recipe card below.
MIX INGREDIENTS – In a small bowl or mason jar, whisk together the olive oil, red wine vinegar, sugar, minced garlic, dried parsley, dried basil, dried oregano salt and pepper until well combined. You can also add these ingredients straight into a small mason jar, seal it with the lid and shake vigorously until it emulsifies.
ADJUST THE TASTE – Taste a little bit of the dressing and adjust with more seasoning if needed. For example, you can add more garlic, more basil or dried oregano, or season with more salt and pepper. If you prefer a sweeter dressing, add a pinch more sugar.
STORE THE DRESSING – Store the dressing in a glass jar with a tight-fitting lid in the refrigerator for up to two weeks.
How To Use Italian Dressing In Meals
Keep a jar of this recipe in your fridge for a quick and delicious way to flavor meals.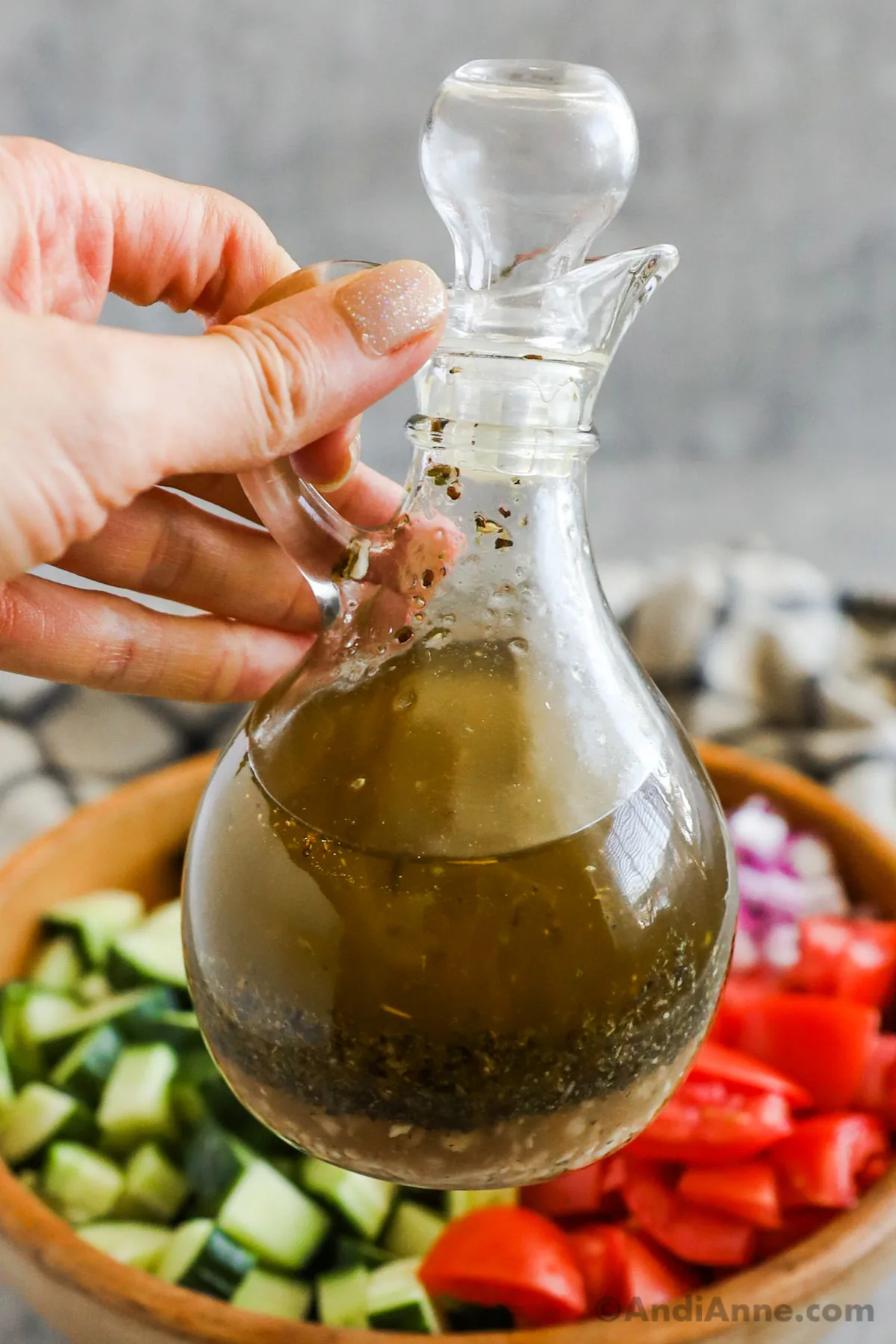 How To Store Salad Dressing
Here are some quick tips to get the most out of your salad dressing:
For best results, I find that storing homemade salad dressing in a mason jar will keep it fresher longer. This helps to prevent air from getting in which can oxidize the olive oil and cause it to turn rancid. It's also easy to shake it up and then drizzle onto your plate.
Store the dressing in the coldest part of your fridge, including the back or the bottom shelf. This is contrary to what many of us do which is to store it in the fridge door.
Since the ingredients in Greek salad dressing can separate over time, it's important to give the bottle a good shake before using it. This will help ensure that the flavors are well-mixed and that you get the full flavor of the dressing.
Freeze dressing: If you don't think you'll be able to use all the dressing up before it goes bad, consider freezing it. It can be frozen straight in the mason jar or poured into an ice cube tray and then frozen cubes added to a freezer bag. You can freeze it for up to six months. Just thaw in the fridge overnight and mix together before you use it.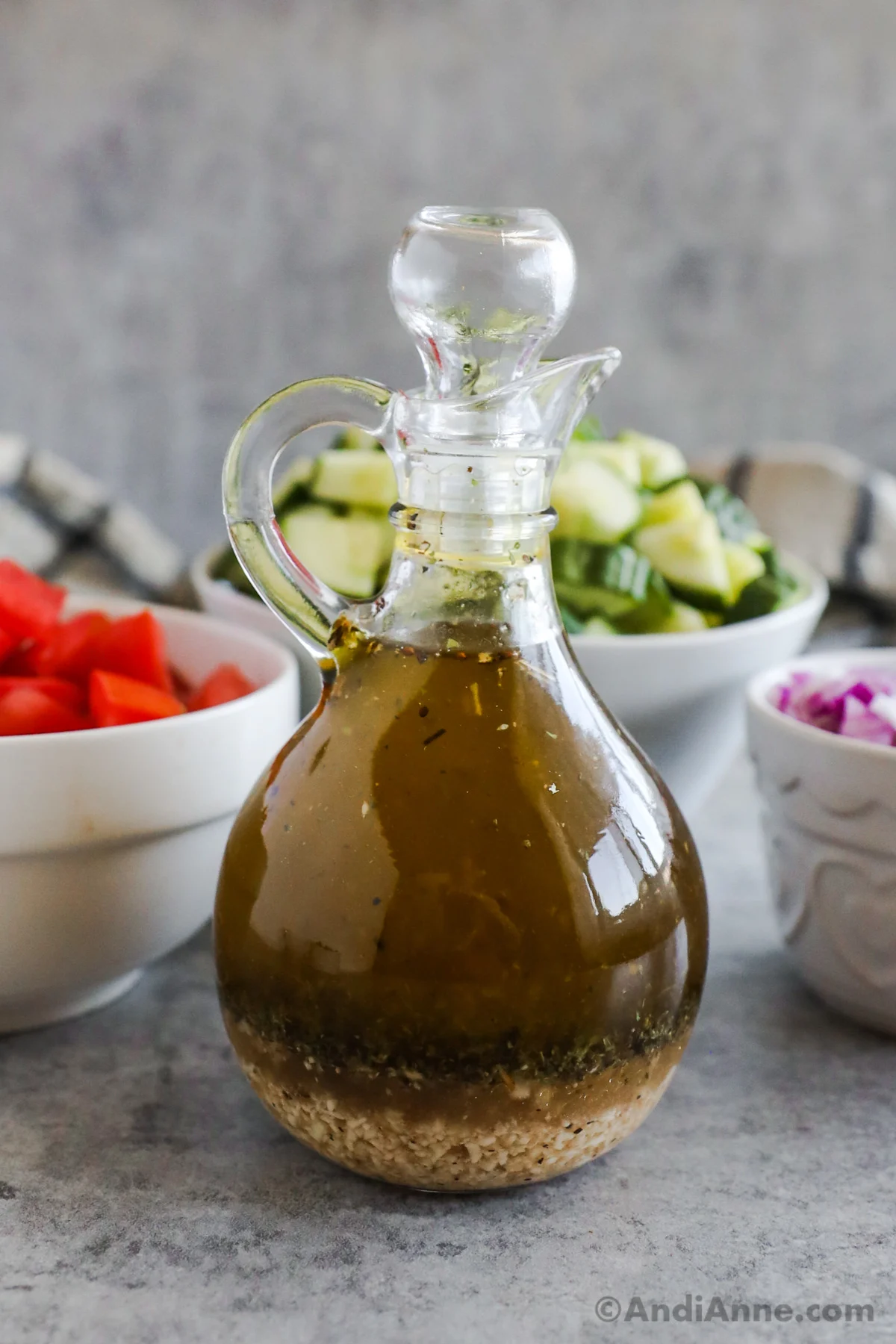 Making your own Italian salad dressing recipe is a great way to save money and use healthier ingredients at home. With this recipe, you can easily whip up a delicious dressing in less than 5 minutes. Give it a try and drizzle it on your favorite salads, roasted veggies, or use it as a marinade for chicken.
More Homemade Dressing Recipes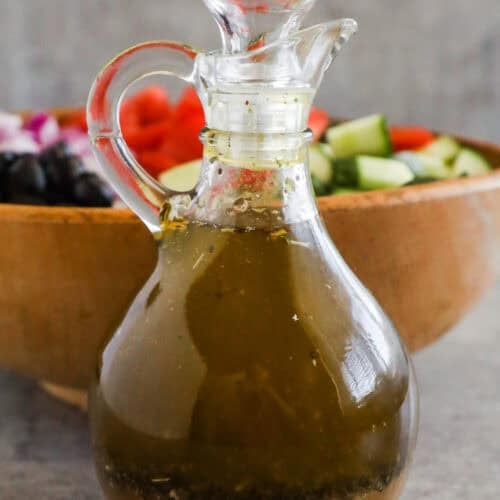 Italian Salad Dressing Recipe
This Italian salad dressing recipe is made with simple ingredients and can be customized easily to your tastes. Drizzle it on salads or use it as a marinade.
Save Recipe!
Saved!
Pin This
Print It
Instructions
Add all ingredients to a large bowl or mason jar. Stir everything together until the dressing emulsifies. Pour into an airtight container and store in the fridge for up to 5 days.
Nutrition
Calories:
196
kcal
|
Carbohydrates:
1
g
|
Protein:
1
g
|
Fat:
21
g
|
Saturated Fat:
3
g
|
Polyunsaturated Fat:
2
g
|
Monounsaturated Fat:
15
g
|
Cholesterol:
2
mg
|
Sodium:
197
mg
|
Potassium:
14
mg
|
Fiber:
0.1
g
|
Sugar:
1
g
|
Vitamin A:
28
IU
|
Vitamin C:
0.2
mg
|
Calcium:
44
mg
|
Iron:
0.3
mg