Pancake bacon dippers are a fun way to merge two favorite breakfast foods together. Slices of cooked bacon are added to pancake batter to create skinny pancakes that can be dipped in maple syrup. You can use a pancake mix or make pancakes from scratch with my easy recipe below.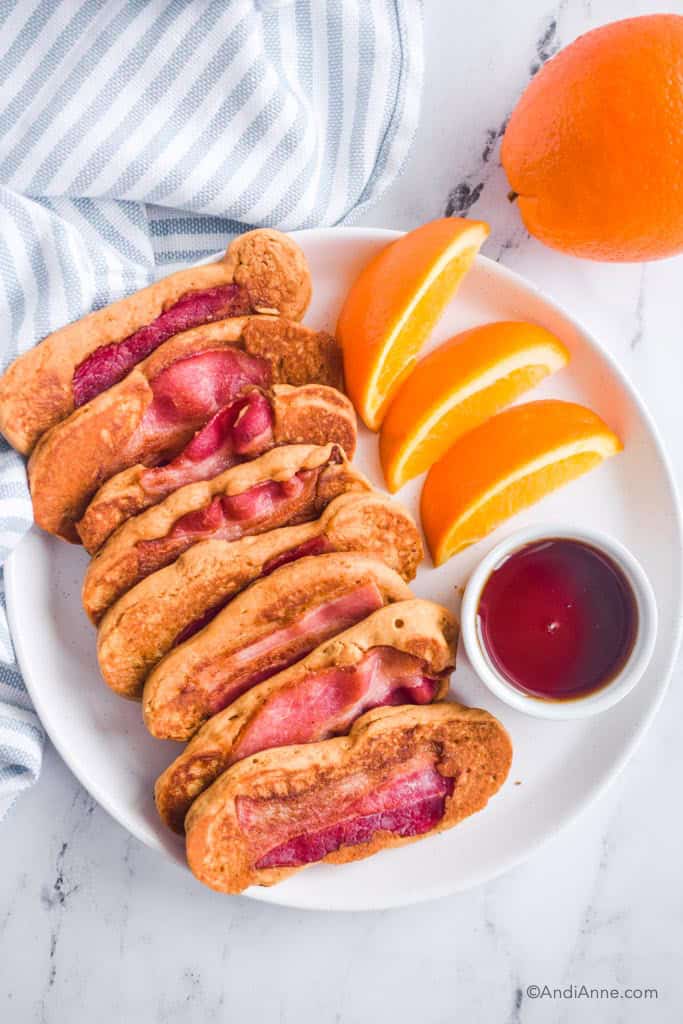 Pancake Bacon Dippers
Pancake bacon dippers are a fun way to change up your breakfast routine.
First, bacon strips are baked in the oven or cooked in a frying pan to desired crispiness.
Next, pancake batter is made and added to a freezer bag to pour into thin strips on a frying pan. Cooked bacon is added on top for a simple and fun idea.
These pancakes can be dipped in maple syrup, topped with whipping cream, greek yogurt or fresh berries.
Time-Saving Tip: Prep your own homemade pancake mix, which will make breakfast time easier and faster! All dry ingredients are mixed together and stored in a jar for later. Then all you need to do is add the wet ingredients in the morning to make delicious pancakes that the whole family will enjoy. > See Homemade Pancake Mix Recipe Here.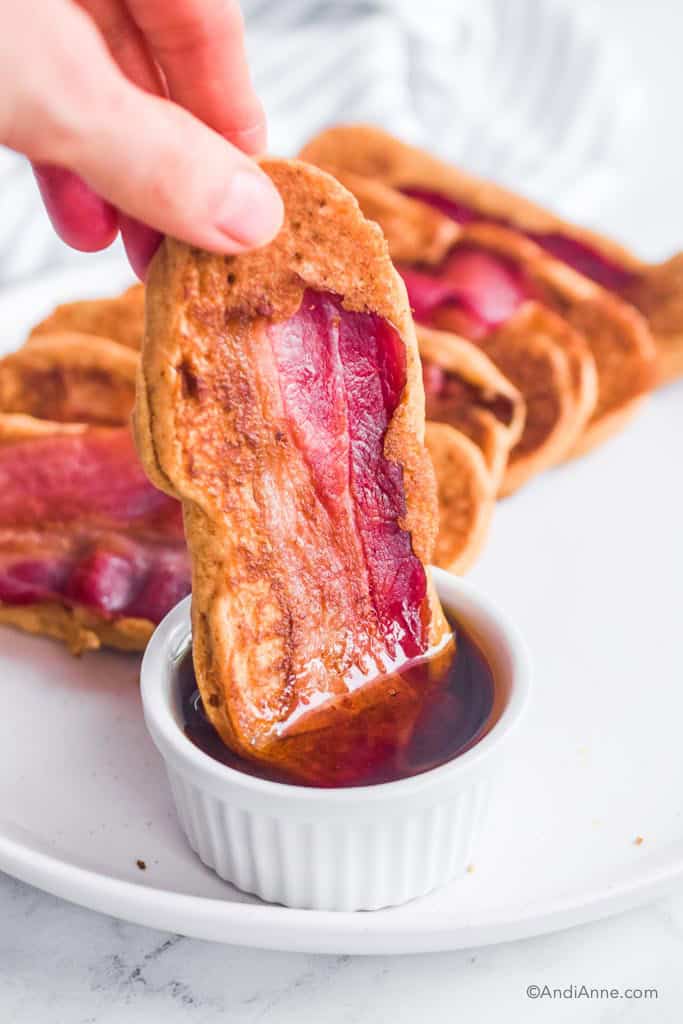 Pancake Bacon Dipper Ingredients
Here's what you'll need to make these delicious bacon pancakes:
2 cups All Purpose Flour – I used unbleached organic flour. Regular flour will also work. >> Buy Organic Flour Here.
3 Tbsp Brown Sugar or Coconut Sugar – You can use light brown sugar or coconut sugar. >> Buy Brown Sugar Here or Coconut Sugar Here.
2 cups Milk: You can use dairy milk or non-dairy milk such as almond milk, coconut milk, hemp milk, etc. I used oat milk. > Buy Oat Milk Here.
3 Tbsp Cooking Oil: Most cooking oils will work – if using coconut oil, you will have to melt it first. You can also use melted butter. I used avocado oil, which is my personal favorite for most recipes. > Buy Avocado Oil Here.
2 Eggs
1 tsp Baking Powder: Any baking powder will work. I like to use organic. > Buy Organic Baking Powder Here.
1 tsp Baking Soda: Any baking soda will work. I like to use organic. > Buy Organic Baking Soda Here.
¼ tsp Salt: I tend to use sea salt in all my baking as we don't have regular salt in our house. Any salt will work. >> Buy Sea Salt Here.
TIP: MY KITCHEN FAVORITES – Get my full kitchen shopping list here including how I stock my pantry, fill my fridge, and what equipment I prefer to use in the kitchen!
Can I Make These Pancakes Gluten-Free?
Yes! These bacon pancake dippers can easily be made with gluten-free flour. Look for a 1:1 flour substitute like Bobs Red Mill gluten-free flour.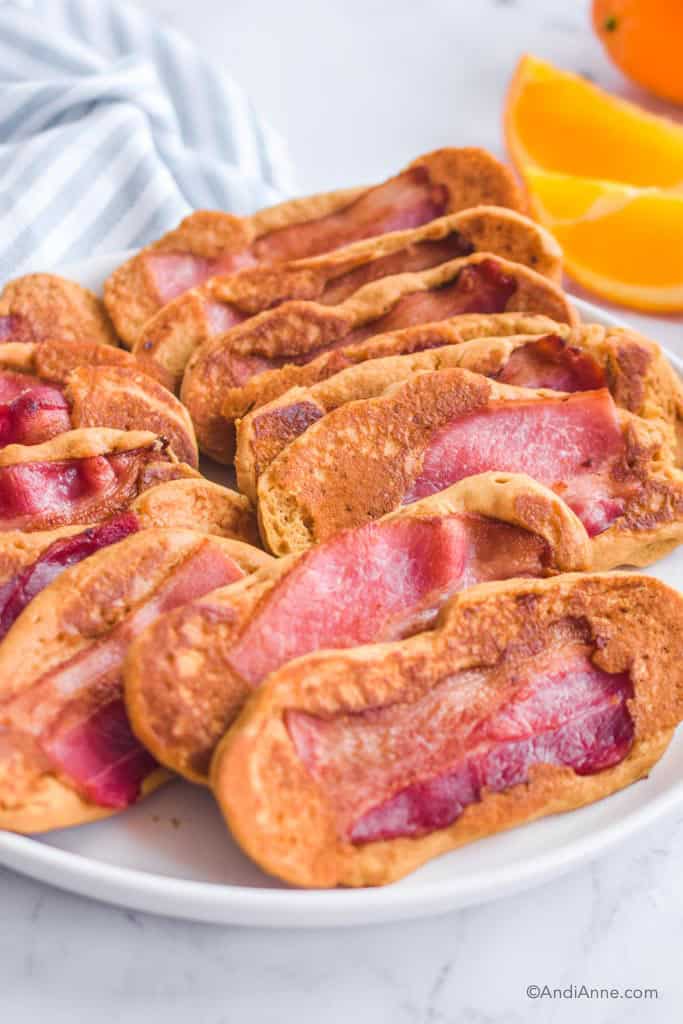 Recipe Cost = $9
The bacon cost me $7, and all other ingredients added to another $2. That makes these really affordable pancakes to make for brunch! (these prices will vary depending on where you live).
Money-Saving Tip: Buy baking ingredients from the bulk section of your grocery store or at a specialty bulk foods store. This is an easy way to buy only what you need, reducing excess waste and spending.
Grocery Shopping Tip: Here are my 7 ways to save money on your grocery bill.
Kitchen Equipment I Used
Here's the equipment I used to make these pancakes: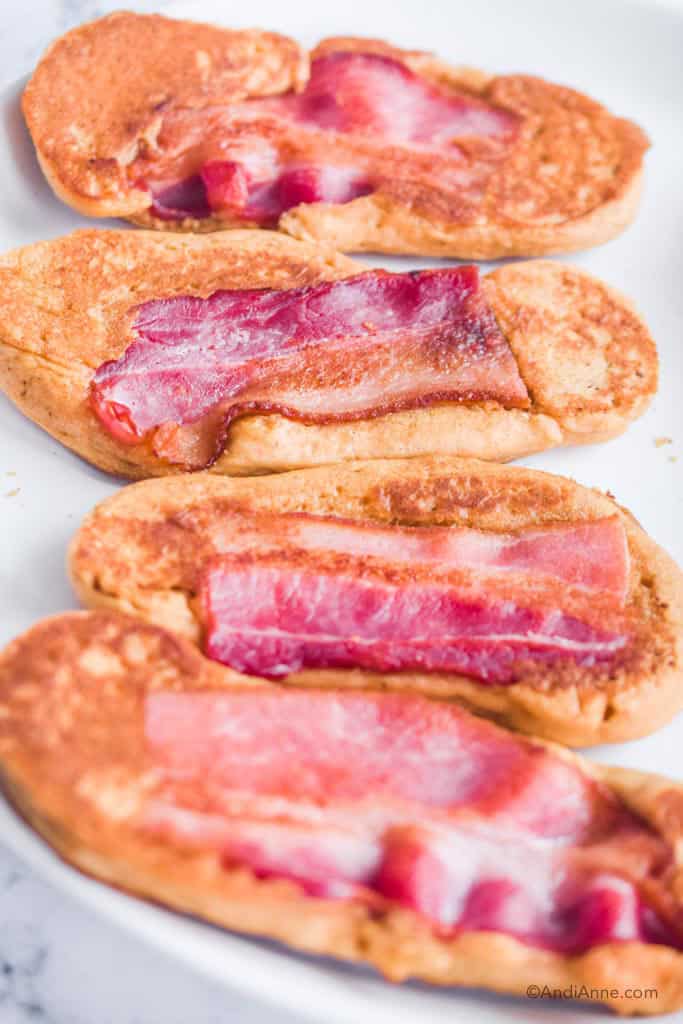 How To Make Bacon Pancake Dippers
Here's an overview of how to make it with the full recipe instructions at the bottom of this post.
Cook Bacon – Bacon can be cooked in a frying pan or baked in the oven on a baking rack.
Dry Ingredients – In a medium bowl, whisk together all purpose flour, sugar, baking soda, baking powder and salt.
Wet Ingredients – Add in the milk, eggs, and cooking oil. Mix to create the pancake batter.
Add To Bag – Add the pancake batter to a bag and snip off one bottom corner.
Cook Pancakes – Add a strip of pancake batter to a heated skillet. Gently push down half a piece of bacon into the batter. Cook until batter bubbles, then flip and cook another 1-2 minutes.
Assemble

– Place bacon pancake dippers on a serving plate with containers of maple syrup for dipping.
How To Store Bacon Pancakes
These pancakes can be stored in an airtight container in the fridge for up to 4-5 days or frozen for up to 3 months. I stored ours and ate them throughout the week – I reheated them in a frying pan with a bit of coconut oil to help crispen the bacon up again. They were delicious!
Pancake Tips and Tricks
Bake The Bacon – This creates flatter bacon which is easier to add to the pancakes. I used a baking rack but you could also cook bacon on a baking sheet in the oven.
If You Have A Pancake Dispenser, Use It – These are containers that pour out the pancake batter onto the skillet. If you don't have one, you can use a medium-sized freezer bag as I did.
Cut Bacon In Half – This makes smaller pancakes that are much easier to flip. I tested making a pancake with a full strip of bacon and it was just too big!
Pour A Thin Strip Of Pancake Batter – A little goes a long way. Pour a thin strip that is the same length as the bacon. Once the bacon is pressed into the batter, it will spread out a little.
Keep Pancake Batter In A Bowl – If using the bag method as I did, keep the bag of batter in a bowl with the snipped end facing up. This will keep the batter from spilling when you're not using it.
Reduce The Heat As You Go – The pan will get hotter over time as you're baking the pancakes. Reduce the heat a little to help.
>> Need more inspiration? Grab my Easy Healthy Meals Success Kit! A highly successful meal system filled to the brim with healthy eating resources that will teach you how to make easy healthy meals throughout the week, plan your breakfasts, lunches, dinners, and so much more!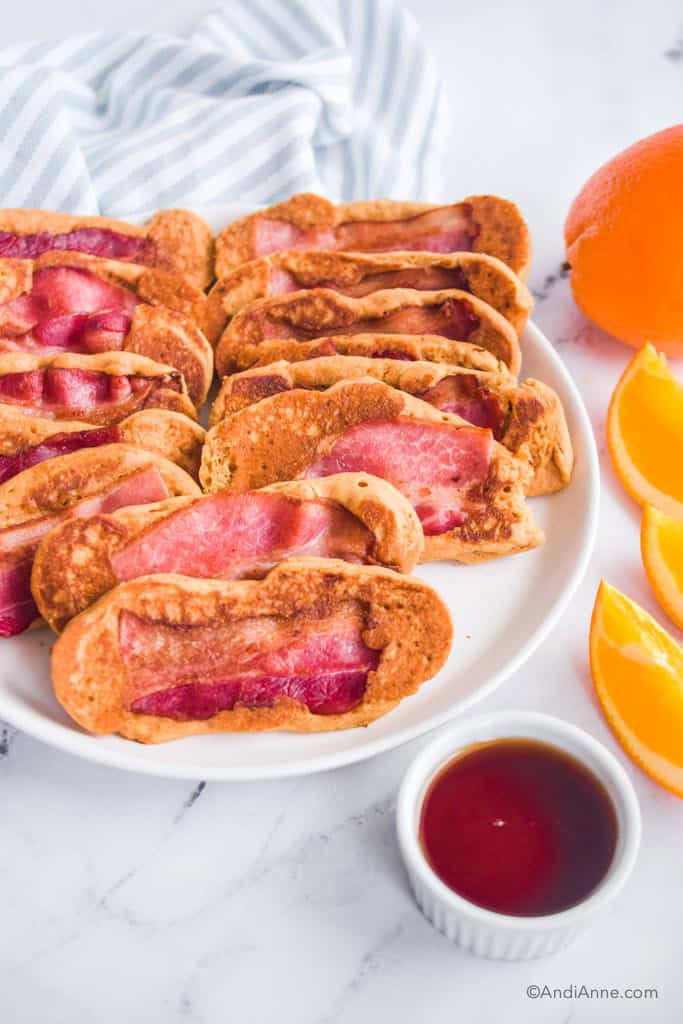 More Easy Pancake Recipes!
Sheet Pan Pancakes – Perfect for meal planning as you can eat them throughout the week for breakfast, or freeze them for later. Use your favorite toppings to create a variety of fun flavors.
Quinoa Flour Pancakes – Nutrient-dense gluten-free pancakes that can be put together in less than 15 minutes.
Two-Ingredients Pancakes – When I discovered the laziest version of pancakes ever using only two ingredients, I was hooked! These are also high in protein!
Birthday Sprinkle Pancakes – It's a yearly tradition to make these sprinkle pancakes on my daughter's birthday.
Pancake Mini Muffins – Another easy way to cook a batch of pancakes and keep them in the fridge for bite-size snacks.
Did you love these bacon pancake dippers? Be sure to leave a rating below!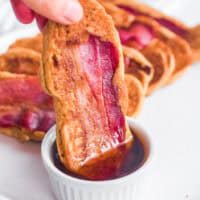 Instructions
Bake The Bacon:
Lay the bacon on a baking rack in a single layer. Bake at 400°F for 16-20 minutes or until it reaches desired crispiness.

Note: You can also cook bacon in frying pan, however bacon will be flatter if baked and easier to cook in pancakes.

Blot bacon with paper towel to absorb excess grease. Set aside for now.
Make Pancake Batter:
In a large bowl, mix together the dry ingredients: flour, sugar, baking soda, baking powder, and salt.

Add the wet ingredients to the bowl and mix together: milk, eggs, and cooking oil.

Pour the pancake batter into a medium freezer bag. Seal tightly and snip off a small piece of one corner. (You can also use a pancake dispenser or pour with a spoon)

Add bag with batter to a bowl while preparing the frying pan. Keep the snipped corner facing up so that it doesn't spill out.
Make Bacon Pancake Dippers:
Heat the frying pan with a bit of cooking oil.

Add a thin strip of pancake batter. Place half a piece of bacon in the center and gently push down into pancake. Cook until bubbles form and begin to pop, about 1-3 minutes. Flip over and cook other side another 1-2 minutes.

Remove and store on a plate lined with paper towel. Repeat until all bacon and pancake batter has been used.

Place bacon pancake dippers on a plate with a small bowl of maple syrup for dipping and whipped cream or greek yogurt if desired. Serve with slices of fresh fruit.
Nutrition
Calories:
76
kcal
|
Carbohydrates:
10
g
|
Protein:
2
g
|
Fat:
3
g
|
Saturated Fat:
1
g
|
Polyunsaturated Fat:
1
g
|
Monounsaturated Fat:
1
g
|
Trans Fat:
1
g
|
Cholesterol:
16
mg
|
Sodium:
105
mg
|
Potassium:
43
mg
|
Fiber:
1
g
|
Sugar:
2
g
|
Vitamin A:
53
IU
|
Calcium:
36
mg
|
Iron:
1
mg
Please note these nutritional values provided above are just an estimate. Actual numbers will vary based on brands and ingredients you choose, and your preferred portion sizes.
Get The Free AndiAnne Newsletter
Subcribe To My Newsletter For New Recipes Delivered To Your Inbox Weekly.