Spaghetti squash bolognese is a low-carb healthy dinner recipe. First, spaghetti squash is roasted in the oven. While that's cooking the flavorful meat sauce is simmering in a frying pan on the stove.
This is an easy way to incorporate healthy eating into weeknight meals.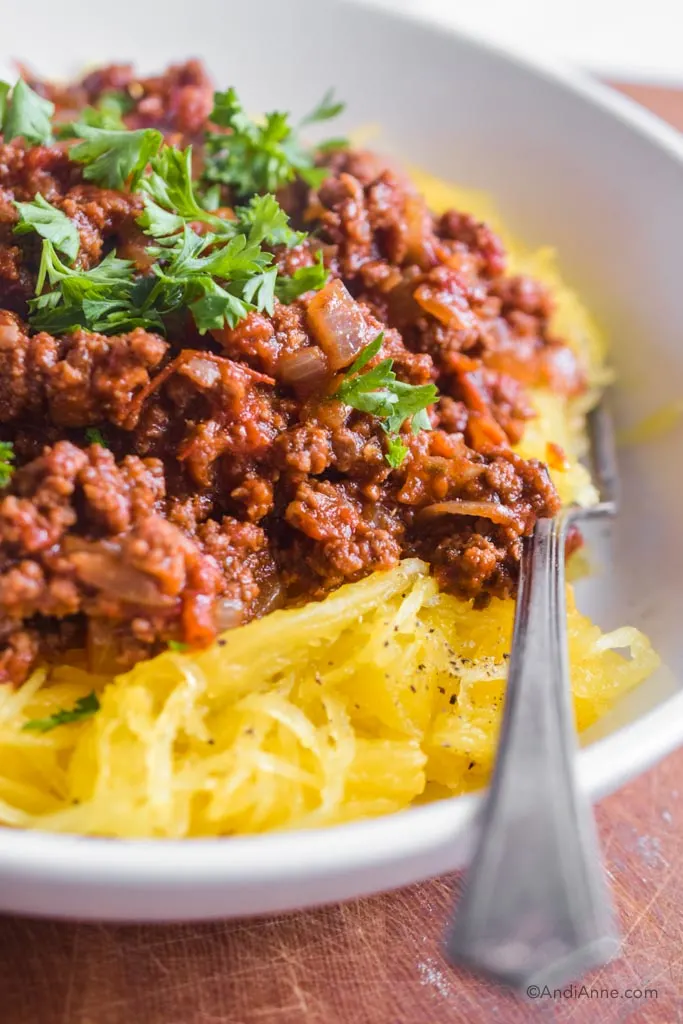 Low Carb Spaghetti Recipe
This recipe is a wonderful replacement for regular pasta. Spaghetti squash bakes in the oven while the hearty sauce simmers on the stove. For a more filling meal, serve it with our easy herb quick bread.
What I love about this recipe is that it's low carb, it's healthy, and it won't leave you feeling bloated or too full.
The spaghetti squash is so easy to roast. Cooked squash will create noodle-like strands once they're shredded with a fork.
While squash is cooking you can make the bolognese sauce on the stove. It requires a little more effort, but it's worth it.
The result is an easy and delicious healthy dinner that's low carb and paleo friendly!
We love squash recipes including our pork and squash stew, the flavorful all-in-one stuffed acorn squash, cinnamon sweet potato and squash side dish, and our colorful Fall harvest salad.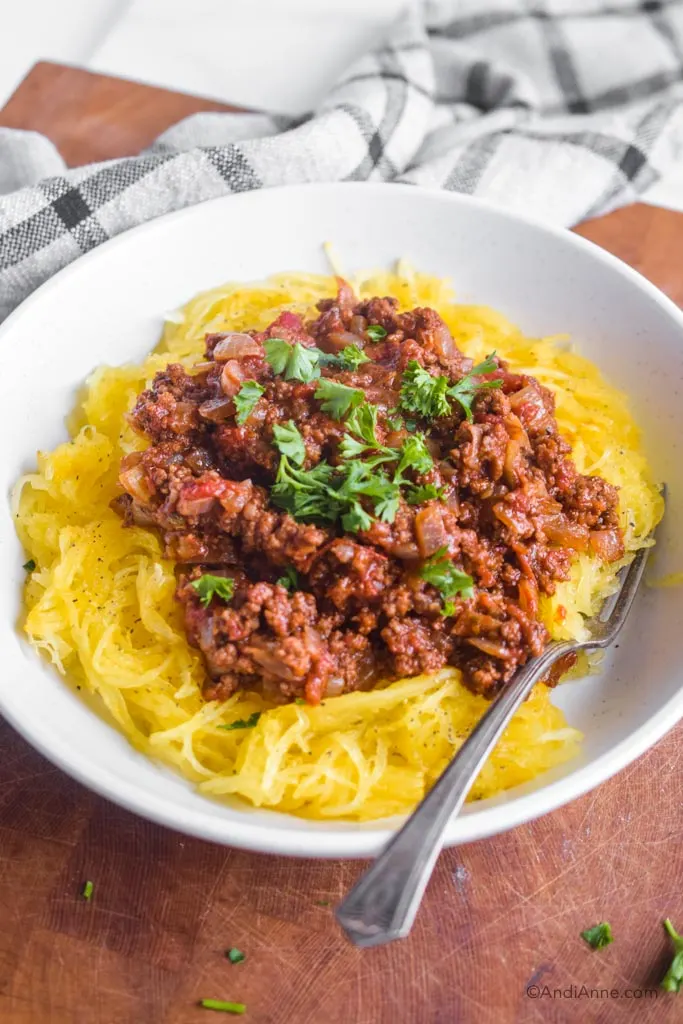 Recipe Ingredients
This recipe uses a few simple ingredients that come together to make a delicious dinner. To keep things simple I used canned tomatoes.
SPAGHETTI SQUASH: You'll need one spaghetti squash. This will be roasted with a bit of oil, salt and pepper.
GROUND BEEF: I used extra lean ground beef. Feel free to substitute with ground chicken, ground pork or ground turkey.
ONION AND GARLIC: This recipe uses 1 yellow onion and 3 minced garlic cloves.
SAUCE: You'll need diced tomatoes and crushed tomatoes. For flavor I added balsamic vinegar, Italian seasoning, sea salt and ground pepper.
TOPPINGS: Drizzle with a bit of olive oil. Add fresh herbs including chopped fresh basil and grated parmesan cheese.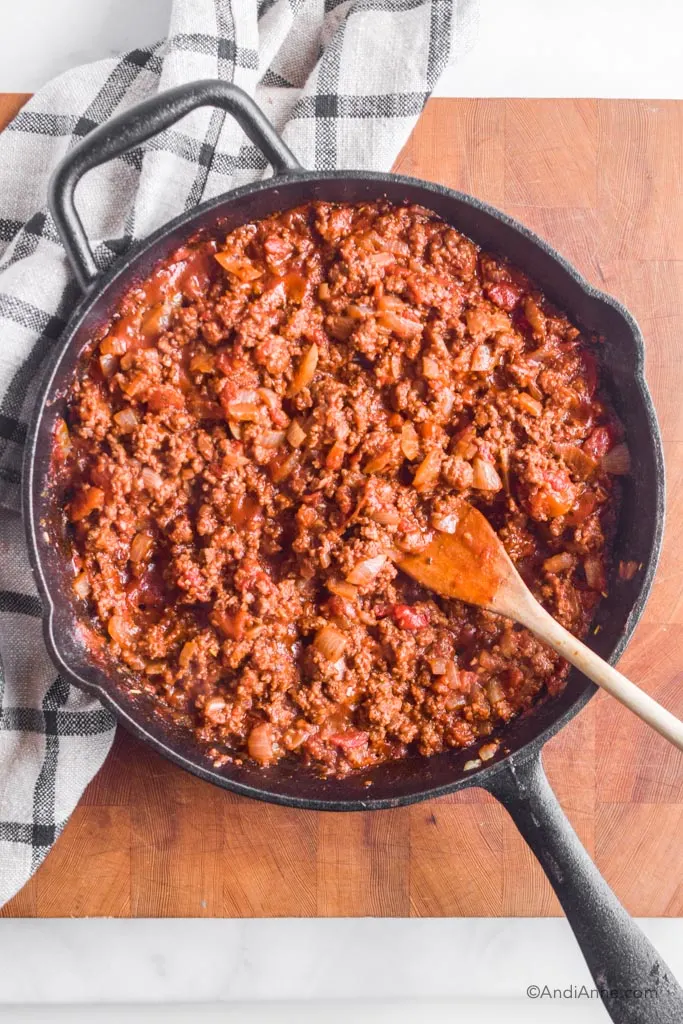 How To Make Spaghetti Squash Bolognese
Scoop out squash seeds and season the top of the squash with oil, salt and pepper. Bake in the oven, let cool, then use a fork to shred the squash halves into strips.
Saute onion and garlic in a large skillet. Add in the ground beef and cook until browned. Add the diced tomatoes, crushed tomatoes, and spices. Simmer with the ground meat for 10 minutes.
Scoop the sauce onto the spaghetti squash. Season, serve and enjoy!
Leftovers can be stored in an airtight container in the fridge up to 3-4 days.
Recipe Tips
Some people might prefer their spaghetti squash to be slightly undercooked. This will produce less "mushy" results – similar to when you cook pasta al dente. Try cooking the squash for 25-30 minutes and letting it rest on the baking sheet face down for 10 minutes before flipping and shredding with a fork.
Let the sauce simmer longer. It might be tempting to skip the 10 minutes of letting the sauce simmer, but this really helps to let the flavors marinate. Stir occasionally during this process.
The spaghetti squash definitely needs some salt and pepper once it's cooked. Feel free to season to your tastes.
More Ground Beef Recipes: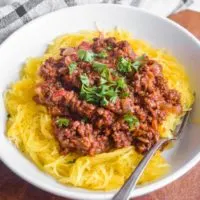 Spaghetti Squash Bolognese Recipe
Ppaghetti squash is roasted in the oven, and shredded with a fork. While that's cooking the meat sauce is simmering in a frying pan on the stove.
Save Recipe!
Saved!
Pin This
Print It
Instructions
Spaghetti Squash:
Wash the outside of the spaghetti squash and slice it in half with a sharp knife.

Use a spoon to scoop out the seeds and flesh.

Drizzle oil, salt and pepper on to the flesh. Spray a baking sheet with nonstick cooking spray or use parchment paper, then lay the inner portion of the squash facing down.

Bake for 40-45 minutes or until inside is golden brown and soft.

Let cool 10-15, then flip over.

Use a fork and drag across the inside flesh, creating the spaghetti strings.

Add all the spaghetti squash to a bowl and set aside.
Bolognese Sauce:
In a skillet over medium heat, add a bit of cooking oil, onion and garlic. Cook until the onion turns translucent, about 1-2 minutes.

Stir in the ground beef. Break apart with a wooden spoon and cook until beef is no longer pink. About 3-4 minutes.

Add the balsamic vinegar and mix in.

Add the diced tomatoes, crushed tomatoes, Italian seasoning, salt and pepper. Mix together and let simmer for 10 minutes, stirring occassionally.

Add the spaghetti squash to a bowl and top with bolognese. Season with salt and pepper. Serve and enjoy!
Recipe Notes:
Leftovers can be stored in the fridge in an airtight container for up to 1 week.
Nutrition
Calories:
229
kcal
|
Carbohydrates:
23
g
|
Protein:
22
g
|
Fat:
6
g
|
Saturated Fat:
2
g
|
Polyunsaturated Fat:
1
g
|
Monounsaturated Fat:
2
g
|
Trans Fat:
1
g
|
Cholesterol:
56
mg
|
Sodium:
395
mg
|
Potassium:
738
mg
|
Fiber:
5
g
|
Sugar:
11
g
|
Vitamin A:
355
IU
|
Vitamin C:
11
mg
|
Calcium:
99
mg
|
Iron:
4
mg
The nutritional information provided is an estimate and is per serving.