This steak salad is so easy and packed full of flavor! Mouth-watering, tender steak strips are surrounded with fresh, crisp vegetables and everything is drenched in a tangy-sweet balsamic dressing.
This salad is loaded with so many beautiful colors, textures and flavors. You can serve it on a special occasion like a date night or for a fun weeknight meal.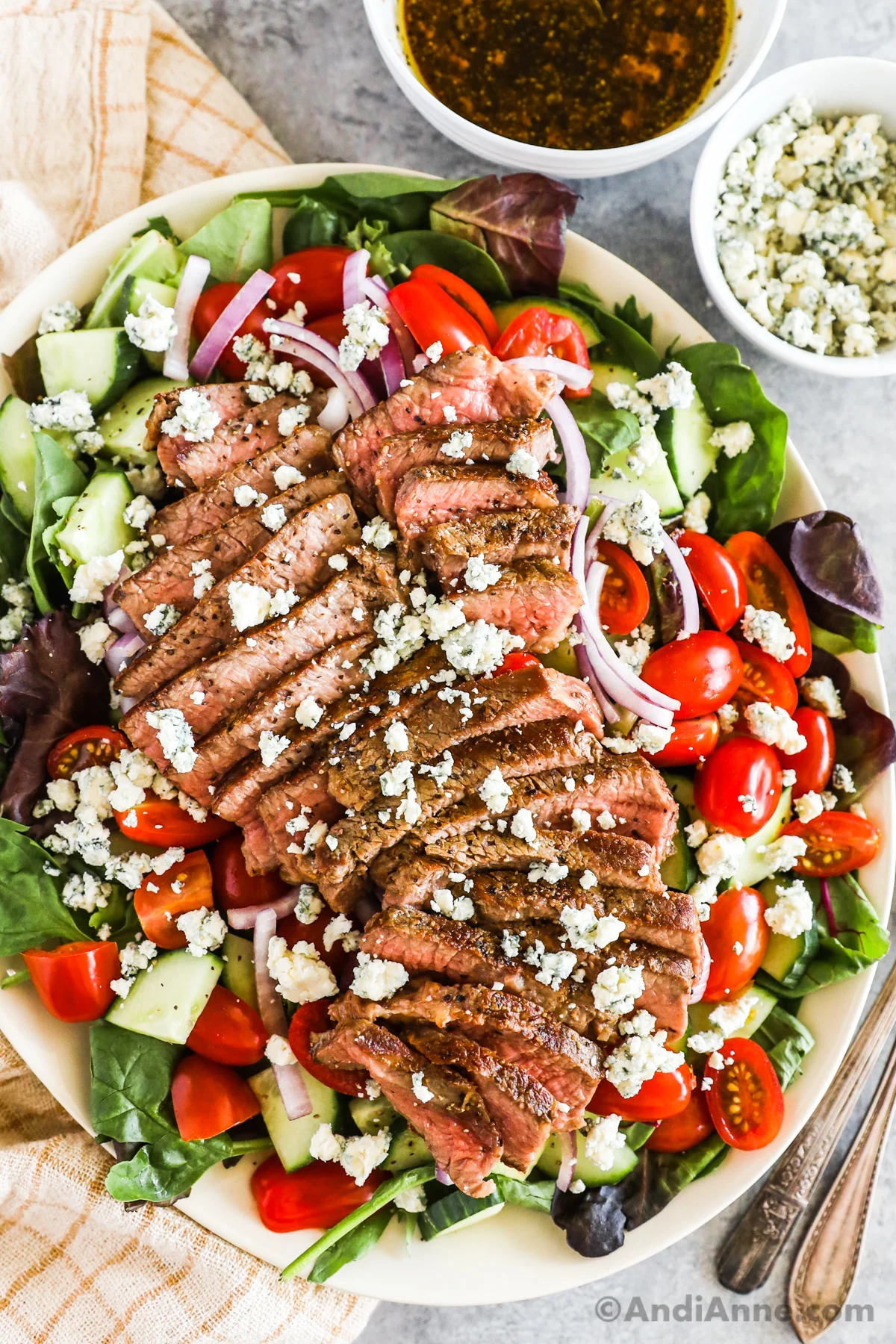 Flavorful Steak Salad Recipe
If you haven't tried a steak salad before, you're in for a real treat! This recipe is so easy, all you're cooking is a steak and the rest just needs a little chopping and mixing. It's perfect for lunch or dinner when you want a lighter meal that will still leave you feeling full and satisfied.
Much like a cobb salad or my favorite quinoa salad, this recipe has a variety of veggies that are both colorful and delicious.
First, the steak is pan-seared to perfection. We like ours medium rare but you can easily cook longer depending on your preference.
Next, a bunch of fresh veggies are chopped up and a quick balsamic dressing is whisked together to create an incredible meal! What's not to love here?
For more easy steak recipes, try our steak and potatoes skillet, easy air fryer steak, or six easy steak marinades.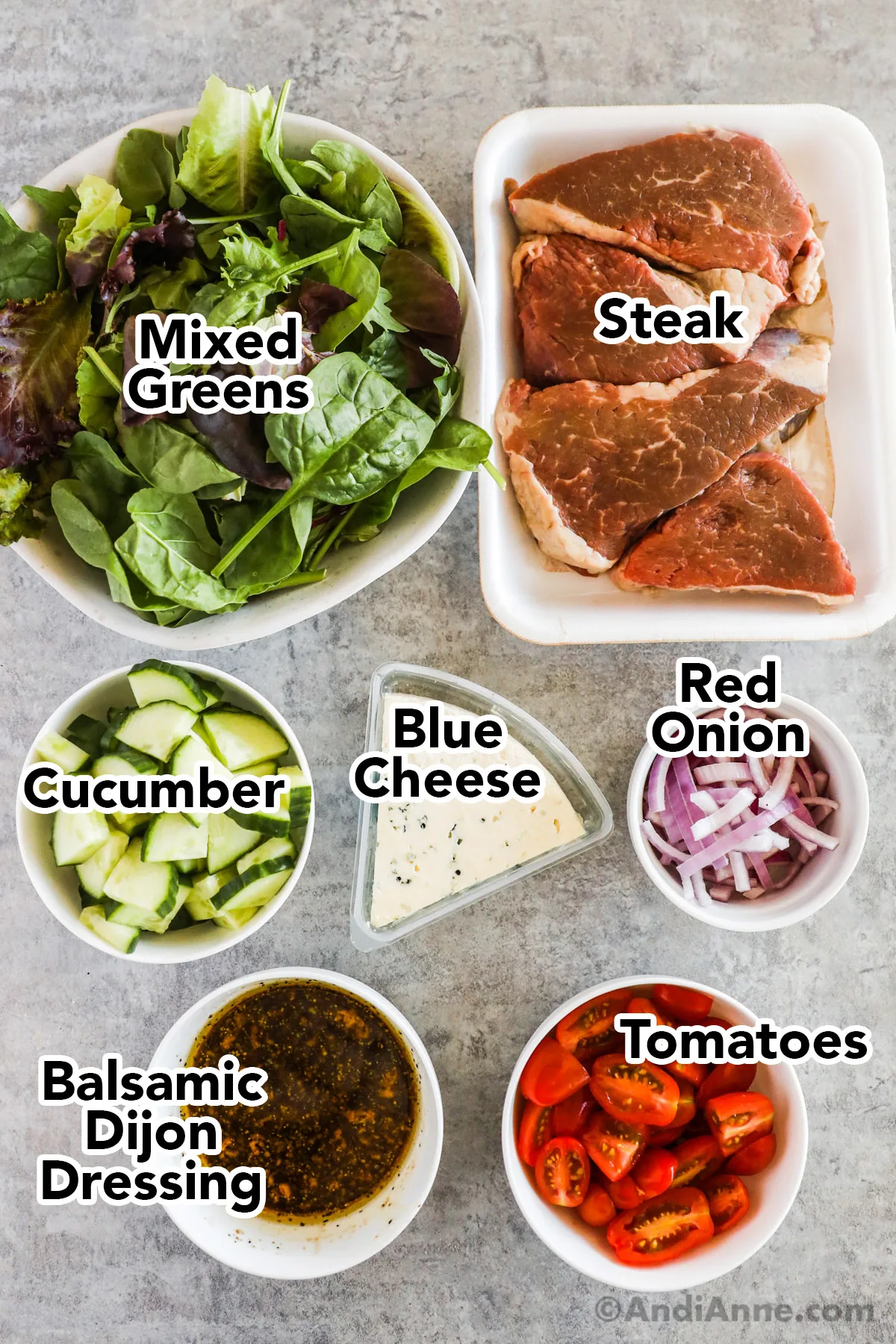 Salad Ingredients
Here's an overview of what you'll need with full details in the recipe card at the bottom of this post:
STEAK – I used 2 sirloin steaks for this recipe. Choose a steak that is lean and about 10 oz. in weight. If you're using a different cut, you can also marinate the steak to help tenderize it before cooking. I like to leave the tender fat attached but will trim off any hard-to-chew parts before cooking.
MIXED GREEN SALAD – Pre-packaged or any combination of the following: Arugula, spinach, baby lettuce, chard etc. I love grabbing a couple of these pre-packaged containers to serve alongside meals throughout the week.
CHERRY TOMATOES – You can use cherry tomatoes or grape tomatoes.
CUCUMBER – English cucumber is first sliced into rounds, then quartered. You can peel it first or keep the skin on.
RED ONION – Red onion has a slightly sweet taste making it the perfect raw onion to add to salads.
BLUE CHEESE – Crumbled blue cheese, gorgonzola or feta cheese will all work.
Variations
MEAT – You can swap steak for turkey, chicken, pork, lamb or even bison for this salad.
VEGETABLES – Add as many veggies as you'd like! That's the great thing about this recipe! Try some fresh off the cobb corn, mushrooms, bell pepper or kale.
GORGONZOLA CHEESE – Gorgonzola tastes like blue cheese but has a milder flavor. Fresh mozzarella or buffalo cheese and goat cheese will work.
SALAD DRESSING – Try your favorite vinaigrette, or make one of my other delicious salad dressings.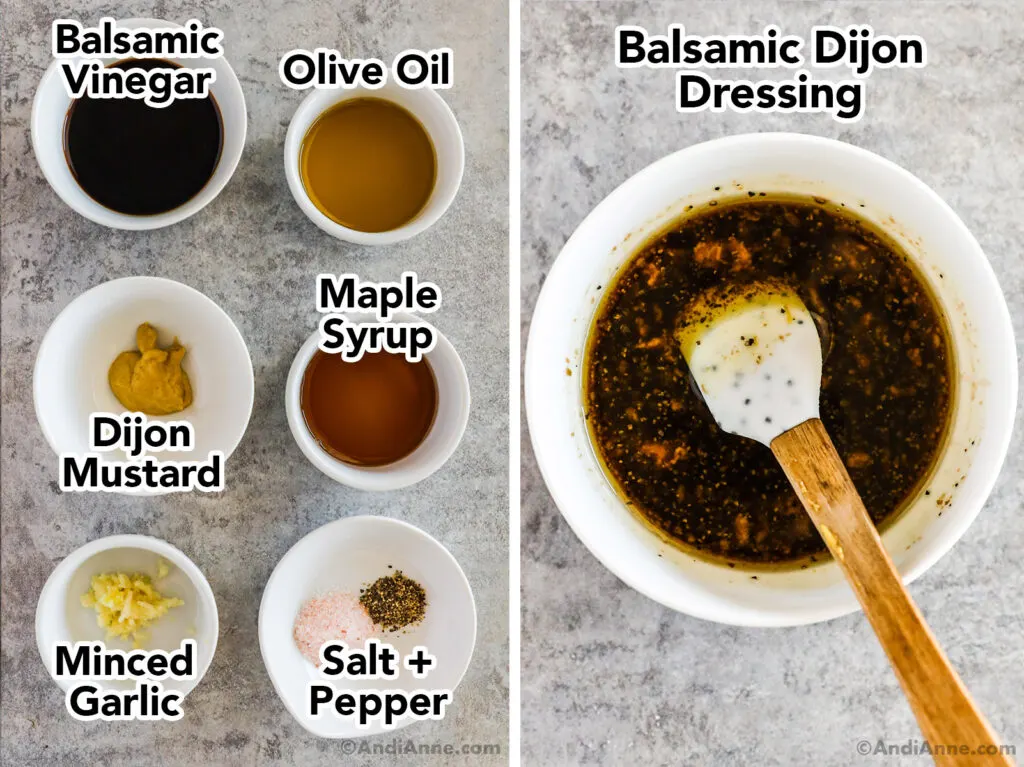 Salad Dressing Ingredients
Homemade salad dressings are one of the easiest recipes to make at home! I love to make a large batch and store half in a mason jar in the fridge for later. This salad dressing couldn't be easier to make. You'll notice the difference in how fresh this tastes versus a store-bought container.
Here's what you'll need (full details in recipe card at bottom):
BALSAMIC VINEGAR – Adds so much flavor and is used at the acidic base for this recipe.
OLIVE OIL – I used extra virgin olive oil for this recipe.
MAPLE SYRUP/HONEY – Either one will give just enough sweetness to the dish.
DIJON MUSTARD – I always have a little dijon in the fridge (it's the perfect low carb spread for sandwiches), no need to get fancy with this ingredient.
GARLIC – Fresh garlic that's been minced or 1/2 tsp of garlic powder will work.
SALT & PEPPER – Add as little or as much as you like.
Helpful Tip: You will probably have a little salad dressing leftover from this recipe. Use it for future salads or as a marinade for chicken breast, pork chops or another steak!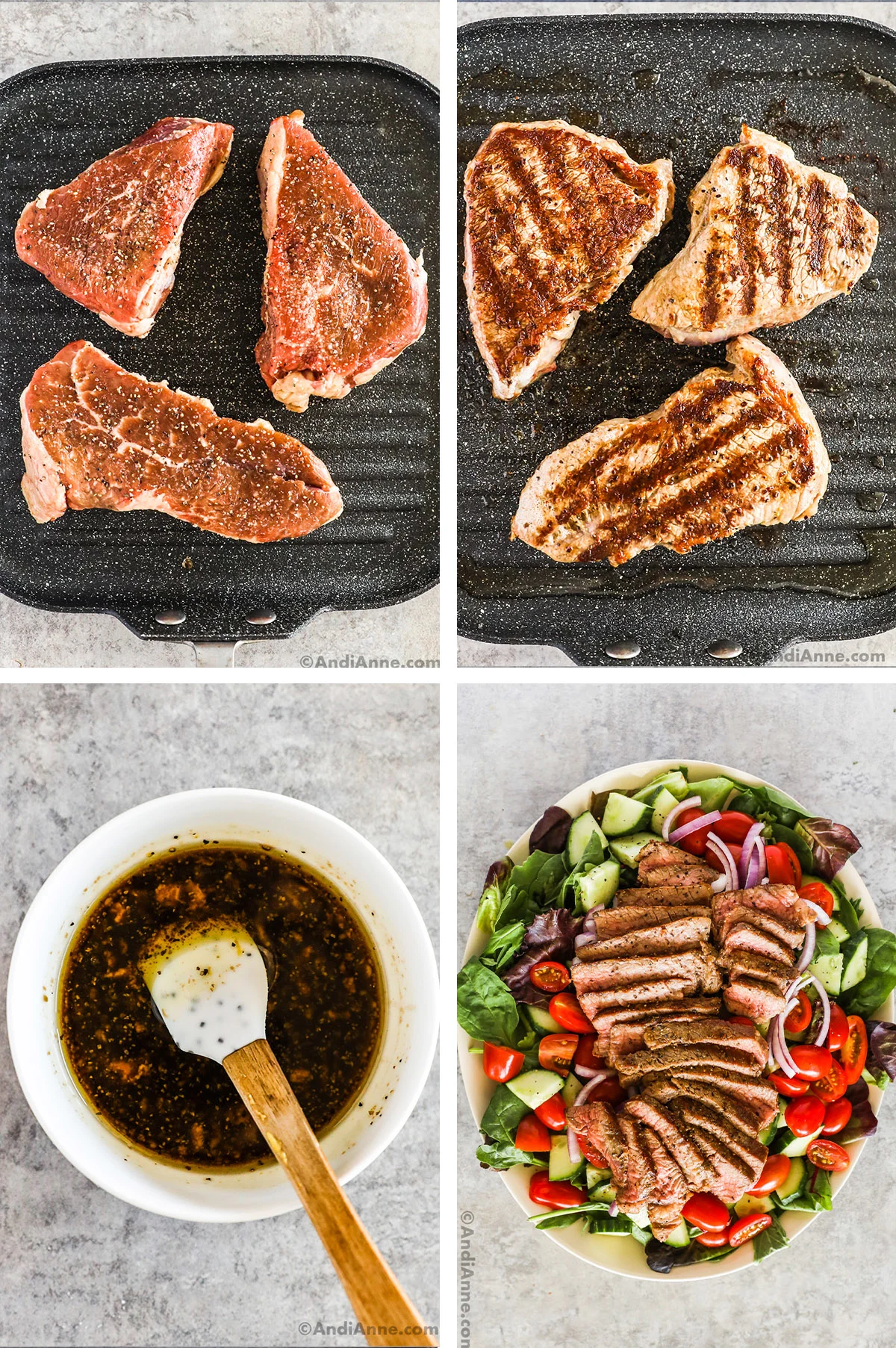 How To Make Steak Salad
Here's an overview of how this recipe is made. You can find the full recipe card and instructions at the bottom of this page.
SEASON – Pat the steak dry then season it. I used a light sprinkling of salt and pepper on top and bottom and along the sides.
COOK – Heat a frying pan over medium-high heat then add a little oil and swirl that around covering the cooking surface. Place your steak in the center, and let that side cook for 2 minutes. Flip to cook the other side for another 2 minutes. When done, allow it to rest on the counter for at least 5 minutes. Slice the steak into strips.
DRESSING – While your steak is resting, whisk together the balsamic vinegar, olive oil, maple syrup, dijon mustard, minced garlic, salt, and pepper in a mixing bowl. Set it aside.
ASSEMBLE – Using a serving bowl or plate, add first the mixed greens then the cucumbers, tomatoes, and red onions followed by the sliced steak and crumbled gorgonzola cheese. Drizzle the dressing over the salad leaving enough at the table for more.
Storing Leftovers
Any leftovers will make a great lunch for the next day. If you plan to have leftovers, keep the veggies separate from the dressing as they will naturally wilt and turn a bit soggy from the moisture.
REFRIGERATE – Store the meat, salad ingredients, and dressing separately from each other in an airtight container for up to 2 days.
REHEAT – You can reheat the steak in a frying pan or for 1-2 minutes in the microwave.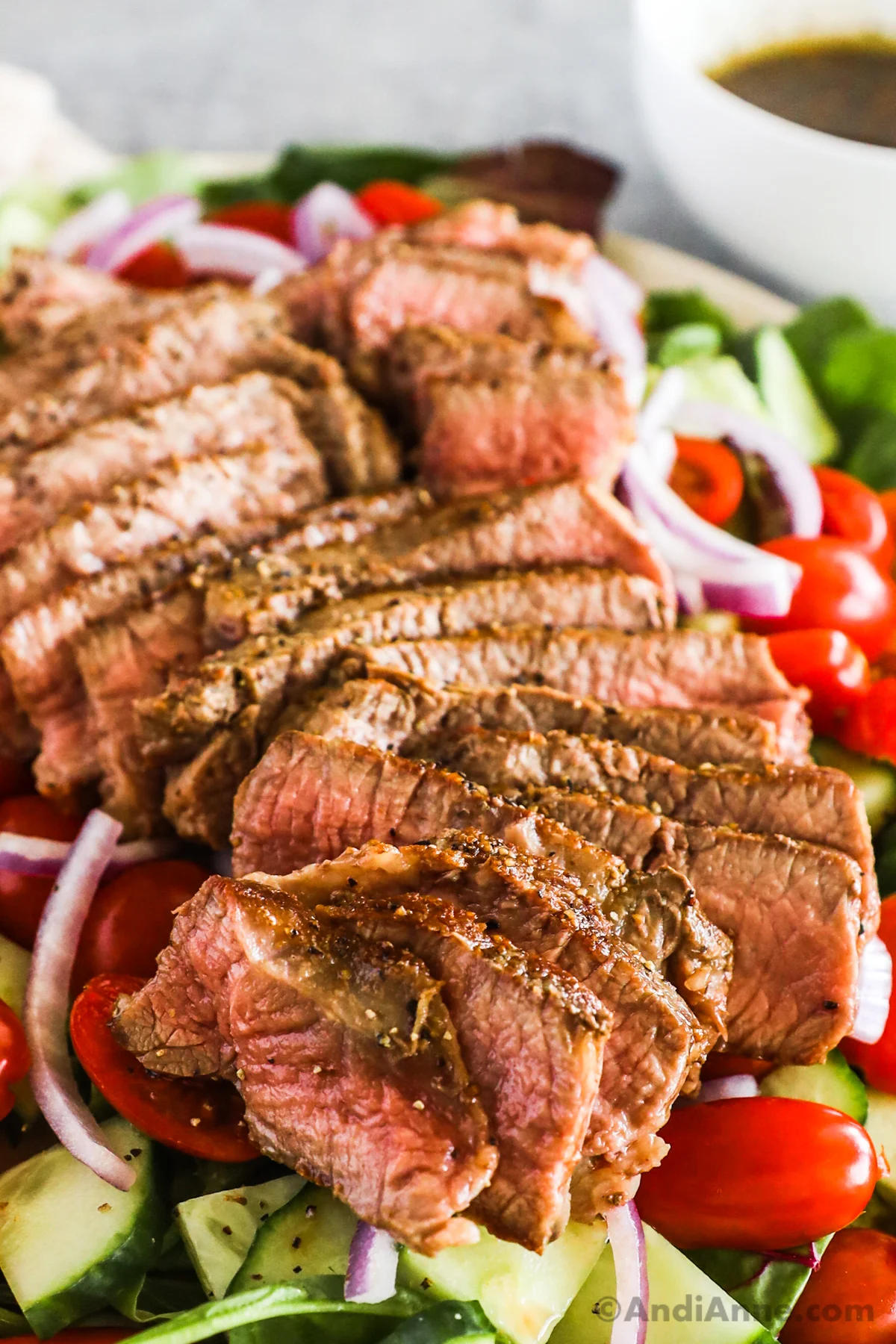 FAQs
Can I cook the steak on a barbecue?
Yes, a barbecue will char and sear the steak. Some prefer the taste of slight charring on their steaks. Adjust your cooking time so as not to over or under-cook the steak.
Can I swap steak for chicken?
Chicken breast is a perfect alternative to steak. It can be pan-fried or cooked on the barbecue and can easily be cut into strips.
What is The Best Cut Of Steak To Use?
The steak cut that you choose will depend on your budget and local availability. Tougher cuts work very well with a marinade first because it helps to tenderize the meat. This is what I normally buy because of the price.

Leaner cuts of beef including top loin, t-bone, tenderloin, or ribeye are not always in the budget (especially these days with the rising costs at the grocery store) but work great for this recipe!

Chuck steaks, flank steaks, skirt steaks, and hangar steaks tend to be cheaper and less tender, so they can be marinated first. This will not only help to add deeper flavor to the steak, but it will also help to tenderize the meat.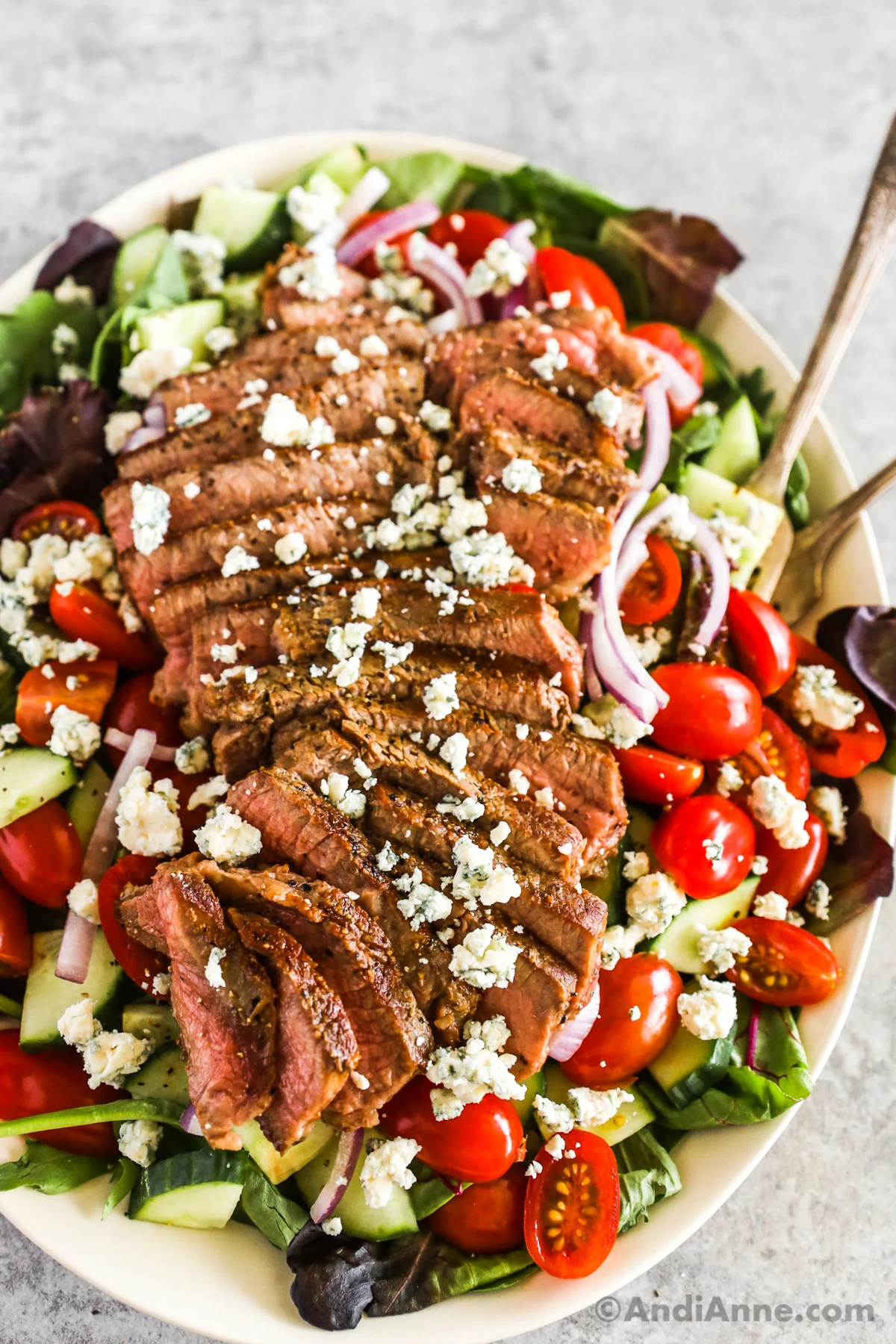 Steak salad is such an easy dinner idea, that you'll wonder why you didn't try it sooner! The steak cooks fast in a pan and tastes delicious topped on a bed of fresh vegetables, salty crumbled blue cheese, and drizzled with balsamic dressing.
More Salad Recipes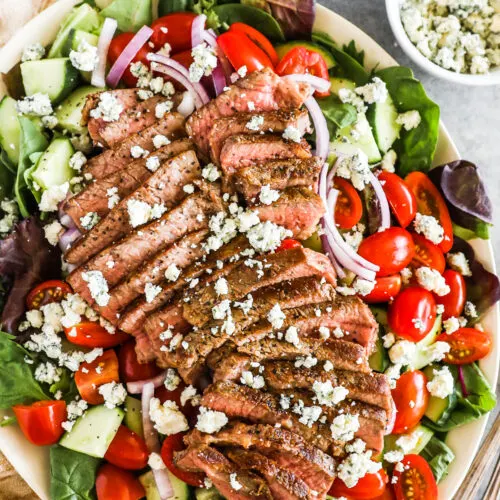 Steak Salad Recipe
Mouth-watering, tender steak strips are surrounded with fresh, crisp vegetables and everything is drenched in a tangy-sweet balsamic dressing.
Save Recipe!
Saved!
Pin This
Print It
Ingredients
Salad Ingredients:
4

cups

mixed salad greens

1

cup

cherry tomatoes

-

sliced in half

1 ½

cups

chopped english cucumber

-

sliced into rounds, then quartered

⅓

cup

red onion

-

sliced thin

⅓

cup

crumbled blue cheese

-

feta cheese
Balsamic Dijon Dressing Ingredients:
Instructions
Cook The Steak:
Pat the steak dry thoroughly with paper towel. Season the steak with salt and pepper.

Heat a frying pan over high heat. Once hot, add the cooking oil and swirl around. Immediately add the steak and cook for 2 minutes. Flip over and cook an additional 2-3 minutes until desired doneness.

Remove to a plate and let sit 5 minutes before cutting. Then slice into thin strips against the grain of the meat.
Make The Dressing:
Add balsamic vinegar, olive oil, maple syrup, dijon mustard, minced garlic, salt and pepper to a bowl. Mix everything together and set aside.
Assemble The Salad:
Add the mixed greens to a serving bowl. Top with chopped tomatoes, chopped cucumbers and sliced red onions.

Add the sliced steak in the center and sprinkle on the crumbled blue cheese.

Drizzle just enough salad dressing over top (leave extra dressing for leftovers or future recipe) and serve.
Nutrition
Calories:
387
kcal
|
Carbohydrates:
11
g
|
Protein:
27
g
|
Fat:
26
g
|
Saturated Fat:
10
g
|
Polyunsaturated Fat:
2
g
|
Monounsaturated Fat:
14
g
|
Cholesterol:
77
mg
|
Sodium:
803
mg
|
Potassium:
593
mg
|
Fiber:
1
g
|
Sugar:
7
g
|
Vitamin A:
783
IU
|
Vitamin C:
20
mg
|
Calcium:
98
mg
|
Iron:
3
mg
The nutritional information provided is an estimate and is per serving.