Sheet pan meals are recipes that are cooked entirely on a baking sheet. This kitchen hack is great for saving time, reducing dirty dishes, and creating meal prep recipes.
When it comes to cooking family meals throughout the week, the sheet pan meal is one of the easiest. They're so simple and healthy.
Also, can we talk about how amazing it is that you're only cooking on one baking sheet! This makes clean up soo much easier. So yes, I love them, and I know that if you aren't a fan of sheet pan dinners yet, I'm about to convert you.
What Is a Sheet Pan Meal?
Sheet pan meals are like a mom's best friend. When life is hectic and you want to get something quick and healthy to the table, look no further!
Sheet pan meals are also great as leftovers and meal prep. You can make an entire week's worth of lunches using this method. In our home, we eat a lot of sheet pan dinners with a side of rice or quinoa. I usually have a big batch of grains in the fridge already cooked that we use throughout the week. But it's easy to cook up a batch while the sheet pan is in the oven.
How To Make A Sheet Pan Meal
First You'll (obviously) need a baking sheet. It doesn't have to be anything fancy.
Most sheet pan recipes consist of vegetables and protein. So to prepare your dinner, you'll be quickly chopping up some veggies. These veggies tend to be heartier and can withstand baking in the oven. Think brussels sprouts, broccoli, carrots, parsnips, beets, potatoes, and kale.
For the protein, you can use chicken breast, beef, tofu, pork, fish, seafood or eggs.
Most recipes will require you to season everything with spices, sauce or a marinade.
Once everything is placed on the baking sheet, add it to the oven, and dinner is ready.
10 Healthy Sheet Pan Meal Recipes To Try
Okay, now let's get on to the easy sheet pan meal recipes. There's lots of variety here. You can use these recipes for breakfast, lunch and dinner!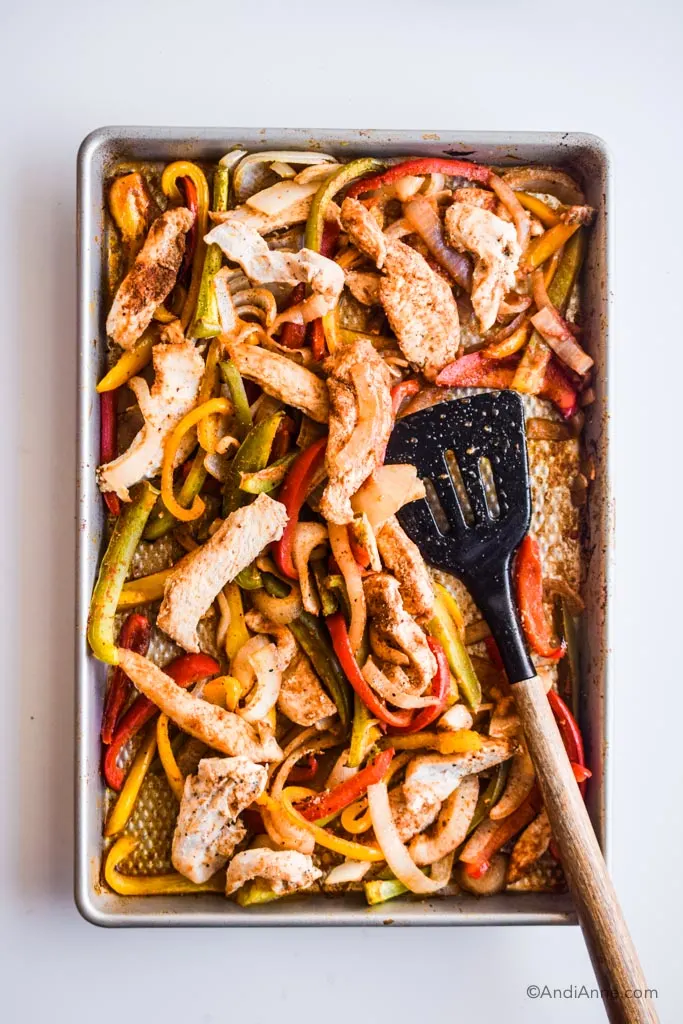 My family loves fajitas, and I bet that yours does as well. Give this sheet pan version of fajitas a try to change things up. It's made with chicken breast, spices, onion, and colorful bell pepper. This is an easy family favorite that's perfect for Taco Tuesdays, or Fun Fridays.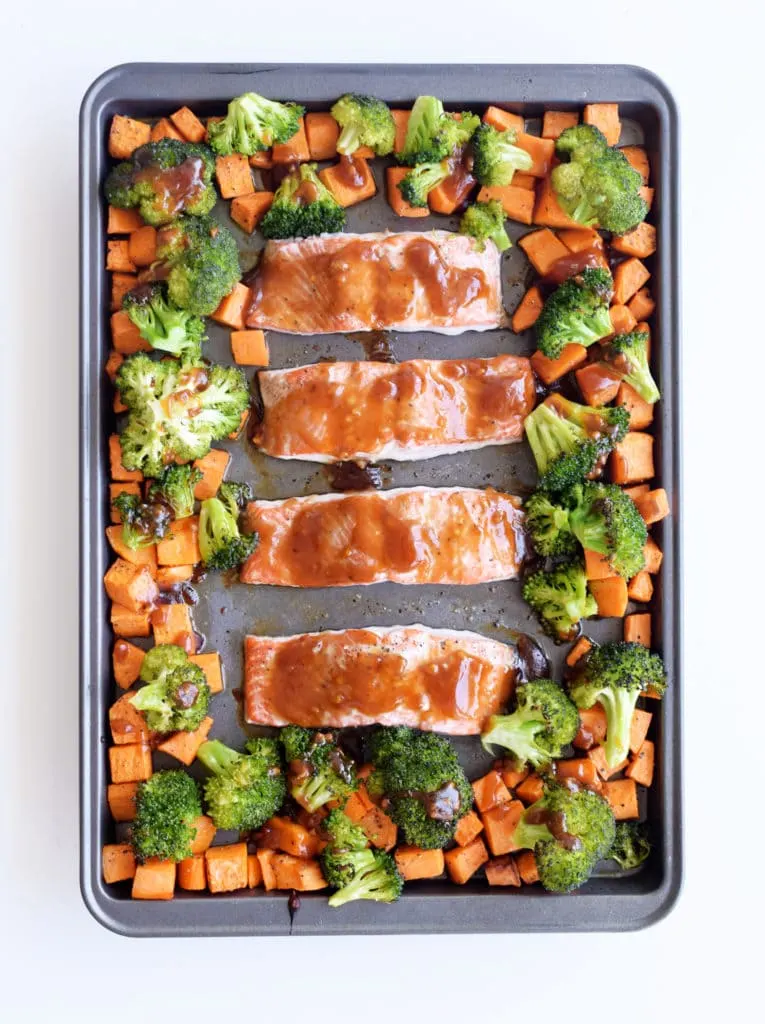 Quick and easy – that's the way I like my dinners. This recipe only has 5 ingredients. Plus, nothing beats a crispy caramelized fish with a tender inside. The sweet potato and broccoli compliment the salmon perfectly. Talk about yum! If you've got a hungry family, then cook double this recipe on two sheet pans and add a side of quinoa or rice.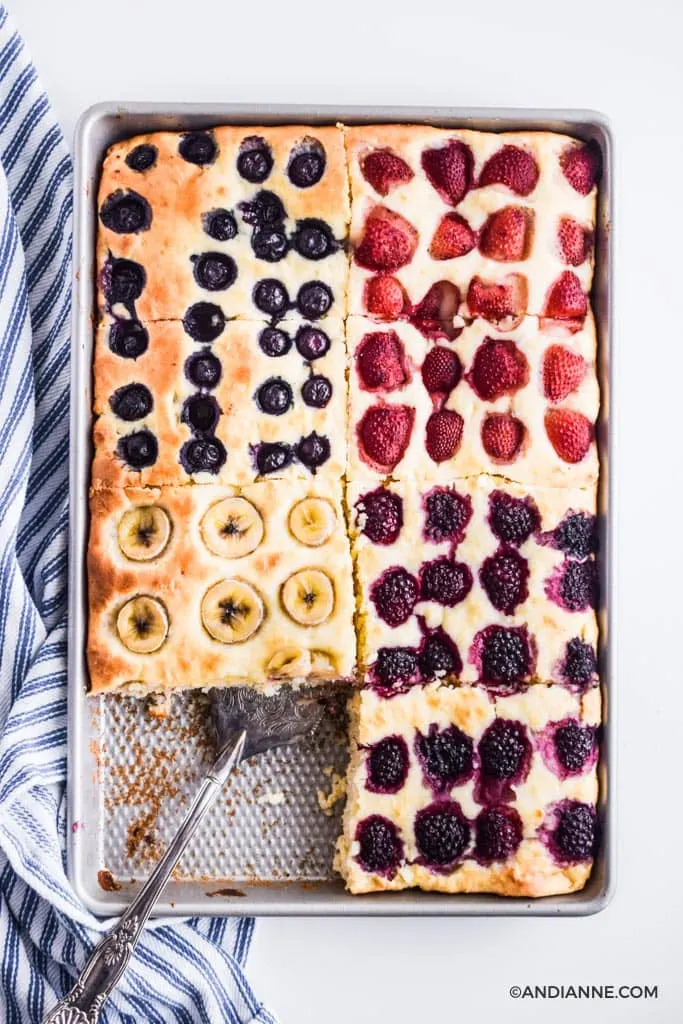 These are the perfect lazy weekend breakfast to try. Sheet pan pancakes are the easiest way to make a big batch of pancakes. They're great for meal planning as you can eat them throughout the week for breakfast, or freeze them for later. Your kids will love how fun these are to make AND to eat. Top with your favorite berries, sliced banana, and even chocolate chips.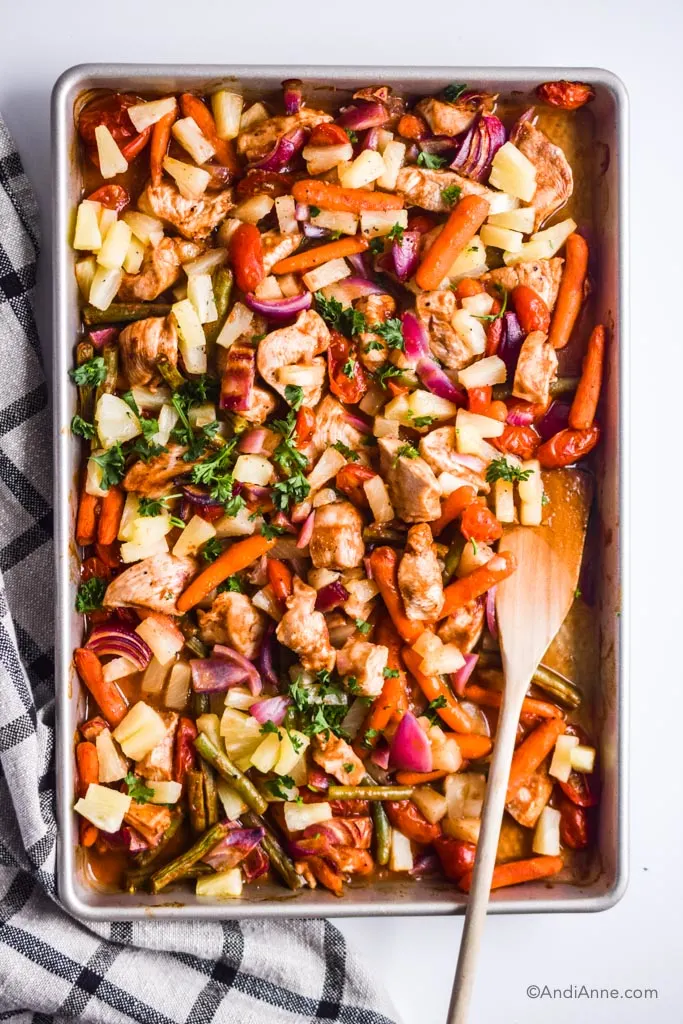 This pineapple chicken sheet pan is a life saver! No really. It's sooo easy to make – everything is cooked in one sheet pan making for an easy meal for the entire family to love. It's loaded with vegetables. Like, LOADED! You've got the rainbow in here… green beans, tomatoes, red onions, carrots, and pineapple. It's delicious and beautiful!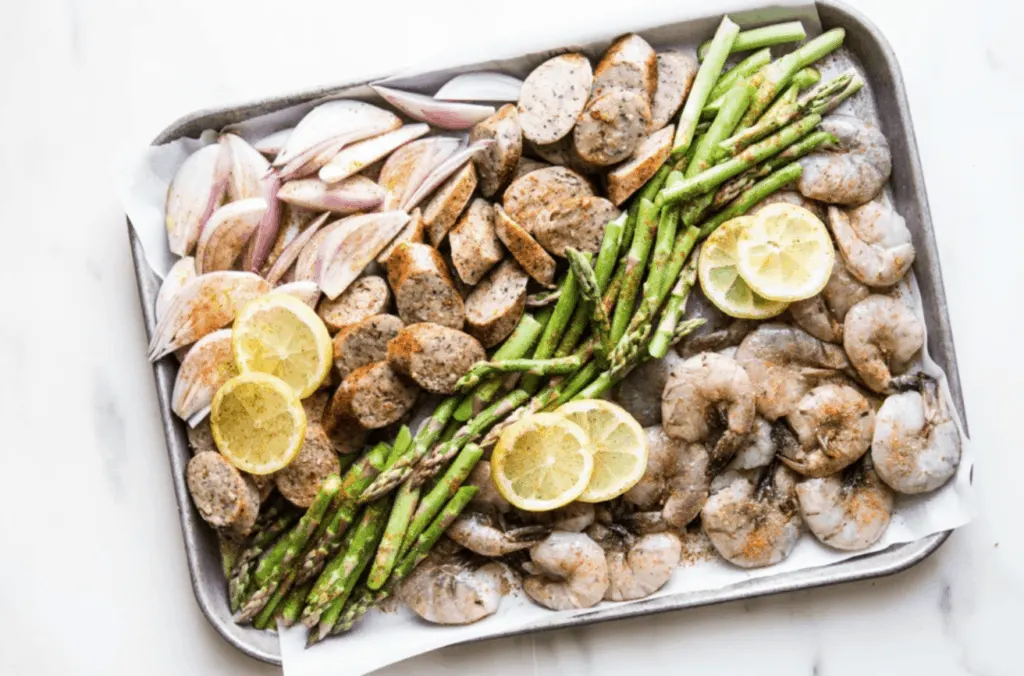 Sausage and shrimp together in one meal? Sign me up! This dish looks amazing and family-friendly.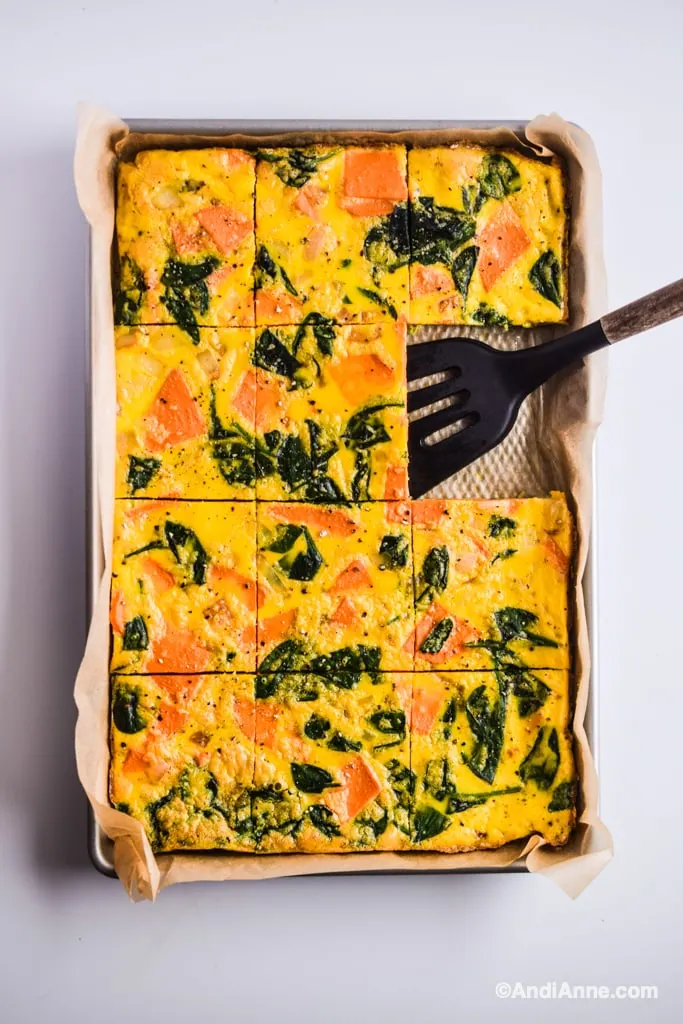 If you've ever wondered, "what can you do with a bunch of eggs?" Baking them in a sheet pan is the answer. The perfect breakfast recipe for any veggies that are starting to go bad in the fridge. Sheet pan eggs are incredibly easy to make and an excellent meal prep recipe for breakfast or lunch. They're healthy too – eggs are a great source of protein and will provide long-lasting energy.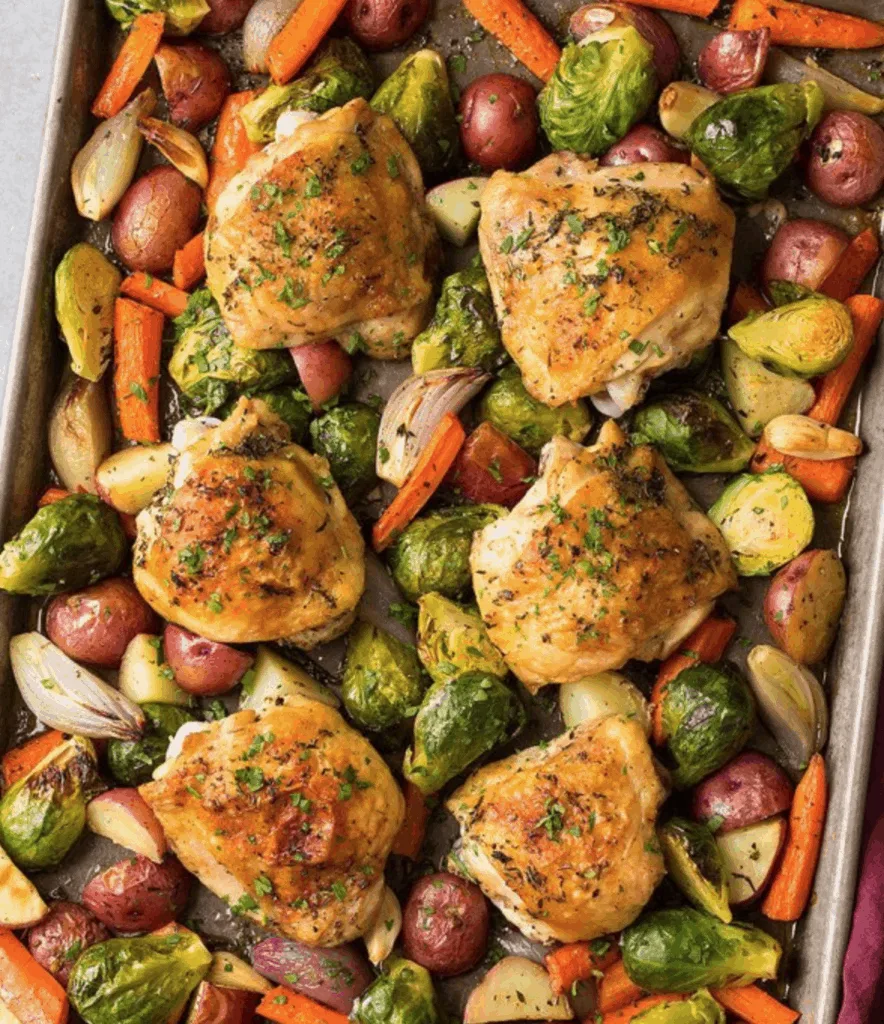 Tender herb-butter chicken thighs are combined with seasoned vegetables. This looks like a great weeknight dinner for my husband to make. We're definitely going to have to give this one a try.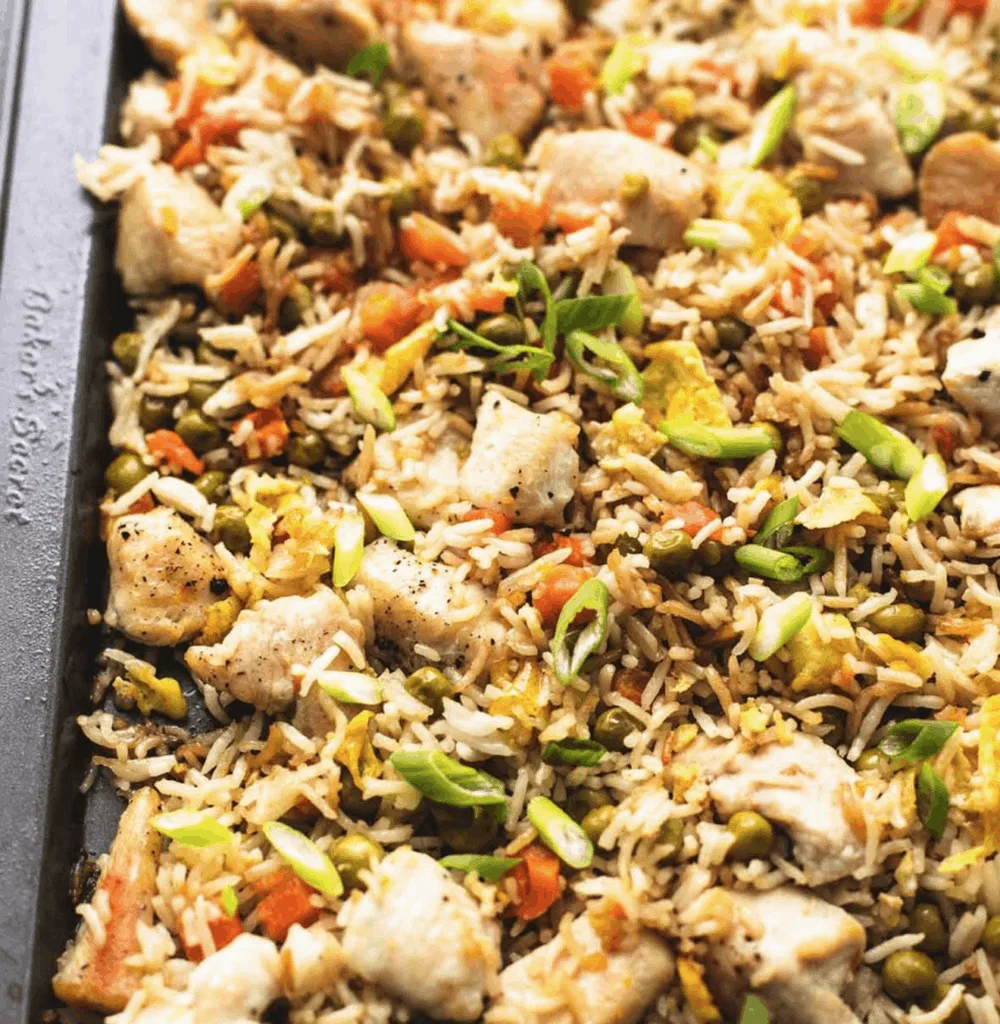 Is chicken fried rice a guilty pleasure of yours? It's the perfect comfort food which is why I love this recipe. This recipe is technically baked and not fried, so it's way healthier than the fast food version. Plus it's ready in 20 minutes! Easy peasy.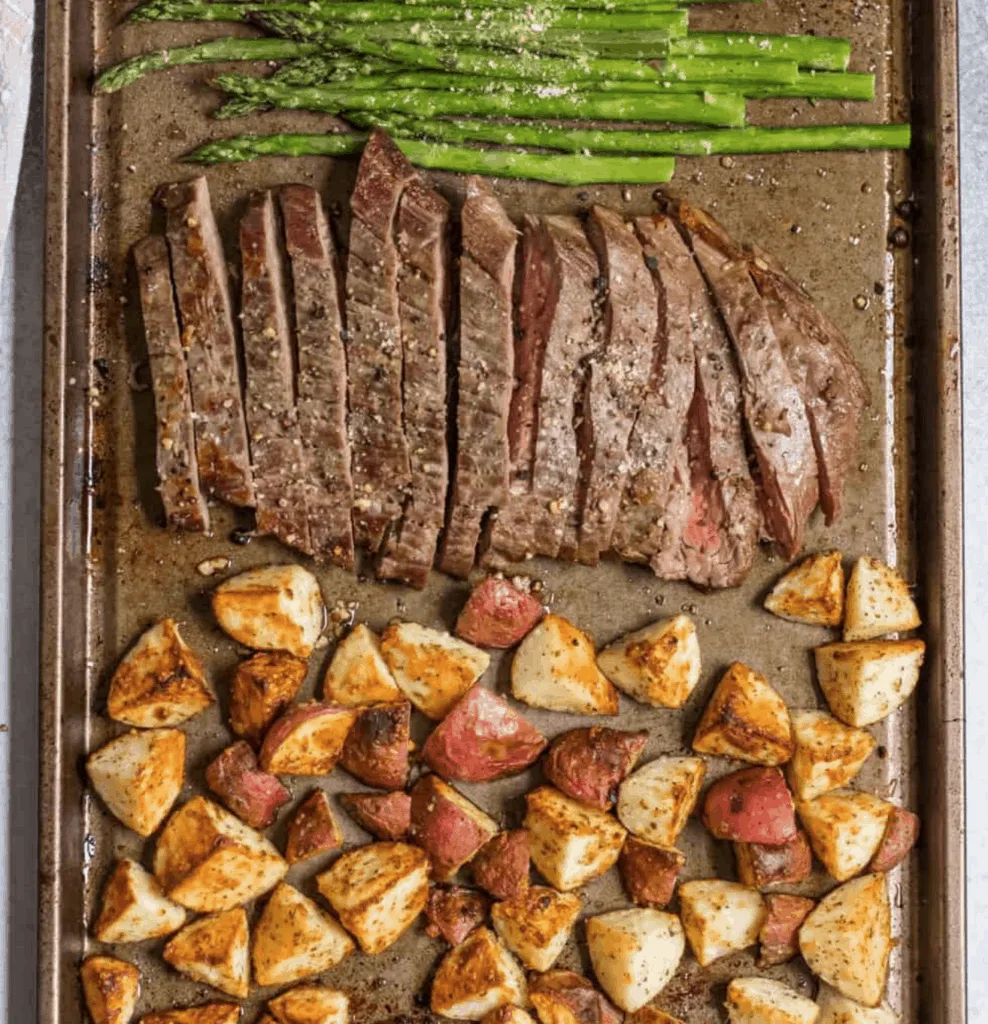 The classic meat and potatoes gets an update with parmesan and asparagus. Simple and flavorful.
Ever thought of serving nachos for dinner before? Well, this recipe is basically a deconstructed taco – and filled with healthy ingredients like tomatoes, onion, black beans, pinto beans, and corn. These nachos are fun. They're simple. And they're always a hit. The nachos can be eaten straight from the sheet pan (just be sure to let people know the pan is hot). What more could you want?