This bacon and cheese pancake casserole is oh-so-easy and the perfect brunch or breakfast-for-dinner recipe. View the recipe below to see just how easy it is.
We love batch pancake recipes like our sheet pan pancakes, our German apple pancakes, pancake mini muffins and this bacon and cheese pancake casserole!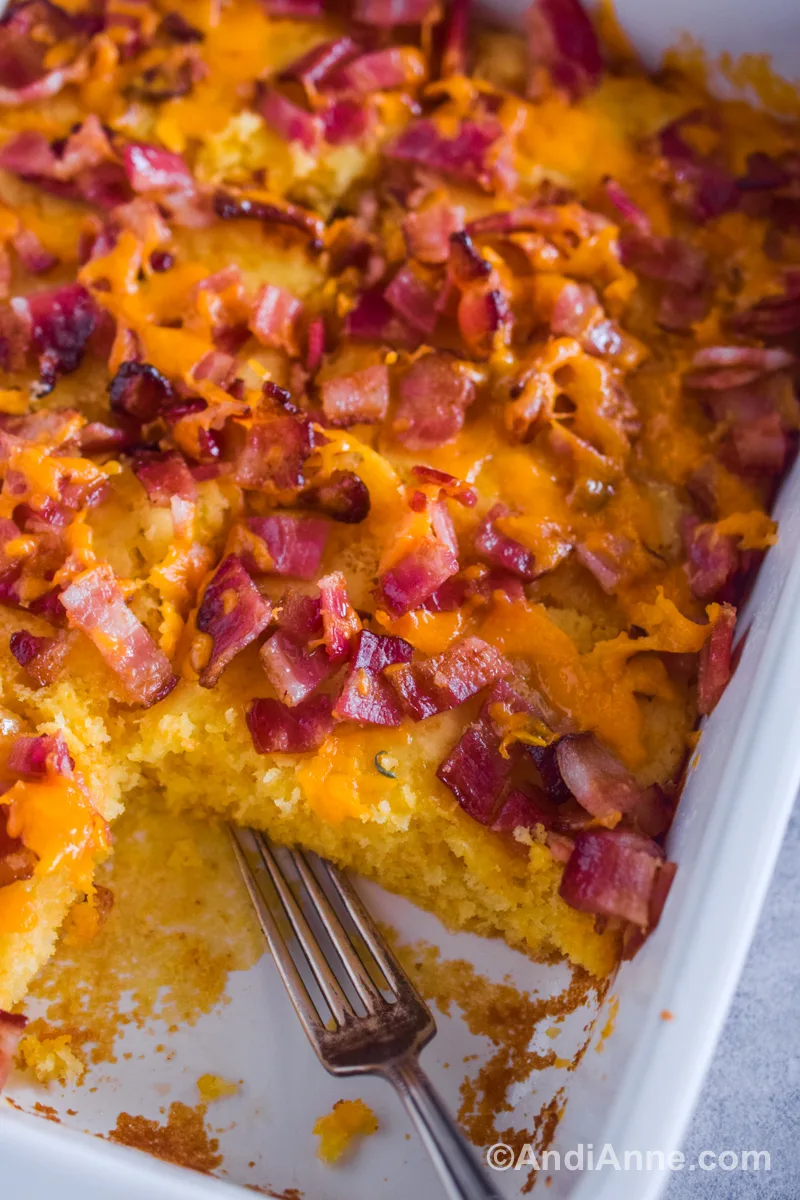 Bacon and Cheese Pancake Casserole Recipe
We love serving bacon and pancakes on the weekend. Our family is huge bacon lovers and could eat it as a garnish on almost anything. One of our go-to recipes is oatmeal blender pancakes.
Making regular pancakes can be a bit time-consuming which is why we love dump-and-go pancake recipes like this one. Just add the ingredients to a casserole dish and bake – perfect for serving a crowd! Here's why you'll love this recipe:
Faster – Adding the batter to a casserole dish is so much quicker than standing over the stove. Just pour in and bake!
Kid-friendly – The kids love pancakes, cheese and bacon. If they get to drizzle maple syrup on top, even better!
Versatile – We enjoy these as a sweet and savory breakfast or brunch. We also like to serve these on breakfast for dinner nights!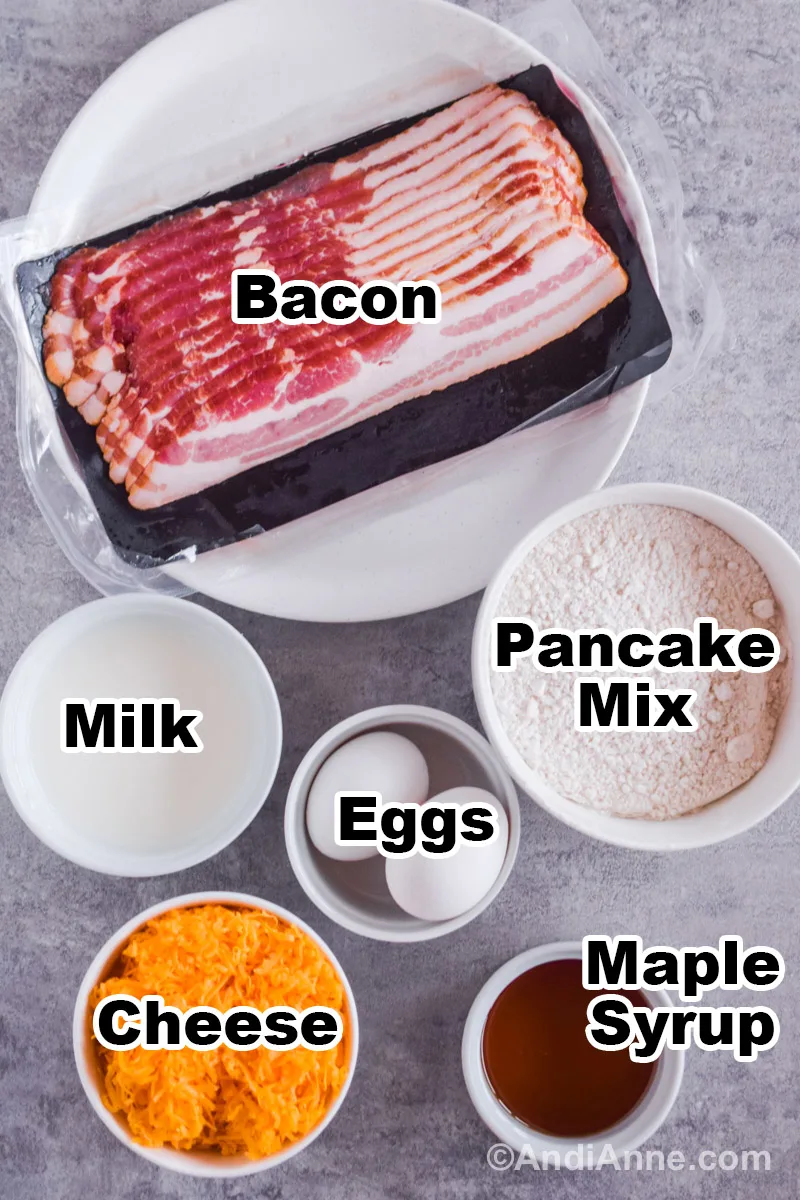 Recipe Ingredients
This pancake casserole has easy flavors. If you have a pancake mix, the rest is a few fresh ingredients from the fridge. Scroll down to see the full ingredient details in the recipe card.
Pancake Mix – We used pearl milling company buttermilk pancake and waffle mix for the recipe. It only requires adding water. To make it easier, look for a mix where you can just add water. You could also use our homemade pancake mix recipe but will need to add cooking oil.
Bacon – A full package of bacon is cooked and then crumbled.
Eggs – Can be beaten in the bowl with pancake mix.
Milk – Just enough to add moisture for the batter.
Maple Syrup – Used for sweetness and drizzling on top.
Cheese – For extra cheddar cheesy flavor.
Pro Tip: For less fuss you can cook the bacon in the oven on a baking sheet with rack. Place foil underneath to catch the excess grease making cleanup easier.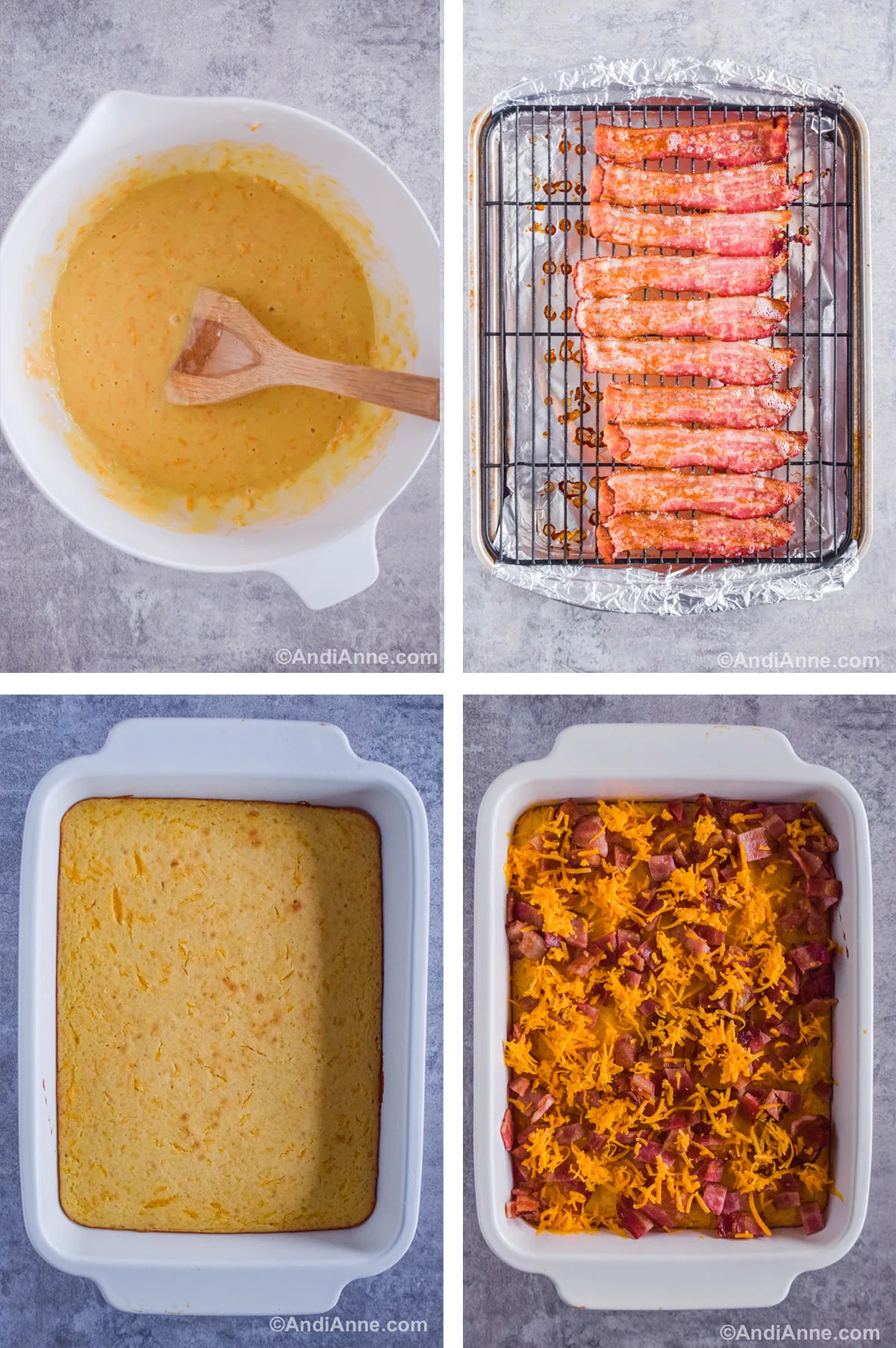 How To Make Cheese Bacon Pancake Casserole
Cook the bacon – Cook the bacon in a frying pan or on a bacon pan with nesting rack in the oven. Once crispy, blot with paper towel and crumble into small pieces.
Mix ingredients – Add the pancake mix, milk, maple syrup and eggs to a large bowl and mix together. Pour the batter into a greased casserole dish.
Bake – Bake for 12-15 minutes at 400°F, or until a toothpick comes out clean when poked through the center.
Add bacon and cheese – Sprinkle the bacon and cheese on top of the pancake. Bake until the cheese melts, then let the pancake casserole cool 10 minutes.
Serve – Slice the pancake casserole into squares and use a spatula to help move it onto plates and serve with a drizzle of maple syrup.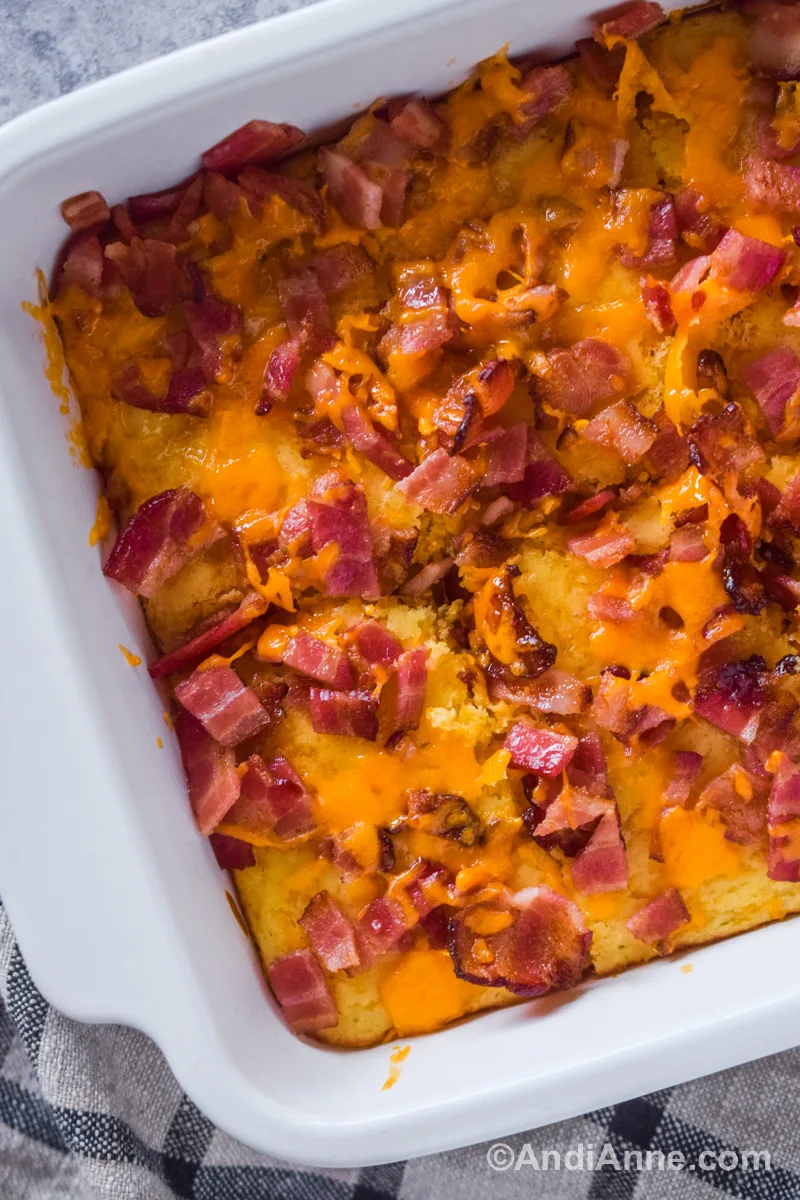 Common Questions
What is a pancake casserole?
Pancake casserole is similar to regular pancakes, but the batter is poured directly into a casserole dish and baked. This cuts down on cooking time and is perfect to feed a crowd.
Can I make this gluten-free?
Yes! You can use a gluten-free pancake mix instead. Be sure to look at the package directions and add extra ingredients if needed. For more gluten free pancake options, try our blender oatmeal pancakes (made with oat flour) or our quinoa flour pancake recipes.
Do I have to use a pancake mix?
No you can use the recipe in our sheet pan pancakes instead. Those pancakes are made from scratch.
To Serve
Our favorite way to serve a pancake casserole is for brunch or an easy dinner (who doesn't love breakfast for dinner nights) paired with:
Maple syrup – drizzled on top.
Plain Yogurt – add a big dollop.
Chopped green onion – also known as scallions, sprinkled on top with plain greek yogurt.
A side of scrambled eggs – for added protein. Or try our sheet pan omelette recipe, also baked in the oven.
Hashbrowns – use frozen hashbrowns or try our crispy air fryer potato recipe.
How To Store
Refrigerate – This pancake casserole can be stored in an airtight container in the fridge up to 4 days.
Freezing – Store slices of this pancake casserole in the freezer up to 3 months.
To Reheat – Slices of the pancakes can be reheated in the microwave, or baked in the oven at 350°F util they're warmed through.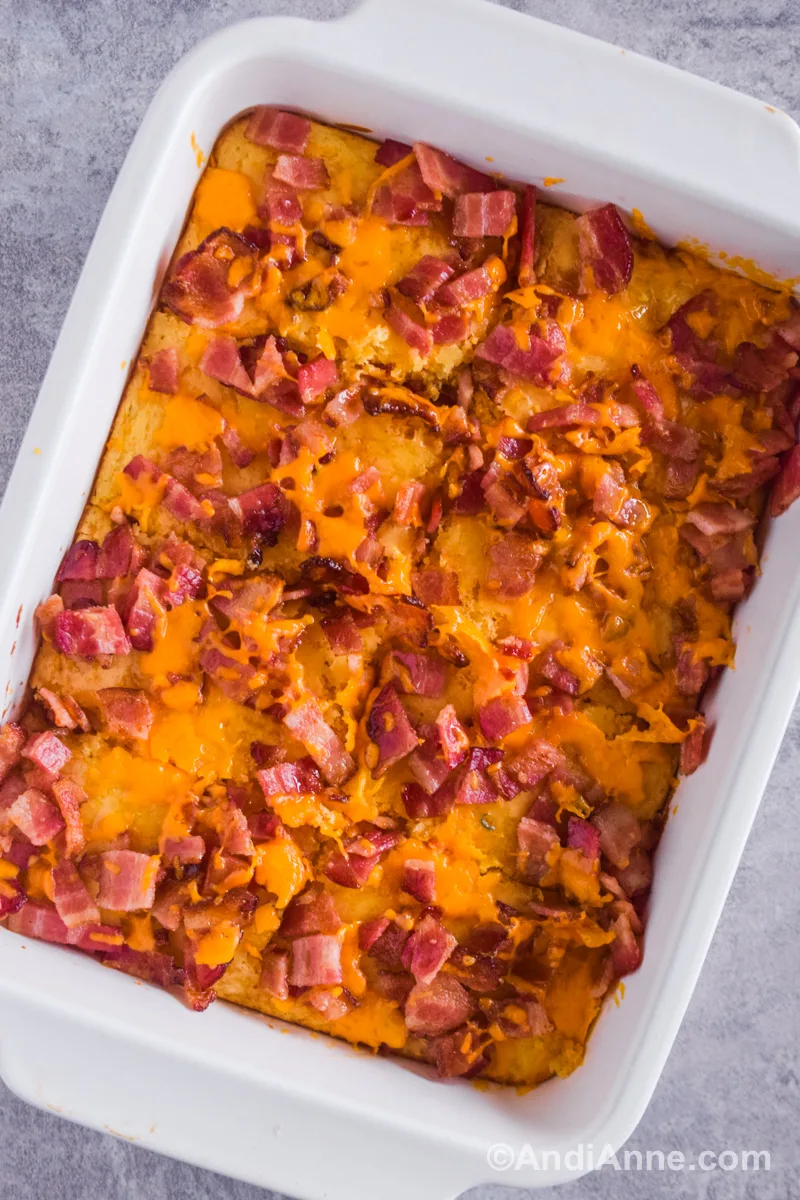 This bacon and cheese pancake casserole is an easy way to serve a sweet and savory meal for brunch or dinner. A pancake casserole saves time from cooking at the stove, and is perfect to feed a hungry crowd, including kids!
More Recipes
If you love this pancake casserole recipe, then you won't want to miss these other pancake recipes: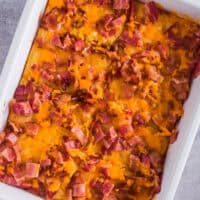 Ingredients
16

oz

package of bacon

1 ½

cups

pancake mix

2

eggs

¾

cup

milk -

or water

¼

cup

maple syrup -

plus more for serving

2

cups

shredded cheese
Instructions
Cook the bacon strips in a frying pan or bake in the oven until cooked and crispy. To bake, cook at 400°F for 25-30 minutes, until crispy.

Blot with a paper towel, then chop into small pieces.

Add the pancake mix, milk, maple syrup, and eggs to a large bowl. Mix them together.

Pour the pancake batter into a casserole dish. Bake for 12-15 minutes.

Sprinkle the crumbled bacon and shredded cheese on top of the pancake. Bake for another 3-4 minutes, until the cheese melts.

Let cool for 10 minutes, then slice into squares. Serve with more maple syrup drizzled on top.