Banana chocolate smoothie is creamy, high in protein, and a delicious snack or breakfast idea. This smoothie can be used for adults after a workout, or as a quick grab-and-go breakfast.
This recipe also makes a great after school snack for kids. There is no added sugar in the smoothie, just the sweetness from the banana.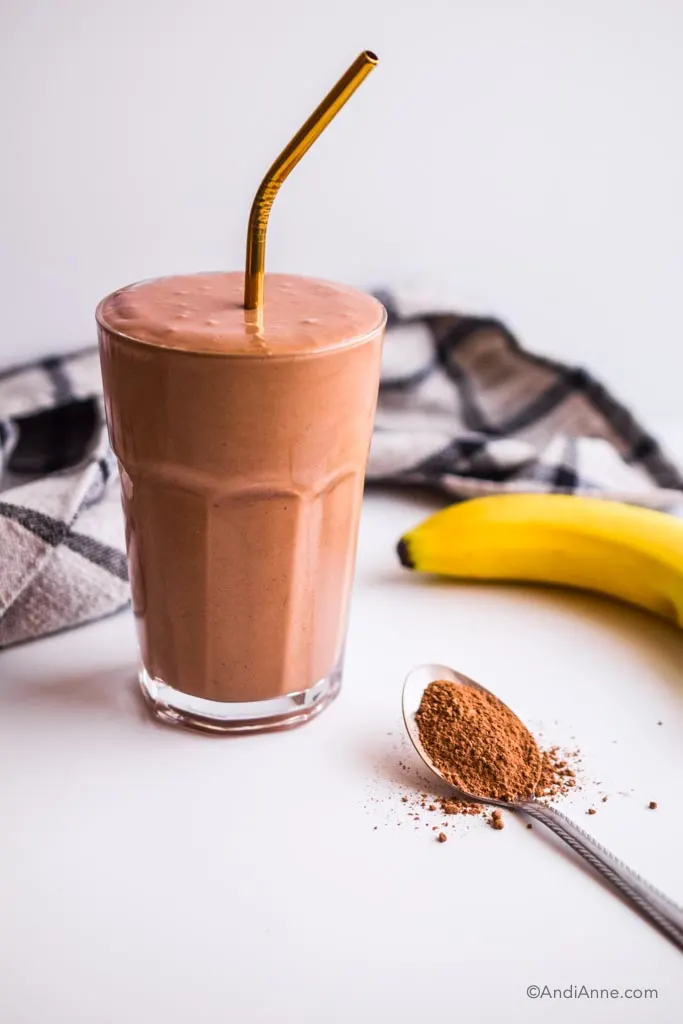 Banana Chocolate Smoothie
Whenever I'm craving chocolate, this smoothie is my go-to recipe. It's simple and REALLY delicious. I love to use clean protein powder in smoothies because it's a great energy source, even if I'm not working out.
My personal favorite is the Iron Vegan Sprouted Protein Powder. It contains 17g of raw protein powder, 5 types of grains and seeds, and has no artificial flavors or colors. Whenever I use a protein powder, I always go with the unflavored option as many can have added sugar.
This smoothie recipe uses cacao powder to add the chocolate flavor. Cacao powder is healthier than cocoa powder. Yes, they look the same but they're actually not. Cacao powder is a healthier substitute for your baking recipes. It's a source of protein, magnesium, iron, potassium, and fiber.
Need A New Blender?
If you don't have a good high-speed blender yet, then you might want to check out QVC. They're having a sale on Vitamix blenders. You can save $100 and you get to choose from six beautiful colors. You really can't go wrong.
Vitamix has been the leader in high-quality blenders for a long time. If you need recipes and ideas, their blenders also come with two cookbooks to inspire you!! See Vitamix Blenders Here.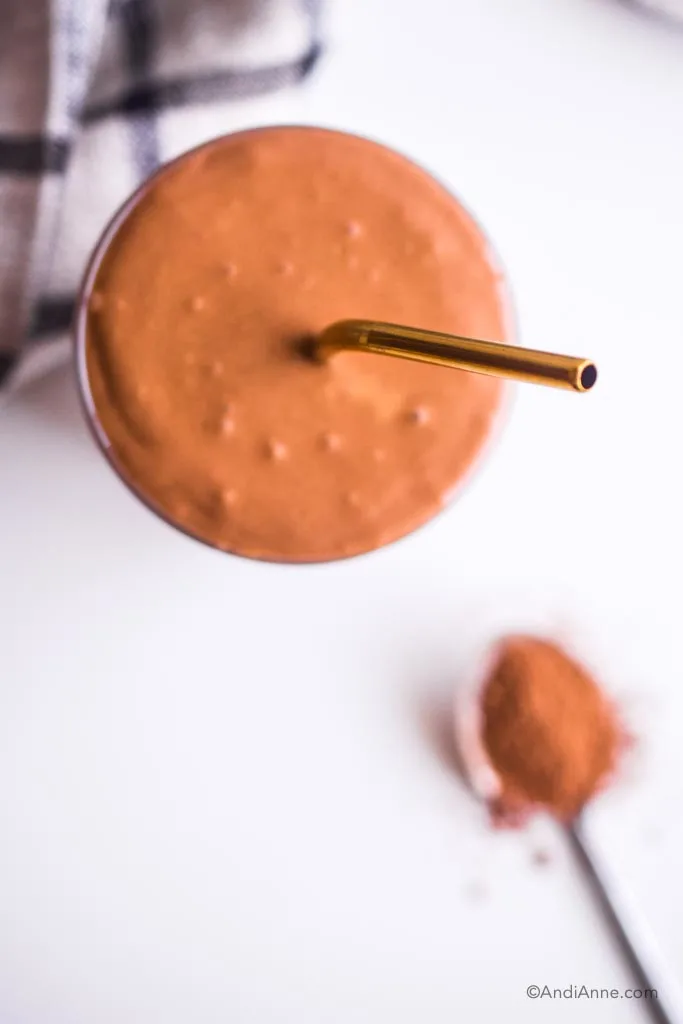 Banana Chocolate Smoothie Ingredients
Here are the ingredients you'll need for the chocolate banana smoothie.
Milk – You can use regular dairy milk, non-dairy milk (almond, oat, etc) or water for this smoothie recipe.
Banana – Freeze the banana the night before making this smoothie. It helps to make the smoothie more creamy.
Cacao Powder – For the healthiest smoothie possible, use cacao powder. You can usually find this in the "health foods" section of your store, or you can purchase it online.
Protein Powder – If you're looking for a new protein powder to try, I personally love the Iron Vegan Sprouted Protein Powder.
Ice Cubes – You'll need 4 ice cubes for this smoothie.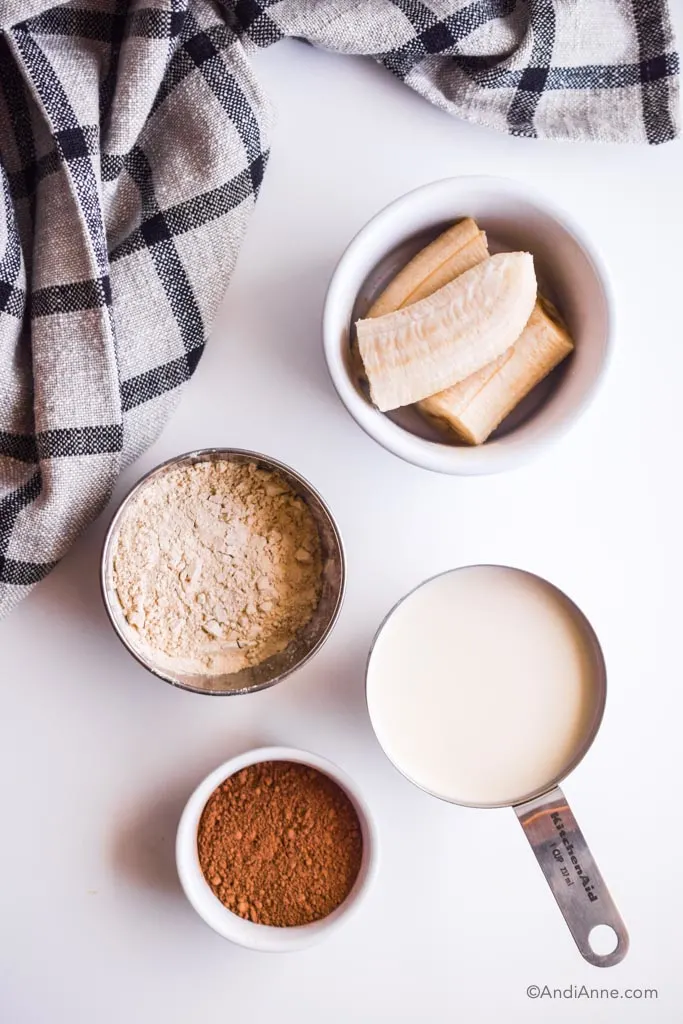 How To Make The Banana Chocolate Smoothie
I recommend chopping the banana into three pieces and freezing it overnight. This adds a wonderful creamy consistency to the smoothie.
When you're ready to make the smoothie, add all the ingredients to the blender and blend until it's smooth. This recipe makes 2 small servings or 1 large serving. Pour into glasses, add a straw and enjoy!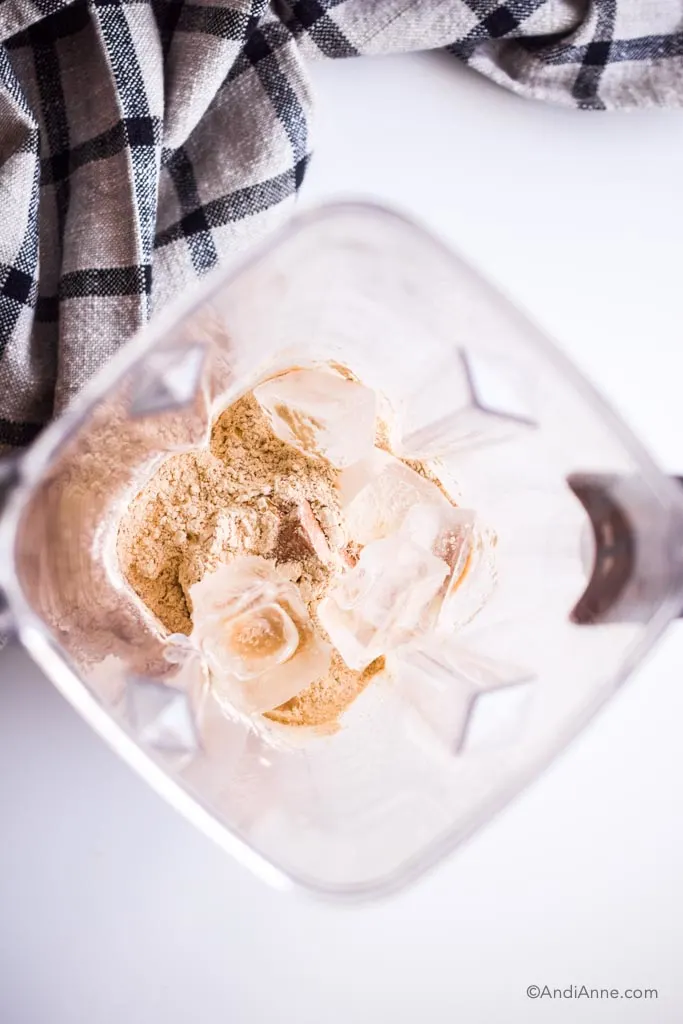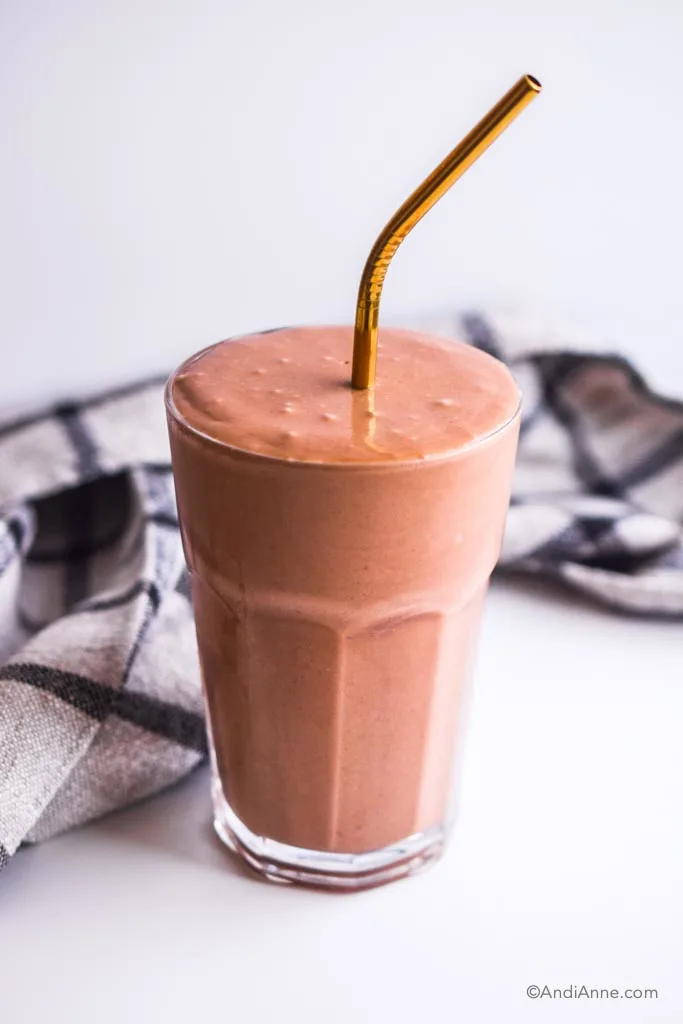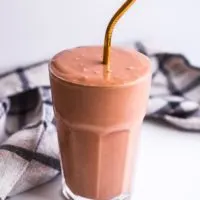 Chocolate Banana Smoothie
Banana chocolate smoothie is creamy, high in protein and a delicious after workout snack or breakfast idea.
Save Recipe!
Saved!
Pin This
Print It
Instructions
Add all ingredients to a blender and blend until smooth. Pour into a glasses, serve and enjoy!
Recipe Notes:
You can use regular milk, dairy-free milk (almond, cashew, hemp, oat, etc), or just use water. All of these will work!
Frozen banana gives better consistency in this smoothie than a fresh banana. I recommend chopping it into 3 pieces, then freezing overnight.
If you don't like to use protein powder, then you can skip this.
Nutrition
Calories:
103
kcal
|
Carbohydrates:
19
g
|
Protein:
4
g
|
Fat:
3
g
|
Potassium:
368
mg
|
Fiber:
3
g
|
Calcium:
80
mg
The nutritional information provided is an estimate and is per serving.