This classic strawberry banana smoothie recipe is an easy grab-and-go breakfast idea that is so easy to make! Loaded with healthy ingredients, it can be made dairy-free, or customized to add a nutrition boost with protein powder and superfoods.
If you're new to smoothies, this is the perfect recipe to get started with as the ingredients are sweet tasting and simple.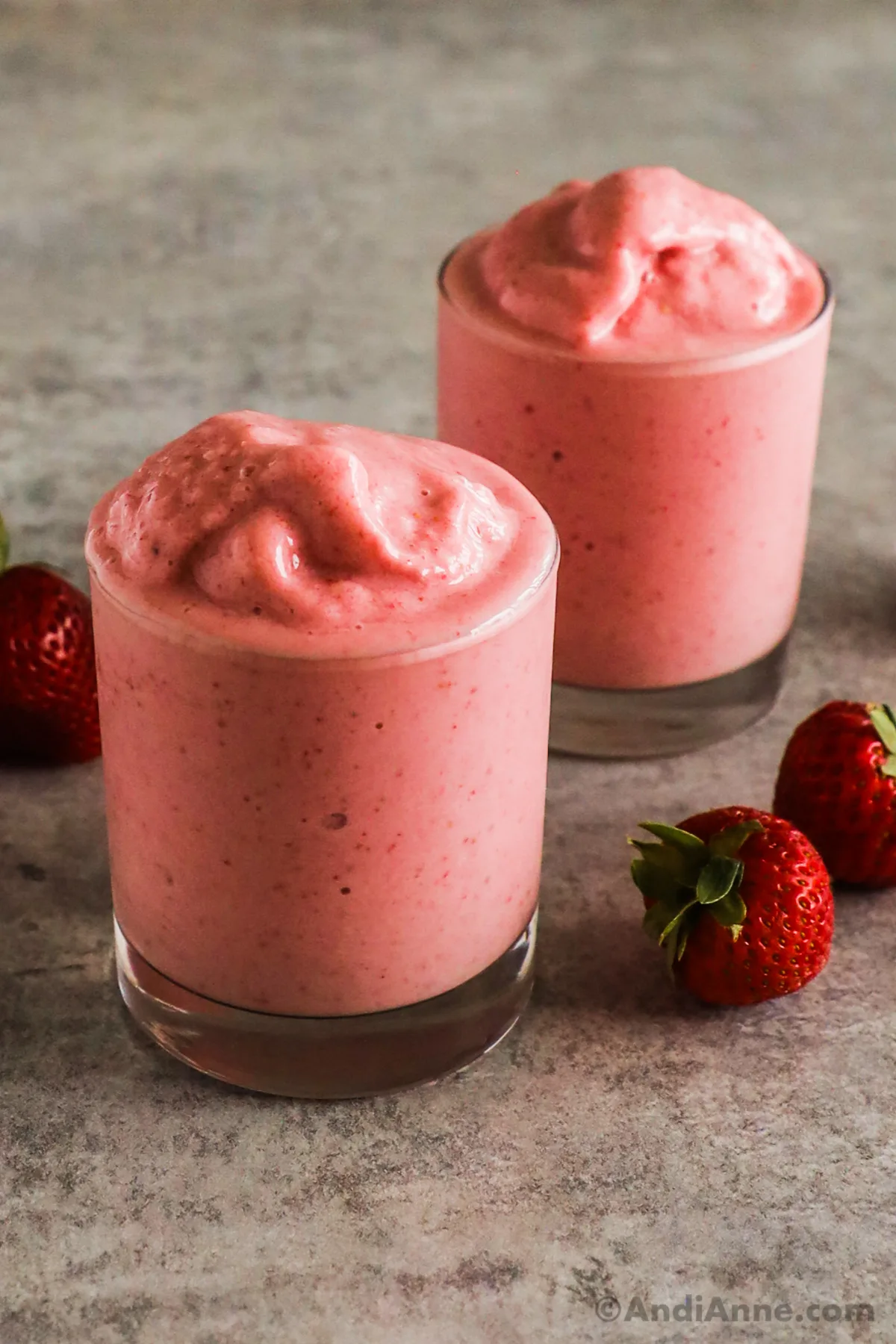 Best Strawberry Banana Smoothie
I love a good fruit smoothie recipe because it's one of the easiest ways to get a bunch of healthy fruits and other ingredients first thing in the morning.
This recipe is very similar to our blueberry banana smoothie recipe but made with frozen strawberries. It only requires 5 ingredients, but can easily be customized to add more and get an extra nutrition boost.
If you're new to drinking smoothies, and perhaps want to try them to start eating healthier, then this strawberry banana smoothie is one of the best beginner recipes to start with!
The strawberry banana flavor is a classic that most people will enjoy. Strawberries and ripe banana already have a natural sweetness making them perfect for a delicious smoothie.
For more healthy smoothie recipes, can try my raspberry yogurt smoothie, banana chocolate smoothie, mango turmeric smoothie, or green smoothie. You can use my smoothie pack recipes to meal prep ingredients in advance or create delicious smoothie bowls. There are so many possibilities!
Strawberry Banana Smoothie Ingredients
With only 5 ingredients, this recipe is not only fast but also easy! Here's a list of what you'll need. Full instructions are in the recipe card at the bottom of this post.
FROZEN STRAWBERRIES – Sliced frozen berries will blend the easiest. If you have a high-powered blender then full frozen strawberries won't be a problem.
RIPE BANANAS – You can use fresh or frozen bananas. Frozen banana slices can add such a nice creaminess to the smoothie though! I recommend you try it at least once.
GREEK YOGURT – I love using plain Greek yogurt because it's high in protein and has no added sugar. This can help to give a nice boost of energy in the morning without a sugar crash.
MILK – You can use regular dairy milk, or a non-dairy milk version like oat milk, almond milk, soy milk or coconut milk. Water or orange juice will also work.
ICE CUBES – Makes the smoothie cold and adds liquid.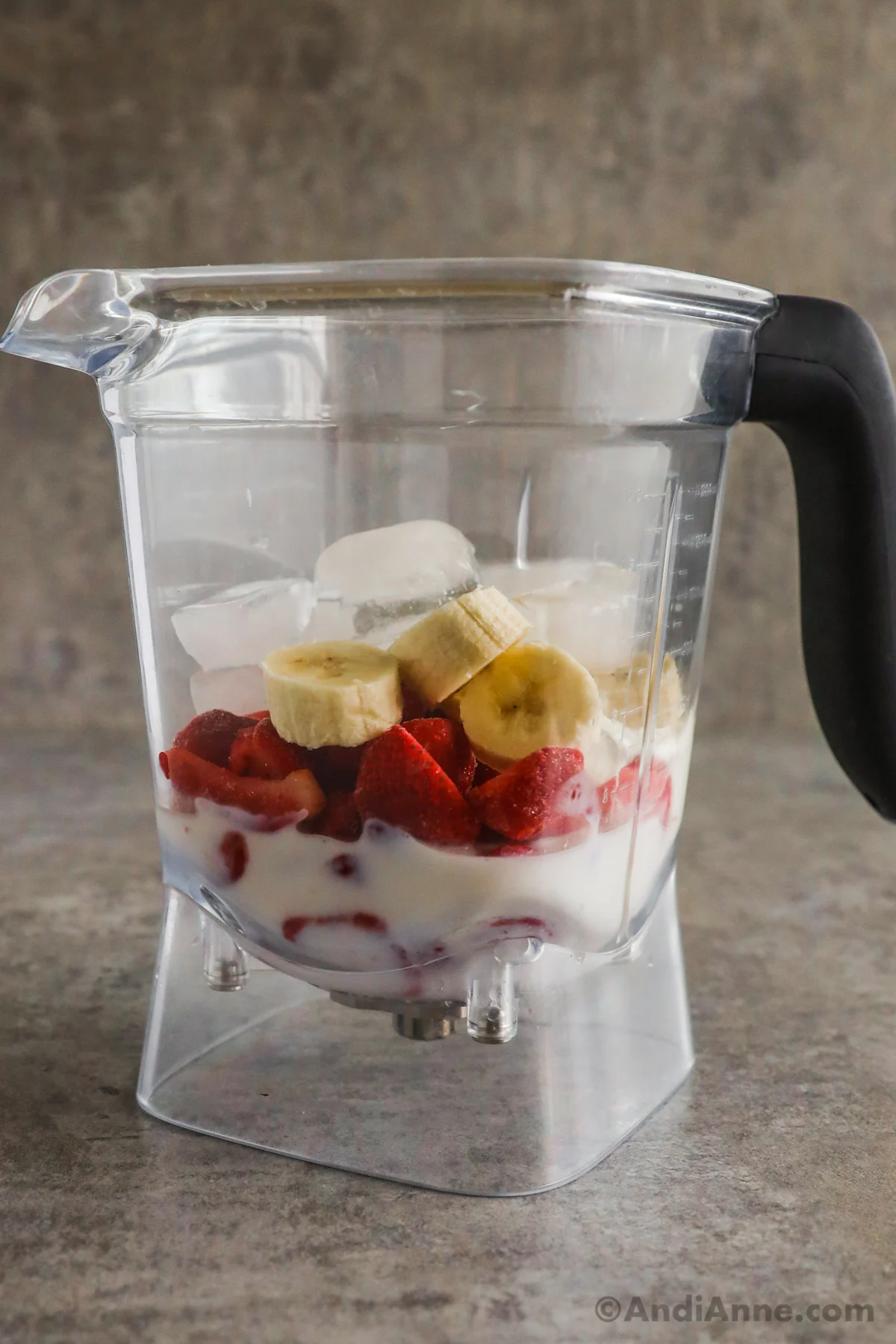 How To Make A Strawberry Banana Smoothie
Making this strawberry smoothie recipe couldn't be easier. Here's an overview. Full details are in the recipe card at the bottom of this blog post.
ADD INGREDIENTS – Add all your ingredients into a high-speed blender starting with the milk, greek yogurt, and frozen strawberries. Slice up the banana, and add the ice cubes.
BLEND – Blend all the ingredients together until everything is smooth and creamy. The color will be light pink. Pour it into two separate glasses. Use a spatula to scoop out the bottom of the blender, or give it a few taps with your hands to shake up any that doesn't want to come out.
SERVE – Serve the smoothies immediately while they're cold. They will start to melt over time.
Storing Leftovers
I don't recommend storing leftovers in the fridge. Everything will melt and just won't taste the same.
BUT, you can definitely freeze smoothie leftovers! There's an easy technique that is perfect for meal prep! Here's how to do it:
Pour the smoothie into an empty ice cube tray and freeze them overnight. Once you have frozen smoothie cubes, you can add these to a freezer bag and store them in the freezer for up to 6 months.
These can be added to the blender with a little bit of milk or water to create future smoothies! The results will be even creamier!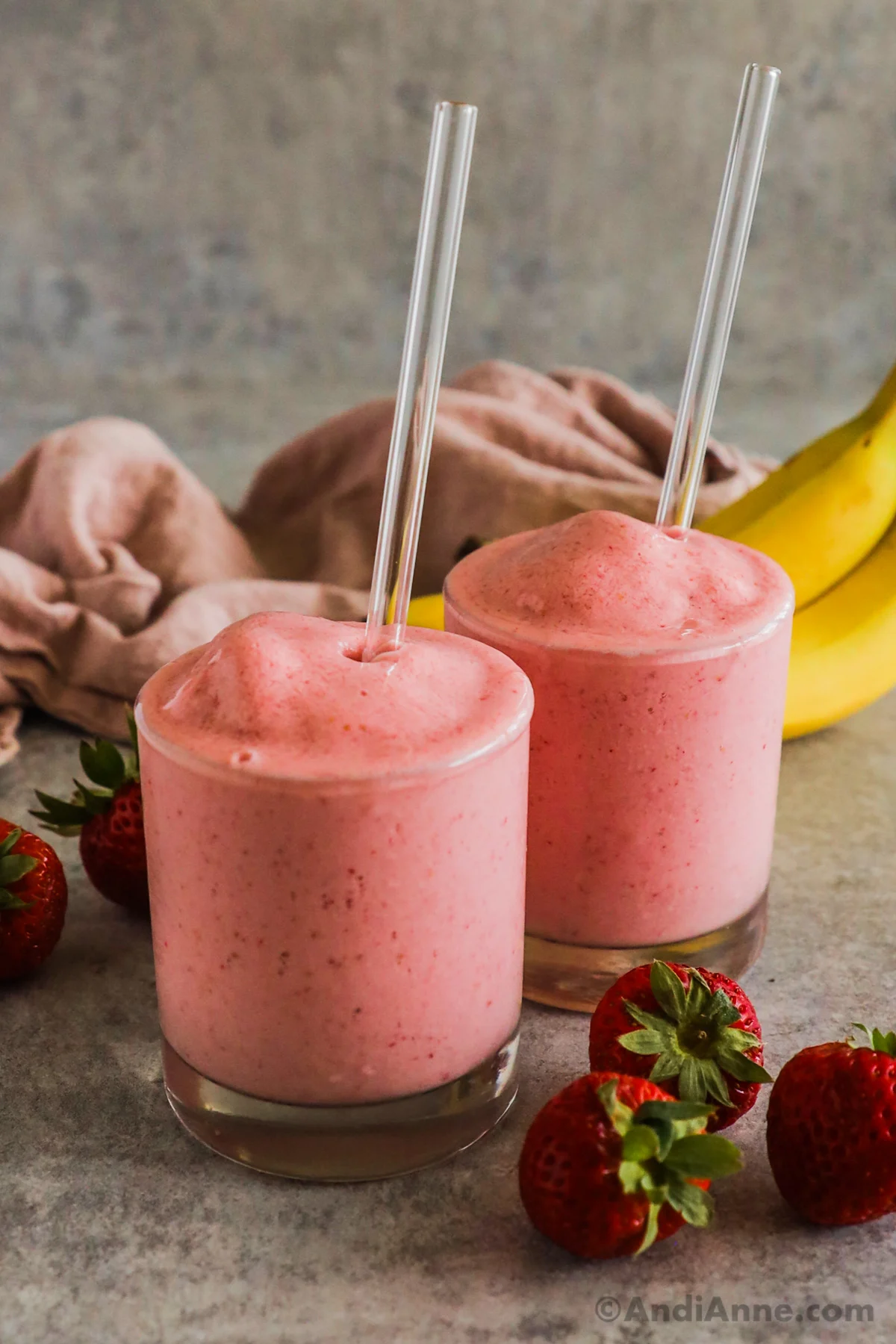 Smoothie Making Tips
Add the liquid to the bottom of the blender first. This will make all other ingredients easier to blend. Next, add frozen fruit, followed by softer ingredients.
You might need to stop the blender and scoop down the sides, or give the blender cup a good shake to help get everything blending smoothly.
I like to take advantage of adding superfoods to my smoothies. You can add protein powders, hemp seeds, chia seeds (a little goes a long way), superfood powders, rolled oats for a more filling smoothie and so much more! Play around with some ingredients and see what you like.
For a little extra sweetness, you can add some pure maple syrup.
For the best strawberry banana smoothies, freeze as many ingredients as you can before adding them to the smoothie. You'll get a much creamier texture. For example, you can freeze yogurt and milk in ice cubes. You can slice bananas and freeze them on a plate with parchment overnight. And of course, use frozen sliced strawberries.
Smoothies tend to lose their magic as they cool off so plan to drink it immediately. An insulated stainless steel mug is a great way to keep your smoothie cold.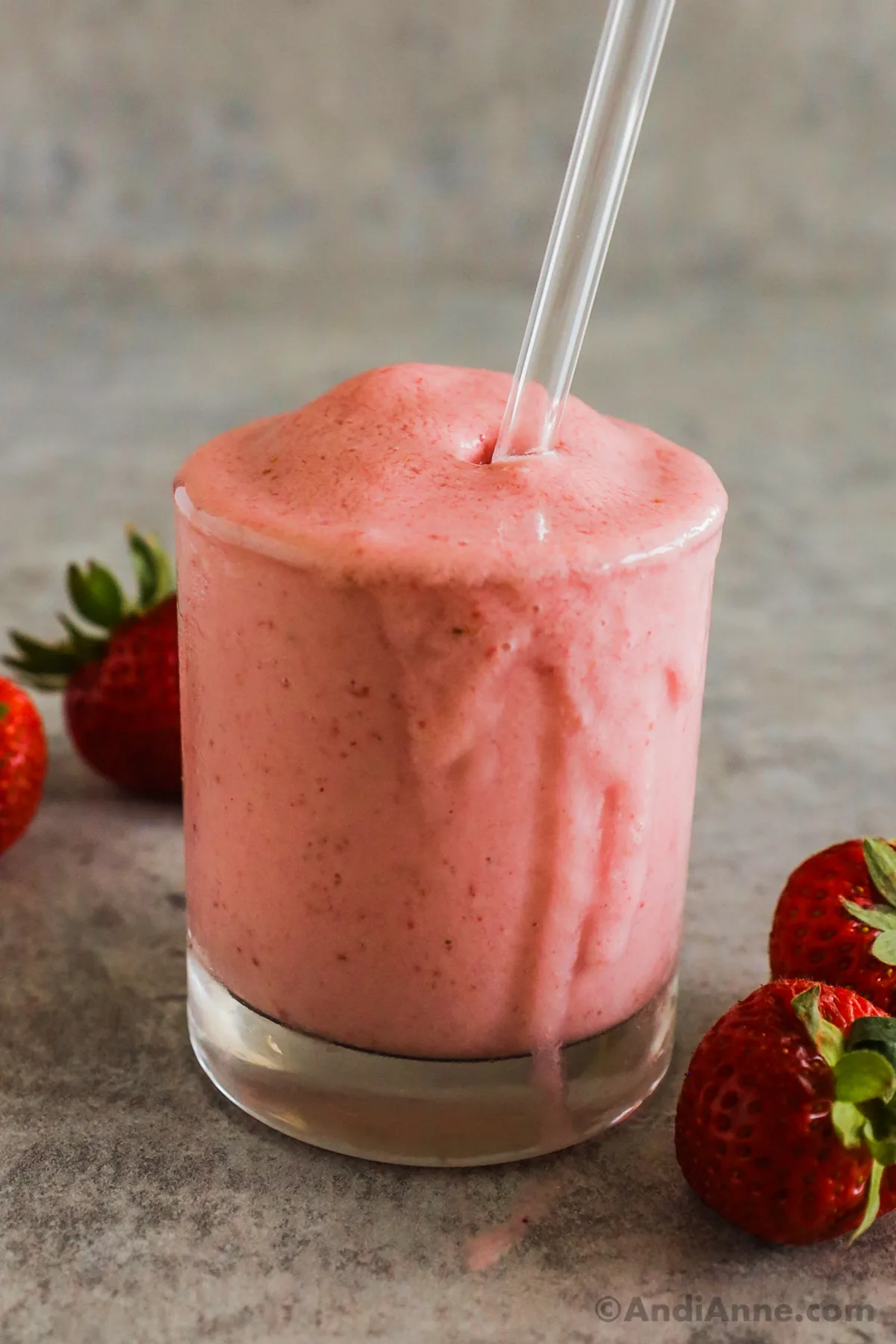 If you need a quick and easy smoothie recipe that is healthy and tastes great, then you must try this easy strawberry banana smoothie. It's the perfect grab-and-go breakfast or snack idea.
For more smoothie recipes you can try my six healthy smoothies including raspberry yogurt smoothie, blueberry banana smoothie, banana chocolate smoothie, mango turmeric smoothie, or my filling green smoothie.
You can also use this smoothie recipe as a base to create a smoothie bowl like our tropical smoothie bowl or rainbow smoothie bowl loaded with fresh fruit.
You may also want to learn how to meal prep smoothie packs to help save time and drink smoothies more often. See my 6 smoothie pack recipes for some ideas.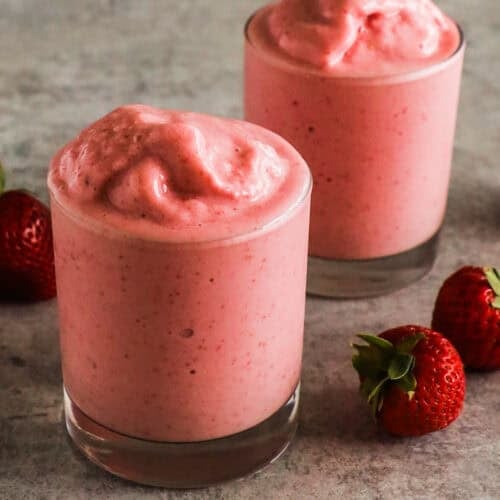 Instructions
Add the frozen strawberries, banana, milk, yogurt and ice to a high-powered blender.

Blend for for 1-2 minutes. Stop and scrape down sides if needed. Pour into two glasses and serve immediately.
Nutrition
Calories:
202
kcal
|
Carbohydrates:
32
g
|
Protein:
11
g
|
Fat:
5
g
|
Saturated Fat:
2
g
|
Polyunsaturated Fat:
0.4
g
|
Monounsaturated Fat:
1
g
|
Trans Fat:
0.01
g
|
Cholesterol:
17
mg
|
Sodium:
72
mg
|
Potassium:
685
mg
|
Fiber:
4
g
|
Sugar:
22
g
|
Vitamin A:
255
IU
|
Vitamin C:
90
mg
|
Calcium:
235
mg
|
Iron:
1
mg