This cinnamon breakfast smoothie is fast and flavorful, the perfect grab-and-go breakfast idea when you're headed out the door. Milk and yogurt are blended with cinnamon and brown sugar to create that delicious cinnamon bun flavor.
Rolled oats are added to create a filling drink that's perfect in the morning. Using a high-powered blender will totally liquify the rolled oats and turn them into oat milk!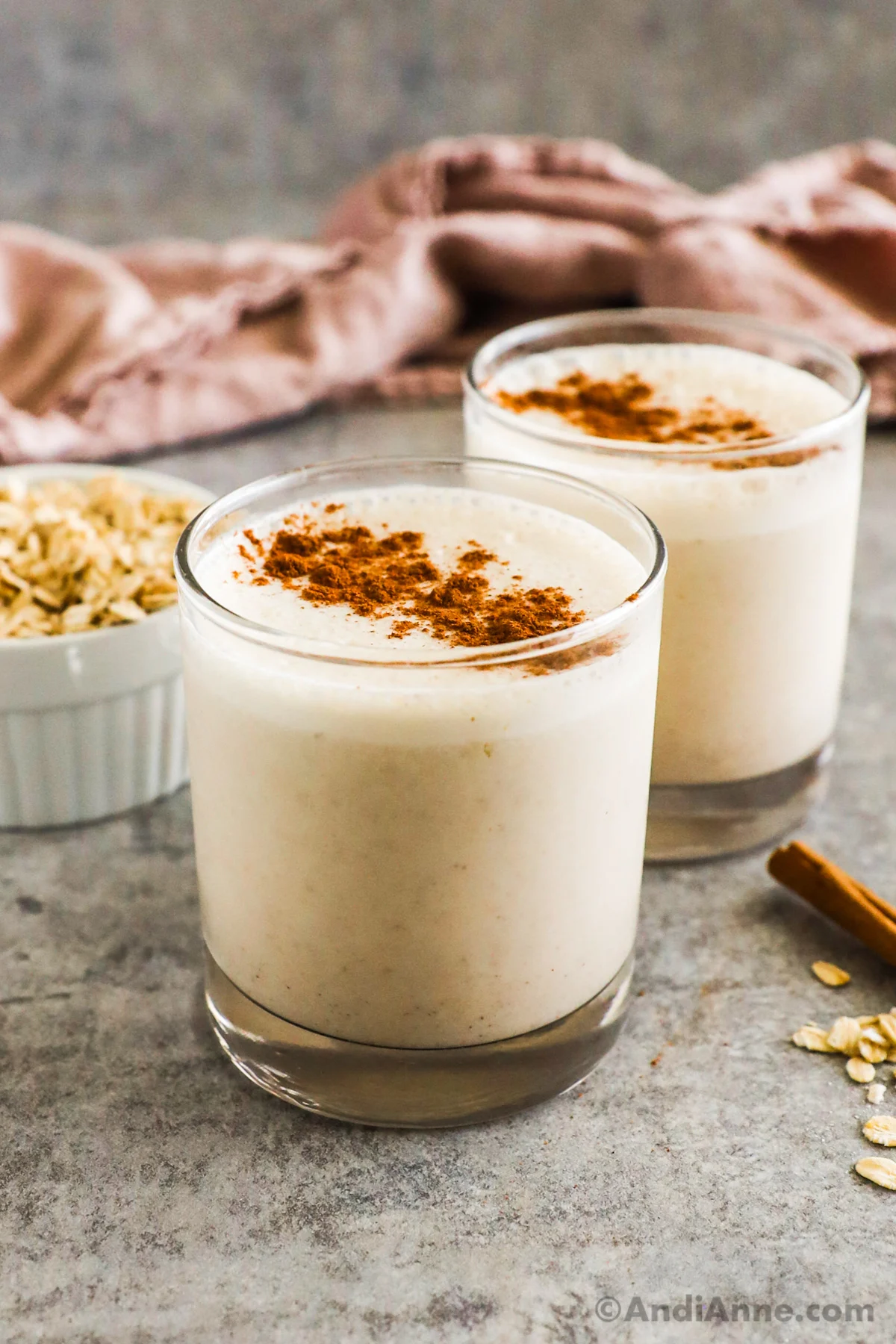 Cinnamon Breakfast Smoothie
This smoothie recipe tastes like a cinnamon roll, but with healthier ingredients. It's a fun idea when you want to have a grab and go breakfast or snack.
This cinnamon bun smoothie uses 8 ingredients, but creates a really delicious flavor! The most important thing you do when you make it is to blend longer than normal. This will blend rolled oats into a liquid that you won't even notice. Almost like an oat milk.
You can drink it right away, or pour it into an ice cube tray to create an even creamier version. I explain it in full detail below.
No matter what you choose, you'll love this easy and filling breakfast smoothie idea for those days when you want something sweet tasting and easy.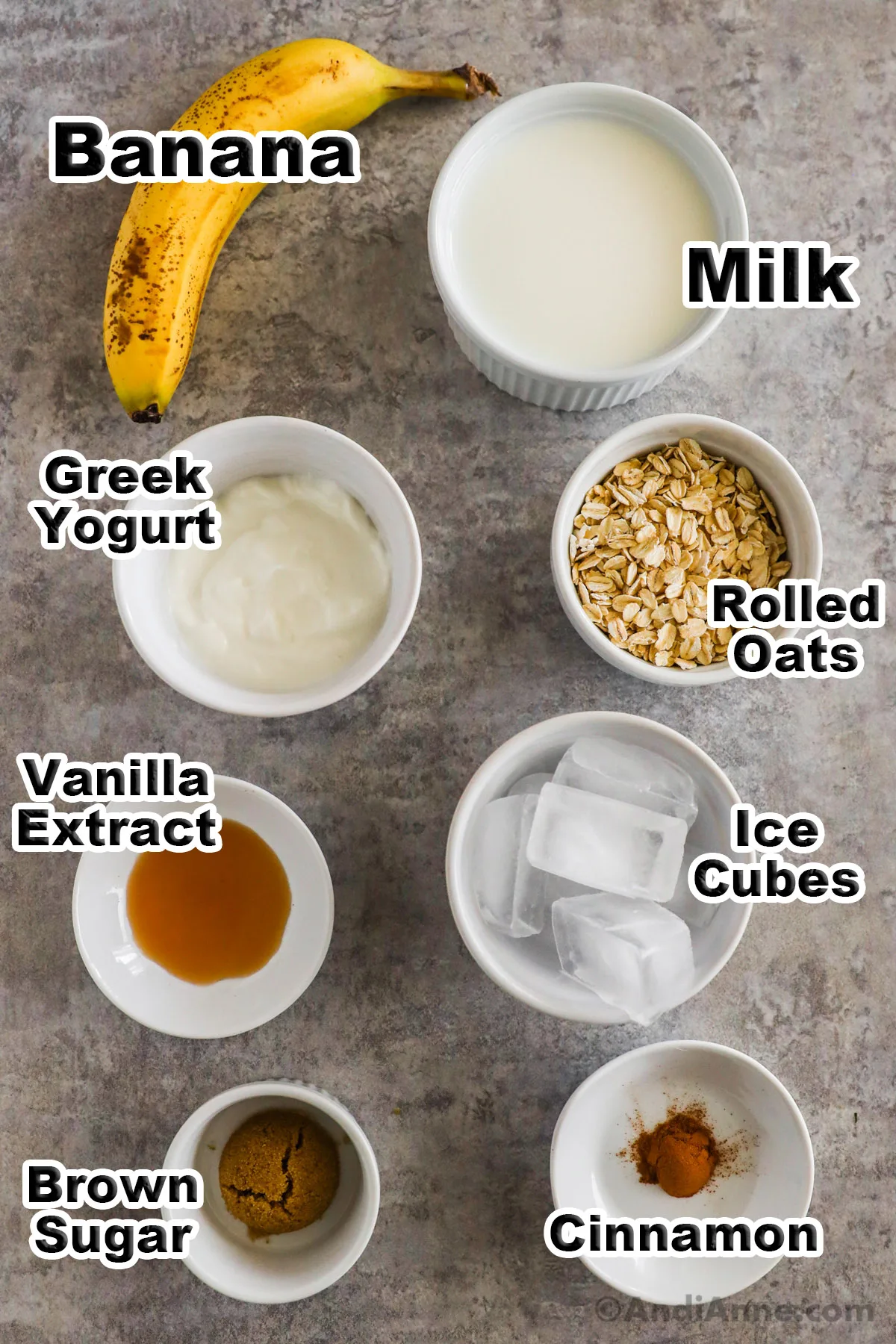 Recipe Ingredients
This smoothie is a good source of protein and fiber! Here's a list of what you'll need. Full ingredient details are in the recipe card at the bottom of this post.
OATS – Old fashioned rolled oats are filling and high in fiber. They can be blended easily to the point that they liquify and create an oat milk! Just make sure you blend a bit longer to get that consistency.
YOGURT – Personally I love to use greek yogurt in my smoothies because it's high in protein which is great to provide long lasting energy. Using plain yogurt means there's no added sugar. However, vanilla greek yogurt would taste really great too!
BANANA – You can use a ripe sliced banana or you can use frozen sliced banana. A frozen banana will give a creamier texture. To do this, just add slices of banana to a plate lined with parchment and freeze them overnight. Then add those to the smoothie.
MILK – Any type of dairy or plant-based milk will work. Feel free to use almond milk, oat milk or soy milk. Water will also do the trick!
CINNAMON – This adds the perfect cinnamon flavor. You can add it to the blender and also sprinkle a bit on top of the smoothie just before serving.
SWEETENER – I used a bit of brown sugar for sweetness to create that cinnamon bun flavor. However, you can use honey, maple syrup, coconut sugar, molasses, or monk fruit sweetener.
VANILLA – A little bit of vanilla extract adds wonderful warming flavor.
ICE – Ice is necessary to make this smoothie cold!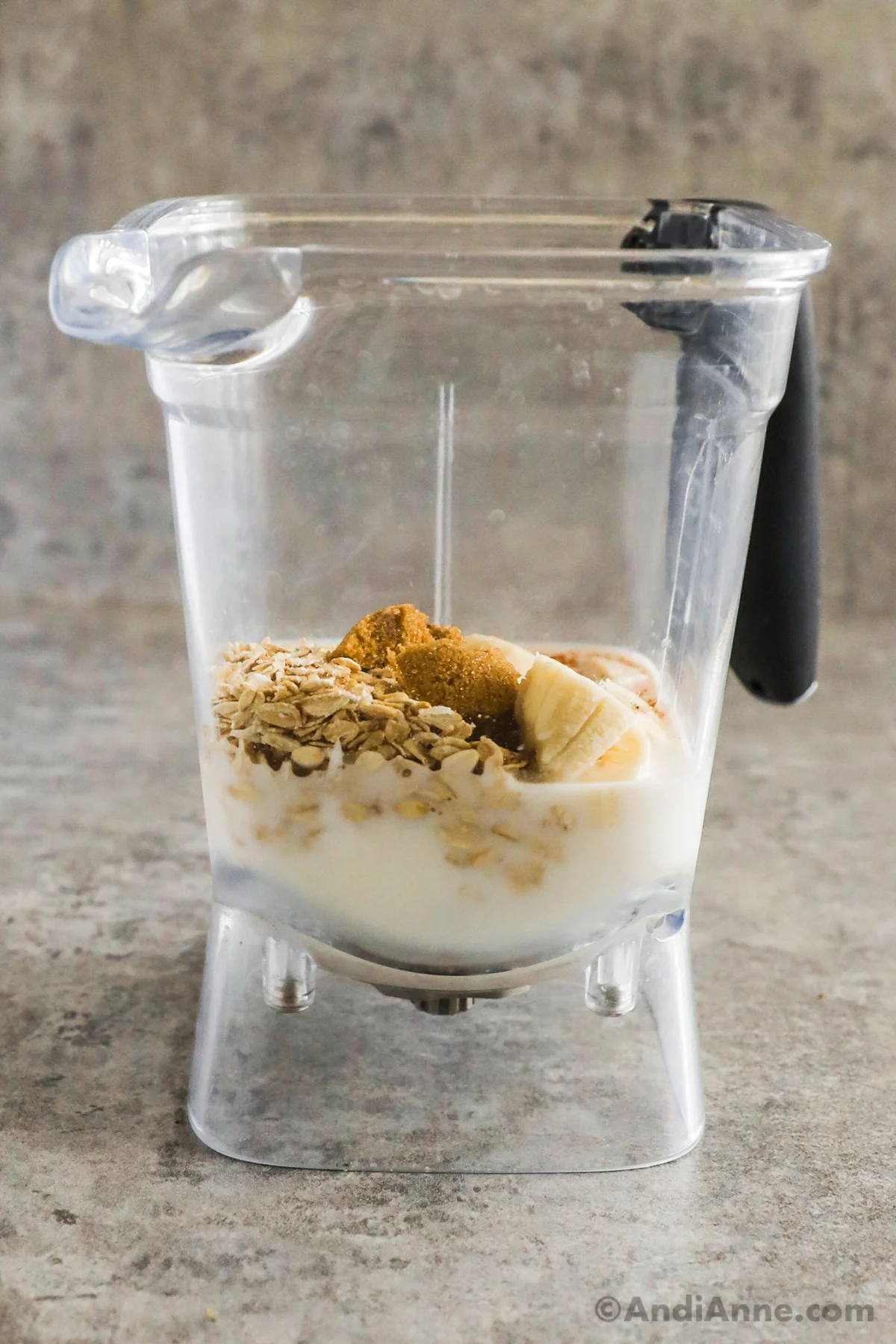 How To Make This Cinnamon Breakfast Smoothie
Making this this cinnamon bun breakfast smoothie recipe couldn't be easier. Here's an overview. Full details are in the recipe card at the bottom of this blog post.
ADD INGREDIENTS – Add all your ingredients into a high-speed blender starting with the milk, greek yogurt and ice. Add the rolled oats, sliced banana, vanilla extract, brown sugar and cinnamon on top.
BLEND – Blend all the ingredients together until everything is very smooth. This is key! You want to blend a little longer, otherwise you'll get rolled oat chunks. But if you blend for 2-3 minutes, they will totally liquify in the blender and basically turn into oat milk.
SERVE – Divide the smoothie into two separate glasses. Sprinkle a bit of cinnamon on top and serve. I prefer to drink with a straw.
Can I Store Leftover Smoothie In The Fridge?
I don't recommend storing leftovers in the fridge. The ingredients will begin to separate, and it just won't taste very good.
However, I definitely recommend freezing this smoothie! In fact, there's an easy way to make an even creamier version! Here's how to do it:
First make the smoothie in the blender using the instructions. Next, pour the liquid into two empty ice cube trays. Place these in the freezer overnight. The next day you can add the cubes to a large freezer bag and seal it tightly. This can be frozen for up to 6 months.
The next time you want a smoothie, just add a bunch of the cubes to the blender along with 1 cup of milk or water. Blend it up until it's smooth and creamy. If it's too hard to blend, add a bit more liquid.
This is an easy way to get an even creamier smoothie! So if you feel like the liquid version just isn't your think and you want it to be a thicker creamier texture, then definitely try this frozen ice cube method.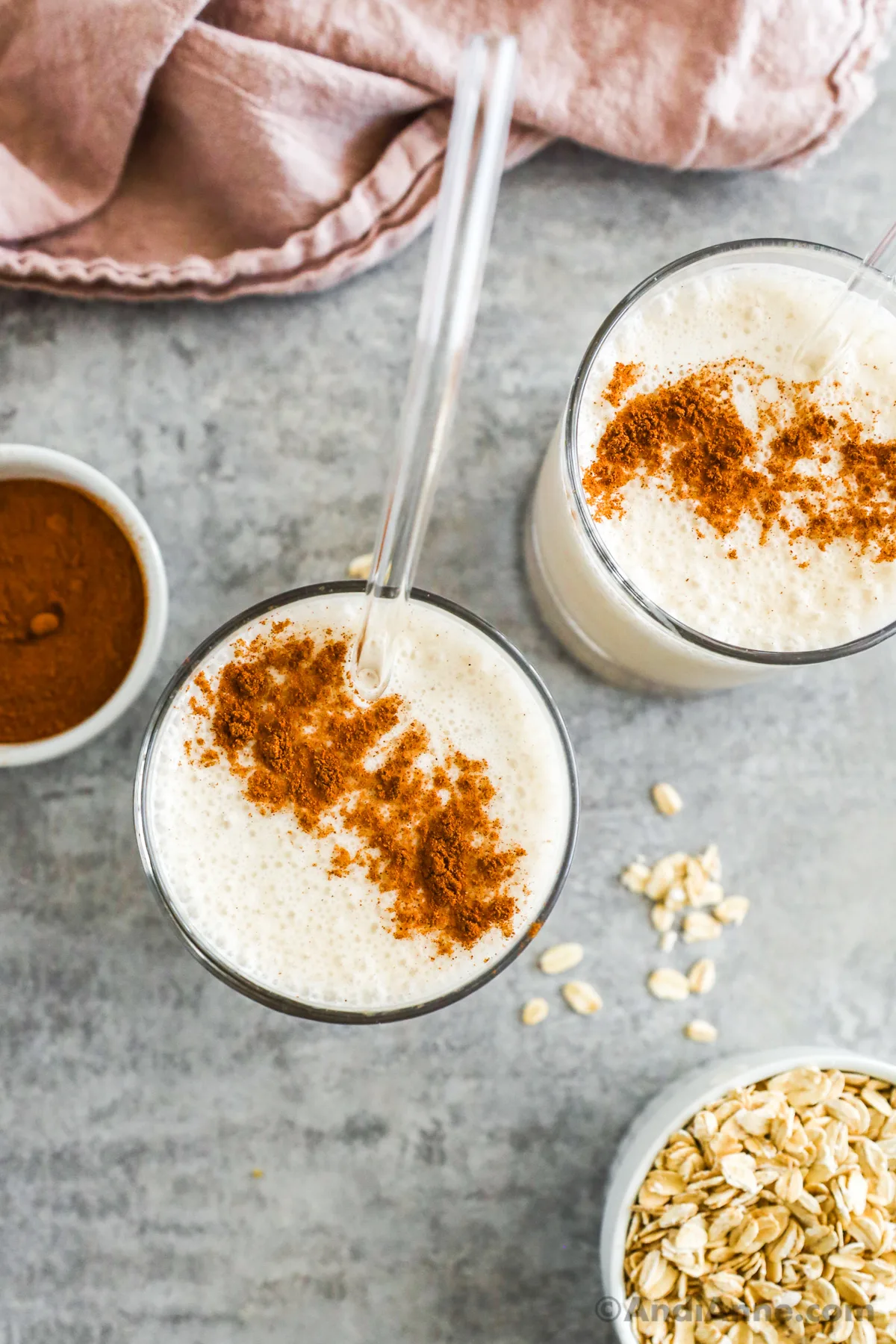 Smoothie Making Tips
Alwasy add any liquid to the bottom of the blender first. This will get all the ingredients moving once you start the blender.
For a creamier texture, you can freeze as many ingredients as you can before adding them to the smoothie. For example you can freeze yogurt and milk in ice cube trays. You can slice bananas and freeze it on a plate with parchment paper (freeze it overnight).
Or you can prep all the ingredients together then pour that liquid into ice cube trays to freeze. Add those with 1 cup of milk or water to the blender for a creamier texture.
I like to take advantage of adding superfoods to my smoothies. You can add protein powders, hemp seeds, chia seeds (a little goes a long way) and so much more! Play around with some ingredients and see what you like.
Smoothies tend to lose their magic as they cool off so plan to drink it immediately. An insulated stainless stell mug is a great way to keep your smoothie cold.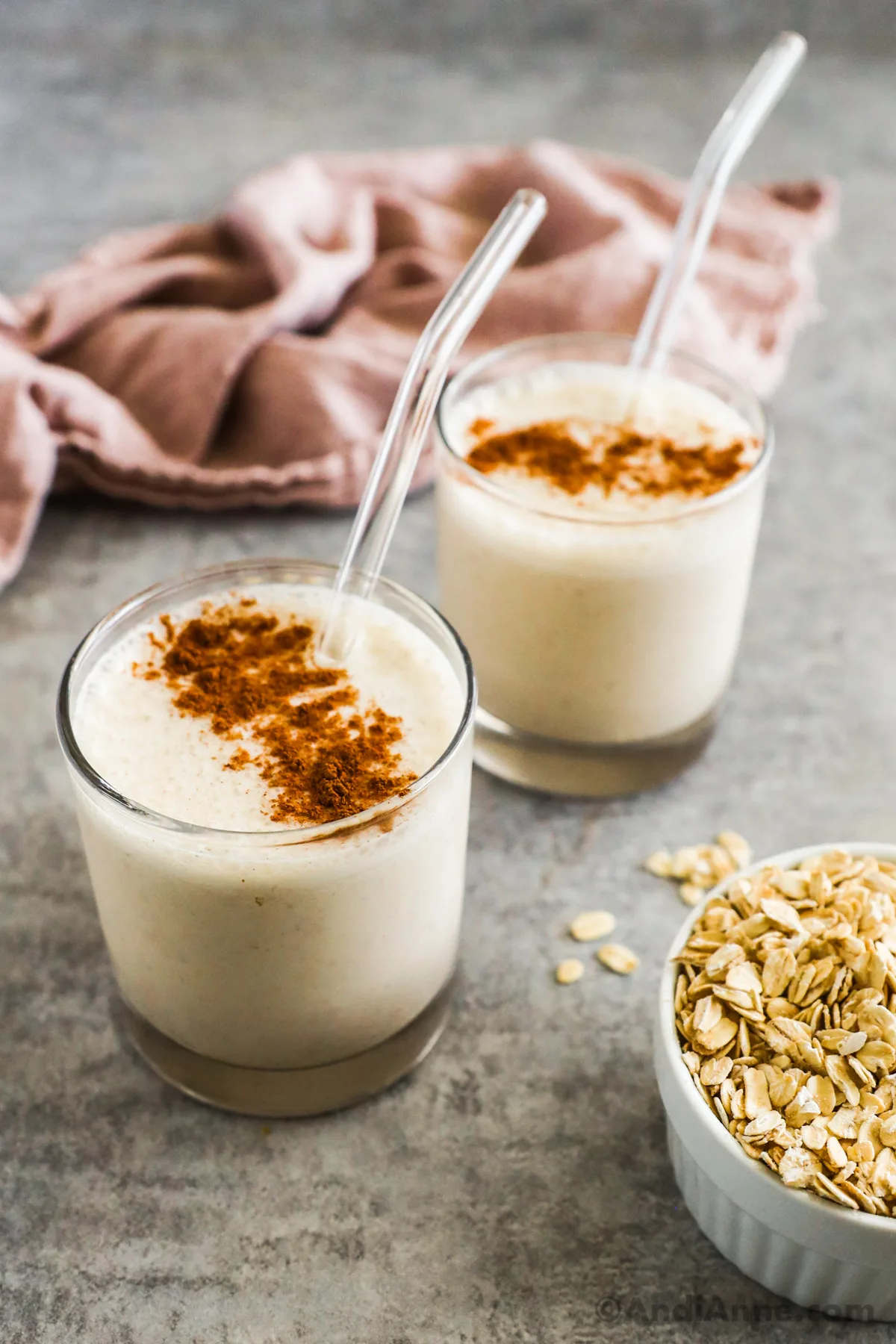 If you need an easy and filling smoothie recipe, then you must try this cinnamon breakfast smoothie. Made with easy healthy ingredients, it's perfect for that grab-and-go breakfast beverage as you head out the door.
Consider freezing this smoothie into ice cube trays and using those to make an even creamier version, as I explained in this blog post. There are so many ways to enjoy this!
For more smoothie recipes you can try my six healthy smoothies including raspberry yogurt smoothie, blueberry banana smoothie, banana chocolate smoothie, mango turmeric smoothie, or my filling green smoothie.
You can also use this smoothie recipe as a base to create a smoothie bowl like our tropical smoothie bowl or rainbow smoothie bowl loaded with fresh fruit.
You may also want to learn how to meal prep smoothie packs to help save time and drink smoothies more often. See my 6 smoothie pack recipes for some ideas.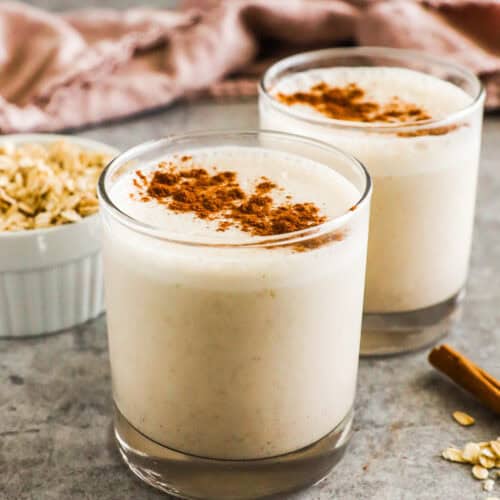 Instructions
Add all ingredients to a high-powered blender: rolled oats, banana, ice, milk, greek yogurt, brown sugar, cinnamon, and vanilla extract.

Blend for 2-3 minutes, until all the oats have blended completely. Test with a spoon to see, if not keep blending. Once everything is fully blended, pour into two glasses. Top with a sprinkle of cinnamon and serve immediately.
Nutrition
Calories:
260
kcal
|
Carbohydrates:
41
g
|
Protein:
12
g
|
Fat:
6
g
|
Saturated Fat:
3
g
|
Polyunsaturated Fat:
1
g
|
Monounsaturated Fat:
1
g
|
Trans Fat:
0.01
g
|
Cholesterol:
17
mg
|
Sodium:
74
mg
|
Potassium:
550
mg
|
Fiber:
4
g
|
Sugar:
21
g
|
Vitamin A:
239
IU
|
Vitamin C:
5
mg
|
Calcium:
233
mg
|
Iron:
1
mg