Beef cabbage roll casserole is an easy healthy dish to put together on busy weeknights. This is a deconstructed version of cabbage rolls and a family favorite.
Everything is cooked together in one pot, making clean-up easier. Rice is already mixed in so the meal is ready to serve on its own!
This is a recipe the whole family will love! Next time, I'd like to try it with cauliflower rice for a low-carb version!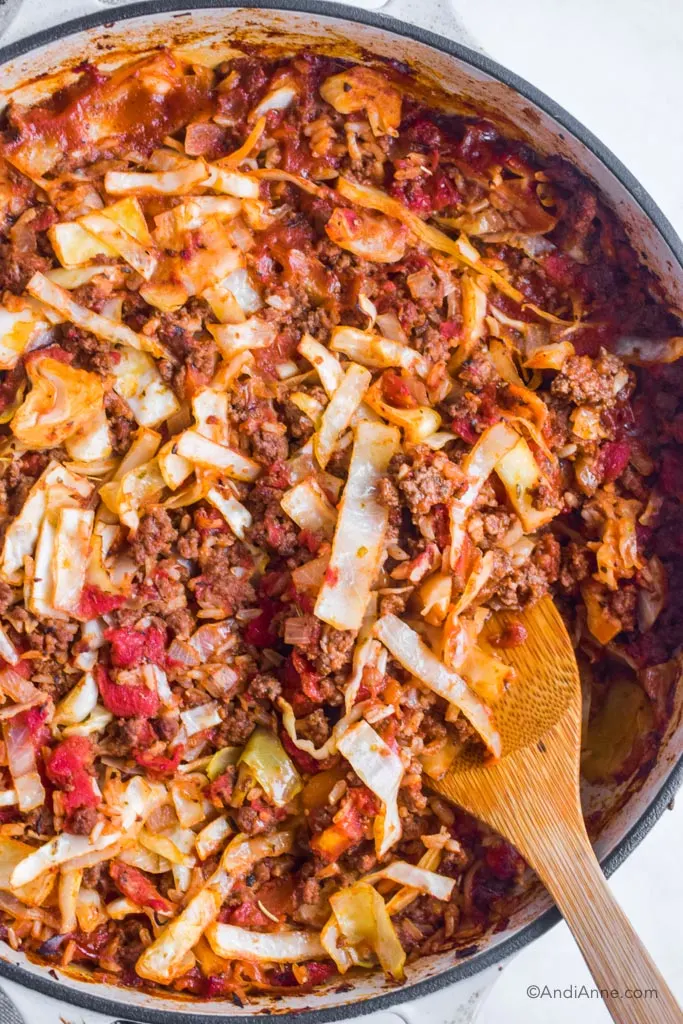 Casserole with Cabbage and Ground Beef
Need a quick, easy dinner idea? This beef rice cabbage casserole is the perfect combination. I'm a big fan of one-pot dinner recipes. Simple ingredients are cooked together in one pot or pan making cooking and clean up so much easier!
For this recipe, ground beef is browned in a frying pan and topped with a mixture of green cabbage, rice, tomatoes, and spices. This recipe is great for busy weeknights when you need something simple, inexpensive and delicious! My husband loves this recipe – leftovers also make really great lunches.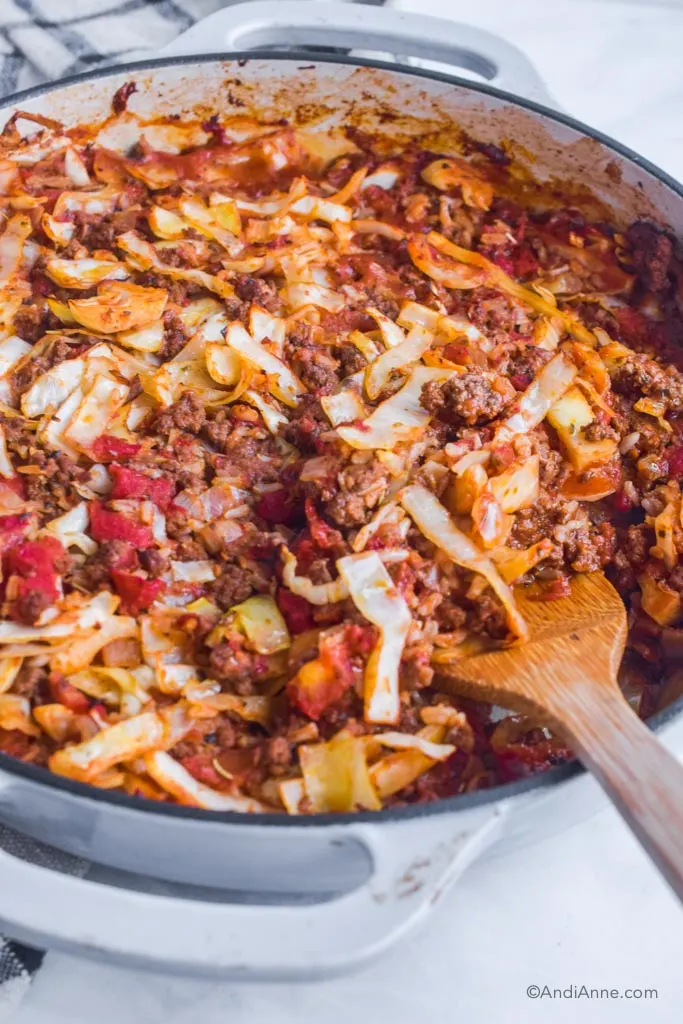 Recipe Ingredients
GROUND BEEF: You'll need 1 lb of ground beef for this recipe. You can also use lean ground turkey, ground pork or ground chicken.
RICE: I used short grain brown rice, but you can also use white rice. You'll need 1 cup of cooked rice – you can use leftover rice from another meal, or cook the rice earlier in the day in a rice cooker (this is what I did). Minute rice can also be used to save time.
CABBAGE: I love using cabbage in meals because it's healthy and inexpensive. You'll need 5 cups of cabbage leaves sliced thin. Use head of cabbage leftovers to make cabbage coleslaw. A bag of coleslaw mix can be used to save time.
ONION: One small onion diced, white onion or yellow onion will work.
SPICES: This recipe uses a few simple spices including Italian seasoning, garlic powder, salt and pepper.
TOMATOES: Save time and use 2 cans of diced tomatoes and 1 cup of crushed tomatoes, tomato sauce or spaghetti sauce. A can of tomato soup will also work in a pinch!
Equipment Used
I used a cast iron brasier which is oven safe. This makes it so easy to cook on the stove first then add the dish straight to the oven for baking.
Any oven-safe dish will work here, including a dutch oven. You could also cook the ingredients in a large skillet on the stove, then pour them into an oven-safe casserole dish or cake pan to finish the job.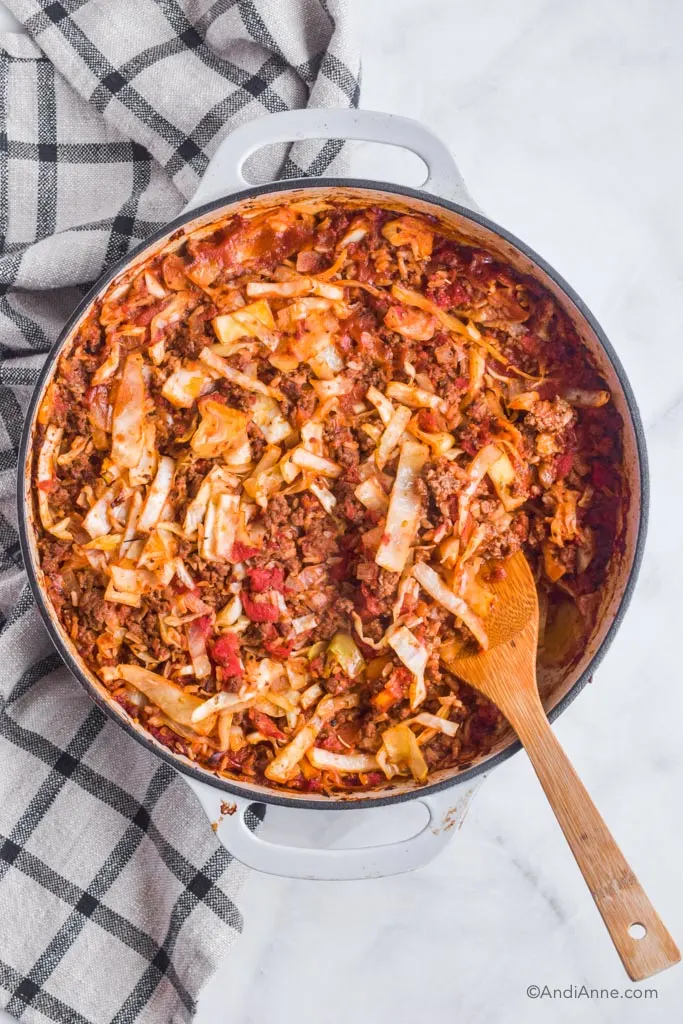 How To Make Beef Rice Cabbage Casserole
From start to finish, this recipe can be on your family's plates in about 45 minutes.
You'll need 1 cup of cooked rice for this recipe. This can be leftovers from another meal, or rice cooked in advance. I like to use a rice cooker.
I like to wash and prep all my vegetables first. For this recipe, you'll need to dice half of an onion and slice the green cabbage into thin strips.
Sautee onion in a pan on stove top until it turns translucent. Add ground beef over medium heat and cook until no longer pink.
Add chopped cabbage, cooked rice, diced tomatoes, crushed tomatoes and spices to beef mixture according to full recipe card instructions below. Mix and cook 2-3 mins.
Now transfer an oven save baking dish and bake for 30 minutes uncovered. Give a quick stir halfway through. Serve and enjoy!
Leftover casserole can be stored in an airtight container or casserole dish covered with plastic wrap in the fridge up to 3-4 days. Reheat the recipe in the oven (in the casserole dish), on the stove in a frying pan or in the microwave.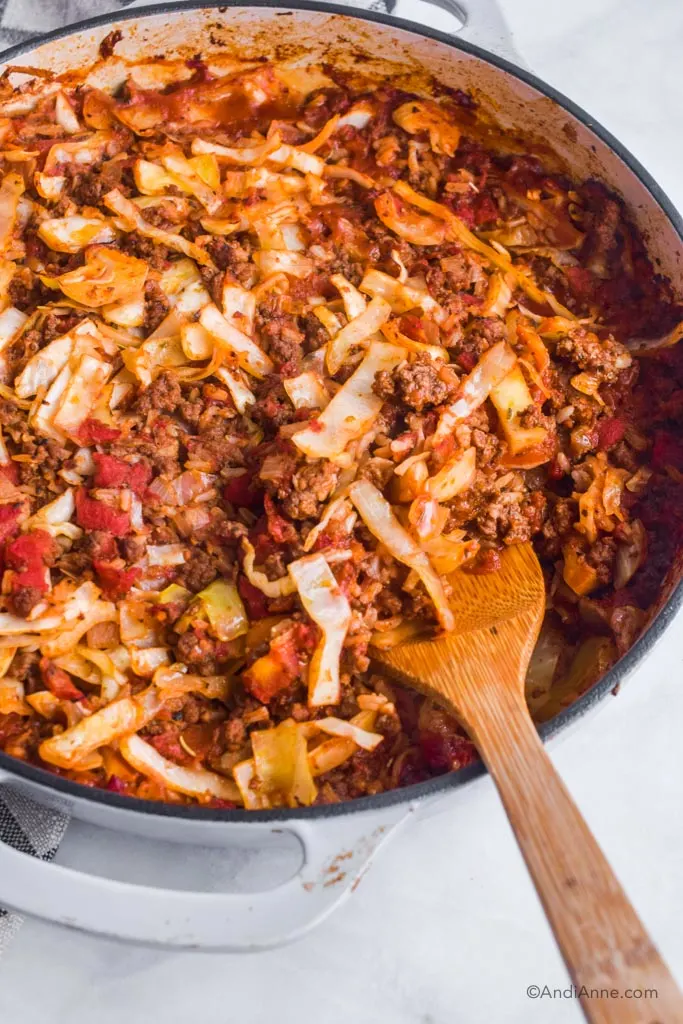 More Easy One Pot Dinner Recipes
I'm sure you'll need some more delicious dinner inspiration in your back pocket, so here are a few recipes to save for later:
Did you love this easy meal? Be sure to leave a rating below!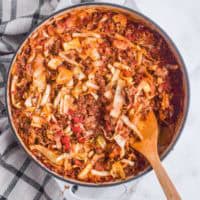 Instructions
In advance: Cook the rice according to package instructions and the way you normally do (I use a rice cooker). You'll need 1 cup of cooked rice.

Preheat the oven to 375°F.

Slice the cabbage into thin strips. You'll need 5 cups worth.

Heat a frying pan or oven-safe pot with a bit of cooking oil. Add in the chopped onion. Cook until the onion turns translucent, about 1-2 minutes.

Add the ground beef. Cook until the ground beef is no longer pink.

Add the cabbage, cooked rice, diced tomatoes, crushed tomatoes (or spaghetti sauce), Italian seasoning, garlic powder, salt and pepper. Mix together.

Cover with a lid and sautee the meat mixture for 3-5 minutes, stirring occassionally.

If using a frying pan, transfer to an oven save casserole dish (my dish is oven safe). Bake for 30 minutes, stirring halfway through.

Give a quick stir before dishing on to plates to serve.
Nutrition
Calories:
180
kcal
|
Carbohydrates:
17
g
|
Protein:
19
g
|
Fat:
4
g
|
Saturated Fat:
2
g
|
Polyunsaturated Fat:
1
g
|
Monounsaturated Fat:
2
g
|
Trans Fat:
1
g
|
Cholesterol:
47
mg
|
Sodium:
310
mg
|
Potassium:
556
mg
|
Fiber:
4
g
|
Sugar:
5
g
|
Vitamin A:
173
IU
|
Vitamin C:
26
mg
|
Calcium:
78
mg
|
Iron:
3
mg