Cheddar broccoli rice is an easy comforting side dish that is sure to become a family favorite. The combination of creamy cheddar cheese and tender broccoli florets is simply irresistible!
With its cheesy texture and delicious blend of flavors, it's no wonder that this recipe has become a staple in many households.
For more flavorful rice recipes, check out our awesome 8 easy rice recipes guide which will show you a huge variety of ways you can add more flavor to any meal using rice.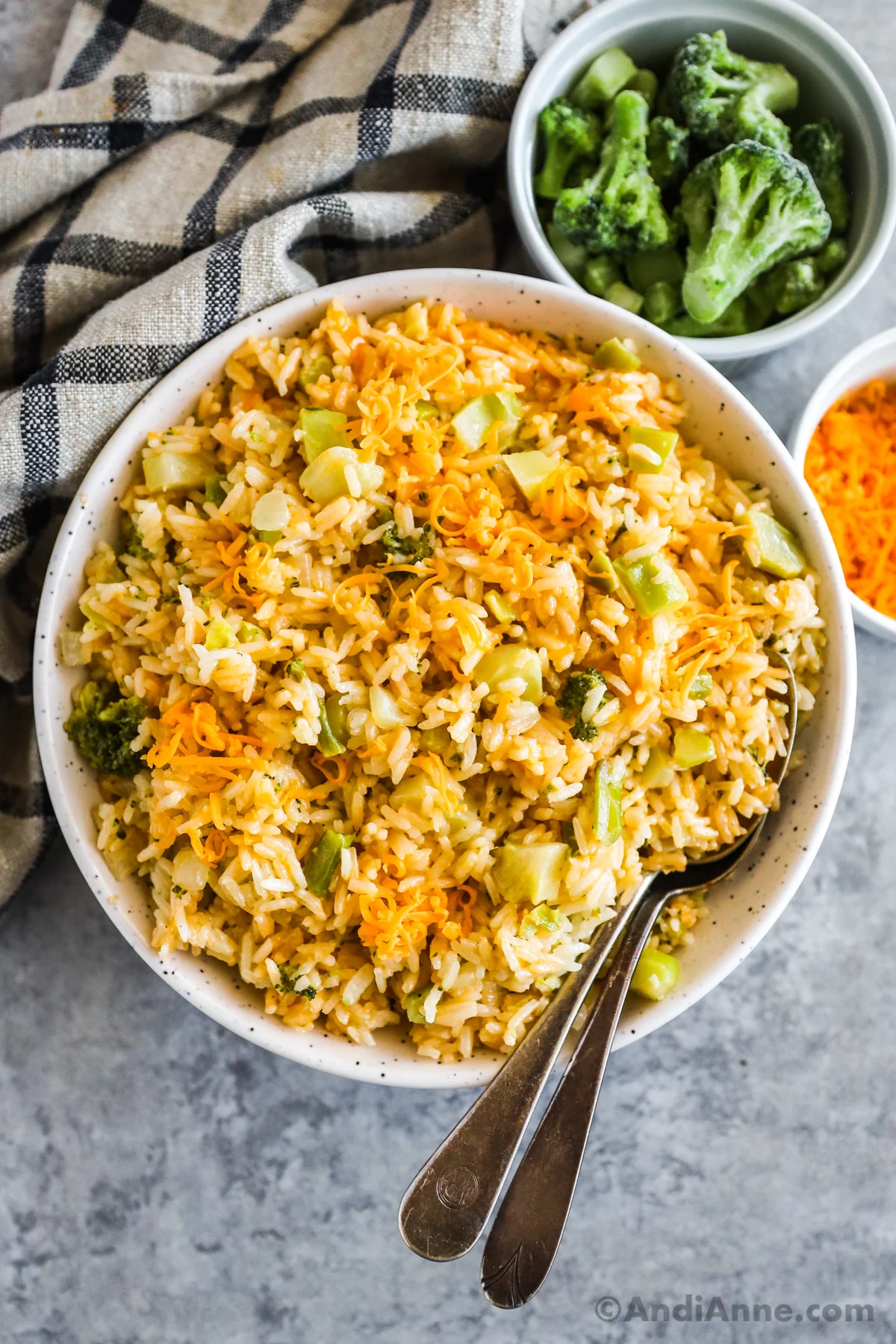 Broccoli Cheddar Rice
Whether you prefer your rice to be extra cheesy or you like to add a little spice to your broccoli, this recipe is versatile and can be adapted to suit your tastes.
EASY TO MAKE – This is a simple and easy-to-make dish that can be prepared in just a few minutes. It is a great option for busy weeknights when you don't have a lot of time to cook.
VERSATILE – This recipe can be served as a side dish or a main course. You can also add a protein like chicken or shrimp, to make it a complete meal.
BUDGET-FRIENDLY – This is made with affordable basic ingredients that you probably already have in your pantry.
DELICIOUS – It's a flavorful and satisfying dish that tends to please the whole family, including kids.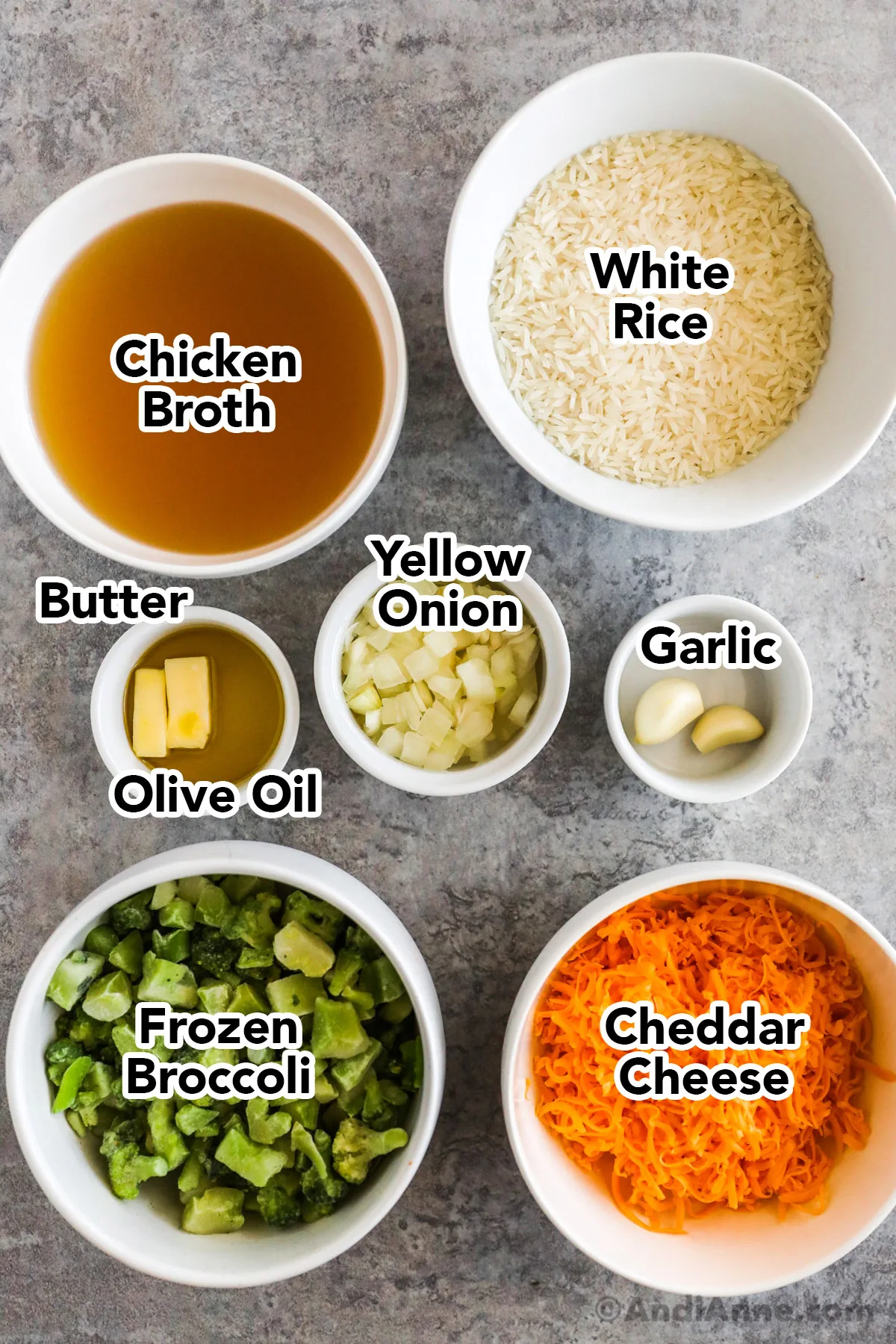 Recipe Ingredients
Here's what you'll need to make this delicious side dish, with a more detailed ingredient list included in the recipe card at the bottom of this blog post.
LONG GRAIN JASMINE RICE – This type of rice is perfect fluffy texture. However, you can substitute it with any other white rice.
BROCCOLI – I recommend using frozen broccoli because it cooks fast and is convenient. Fresh broccoli will also work but it will take longer to cook. Make sure to chop the pieces very small.
CHEDDAR CHEESE – Shredded cheddar adds a rich and creamy flavor to the dish. You can also use any other type of cheese that melts well, such as Gouda or Monterey Jack.
CHICKEN BROTH – Chicken broth adds so much flavor to the rice as it soaks up while cooking. Vegetable broth will also work. Water can also be used but the rice will have a different taste.
SALTED BUTTER – This adds a salty buttery flavor to the rice that is not to be missed!
OLIVE OIL – Olive oil is used to sauté the chopped broccoli. You can use any other cooking oil of your choice, including vegetable oil, canola oil, coconut oil or avocado oil.
GARLIC POWDER – Adds a nice flavor. If you don't have garlic powder, you can use minced garlic.
SALT AND PEPPER – Used to season the rice just before serving.
Variations and Substitutions
VEGGIES – If you don't have broccoli, you can substitute it with other frozen vegetables such as frozen cauliflower, asparagus, or green beans.
CHEESE – Swap the cheddar with any other shredded cheese favorite including mozzarella, Colby Jack, Monterey Jack, or Gouda. Add cream cheese and grated parmesan for a creamier option. If you're looking for a vegan option, try using vegan cheddar cheese or nutritional yeast.
RICE – The jasmine rice can be swapped with any other white rice. Brown rice or even quinoa can also be used, but the cooking time will need to be adjusted.
CHOPPED ONION – Finely chopped onion can be sauteed with broccoli. Shallots or leeks would also taste great!
BUTTER – If you don't want to use butter, you can use margarine or olive oil instead. If you're looking for a vegan option, try using vegan butter or coconut oil.
PARMESAN CHEESE – Add a sprinkle of parmesan cheese on top just before serving for a more savory flavor.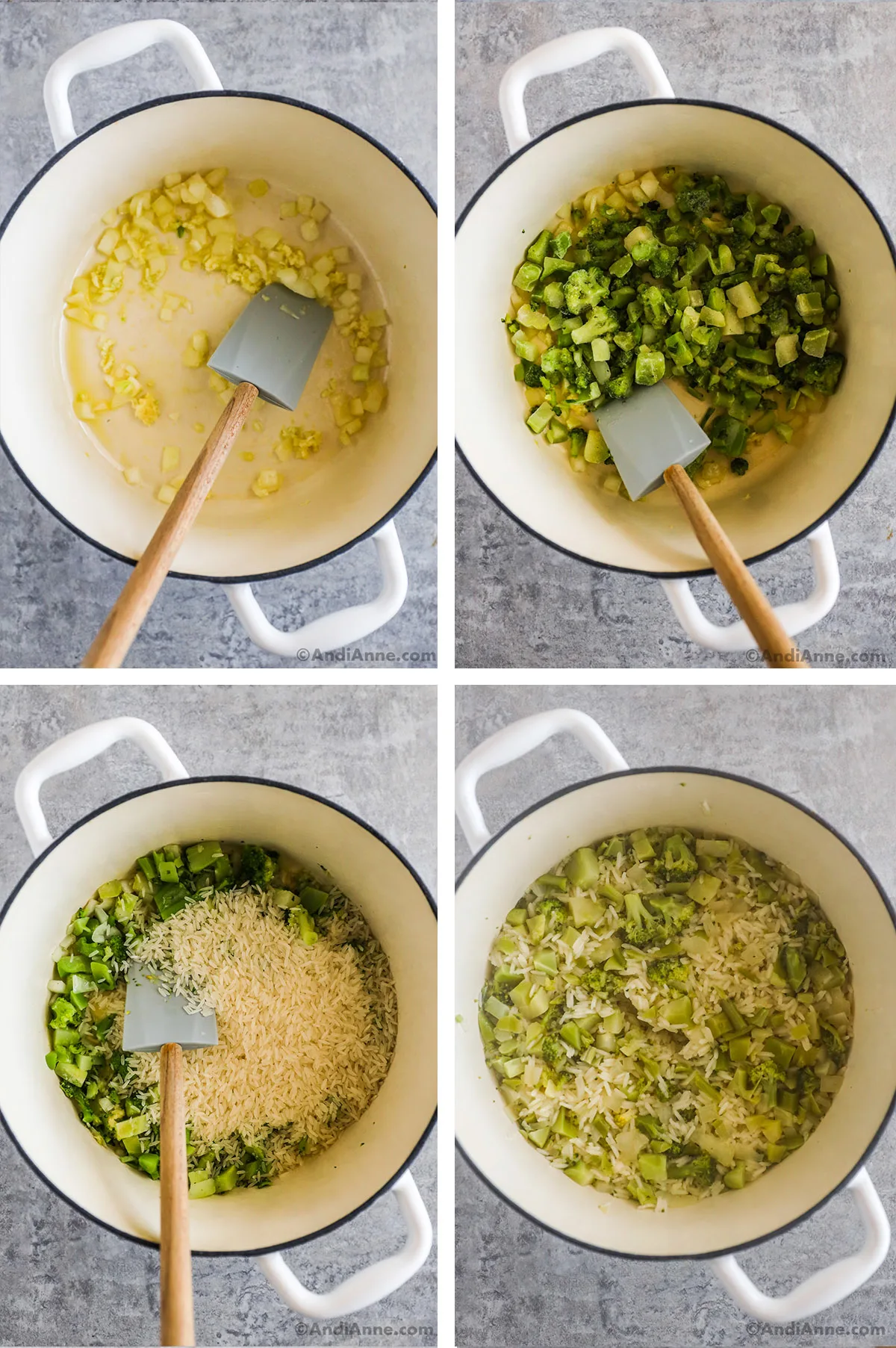 How To Make Cheddar Broccoli Rice
This recipe couldn't be easier to make! With just a few simple ingredients, you have this absolutely delicious, cheesy dish ready to serve in no time.
Here's an overview of how to make this easy recipe with the full instruction details in the recipe card at the bottom of the post:
SAUTE – Heat a large pot with the salted butter and olive oil. Add in the chopped onion and minced garlic. Cook until the onion turns translucent, about 1-2 minutes.
COOK BROCCOLI – Place broccoli and cook for 1 minute.
ADD RICE – Next, add in the white rice and lightly toast for 1-2 minutes. This adds flavor to the rice.
COOK RICE – Next add in the broth, and give the ingredients a quick stir. Cover the pot and turn the heat to low. Let the pot simmer until all of the liquid has disappeared. It is important to not stir during this step, or the rice will become mushy.
LET SIT – Remove the rice from the heat and let it sit covered for 5-10 minutes. This will steam the rice and make it more tender.
FLUFF – Next, add in shredded cheese and the last 1 Tbsp of butter. Now you can take a fork to fluff and gently mix the ingredients together.
How To Store Leftover Rice
Let the rice cool completely to room temperature before adding it to the fridge or freezer. Here are some tips on how to store your leftovers:
FRIDGE: Store leftover rice in an airtight container in the fridge for up to 4 days.
TO FREEZE: Place the cooled rice in a freezer-safe container or ziplock bag and remove as much air as possible before sealing to prevent freezer burn. This recipe can be stored frozen for up to 3 months.
TO THAW: Place the frozen rice to thaw in the fridge overnight. Alternatively, you can microwave it on the defrost setting or reheat it directly from frozen.
TO REHEAT: To reheat leftovers, you can use the microwave, stovetop, or oven:

MICROWAVE: Place the rice in a microwave-safe dish, cover it with a damp paper towel, and microwave on high for 1-2 minutes, or until heated through.
STOVETOP: Heat the rice in a non-stick pan over medium heat, stirring occasionally, until heated through. Add a splash of broth or water while cooking to add moisture back to the rice.
OVEN: Leftovers can also be baked in the oven to create a cheesy broccoli rice casserole. Preheat the oven to 350°F. Place the rice in an oven-safe dish, cover with foil, and bake for 15-20 minutes, or until heated through. Sprinkle with more cheddar cheese and serve.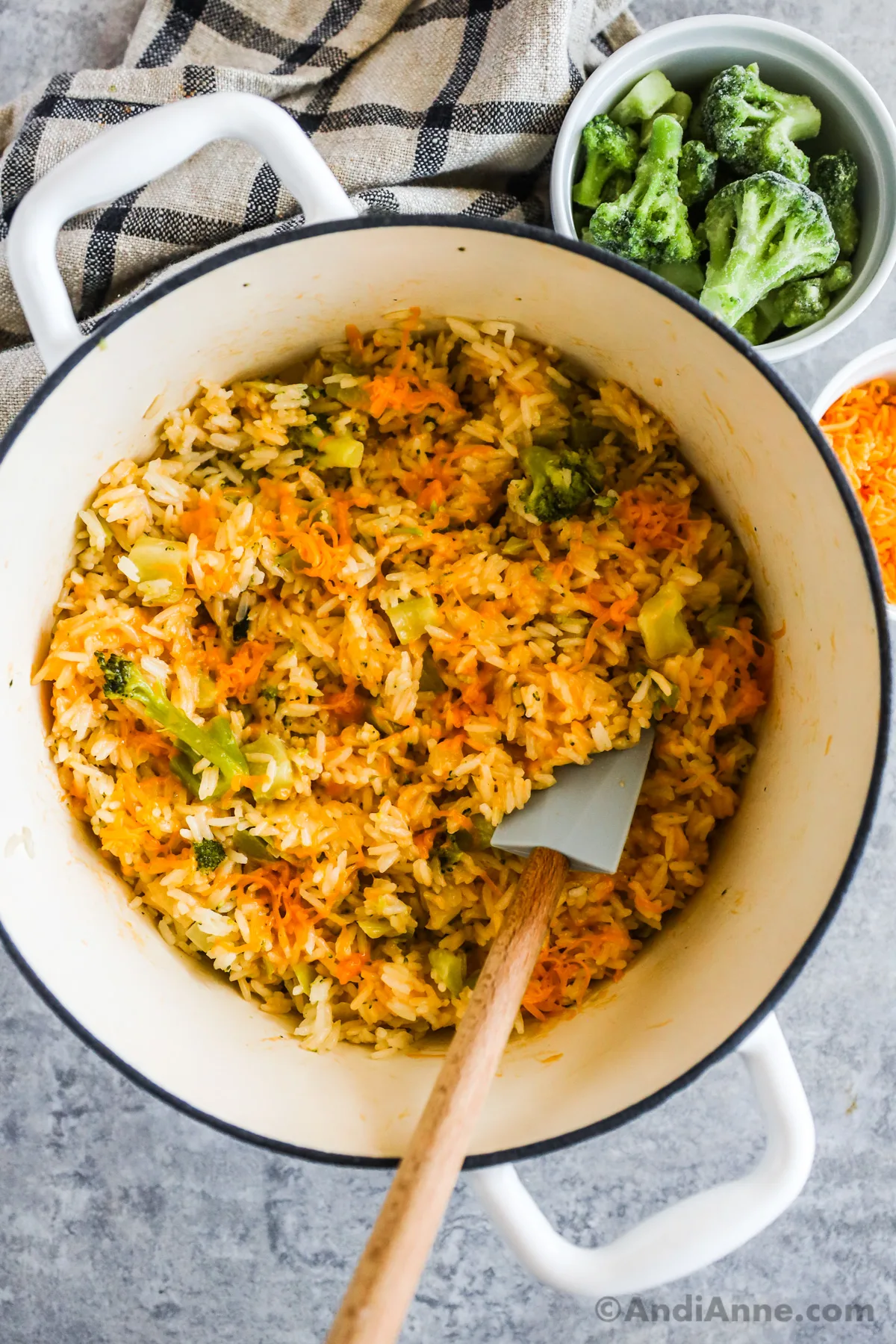 Recipe Tips
USE FROZEN BROCCOLI PIECES – It's already cooked and chopped, making it much easier to use. Fresh broccoli can also be used but will take longer to cook. Make sure to chop it into small pieces and sautee until it's tender crisp (soft but still tender when poked with a fork).
USE SHARP CHEDDAR CHEESE – I find that it adds a more flavorful and robust taste. The sharpness of the cheese will complement the broccoli and rice perfectly.
ADD SOME SPICES – This recipe is pretty simple. For more flavor, you can add some paprika, cumin, mustard powder, or red pepper flakes.
USE LONG GRAIN RICE – It just works the best for this recipe. It has a fluffy texture and cooks best with broccoli and cheddar cheese. Avoid using short-grain rice or sticky rice as they have a different texture and flavor and may turn out too mushy.
DON'T STIR DURING COOKING – While the rice is cooking with liquid, do not stir as this will create mushy rice. Check to see if all the liquid has disappeared by using a spoon to scoop a bit of the rice to the side. If you don't see any liquid at the bottom of the pan, you're good to go.
Serving Suggestions
Whether you are looking for a side dish or a main course, here are a few ideas to inspire you:
WITH PROTEIN – Serve with baked chicken breast (try our amazing chicken marinades), rotisserie chicken or shrimp for a complete meal.
TOPPINGS – Sprinkle some crispy bacon bits or breadcrumbs on top for added crunch.
SIDE VEGGIES – Pair with roasted vegetables or side salad.
BREAD – Serve with a side of garlic bread or dutch oven bread.
Why Is My Rice Mushy and Sticky?
It's possible that you added too much liquid, or overcooked the rice. The type of rice and brand you select can both impact the quantity of liquid required.
Next time you try making this rice, try using 1/4 cup less liquid and see if it fixes the issue. Gradually reduce the quantity of liquid added each time until you achieve the desired texture.
Moreover, avoid stirring the rice excessively while it's cooking since this can create a soft and mushy rice consistency.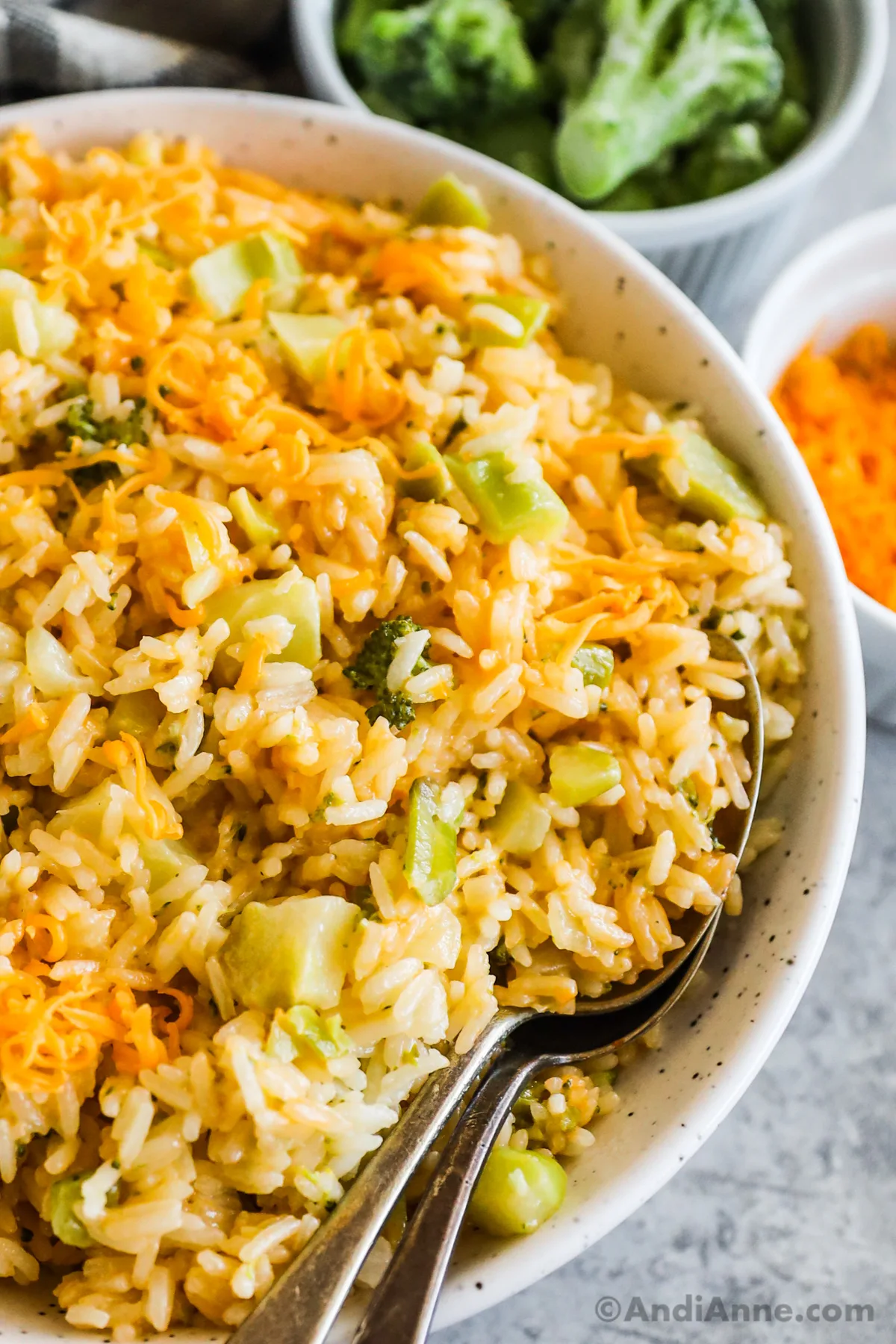 Overall, this cheddar broccoli rice recipe is a great option for a quick and easy weeknight dinner. It's also a great way to use up any leftover rice or vegetables you may have in your fridge. So go ahead and give it a try – we're sure you won't be disappointed!
More Rice Recipes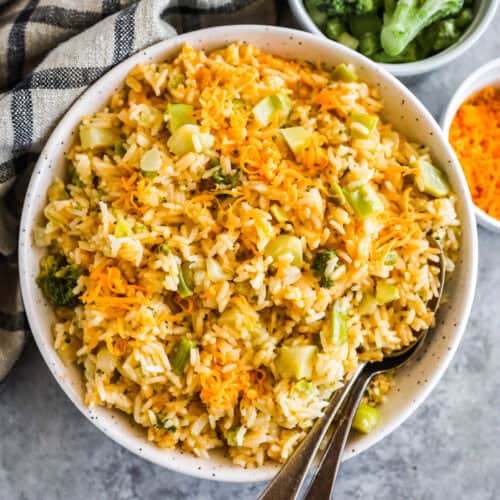 Ingredients
1

Tbsp

olive oil

1

Tbsp

salted butter

4

minced garlic cloves

¼

cup

chopped yellow onion

1 ½

cups

uncooked white jasmine rice -

or other white rice

2 ½

cups

chicken broth -

or vegetable broth or water

2

cups

frozen chopped broccoli

-

cut into bite sized pieces

1 ½

cups

shredded cheddar cheese

1

Tbsp

salted butter
Instructions
Heat a pan over medium-high heat with 1 Tbsp butter and olive oil. Saute the chopped onion and garlic until the onion turns translucent, about 1-2 minutes.

Add the frozen broccoli and cook 2 minutes.

Add in the rice and lightly toast for 1-2 minutes.

Add the chicken broth and stir ingredients together. Cover the pot with a lid and turn heat to low. Let simmer until all liquid has disappeared (do not stir during this step). Remove from heat and let sit 5-10 minutes covered to steam rice.

After that, add the last 1 Tbsp butter and sprinkle the cheese on top.

Gently mix the ingredients together. Serve and enjoy!
Recipe Notes:
DON'T STIR – Never stir the rice while it's boiling in the broth. This will activate the starch and result in mushy soggy rice.
RINSE RICE FIRST – Rinse long-grain rice before you cook to release excess starch. Just add it to a fine mesh strainer and rinse under cold water. Rinsed rice can be added right to the pot.
LOW HEAT – First, bring the liquid to the beginning of a boil, then let the rice simmer on low heat until all of the liquid is absorbed by the rice.
Nutrition
Calories:
356
kcal
|
Carbohydrates:
40
g
|
Protein:
11
g
|
Fat:
16
g
|
Saturated Fat:
8
g
|
Polyunsaturated Fat:
1
g
|
Monounsaturated Fat:
5
g
|
Trans Fat:
0.2
g
|
Cholesterol:
40
mg
|
Sodium:
591
mg
|
Potassium:
196
mg
|
Fiber:
1
g
|
Sugar:
1
g
|
Vitamin A:
591
IU
|
Vitamin C:
27
mg
|
Calcium:
232
mg
|
Iron:
1
mg