Chicken Pineapple Rice Salad
Disclosure: This post may contain affiliate links.
Chicken pineapple rice salad is a delicious all-in-one salad recipe that's served cold. Chopped cooked chicken, rice, crushed pineapple, shredded carrots and green onion are served in a tangy and creamy sauce.
Serve it alongside an easy picnic or barbecue with marinated pork chops, hamburgers, barbecued chicken drumsticks, our strawberry spinach salad, or the cold marinated vegetable salad, and our easy pasta Hawaiian macaroni salad.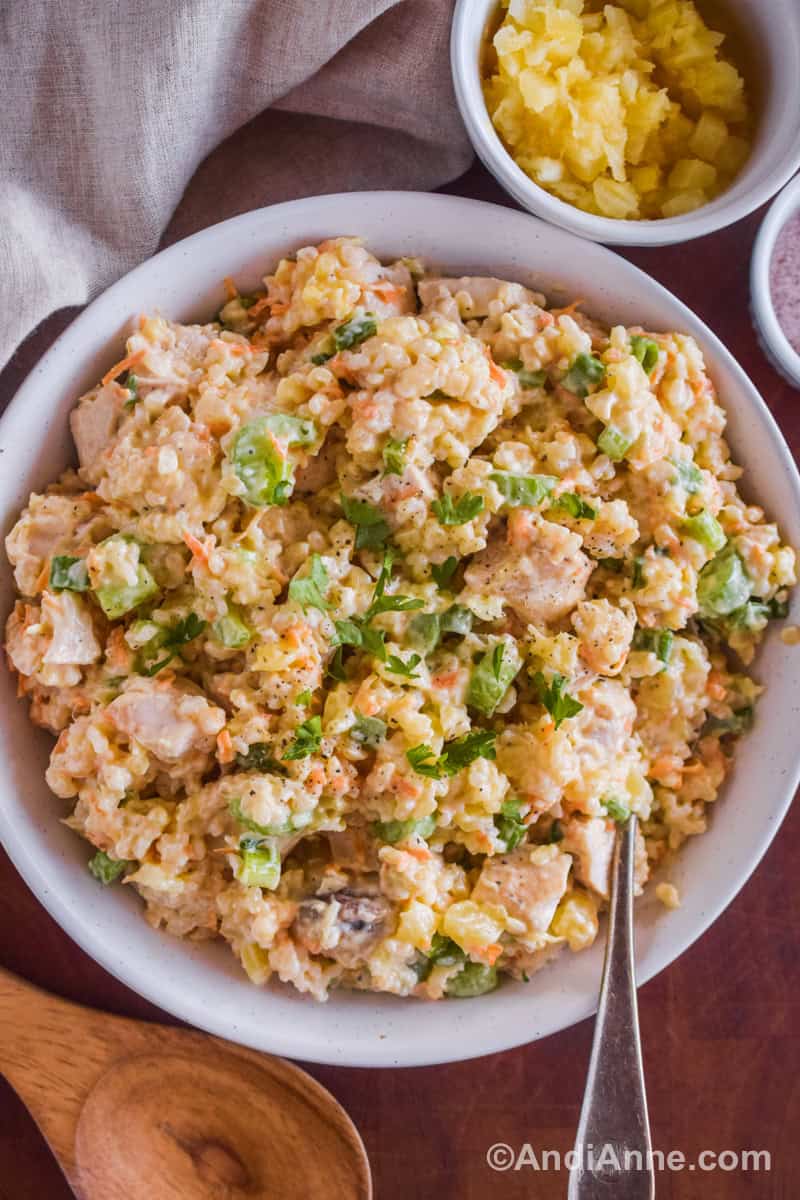 Easy Cold Salad
This is an easy and flavorful salad that uses simple ingredients you probably already have in your kitchen.
A little olive oil and red wine vinegar, plus some mayonnaise is all that's needed for flavor.
You can prep the recipe ahead of time and store it in the fridge until you're ready to serve.
This salad is served cold, making it the perfect recipe to serve at picnics, potlucks and barbecues.
Use up leftover rice and cooked chicken from other meals as the base of this salad. Or divide into smaller portions for easy lunches throughout the week.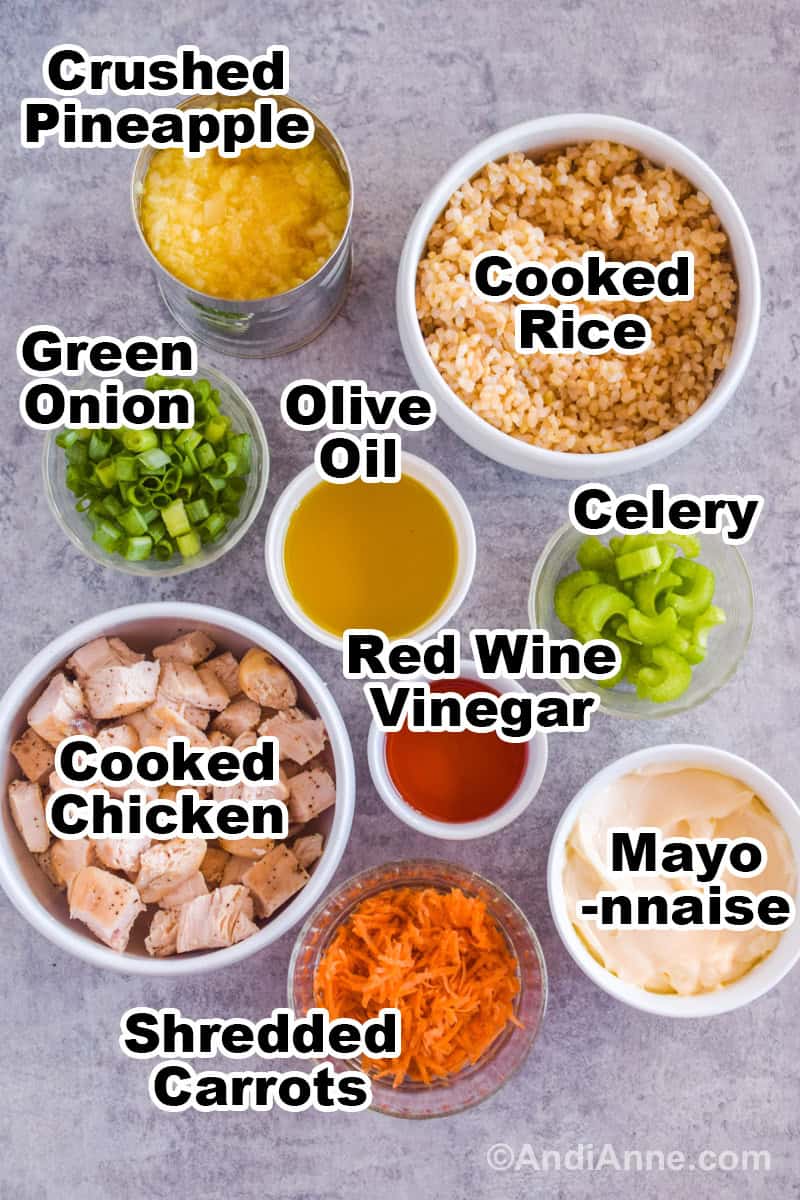 Recipe Ingredients
CHICKEN: Two cups of chopped cooked chicken is needed for the salad. I highly recommend brining the chicken before baking as it adds incredible flavor! Leftover chopped chicken or store-bought roasted chicken that's shredded will also work.
For more baked chicken recipes see our orange ginger chicken recipe, easy ranch chicken, and the flavorful everything bagel chicken breasts with greek yogurt dressing.
RICE: You'll need two cups of cooked white rice or brown rice for the recipe. Wild rice like Lundberg's wild blend would also be a lovely addition. It's flavorful and can also be added to our mushroom wild rice stuffing. If using different rices, be sure to cook separately using the package instructions as some can take longer to cook.
PINEAPPLE: Canned pineapple is easy to use and naturally sweet. This recipe uses 1 cup of crushed pineapple that is drained thoroughly (no liquid). Feel free to also use pineapple chunks if preferred.
We love using canned pineapple in a variety of recipes including our pineapple chicken sheet pan dinner, sweet potato pineapple casserole with marshmallows, and the strawberry pineapple cake.
VEGETABLES: Chopped green onion and shredded carrots are so easy and simple.
DRESSING: Olive oil and red wine vinegar are mixed together to create a simple marinade for the rice. Then mayonnaise is tossed with all ingredients to create the perfect creaminess.
How To Make Chicken Pineapple Rice Salad
Cook the rice and cook the chicken breasts (see our easy brined chicken recipe for best flavor).
Mix the cooked rice with oil, vinegar and green onion. Refrigerate four hours to let the rice absorb all of the marinade. See the full instructions in the recipe card below.
Once chilled, add in the chicken, pineapple, carrots, celery and mayonnaise. Mix everything together and refrigerate until salad is fully chilled. Serve and enjoy!
Leftover salad can be stored in an airtight container in the fridge up to 3-4 days. This salad is served cold and should be kept in the refrigerator until you're ready to serve.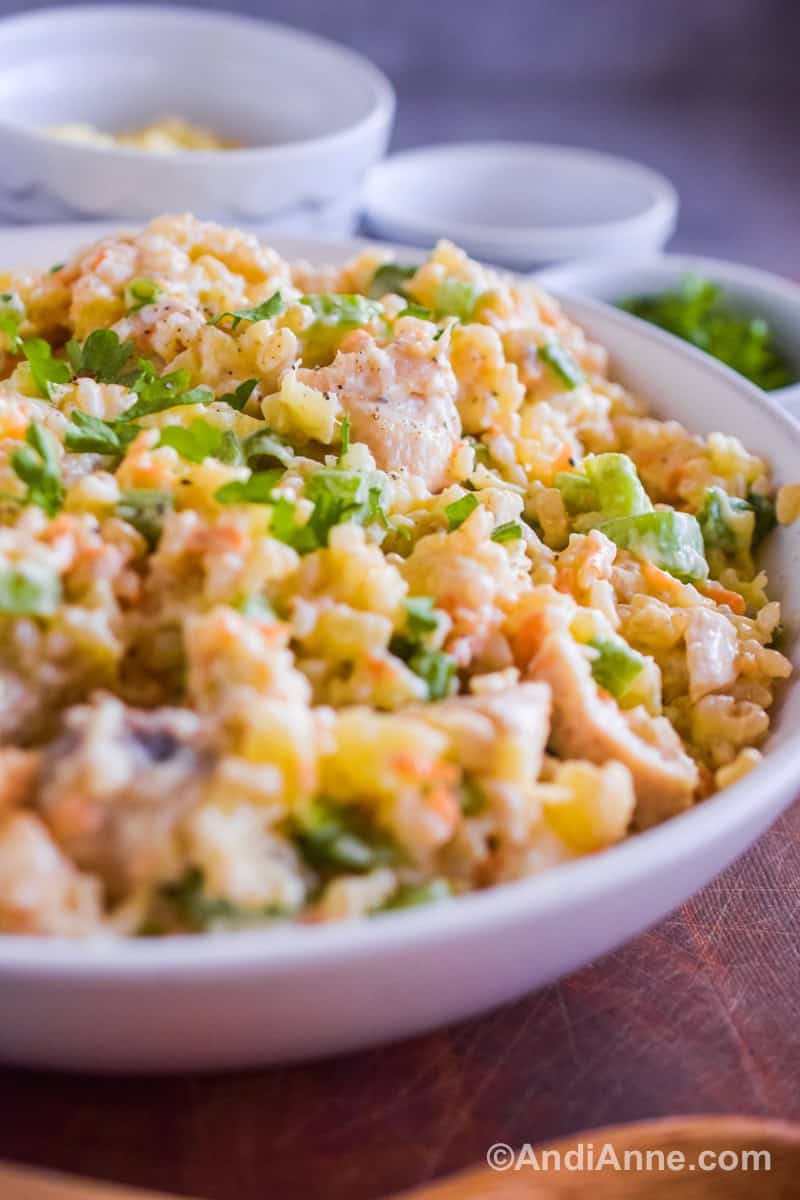 Recipe Tips
Brining the chicken is an easy step that adds maximum flavor. This will create juicier, tender chicken. It only takes 15 minutes to do and it's worth it! Use my easy brined and baked chicken breast recipe for maximum flavor.
Don't want to cook the chicken? Buy a store-bought rotisserie chicken and shred it with a fork.
Cook the rice in advance to help save time. I prefer to make time consuming things for recipes the day before. For example, I'll cook the rice and bake the chicken breasts the night before. Store them in the fridge, then prep the full recipe the next day.
Drain as much liquid from the canned pineapple as possible. It can be added to a fine-mesh strainer with a bowl underneath for 15 minutes. Move the pineapple around with a spoon to help remove more juice.
If you don't have a cheese grater to shred the carrots, you can use ½ cup of coleslaw pre-mix or store-bought shredded carrots. This will also save prep time.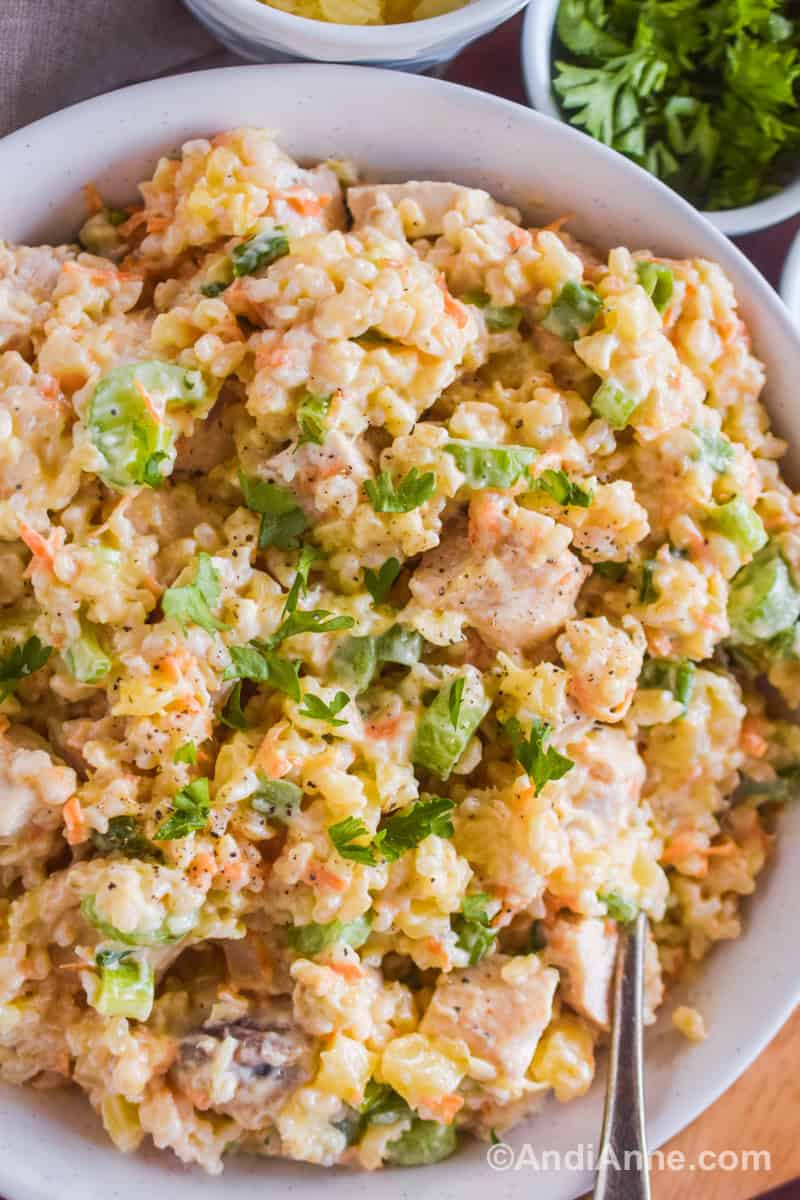 More Salad Recipes
Here are some more salads that are perfect for picnics, barbecues and potlucks!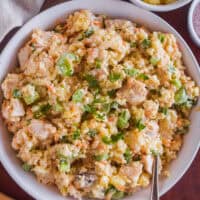 Chicken Pineapple Rice Salad
Chicken pineapple rice salad is a delicious all-in-one salad recipe that's served cold.
Print
Pin Recipe
Instructions
Cook 1½ cups of uncooked rice according to package instructions. I used a rice cooker. You can also cook on the stove. This will produce approx. 2 cups of cooked rice

Bake the chicken breasts using our brine and bake chicken recipe instructions here. A store-bought roasted chicken will also work. Chop into

Chop the chicken into bite-sized pieces. Reserve 2 cups of chopped chicken for this recipe.

Grate the carrots and chop the green onions.

Add 2 cups of cooked rice, chopped green onion, red wine vinegar, and olive oil to a bowl. Mix together, cover and place in the fridge to chill a minimum 4 hours, but preferably overnight. Stir every hour or so until all liquids are absorbed.

Once chilled, add cooked chopped chicken, drained crushed pineapple, grated carrots, celery, and mayonnaise. Season with salt and pepper. Mix together and chill another 2 hours before serving.
Nutrition
Calories:
438
kcal
|
Carbohydrates:
25
g
|
Protein:
16
g
|
Fat:
29
g
|
Saturated Fat:
4
g
|
Polyunsaturated Fat:
1
g
|
Monounsaturated Fat:
7
g
|
Cholesterol:
40
mg
|
Sodium:
206
mg
|
Potassium:
250
mg
|
Fiber:
1
g
|
Sugar:
6
g
|
Vitamin A:
1898
IU
|
Vitamin C:
6
mg
|
Calcium:
29
mg
|
Iron:
1
mg