Chocolate Avocado Nice Cream
Disclosure: This post may contain affiliate links.
Give this chocolate avocado ice cream a try, and I promise you'll be hooked. Avocados are the perfect rich and creamy texture for this no-churn ice cream! This recipe is sweetened with maple syrup, dairy-free, and nut-free. Plus it's delicious and much healthier for you and your kiddos than the store bought versions.
Nothing beats a chocolate treat on a warm sunny day (or a cold winter one for that matter). I love chocolate and so does the rest of my family. But we all know that the store bought stuff is usually full of processed sugars. And if you're buying quality chocolate – it comes at a price.
So this chocolate avocado ice cream is the perfect treat to give a try! Your whole family will love the chocolatey richness of it, and they'll be asking, "this is healthy!?" Plus, you can't even taste the avocados! So if your kids aren't a big fan of them, this is a great way to sneak them in.
Healthy might be a bit of a stretch for ice cream, but it is definitely HEALTHIER for you than most desserts! And if you're like me, and you want your sweet treats to take 10 minutes or less to make, then you've gotta give this one a try.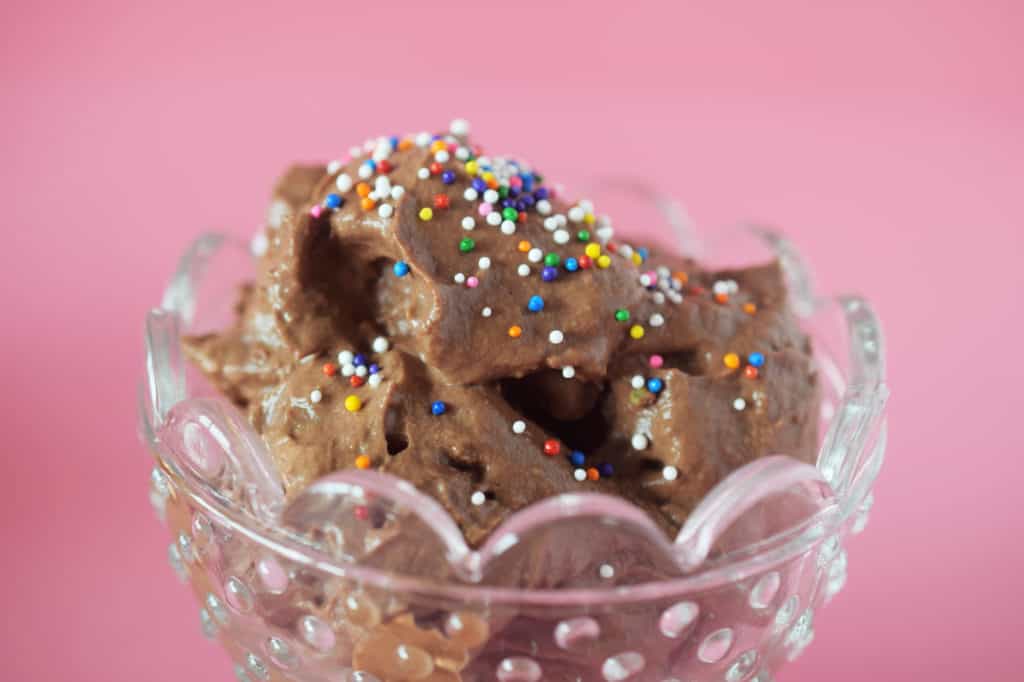 To make the recipe you're using some pretty healthy ingredients! Cocoa powder, maple syrup, vanilla extract and coconut milk. But the secret is in the avocados… that's where the rich, creamy texture comes from. Without them, this recipe just wouldn't be the same.
HOW THE CHOCOLATE AVOCADO ICE CREAM RECIPE IS MADE:

This recipe is so simple. First, you add all the ingredients to a food processor: coconut milk, avocados, cocoa powder, maple syrup and vanilla extract. Then you blend until the mixture is smooth and creamy. You might have to use a spatula to scoop down the sides to catch any avocado pieces.
Also, if you don't have a food processor, you can try this in a high-speed blender.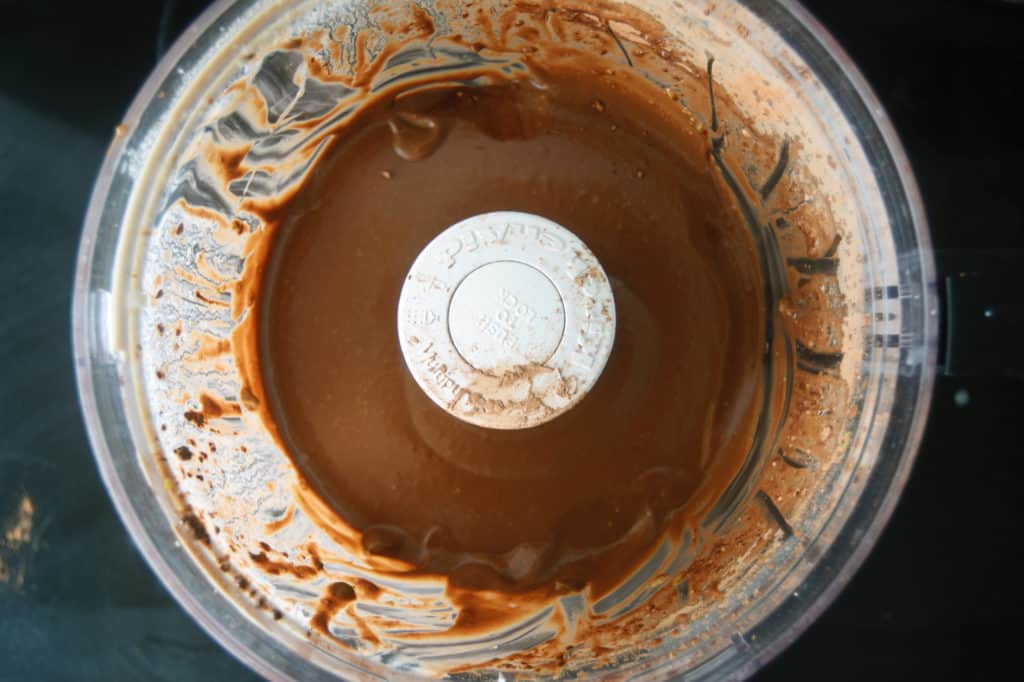 Next, pour the mixture into a freezer safe container and freeze for at least 3 hours. I froze mine overnight. Make sure to cover with wrap to prevent freezer burn.
The next day when I was ready to serve, I took out the ice cream 30 minutes beforehand so it could soften.
For a faster softening method, you can dip the whole tray into a larger tray filled with a small amount of warm water. Make sure there isn't too much water, as it will overflow into the ice cream. Keep an eye on this method because it works a lot faster.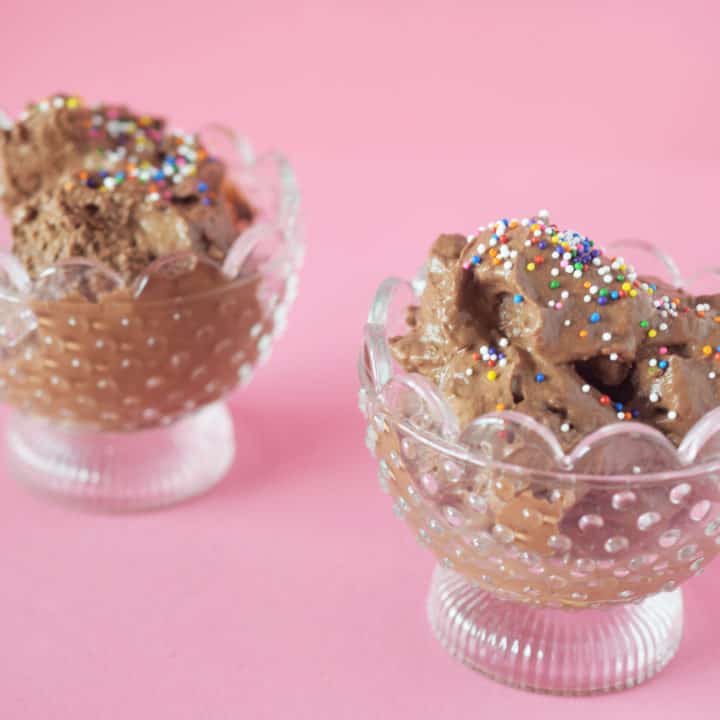 Chocolate Avocado Nice Cream
Ingredients
1 can coconut milk
2 ripe avocados
1/2 cup cocoa powder
1/2 cup maple syrup
1 Tbsp vanilla extract
Instructions
Add coconut milk, avocados, cocoa powder, maple syrup and vanilla extract to a food processor (or blender), and blend until smooth.
Pour into a freezer-proof container and freeze for at least 3 hours. I froze mine overnight, covered with 2 layers of saran wrap to prevent freezer burn.
Remove ice cream from freezer and let soften for 20-30 minutes before serving. Scoop into bowls or ice cream cones and serve immediately. This ice cream will keep in the freezer for up to 3 months.
Notes
See more family-friendly recipes on our website: www.andianne.com
Nutrition Information:
Yield:

4
Serving Size:

1
Amount Per Serving:
Calories:

511
Total Fat:

37g
Saturated Fat:

21g
Trans Fat:

0g
Unsaturated Fat:

13g
Cholesterol:

0mg
Sodium:

25mg
Carbohydrates:

45g
Fiber:

9g
Sugar:

26g
Protein:

6g
Please note: This nutrition information is only an estimate and was created using Nutritionix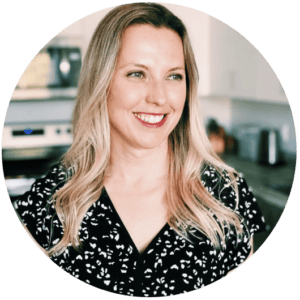 About Andi Anne
Welcome to Andi Anne! Here we focus on simple recipes that are easy to follow with lots of images to guide you along the way! We've created over 500 recipes for you to explore and try out in your own kitchen.