Air fryer potatoes are crispy on the outside and soft on the inside. They're made with less oil and less time.
Air frying potatoes is one of the easiest side dishes you can make for your dinner. Just chop them up, toss them with dried herbs and olive oil, then air fry… they'll come out crunchy and sooo delicious.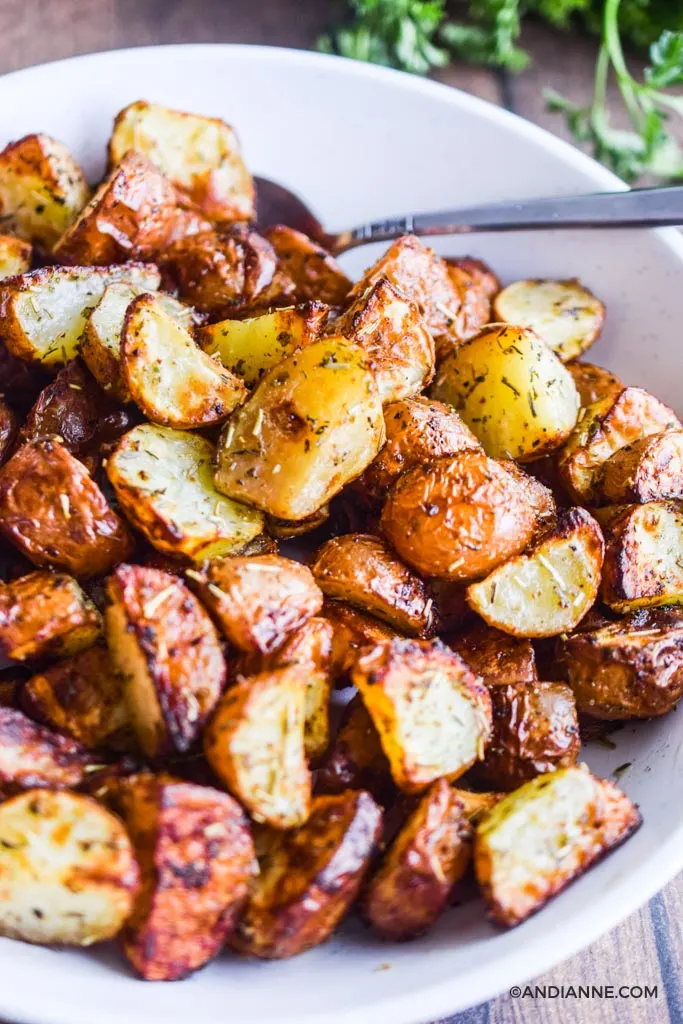 Air Fryer Roasted Potatoes
Once I found out warm and crispy potatoes dripping with melted butter can be done easily with an air fryer, there was no looking back.
FAST – If you need a quick potato recipe that takes less than 20 minutes, this one is for you!
EASY – Anyone can easily chop and cook these potatoes in the air fryer.
DELICIOUS – You will be amazed at how exceptionally crispy and delightful these roasted potatoes taste.
I love serving a side of crispy potatoes with our meals. It's a simple way to add a filling ingredient that's also flavorful.
Tossed with extra virgin olive oil, fragrant dried herbs and garlic powder, this dish is easily made in no time at all. Create this perfect side dish using any type of potato found in the supermarket.
Using air fryers to cook your potatoes is one of the best ways to get that perfect crispiness. Just toss potatoes with seasonings then add them to the air fryer basket and cook. If you're making something else that takes more time, like roast beef, tenderloin or chicken. This is an easy way to save time on the sides.
For more easy ways to use your air fryer, try these air fryer recipes. They're all very simple and easy including air fryer chicken breast recipe, air fryer broccoli, air fryer chicken thighs, healthy flavorful green beans, the crispiest brussels sprouts and my popular air fryer chicken legs recipe.
If you love potatoes as much as we do then you'll have to also try our crispy rosemary garlic potatoes, plant-based mashed potatoes, and baked potato wedges. You can even microwave baby potatoes and get incredible results!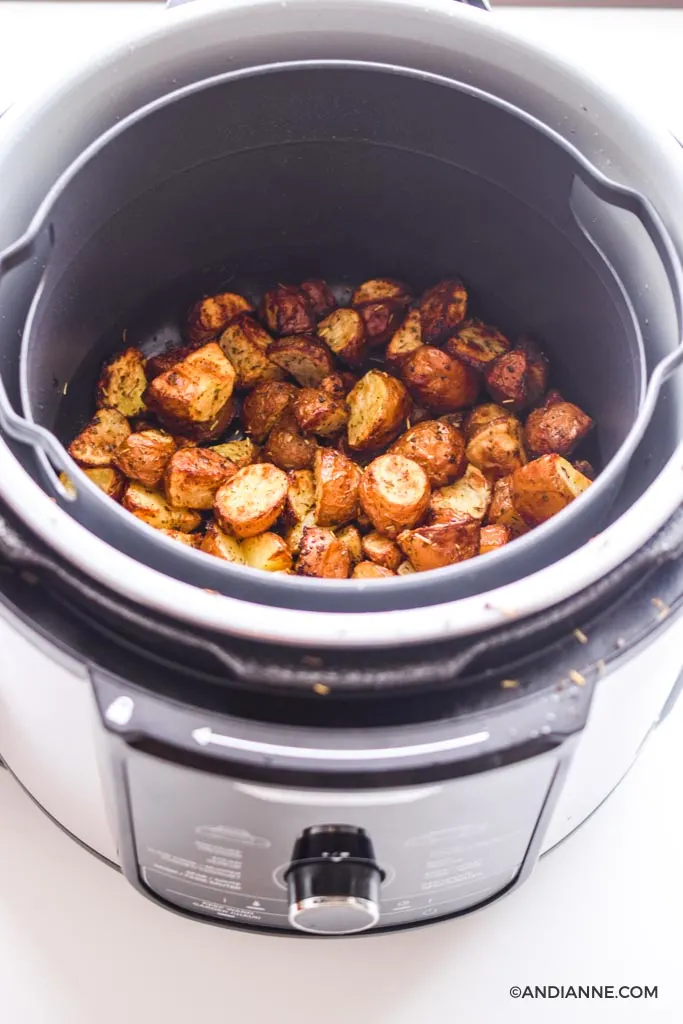 Recipe Ingredients
This easy air fryer recipe only needs a few ingredients. Here's an overview of the ingredients. Get the full details in the recipe card at the bottom of this blog post.
POTATOES – I used baby potatoes, but any kind of potato will work including russet potatoes, red potatoes, Yukon gold potatoes, yellow potatoes, or sweet potatoes. I recommend chopping into bite-size pieces for more even cooking.
OLIVE OIL – I used olive oil for this recipe, but you could also use canola oil or avocado oil.
DRIED HERBS – A combination of dried rosemary, dried thyme, and dried parsley add so much delicious flavor. You can also use fresh herbs like fresh parsley, and fresh rosemary – they will smell incredible as you roast them!
SPICES – Garlic powder, onion powder, salt and pepper are also used.
Variations
SPICES – Swap out the dried herbs with Italian seasoning for an easy all-in-one. Add chili powder and red pepper flakes for a spicy kick.
FRENCH FRIES – You can chop russet potatoes into french fries or wedges and use this same method to cook them.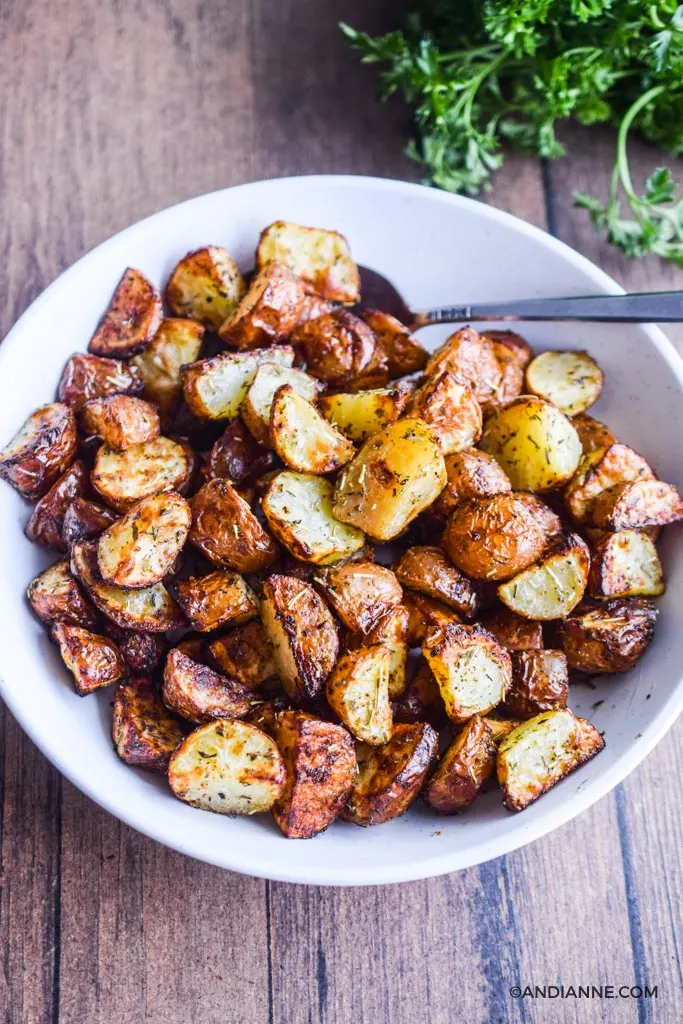 How To Make Air Fryer Potatoes
Crispy potatoes are so easy to make in the air fryer. Everything including prep time and cook time is all done in about 25 minutes.
Here's how to make it with more details in the recipe card at the bottom of this post:
PREP – Wash and chop the potatoes into bite-sized pieces. Potatoes can also be peeled.
MIX – In a large bowl, mix together olive oil, dried herbs, garlic powder, onion powder, salt and pepper.
TOSS – Now add the potatoes on top and toss with the seasoning until fully coated.
COOK – Preheat the air fryer for two minutes at 400°F. Add the potatoes and cook for 15 minutes, then toss and shake them around. Cook for another 10 minutes, keeping an eye on them in the last 1-2 minutes.
How To Store Leftovers
FRIDGE – Once the potatoes have cooled down, transfer them to an airtight container or a resealable plastic bag. Store in the fridge for up to 3-4 days.
FREEZE – Cooked potatoes can also be stored in a freezer-safe container or bag and frozen for up to 6 months.
REHEAT – Add potatoes back to the air fryer at 400°F. Cook until warmed through. It shouldn't take more than 10 minutes. Toss them halfway through.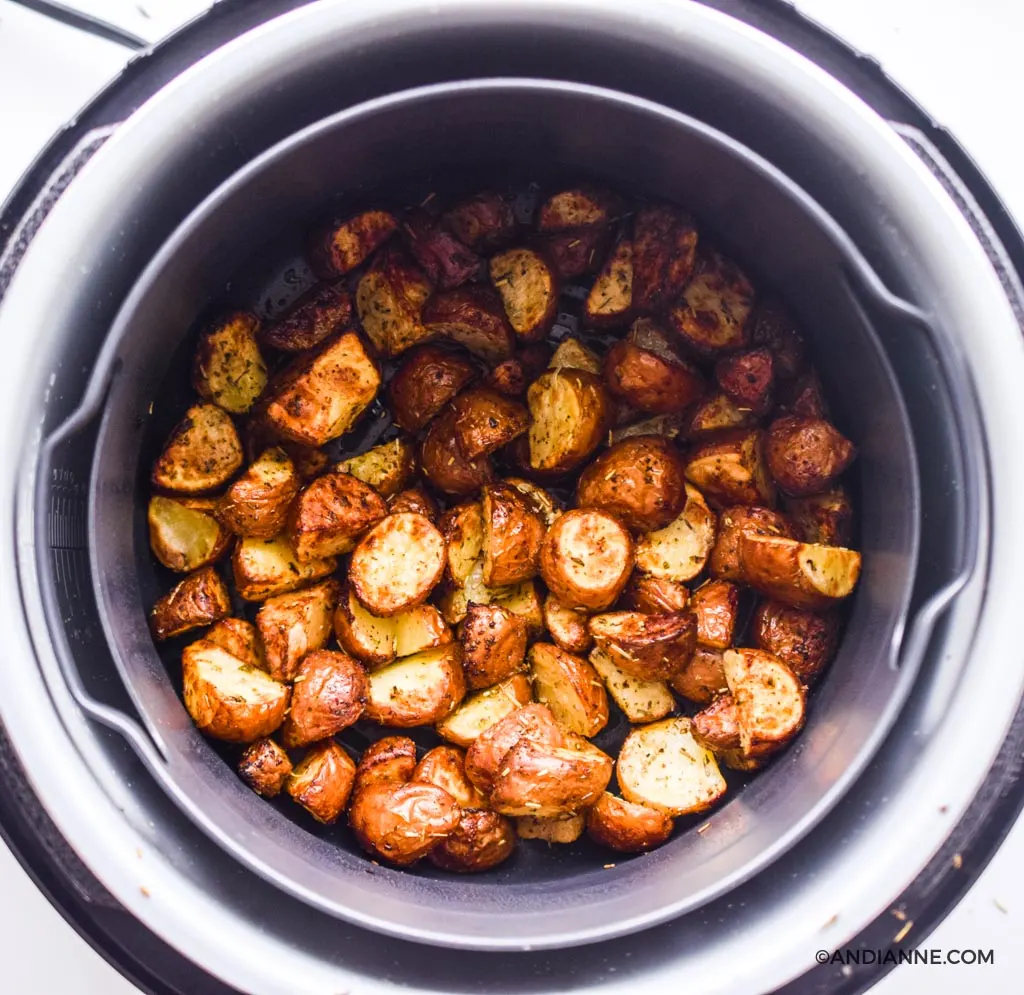 Ways To Serve
Whether you prefer something quick and fast, or something with more ingredients, there are so many sides that go well with this recipe. Try a few from below, or simply add them to your family's weekly menu plan.
MORE VEGGIES – Surround your new recipe with other delicious vegetable options like our air fryer Brussels sprouts, easy fresh air fryer green beans, and lemon broccoli.
CHICKEN, BEEF OR TURKEY – Serve with air fryer chicken breasts or chicken legs. Or as an easy side dish to air fryer hot dogs. Keep it meatless with air fryer crispy tofu. Or make it a quick meal by air frying frozen fish sticks or making hamburgers.
TOPPINGS – Potatoes drizzled with gravy or sour cream go hand in hand. Add some salsa, barbecue sauce or classic ketchup.
CHEESE – Sprinkle some shredded cheese over potatoes in the last few minutes of cooking.
Recipe Tips
Preheat your air fryer first. This will give you the best crispy potatoes.
Pat your potatoes after washing to remove any excess moisture.
Always toss halfway through cooking to get even crispiness.
Every air fryer is different, always read through your manual first before starting.
Check in the last couple of minutes to make sure they're not overcooking. Every air fryer is different so it might take a little bit of practice getting used to your temperature and how it works.
If you're looking for a crispy potato side dish that everyone will enjoy, these air fryer potatoes are for you. Serve these easily knowing that everyone at the table will be reaching for seconds.
Air Fryer Potatoes
Air fryer potatoes are crispy on the outside and soft on the inside. Made with less oil and less time, they're the perfect side dish.
Save Recipe!
Saved!
Pin This
Print It
Instructions
Wash and slice the potatoes into quarters. No need to peel.

In a large bowl combine seasonings: Olive oil, dried rosemary, dried thyme, dried parsely, garlic powder, onion powder, salt and pepper.

Add chopped potatoes to the bowl and toss together with the seasoning mixture until fully coated.

Preheat the air fryer at 400°F for 2 minutes.

Lightly coat the inside of the air fryer tray or basket with olive oil or cooking spray. Add the potatoes and cook for 15 minutes, then give a quick toss.

Cook an additional 10 minutes, or until they're golden brown and crispy on the outside.
Nutrition
Calories:
214
kcal
|
Carbohydrates:
28
g
|
Protein:
3
g
|
Fat:
11
g
|
Saturated Fat:
2
g
|
Polyunsaturated Fat:
1
g
|
Monounsaturated Fat:
8
g
|
Sodium:
31
mg
|
Potassium:
782
mg
|
Fiber:
3
g
|
Sugar:
2
g
|
Vitamin A:
17
IU
|
Vitamin C:
15
mg
|
Calcium:
21
mg
|
Iron:
1
mg