These garlic parmesan baked carrots couldn't be more effortless to make. Carrots are peeled and sliced diagonally, then tossed with olive oil, parmesan, garlic, bread crumbs, salt and pepper for an incredibly easy and delicious side dish that can be paired with almost any meal.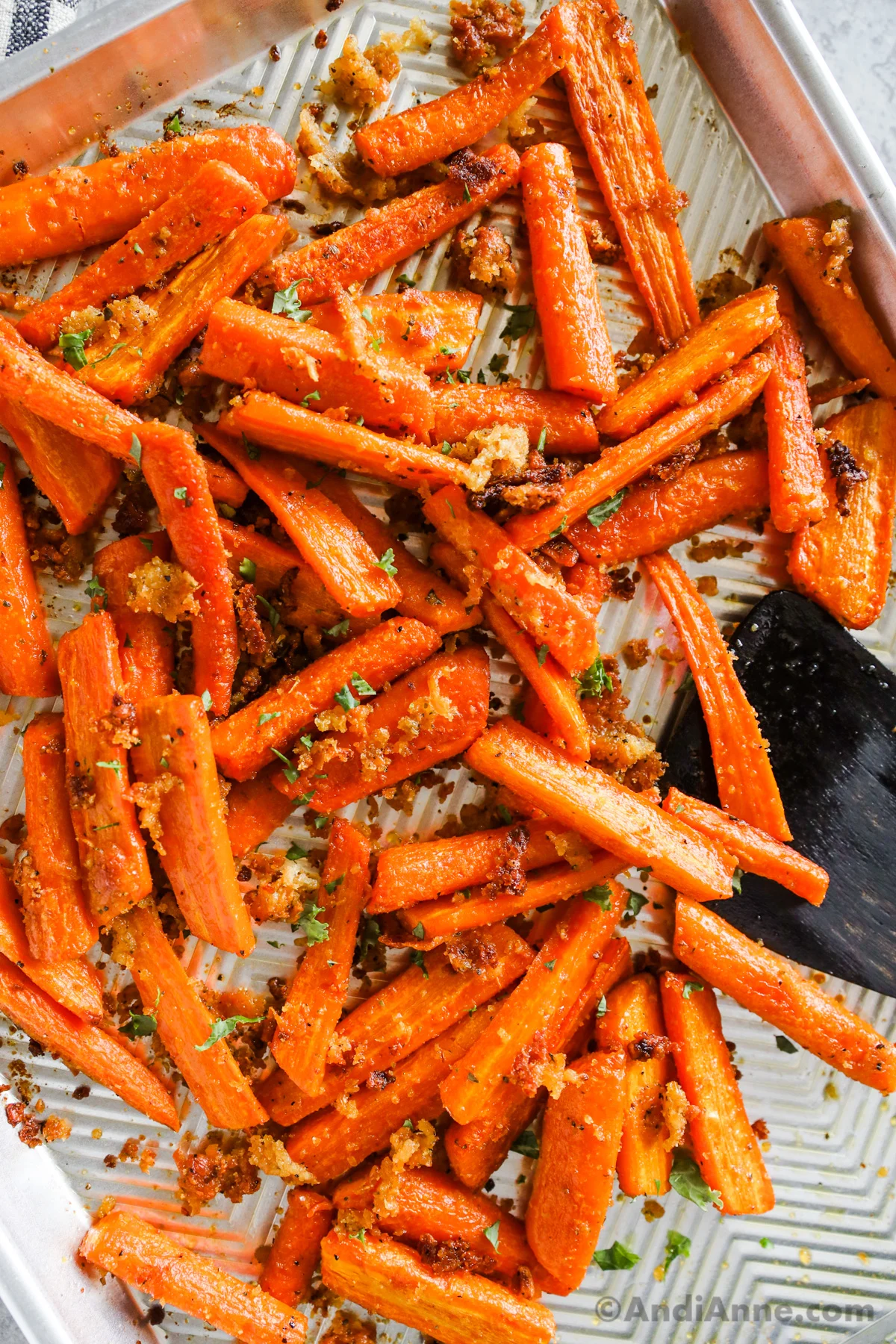 Oven Roasted Carrot Recipe
Need a simple and easy roasted veggies recipe? We've got you covered! These baked carrots are a fantastic option because you can easily make at home.
SWEET TASTING – Roasted carrots have a sweet and savory flavor that is hard to resist. The natural sweetness of the carrots is enhanced when they are roasted. Pair this with the crispiness of baked parmesan with bread crumbs and you've got yourself the perfect addition to any meal.
EASY TO MAKE – Cooked carrots require minimal effort which is perfect when you're focused on something else like baked chicken legs or a holiday dinner like roasted turkey. Simply wash and peel the carrots, cut them diagonally or into rounds, toss them with olive oil, parmesan and bread crumbs, and bake them in the oven until tender.
VERSATILE – Sweet and savory flavors are a great way to add variety to any menu. You can also experiment with different spices and herbs here to create a flavor profile that you love.
CONVENIENT – It's a great way to use up any extra carrots you may have lying around in your fridge.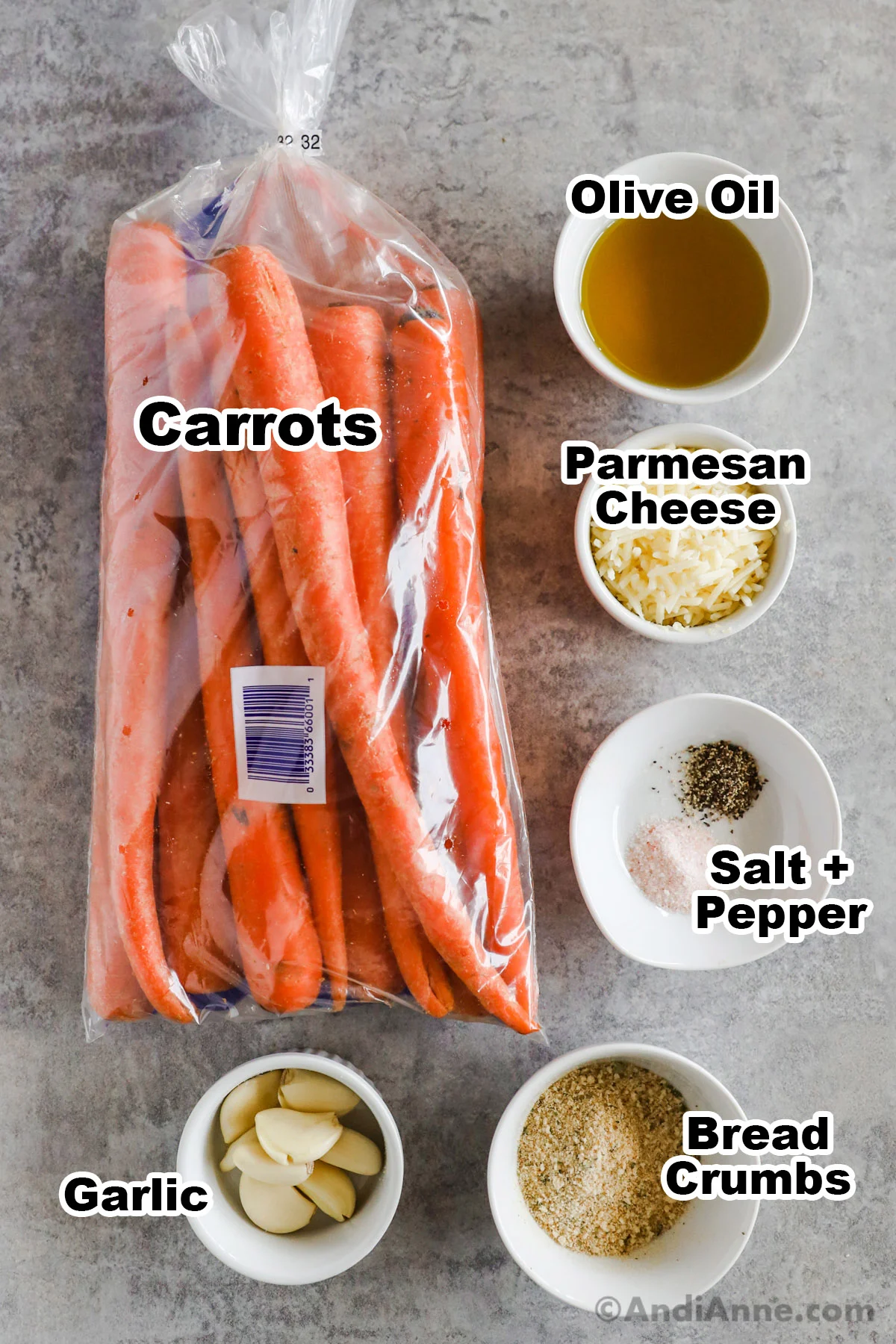 Recipe Ingredients
To make these delicious baked carrots, you'll need a few simple ingredients. Here's what you'll need:
CARROTS – You'll need about 2 pounds of medium-sized fresh carrots for this recipe. Peel carrots and slice in half, then diagonally into sticks. You can also use baby carrots. If you have larger carrots be sure to slice in half so they will cook faster.
SHREDDED PARMESAN CHEESE – You'll need 1/4 cup of shredded parmesan cheese. The saltiness pairs perfectly with the sweetness of the carrots.
MINCED GARLIC – You'll need 6 minced garlic cloves. If you don't have fresh garlic, you can sprinkle on 1 tsp of garlic powder.
OLIVE OIL – You'll need 3 tablespoons of olive oil. If you don't have olive oil, you can use any other cooking oil.
BREAD CRUMBS – 2 Tbsp of bread crumbs add the perfect crunch. You can use any type of bread crumbs for this recipe, including panko crumbs.
SALT AND PEPPER – Use as much or as little salt and freshly ground black pepper as you like.
That's it! With just these few ingredients, you can make a delicious and healthy side dish that's perfect for any occasion.
Recipe Variations
If you're looking to switch things up with your roasted carrots recipe, there are a few variations you can try:
HONEY GLAZE – A few tablespoons of honey will add sweetness and a caramelized glaze to make honey-roasted carrots. You can also use maple syrup or agave nectar as a substitute. It can be mixed with the other seasonings and tossed with the carrots just before baking.
BROWN SUGAR – Sprinkle on a bit of brown sugar for extra sweetness.
MAYONNAISE – Mayonnaise creamy carrots is a classic version where the cooked carrots are tossed with mayonnaise for a tangier taste.
FRESH HERBS – Try adding fresh herbs like rosemary or fresh thyme. This will add the most delicious fragrant aroma to your carrots as they bake in the oven.
BUTTER – Drizzle on melted butter right before you serve your baked butter carrots.
SPICY – Add a bit of chili powder, a pinch of red pepper flakes or drizzle on some hot sauce for a bit of spiciness.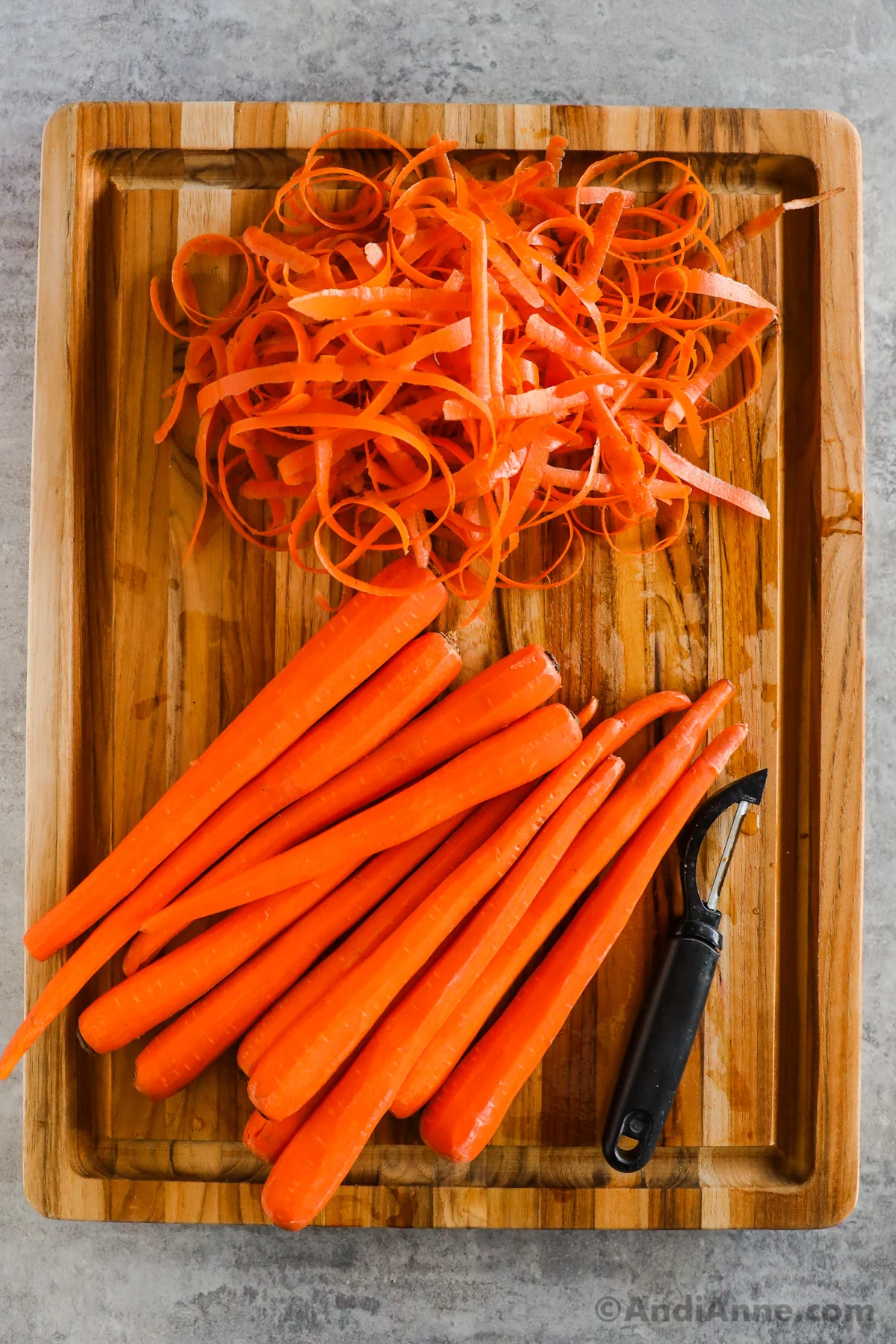 How To Make Garlic Parmesan Baked Carrots
PEEL AND CUT CARROTS – Preheat your oven to 400°F. Peel 2 pounds of carrots. Cut them into 2″ pieces and slice them in half if they are too thick.
TOSS CARROTS – In a large bowl, toss carrots with parmesan cheese, garlic, olive oil, bread crumbs, salt and pepper until they are evenly coated.
ARRANGE CARROTS ON BAKING SHEET – Spread the carrots out in a single layer on a baking sheet lined with parchment paper, making sure they are not touching. Roast carrots in the preheated oven for 35-45 minutes, or until they are tender when poked with a fork and lightly browned.
MORE PARMESAN – Remove the carrots from the oven and sprinkle more parmesan cheese over top if desired. Return the baking sheet to the oven and bake 2-3 more minutes, or until the cheese is melted and golden brown. Remove the baking sheet from the oven and let the carrots cool for a few minutes before serving.
HOW TO STORE LEFTOVERS
If you have any leftover carrots, here's how to store them:
REFRIGERATE – Store the baked carrots in an airtight container and place them in the fridge for up to 4 days.
REHEAT – To reheat the baked carrots, preheat the oven to 400°F. Place the carrots in an oven-safe dish or on a prepared baking sheet.
Bake for 8-12 minutes or until they are warmed up. Sprinkle a bit of fresh parmesan on top just before serving if you'd like. Alternatively, you can microwave them for 1-2 minutes or until heated through.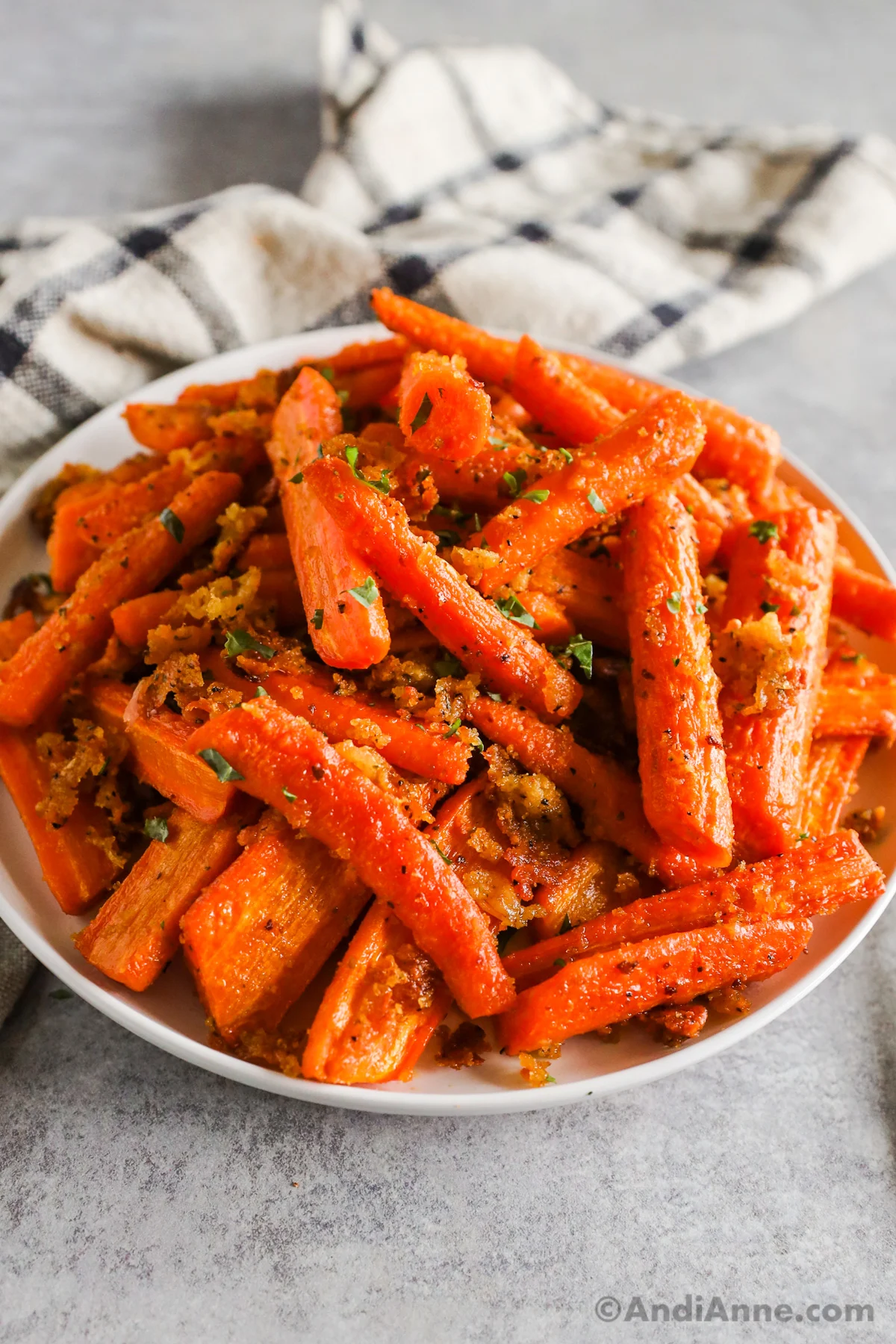 Frequently Asked Questions
What enhances the flavor of carrots?
Carrots have a naturally sweet taste, but there are several ways to enhance their flavor. One way is to add a little bit of honey or maple syrup to your roasted carrots.
You can also add some fresh herbs like thyme, rosemary, or parsley. Another way to enhance the flavor is to add a pinch of salt and pepper before roasting.
Can you soften carrots before roasting?
Yes, you can. To soften carrots before roasting, you can blanch them in boiling water for a few minutes. This will help to soften the carrots and make them easier to roast.
Alternatively, you can microwave them for a few minutes or steam them until they are slightly tender.
Are carrots better steamed or roasted?
Both steaming and roasting are great ways to cook carrots, and the method you choose will depend on your personal preference. Steaming carrots is a healthier option as it retains more nutrients, but roasting carrots will give them a crispy texture and a more intense flavor.
If you prefer softer carrots with a softer texture, steaming is the way to go, but if you like a bit of crunch, roasting is the better option.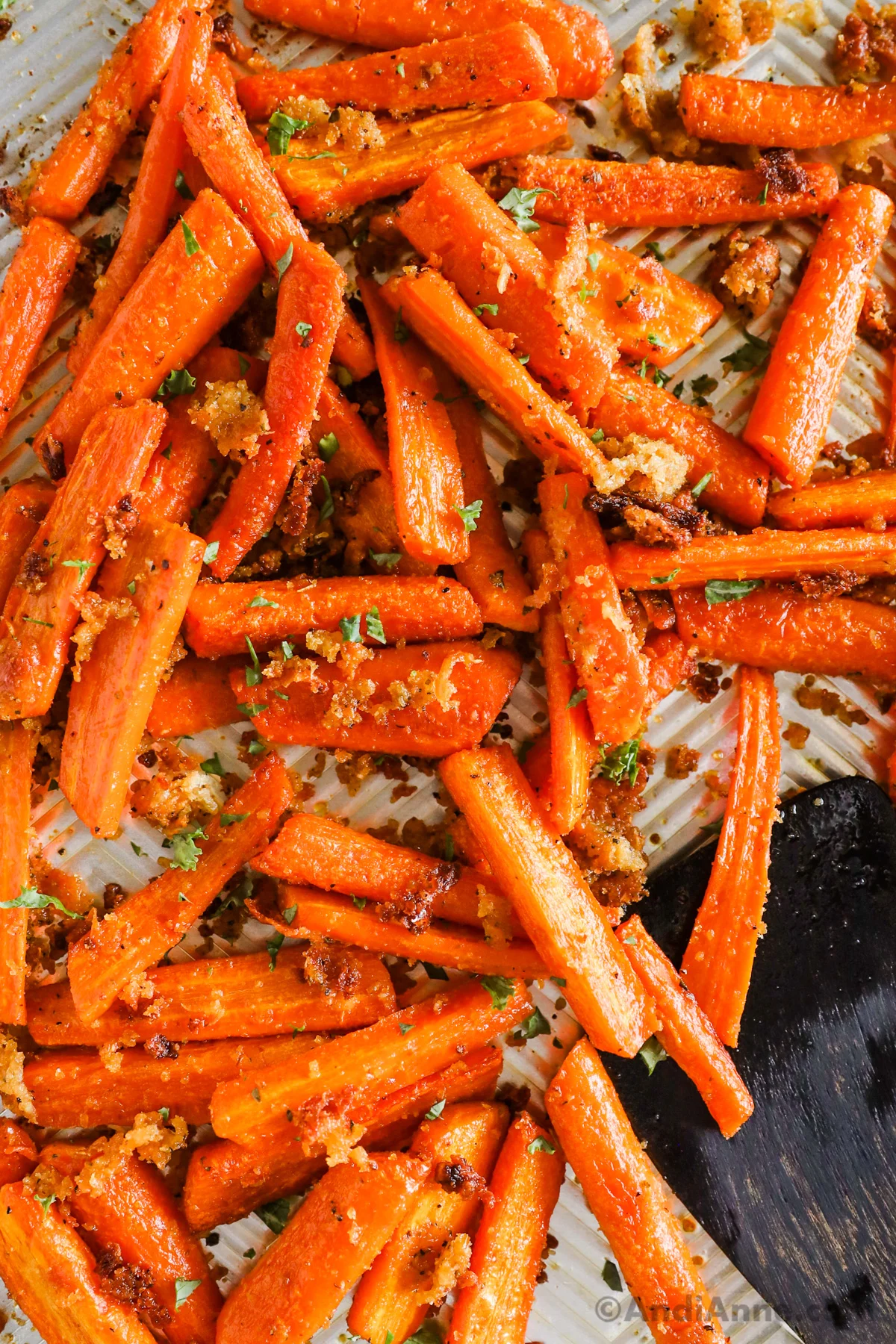 Roasting carrots in the oven is a great way to bring out their natural sweetness and create a crispy, caramelized exterior. Using a baking sheet lined with parchment paper will prevent the carrots from sticking and make cleanup a breeze.
Don't forget to toss the carrots with seasonings before roasting to give them a delicious flavor. Adding Parmesan cheese at the end of the cooking time will give the carrots a rich, savory taste that pairs perfectly with the sweetness of the roasted carrots.
More Side Dish Recipes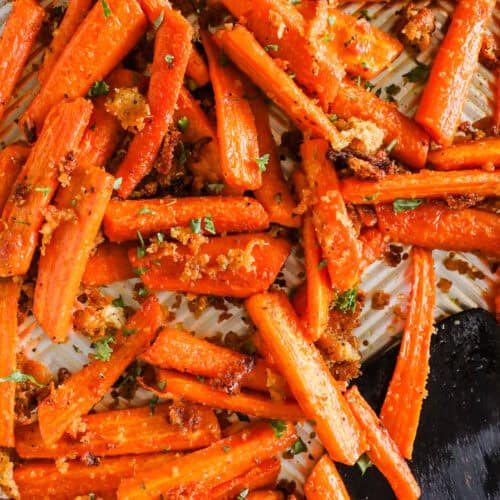 Garlic Parmesan Baked Carrots
Roasting carrots in the oven is a great way to bring out their natural sweetness and create a crispy, caramelized exterior.
Save Recipe!
Saved!
Pin This
Print It
Ingredients
Instructions
Preheat the oven to 400℉. Line a baking sheet with foil or parchment paper or nonstick cooking spray.

Peel the carrots (optional) and slice them into 3" pieces. Slice each one in half if they are too thick.

Add all ingredients to a bowl with the sliced carrots and toss everything together.

Spread onto a prepared baking sheet. Bake for 35-45 mins, flip halfway through. Check for doneness by poking with a fork. Sprinkle with more parmesan cheese if desired and bake an additional 1-2 minutes.

Scoop onto a serving dish, serve and enjoy.
Nutrition
Calories:
239
kcal
|
Carbohydrates:
28
g
|
Protein:
5
g
|
Fat:
13
g
|
Saturated Fat:
3
g
|
Polyunsaturated Fat:
2
g
|
Monounsaturated Fat:
8
g
|
Cholesterol:
5
mg
|
Sodium:
594
mg
|
Potassium:
767
mg
|
Fiber:
7
g
|
Sugar:
11
g
|
Vitamin A:
37944
IU
|
Vitamin C:
15
mg
|
Calcium:
148
mg
|
Iron:
1
mg