These plant-based mashed potatoes couldn't be easier to make! Russet potatoes are boiled, then mashed with plant based milk and vegan butter to create the smoothest creamiest result. Flavored with a hint of garlic, salt and pepper, this recipe is a perfect side for any recipe during the holiday season.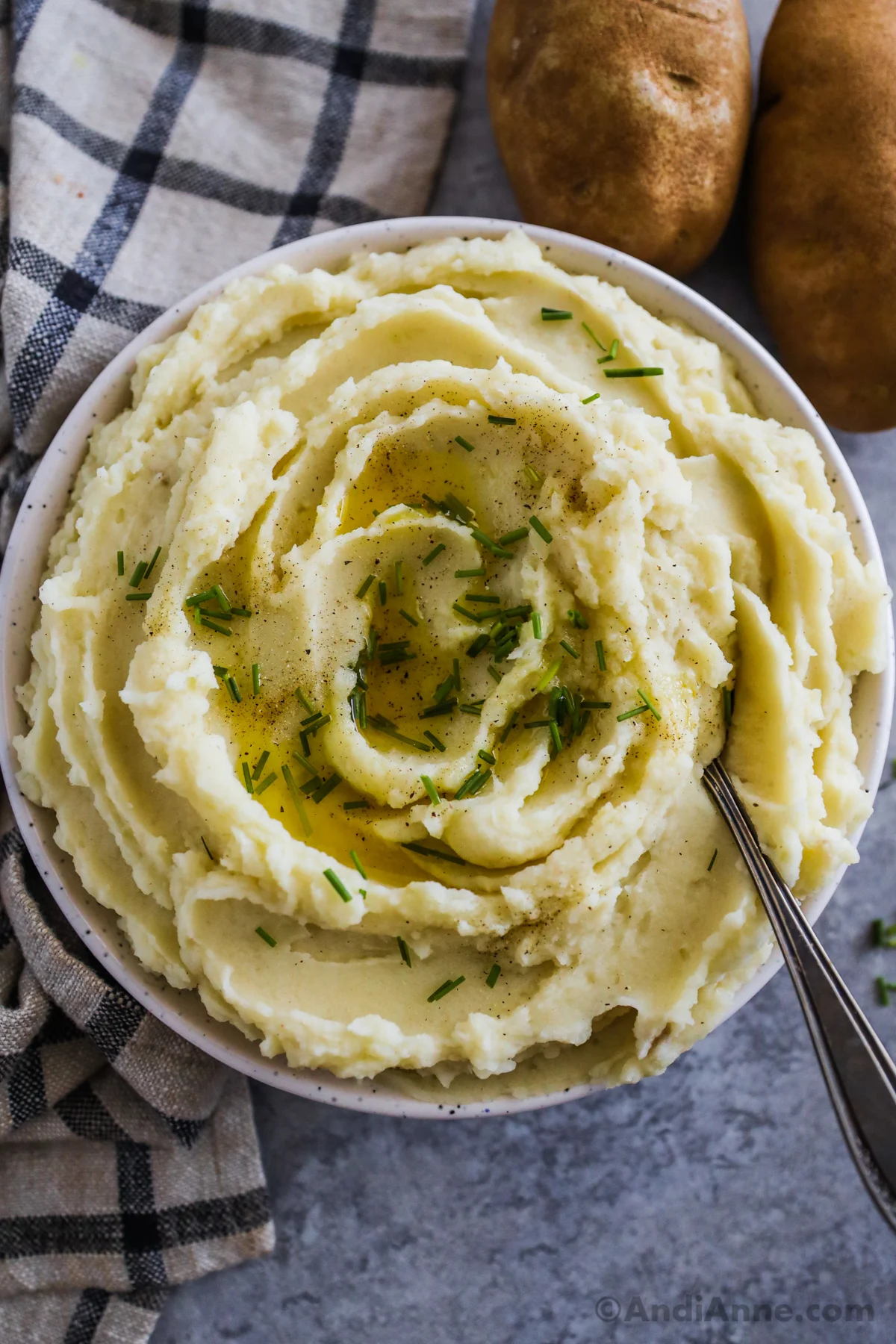 Dairy Free Mashed Potatoes
Once I found out warm and feathery texture of mashed potatoes dripping with melted butter can be done with easy plant-based ingredients, there was no looking back. Perfect for anyone with a dairy allergy or living a vegan lifestyle. This method can also be used to create mashed sweet potatoes!
DAIRY-FREE – If milk-based products don't fit your lifestyle, then this recipe is for you!
EASY – Anyone can easily mash potatoes using either an electric blender or a manual potato masher.
DELICIOUS – You will be amazed at how exceptionally creamy and delightful these mashed potatoes taste.
Whipped with either almond or oat milk, vegan butter, and topped with chives this dish is easily made in no time at all. Create this perfect side dish in only 25 minutes using Russet potatoes found in any supermarket.
If you love potatoes as much as we do then you'll have to also try our crispy rosemary garlic potatoes and baked potato wedges.
Recipe Ingredients
No need to hunt around for these ingredients as they are easily found anywhere you buy groceries. So, head out to the garden and dig up a few potatoes, or unpack those grocery bags and let's get mashing!
Here's an overview of what you'll need with full ingredient details in the recipe card at the bottom of this post:
RUSSET POTATOES – I prefer the starch level Russets bring to the dish, but really, any potato will do including Yukon Gold or red potatoes.
NON-DAIRY MILK – Tastes differ, but I generally tend to lean towards unsweetened almond milk or oat milk for this recipe. Soy milk, hemp milk and coconut milk will also work. However, it is important that you use unsweetned and unflavored versions. I used oat milk for this recipe.
VEGAN BUTTER – There are several options found at the supermarket, choose one that best fits your budget. I used Earth's Own butter spread.
SEASONINGS – Garlic powder, salt and pepper are so simple, but really take these mashed potatoes to the next level.
Pro Tip: If you are a garlic lover, saute a few garlic cloves in a pan or use roasted garlic and add them to the potato mixture. This can be used in place of the garlic powder.
Flavor Additions
You can easily add additional ingredients to create even more flavor. Here are a few ideas:
NUTRITIONAL YEAST – Adding about 1 tbsp of nutritional yeast will create a flavor similar to parmesan cheese, but dairy free and vegan.
VEGETABLE BROTH – Boiling the potatoes in vegetable stock will take the flavor to the next level! You can add a full carton of vegetable stock (broth) and top with enough water to cover the potatoes fully. Then bring to a boil following the directions in the recipe card below.
FRESH DILL – Add 1 Tbsp of chopped fresh dill for a bright and fresh flavor.
ONION POWDER – 1/2 tsp of onion powder can be added with the garlic powder.
BACON – Adding vegan bacon bits or chopped bacon depending on if you're on a vegan or dairy-free diet will add a salty crunch.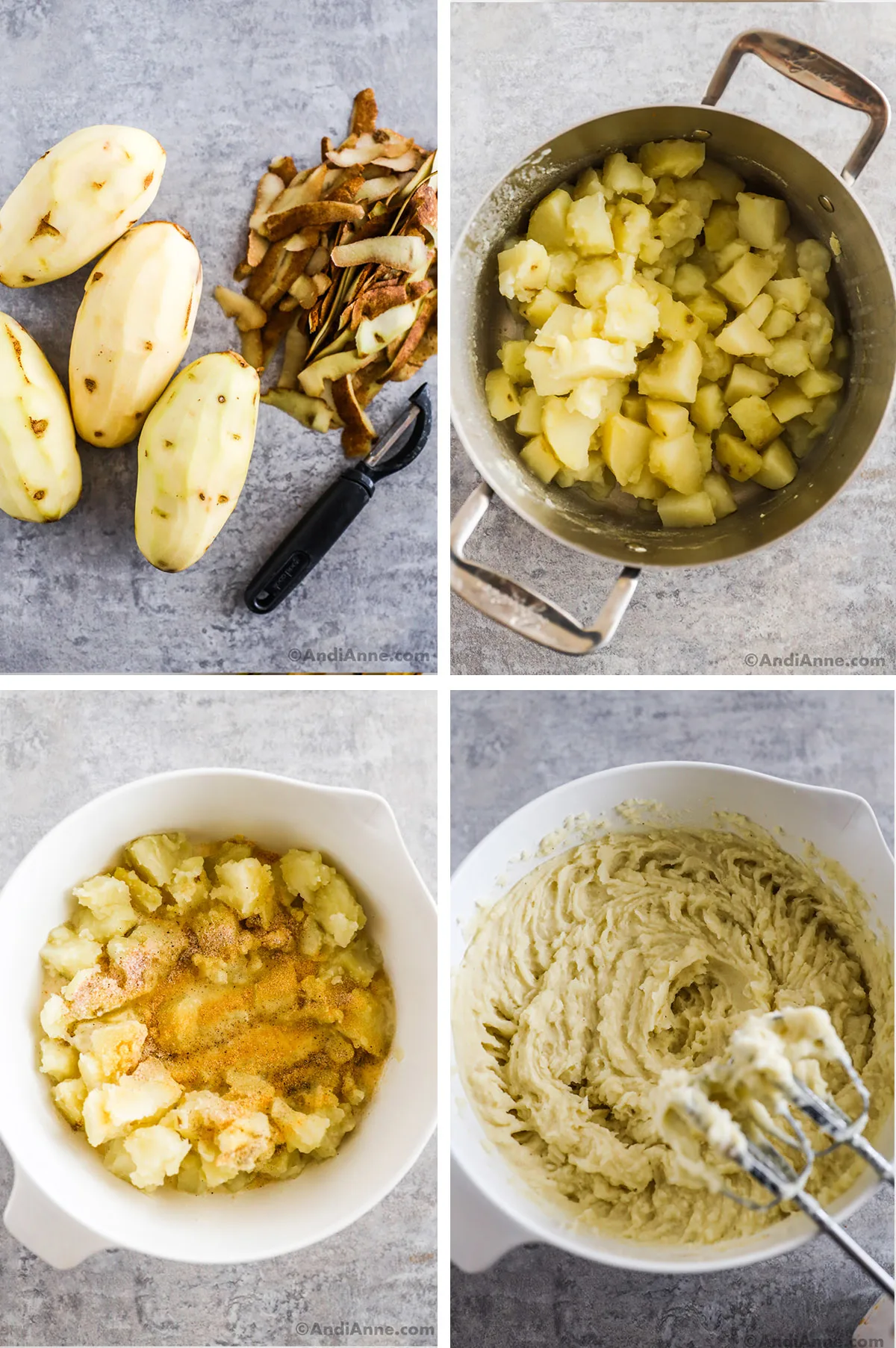 How To Make Plant Based Mashed Potatoes
Follow the steps below and in no time at all, you'll be serving a steaming mountain of light, pillowy mashed potatoes. Here's an overview with full details in the recipe card at the bottom of this post.
PREP – Start by peeling each russet potato, wash under cold water, and slice each one into quarters.
BOIL – Using a large pot, add the potatoes and cover them with water. Set this on the stovetop and boil until it can easily be pierced with a fork. About 15 minutes.
DRAIN – Put a large colander in your sink and strain the potatoes. Return the potatoes to the pot, and on low heat, cook for an additional 2-3 minutes to help remove any excess moisture. Remove the pot from the stove and cover it to retain heat.
HEAT BUTTER + MILK – Using a microwave-safe bowl, heat the plant-based milk and melt the vegan butter until hot but not boiling. Remove from the microwave and stir together.
ASSEMBLE – Add the cooked potatoes to a large mixing bowl along with the melted milk and butter mixture along with garlic powder, salt, and pepper.
MASH – Using an electric handheld mixer, potato masher, or potato ricer go ahead and start mashing until you reach your desired consistency. The more you mash, the creamier the texture will become.
Pro Tip: Potatoes will take on water while boiling. I recommend chopping them into larger chunks to prevent this. Sauteeing the drained potatoes for a minute or two without any water will help to remove excess moisture as well.
How To Store
If you're like me, you will love having leftovers that can be easily saved for meals later in the week. Follow the tips below and you can enjoy this dish later:
REFRIGERATE – Store in an airtight container for 3-4 days.
FREEZE – You can freeze mashed potatoes for about 3 weeks using an airtight freezer bag. After that, they will begin to show freezer burn.
TO THAW – Thaw the potatoes in the fridge overnight before reheating.
REHEAT – Using a microwave-safe dish, add a splash of water to the cold mashed potatoes and cover with a lid for 1-3 minutes. Or, add cold mashed potatoes to a frying pan, add a splash of water, and stir until heated through.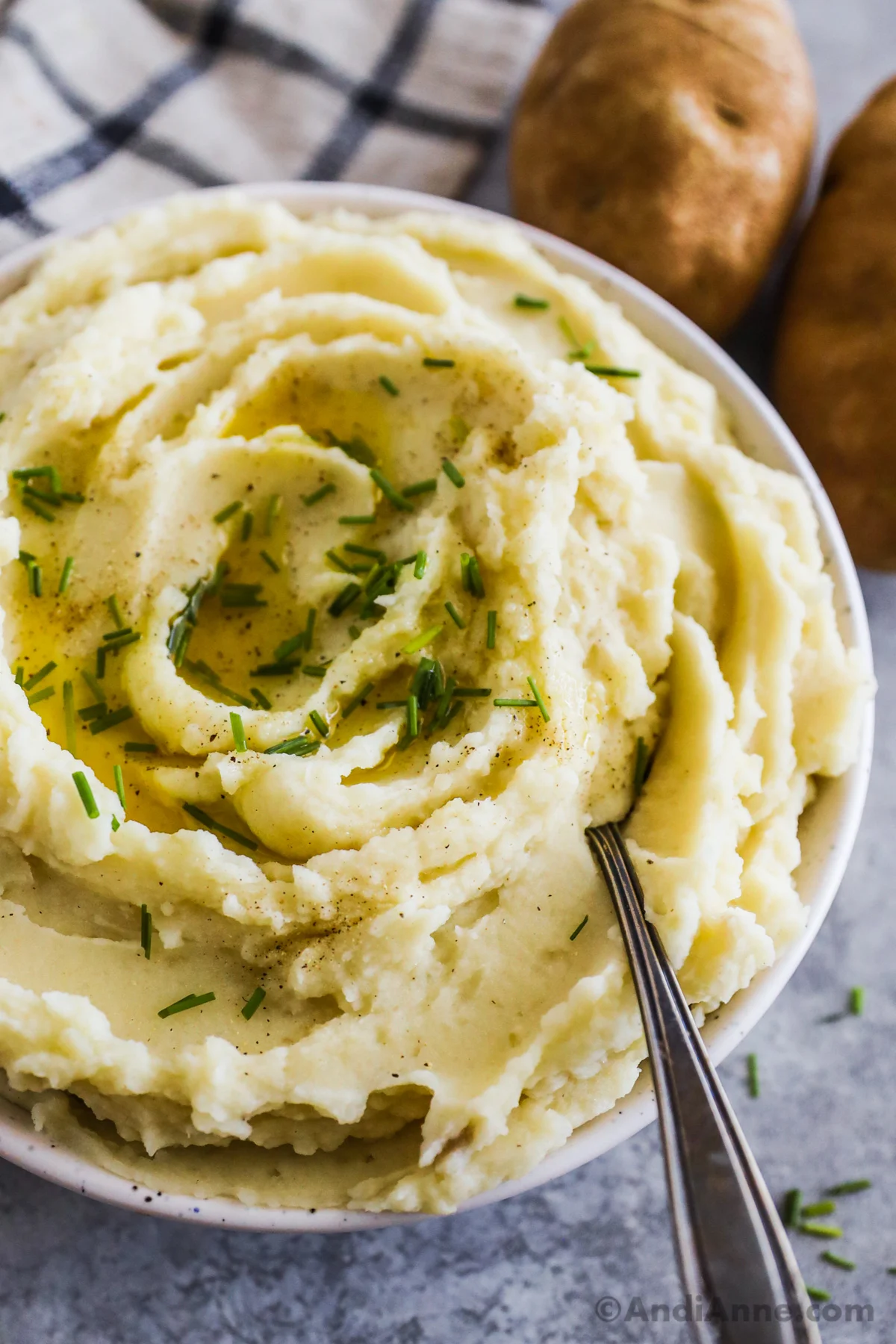 Ways To Serve
Whether you prefer a full vegan diet or a non-dairy diet, there are so many sides that go well with this recipe. Try a few from below, or simply add them to your family's weekly menu plan.
Common Questions
What are plant-based mashed potatoes made of?
This recipe uses either russet or yukon gold potatoes, non-dairy milk and dairy free butter, along with garlic powder, salt and pepper.
What is the best milk substitute for mashed potatoes?
For this recipe, consider trying oat milk, rice milk, coconut milk, almond milk, cashew milk, soy milk or wondermilk.
What alternatives taste most like milk?
If you can find it, So Delicious Wondermilk is said to closely mimic the taste of dairy milk with its creamy, smooth consistency and lightly sweet flavor. For this recipe though, I just used unsweetend oat milk and it worked great!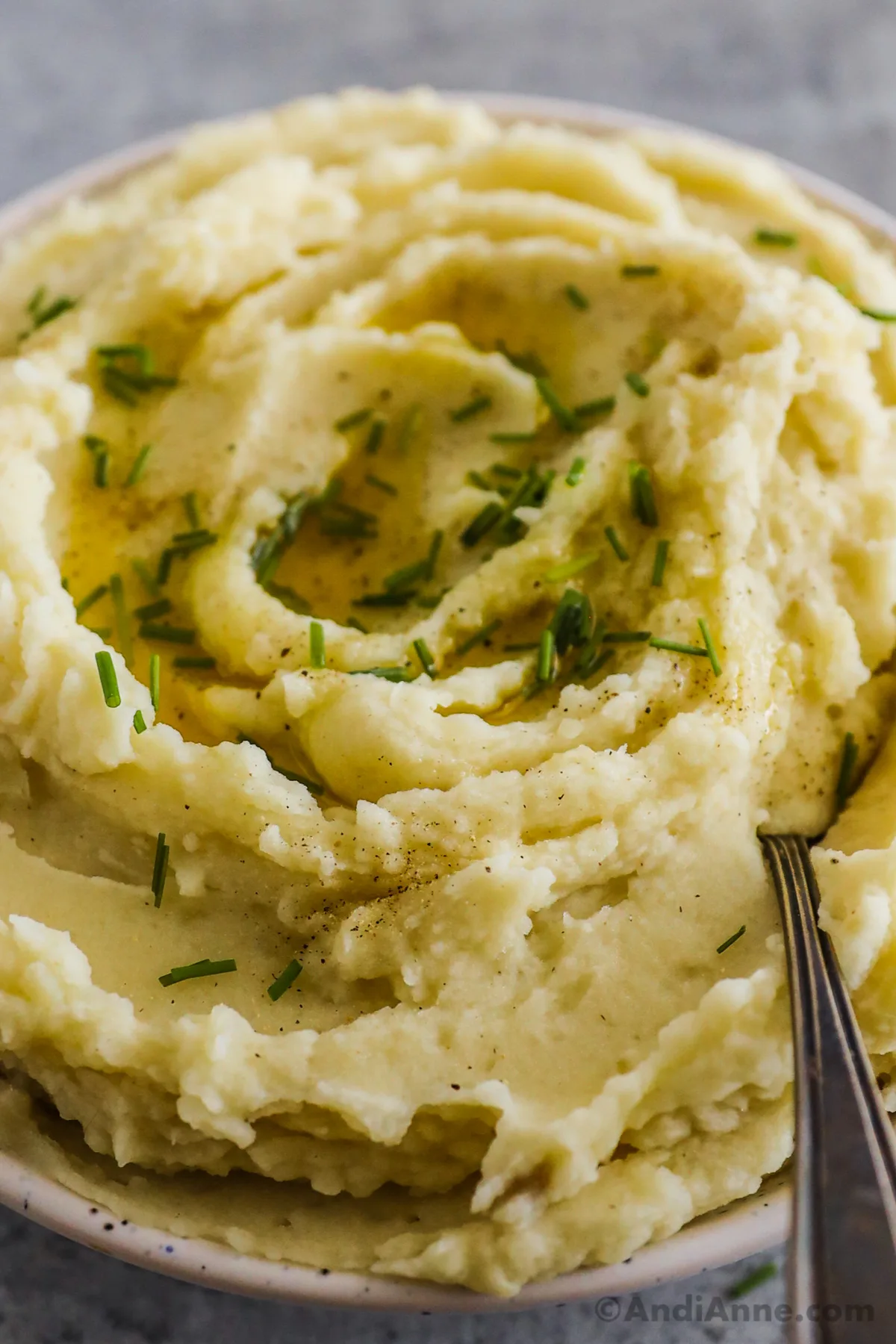 If you're looking for a dairy-free side dish that everyone will enjoy, these plant based mashed potatoes are for you. Serve with confidence knowing that all who sit at your table will find it both fluffy and flavourful and reaching for seconds.
More Delicious Side Dishes
Pair this easy potato recipe with some of these side dish favorites: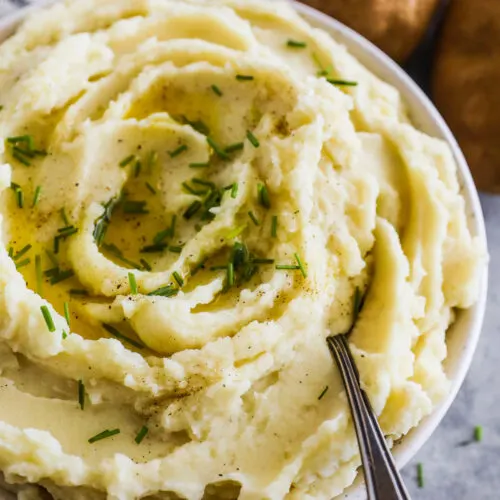 Plant Based Mashed Potato Recipe
The feathery texture of mashed potatoes dripping with melted butter done with easy plant-based ingredients.
Save Recipe!
Saved!
Pin This
Print It
Ingredients
6

medium russet potatoes

-

peeled and chopped

¾

cup

non-dairy milk (unsweetened)

-

ex. almond milk or oat milk

6

Tbsp

vegan butter

1

tsp

garlic powder

½

tsp

salt

¼

tsp

ground black pepper
Instructions
Peel and chop the potatoes. Rinse under cold water. Add the potatoes to a large pot. Fill the pot with enough water to cover the potatoes. Let simmer until potatoes are very soft when poked with a fork, about 15 minutes.

Add the potatoes to a strainer over the sink to drain excess water. Add the potatoes back in the pot. Cook over low heat for 2-3 minutes to help remove excess moisture from potatoes.

Heat the butter and milk in a microwave safe bowl until melted and hot. Mix them together.

Add the cooked potatoes to a large bowl along with melted milk and butter, garlic powder, salt and pepper.

Mash with an electric mixer or potato masher until desired consistency is reached. Mix well for a smoother and creamier consistency. Mix less for a chunkier consistency with a bit of clumps.

Serve with chopped fresh chives or green onions, vegan butter or drizzled with olive oil, salt and pepper.
Recipe Notes:
Leftovers can be stored in an airtight container in the fridge up to 3-4 days.
Nutrition
Calories:
192
kcal
|
Carbohydrates:
29
g
|
Protein:
4
g
|
Fat:
7
g
|
Saturated Fat:
2
g
|
Polyunsaturated Fat:
2
g
|
Monounsaturated Fat:
3
g
|
Trans Fat:
0.04
g
|
Sodium:
252
mg
|
Potassium:
674
mg
|
Fiber:
2
g
|
Sugar:
1
g
|
Vitamin A:
403
IU
|
Vitamin C:
9
mg
|
Calcium:
50
mg
|
Iron:
1
mg
The nutritional information provided is an estimate and is per serving.