This Halloween dirt cups recipe is made with a healthy chocolate avocado pudding, chocolate granola, and topped with candies. These dirt cups are super simple to put together. They're a fun treat for kids' Halloween parties. The recipe below makes two dirt cups but you can easily make more if needed.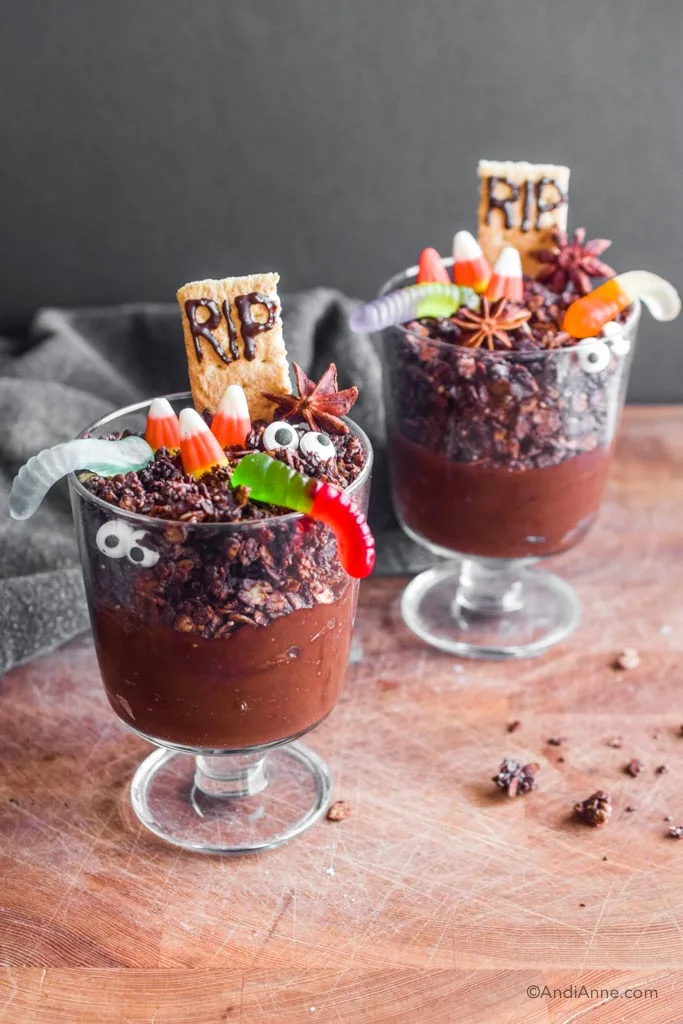 Halloween Dirt Cups
If you're unfamiliar with dirt cups – this is a type of dessert that is usually made with a pudding base and cookie crumb topping. Then, gummy worms and other candies are piled on top to resemble dirt with bugs. This type of dessert can be presented as a dirt cake or dirt cups.
Well, this Halloween dirt cups recipe is an updated version of this popular dessert but with a spooky graveyard.
Today I'm using healthier ingredients for the base of the recipe. This recipe is gluten-free, and the base uses no refined sugar. If you want to use organic candies, that's an option too! I've included a few examples below.
First, chocolate avocado pudding is added to the bottom, followed by my homemade chocolate granola recipe, and topped with Halloween candies.
TIP: If you have a bulk food store near you, buy the candy toppings in smaller quantities to save money! I was able to do that with these candies and spent about 10 – 50 cents per bag. It was like going back in time to when we were kids and riding bikes to the candy store with $2.00 in our pocket.
You can also use organic gummy bears, organic gummy worms, and organic pops for healthier alternatives.
Personally, my daughter eats little to no candy throughout the year. We make a lot of homemade treats together instead. However, she is allowed conventional candy in small quantities at birthday parties and Halloween.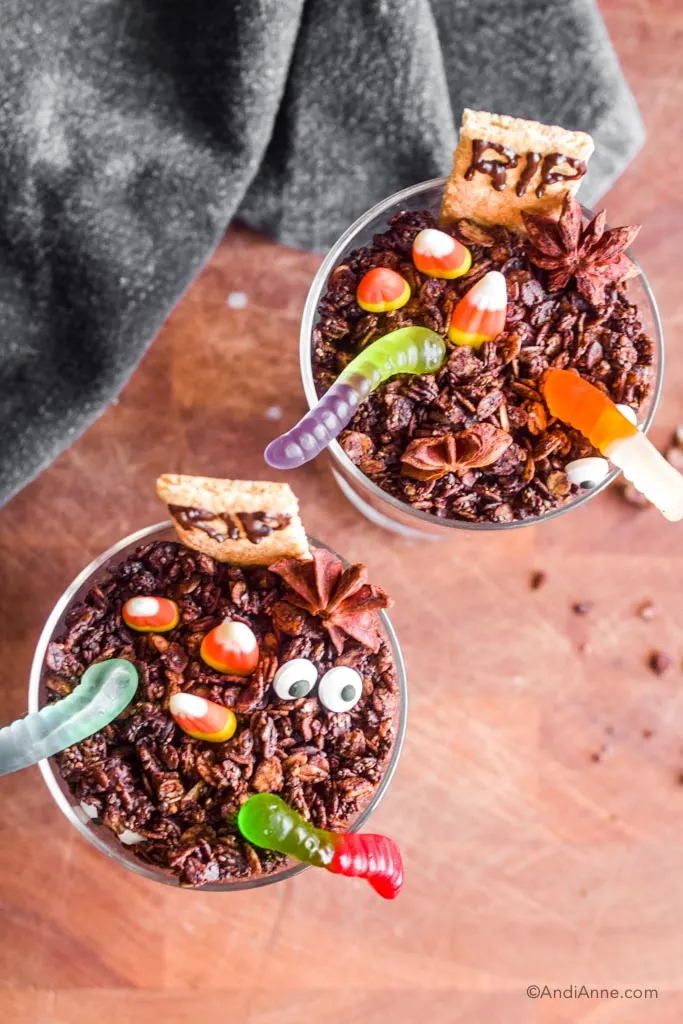 How These Dirt Cups Are Made
There are three steps to these dirt cups – the pudding base, granola, and candy toppings.
Chocolate Avocado Pudding – This recipe uses my chocolate avocado pudding for the base. You can also use a store-bought chocolate pudding if you want to save time.
Chocolate Granola – Chocolate granola is added on top to create the "dirt". I highly recommend making a full batch of my chocolate granola recipe because you can save the rest for yogurt, smoothie bowls, and ice cream toppings! It's really yummy. You can also buy chocolate granola if you prefer! Whatever works for you – these are meant to be fun and the process enjoyable.
Candies For Graveyard – You can add any kinds of toppings you'd like. I used gummy worms, candy corn, candy eyeballs, and graham crackers. I also added star anise (it's not edible) because they remind me of tarantulas.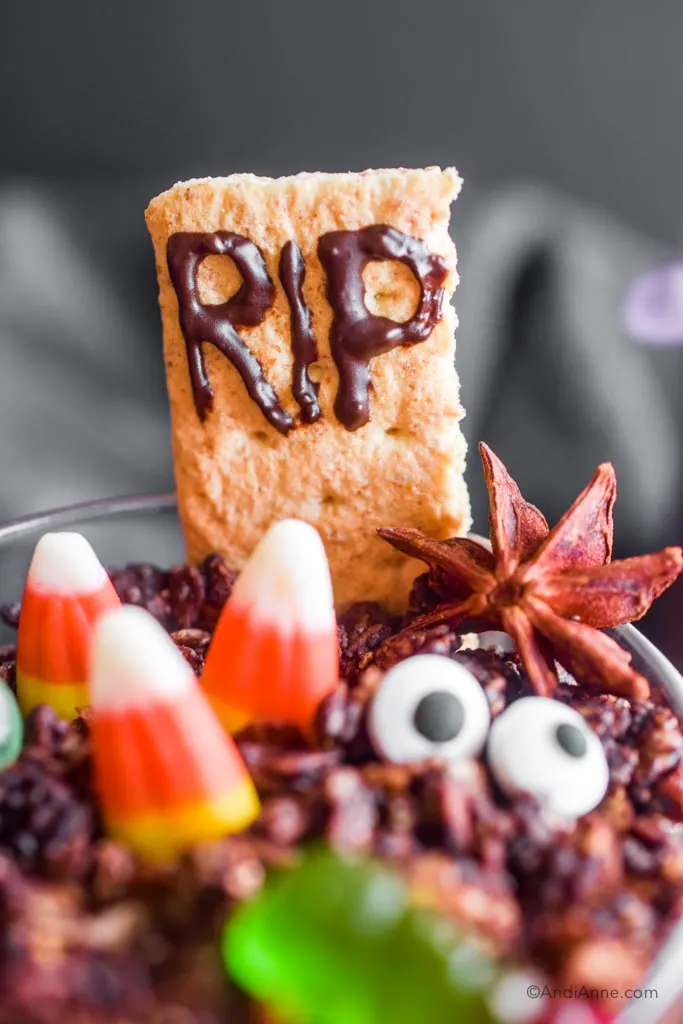 How To Make The Tombstone
These little graveyard tombstones are made from graham crackers. I used gluten-free graham crackers.
First, I melted dark chocolate chips in a bowl in the microwave. Then I scooped the melted chocolate into a sandwich bag, sealed tightly and snipped off a tiny piece of one corner. This creates a simple piping bag that you can use to write "RIP" on the graham cracker. The best tip is to go slow while you're writing.
This can be a little tricky to get the hang of, so I highly recommend making 4 or 5 tombstones and then choosing the best 2 for the dirt cups. I had a few mistakes that had to be thrown out.
Once you've picked the best 2, pop them into the freezer for 5 minutes so the chocolate can harden.
Next, gently push them through the granola into the back part of the cup. You want it deep enough that the cracker tombstone will stand up on its own.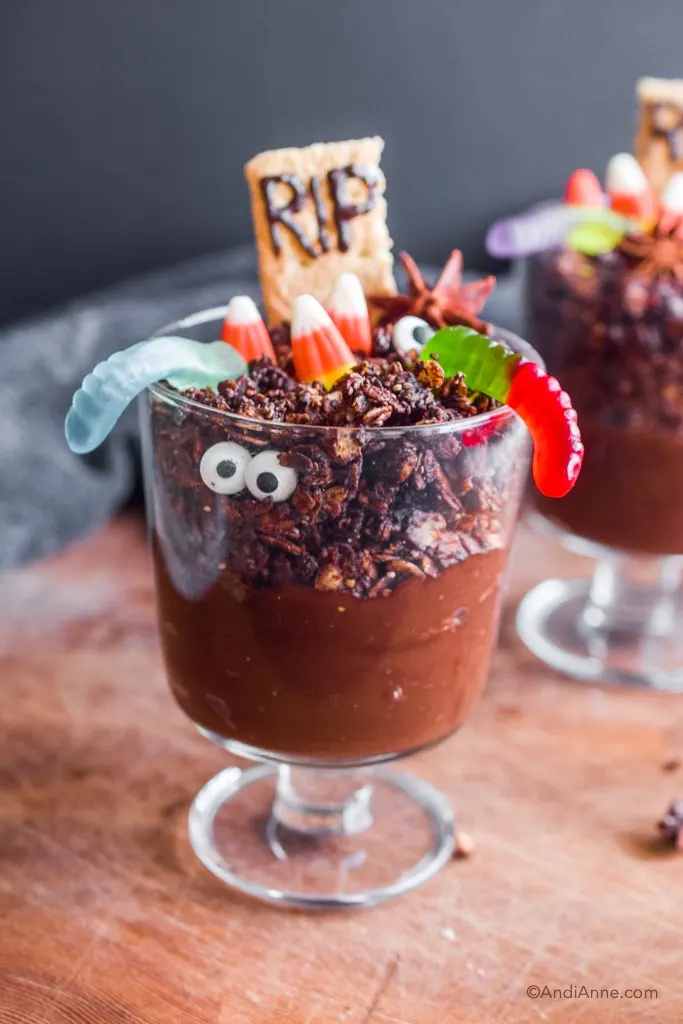 More Recipes For Kids
Halloween Mummy Brownies – These chickpea brownies were a total hit with my daughter! It's probably because they were masked in chocolate. Anything hidden in chocolate is always a good thing to her.
Chocolate Oat Monster Cookies – I love to bake on Saturdays with my daugther. We usually make a treat that she can add to her school lunches for the week. These are her favorite by far – her friends at school thought they were so cool!
Pumpkin Chocolate Chip Muffins – These muffins are gluten-free, easy to make and store well in the freezer.
Pumpkin Oatmeal Cookies with Cream Cheese Frosting – These cookies are addicting! They're totally delicious, gluten-free and made with no refined sugar. Just all-natural real food ingredients.
Homemade Oreos with Cream Cheese Icing – Basically heaven in a cookie. Kids love them, parents can't stop eating them… they're worth making from scratch.
FOLLOW ALONG: Subscribe to my newsletter and follow along on Youtube and Facebook and for the latest updates, recipes and content! If you love this recipe, give it a star rating ★ below.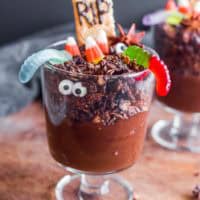 Halloween Dirt Cups Recipe
This Halloween dirt cups recipe is made with a chocolate avocado pudding base, chocolate granola, and a topped with candies.
Save Recipe!
Saved!
Pin This
Print It
Ingredients
Chocolate Avocado Pudding:
Instructions
First, make the chocoalte avocado pudding. Add the avocado, milk, cocoa powder, vanilla extract, and maple syrup to a food processor. Blend until it's smooth and creamy. Stop and scrape down the sides if needed.

Divide the chocolate pudding into two cups.

Melt 3 Tbsp of dark chocolate chips in the microwave. Scoop the melted chocolate into a sandwich bag. Seal and snip off a tiny piece of the corner. Use as a piping bag to write "RIP" on to a graham cracker slice.

TIP: Try writing "RIP" on 4 crackers and choose the best 2 for the dirt cups. Place the crackers in the freezer for 2 minutes to harden the chocolate.

Add the cracker tombstone in the back of the chocoalte granola. Push down gently so that it stays in place.

Top with gummy worms, candy corn, candy eyeballs and star anise. Or whatever else you'd like! Have fun and enjoy!
Recipe Notes:
Note: The chocolate avocado pudding tastes the best when eaten the same day that you make it.
Nutrition
Calories:
752
kcal
|
Fat:
49
g
|
Fiber:
26
g
|
Sugar:
26
g