Level up your dessert game with this delicious from-scratch mocha pie!
This recipe is made with three layers including a cookie crumb base, whipped chocolate filling and whipped cream topping. It's incredibly light and fluffy.
This recipe comes from my mom's vintage recipe collection and has been adapted to use modern ingredients. I love classic recipes because they use straightforward simple ingredients!
Light and Creamy Pie
This is certainly different from normal pie styles. This one is light and fluffy – similar to whipped cream. It's decadent, rich and indulgent.
Kids LOVE this dessert! It's a wonderful recipe to serve at birthday parties.
The key to this recipe is a lot of mixing with a hand mixer. This creates that light and fluffy texture.
It's entirely made from scratch using very simple ingredients.
Although this recipe does require a few steps, they're definitely worth it to create such a beautiful dessert.
Mocha pie is wonderful served on warm days as it's chilled in the fridge until just before serving. Save it for after barbecues, or any summer parties with guests (but it tastes great on chilly days too!)
This pie can be prepped in advance and stored in the fridge before serving.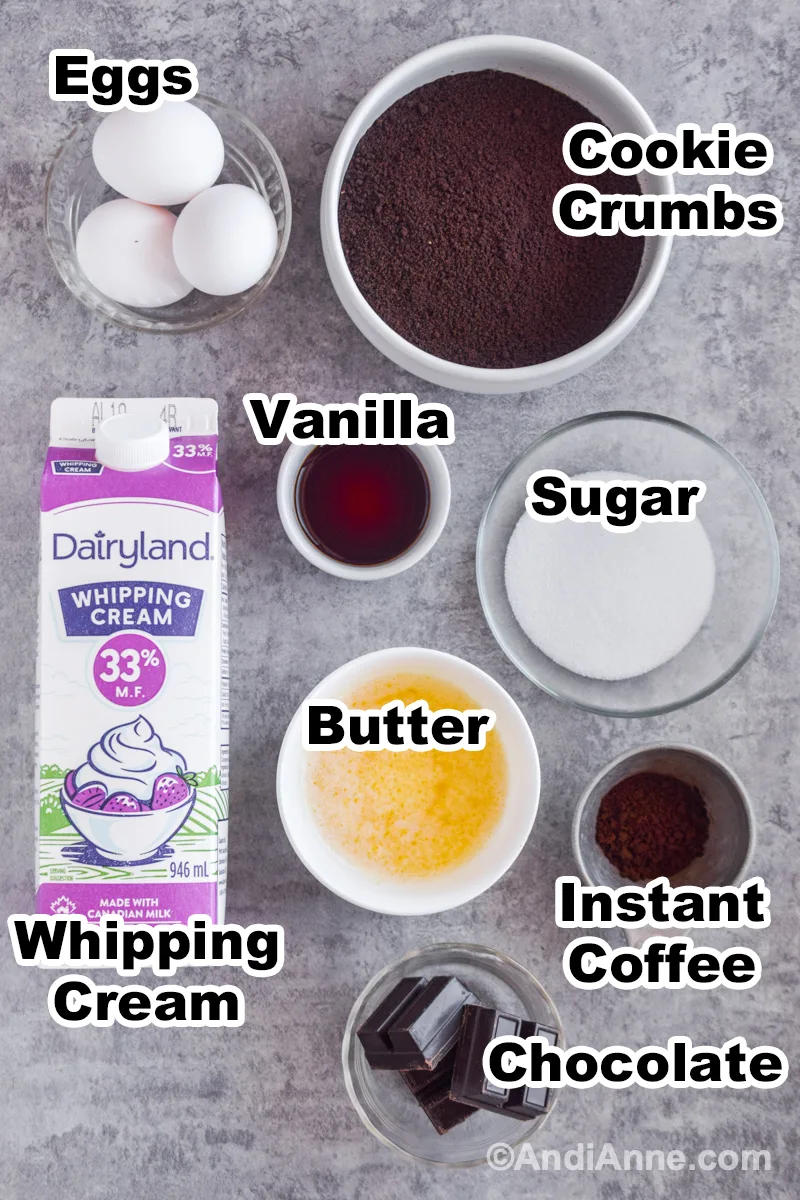 Recipe Ingredients
PIE CRUST: Made from only three ingredients, you'll need cookie crumbs (look for them in the baking aisle near graham cracker crumbs), butter and a bit of sugar. If you can't find the crumbs you can use a food processor to blend chocolate cookies to create 1 ½ cups.
FILLING: Baker's chocolate is mixed with eggs, sugar, vanilla, instant coffee granules, butter and whipping cream. Use fresh whipping cream and not frozen whipped cream as it won't create the proper consistency. Look for semi-sweet baker's chocolate in the baking section of the grocery store.
TOPPING: Extra whipping cream reserved from the filling is added to the top of the cake along with chocolate shavings made from baker's chocolate.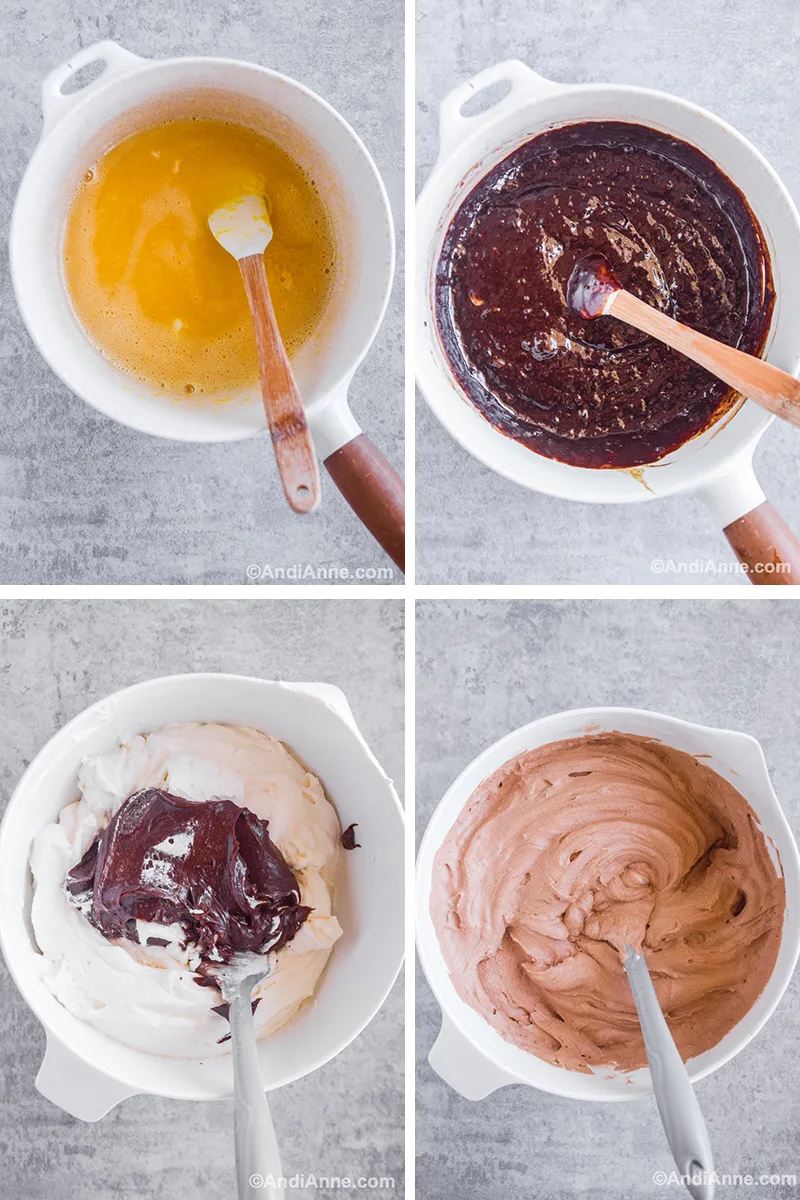 How To Make Mocha Pie
While there are a few steps to making this recipe, it's definitely worth it!
Prep the cookie crust, press it into a pie pan and bake for 10 minutes.
Heat eggs and sugar in a saucepan. Remove from heat, add instant coffee, vanilla, and chocolate.
Beat butter according to full recipe instructions below. Add the chocolate mixture in sections.
Beat whipping cream separately. Reserve 2 cups for later. Fold in the chocolate mixture.
Pour into baked pie crust. Let chill overnight.
Add reserved whipping cream on top along with chocolate shavings. Serve and enjoy!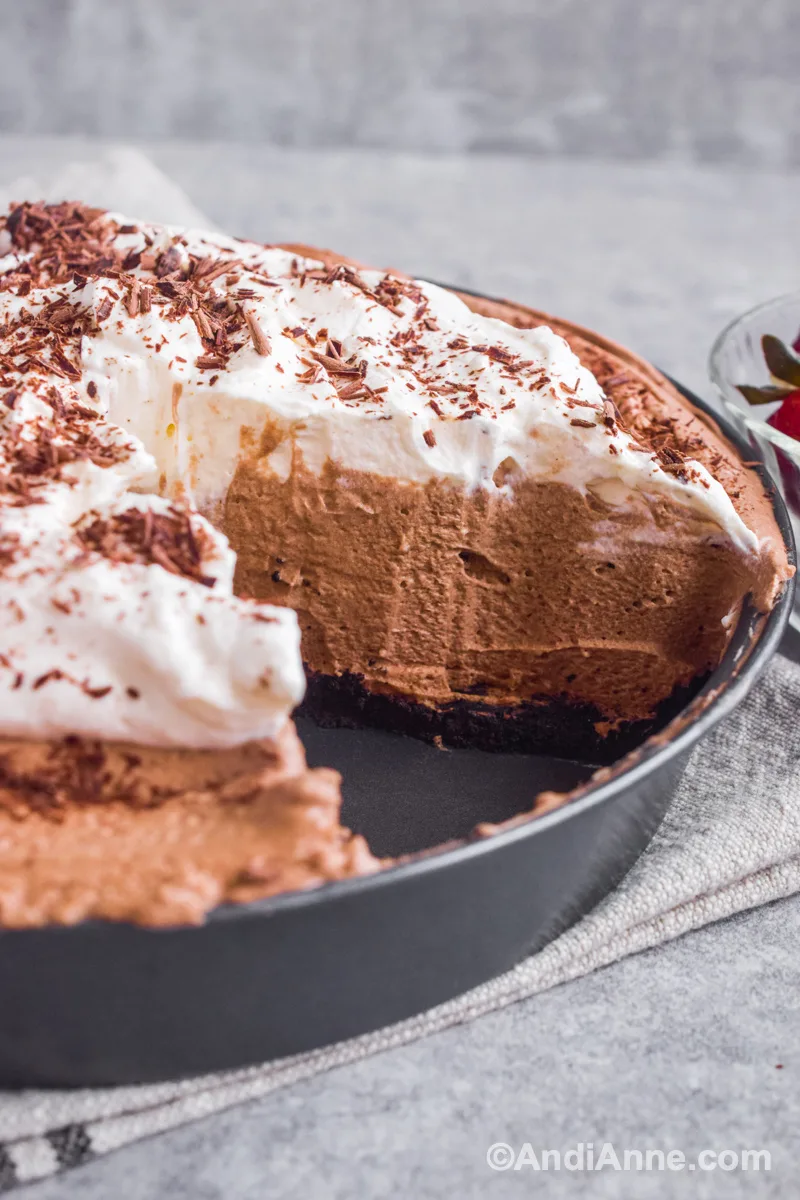 Recipe Tips
Press cookie crumb crust into the pie pan with the bottom of a measuring cup. It will help to create a smooth and consistent crust.
Don't overheat the eggs while melting with sugar. Heat just enough that eggs and sugar melt and dissolves. Then remove from heat right away. Otherwise, the eggs may start to overcook.
Remove the mixture from the heat source right away, then add dissolved coffee and baker's chocolate. Stir until the chocolate has melted into the mixture. Let this cool for a few minutes while making other ingredients.
The key to this recipe is a lot of whipping. First, the butter needs to be whipped for 2 minutes. Next, the whipping cream needs to be fully whipped which usually takes me about 8 minutes. This is what creates that light and fluffy texture.
The pie should be chilled for a minimum of 4 hours, but can be stored overnight before serving. It needs time to chill and properly set.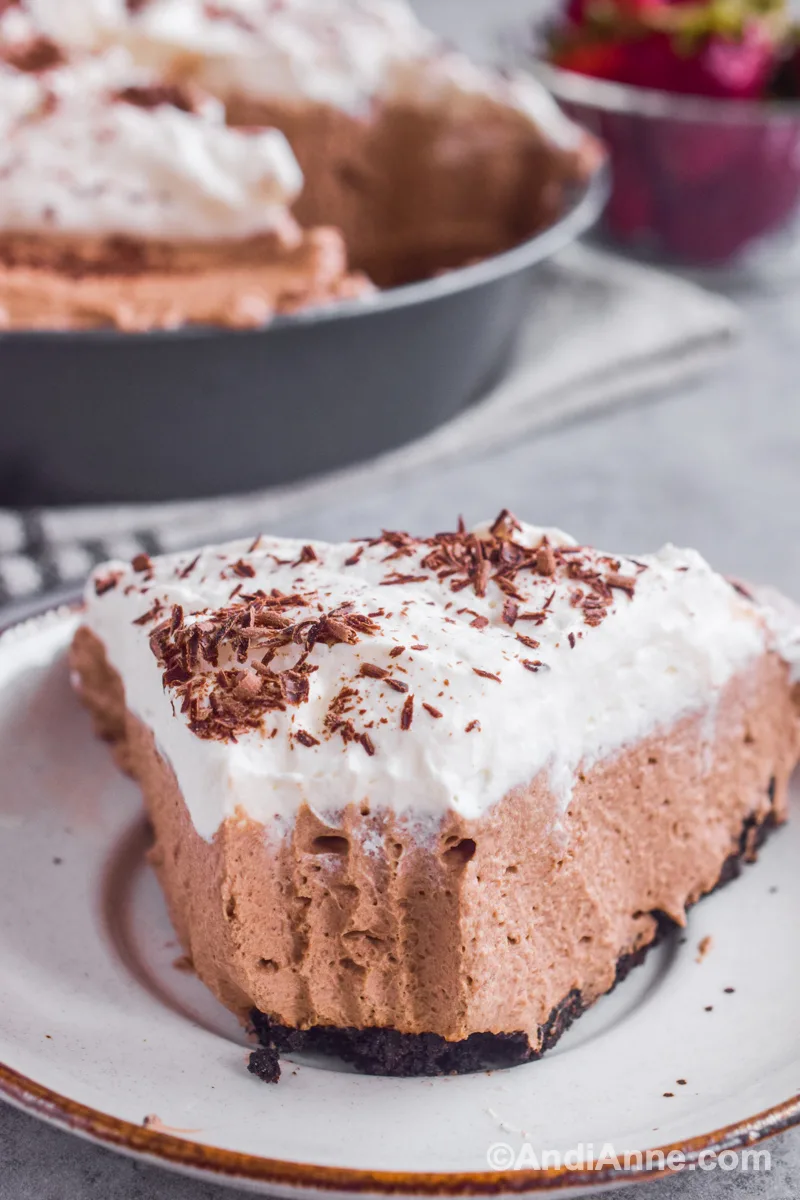 More Dessert Recipes
Did you love this mocha pie? Be sure to leave a rating below!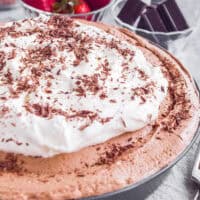 Mocha Pie
This recipe is made with three layers including a cookie crumb base, whipped chocolate filling and whipped cream topping. It's incredibly light and fluffy.
Save Recipe!
Saved!
Pin This
Print It
Ingredients
Crust:
1 ½

cups

cookie crumbs

¼

cup

unsalted butter

-

melted

¼

cup

sugar -

optional
Instructions
Crust:
Preheat the oven to 350°F. Spray a pie pan with nonstick cooking spray.

Melt butter in the microwave, then mix in cookie crumbs and sugar.

Add to the greased pie pan. Press down with the bottom of a small measuring spoon or your fingers. Bake for 10 minutes, remove from oven and let cool completely before adding the mocha filling.
Filling:
Heat eggs and sugar to a pot over medium-high heat, stirring constantly. The sugar should be dissolved and will coat the back of a spoon (do not overcook or it will cook the eggs). Remove from heat.

In a bowl, add the instant coffee and the vanilla to dissolve.

Add in the baker's chocolate and dissolved coffee. Stir until chocolate is melted (not on the stove). Let cool and set aside.

In a medium bowl, beat the softened butter for 2 minutes.

Add in ⅓ of the chocolate mixture and beat together just enough until combined.

Add another ⅓ of chocolate and mix just enough.

Add the last ⅓ of chocolate mixture. Now mix for a full 5 minutes until very smooth and creamy.

In a separate large bowl, add the whipping cream, vanilla and powdered sugar. Beat until peaks form. This usually takes 8-10 minutes.

Scoop out 2 cups worth of whipping cream. Cover it and place in the fridge for later.

Add the cooled chocolate mixture to the large whipped cream bowl and mix together thoroughly. Scrape the sides and bottom to get all the chocolate.

Pour into the cooled and cooked cookie crust. Smooth out the top with a spatula. Cover and refridgerate overnight (or minimum 4 hours).

Remove from fridge, scoop remaining whipping cream on to the center.

Top with chocolate shavings using a vegetable peeler.

Serve and enjoy! Slice then use a pie server. Leftovers can be stored in the fridge covered up to 4 days.