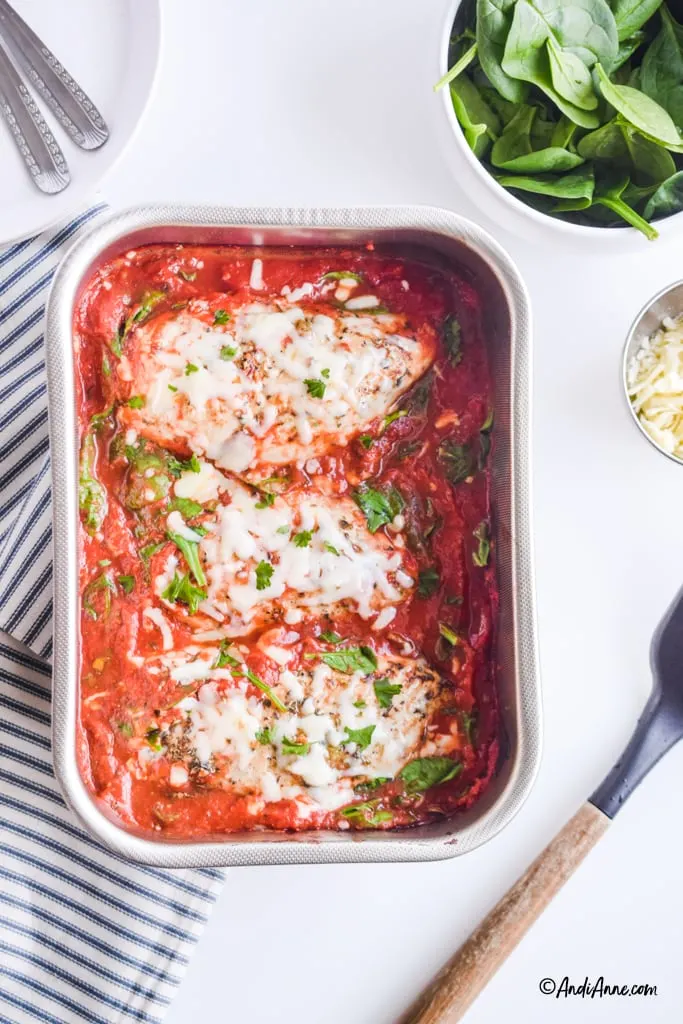 Dinner In Under 30 Minutes!
Mozzarella chicken in tomato sauce is a simple dish that is perfect for busy weeknights. This recipe can be put together using four main ingredients – chicken breast, crushed tomatoes, fresh spinach and mozzarella cheese. Pair it with rice or pasta for an easy dinner.
Mozzarella Chicken In Tomato Sauce Ingredients
CHICKEN – You can use as many chicken breasts as you need here. Depending on chicken breast size and quantity you'll need to adjust the cooking time.
TOMATO SAUCE – Canned crushed tomatoes make this recipe fast and no fuss. You can also use a jar of tomato sauce, marinara sauce or spaghetti sauce.
SPINACH – Fresh baby spinach can be added in the beginning of baking chicken or in the last 5 minutes when you sprinkle on mozzarella cheese.
Can You Put Raw Chicken In Tomato Sauce?
Yes. For this mozzarella chicken recipe, the chicken breasts are added raw to the tomato sauce and then both are cooked together.
You can put raw chicken in tomato sauce as long as the chicken is fully cooking with the sauce. If the chicken was still raw (for example a marinade that was removed while the chicken was still raw) then I would discard the sauce.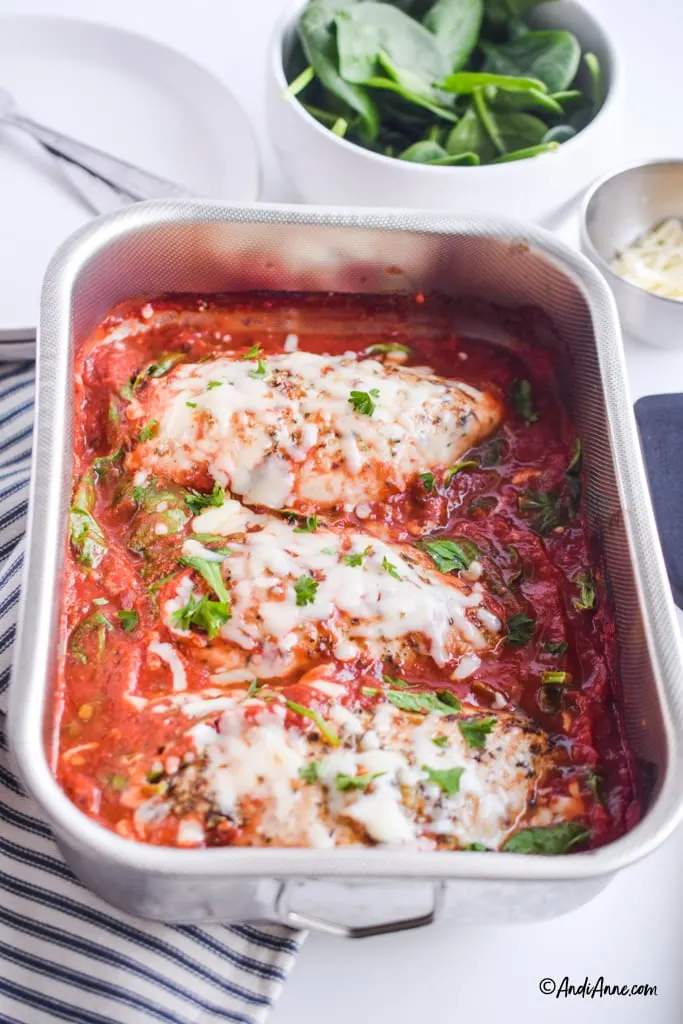 How To Cook Mozzarella Chicken In Tomato Sauce
This recipe might look fancy, but it is one of the easiest recipes to put together:
In a frying pan, sear the chicken breast on each side for 1-2 minutes. This will help to seal in the flavor.
In a bowl, mix together tomato sauce and spices. Grate mozzarella and set aside.
Add chicken to a casserole dish. Pour the tomato sauce over top and bake the chicken for 25-35 minutes. The time you cook will vary on how many chicken breasts you're using, the size of them, and whether or not they're fully thawed.
In the last 5 minutes of cooking remove the pan from the oven and check the temperature. Push spinach into the sauce. Sprinkle cheese on top of everything. Cook another 5 minutes or until the chicken is ready.
What To Serve With Mozzarella Chicken In Tomato Sauce
This dish is very versatile. Here are a few easy suggestions for side dishes:
Served with pasta
Served with rice
Served with a salad
Served with roasted vegetables
How Do You Know Your Chicken Breasts Are Cooked?
According to the USDA recommended cooking temperatures, the safest internal temperature for cooking all types of poultry products to is 165°F. This is the interior temperature that the meat will read at once removed from the heat source. You can use a food thermometer, which will be poked into the thickest part of the meat to read the temperature.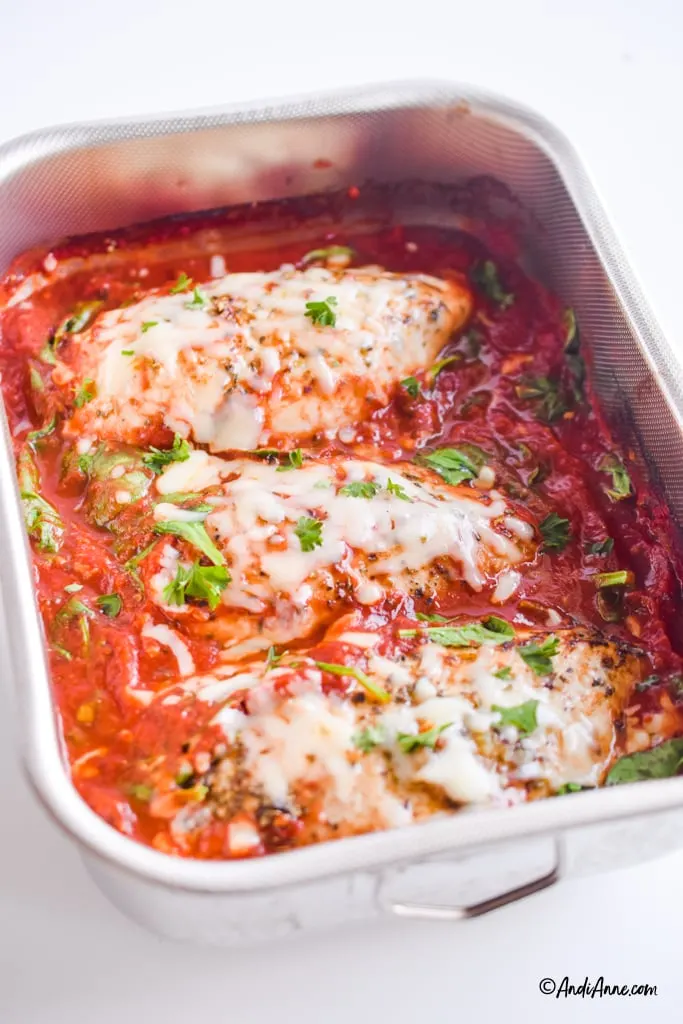 More 30-Minute Dinner Ideas: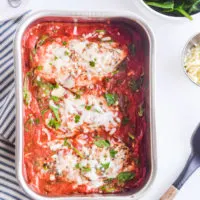 Instructions
Preheat the oven to 400°F.

Heat a frying pan over medium high heat with olive oil. Add minced garlic and chicken breasts. Season with salt and pepper and sear each side of chicken for 1-2 minutes. Remove from pan and add to baking dish.

In a bowl, mix together crushed tomatoes, dried basil, dried oregano, and season with salt and pepper. Pour sauce overtop of chicken breasts in baking dish.

In the last 5 minutes of baking, remove pan from oven and push the spinach into the sauce and sprinkle mozzarella cheese overtop. Add back to the oven.

Bake chicken for a total 25-35 minutes, or until chicken reaches 165°F when poked in the center with a meat thermometer.
Nutrition
Serving:
4
g
|
Calories:
253
kcal
|
Carbohydrates:
2
g
|
Protein:
27
g
|
Fat:
15
g
|
Saturated Fat:
5
g
|
Trans Fat:
1
g
|
Cholesterol:
83
mg
|
Sodium:
172
mg
|
Potassium:
363
mg
|
Fiber:
1
g
|
Sugar:
1
g
|
Vitamin A:
1606
IU
|
Vitamin C:
5
mg
|
Calcium:
114
mg
|
Iron:
2
mg
The nutritional information provided is an estimate and is per serving.