These white chocolate oatmeal cranberry cookies are the perfect combination of sweet and tart. Fresh cranberries are combined with white chocolate chips to create one of my favorite cookies! It's the perfect treat to enjoy this season.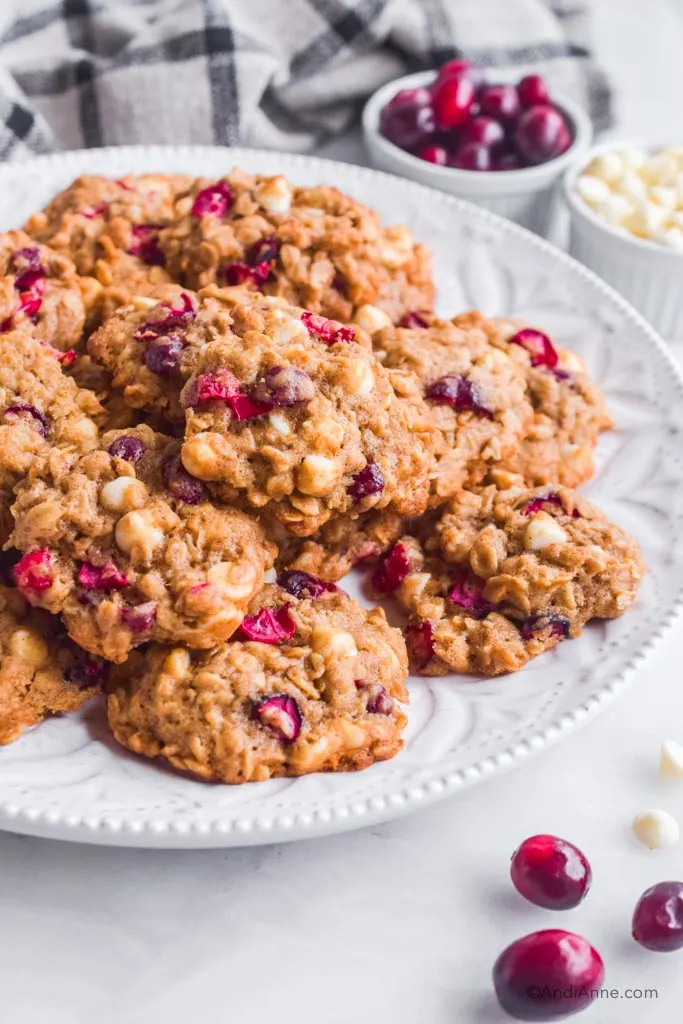 White chocolate cranberry cookies are soft and rustic and will give you a sweet and tart taste when you take a bite. Fresh cranberries and white chocolate chips are combined with old-fashioned rolled oats to create a truly delectable cookie.
Cranberry Oatmeal Cookie Recipe
Personally, this is one of my favorite styles of cookies! I love any cookie made with rolled oats (like our oatmeal chocolate chip cookies). But the combination of tart cranberries with sweet white chocolate chips is just the best. I brought these over to a family member's house and they were a hit!
Texture – These cookies are soft and chewy. They're more delicate than other styles of cookies and store better in a hard container to help prevent breaking.
Taste – These cookies are tart and sweet with a soft chewy texture. When you take a bite you're pleasantly surprised by the tartness of the fresh cranberries which is one of my favorite things about this cookie.
Recipe Ingredients
Whenever fresh cranberries are in season, I'm always thinking of how to enjoy them like our cranberry sauce with orange sauce recipe. There is something so wonderful about this tart berry. Here's what you'll need to make these oatmeal cranberry cookies:
Cranberries: This recipe uses 1 cup of fresh cranberries which creates the perfect tartness. These are usually only available in the Fall/Winter. If you're unable to find them, you can substitute for dried cranberries (these will be sweet tasting and not tart).
White Chocolate Chips: You'll need one cup of white chocolate chips. Any brand will do!
Rolled Oats: I use these sprouted oats and just love 'em! Rolled oats will bake differently than quick oats which will create a mushier texture. Rolled oats are large flake oats.
Flour: You'll need ¾ cup of all-purpose flour for the recipe.
Sugar: This recipe uses ½ cup of brown sugar. You could also use coconut sugar. Or if you want these to be sugar-free, try Lakanto brown sugar substitute sweetener.
Other Baking Ingredients: You will also need unsalted butter, vanilla extract, baking powder, baking soda, cinnamon, and a pinch of salt.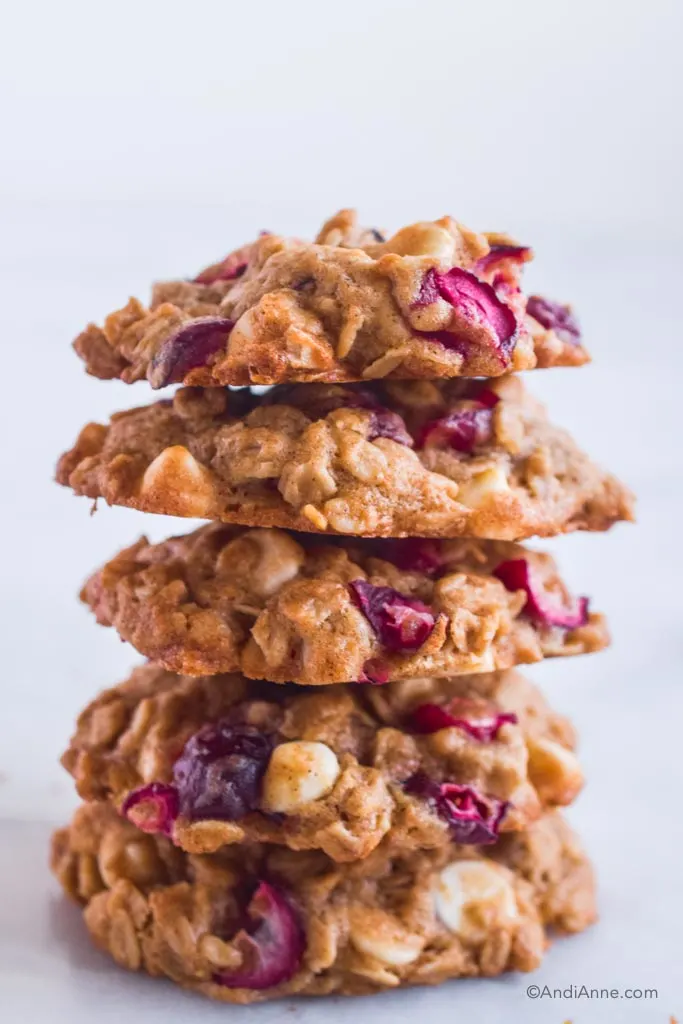 Cookie Variations
It's easy to change up the flavor of these cookies. Here are a few variation ideas to get you started:
Dried Cranberries: You can replace fresh cranberries with dried cranberries. These don't have the same tartness and are sweet tasting but they'll work too.
Chocolate Chips: You can easily replace white chocolate chips with milk or dark chocolate chips.
Nuts and Seeds: Add chopped walnuts, pecans, sunflower seeds, or any other favorites to the cookie batter. Try adding ½ cup of nuts or seeds and see how it goes. This may alter the baking time by a little.
How To Make Oatmeal Cranberry Cookies
Whether you're a cookie expert, or this is your first time making cookies, this recipe is so easy. Especially when you use a hand mixer and cookie scoop.
Dry Ingredients: Whisk together the dry ingredients in a medium bowl. Set aside for now.
Wet Ingredients: In a large bowl, cream the butter and sugar with a hand mixer. Beat in the egg and vanilla.
Mix Together: Add the dry ingredients and mix them together. Next, stir in the rolled oats, cranberries, and white chocolate chips using a spatula. The batter will be quite sticky.
Form Cookies: Use a cookie scoop or 1 Tbsp measuring spoon to drop the cookies onto a baking sheet lined with parchment paper.
Bake: Bake for 10-12 minutes at 375°F. Remove from oven and let cool for 10 minutes before transferring to a cooling rack.
Pro Tip: The cookie dough is soft and quite sticky. I highly recommend using a cookie scoop to grab the batter and add it to the baking sheet. It makes life so much easier! If you don't have a cookie scoop, use a 1 Tbsp measuring spoon with a spatula to help release the batter on to the baking sheet.
How To Serve Cranberry Oatmeal Cookies
Like all homemade cookies, this recipe is best served with a fresh glass of cold milk, cup of tea or coffee. Cookies that are still warm (but not hot) are my absolute favorite to get the best flavor.
Common Questions
Can I use dried cranberries?
Dried cranberries are much sweeter in taste. They usually contain added sugar as well. This will completely change the flavor of these cookies, giving them a sweeter taste with less tartness.
Can oatmeal cookie dough be chilled before baking to make ahead?
Some types of cookie dough work great with this method, but I don't recommend it with oatmeal cookies.
Can I use milk chocolate chips?
Certainly! Dark chocolate chips are milk chocolate chips can be use instead of white chocolate.
How To Store The Cookies
To Store – These cookies are delicate and can crumble which is why I like to store them in an airtight container (not a Ziploc bag). You can store these on the counter for up to 1 week or in the fridge.
Fridge – I prefer to store mine in the fridge as they tend to absorb moisture while on the counter which results in a softer, more delicate cookie.
Freezer – Oatmeal cranberry cookies also freeze well! They can be stored in an airtight container or Ziploc bag for up to 6 months. If storing them in a bag, be careful not to toss them around often as they can break easier.
Pro Tip: A cooling rack is essential to getting the perfect consistency for cookies. If you leave them on the baking sheet to cool they are likey to overbake which will give crispier results. A cooling rack allows for air to circulate on the bottom of the cookie as well as the top, letting them cool down more evenly and faster. Be sure to let them cool completely before adding them to a storage container.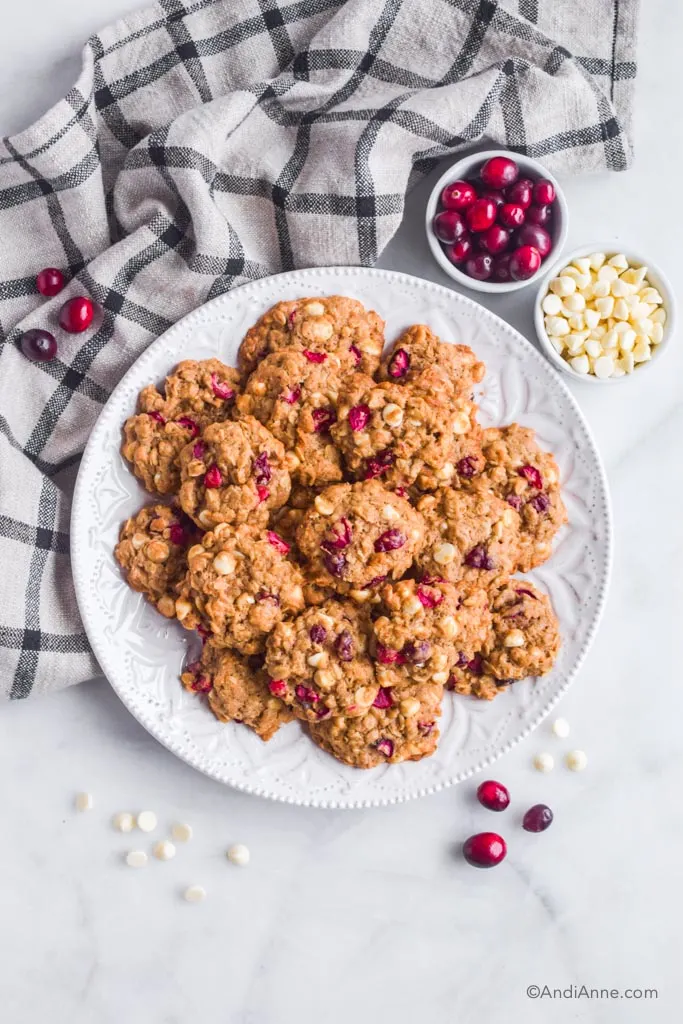 Soft and delicate, sweet and tart, these cookies are the perfect holiday treat! When fresh cranberries are in season you can enjoy them a delicious, yet simple cookie. If you love tart and sweet recipes as much as I do, then I hope this recipe becomes a new favorite.
More Cookie Recipes
If you love baking homemade cookies as much as we do, then you are sure to enjoy some of these cookies off this list. Keep these in mind next time your cookie craving strikes: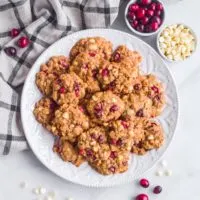 Instructions
Preheat the oven to 375°F. Line a baking sheet with parchment paper. I like to spray the baking sheet then place the parchment on top – this helps it to stay in place.

Wash and slice the fresh cranberries into quarters.

In a medium bowl, whisk together the all purpose flour, baking powder, baking soda, cinnamon, and salt.

In a separate large bowl, cream the butter and brown sugar with a hand mixer.

Beat in the egg and vanilla extract.

Add the dry ingredients (flour mixture) to the wet ingredients and mix together.

Add the rolled oats, cranberries and chocolate chips. Mix together with a spatula.

Ingredients should be mixed evenly and the batter will be sticky.

Use a cookie scoop or 1 Tbsp measuring spoon to drop cookies on to baking sheet. Leave 1-2" between each one as these cookies will spread as they bake.

Bake for 10-12 minutes (I baked mine for 12). Let cool 10 minutes, then transfer to a baking rack to cool completely.

Store cookies in an airtight container in the fridge or counter for up to 1 week.

Note: These cookies are soft and delicate and store better in a hard container.
Nutrition
Calories:
128
kcal
|
Carbohydrates:
16
g
|
Protein:
2
g
|
Fat:
7
g
|
Saturated Fat:
4
g
|
Polyunsaturated Fat:
1
g
|
Monounsaturated Fat:
2
g
|
Trans Fat:
1
g
|
Cholesterol:
12
mg
|
Sodium:
74
mg
|
Potassium:
55
mg
|
Fiber:
1
g
|
Sugar:
9
g
|
Vitamin A:
123
IU
|
Vitamin C:
1
mg
|
Calcium:
34
mg
|
Iron:
1
mg
The nutritional information provided is an estimate and is per serving.