Orange chicken is an incredibly delicious dish that you can make at home! The combination of the crispy chicken and the sticky orange sauce is a perfect balance of sweet and savory flavors.
The dish is also easy to make and can be served with steamed rice and vegetables for a healthy rounded meal. If you like easy chicken recipes as much as I do, then you'll also want to try our sweet and sour chicken bites, and delicious pineapple teryaki chicken recipes!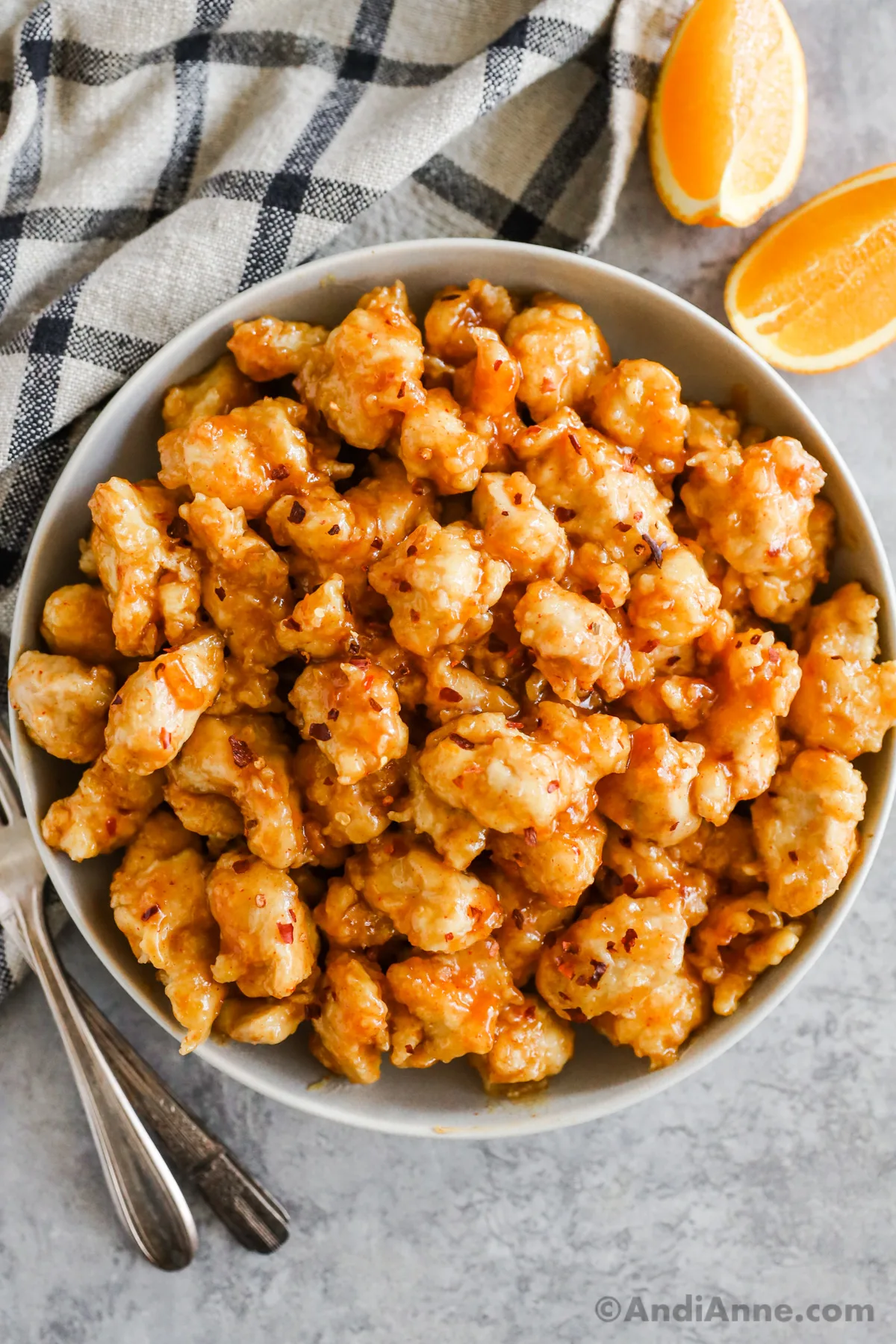 Homemade Orange Chicken
Orange chicken is incredibly delicious and features crispy fried chicken coated in a sweet tangy sauce. This dish is made with a combination of orange juice, soy sauce, honey, vinegar, ginger, and garlic powder.
The sauce is thickened with cornstarch and poured over fried chicken bites.
To make orange chicken, the chicken is first battered and fried until crispy. Then the sauce is prepared separately and poured over the chicken.
The chicken is tossed in the sauce until it is fully coated. The result is a deliciously sweet and savory dish with a crispy texture and bold orange flavor.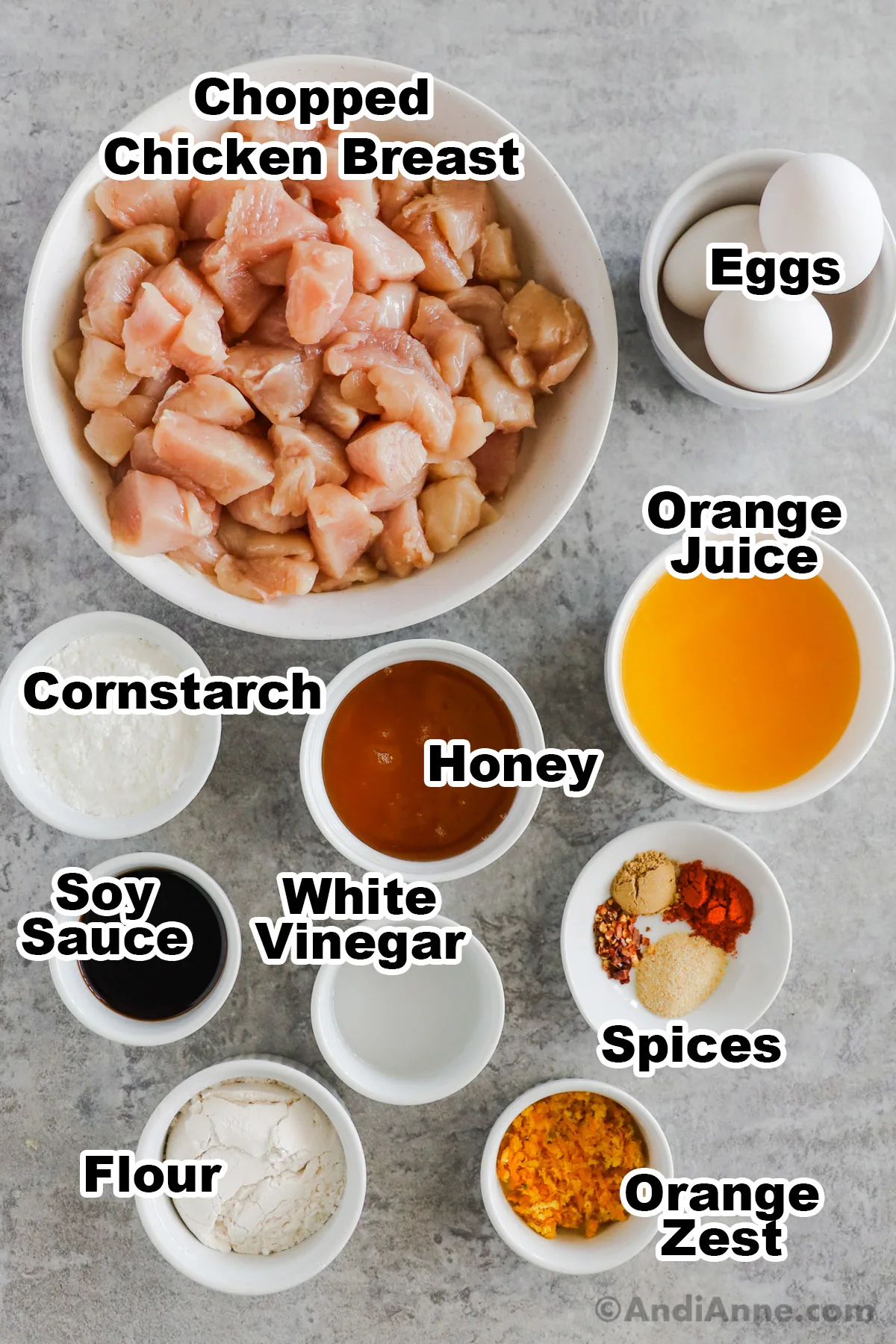 Ingredients
There are two main groups of ingredients, batter for the chicken pieces, and ingredients for the delicious orange sauce. Here's an overview of how to make the recipe with full details in the recipe card at the bottom of this post:
Ingredients For The Chicken
CHICKEN – I used boneless skinless chicken breast, cut into bite-sized pieces for cooking. You can also use boneless skinless chicken thighs, which are a more tender cut of the chicken.
CORNSTARCH – This is used to coat the chicken before cooking, which helps it get crispy on the outside.
FLOUR – All-purpose flour is mixed with the cornstarch to create a simple coating for the chicken pieces.
EGGS – Whisk these together and use them to coat the chicken after it has been coated in cornstarch.
SALT AND PEPPER – Added to the cornstarch mixture for extra flavor.
COOKING OIL – The chicken pieces are cooked in hot oil. I used vegetable oil. For frying you can also use canola oil or avocado oil. Do not use olive oil as it is better for other methods of cooking.
Easy Orange Chicken Sauce
ORANGE JUICE – Fresh squeezed orange juice is best, but you can also use store-bought orange juice. However, fresh juice will taste the best.
SOY SAUCE – Regular soy sauce or a low-sodium soy sauce will work here. For anyone gluten-free, you can use tamari sauce as well.
VINEGAR – This adds a tangy flavor to the sauce. You can use white vinegar, rice vinegar or apple cider vinegar.
HONEY – Honey is used to sweeten the sauce. You can substitute with light brown sugar or coconut sugar.
SPICES – The sauce uses a combination of garlic powder, ginger powder, paprika and red pepper flakes.
CORNSTARCH – a bit of cornstarch is also added to the sauce recipe to thicken it.
I recommend prepping the sauce ingredients before you cook the chicken. You can add it all to a pot, but don't cook it until after the chicken is done.
This makes the cooking process go much more smoothly and ensures that I don't forget anything.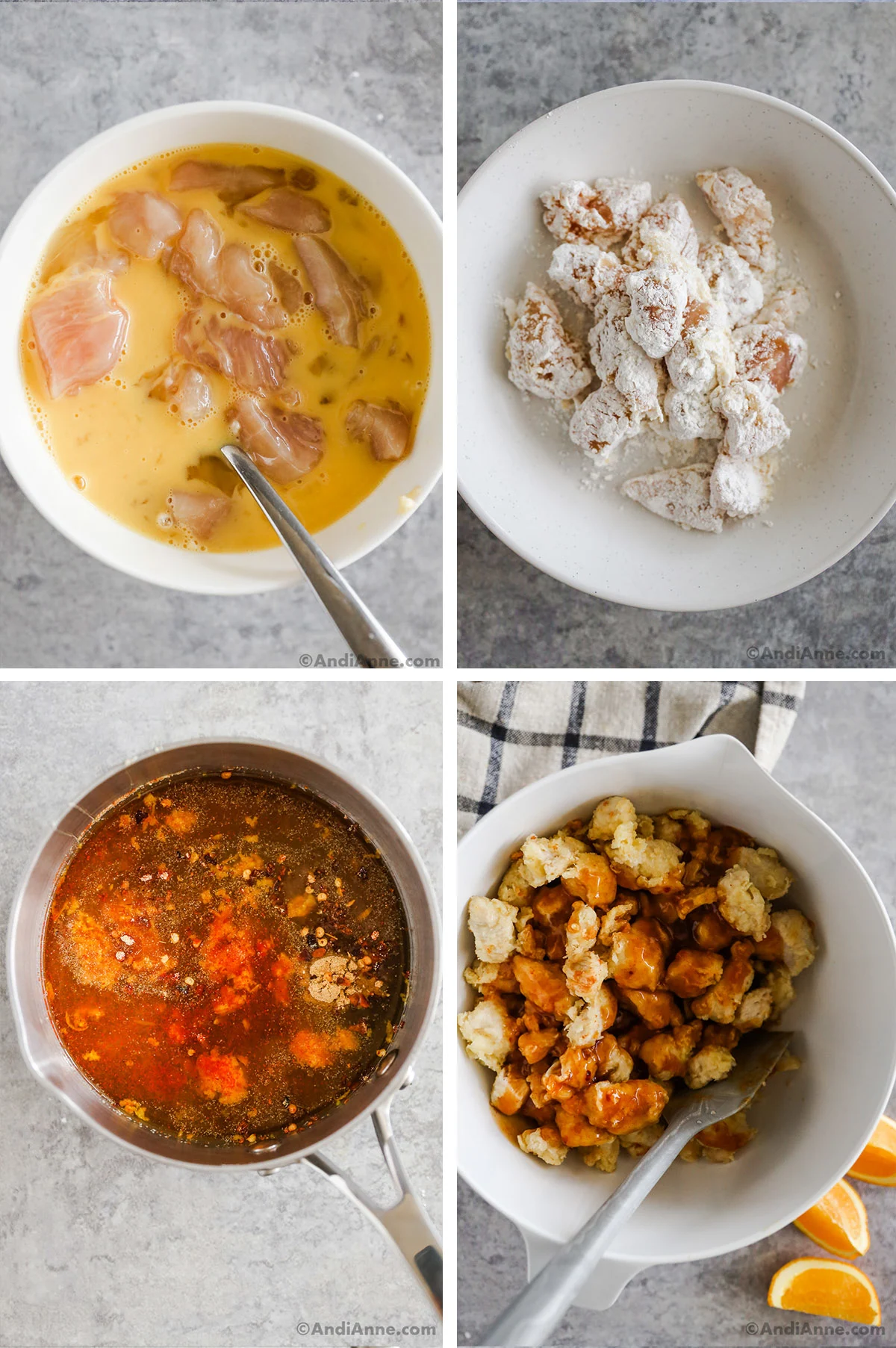 How To Make Orange Chicken
Making orange chicken requires two main steps. First, the chicken pieces are cooked in oil, then the sauce thickened in a small pot.
Here's how to make the recipe with full details in the recipe card below.
PREP – Cut the chicken breast meat into bite-size pieces and season with salt and pepper. Beat a bowl with eggs. Mix together the cornstarch and flour in a separate bowl.
BATTER CHICKEN PIECES – Dip the chicken pieces in the egg mixture and shake off any excess. Add the chicken to the cornstarch mixture and toss to coat. Place them on a plate and repeat with the rest of the chicken pieces.
COOK CHICKEN – Add 2-3 inches of vegetable oil or canola oil to a pot with a heavy bottom over medium-high heat. I used a cast iron pot. Heat until the oil reaches 350°F, use a thermometer to check the temperature.
When the oil is properly heated, add in a small amount of the chicken pieces and cook until they're golden brown and crispy. Remove them using a spatula and place them on a paper towel lined plate. Repeat with the rest of the chicken.
MAKE SAUCE – Mix together the ½ Tbsp of cornstarch with 1 Tbsp of warm water. Combine cornstarch mixture with fresh orange juice, honey, white vinegar, soy sauce, orange zest, garlic powder, ginger powder, paprika, and red pepper flakes in a saucepan over medium heat. Gently stir until the sauce thickens. Once it does, remove it from the heat.
TOSS TOGETHER – Add the chicken to a medium bowl and pour the sauce mixture overtop. Toss everything together. Garnish with a pinch of red chili flakes, sesame seeds, and chopped green onion. Serve and enjoy!
How Can I make this without deep frying?
If you want to make orange chicken without deep frying, you can bake it in the oven. Coat the chicken in the batter and bake it in the oven at 400°F for 20-25 minutes or until it is crispy.
I recommend flipping the chicken halfway through. The steps to make the orange sauce will be the same. The baked chicken can be tossed with the orange sauce and served.
Can I use an air fryer instead?
Yes, you can use an air fryer to make crispy orange chicken. Coat the chicken in the batter and place it in the air fryer to cook at 400°F for 10-12 minutes, or until cooked through.
Give the air fryer basket a shake halfway through. Once the crispy chicken is cooked it can be tossed with the orange chicken sauce made in a pot on the stove and served.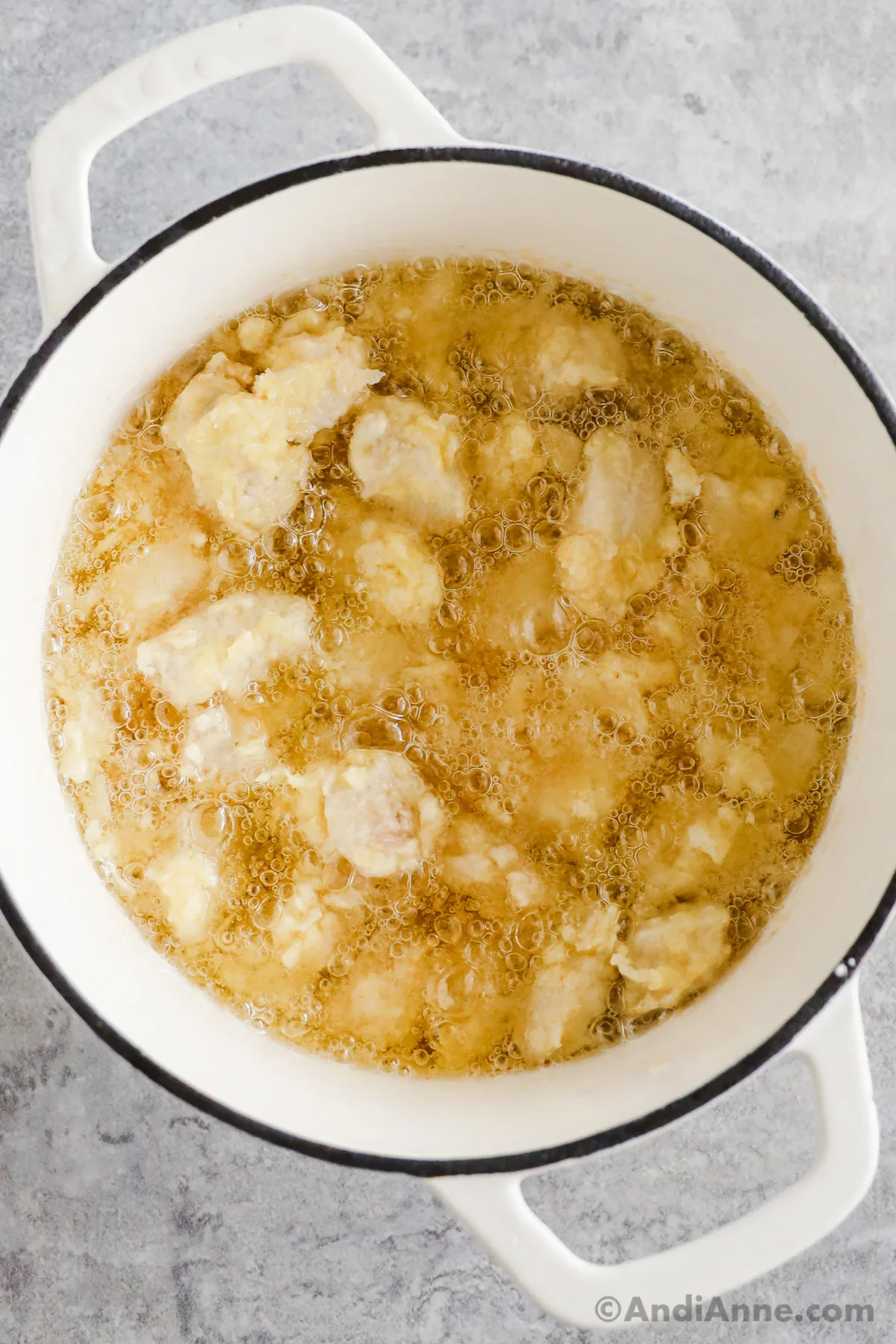 Recipe Tips
For the best ever orange chicken recipe, follow these quick tips:
USE FRESH ORANGES – Fresh-squeezed orange juice adds a bright, citrusy flavor that really makes the dish pop. A squeeze of fresh lemon juice just before serving can also help to brighten the flavors!
MARINATE CHICKEN – If you have the time, marinating the chicken for at least an hour before cooking can help infuse it with even more flavor. I prefer to marinate for 6-12 hours. Just be sure to refrigerate the chicken while it marinates.
COOK IN SMALL BATCHES – If you add too much chicken to the pan at once, it can lower the temperature of the oil. You won't get those crispy edges. Instead, cook in small enough batches that all the chicken is covered in the oil.
USE THERMOMETER – The cooking oil needs to be hot enough to fry the chicken pieces properly. Use a thermometer to check once it's reached 350F.
FRYING TIPS – The cooking oil will be hot and safety is important. This is why it's important to use a heavy bottom pot, like a cast iron dutch oven.
This will ensure an even temperature to cook in. Also, when dropping the chicken into the pot of hot oil, use a spatula or tongs so that the liquid doesn't splash out.
USE CORNSTARCH – This recipe uses cornstarch to thicken the orange sauce and to batter the chicken. It helps create a thick, glossy sauce that coats the chicken perfectly. Just be sure to mix the cornstarch with water before adding it to the sauce. This will prevent it from clumping.
GARNISH – For extra flavor, you can top the cooked orange chicken recipe with a pinch of red chili flakes, a sprinkle of sesame seeds, and a pop of color with green onions.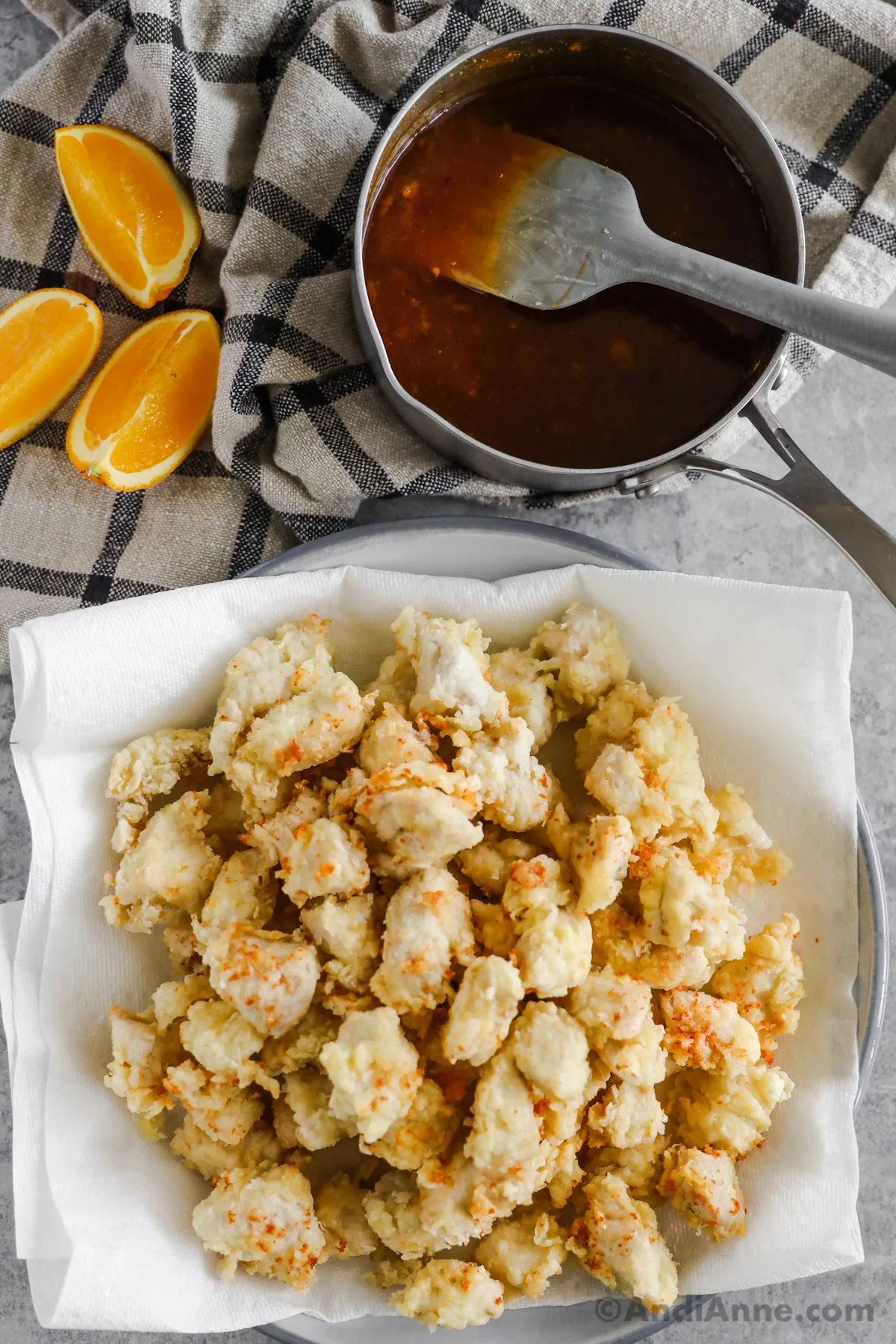 What To Serve With Orange Chicken Recipe
Here are my suggestions for side dishes that will pair perfectly with orange chicken:
RICE – Serve steamed white rice or brown rice with orange chicken. Brown rice has a nuttier flavor and tastes great with this recipe. Or try one of our 8 easy rice recipes!
FRIED RICE – A great way to use leftover rice. Add some eggs, peas and carrots. If using fresh rice, it needs to be cooked before adding to the frying pan. Or try our instant pot fried rice!
VEGETABLES – Steamed or stir-fried vegetables are the perfect addition to this flavorful meal. Favorites include broccoli, carrots, cauliflower, snow peas and bok choy. Add fresh ginger and garlic for more delicious flavor!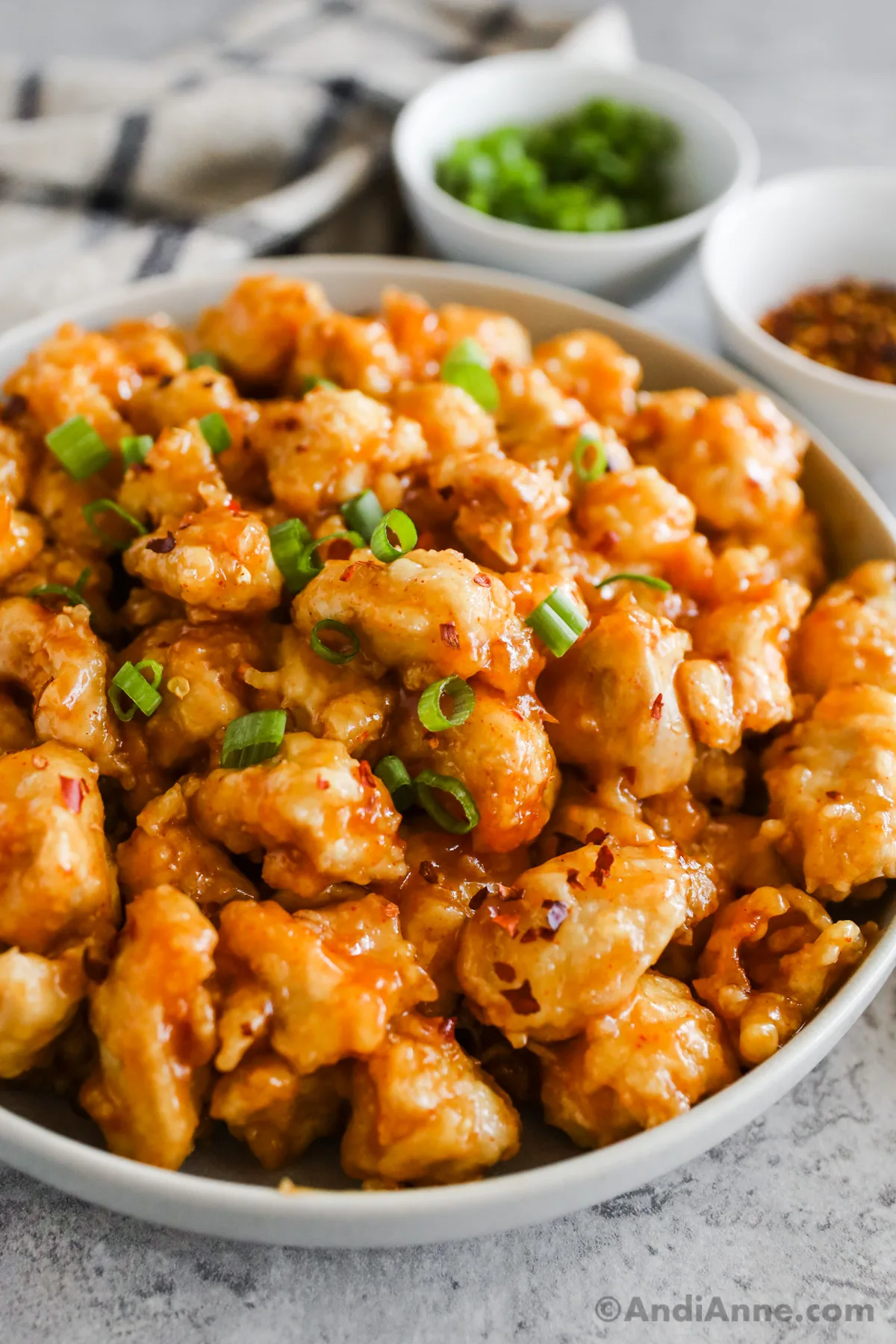 Frequently Asked Questions
What is the difference between orange chicken and General Tso?
Orange chicken is typically made with a sweet and tangy orange sauce and is usually made with battered and fried chicken. General Tso's chicken recipe has a spicy and slightly sweet sauce and often made with breaded and deep-fried chicken.
Can I use store-bought orange juice?
Yes, you can use store-bought orange juice to make the orange sauce. However, freshly squeezed orange juice will give the sauce a fresher and more vibrant flavor. I highly recommend this tasty recipe using freshly squeezed orange juice!
Can I make this gluten-free?
Yes absolutely! Use a gluten-free flour to coat the chicken. Some cornstarch brands are not guaranteed gluten-free, so you can swap with arrowroot flour or tapioca starch. Instead of soy sauce you an use tamari or coconut aminos.
How Do I Discard The Frying Oil?
Cooking oil can be discarded in your compost bin. Once completely cooled, add paper towels to the leftover vegetable oil. These can be added straight to the compost bin.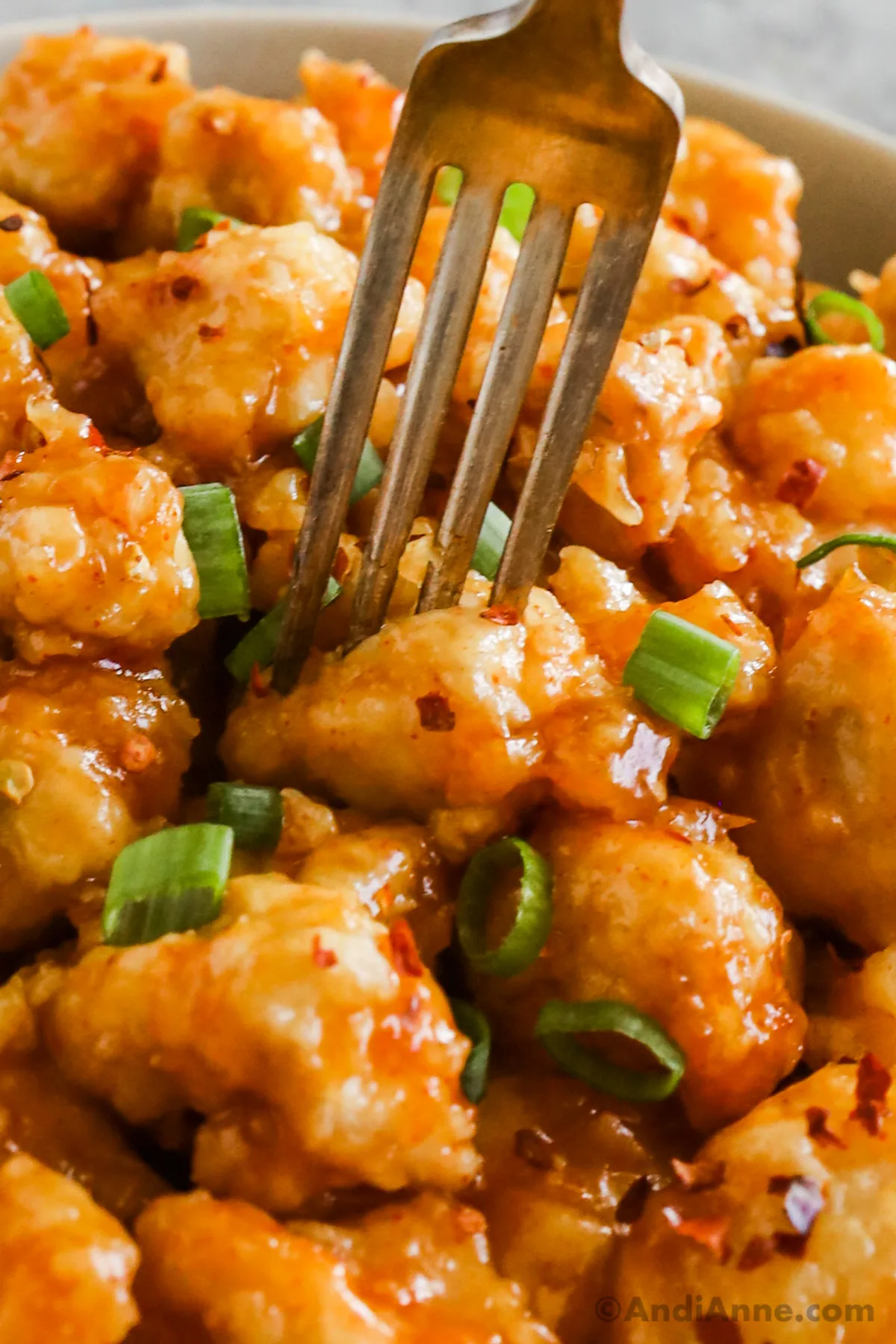 This crispy orange chicken is a totally delicious and easy-to-make dish that is perfect for weeknight dinners or special occasions. Don't be afraid to experiment with different ingredients and spices to make it your own. Happy cooking!
More Chicken Recipes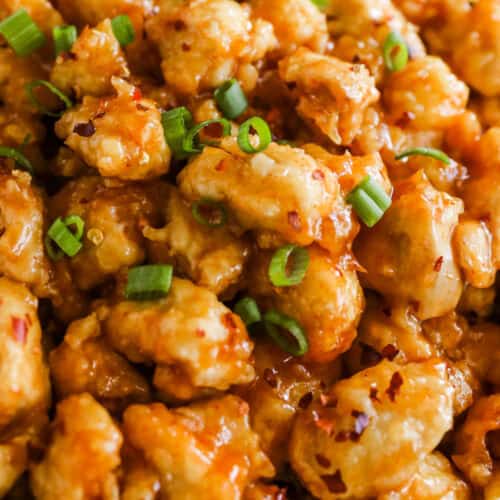 Ingredients
For The Chicken
4

boneless chicken breasts

-

chopped to bite-size chunks

3

large eggs

⅓

cup

cornstarch

⅓

cup

all purpose flour

1

tsp

salt

½

tsp

black pepper

cooking oil for frying
Instructions
Chop the chicken into bite-sized chunks. Zest the outside of 1 orange to get 1 Tbsp of orange zest. Juice 2-3 oranges (or use store bought orange juice).

In one bowl, beat three eggs. In a separate bowl, mix together the ⅓ cup cornstarch, all purpose flour, salt and pepper.

Add the chicken bites to the egg mixture, then toss with the flour/cornstarch mixture. Shake off any excess and place coated chicken on a plate. Repeat with the rest of the chicken until it's all coated.

Pour 2 to 3 inches of cooking oil into a heavy bottomed pot over medium high heat. Use a thermometer to check when it reaches 350°F.

Add the chicken in smaller batches and cook for 2-3 minutes, until it turns golden brown and crispy on the outside. Add the cooked chicken to a plate lined with paper towel. Repeat until all the chicken is cooked.

Mix together ½ Tbsp of cornstarch with 1 Tbsp of warm water.

In a medium saucepan, heat together the sauce ingredients: orange juice, honey, white vinegar, soy sauce, orange zest, garlic powder, ginger powder, paprika, red pepper flakes and the ½ Tbsp cornstarch mixture. Gently stir until sauce has thickened. This will only take 2-3 minutes.

Add the cooked chicken bites to a large bowl. Pour the sauce overtop and mix together.

Add a pinch of red pepper flakes and chopped green onions if desired. Serve with rice and enjoy!
Nutrition
Calories:
328
kcal
|
Carbohydrates:
41
g
|
Protein:
20
g
|
Fat:
9
g
|
Saturated Fat:
3
g
|
Polyunsaturated Fat:
2
g
|
Monounsaturated Fat:
4
g
|
Trans Fat:
0.1
g
|
Cholesterol:
130
mg
|
Sodium:
806
mg
|
Potassium:
326
mg
|
Fiber:
1
g
|
Sugar:
27
g
|
Vitamin A:
307
IU
|
Vitamin C:
23
mg
|
Calcium:
33
mg
|
Iron:
2
mg