These spinach quiche muffins are the easiest breakfast prep with a base of eggs, savory spinach, and sliced mushrooms. Grated parmesan and a few spices make these quiche cups very flavorful!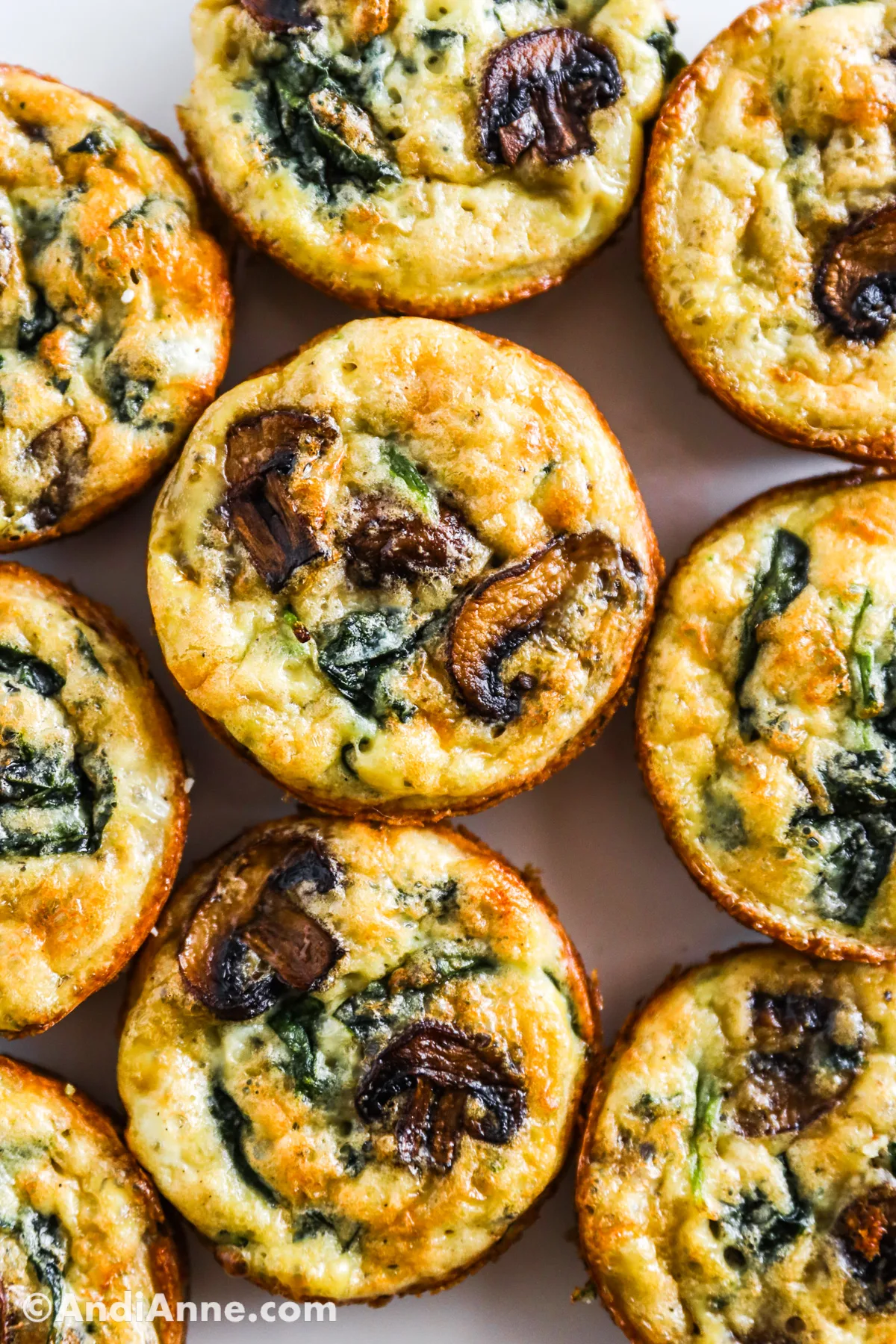 Muffin Tin Quiche
Having a few quick and easy breakfast ideas is the best way to stay on track with healthy eating goals. This recipe is similar to a quiche but in a muffin tin. Perfect for grab-and-go meals! Here's why we love this recipe:
QUICK PREP – These quiche muffins can be prepped in 10 minutes!
SAVORY – Adding freshly grated parmesan and garlic powder gives these muffins a nice savory flavor.
EASY – Just saute the veggies for a minute, then mix with eggs and spices. Pour into a muffin tin to bake – it couldn't be faster and easier!
We love quick egg recipes because they're affordable and high in protein. Some more easy recipes you'll have to try include our Mushroom tomato spinach frittata and if you want to add meat, try our Parmesan Ground Pork Quiche.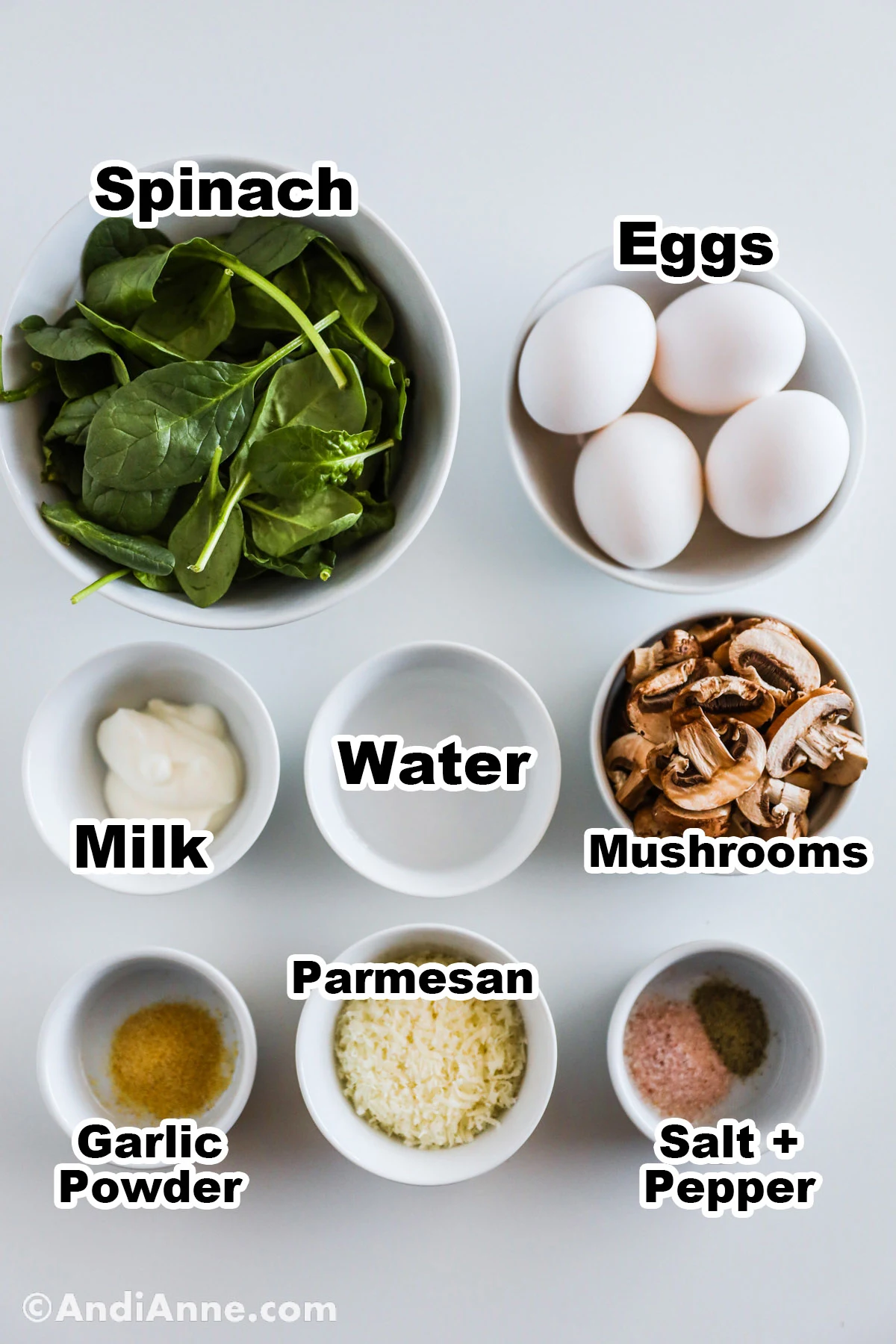 Recipe Ingredients
Below is a list of ingredients I used for this easy and savory muffin quiche recipe. Remember to scroll to the bottom recipe card for full measurements.
EGGS – You'll need four large eggs.
SPINACH – Baby spinach works best. It should be chopped smaller so it's easier to bite into. I recommend using fresh spinach and not frozen to avoid excess water and moisture.
MUSHROOMS – white button or crimini brown mushrooms will both work for these quiche muffins. Save time by using pre-sliced mushrooms which can be added straight to the pan.
CHEESE – freshly grated parmesan adds lots of flavor. You can also use shredded cheddar cheese. I don't think mozzarella will work as the flavor is too mild.
MILK – Regular milk or heavy cream can be used.
SPICES – This recipe keeps things simple with garlic powder, salt and pepper.
Pro Tip: Do not rinse the mushrooms under water. Mushrooms act like a sponge and will absorb moisture which will make them chewy. Instead, use a damp towel to wipe off any dirt and spot-clean them.
Flavor Additions
It's easy to customize the flavor of these muffin cups with vegetables and spices. Here are a few ideas:
KALE – Replace baby spinach with chopped kale.
BASIL – Fresh basil and eggs are always the perfect pairings. Chopped basil can be added right into the recipe.
TOMATOES – Sliced cherry tomatoes or regular tomatoes would be a great addition.
BELL PEPPERS – Red or green bell peppers add color and natural sweetness.
SPICES – Try 1/4 tsp or 1/2 tsp of some of these spices: For extra spiciness, you could add red pepper flakes or chili powder. For an herb, flavor try dried thyme and dried basil. Onion powder would add a sweet and savory flavor.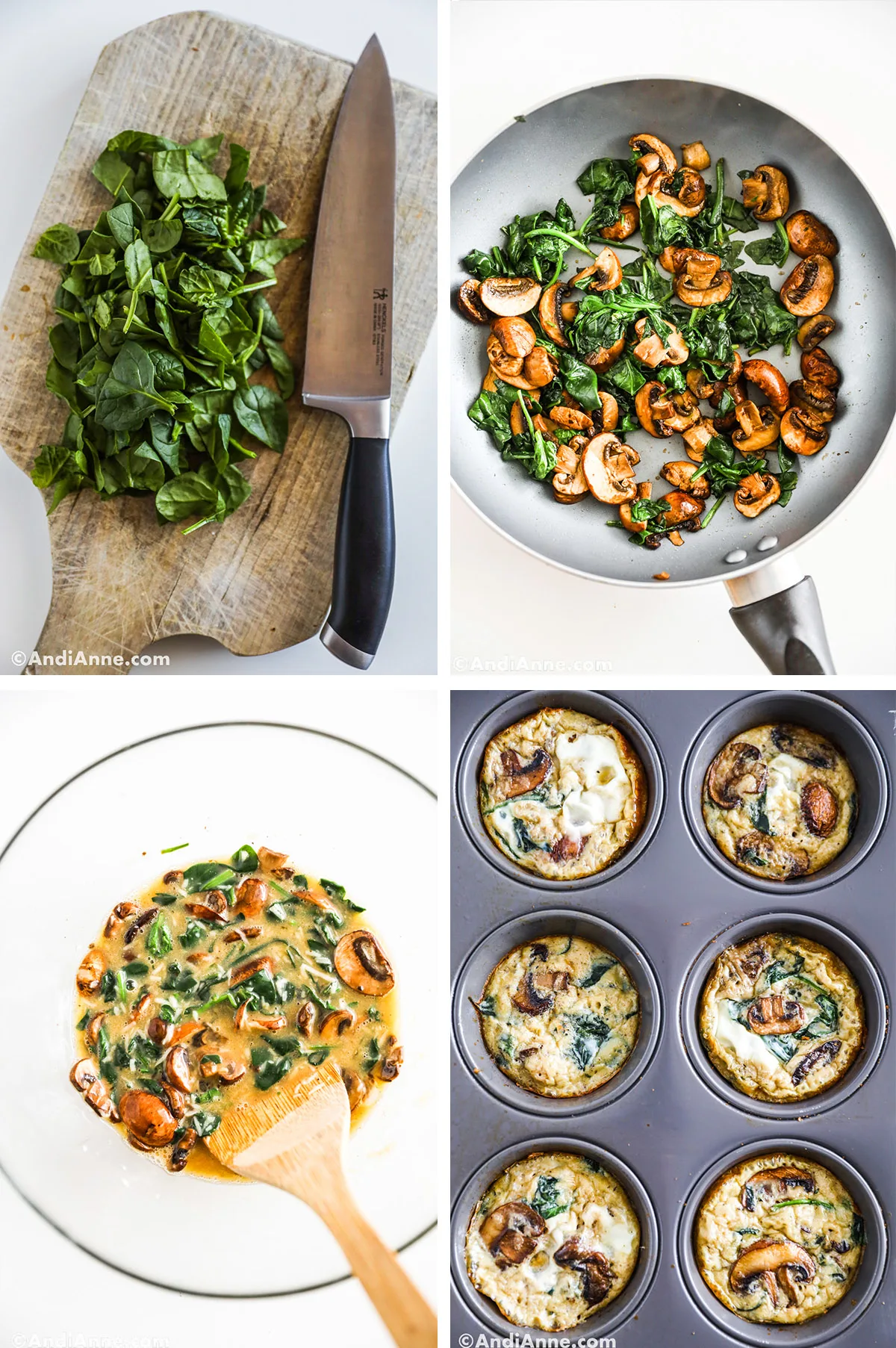 How To Make Quiche Muffins
Begin by greasing a muffin pan with nonstick cooking spray. This recipe will make 12 small quiche muffins! Here's an overview of how to make them:
PREP – Chop the spinach and mushrooms into smaller pieces.
SAUTE – Add the spinach and mushrooms to a frying pan with a bit of oil. Saute until both are cooked, spinach is wilted, and mushrooms have browned and crisped along the edges.
MIX – Whisk the eggs, then add in all the other ingredients, including the cooked veggies. Mix everything together then divide into the muffin pan using a spoon.
BAKE – Preheat the oven to 375F. Spray a muffin pan with nonstick cooking spray. Cook the quiche muffins for 18-20 minutes then place on a rack to cool.
What To Serve With Quiche Muffins
Want to add more flavor to your quiche cups? Try these easy ideas:
SAUCE – Try a spoonful of salsa, hot sauce or ketchup.
SIDE DISH – Pair with our overnight oats or easy flavorful chia pudding for a more filling meal.
ON TOAST – Serve with a slice of toast like our peanut butter bread, or try our 12 easy toast flavors. Serve in between an english muffin like our freezer breakfast sandwiches.
MUFFINS – Eat with our flaxseed muffins or popular banana oatmeal muffins for more fiber.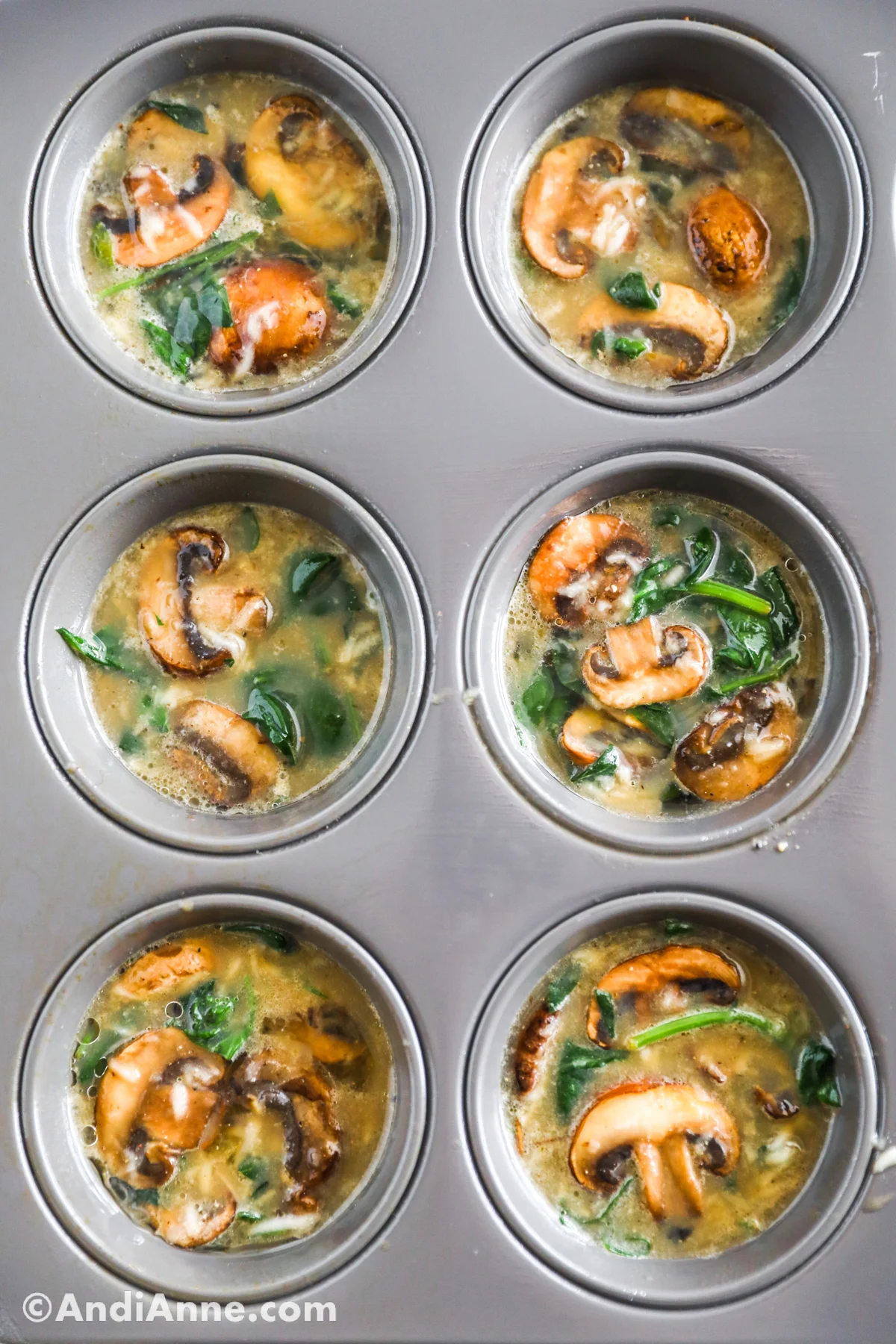 How To Store Leftovers
Leftovers make the perfect healthy breakfast throughout the week!
REFRIGERATE – Store these egg cups in an airtight container, or tightly wrapped in plastic in the refrigerator for 3-4 days.
TO FREEZE – Wrap each muffin individually in plastic wrap, then place in a large freezer bag or container. Remove as much air as possible. These can be frozen for up to 3 months for maximum freshness.
TO THAW – Let these thaw in the fridge overnight, or on the counter for about 1 hour.
TO REHEAT – Egg muffins can be reheated for 30-60 seconds and they're ready to eat.
Common Questions
How long to bake quiche muffins?
These can be baked at 375F for 18-20 minutes.
Can I use milk instead of heavy cream for quiche?
Yes! Regular milk or a plant-based will work. I recommend adding a bit of cheese as the fat content will help the quiche to properly set.
Can you freeze quiche muffins?
Yes, you can although the texture may change. Reheating the oven or microwave can overcook the eggs so be sure to heat up the minimum amount.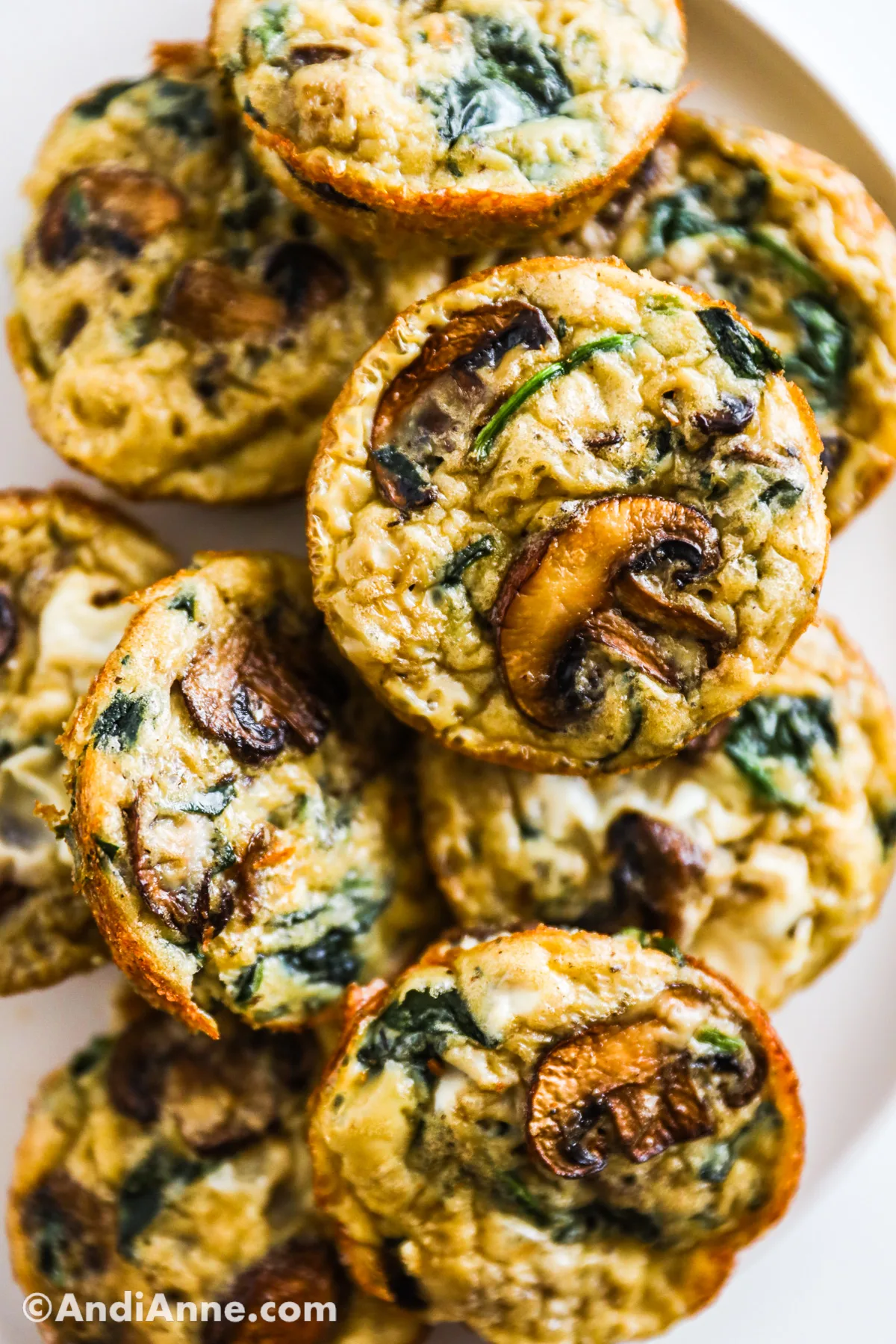 These mushroom spinach quiche cups are perfect for breakfast meal prep. With three simple steps – saute, mix, then bake – you'll have a high-protein recipe that can be eaten anywhere!
More Breakfast Recipes
Here are some more easy breakfast recipes that are sure to leave you inspired: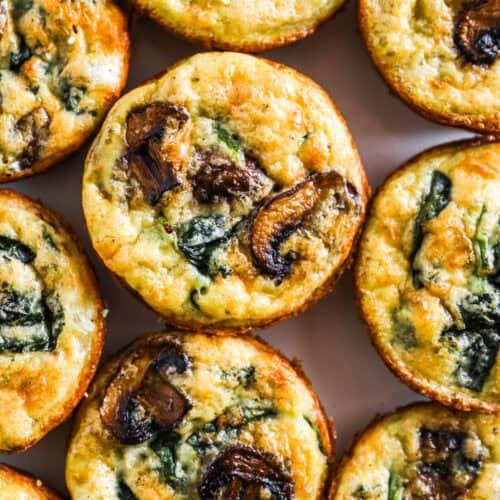 Instructions
Preheat the oven to 375°F. Lightly spray a muffin pan with nonstick cooking spray and set it aside.

Chop the spinach into smaller pieces. Slice the mushrooms as well.

Heat a frying pan with a bit of cooking oil over medium high heat. Add in the sliced mushrooms and spinach. Sautee until spinach wilts and mushrooms turn brown and shrink in size, about 2-3 minutes.

Beat the four eggs in a bowl. Add in the grated parmesan, milk, garlic powder, salt and pepper.

Add in the cooked mushrooms and spinach. Stir together.

Divide mixture into the muffin pan. Bake for 18-20 minutes, or until eggs are cooked. Let cool then use a spatula to scoop onto a rack to cool completely.
Recipe Notes:
Leftovers make the perfect healthy breakfast throughout the week!
REFRIGERATE – Store these egg cups in an airtight container, or tightly wrapped in plastic in the refrigerator for 3-4 days.

TO REHEAT – Egg muffins can be reheated for 30-60 seconds and they're ready to eat.
Nutrition
Calories:
35
kcal
|
Carbohydrates:
1
g
|
Protein:
3
g
|
Fat:
2
g
|
Saturated Fat:
1
g
|
Polyunsaturated Fat:
0.3
g
|
Monounsaturated Fat:
1
g
|
Trans Fat:
0.01
g
|
Cholesterol:
56
mg
|
Sodium:
108
mg
|
Potassium:
94
mg
|
Fiber:
0.3
g
|
Sugar:
0.5
g
|
Vitamin A:
569
IU
|
Vitamin C:
2
mg
|
Calcium:
42
mg
|
Iron:
0.5
mg