This Brown sugar roasted carrots recipe delivers a tender, roasted, buttery, melt-in-your-mouth, balance of sweet and savory carrots. This might be the most delicious yet simple side dish that incorporates a healthy vegetable.
The carrots caramelize throughout the roasting process thanks to the naturally occurring sugars in the carrots combined with brown sugar. This creates a glossy and slightly browned crunchy coating that increases the complexity and depth of flavors. Be careful, this might become your favorite way to eat carrots.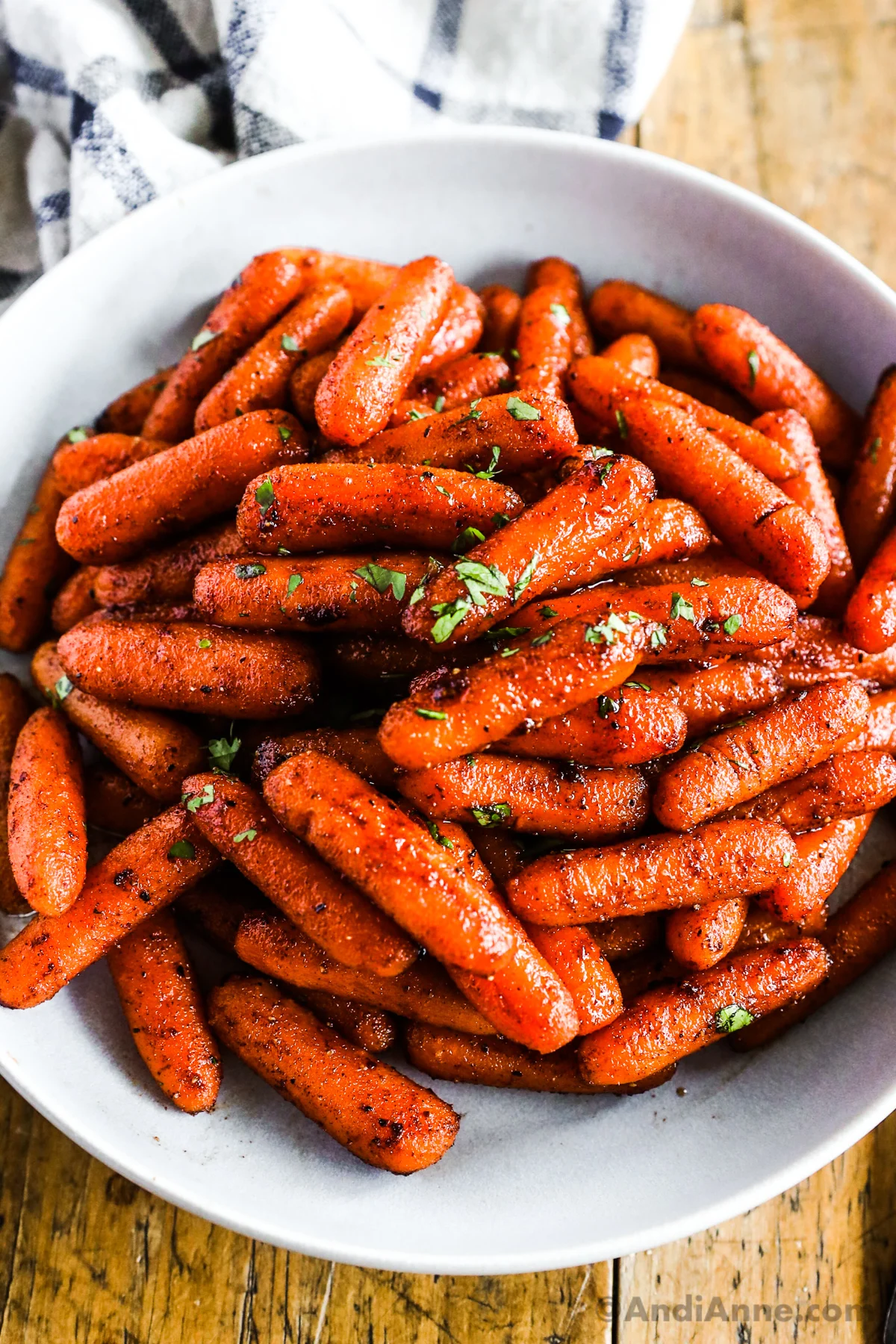 Brown Sugar Roasted Carrots
These Brown Sugar Roasted Carrots are good for any weeknight because they're easy to make and budget-friendly. This dish is also good for holiday dinners and entertaining guests simply because it is delicious. All it takes are four basic ingredients and a few minutes of prep time to delight your guests. It's one of those side dishes you can set and forget allowing you to focus on other recipes that require more attention until the oven beeps.
If you're like me, you are always searching for a new way to make vegetables enjoyable because it's easy to get caught in the rut of making the same veggie recipe over and over again. We love this recipe because it's a way out of that bland vegetable rut.
These caramelized carrots are incredibly versatile, pair them with Roasted Chicken, Mushroom Beef Burgers, or something fun like our Tater Tot Casserole.
Want an even simpler side dish? Try our Baked Buttered Carrots recipe.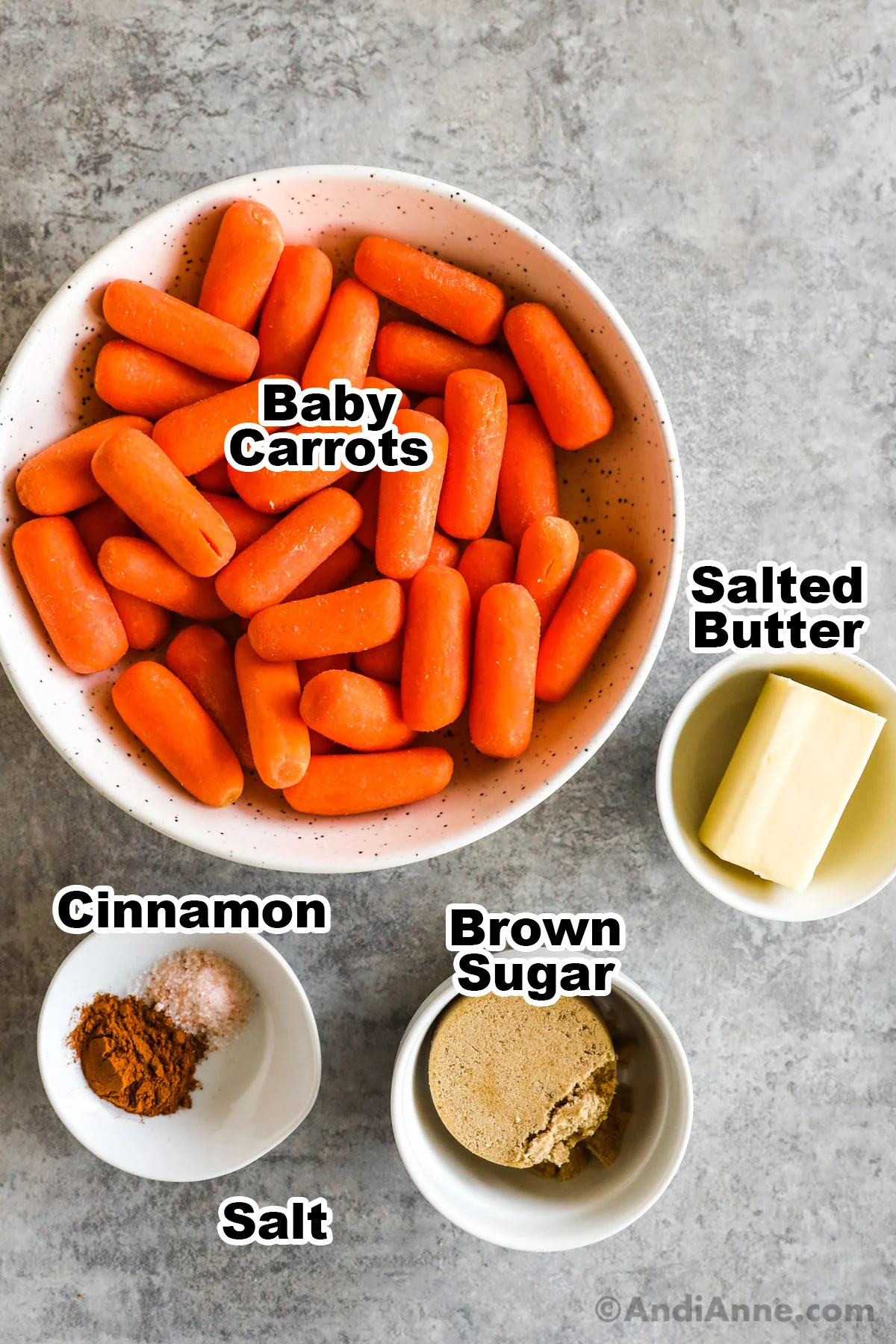 Recipe Ingredients
With only four ingredients required, you'll turn carrots into a sweet texture-rich side dish.
Here's what you'll need:
Full instructions can be found in the recipe card at the bottom of this blog post.
BABY CARROTS – The star of the show! Large carrots work as well, just make sure to chop them into smaller evenly sized pieces.
SALTED BUTTER – The butter will add a creamy texture and rich flavor to the final result.
BROWN SUGAR – Brown sugar helps with the caramelization process where you end up with a slightly dark, textured sweet coating.
CINNAMON – Cinnamon adds that perfect hint of spice that tastes great paired with brown sugar and butter.
SALT – Salt balances out the sweetness and brings forth the natural flavors of the carrots.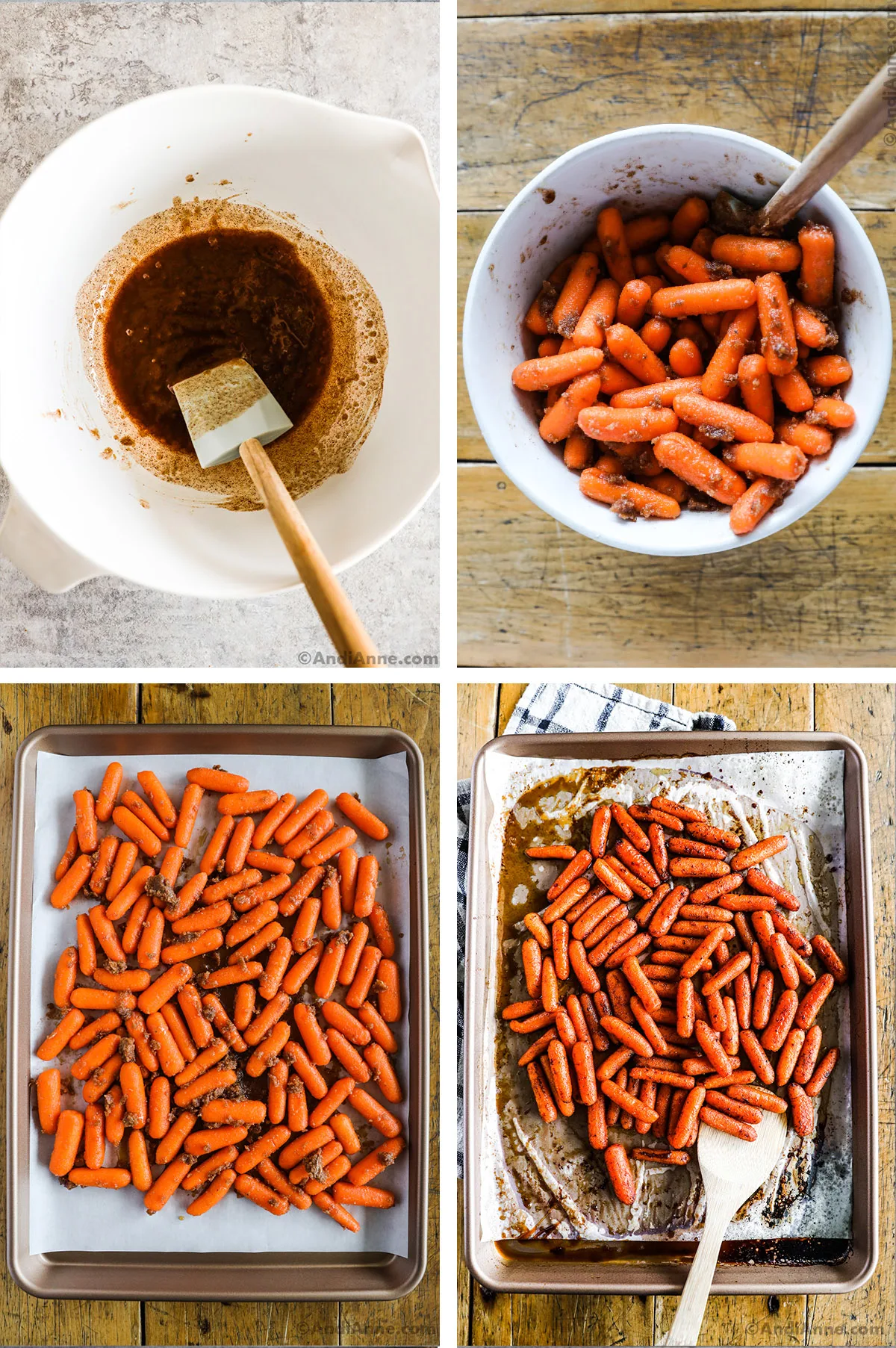 How To Make Brown Sugar Carrots
Put down your pen and paper because this recipe is about to get easy.
The following is a brief overview, detailed instructions are included in the recipe card at the bottom of this blog post.
PREP OVEN – Preheat the oven to 425F
PREP BAKING SHEET – Line a baking sheet with parchment paper or foil.
MIX YOUR SEASONINGS – In a large bowl, mix together the melted butter, brown sugar, cinnamon, and salt thoroughly.
DRY YOUR CARROTS – Make sure your carrots are as dry as possible allowing the caramelization to occur.
COMBINE EVERYTHING – Add the carrots and toss everything together until each and every carrot is thoroughly covered.
ADD TO BAKING SHEET – Pour the carrots onto the baking sheet, topping them with the leftover brown sugar mixture. Make sure to keep the carrots from piling on top of one another.
ROAST – Roast for 20-25 minutes, flipping halfway through. Or until carrots are tender when poked with a fork and caramelized. You'll know they're caramelized when you notice a brown crusty layer starting to form. Yum!
Recipe Tips
FOR WHEN TIME IS OF THE ESSENCE – use baby carrots if you're really in a hurry
FOR WHEN FLAVOR IS PARAMOUNT – use fresh carrots peeled and chopped for best flavor
REGARDING CARAMELIZATION – It's important to make sure your carrots are dry before mixing them into the sauce. Caramelization requires as much dry heat as possible in order to take effect and achieve that tasty browned crispy layer.
CARROT SELECTION – Look for carrots that are firm, not soft, and free of blemishes and cracks.
SIZE MATTERS – Whether using baby carrots or larger carrots to be chopped, try to keep them relatively close to the same size. This will ensure nothing is over or undercooked. If you cut the carrots too thick they may not cook through.
COVERAGE – When mixing the carrots with the butter, brown sugar, cinnamon, and salt, make sure to get the best coverage possible. This will ensure flavor in every bite.
SCATTER – Distribute the carrots across the baking sheet so they're not piled on one another, this will aid in the caramelization process allowing space for the sugars to reach that slightly crunchy roasted texture.
Storing Leftovers
If you have any leftovers at all I recommend the following:
FRIDGE – Store these leftovers in an airtight container for 2-5 days. Reheat in the microwave before serving.
FREEZER – You can definitely freeze this recipe, I would recommend a Ziploc freezer bag with as much air removed as possible. If you do freeze this recipe it will be difficult to replicate the same texture and flavors as you did in the beginning. For this reason, I would recommend starting over from scratch which is okay since it's such an easy recipe!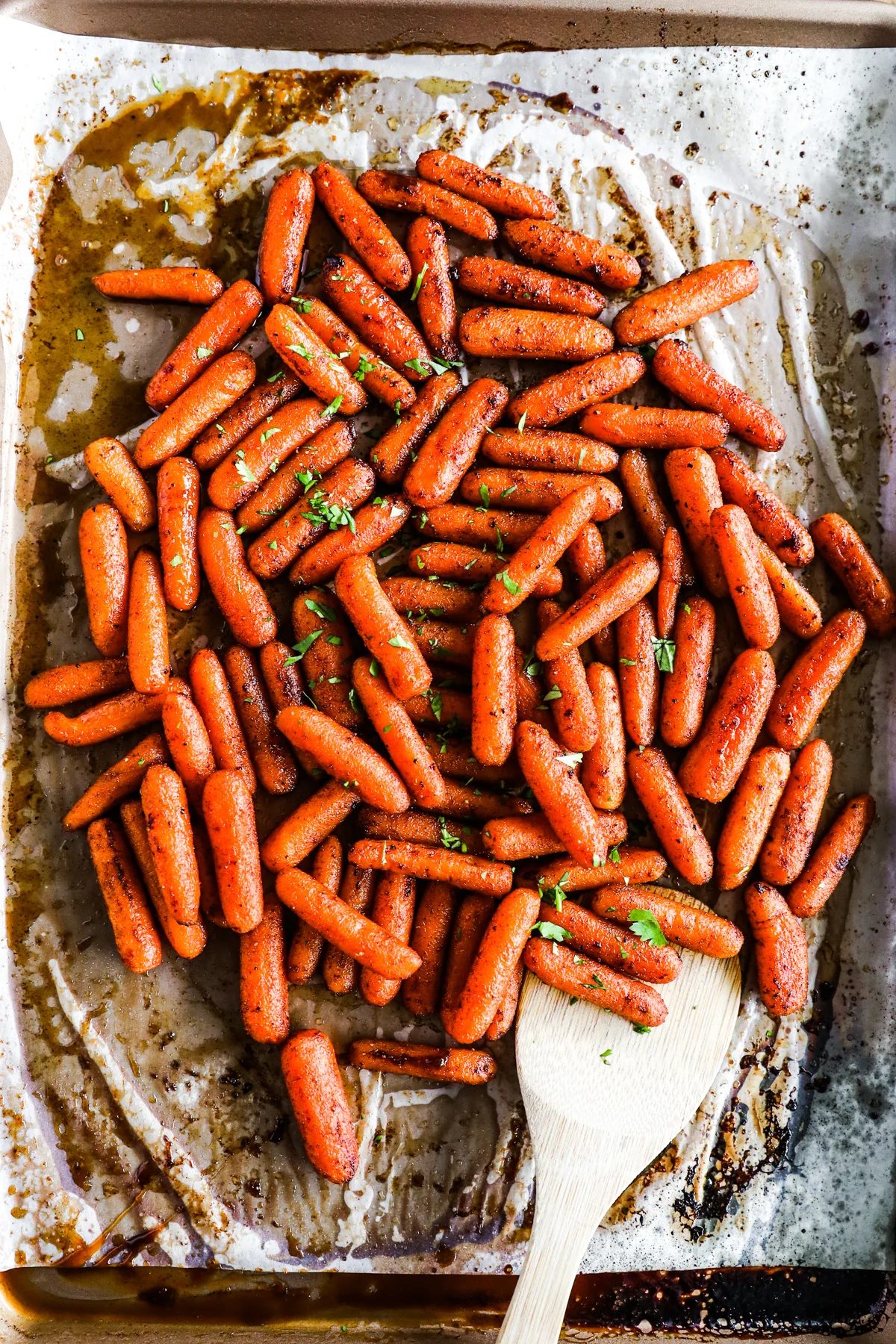 FAQ's
WHAT IS CARAMELIZATION? – Caramelization happens when sugar is introduced to heat. It changes the color, and flavor, and introduces texture to a recipe. This happens with naturally occurring sugars within the carrots but requires more time. Adding brown sugar to this recipe helps speed up and enhance this process leading to a more complex, thick, toasty, nutty buttery, creamy flavor.
HOW TO I CARAMELIZE THIS RECIPE PROPERLY? – Make sure your carrots are completely dry and don't stack them. Stacking them won't allow hot air to react with the sugars, instead steam will be released between the carrots, these areas will become soft and won't allow the sauce to work its magic.
WHAT ARE THE BEST CARROTS TO USE FOR ROASTED BROWN SUGAR CARROTS? – It's really up to you, if convenience is most important then go for what's nearby. If it's the flavor you're after then I would recommend some fresh farmers market carrots or organic carrots from the grocery store.
HOW LONG DOES IT TAKE TO ROAST? – It should take 20 – 25 minutes.
CAN I REDUCE THE SUGAR AND SWEETNESS? – Absolutely, feel free to adjust the amount of sugar in this recipe according to your tastes. You may not achieve the same caramelization effect so consider adding 5 minutes to the cook time. Keep an eye on them so they don't become overcooked.
You can't go wrong with something so easy and inexpensive to make that tastes this good. The natural sugars in the carrots complement the butter, brown sugar, cinnamon, and salt combination of ingredients. Enjoy this easy side dish with your favorite meal!
More easy veggie-based side dishes you'll like: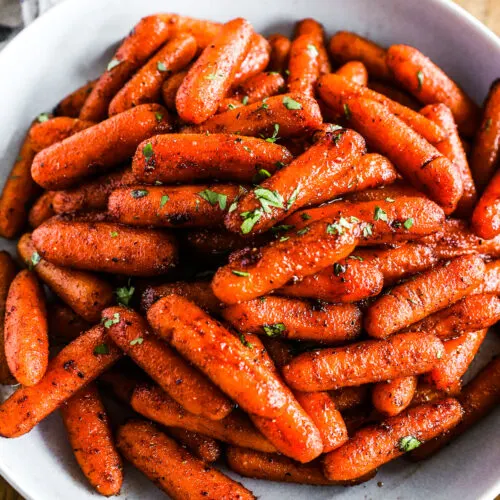 Ingredients
1 ½

lbs

baby carrots

-

or chopped regular carrots

¼

cup

salted butter

-

melted

⅓

cup

brown sugar

1

tsp

cinnamon

½

tsp

salt
Instructions
Preheat the oven to 425°F. Line a baking sheet with parchment paper or foil.

In a large bowl, mix together the melted butter, brown sugar, cinnamon and salt.

Ensure carrots are dry, add the carrots to your bowl and toss everything together.

Roast for 20-25 minutes, flipping halfway through. Or until carrots are tender when poked with a fork and caramelized. 
Nutrition
Calories:
155
kcal
|
Carbohydrates:
22
g
|
Protein:
1
g
|
Fat:
8
g
|
Saturated Fat:
5
g
|
Polyunsaturated Fat:
0.4
g
|
Monounsaturated Fat:
2
g
|
Trans Fat:
0.3
g
|
Cholesterol:
20
mg
|
Sodium:
347
mg
|
Potassium:
289
mg
|
Fiber:
3
g
|
Sugar:
17
g
|
Vitamin A:
15875
IU
|
Vitamin C:
3
mg
|
Calcium:
52
mg
|
Iron:
1
mg
The nutritional information provided is an estimate and is per serving.