Sugar cookie fudge is a rich treat that will melt in your mouth. These squares are made with only 5 ingredients and no baking required!
Get ready for your family to LOVE this recipe because these are highly addictive! This is one of my favorite holiday treats to make because it's always a hit! I like to serve them with Christmas jello balls for a truly festive platter.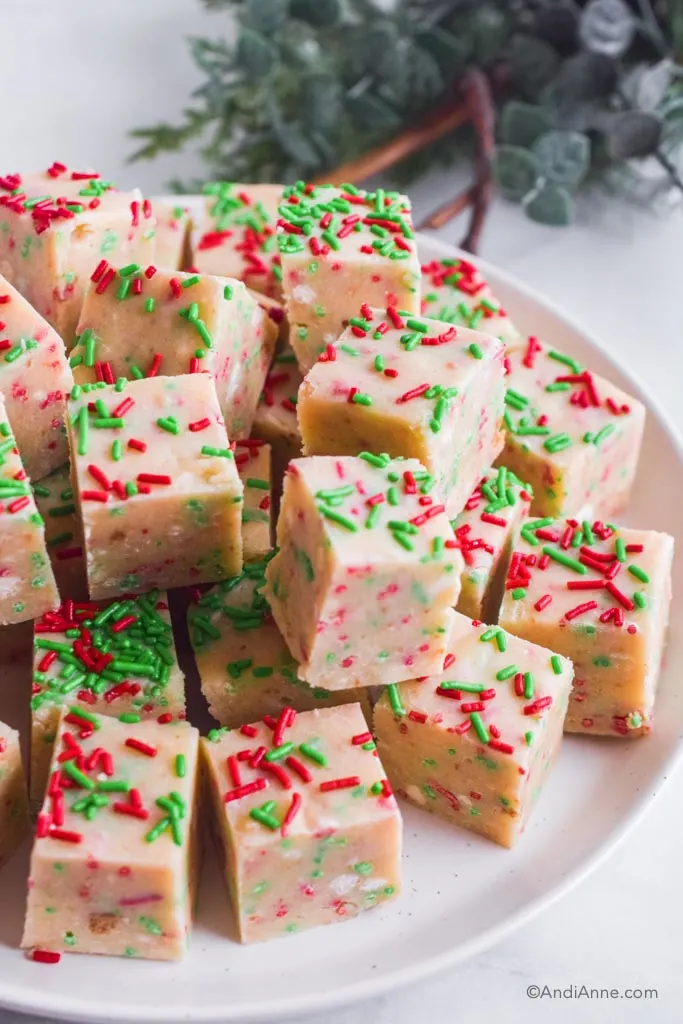 Christmas Sugar Cookie Fudge
Christmas sugar cookie fudge is an easy no-bake recipe made with shortbread cookie mix. This recipe only requires 5 ingredients and is the perfect fast recipe to make during the holidays. No baking experience required.
Because this recipe uses raw flour, I like to gently bake it for a few minutes first to ensure safety. This part is optional, but it's really easy. I'll walk you through it in the full recipe card at the bottom of this post.
What Does Sugar Cookie Fudge Taste Like?
This fudge is very rich and sweet tasting. When you take a bite, it will melt in your mouth. The red and green sprinkles at the perfect little crunch.
I prefer to slice this fudge into small bite-size pieces. A little goes a long way here. The smaller bites make it easier to sneak from the fridge as these should be kept chilled.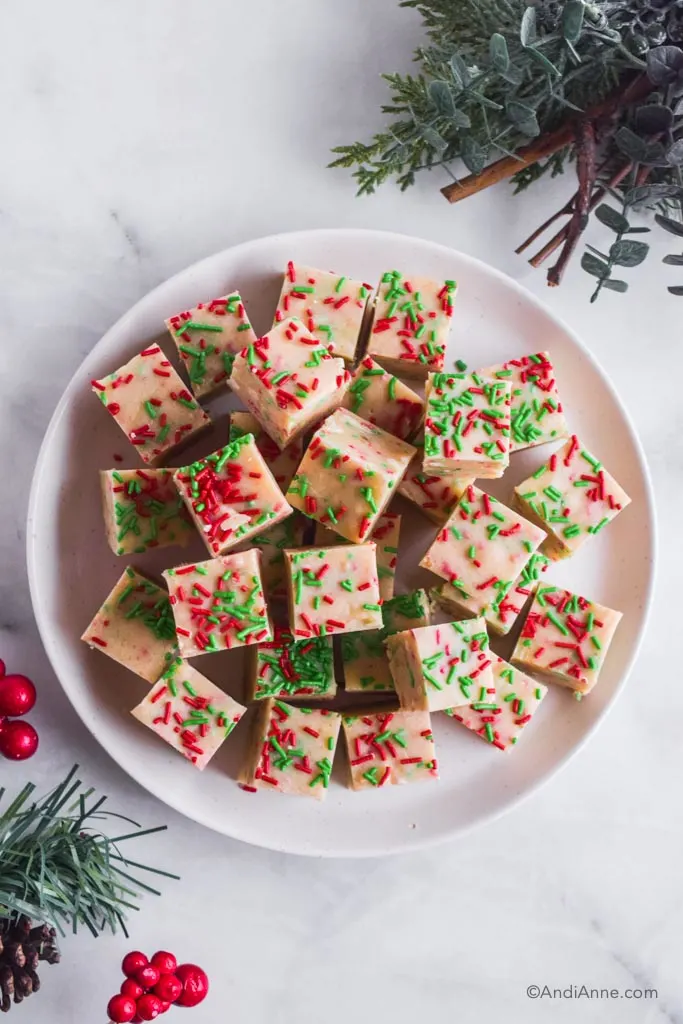 Christmas Sugar Cookie Fudge Ingredients
Here's what you'll need to make this sugar cookie fudge:
Sugar Cookie Mix – Look for a 6.25 oz package of sugar cookie mix that would make 12 cookies (not 24 cookies). You can usually find it in the baking section of your grocery store.
White Chocolate Chips – You'll need 1 ½ cups of white chocolate chips.
Red and Green Sprinkles – I used 2 Tbsp of red jimmies and 2 Tbsp of green jimmies, plus more sprinkled on top.
Sweetened Condensed Milk – You'll need one 14 oz can of sweetened condensed milk.
Sugar Cookie Fudge Variations
Chocolate Chips: An easy substitution would be chocolate chips. Adding ¼ cup to the wet batter and a some sprinkled on top would be delicious!
Candies: Crushed candy canes, hidden Hersheys kisses or other holiday candies would all be fun inside this fudge.
Nuts And Seeds: You can use walnuts, pecans, pumpkin seeds, sunflower seeds or other chopped nuts inside these. Use ¼ cup chopped nuts or seeds to start.
Shredded Coconut: Adding 1-2 Tbsp of finely shredded coconut would add a nice texture.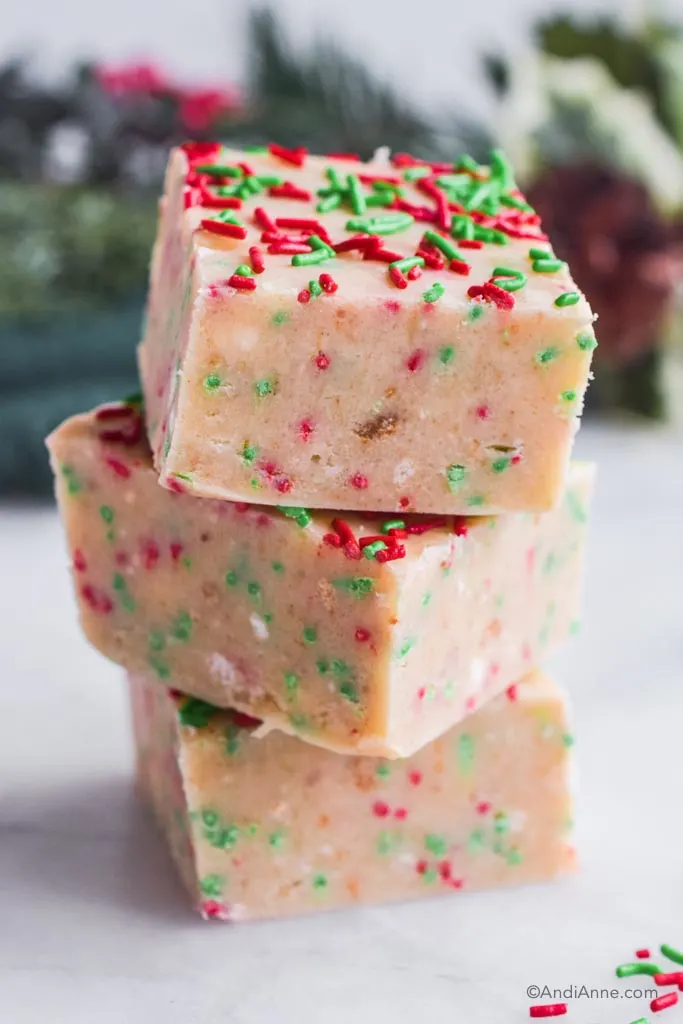 How To Make 5-Ingredient Sugar Cookie Fudge
Heat The Milk And White Chocolate – First, add the sweetened condensed milk to a pot and heat through. Next, stir in the white chocolate chips until they melt, about 1-2 minutes.
Add Cookie Mix and Butter – Remove the pot from the heat source, then stir in the sugar cookie mix and melted butter.
Add Sprinkles – Stir in the red and green jimmies (jimmies are the long skinny sprinkles) or any other candies you'd like.
Pour and Chill – Add parchment paper to a loaf pan and lightly spray the top. Pour the melted fudge mixture into the loaf pan. Use a spatula to scoop all the sides of the pot as the batter will be sticky. Once in, lightly tap loaf pan on the counter for a smoother surface. Add more sprinkles to the top. Let it cool for 20 minutes on the counter, then chill in fridge for a minimum 3 hours.
Serving The Fudge – For best results, this sugar cookie fudge should be kept chilled before serving. Any leftovers should be placed in the fridge as soon as possible.
TIP: Lightly Bake The Sugar Cookie Mix First. This step is optional, but I like to lightly bake the sugar cookie flour mix before making the recipe. If you're concerned about consuming raw flour (like I am) as this fudge is a no-bake recipe. Then this helps alleviate the concern. All you need to do is sprinkle the sugar cookie flour mix onto a baking sheet and cook at 350°F for 8-10 minutes. Mine toasted around the edges but didn't alter the taste of the fudge at all!
Can Sugar Cookie Fudge Be Frozen?
Yes, this fudge freezes well. You can store it in an airtight container or ziploc bag for up to 6 months. You can thaw overnight in the fridge before serving.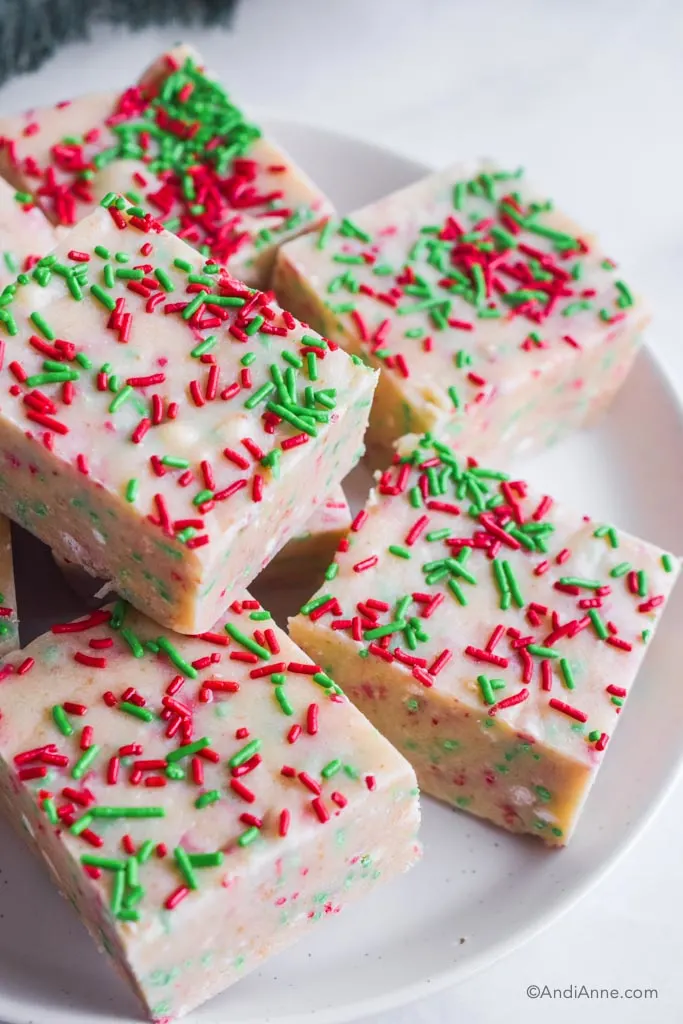 More Christmas Baking Recipes
Snowball Cookies – Hidden with M&Ms. These are a family favorite!
Christmas Cracker Candy – One of the easiest treats to make and highly addictive.
Dipped Pretzel Sticks – Sooo easy, makes a beautiful gift too!
Christmas Jello Balls – Made with only three ingredients – they're so easy and really yummy.
Whipped Shortbread Christmas Cookies – Incredibly delicious and festive. One of my favorite cookies to make at Christmas.
Gingerbread House Cake – The cutest gingerbread house cakes made with a nordic ware gingerbread pan.
Did you love this sugar cookie fudge recipe? Be sure to leave a rating below!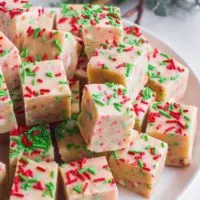 Instructions
Preheat the oven to 350°F. Line a baking sheet with parchment paper.

Spread the sugar cookie mix over the baking sheet and bake for 8-10 minutes. This will cook the raw flour so that it is safe to eat as this fudge is a no-bake recipe.

Remove from oven and set aside for now.

Add the sweetened condensed milk to a saucepan over medium-high heat. Stir occassionally until the milk is warmed through.

Add the white chocolate chips and stir slowly until they're melted, about 1-2 minutes.

Remove pot from heat and add the sugar cookie mix flour and melted butter. Mix them in.

Stir in the green and red jimmies (sprinkles).

Line a loaf pan or square baking dish with parchment paper. TIP: I like to spray the pan with cooking spray first, then place the parchment paper inside. This will help it stick.

Lightly coat the inside of the parchment paper where you'll be pouring the fudge with nonstick cooking spray.

Use a rubber spatula to scrape down the sides of the pot and pour the melted batter into the pan. Give a quick jiggle to help smooth out the top.

Sprinkle more jimmies over top of the wet batter. Let this cool for 20 minutes on the counter, then transfer it to the fridge for 3 hours minimum, or overnight.

Once completely hardened, use parchment paper to pick up the fudge and transfer to cutting board. Slice into desired sizes.

(I ended up slicing mine smaller after taking these photos because this fudge is very rich and a small piece was the perfect size for me!)

Keep the fudge chilled in the fridge until ready to serve.

Leftovers can be stored in the fridge for up to 1 week or freezer for up to 3 months.
Recipe Notes:
For sugar cookie mix, use

one small package that makes 12 cookies.
Nutrition
Calories:
131
kcal
|
Carbohydrates:
17
g
|
Protein:
1
g
|
Fat:
7
g
|
Saturated Fat:
4
g
|
Polyunsaturated Fat:
1
g
|
Monounsaturated Fat:
2
g
|
Trans Fat:
1
g
|
Cholesterol:
7
mg
|
Sodium:
38
mg
|
Potassium:
39
mg
|
Fiber:
1
g
|
Sugar:
14
g
|
Vitamin A:
57
IU
|
Vitamin C:
1
mg
|
Calcium:
28
mg
|
Iron:
1
mg
The nutritional information provided is an estimate and is per serving.