Oat berry mini muffins are the perfect sized snack or breakfast for toddlers. Made with oats, berries, mashed banana, spices and eggs.
Does your toddler or preschooler struggle with eating oatmeal? Perhaps they think it's too mushy in texture. Well, if they do then you'll have to try this recipe. It's basically all the goodness of oatmeal, baked into mini muffins.
My daughter loves these mini muffins because they're the perfect size for her. She'll happily eat one alongside a sliced apple.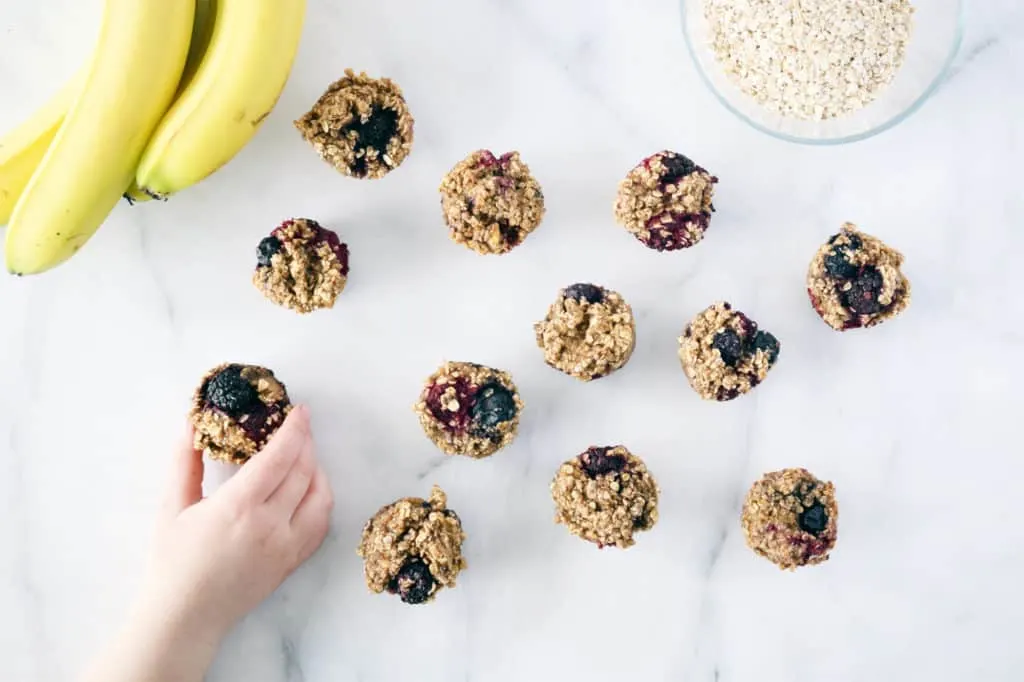 These muffins aren't just for the kids – I've eaten many of these oat berry mini muffins with my morning tea this week, and I can definitely say that they're great for the whole family. I like to reheat them for 15 seconds in the microwave before eating.
If you want added protein, you can add a dollop of good quality nut butter, pumpkin seed butter, or even a hard-boiled egg to your breakfast.
I gotta be honest, if a recipe is budget-friendly, and easy to make then I'm a fan. And this recipe checks off both of those boxes. Oats and frozen berries are really inexpensive (and you can save the extra berries for your healthy smoothies!) and this is one of those recipes that you can dump all the ingredients together in a bowl without having to do much.
This recipe is similar to my 6 healthy baked oatmeal cup flavors. But this recipe is perfect for little hands.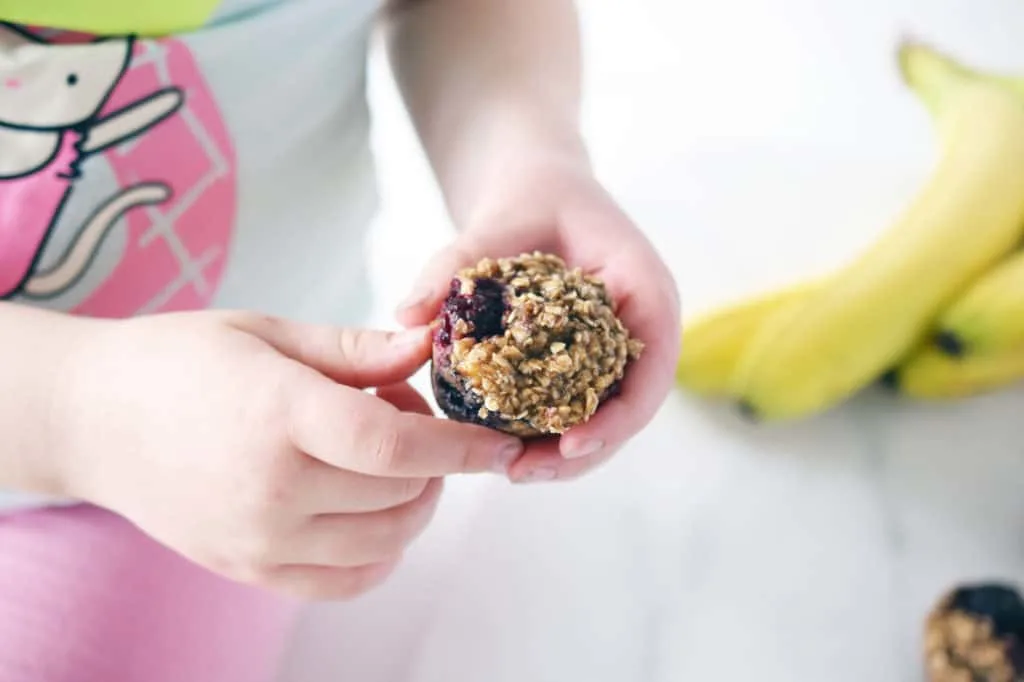 Ingredients You'll Need For The Oat Mini Muffins
OLD FASHIONED ROLLED OATS – I recommend using old fashioned rolled oats which are the large flake oats. These are higher in fiber and better quality than the quick oats.
RIPE BANANAS – You'll need two ripe bananas that will be mashed with a fork. This will help to sweeten the mini muffins.
EGGS – Two eggs are used in the recipe to help hold everything together.
MILK – You can use regular milk or a dairy alternative such as almond milk, cashew, oat milk, or soy.
BERRIES – I used frozen mixed berries in my oat muffins but you can use fresh berries as well. Blueberries, strawberries, blackberries or raspberries would all work for this recipe.
SPICES – A combination of cinnamon, nutmeg and sea salt are used for flavoring.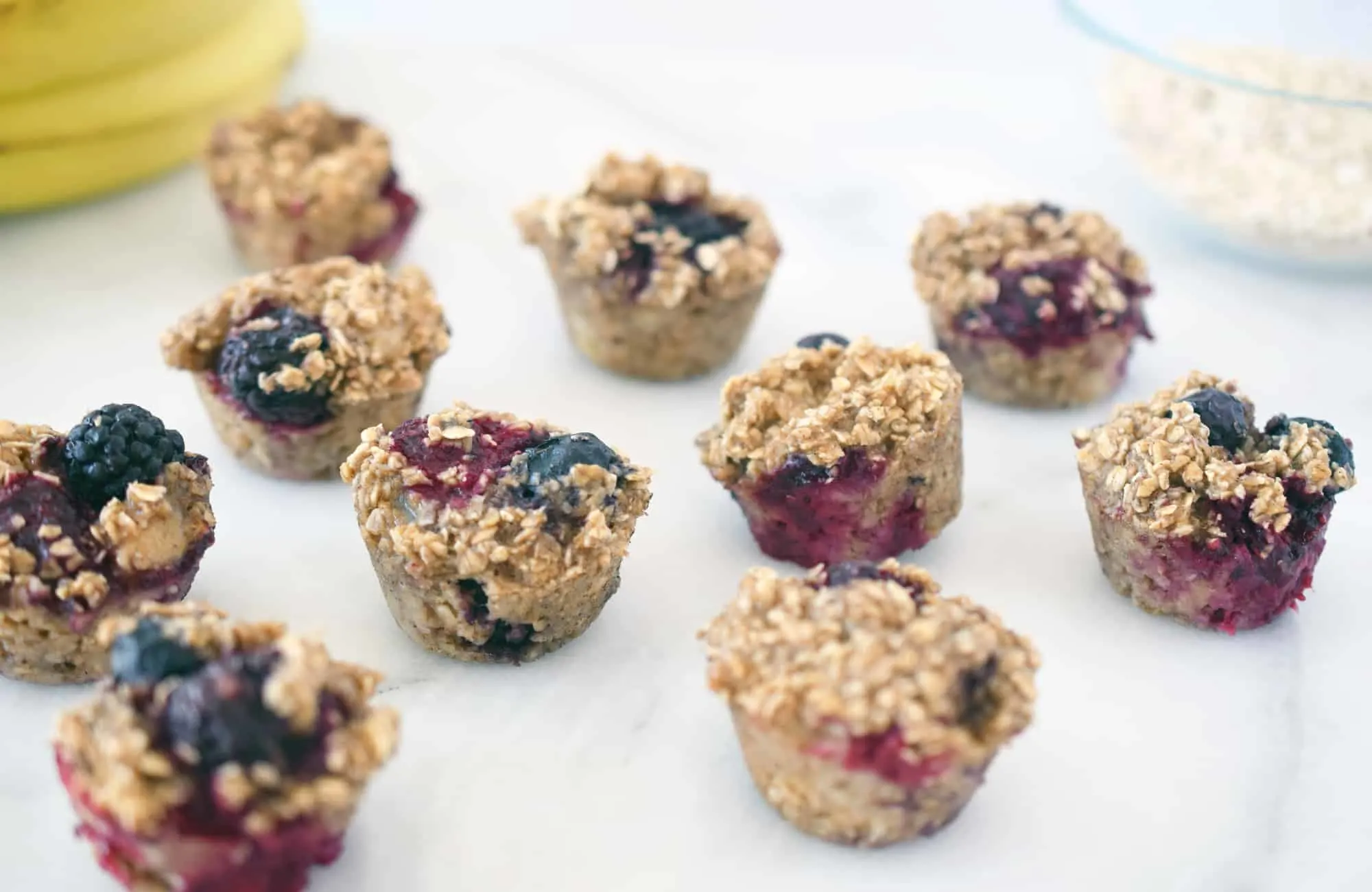 How To Make Oat Berry Mini Muffins
I made these berry oat muffins in a mini muffin pan. I love having one of these pans in my kitchen because they make the perfect size of snack for kids! You can also make these muffins in a regular sized pan. You'll just need to cook them longer (about 20-25 minutes).
PREP – Preheat the oven to 350F. Spray a mini muffin pan with nonstick spray.
MIX – Combine all ingredients in a large bowl and mix together.
BAKE – Add the muffin batter to the mini muffin pan. Place in oven and bake for 18-20 minutes or until toothpick comes out clean and tops are golden. Let cool 10 minutes then use a butter knife to help pop out each muffin.
STORING TIPS – Muffins should be completely cooled on the counter first. Then place in an airtight container in the fridge for up to 1 week or the freezer for up to 3 months.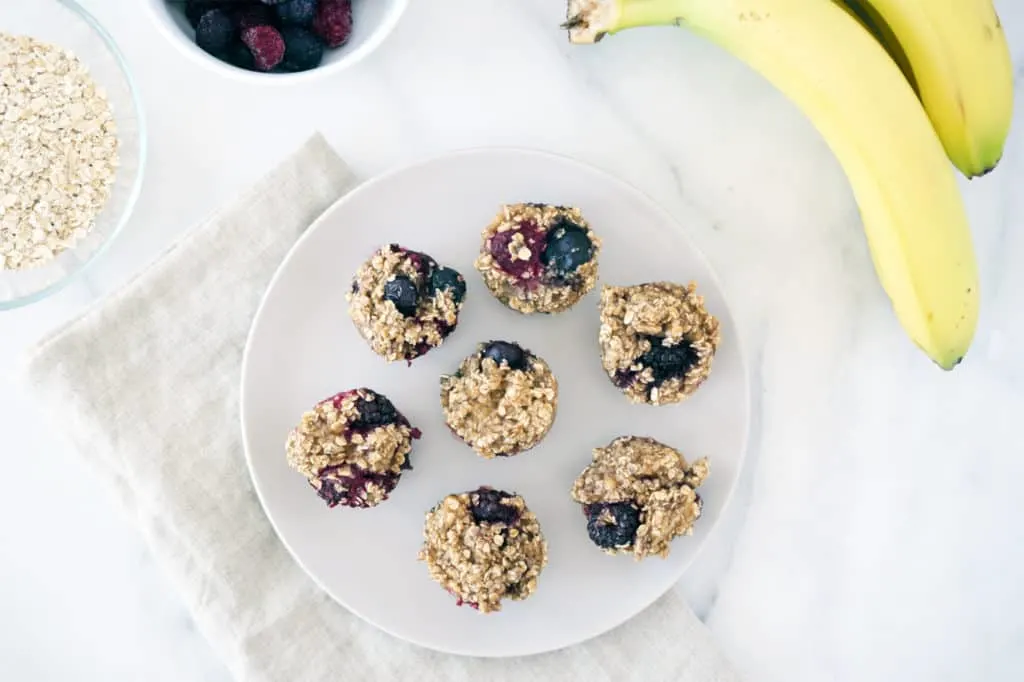 More Toddler-Friendly Recipes: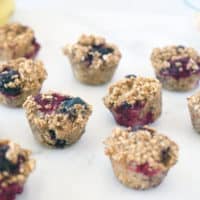 Instructions
Preheat oven to 350°F and coat a mini muffin pan with non-stick cooking spray.

In a medium bowl, combine rolled oats, cinnamon, nutmeg, sea salt, bananas, eggs, milk, maple syrup, and vanilla extract.

Add in frozen berries and mix everything together.

Scoop the muffin mixture into the mini muffin pan and place in the oven. Bake for 18-20 minutes or until tops are slightly golden. Remove from oven and let cool for 10 minutes. Using a butter knife, go along the edges of the muffin to help loosen it – they should pop out easily at this point.
Recipe Notes:
If you're using a regular-sized muffin pan you can bake for approx 23-25 minutes instead.
Nutrition
Calories:
106
kcal
|
Carbohydrates:
19
g
|
Protein:
3
g
|
Fat:
2
g
|
Saturated Fat:
1
g
|
Trans Fat:
1
g
|
Cholesterol:
28
mg
|
Sodium:
41
mg
|
Potassium:
162
mg
|
Fiber:
3
g
|
Sugar:
7
g
|
Vitamin A:
78
IU
|
Vitamin C:
2
mg
|
Calcium:
31
mg
|
Iron:
1
mg