This broccoli fish stick dinner is perfect for busy nights when you want something easy. Frozen broccoli is added to a creamy sauce made from cream of broccoli soup, milk, and cheese. Everything is topped with frozen fish sticks for an easy all-in-one dinner.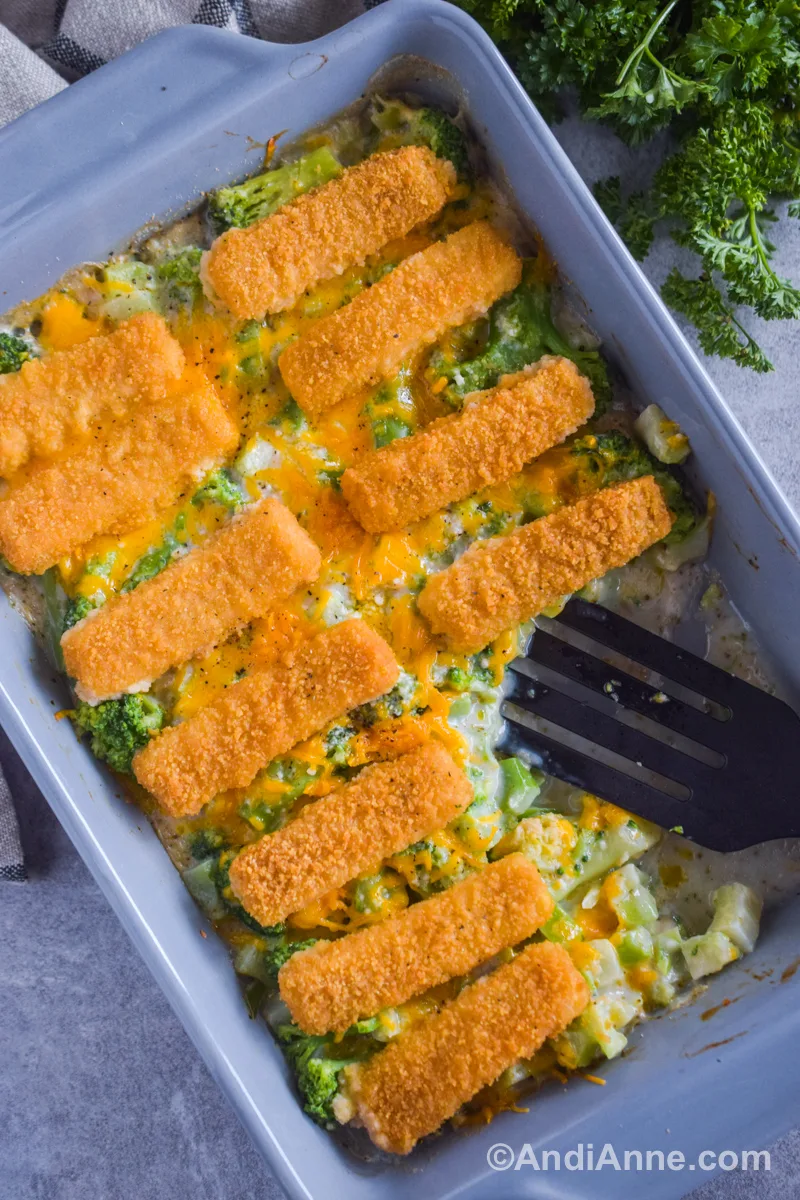 If you love dump-and-bake meals, then you'll love this easy recipe using frozen fish sticks, broccoli, and cream of broccoli soup. It's easy to assemble, and budget-friendly.
Broccoli Fish Stick Casserole Dinner Recipe
This family-friendly broccoli fish stick dinner is perfect for busy weeknights when you don't feel like cooking. Just like our tortellini cheese casserole, all ingredients are added to a baking dish and cooked together.
Cheap – All ingredients are affordably priced at the grocery store. This is a great recipe to keep in your back pocket to help cut down on grocery costs.
Fast prep – Just dump, mix and bake! It could be easier using pre-made ingredients like frozen fist sticks, broccoli florets, and Campbell's cream of broccoli soup.
Family Friendly – This recipe uses simple filling ingredients that many family members enjoy, including kids. If your kids don't like broccoli try another easy favorite, our sheet pan pancakes (great as breakfast-for-dinner nights).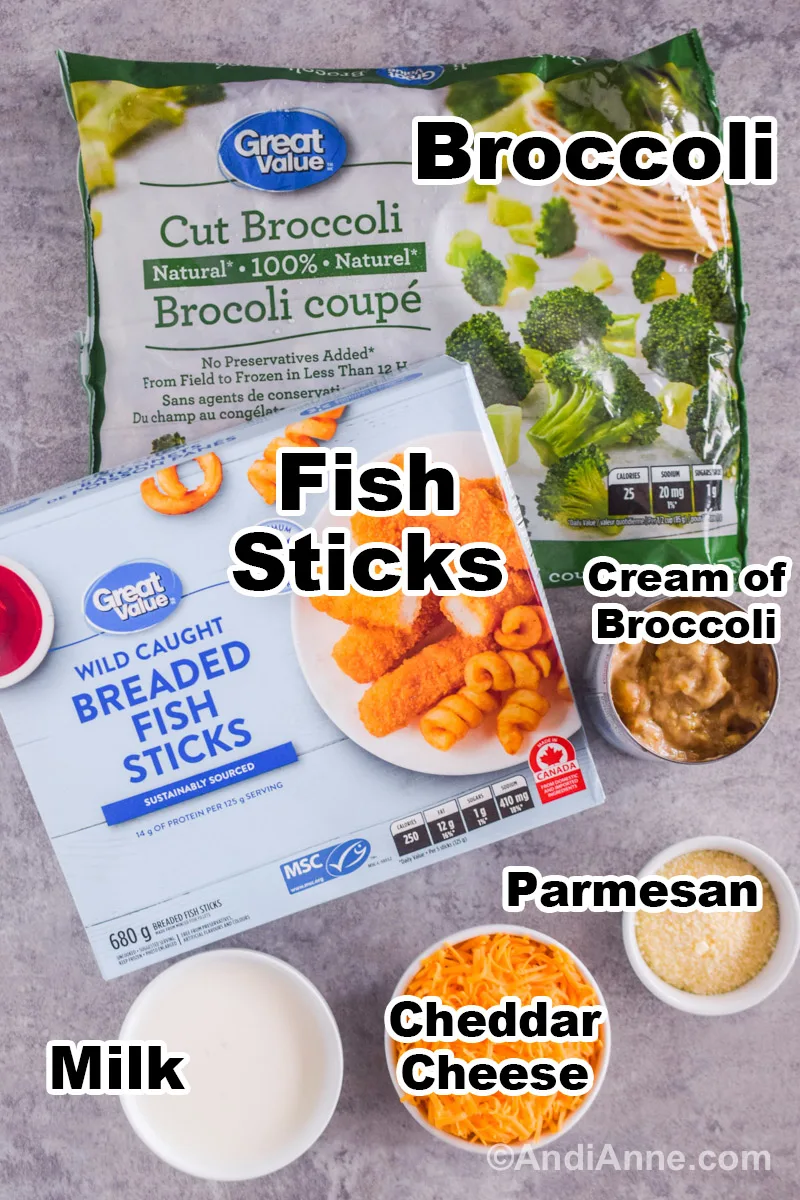 Recipe Ingredients
This couldn't be simpler to make. A bag of frozen broccoli is dumped in a casserole dish with creamy sauce poured over top. Then fish sticks are added for the perfect crunchiness.
Not all recipes need to be made from scratch. Premade ingredients can help cut down on time! Below is a list of ingredients needed for the recipe, with the full instructions at the bottom of the post in the recipe card.
Fish Sticks: You can use any style of frozen fish sticks you prefer. We chose the most inexpensive kind at Walmart to help cut down on grocery costs. Smaller fish sticks will also cook faster, so if you choose bigger fish fillets keep in mind you'll have to adjust cooking time.
Broccoli: A 12 oz back of frozen cut broccoli makes this recipe a breeze.
Cream of Broccoli Soup: Adds the perfect creaminess without a lot of ingredients. If you don't like this soup, you can substitute with cream of mushroom soup or cream of chicken soup.
Parmesan Cheese: A jar of grated parmesan cheese works great and will add extra flavor.
Cheddar Cheese: We like to purchase a large brick of cheddar cheese at Costco and cut it into thirds, then freeze the rest for later. This helps to cut down on costs. Cheddar cheese can be swapped with white cheddar or mozzarella.
Milk: Milk is mixed with the soup to create a thinner texture that's perfect for this sauce.
Pro Tip: No need to add salt or any other seasonings. The canned soup and cheese will add enough saltiness and flavor.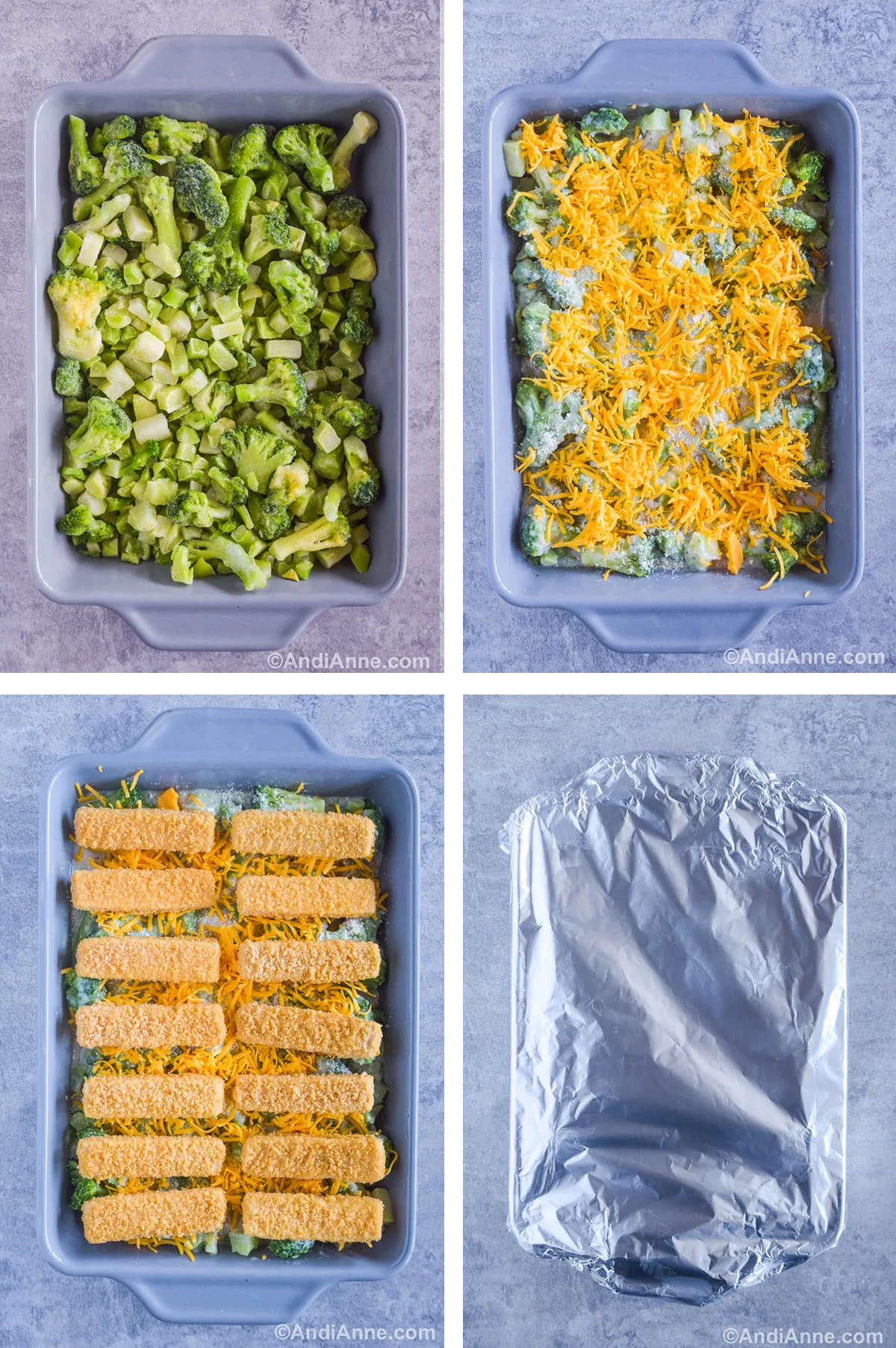 How To Make Broccoli Fish Casserole
Here's how to make this quick and easy broccoli fish stick dinner recipe:
Mix – Add cream of broccoli soup and the milk to a bowl. Stir them together.
Dump – Pour the bag of frozen cut broccoli into a greased casserole dish. Pour the bowl of creamy soup over top and mix together.
Add Cheese – Sprinkle the grated parmesan cheese on top, followed by the shredded cheddar cheese.
Add Fish Sticks – Arrange the frozen fish sticks in a single layer so that they are not stacked on top of each other and will cook evenly.
Bake – Cover the dish with foil and bake for 400°F for about 30 minutes. Remove the foil in the last 10 minutes to help crispen up the fish sticks.
Pro Tip: Turn on the broiler in the last few minutes of baking and broil the casserole dish 1-3 minutes uncovered. This will help to crispen up the fish sticks even more.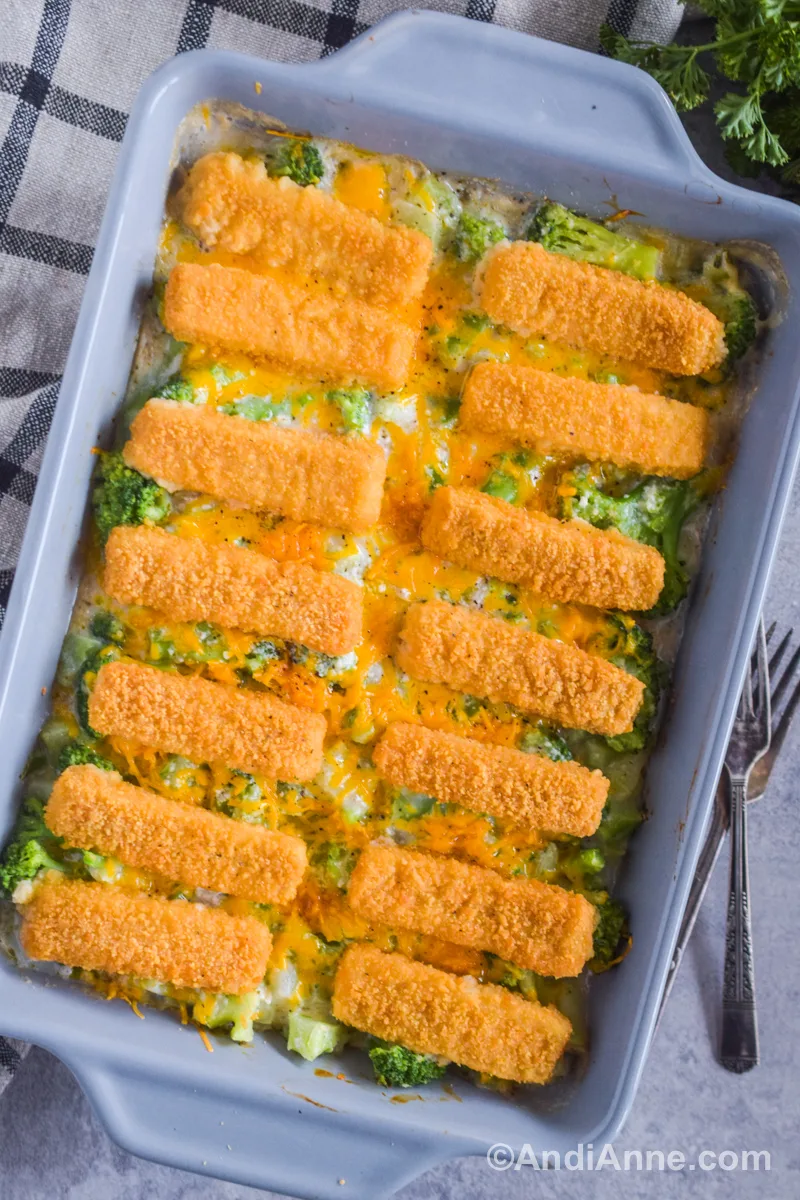 Common Questions
Can I use different fish sticks?
Yes. This recipe will work with any style of frozen fish stick but might require more cooking time.
Can I use fresh broccoli?
Yes, be sure to chop it small so that it cooks faster. Frozen broccoli will cook much faster than fresh broccoli so you might need to adjust cooking time.
Can I use different cheese?
Yes, feel free to substitute with white cheddar cheese, marble cheese or mozzarella.
My fish sticks are still soggy!
If you want more crispy fish sticks, turn on the broiler in the last few minutes. Keep an eye on them during this time so that they don't burn. There's no need to move the rack for the broiling. I actually prefer to broil using the middle rack as it's easier to prevent burning.
Storage Tips
To store – Add broccoli and fish sticks leftovers to the fridge in an airtight container for up to a week.
To reheat – This recipe can be heated in the oven at 350°F or in the microwave. Fish sticks can be broiled for 1-3 minutes, or placed in a toaster oven to bring back their crispiness.
To freeze – Consider prepping this in advance, then freezing before you bake it. Be sure to wrap it tightly with plastic wrap. This can be thawed in the fridge and then heated according to the recipe instructions below.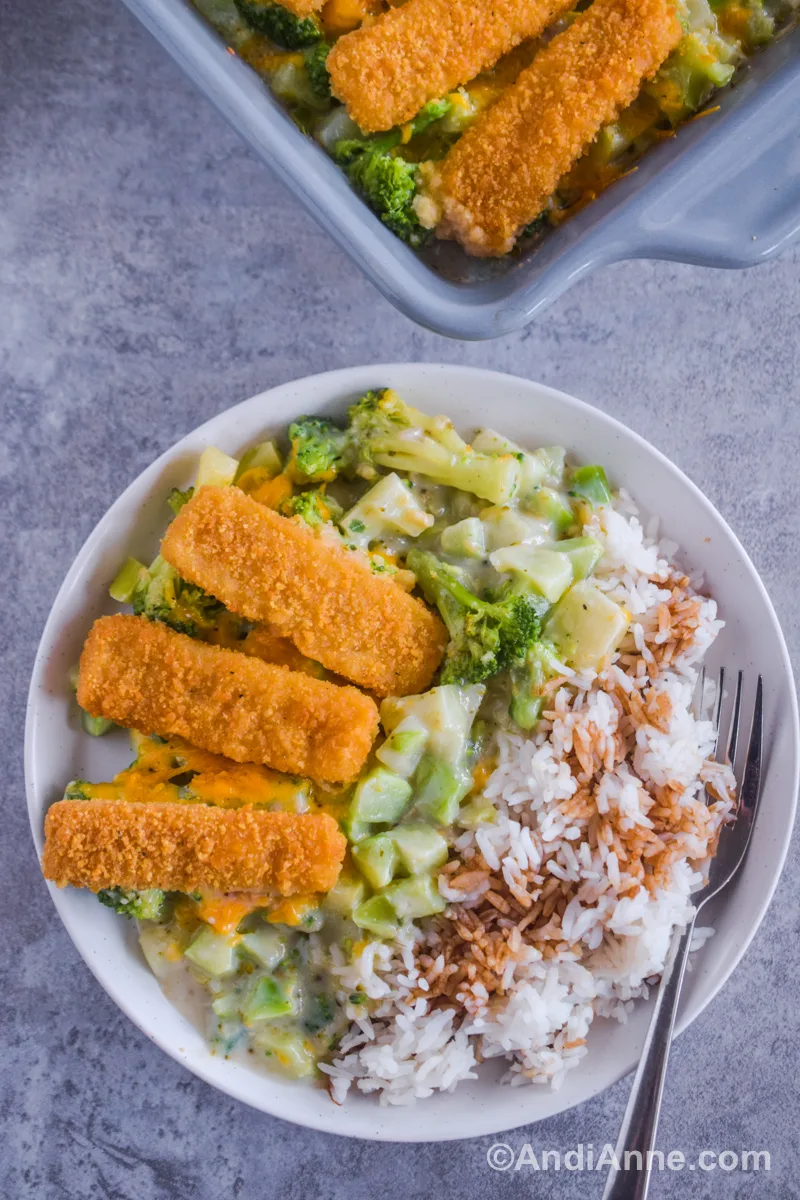 This broccoli fish casserole is so simple and easy. It's the perfect budget friendly dinner recipe.
More Casserole Recipes
If you love this affordable casserole recipe then you won't want to miss these ones as well: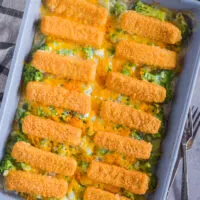 Instructions
Preheat the oven to 400°F. Lightly spray a casserole dish with nonstick cooking spray.

Add cream of broccoli sou and milk to a bowl. Mix together.

Add the frozen broccoli into the casserole dish. Pour the soup mixture overtop and toss together.

Sprinkle parmesan cheese, then shredded cheddar cheese on top. Arrange the fish sticks into rows that don't overlap.

Cover with foil and bake for 30 minutes, remove the foil in the last 10 minutes.

Spoon on to plates and serve with rice, pasta or quinoa.
Nutrition
Calories:
282
kcal
|
Carbohydrates:
7
g
|
Protein:
38
g
|
Fat:
11
g
|
Saturated Fat:
6
g
|
Polyunsaturated Fat:
1
g
|
Monounsaturated Fat:
3
g
|
Cholesterol:
100
mg
|
Sodium:
365
mg
|
Potassium:
890
mg
|
Fiber:
1
g
|
Sugar:
3
g
|
Vitamin A:
739
IU
|
Vitamin C:
52
mg
|
Calcium:
297
mg
|
Iron:
1
mg
The nutritional information provided is an estimate and is per serving.