These chocolate chip scones are truly the perfect brunch addition! Made with an easy homemade dough and piled with delicious chocolate chips, these scones are golden brown on the outside and tender flaky on the inside.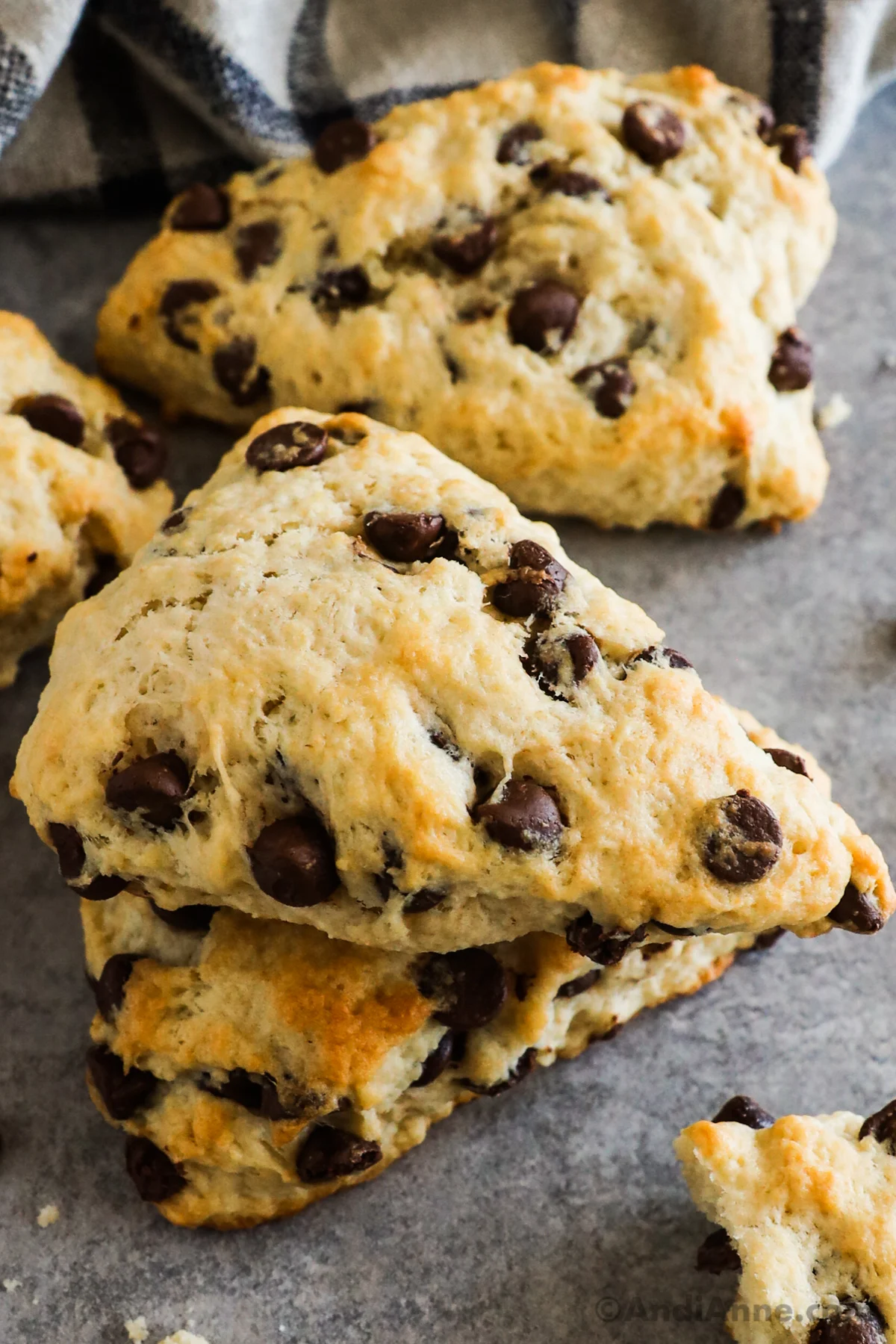 Chocolate Chip Scones
These classic-style scones are the perfect addition to any breakfast or brunch. They make a delicious mid-afternoon snack too!
Homemade scones are definitely worth it! They're tender and flaky, and slightly sweet. Similar to a biscuit in texture, but perfect for breakfast because of they're slightly sweet. Adding chocolate chips makes these truly decadent.
I'm totally obsessed with these! I've been making scones for a long time, mostly with fruit like raspberries or blueberries. But adding chocolate chips takes these to the next level.
Serve them with easy brunch recipes like homemade waffles, a savory mushroom frittata, yummy french toast casserole, or a breakfast pizza!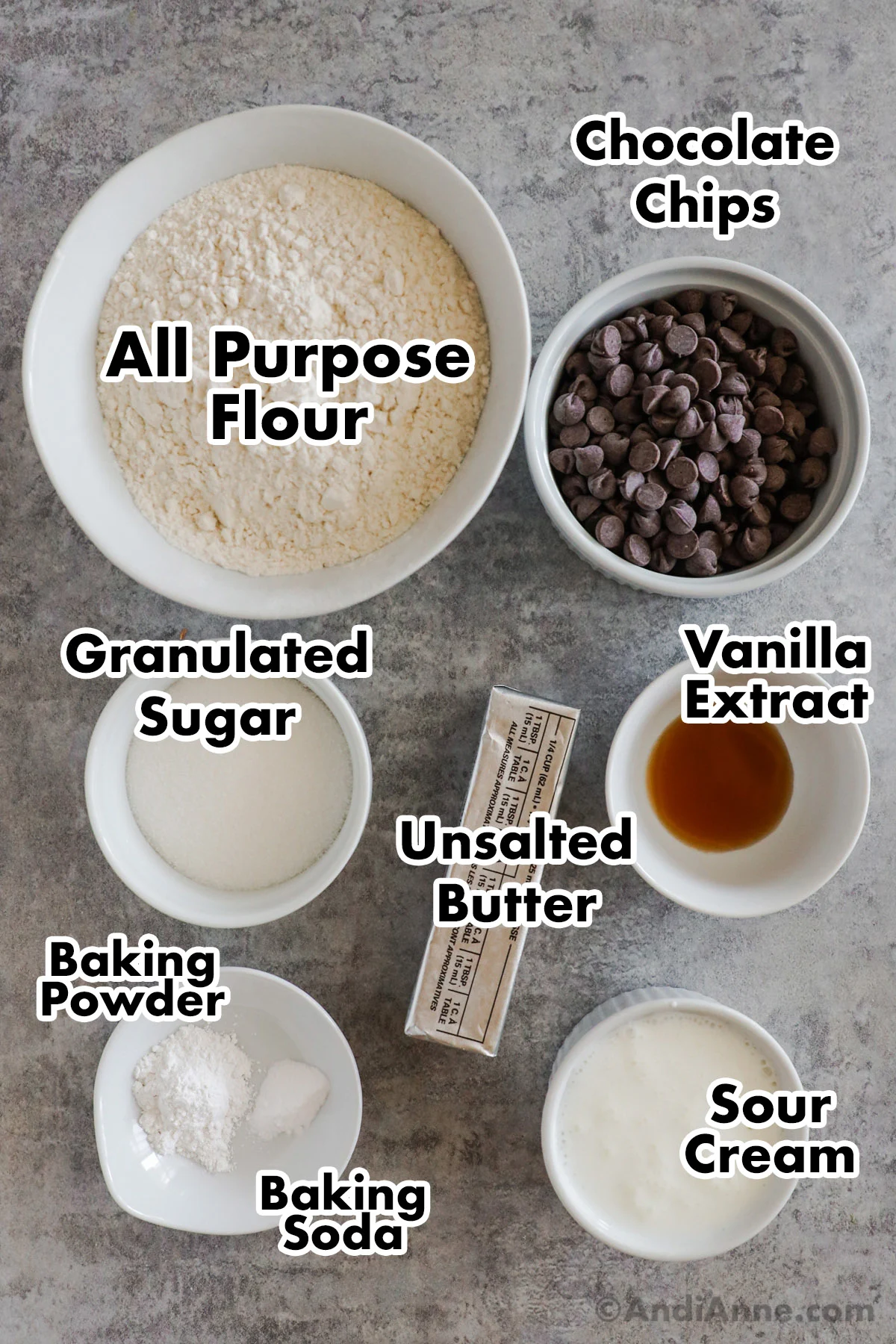 Recipe Ingredients
Here is an overview of what you'll need to make this recipe. Full ingredients with measurements are in the recipe card at the bottom of this post.
FLOUR – I used all-purpose flour as this is typically the best type of flour to use in pastries like scones. You can also use half whole wheat flour to add more fiber.
CHOCOLATE CHIPS – Any style of chocolate chips will work including dark, milk, or white. I used semi-sweet chocolate chips.
SUGAR – I used granulated sugar to add sweetness.
BUTTER – Cold salted butter is important in order to get that fluffy and flaky texture.
MILK – I highly recommend using buttermilk as it will create that perfect flaky scone. Buttermilk interacts with the baking powder and baking soda to help the dough rise. You can also use regular milk if you prefer, but the results will be a little bit different.
BAKING POWDER / BAKING SODA – You'll need baking powder and baking soda to make the dough rise.
VANILLA EXTRACT – For a hint of sweetness and flavor.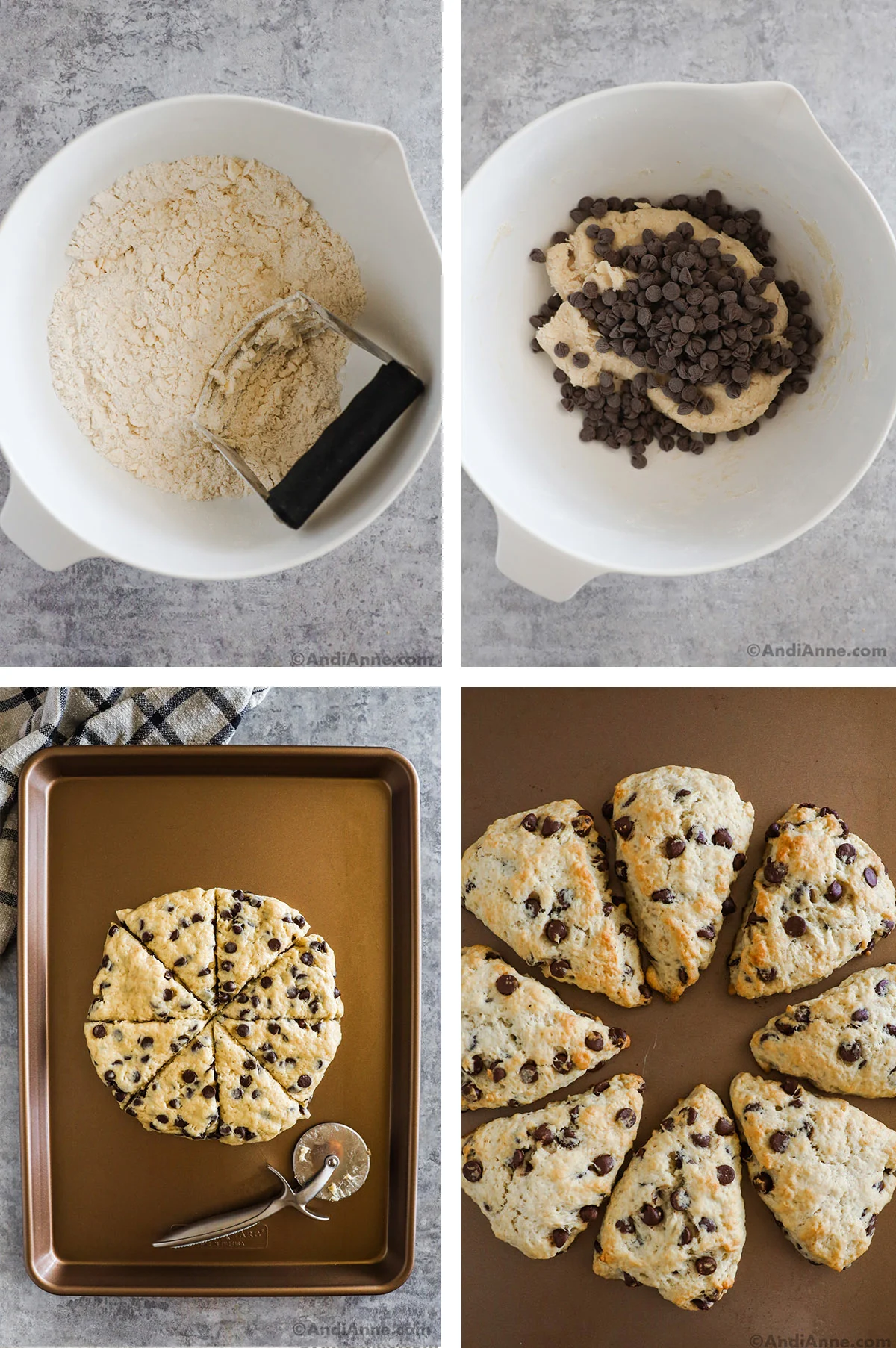 How To Make Chocolate Chip Scones
Homemade scones might sound intimidating but they're actually very easy to make! The trick is to use cold butter and a pastry cutter. Here's an overview of how to make them with the full instructions in the recipe card at the bottom of this blog post.
DRY INGREDIENTS – Whisk together the all-purpose flour, sugar, baking powder and baking soda in a large bowl.
BUTTER – Cut the cold butter into small cubes. Add them to the flour mixture and use fingers or a pastry cutter to crumble them into small pieces.
WET INGREDIENTS – Next add the buttermilk and vanilla extract. Mix together until the dough is crumbly with a spoon. Once it reaches this point, you'll need to use your hands to squeeze and knead it to form a dough. Do not overmix – just knead enough to create a dough ball.
CHOCOLATE CHIPS – Dump the chocolate chips into the bowl and gently knead the dough around them until they are spread evenly.
SHAPE – Form the dough into an 8″ round circle on a prepared baking sheet using your hands. Next, use a knife or pizza cutter to slice into 8 slices.
BAKE – Gently scoop them away from each other and bake for 15-18 minutes, or until the edges begin to turn golden brown slightly. Transfer to a rack to cool.
How To Store
First, let the scones cool completely to room temperature. Next, you can follow the steps below to store them:
ROOM TEMPERATURE – These scones can be stored at room temperature for up to 3-4 days. Store them in an airtight container or plastic bag, removing as much air as possible.
FREEZING – Leftovers can easily be frozen! This is one of my favorite ways to store my baking recipes because I typically take my time to eat through a batch of baked goods. I recommend wrapping each one in parchment paper or plastic wrap. Then place each one in a freezer-safe container or large plastic bag. Remove as much air as possible as this can create freezer burn. These will keep for 6 months.
Frozen scones can be removed from the plastic and wrapped in a paper towel. Pop them in the microwave for up to 30 seconds for a warm delicious treat!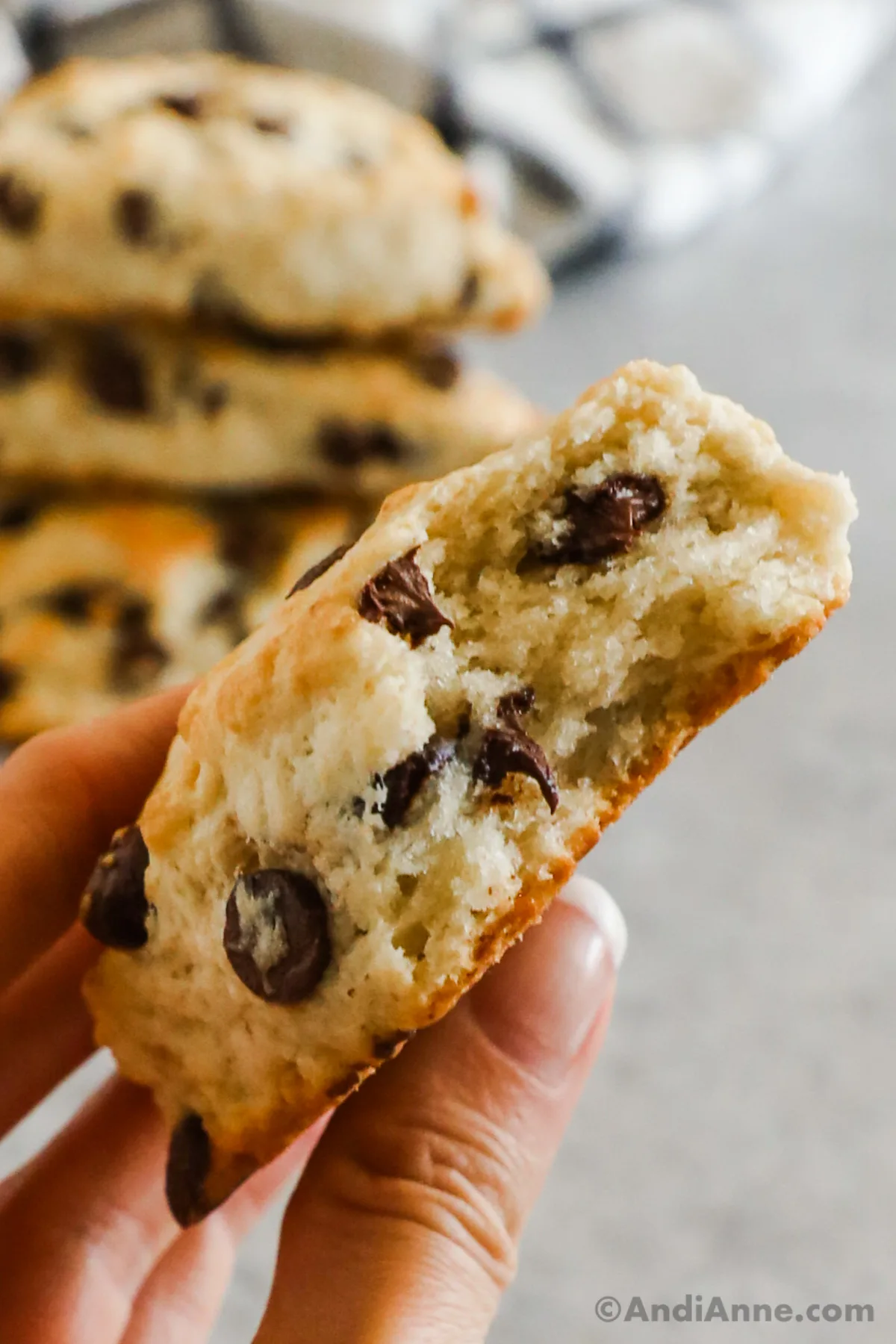 Scone Making Tips
I used to think that scones were intimidating to make at home, but they're actually quite easy! They're similar to biscuits in the fact that they need cold butter to create that perfect fluffy flaky filling. Here are a few tips to ensure you have scone baking sucess:
USE COLD BUTTER – Unsalted butter or salted butter will both work for this recipe. But just make sure that it's cold! Cold butter is essential to getting the perfect fluffy flaky filling.
CRUMBLE BUTTER SMALL – I prefer to use a pastry cutter for this, but you can also use two knives or your fingertips. Just crumble the butter to small pea-sized pieces.
BUTTERMILK – Using buttermilk helps to create a flakier biscuit with a wonderful flavor. I highly recommend using it if you can. However, I've made scones with regular milk and it works just fine too.
DON'T OVERMIX – When you combine the dough, knead it with your hands just enough for it to come together. You do not want to mix too much as it will activate the gluten resulting in a denser scone.
FLOUR – Spoon the flour into the measuring cup and then level off with a knife. Do not scoop the cup right into the flour bag. This will give you a fluffier scone texture.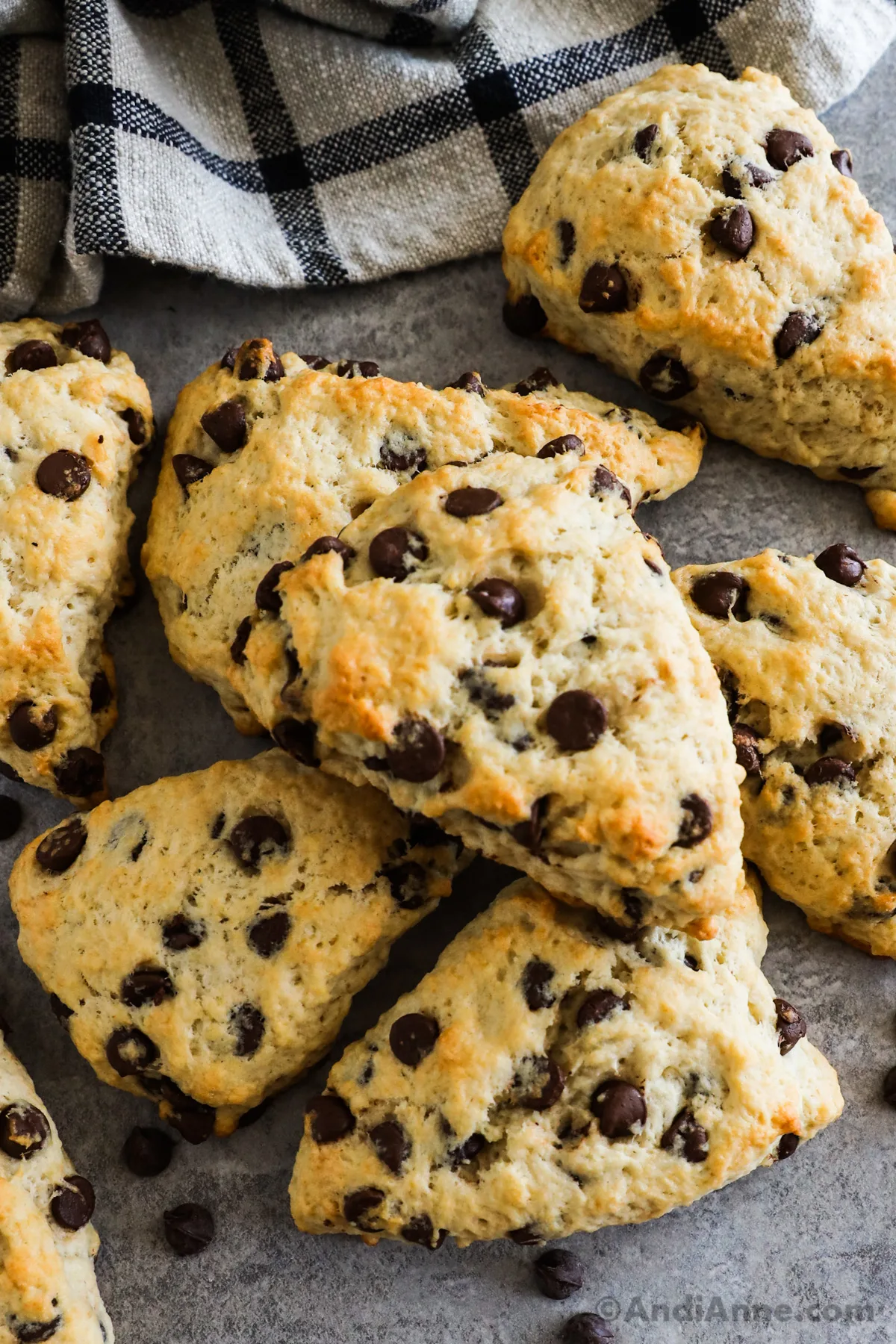 These chocolate chip scones are such an easy way to enjoy a sweet treat for breakfast or brunch. Simply mix a simple homemade scone dough with chocolate chips.
Next, form into a circle, then slices into triangles, silimlar to what you would do with a pizza. Then bake! The results are fluffy, flaky and delicious.
More Recipes To Try
If you like sweet baked goods as much as we do, then you must try our chocolate chip cookies, pumpkin chocolate chip muffins, zucchini chocolate chip muffins, or chocolate rice crispy squares.
For more sweet tasting brunch ideas, try our strawberry muffins, 10 best overnight oat recipes, banana bread muffins, or 3-ingredient cereal bars.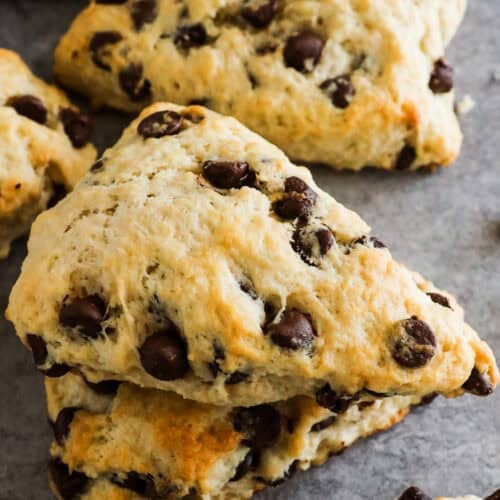 Instructions
Preheat oven to 375 F. Line a baking sheet with parchment paper and set aside.

In a large bowl, whisk together the all purpose flour, granulated sugar, baking powder and baking soda.

Add in the butter and use a pastry cutter or your fingers to break apart the pieces until they form small crumbs.

Add in the milk and vanilla extract. First it will come together but still be crumbly and clumps. Next, use your hands to gently form into a dough. Gently mix together just until combined.

Fold the chocolate chips gently into the dough using your hands. Be gentle and do not overmix here!

Now add the dough onto the baking sheet. Form it into an 8" circle with your hands. Cut it into 8 triangles and spread each piece 2" apart from eachother.

Bake for 15-18 (or 20-25?) minutes, or until edges begin to turn golden brown. Transfer to a cooling rack to cool completely.
Nutrition
Calories:
371
kcal
|
Carbohydrates:
48
g
|
Protein:
4
g
|
Fat:
19
g
|
Saturated Fat:
12
g
|
Polyunsaturated Fat:
1
g
|
Monounsaturated Fat:
3
g
|
Trans Fat:
0.5
g
|
Cholesterol:
32
mg
|
Sodium:
221
mg
|
Potassium:
122
mg
|
Fiber:
1
g
|
Sugar:
22
g
|
Vitamin A:
379
IU
|
Calcium:
86
mg
|
Iron:
2
mg