Today I am reviewing the Costco chicken pot pie. I recently picked up this easy meal idea and made it for a quick weeknight dinner. After trying it at home with my family, I decided to write a review for my best costco meals series to share my thoughts including what the pie tastes like, how long to cook it, nutrition facts, calories, and price with others who may be considering giving it a try.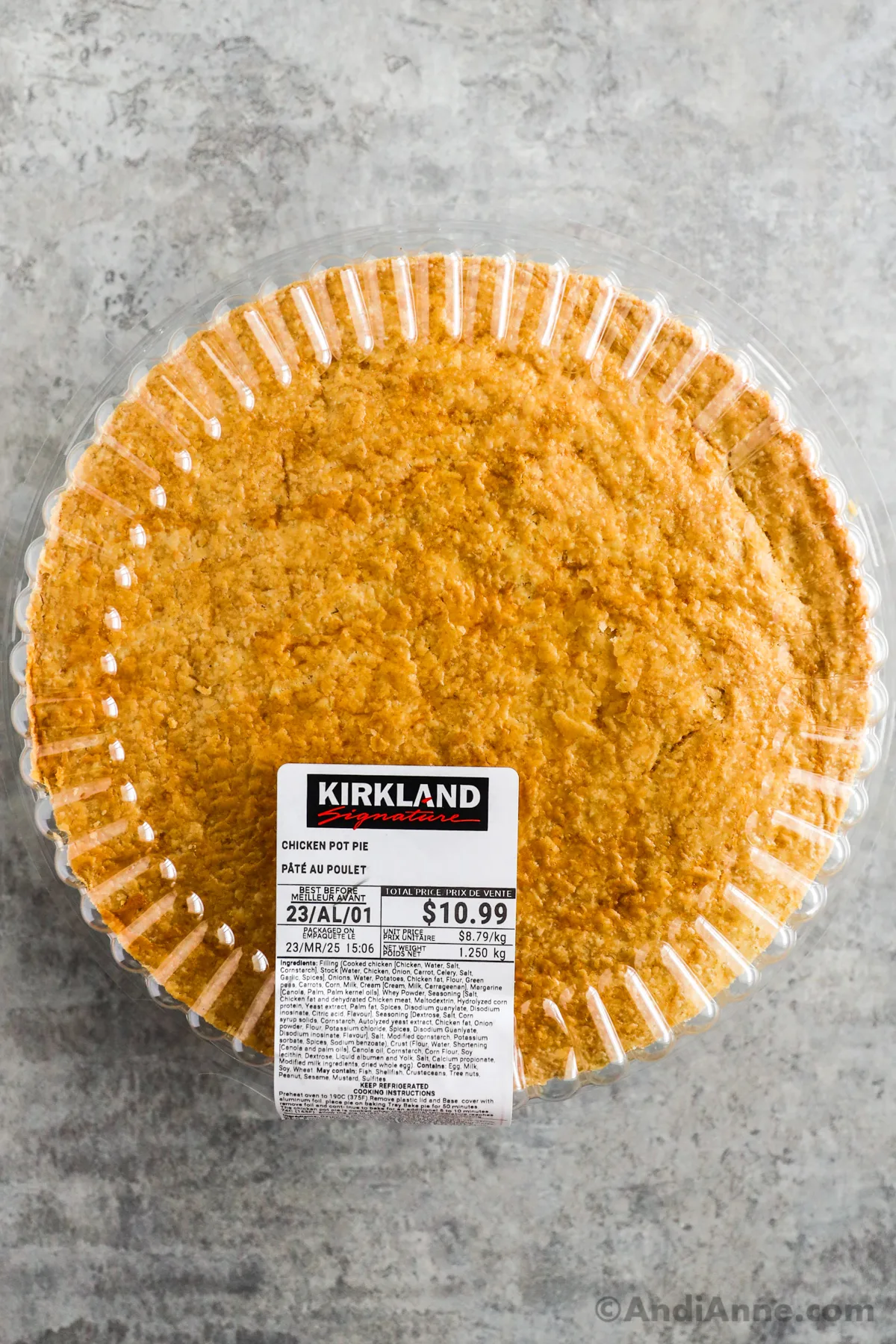 Chicken Pot Pie
Wondering if Costco's Kirkland chicken pot pie is any good? We were too, so we decided to pick one up this past weekend and give it a try along with their quinoa salad, and ground beef stuffed bell peppers.
This pot pie has a flaky top crust with a denser bottom crust. It is filled with big chunks of chicken and vegetables all in a flavorful gravy sauce.
Chicken pot pie is the ultimate comfort food and we are certainly big fans of making homemade versions. But sometimes you want to save time cooking and need something pre-made to serve your family. That's why we couldn't wait to try this easy pre-made meal!
What Does Costco Chicken Pot Pie Taste Like?
Costco's chicken pot pie is the ultimate classic comfort food, similar to their shepherd's pie! This chicken pot pie was very delicious with great flavor. It tasted like a fresh homemade chicken pot pie to us! The top crust was flaky while the bottom crust was thicker and a bit dense, which we liked.
Inside the chicken pie is a layer of vegetables and chicken, all in a creamy gravy-like sauce. I was also surprised by how many vegetables are added, including potatoes, peas, carrots, corn, and onions. The rotisserie chicken pieces were pretty large and satisfying in size! We were impressed by how much chicken was actually inside the chicken pie too! This is similar to the Costco chicken salad pre-made meal which also has a lot of chicken!
The pie wasn't dry and it wasn't slimy which you can sometimes get with premade meals like this one. We really liked the texture and thought there was a good ratio of vegetables to chicken inside.
We found that the quality of this chicken pot pie was great and we would definitely buy this meal again!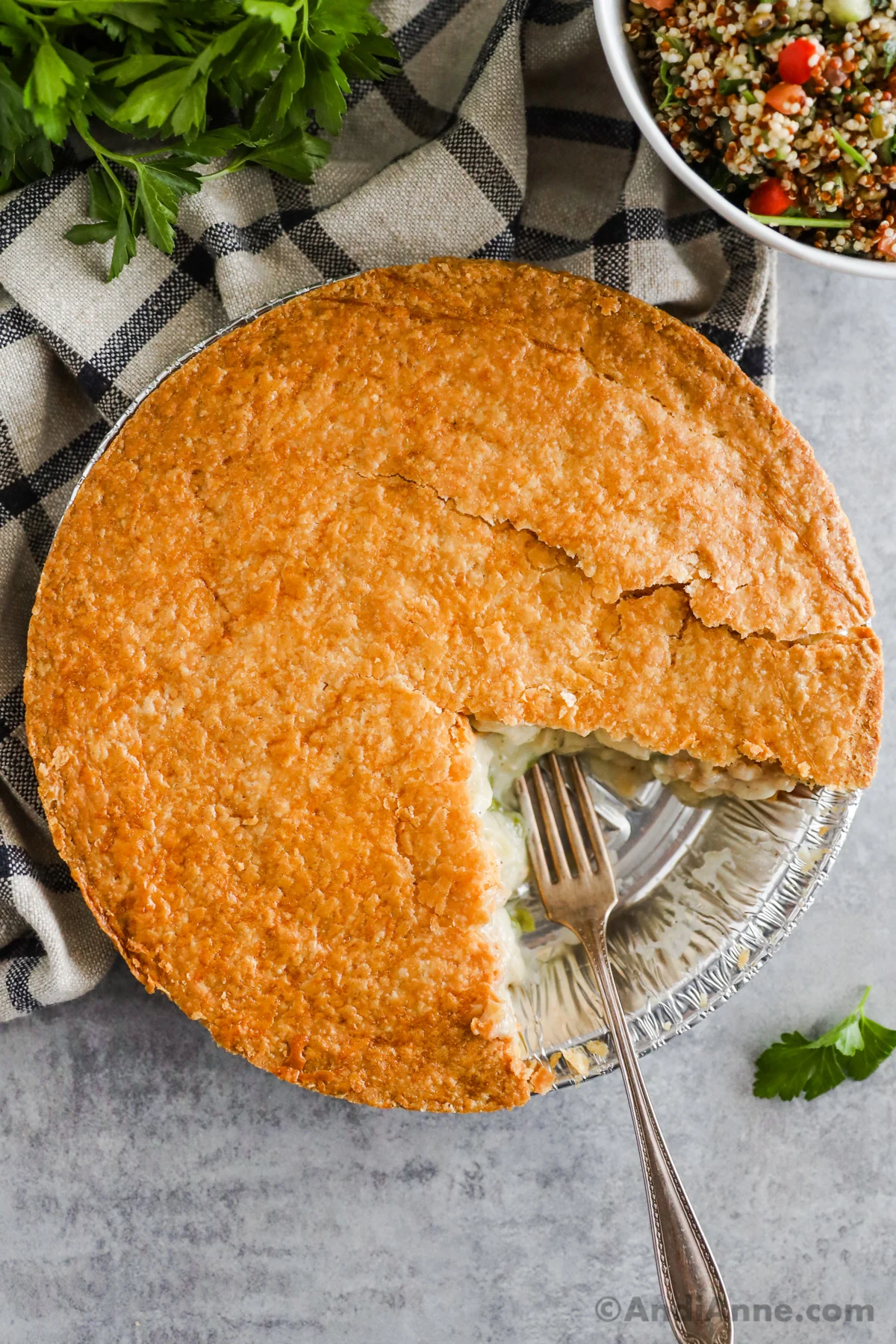 How Much Does It Cost?
I bought this quinoa salad at a Costco in Canada for $10.99 (Canadian dollars). Pricing is based on the weight. This would convert to about $8.08 USD. The price will vary on the location and may even be cheaper for you.
This was a GREAT PRICE for what you are getting! It is a very delicious and filling meal with a good amount of chicken breast inside. We loved how affordable this meal was an can serve a family of four easily.
I would still probably serve it with a side salad or some chopped raw veggies to round out the meal because it would be easy to eat the whole pie in one sitting.
Where Can I Find It In The Store?
You can find this item in the pre-made meal section that's near the refrigerated meat and cheese section of your local Costco warehouse. The item number is 824009.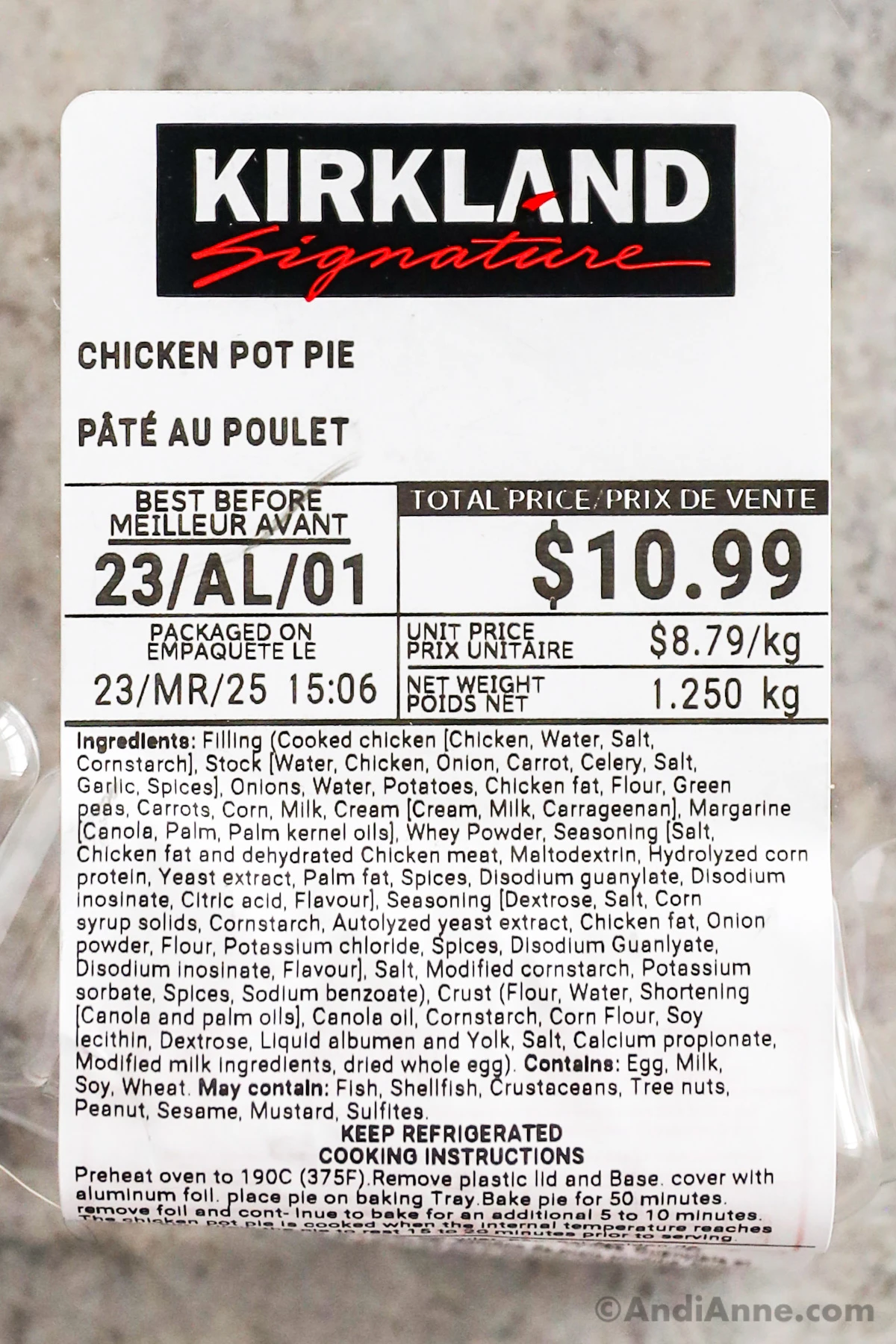 What Are The Costco Chicken Pot Pie Ingredients?
There is a pretty large list of ingredients for this meal. Here's a list of the ingredients:
Filling (Cooked chicken [Chicken, Water, Salt, Cornstarch] Stock [Water, Chicken, Onion, Carrot, Celery, Salt, Garlic, Spices], Onions, Water, Potatoes, Chicken fat, Flour, Green peas, Carrots, Corn, Milk, Cream [Cream, Milk, Carrageenan], Margarine [Canola, Palm, Palm kernel oils], Whey Powder, Seasoning [Salt, Chicken fat and dehydrated chicken meat, Maltodextrin, Hydrolyzed corn protein, Yeast extract, Palm fat, Spices, Disodium guanylate, Disodium inosinate, Citric acid, Flavor], Seasoning [Dextrose, Salt, Corn syrup solids, Cornstarch, Autolyzed yeast extract, Chicken fat, Onion powder, Flour, Potassium chloride, Spices, Disodium Guanlyate, Disodium inosinate, Flavor], Salt, Modified cornstarch, Potassium sorbate, Spices, Sodium benzoate)
Crust (Flour, Water, Shortening, [Canola and palm oils], Canola Oil, Cornstarch, Corn Flour, Soy lecithin, Dextrose, Liquid albumen and Yolk, Salt, Calcium propionate, Modified milk ingredients, dried whole egg)
Note: It also says that this product contains egg, milk, soy, and wheat and may contain fish, shellfish, crustaceans, tree nuts, peanuts, sesame, mustard, and sulfites. This is important to know for anyone with food allergies.
The ingredients may vary from location to location so it's always important to read the package of the one you purchase personally.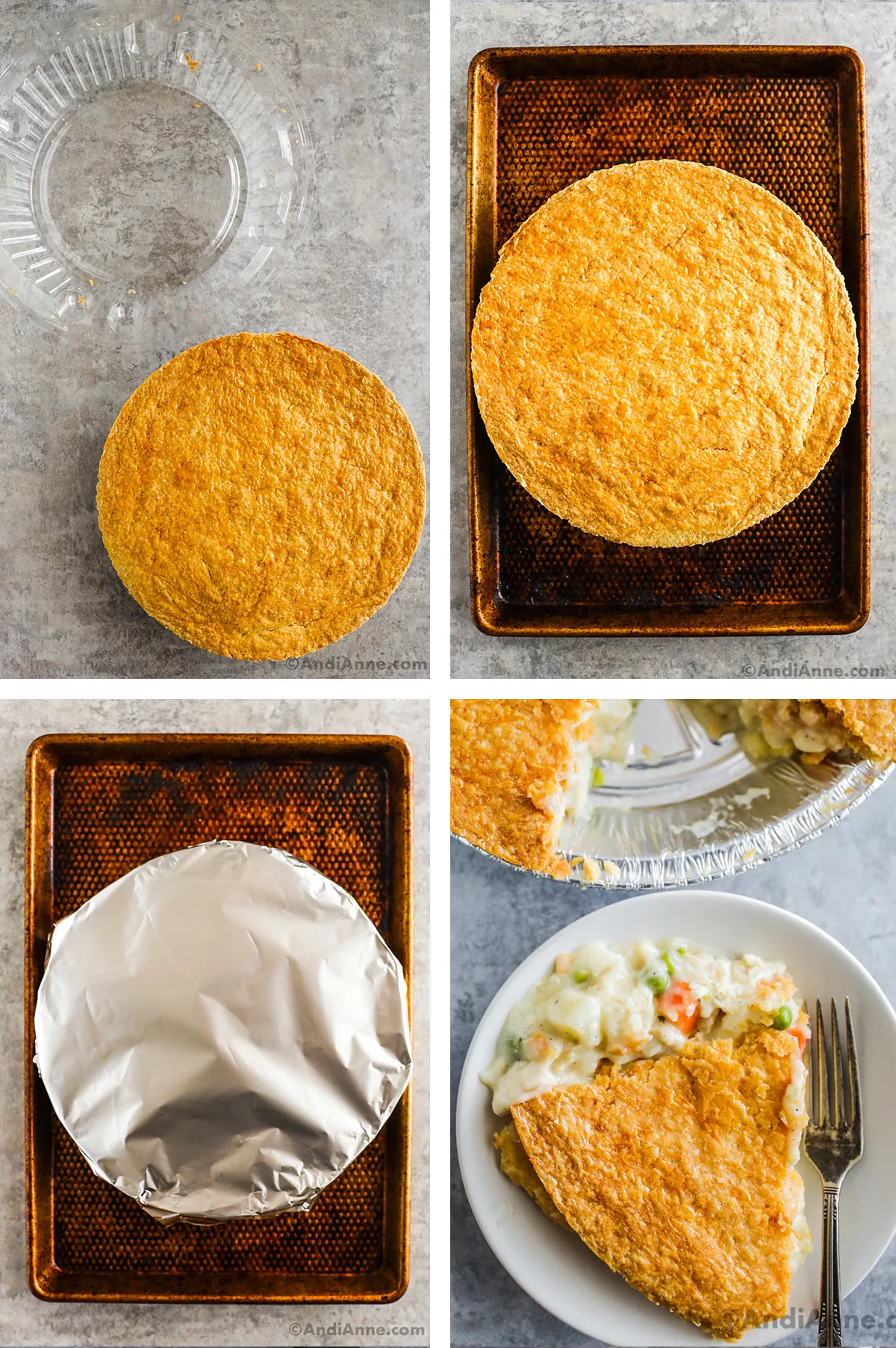 How To Make Costco Chicken Pot Pie
This chicken pot pie is very easy to make! Just be sure to remove both the top and bottom plastic containers before baking. Here's how to make it:
Preheat the oven to 375F. Remove both the top plastic lid and the plastic base.
Place the chicken pot pie on a baking sheet and cover the top with aluminum foil.
Bake for 50 minutes, then remove the foil and bake another 5-10 minutes or until it reaches an internal temperature of 165F when poked with a meat thermometer.
Let the pie rest for 15-20 minutes then slice and serve.
Helpful Tip: It is really important to cover and wrap the pot pie with aluminum foil, or the tops may cook too fast and could burn.
Can I Store Leftovers?
The uncooked chicken pot pie will have a best-before date on the label of the package and can be stored in the fridge until that date. It can also be frozen for up to 3 months. Frozen chicken pot pie can be thawed in the fridge overnight and then heated in the oven using the package instructions
Cooked chicken pot pie can be kept in the freezer or fridge covered with plastic wrap and stored for up to 4-5 days.
Leftovers can also be added to a microwave-safe plate and heated for 2-3 minutes in slices.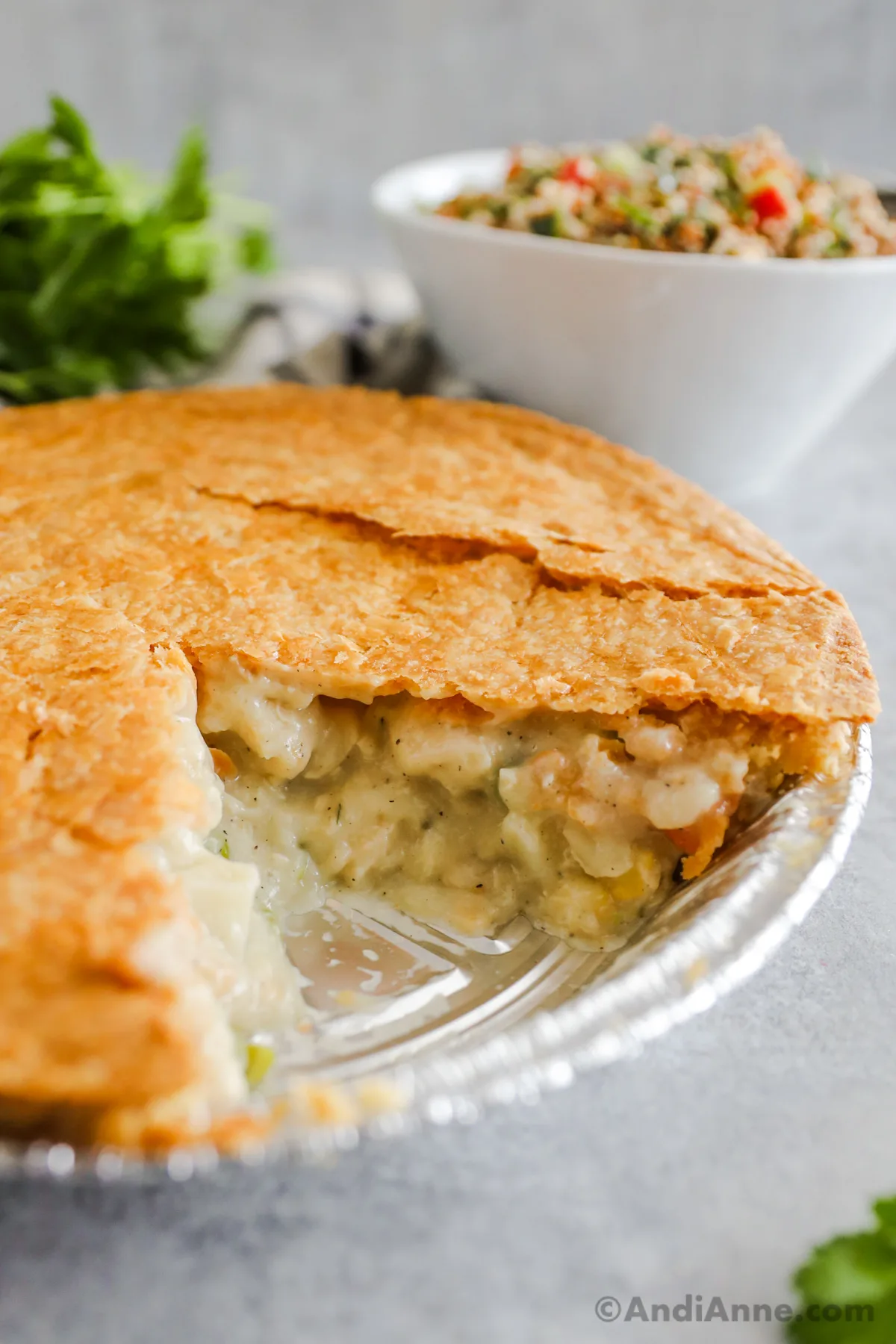 Nutrition Facts
Unfortunately, Costco doesn't list the nutrition info on the side of the package. I'm not really sure why they don't do this, however, you can always request any nutritional facts through customer service at your local Costco. Here's the nutritional info that I received (this might vary at your location):
One-eighth of the Kirkland Signature Chicken Pot Pie contains 390 calories, 23 grams of fat, 410 milligrams of sodium, 31 grams of carbohydrates, 2 grams of fiber, 3 grams of sugar, and 15 grams of protein. While the calorie count is on the higher side, the relatively high amount of protein is definitely a bright spot. It's partly what makes this dish taste so filling. However, the sodium content is something to be aware of, especially for those watching their salt intake.
Serving size: 1/12 of the pie (170g)
Calories: 720
Total Fat: 40g
Saturated Fat: 15g
Trans Fat: 0g
Cholesterol: 70mg
Sodium: 1,450mg
Total Carbohydrates: 66g
Dietary Fiber: 5g
Sugars: 6g
Protein: 22g
The nutrition info can vary depending on the ingredients and the amount you consume.
What to Serve with Costco Chicken Pot Pie
When it comes to serving Costco chicken pot pie, you can choose to serve it on its own as a complete meal, or you can pair it with a side dish to add more variety and nutrition. Here are a few suggestions for what to serve with:
1. GREEN VEGETABLES – Adding some green vegetables to your plate can provide some color and nutrition to your meal. Some great options include sautéed asparagus, roasted Brussels sprouts, kale, mixed greens, the Costco caesar salad or the Costco quinoa salad.
2. MASHED POTATOES – Mashed potatoes are a classic side dish that goes well with chicken. You can make your own mashed potatoes or buy pre-made mashed potatoes and save prepping time.
3. GRAVY – If you want to add some extra flavor to your chicken pot pie, consider serving it with some gravy. You can make your own gravy or buy pre-made gravy from the store.
4. DINNER ROLLS: Dinner rolls, toast or buns are a great option for soaking up any extra gravy or sauce from your chicken pot pie.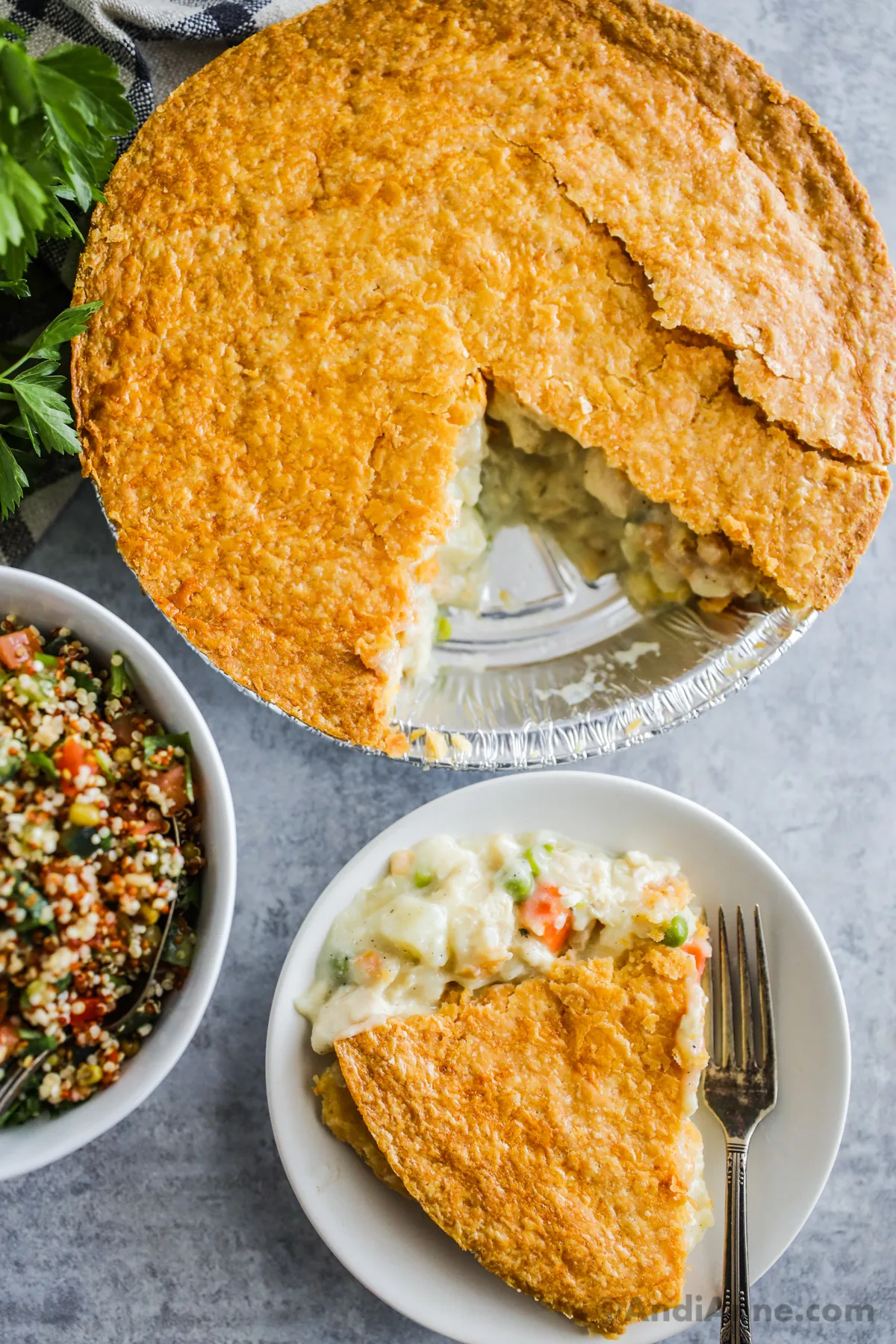 Frequently Asked Questions
How Long Does it Take To Heat a Frozen Chicken Pot Pie?
You can still cook this pie from frozen at 375F, covered with foil for 50-60 minutes, and then uncovered for 10-20 minutes or until fully cooked with golden crust edges.
Should I Thaw Chicken Pot Pie Before Baking?
If you have the time, thawing a frozen chicken pot pie overnight in the fridge will ensure a more even cooking time. However, it is not completely necessary.
Is The Costco Kirkland Signature Chicken Pot Pie Healthy?
While serving the chicken pot pie is not exactly a healthy food, it's a delicious comfort food that is perfect for a special occasion or a treat. It's high in calories and fat, so it's best enjoyed in moderation.
What Is The Filling Like?
The chicken pot pie filling is made with 1-1/2 pounds of shredded chicken from Costco's famous rotisserie chicken, peas, carrots, and a creamy sauce. It's a classic chicken pot pie filling that is sure to satisfy your comfort food cravings.
What Is The Crust Like?
The crust is flaky and delicious, and it's the same crust that Costco uses on its fruit pies. It turns golden brown in the oven, which adds to the overall appeal of the dish.
Are Costco the frozen chicken pot pies pre-cooked?
The filling ingredients, including the chicken and the vegetables, are pre-cooked. However, the crust is not and should be baked according to the package instructions in order to be fully cooked.
How to cut Costco chicken pot pie?
Use a sharp knife with a pointed tip. Consider using a pie server or flimsy silicone spatula to help scoop it out of the pie dish and onto a serving plate. No matter how careful you are, there will still be a filling that gets left behind. This can just be added by scooping with a spoon onto the plate.
How Long Can You Freeze Costco's Frozen Chicken Pot Pie?
This can be kept in the freezer for up to 3 months in original packaging for the best freshness. If you plan to freeze longer, I recommend removing from the original plastic packaging, wrapping the pie with plastic wrap, and placing it in a large freezer bag. Remove as much air as possible, then place it in the freezer.
How do you keep the bottom crust of chicken pot pie from getting soggy?
We didn't have any trouble with a soggy bottom crust.
Should I cover my pot pie with foil?
Yes, this is an important step in avoiding the top crust from burning.
How long is Costco chicken pot pie good for after sell-by date?
If you freeze the pie before the sell-by date then it can be frozen for 3-6 months.
Is Costco's chicken pot pie gluten-free?
No, it contains wheat flour in the pie crust so it is not gluten-free.
Does Costco chicken pot pie have dairy?
Yes, this recipe does have dairy as it uses milk and cream.
Can You Microwave Costco Chicken Pot Pie
The pie crust is not fully cooked so it is best to bake the recipe first according to the label instructions. However, leftovers can definitely be heated in the microwave.
Do Costco pot pies need to be refrigerated?
Yes. This pot pie can be stored in the refrigerator uncooked until the "best before" date. If it has been cooked, leftovers can be stored in an airtight container in the fridge for up to 4 days.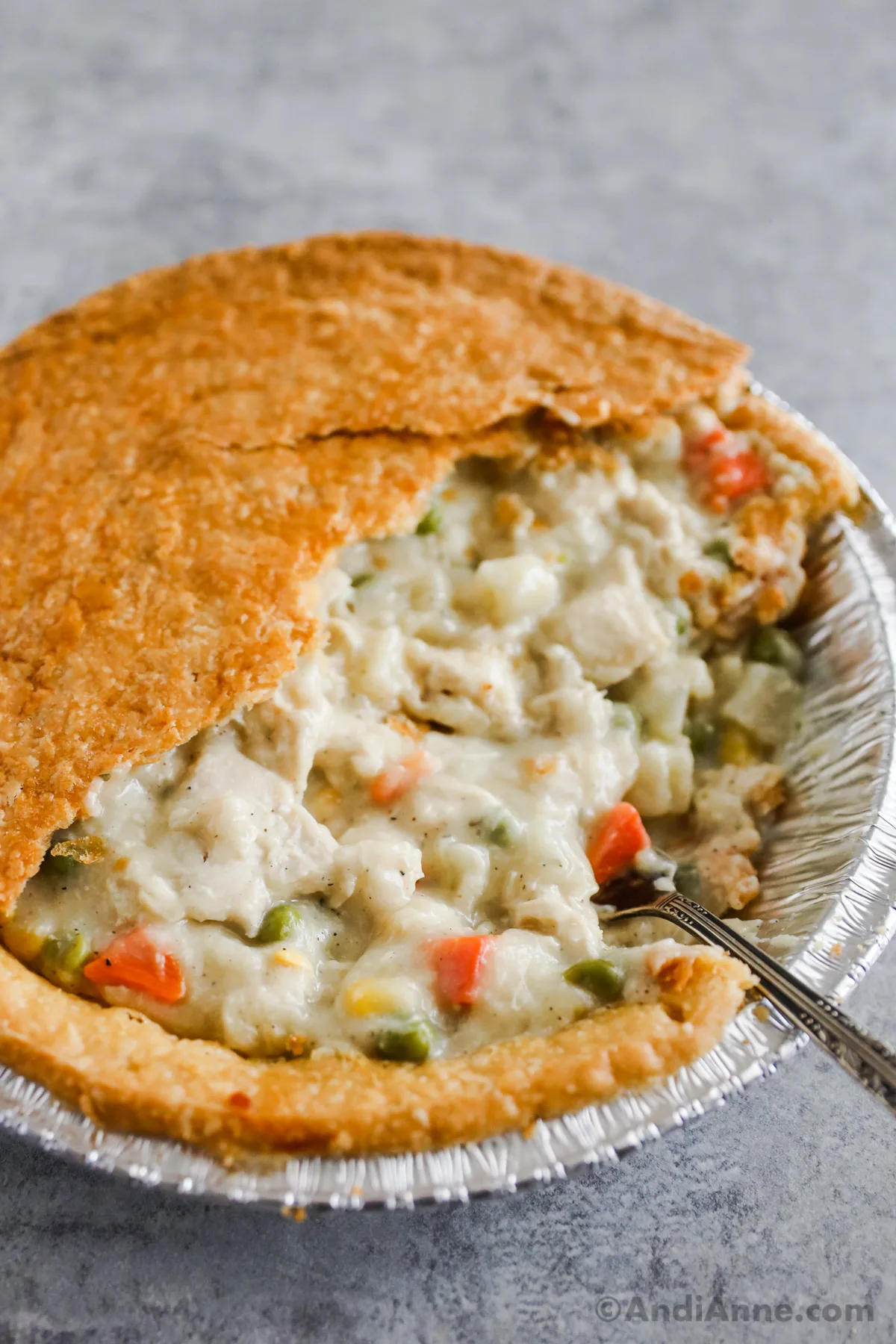 Conclusion
My husband and I gave this chicken pot pie a flavor Rating of 9/10
Overall, we really liked this meal! We thought it was flavorful, the textures were great, the pie crust was crispy, there was lots of chicken and the sauce tasted yummy.
Making this at home would require a lot more time and effort! So it's the perfect meal when you're craving some comfort food.
In my opinion, the Costco Kirkland Signature Chicken Pot Pie is a great meal for something that is simple, tasty, and affordable. It is a classic comfort food that can be enjoyed by the whole family. However, if you are looking for a healthier option, this may not be the best choice. Overall, I would give this chicken pot pie a rating of 4 out of 5 stars.
We would definitely buy this pre-made meal again for a future dinner when we just don't feel like cooking. So far, this is one of our favorite Costco meals that we've tried and reviewed!
Have you tried the Costco chicken pot pie? What did you think of it? Let us know your thoughts in the comments!
More Costco Meal Reviews