Today I am reviewing the frozen Costco pepperoni pizza for my my best costco meals series. This is an easy grab-and-go freezer dinner that can easily feed a family of four. My review will include what the pizza tastes like, how to make it, the nutrition info, the cooking instructions and the price. For more reviews, see our review on Costco chicken pot pie and review of Costco stuffed bell peppers.
Pepperoni Pizza
Costco warehouse is known for its bulk items, low prices, and delicious food court offerings. One of the most popular items is their freezer pepperoni pizza. This Kirkland signature product has become a staple for many Costco shoppers, and for good reason.
The Kirkland Signature pepperoni pizza is a total crowd-pleaser, with a generous topping of pepperoni slices and a crispy crust. Inside the pizza box comes a pack of four frozen pizzas, making this the perfect affordable lazy night dinner when you don't feel like cooking. This pizza is also easy to prepare, as it can be cooked from frozen in the oven or even grilled on the barbecue. Serve it with the Costco quinoa salad or the Costco caesar salad for an easy meal.
Many people rave about the quality and taste of the Kirkland Signature pepperoni pizza, with some even claiming it's the best pizza they've ever had. But what is it about this pizza that makes it so popular? Is it the sauce, the cheese, the crust, or a combination of all three? I knew I had to give it a try this week along with the Costco chicken salad and Costco shepherd's pie. In my review, I'll take a closer look at Costco's pepperoni pizza, and what makes it stand out from the rest.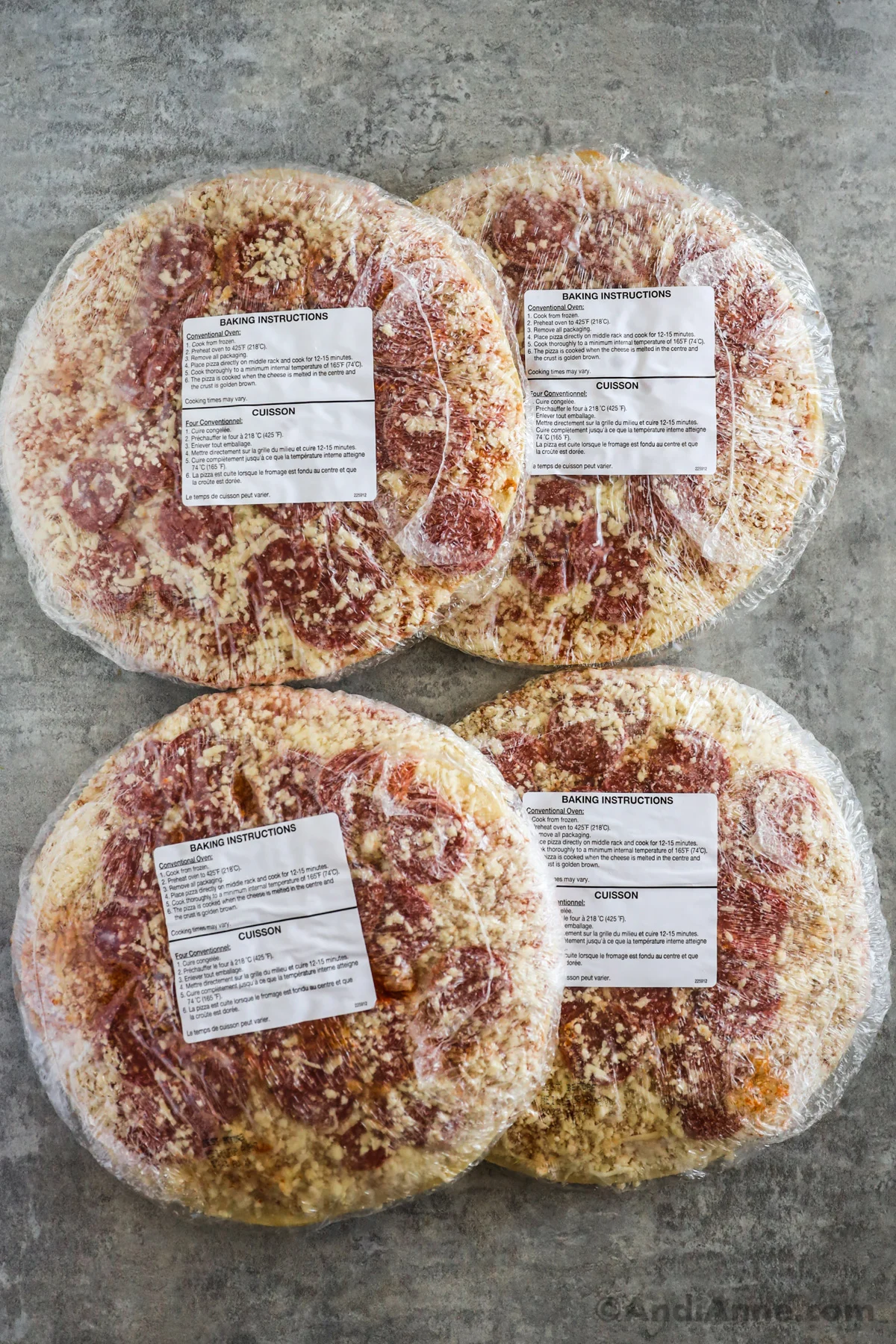 What Does Pepperoni Pizza Taste Like?
Wondering if Costco's pepperoni pizzas are any good? We were too, so I decided to grab a box and give it a try.
It's made with high-quality ingredients, including mozzarella cheese, loads of savory thick pepperoni slices (not those thin slices you often find with other frozen pizza brands), and tangy tomato sauce, all on a crispy thin crust.
If you like thin crust pizzas, then this one is a must-try! We found the pizza dough to be the perfect crispiness once baked in the oven.
The pepperoni slices are generous in size and quantity, with a little bit of spiciness too.
The tomato sauce was simple and flavorful. And the cheese also tasted great. My only complaint is that there could have been a bit more cheese on this pizza to really complete the taste and texture.
How Much Does Costco Pizza Cost?
Costco is known for its affordable prices, and its frozen pizza is no exception. If you're looking for a delicious dinner that won't break the bank, then Costco is the place to go.
I bought mine at a Costco in Canada for $17.99 Canadian ($13.30 USD). I know the price has gone up a bit recently, but it's still a really good price considering that there are four pizzas inside the box!
This will equal about $4.50 cad ($3.30 USD) per pizza, or $0.50 per slice ($0.37 USD)!! The price may even vary on the location and might actually be cheaper in the USA. But this will give you a ballpark idea of what to expect.
Personally, I think that's a great deal for an easy frozen meal like this one! We've purchased other frozen pizzas (not from Costco) many times in the past that are $5.50 each with thin flimsy pepperoni slices, and way less of them. The quality of this Costco pizza is so much better and it's cheaper too!
It's also worth noting that they offer other pizzas in the Costco food court. These slices are a great option if you're looking for a quick and affordable lunch. A slice of cheese pizza costs about $1.99, while a slice of pepperoni pizza costs $2.29.
Overall, Costco pizza is a great value for the price. Whether you're feeding a crowd or just looking for a quick bite, Costco has you covered.
Also, keep in mind that the prices and availability of Costco pizza may vary by location, so it's always a good idea to check with your local store for more information.
Where Can I Find It In The Store?
You can find this frozen pizza in the freezer aisle near other prepared meals at your local Costco warehouse. The item number is 11515.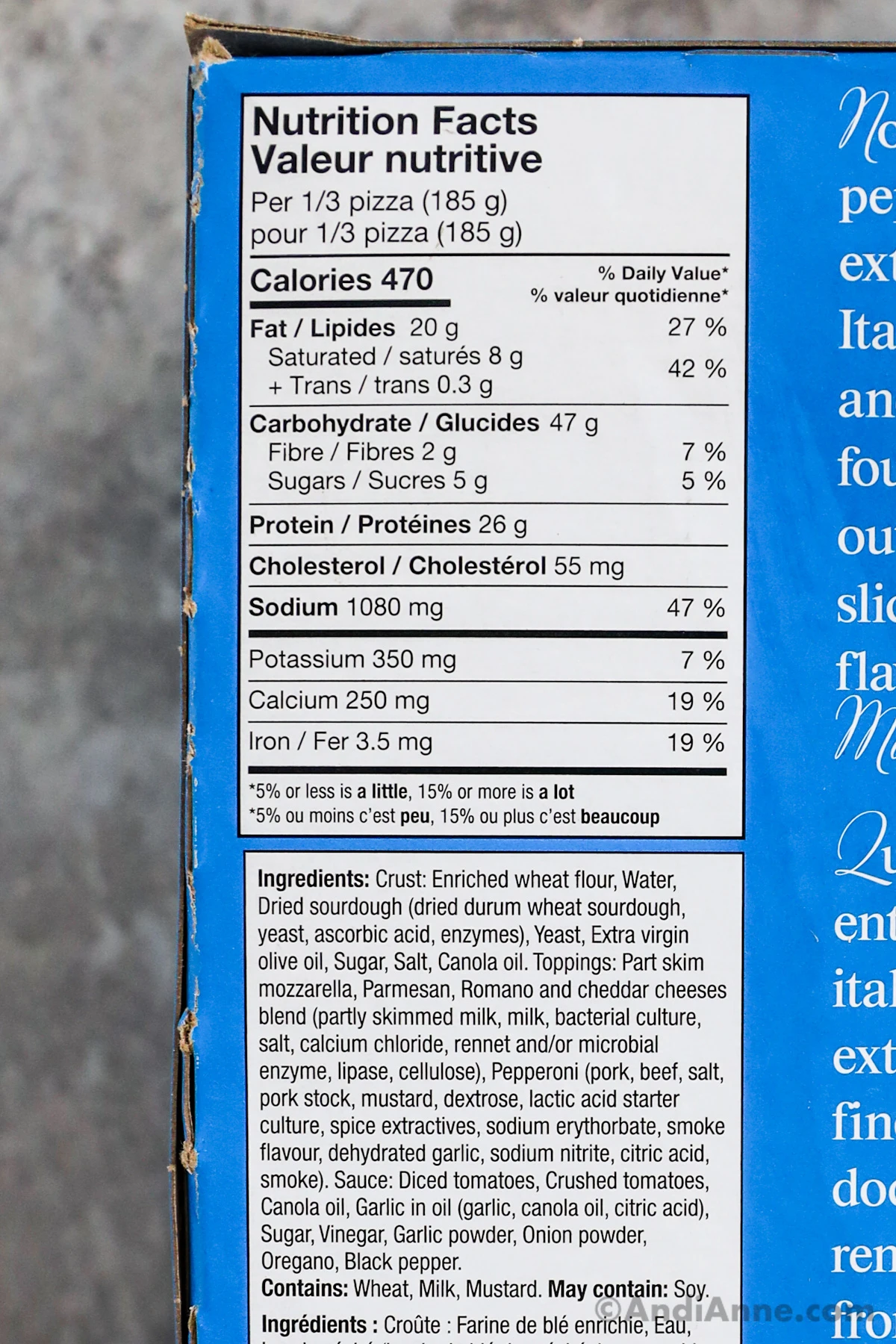 Costco Pepperoni Pizza Ingredients
Here is the ingredient information that is on the box (you can see it in the image above).
Crust: Enriched wheat flour, Water, Dried Sourdough (dried durum wheat sourdough, yeast, ascorbic acid, enzymes), Yeast, Extra virgin olive oil, Sugar, Salt, Canola Oil
Toppings: Part skim mozzarella, Parmesan, Romano, and cheddar cheese blend (partly skimmed milk, milk, bacterial culture, salt, calcium chloride, rennet and/or microbial enzyme, lipase, cellulose), Pepperoni (pork, beef, salt, pork stock, mustard, dextrose, lactic acid starter culture, spice extractives, sodium erythorbate, smoke flavor, dehydrated garlic, sodium nitrite, citric acid, smoke).
Sauce: Diced tomatoes, Crushed tomatoes, Canola oil, garlic in oil, (garlic, canola oil, citric acid), Sugar, Vinegar, Garlic Powder, Onion Powder, Oregano, and Black pepper.
Note: It also says that this product contains wheat, milk, and mustard, and may contain soy. This is important to know for anyone with food allergies.
The ingredients may vary from location to location so it's always important to read the package of the one you purchase personally.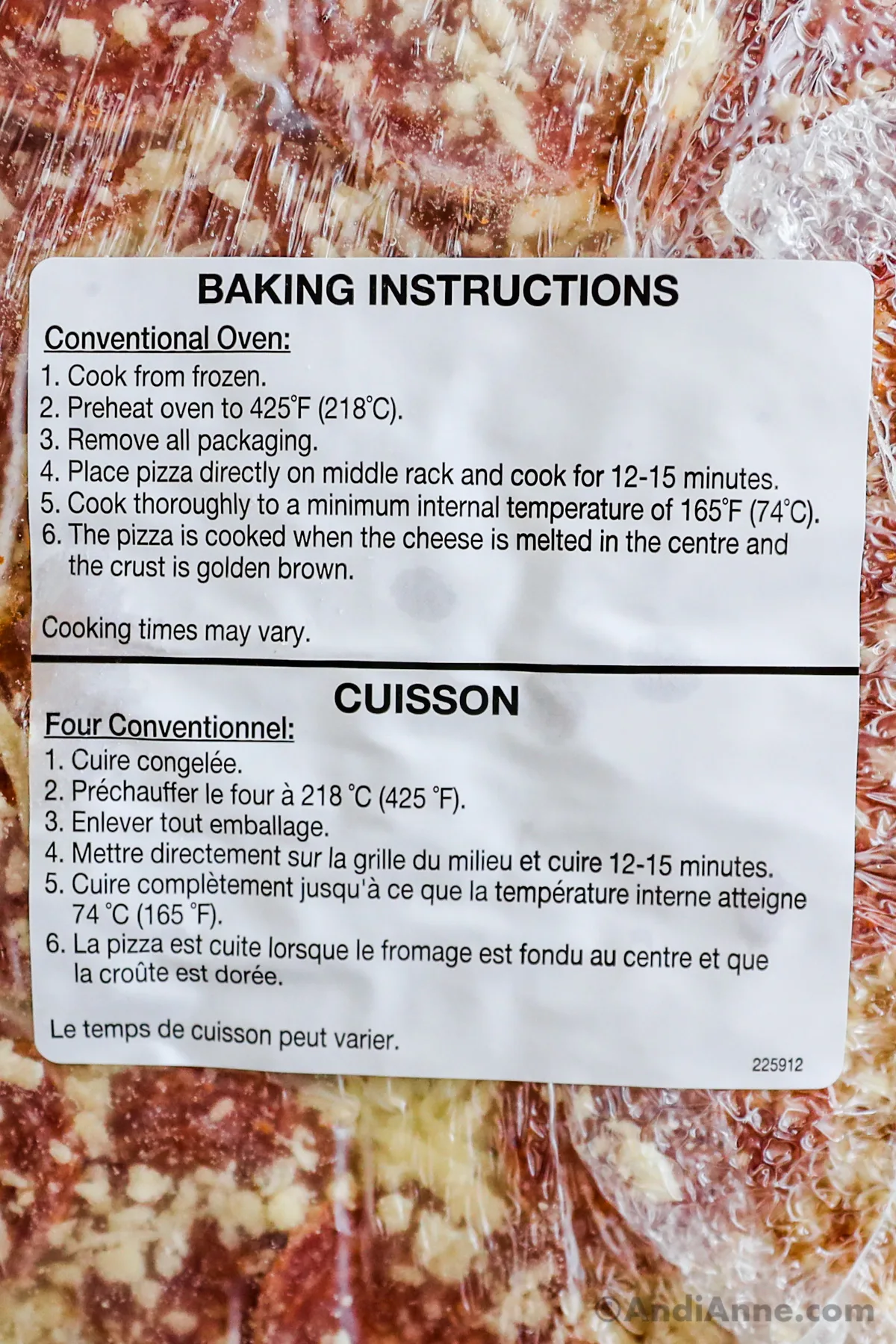 How To Make Kirkland Signature Pepperoni Pizza
This item comes in a box of 4 frozen pizzas that are individually sealed. Each pizza comes with a sticker that includes baking directions, which I really appreciated!
You can bake or grill this pizza, although I haven't tried grilling it personally. Here are the baking instructions:
Preheat the oven to 425°F.
Remove all the plastic packaging from the pizza (there is no bottom either).
Place the pizza directly onto the center rack of the oven. Cook for 12-15 minutes or until it reaches 165°F with a meat thermometer and the edges of the crust have turned golden brown.
The label also states that cooking times can vary depending on your oven.
Helpful Tip: If you don't want to cook directly on the oven rack, you can use a pizza stone or a pizza pan as I did. This may change the level of crispiness of the crust but I thought it was still great!
How Do I Store Leftovers?
FRIDGE – The leftovers can be stored in the fridge wrapped in plastic or in an airtight container for up to 4-5 days.
FREEZER – Let the pizza cool completely before storing it in a freezer bag and remove as much air as possible to prevent freezer burn. These leftovers can be stored for up to 4 months frozen.
REHEAT – You can reheat unfrozen pizza wrapped in a paper towel in the microwave for 1-2 minutes. You can also reheat it in the toaster oven or conventional oven at 375F until it is warmed through and ready to serve.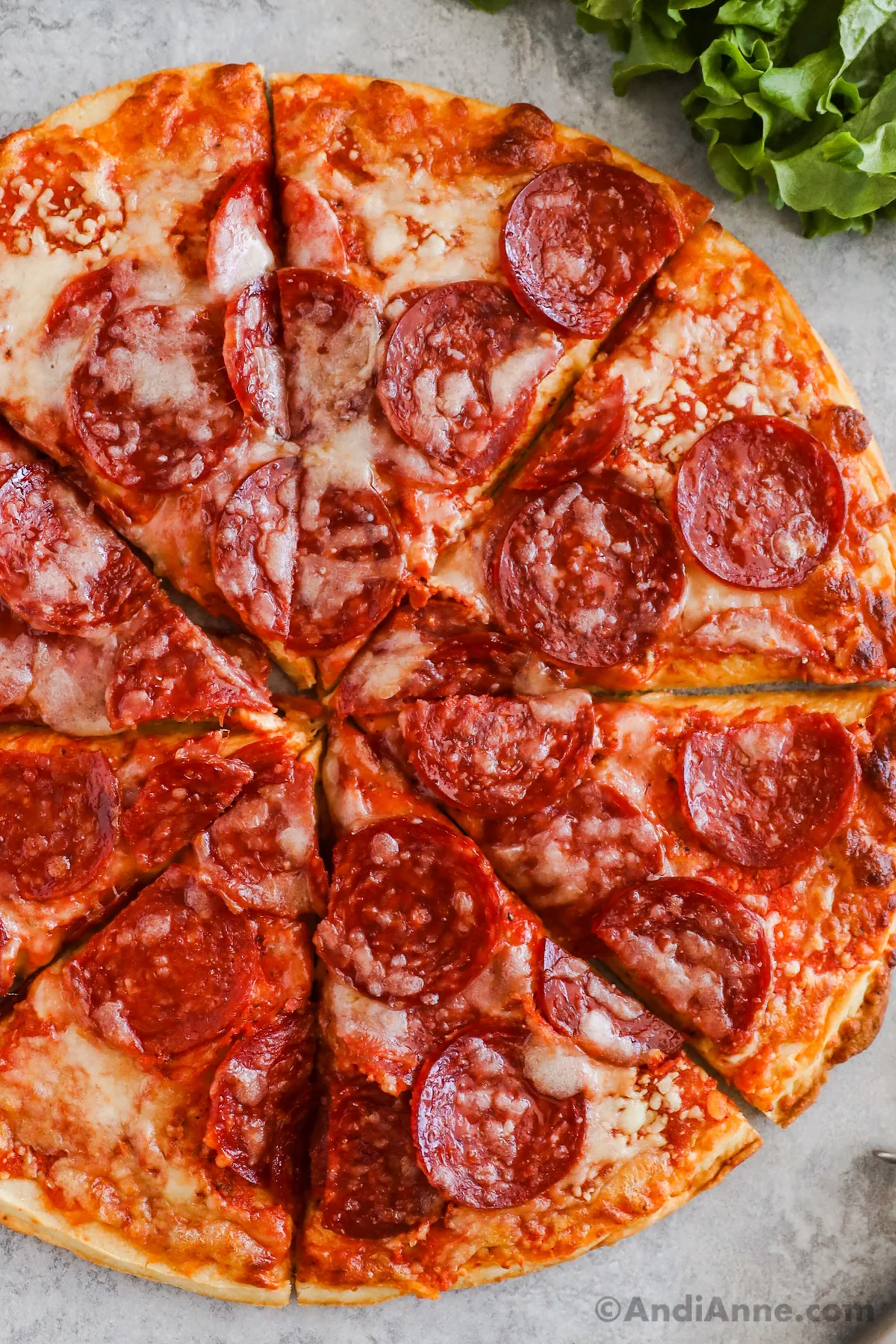 Nutrition Information
When it comes to nutrition, this is not the healthiest option. It is high in calories, fat, protein, and carbohydrates. According to the nutrition label on the side of the package, 1/3 of the pizza contains 470 calories, 20 grams of fat, 26 grams of protein, and 47 grams of carbohydrates.
It is important to note that this nutrition information may vary depending on the size of the pizza slice, the toppings, and the cooking method. It is always a good idea to check the nutritional information before consuming any food item, especially if you have dietary restrictions or are trying to maintain a healthy diet.
Frequently Asked Questions
How do I cook Costco frozen pepperoni pizza?
Preheat your oven to 425°F. Remove the pizza from its packaging and place it directly on the rack or on a baking sheet. Bake for 12-15 minutes or until the cheese is melted and the crust is golden brown.
How long does it take to cook Costco frozen pepperoni pizza?
It typically takes 12-15 minutes to cook a Costco frozen pepperoni pizza in a preheated oven at 425°F.
How many calories are in a slice of Costco frozen pepperoni pizza?
The number of calories in a slice of Costco frozen pepperoni pizza can vary depending on the size of the slice and the specific type of pizza. However, 1/3 of a Costco frozen pepperoni pizza contains approximately 470 calories. This will be about 2 or 3 small slices.
Is Costco frozen pepperoni pizza gluten-free?
No, it's not gluten-free. It contains wheat flour in the crust. However, they have recently come out with a cauliflower crust pizza which I can't wait to try!
Can I freeze Costco frozen pepperoni pizza?
It is best to cook and consume the pizza immediately after it has been thawed. But you can freeze leftovers if desired.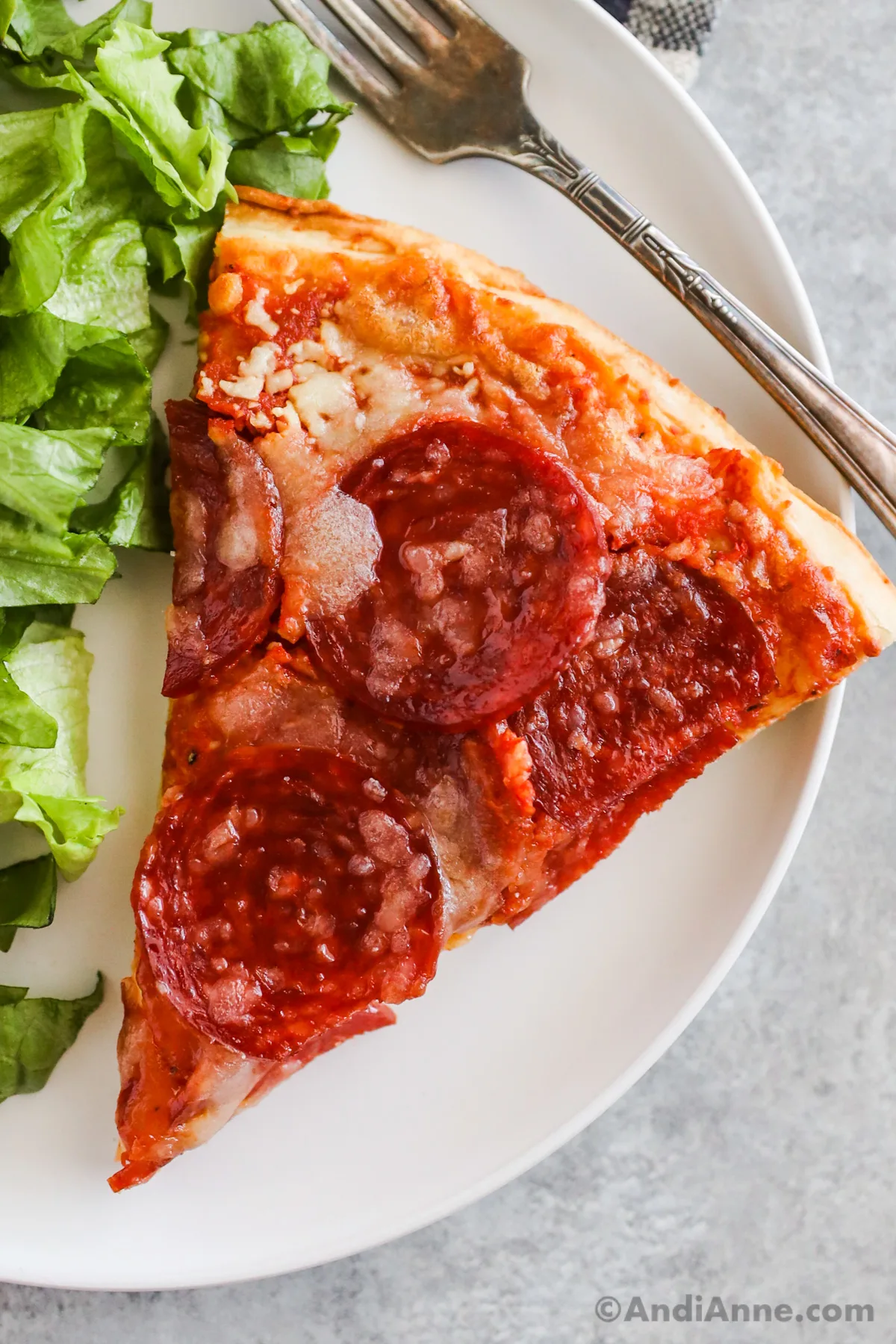 Conclusion
My husband and I gave this pepperoni pizza a flavor Rating of 8/10
Overall, we really liked this pizza! We thought it had a crispy crust, lots of thick pepperoni slices, a flavorful sauce, and cheese. We just wish that there was a bit more cheese.
If you like thin-crust pizzas then you must give this one a try! For the thick crust lovers out there who prefer a doughy crust, we wouldn't recommend this one.
Overall, Costco pepperoni pizza is a great option for those who are looking for a tasty and affordable meal. Whether you are hosting a party or just looking for a quick and easy dinner, we would definitely recommend picking up a Costco pizza at your local Costco warehouse.
Have you tried the frozen Costco pepperoni pizza? What did you think of it? Let us know your thoughts in the comments!
More Costco Meal Reviews