Costco's chicken salad is a classic dish that has been a hit with customers for years. Made with high-quality ingredients and a signature blend of seasonings, this recipe is a tasty and satisfying addition that can be enjoyed on its own or used as a filling for sandwiches, wraps, and more.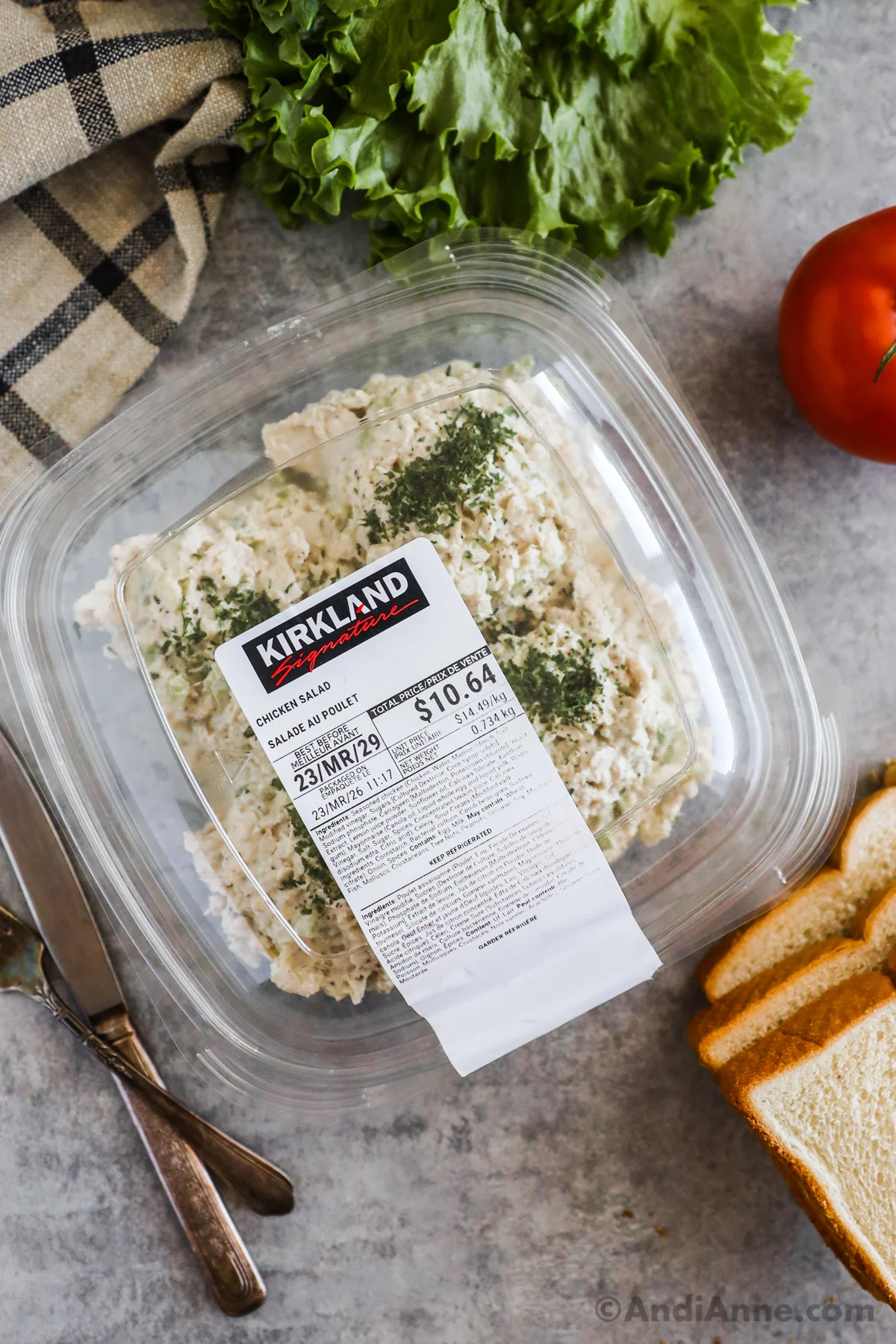 Costco Chicken Salad Review
I am always on the lookout for easy-to-make lunch ideas that also taste great. One of my recent discoveries has been the chicken salad from Costco. After trying it at home with my family, I decided to write a review (see my best costco meals review too!) to share my thoughts and opinions on whether or not this was worth buying.
What sets this chicken salad apart from others on the market is its flavor and size.
Whether you are a longtime fan of chicken salad or are simply looking for a new meal to add to your rotation, I hope this review will help you make a better decision about whether or not to give it a try.
What Does Costco Chicken Salad Taste Like?
The chicken comes in a large container, making it perfect for parties, potlucks, or even meal prep for the week. It's made with shredded chicken, mayonnaise, and spices, and is served cold.
The chicken itself is tender and juicy, and with chopped celery, it adds a nice crunchy texture to the overall dish.
The chicken salad is creamy, but not overly so. It has a smooth texture that allows it to spread easily onto bread or crackers. I really enjoyed the chicken salad paired with thick slices of bread, lettuce, and tomatoes.
Overall, I would say that Costco's chicken salad is pretty flavorful and is the perfect addition to a lunch or quick snack. The flavors are enjoyable without any overpowering spices, making it an easy crowd-pleaser.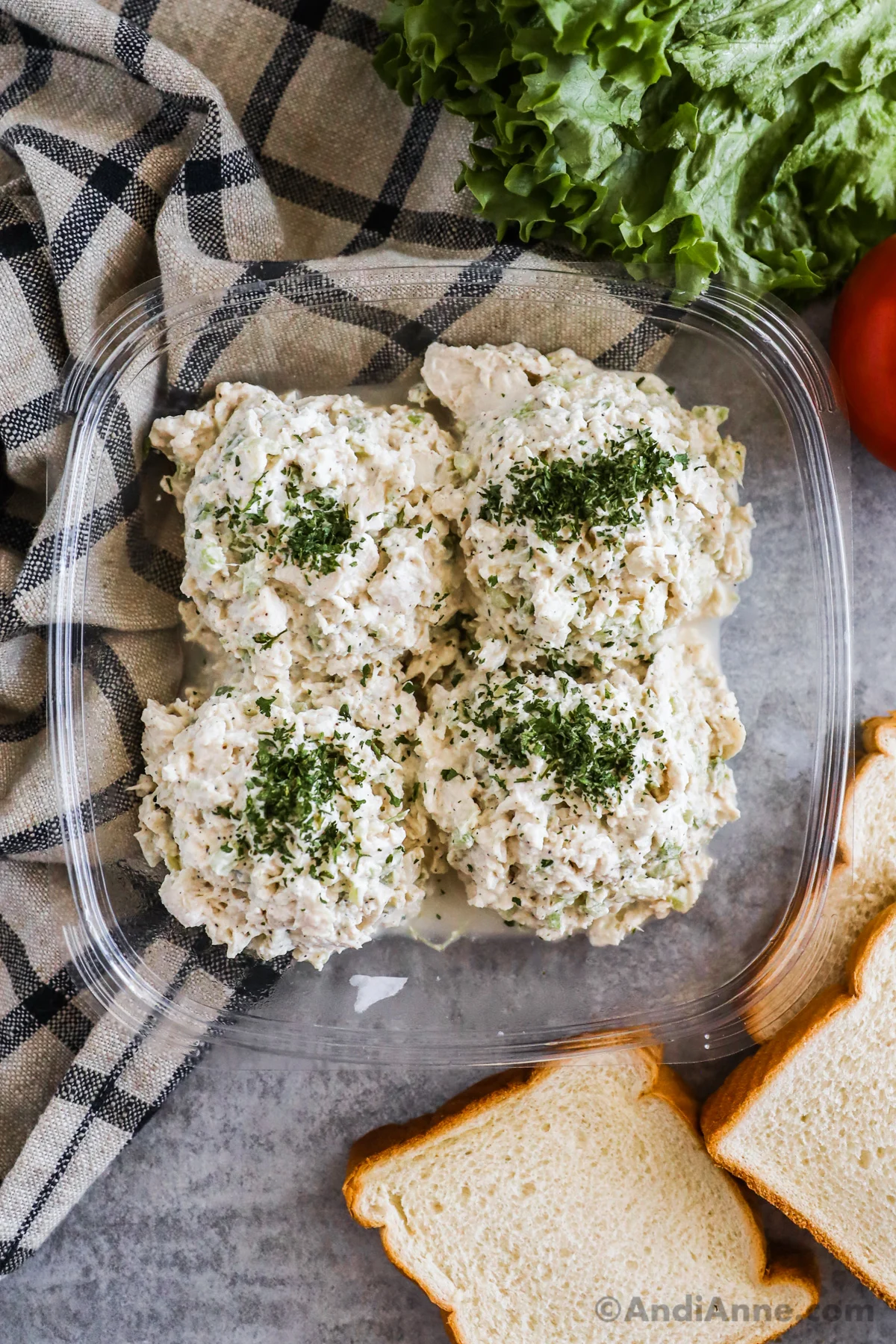 How much does it cost?
When it comes to the cost, the price varies depending on its weight and location. I was able to purchase this large tub for $10.64 Canadian (about $7.91 usd) which I thought was a good deal consider you could make a lot of sandwiches with it. However, this price will vary at different locations.
This salad is made with their shredded rotisserie chicken, which costs half the price of this chicken salad. That's definitely something to keep in mind, as you certainly could make a homemade version and save some money.
However, it's important to keep in mind that this is a pre-made, packaged item that requires additional preparation to make, time to make it and ingredients. Basically, you are paying extra for the cost of a convenient pre-made food.
Overall, I thought the cost of Costco's chicken salad was very reasonable! I could have made 8-10 chicken salad sandwiches with this package! There are so many ways other to use this chicken salad too, incluing a spread on top of crackers, an appetizer at a party, in a wrap, or with mixed greens in a salad.
If you're serving this at a party, and are curious about other salad ideas, see our Costco quinoa salad review and Costco caesar salad review.
Where is it located in the store?
The Kirkland Signature Chicken Salad can be found in the pre-made meals section of Costco. This section is usually located near the refrigerated meats, deli meats and packaged cheese. We found our close to the pre-made chicken pot pie and ground beef with rice stuffed bell peppers – both are some of our favorites!
The item number for the Kirkland Signature Chicken Salad is 26954, so you can also ask a Costco employee for help if you're having trouble finding it.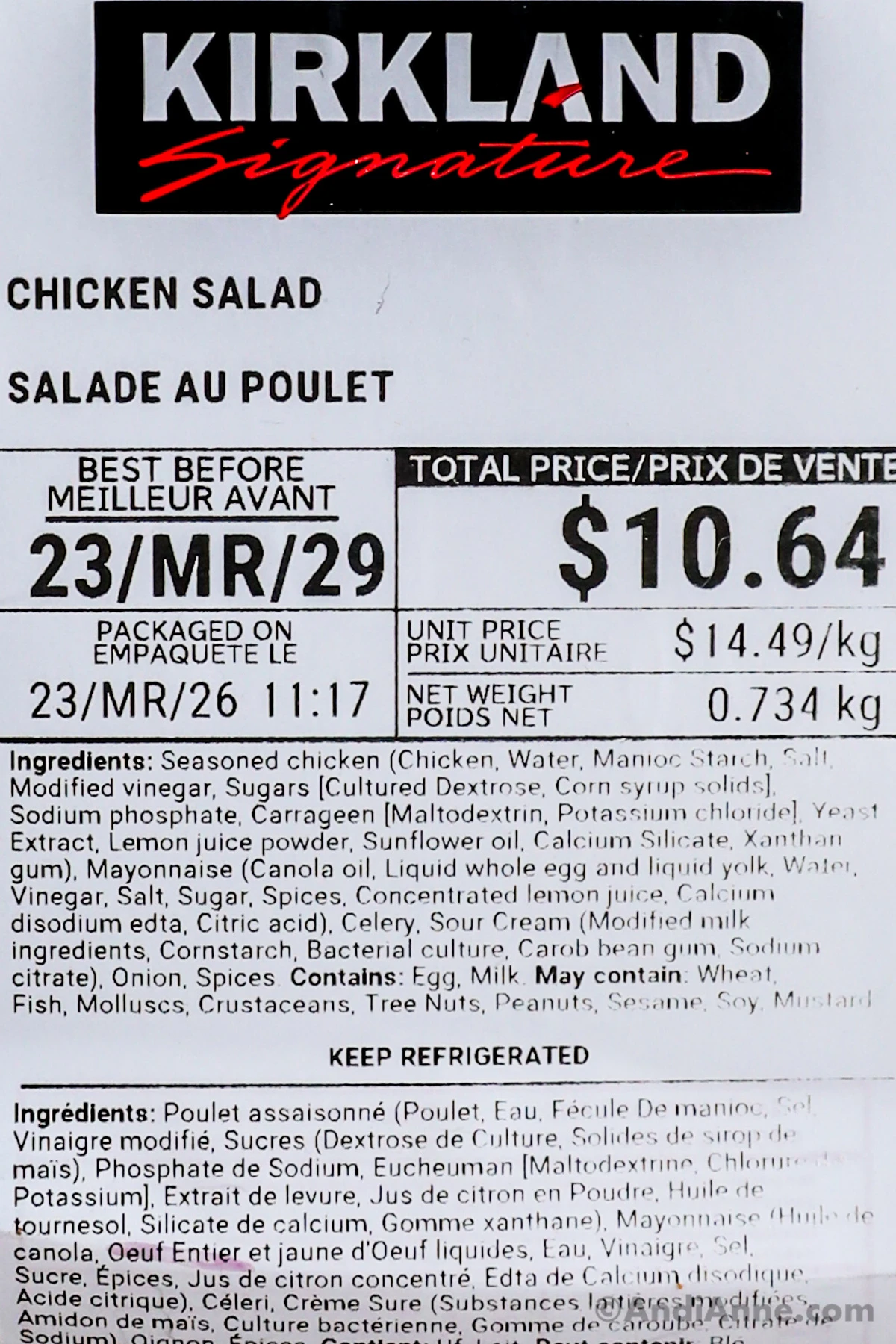 Costco Chicken Salad Ingredients
You can see that I took a picture of the ingredients on the package that I bought. I've listed them below if you want to read them:
Seasoned Chicken (Chicken, Water, Manioc Starch, Salt, Modified vinegar, Sugars [Cultured Dextrose, Corn Syrup solids], Sodium phosphate, Carrageen [Maltodextrin, Potassium chloride], Yeast Extract, Lemon juice powder, Sunflower oil, Calcium Silicate, Xanthan gum)
Mayonnaise (Canola oil, Liquid whole egg and liquid yolk, Water, Vinegar, Salt, Sugar, Spices, Concentrated lemon juice, Calcium disodium edta, Citric acid)
Celery
Sour cream (Modified milk ingredients, Cornstarch, Bacterial culture, Carob bean gum, Sodium citrate)
Onion
Spices
Note: It also says that this product contains egg and milk and may contain wheat, fish, molluscs, crustaceans, tree nuts, peanuts, sesame, soy, and mustard. This is important to know for anyone with food allergies.
The ingredients may vary from location to location so it's always important to read the package of the one you purchase personally.
How to Use Costco Chicken Salad
There is no preparation required with this recipe, the chicken salad is ready to be served. There are so many ways to use this flavorful dish. Here are a few ideas to get you started:
SANDWICHES – The classic way is to enjoy a chicken salad sandwich. Use your favorite type of bread, add some lettuce, sliced tomatoes, salt, and freshly ground black pepper and you have a delicious and easy lunch.
WRAPS – Spread onto a tortilla wrap and serve along with some sliced avocado, lettuce and tomatoes.
SALAD – Skip the bread altogether and add the chicken salad to a bed of mixed greens. Top with some dried cranberries, nuts or seeds for extra crunch.
APPETIZER – Use it as a dip for crackers, veggies, or pita chips. It's a great option for parties or gatherings.
PASTA SALAD – Mix the chicken salad with some cooked pasta and a side of roasted veggies for a filling pasta salad.
If you're looking for an easy Costco meal idea, check out our Shepherd's pie review (a classic comfort meal) and our thoughts on the Cosco thin crust frozen pepperoni pizza (a classic at Costco!).
How to Store Leftovers
Here are some tips on how to store your Costco chicken salad leftovers:
REFRIGERATE – If you have any leftover chicken salad, make sure to refrigerate it promptly. The USDA recommends refrigerating perishable food within two hours of cooking or serving.
AIRTIGHT CONTAINER – When storing chicken salad, make sure to use an airtight container to prevent any bacteria or odors from contaminating the food. You can use the plastic container that it was purchased in, a glass container, or even resealable plastic bags.
CHECK BEST BEFORE DATE – Check the expiry date on the label before purchasing and be sure to use it all up before then.
DO NOT FREEZE – This will not taste good after it's been frozen. The creamy dressing can break down and separate while frozen. This will affect the overall taste and texture.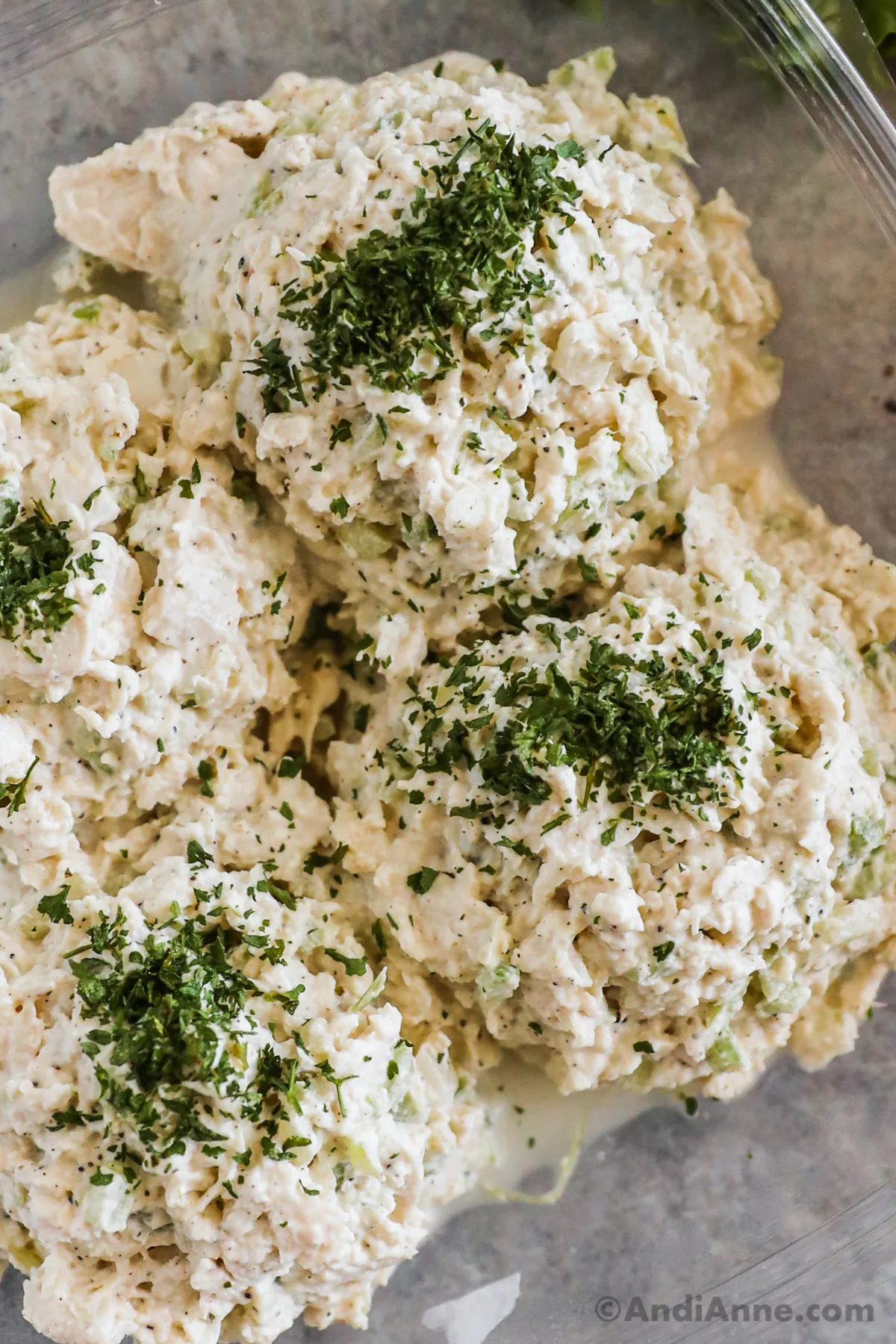 Nutrition Information
Unfortunately, Costco doesn't list the nutrition info on the side of the package, however, you can always request any nutritional facts through Costco customer service at your local warehouse. Here's the nutritional info that I received (this might vary at your location):
Calories: 240 per serving (100g)
Fat: 15g
Cholesterol: 45mg
Sodium: 405mg
Carbohydrates: 6g
Protein: 24g
Compared to other chicken salads, the Costco chicken salad is lower in fat and calories. However, it does contain a moderate amount of sodium, so it may not be the best choice for those on a low-sodium diet.
It's important to note that the nutritional information may vary depending on the other ingredients used in the salad. For example, if you add dressing or other toppings, the calorie count and fat content will increase.
Frequently Asked Questions
How Long Does The Costco Chicken Salad Last?
It should be kept refrigerated in an airtight container and consumed within a few days of opening. Follow the "best before" date that will be on the label of the package you purchase. Consume the contents before that expiry date.
Can The Costco Chicken Salad Be Frozen?
While it is not recommended to freeze the Costco Chicken Salad, some people have said that they have had success freezing it in portions for later use. However, this may affect the texture and flavor once it's been thawed. Personally, I haven't tried it.
What Are Some Serving Suggestions For The Costco Chicken Salad?
You can serve it on its own, on a bed of lettuce or mixed greens, or in a sandwich or wrap. Some people have also suggested using it as a dip for crackers and raw vegetables which would be great to serve at parties!
Conclusion
In terms of value, the Costco chicken salad is definitely worth it. The container is large enough to feed a family of four, or to use as meal prep for the week. Plus, the chicken salad is made with flavorful ingredients, including fresh shredded rotisserie chicken, celery, onion, and seasonings, all in a creamy sauce.
My husband and I gave this chicken salad a flavor Rating of 8.5/10. Overall, we really liked this meal! We thought there was lots of chicken, a good amount of crunchy chopped veggies, and it would be perfect for sandwiches!
However, the ingredients are a bit watery as excess liquid did tend to pool at the bottom of the tray. For this reason, I do not recommend making sandwiches for the entire week all at once. Over time the bread might get a bit soggy. It's best to make only the sandwiches you need the night before.
Compared to other store-bought chicken salads, the Costco version is a great value. It's much more affordable than purchasing individual servings from a deli or restaurant, and it's also more convenient.
However, it's important to note that the chicken salad does have a relatively short shelf life, typically lasting only a few days after purchase because of the creamy sauce made with dairy.
This may be a downside for some, especially if they don't think you can eat the entire container within that time frame. You certainly could try freezing half to see if that works for you.
But overall, I believe that the price and value are good and worth it for anyone that can use it to help save time with meals throughout the week.
Have you tried the Costco chicken salad? What did you think of it? Let us know your thoughts in the comments!
More Costco Meal Reviews