Today I am reviewing the Costco stuffed peppers. I recently picked up this easy grab-and-go meal idea to try out for an easy weeknight dinner. This is part of my best costco meals series where I share my thoughts on different pre-made meals and what they taste like, how long to cook, nutrition info, calorie info, and whether or not it's worth buying.
As someone who enjoys comfort food like Costco's amazing chicken pot pie, I was excited to try this classic dish that combines ground beef, cheese, and rice stuffed inside a bell pepper. What's not to love here!?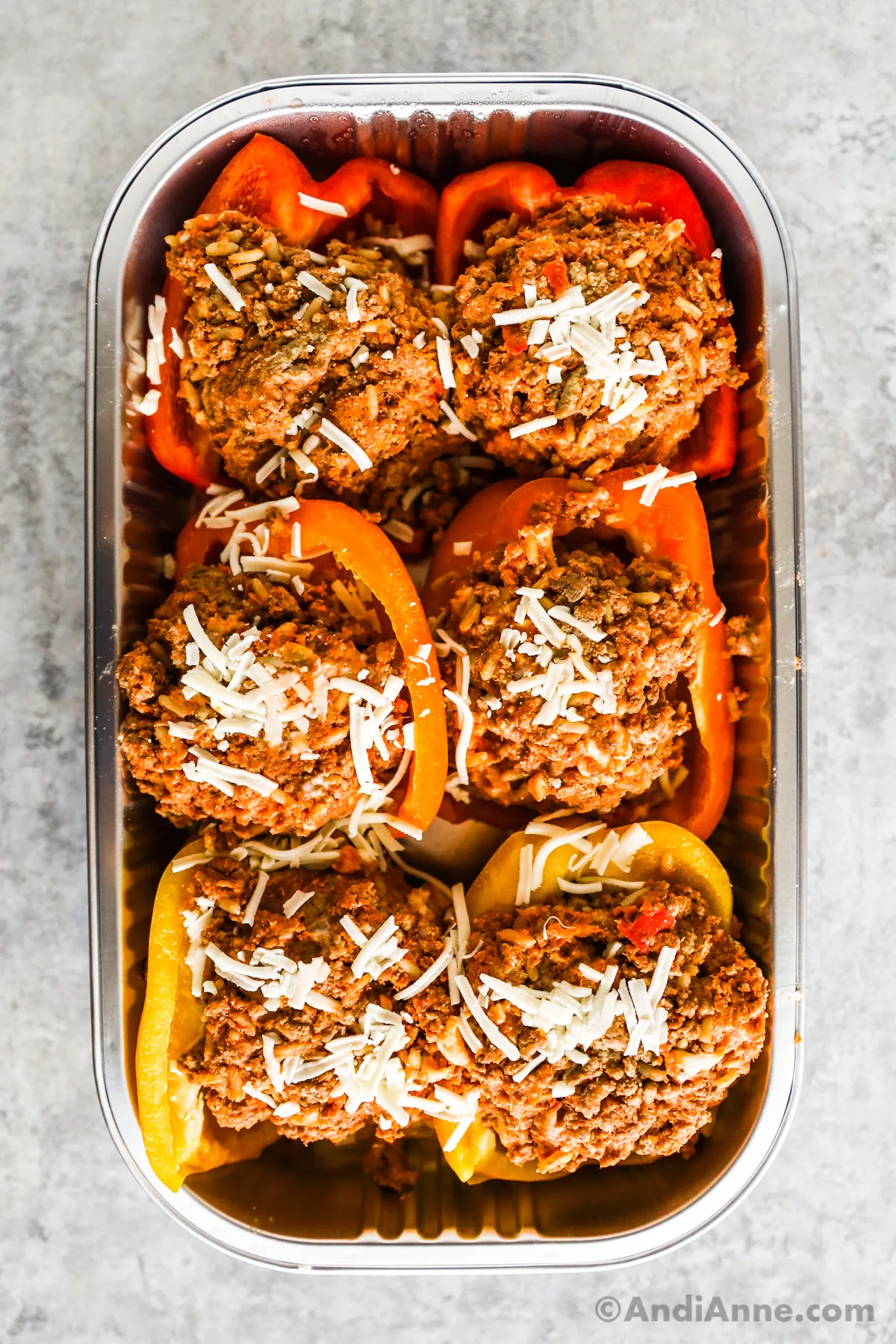 Costco Stuffed Peppers Review
Wondering if Costco's stuffed bell peppers are any good? We were too, so we decided to pick one up this past weekend and give it a try along with their frozen pepperoni pizza and our new favorite shepherd's pie.
If you're looking for a tasty and convenient meal option, I would definitely recommend giving the Kirkland Signature Stuffed Bell Peppers a try. They are a great value for the price and are sure to satisfy your hunger.
Upon first glance, the stuffed peppers look amazing and are well-portioned in size.
Each half bell pepper has a flavorful filling made with ground beef and rice in a tomato sauce with a little bit of cheese sprinkled on top.
Stuffed peppers are an easy meal to make at home, but sometimes you just want to save the hassle and cook something simple. That's why we couldn't wait to try this easy pre-made meal!
What Do Costco Stuffed Peppers Taste Like?
Great flavor, not mushy, and very filling! These bell peppers were so fragrant while cooking in the oven! At first, I could smell the cheese and ground beef mixture, which smelled incredible. After that, I could really smell the bell peppers starting to roast and tenderize. We were certainly excited to try them!
These stuffed peppers with ground beef were really delicious! The peppers weren't mushy at all but were slightly crispy. The ground beef is mixed with rice in a tomato sauce, chopped bell peppers, and onions. There is definitely a bit of spice for flavor added to the stuffed pepper filling but it is not spicy or hot in any way.
There is some cheese sprinkled on top, but not a lot. We definitely could notice the cheese flavor and thought it made these stuffed peppers taste even better.
There was a bit of oil or grease in the bottom of the pan after baking which probably came from the ground beef. For this reason, I recommend serving the bell peppers in a bowl to prevent any spilling.
If you're feeding a family of 4 I would definitely recommend serving these with something else like the Costco Caesar salad or the Costco quinoa salad to help round out the meal. There are six bell peppers in this pan, but my husband could easily eat 3 in one meal and I had one with a side salad.
These are so easy to reheat in the microwave. My husband really loved these and asked me to grab another pack for lunches! I really enjoyed them too but can't eat as much ground beef as he can. I tend to prefer something lighter for lunch like a salad, soup or sandwich using Costco's chicken salad.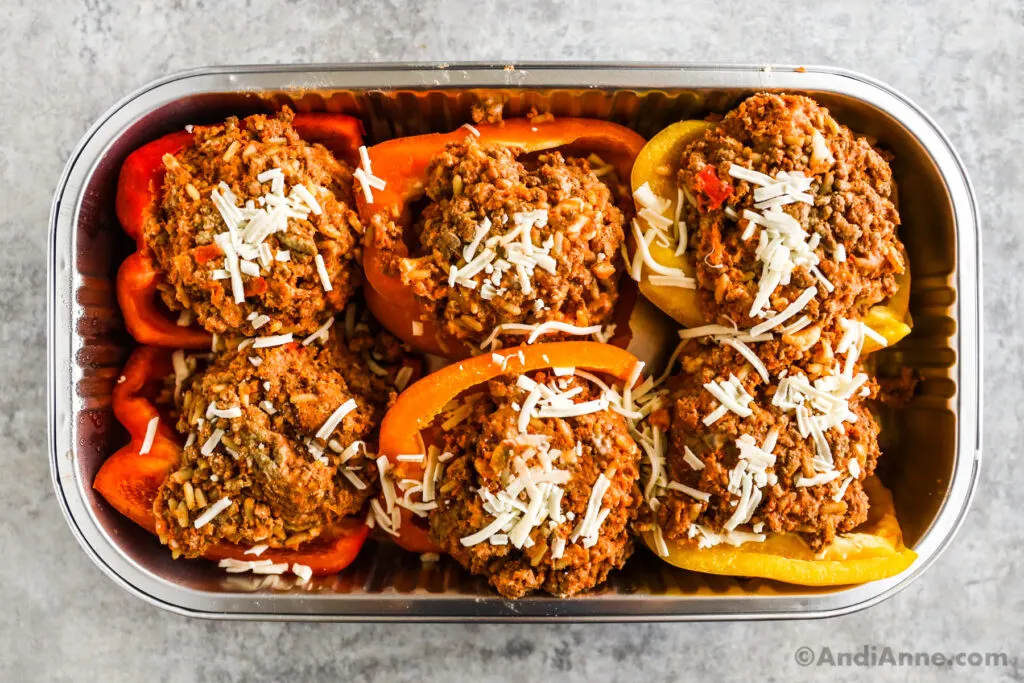 How Much Does It Cost?
I bought these stuffed bell peppers at a Costco in Canada for $20.42 (Canadian dollars). Pricing is based on the weight. This would convert to about $15.00 USD. The price will vary on the location and may even be cheaper in the USA.
I thought it was an okay price for what you are getting. You could probably make this recipe at home for half the price using 1 lb of ground beef with some cooked rice or beans and 3 green peppers. But you are also paying for the convenience of not having to make this yourself and saving time can definitely be worth it some days.
Each bell pepper came out to about $3.40 each. That's a pretty great price if you were to eat only one for lunch throughout the week! But if you eat 3 or 4 in one meal, then this can be an expensive meal to serve.
We would definitely buy these again based on the price because my husband loved them so much and they will make easy meal-prepped lunches for him. I plan on baking them than storing leftovers in the fridge, and he can just microwave them for lunch.
Where Can I Find It In The Store?
You can find this item in the pre-made meal section that's near the refrigerated meat and packaged cheese of your local Costco warehouse. The item number is 13170.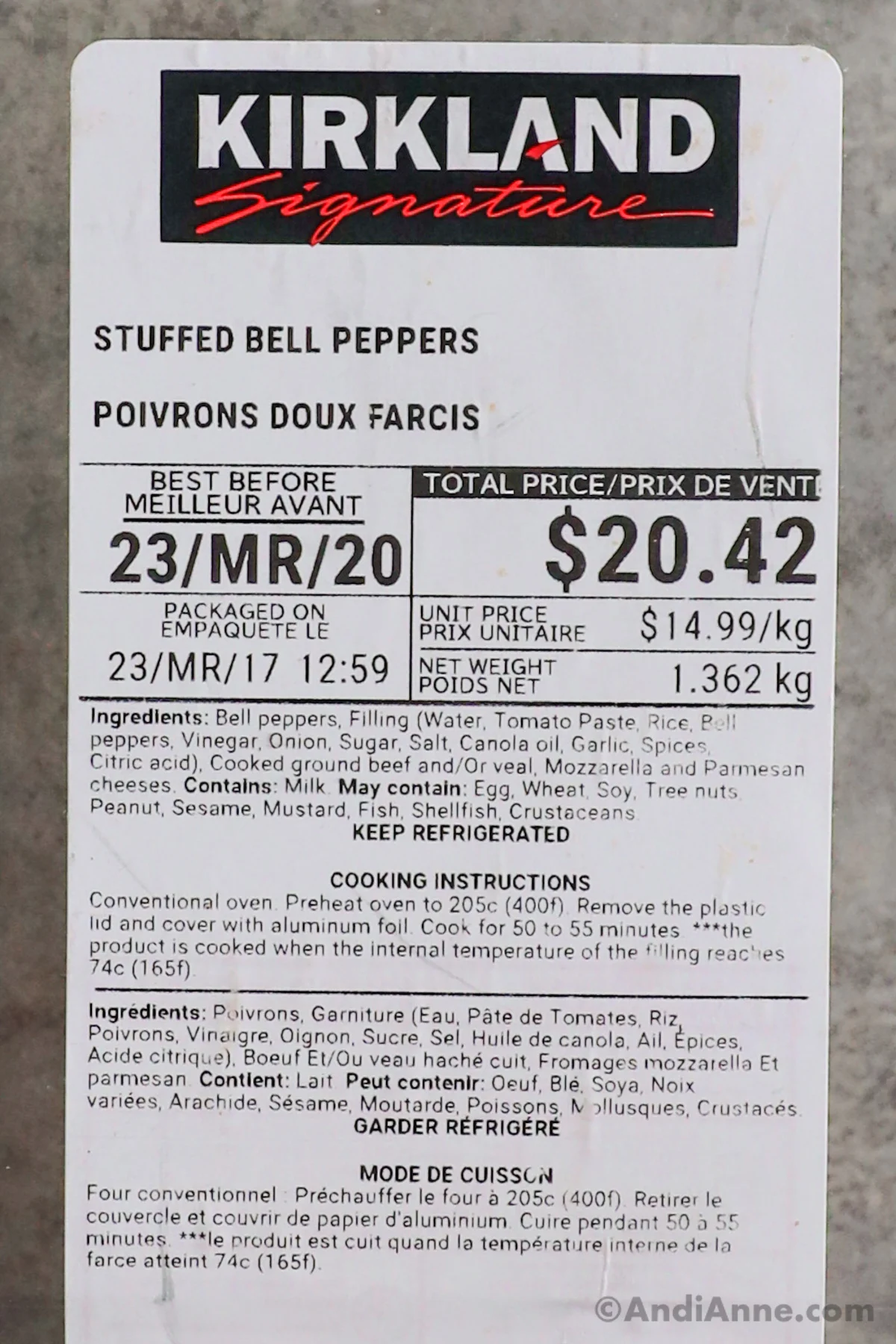 What Are The Costco Stuffed Peppers Ingredients?
The Costco Kirkland Signature Stuffed Bell Peppers are made of large sweet bell peppers along with ground beef, rice, tomato sauce, and a blend of spices. The peppers are then topped with a layer of cheese before being baked.
Most of the ingredients are fresh and pretty simple as you can see in the image above. Here's an overview of the ingredients:
Bell peppers
Filling (Water, Tomato paste, Rice, Bell peppers, Vinegar, Onion, Sugar, Salt, Canola Oil, Garlic, Spices, Citric Acid)
Cooked ground beef and/or Veal
Mozzarella and Parmesan cheeses
Note: It also says that this product contains milk and may contain egg, wheat, soy, tree nuts, peanuts, sesame, mustard, fish, shellfish, and crustaceans. This is important to know for anyone with food allergies.
The ingredients may vary from location to location so it's always important to read the package of the one you purchase personally.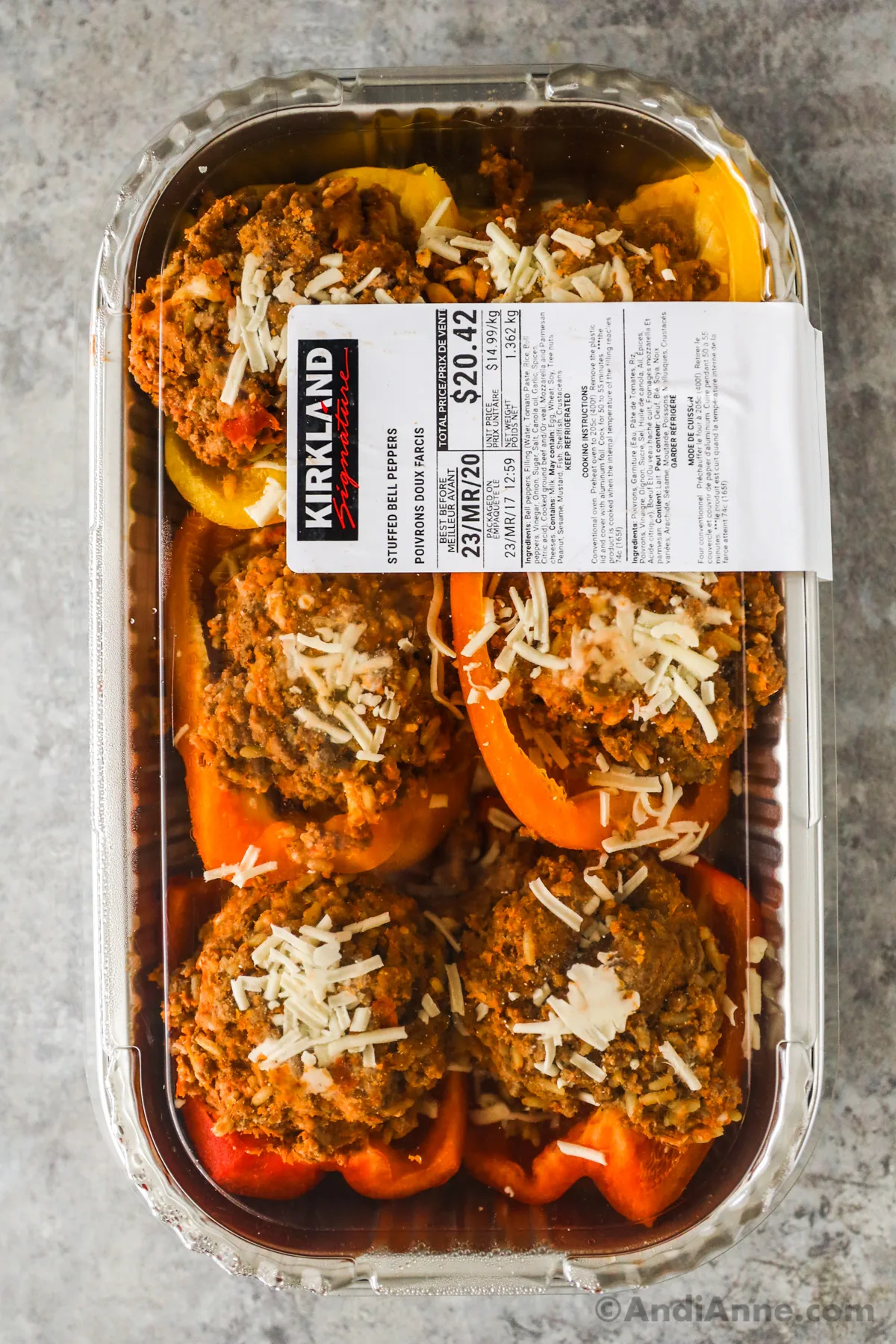 How To Cook Costco Stuffed Peppers
After reading the instructions, I was happy to see that it was easy to prepare and could be cooked in the oven without hassle. Here's how to bake these stuffed peppers in the oven:
Preheat the oven to 400°F.
Remove the plastic lid and cover the bell peppers with aluminum foil.
Cook for 50-55 minutes or until the internal temperature reaches 165°F (74C) when poked with a meat thermometer.
Let these cool for a few minutes, then transfer to bowls to serve.
Helpful Tip: It is really important to cover these with aluminum foil, or the tops will cook too fast and may burn. I made this mistake and the tops of mine burnt pretty quickly on the first container I purchased. They still tasted great though!
When cooking the peppers in the oven, you may want to consider adding a splash of water to the bottom of the tray to prevent the peppers from drying out. You can also add some extra cheese on top before baking for a gooey, cheesy finish.
How To Microwave Bell Peppers
If you're short on time, you can cook the stuffed bell peppers in the microwave. First, remove the plastic lid and transfer the bell peppers to an oven-safe dish (the foil tray that these come in is not microwave safe).
Heat for 5-6 minutes, or until the internal temperature reaches 165°F with a meat thermometer. Let the peppers rest for a minute before serving.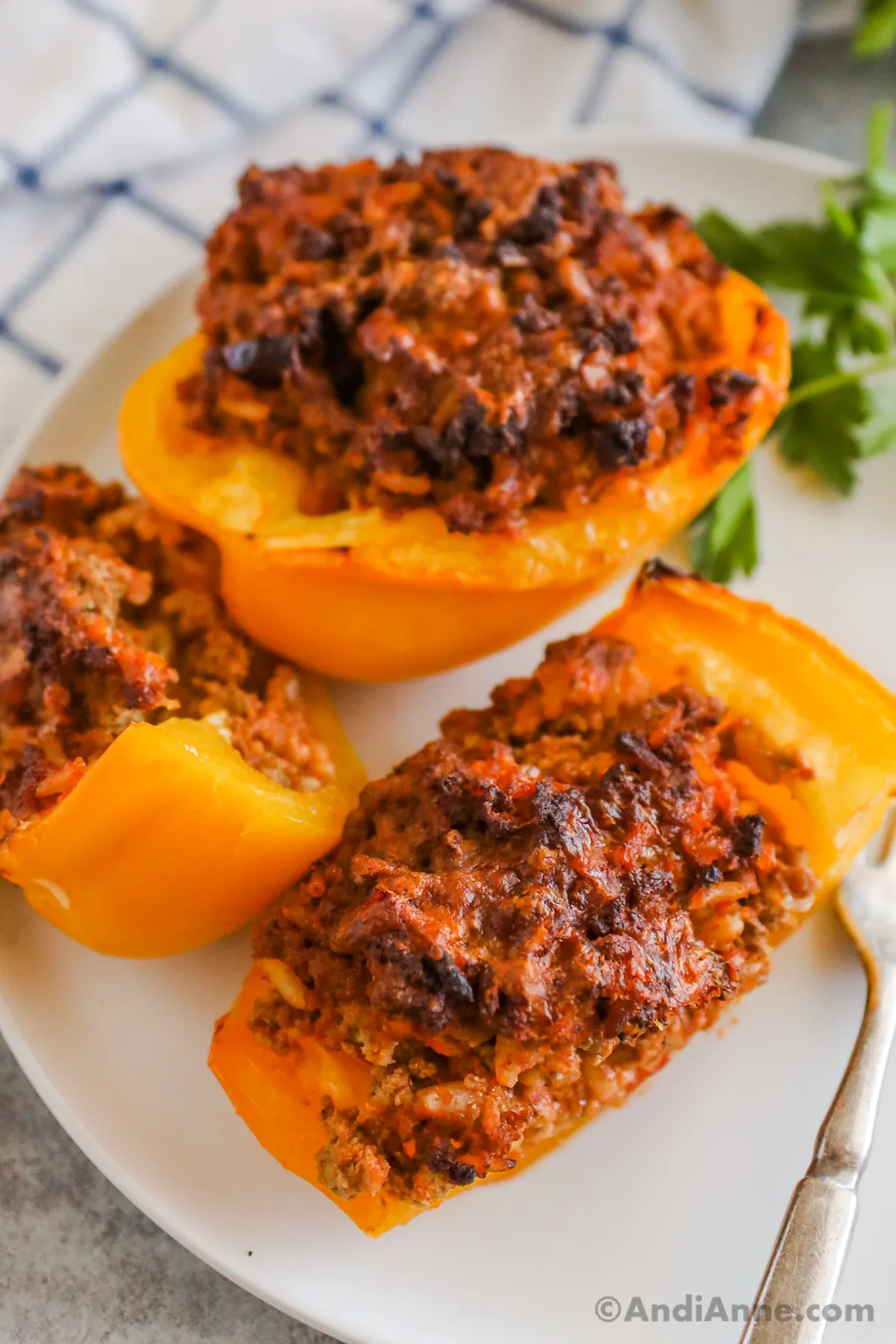 Can I Store Stuffed Bell Pepper Leftovers?
This can also be frozen for up to 3 months (for best freshness) but the bell peppers may lose a bit of their firm texture.
Storing in the Fridge
The uncooked stuffed peppers will have a "best-before" date on the label of the package and can be stored in the fridge until that date.
If you plan to eat the leftovers within a few days, store them in an airtight container in the fridge for up to 3-4 days. Just let the peppers cool down before storing them in the fridge.
When reheating, you can use the microwave or bake in the oven. Reheat in the microwave for 1-2 minutes, or until heated through, on a microwave-safe plate (not in the aluminum foil container that it came in).
If using your oven, preheat it to 350°F and bake the peppers for 15-20 minutes or until they are heated through.
Storing in the Freezer
Wrap each pepper individually in plastic wrap or aluminum foil and then place them in a freezer-safe container or large freezer bag. Remove as much air as possible from the bag.
The frozen stuffed peppers can be stored for up to 3 months in the freezer.
When reheating, let them thaw in the fridge overnight and then reheat them in the oven at 350°F for 20-30 minutes or until they are heated through. You can also freeze the filling separately from the peppers if you prefer.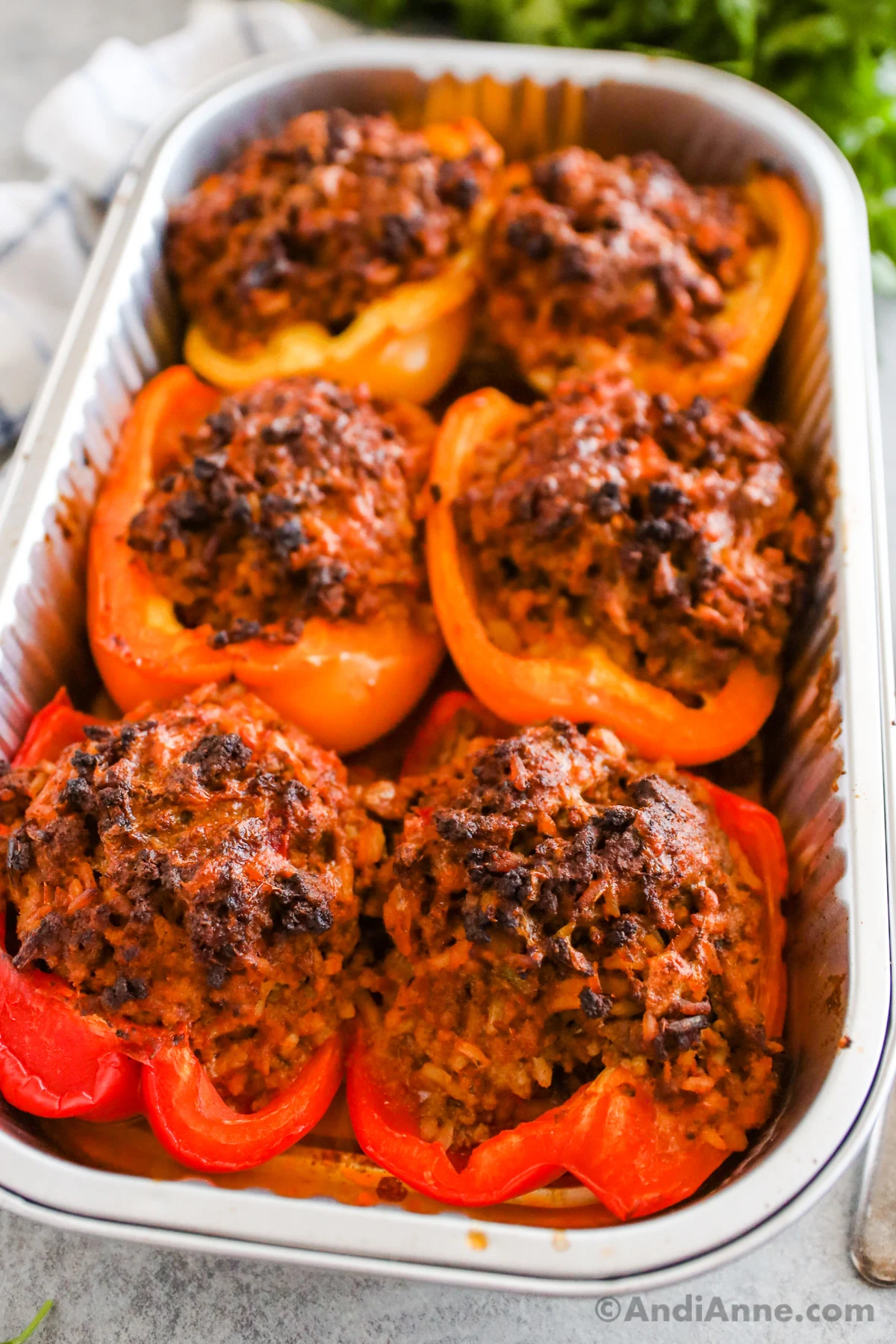 Nutrition Info
Unfortunately, Costco doesn't list the nutrition info on the side of the package. I'm not really sure why they don't do this, however, you can always request any nutritional facts through customer service at your local Costco. Here's the nutritional info that I received when I asked for it (this might vary at your location):
Each stuffed bell pepper contains approximately 280 calories, 15 grams of fat, 20 grams of carbohydrates, and 16 grams of protein. The peppers are high in sodium, with each pepper containing around 800 milligrams.
Nutrition info can vary depending on ingredients, preparation, and quantity served.
What To Serve With Costco Stuffed Peppers
When it comes to serving Costco stuffed bell peppers, you can choose to serve them on their own as a complete meal, or you can pair them with a side dish to add more variety and nutrition. Here are a few suggestions for what to serve with:
SALAD – Adding some green vegetables to your plate can provide some color and nutrition to your meal. Some great options include sautéed asparagus, roasted Brussels sprouts, kale, mixed greens, the Costco caesar salad or the Costco quinoa salad.
GARLIC BREAD – A warm and toasty garlic bread always tastes great with everything! Buy garlic bread from Costco or make your own by spreading garlic butter on slices of crusty bread and toasting them.
ROASTED VEGGIES – Roasted vegetables like carrots, broccoli, or Brussels sprouts can be chopped and drizzled with olive oil, salt and pepper. Add them to a baking sheet and bake alongside the stuffed peppers.
RICE OR QUINOA – A side of rice or quinoa can help to round out the meal and provide some extra fiber.
Frequently Asked Questions
Can I bake Costco stuffed peppers?
Yes, this is the recommended cooking method for this meal, however, these can also be microwaved.
Are the Costco stuffed bell peppers precooked?
The ground beef and rice filling are pre-cooked, but the bell peppers are raw. Cooking them in the oven will help to create tender bell peppers, warm the ground beef mixture, and melt the cheese.
How long does Costco stuffed peppers last?
The Costco stuffed bell peppers should be consumed within three to four days of purchase. If you have pre-made stuffed peppers and don't think you'll be able to eat them all in that time frame, consider freezing them for later. Cooked stuffed bell peppers can be refrigerated for up to 4 days.
Best temperature to cook Costco stuffed peppers
The Costco stuffed bell peppers come with cooking instructions on the packaging, but the font is quite small and can be hard to read. In general, you'll want to preheat your oven to 400°F, and bake for around 50-55 minutes covered with foil, or until the internal temperature reaches 165°F.
How long do you cook Costco stuffed peppers?
You can cook these for 50-55 minutes at 400°F. Be sure to cover the top of them with aluminum foil to prevent burning.
How do you heat up Costco stuffed peppers?
These can be baked in the oven at 400°F for 50-55 minutes in the foil container without the plastic lid. Be sure to cover with aluminum foil to prevent the tops from burning. You can also heat them in the microwave for 2-3 minutes until warmed through (be sure to use a microwave-safe plate and not the foil container it comes in).
Can you freeze Costco stuffed peppers?
Yes, you can freeze the Costco stuffed bell peppers. It's best to freeze them before cooking, let them thaw in the fridge overnight, and then bake them according to the instructions once you're ready to eat them.
Can you cook frozen stuffed peppers?
Yes, they will just have to be cooked longer and checked on occasionally. Use a meat thermometer to check when the internal temperature reaches 165°F.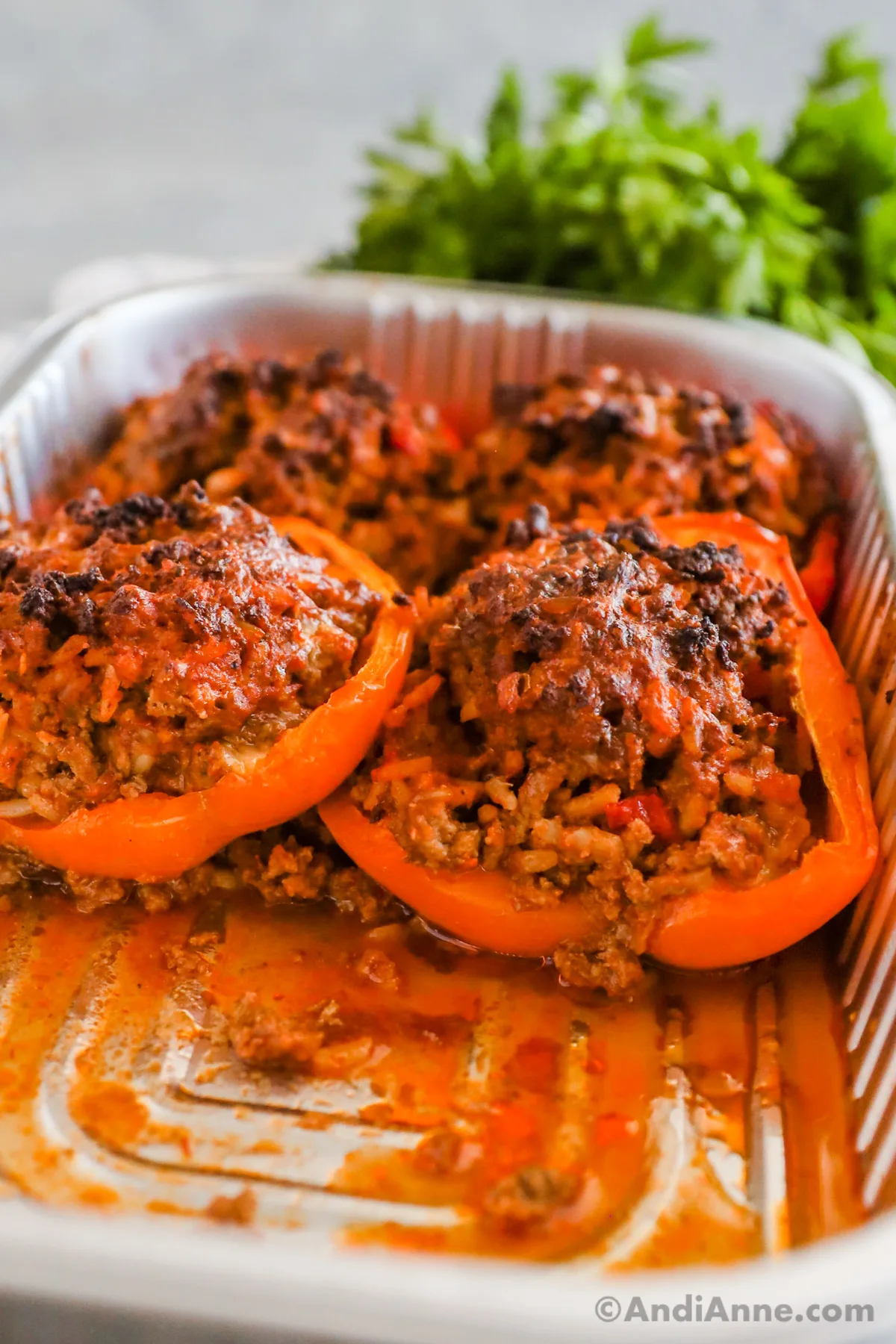 Conclusion
We gave these Costco stuffed peppers a flavor Rating of 7.5/10
After trying the Kirkland Signature stuffed peppers from Costco, I have to say that I was pleasantly surprised. Overall, we liked this meal! We thought there was a lot of ground beef, the peppers were crisp and had great flavor, and the tomato sauce wasn't spicy. We felt that they were flavorful and filling, and the portions were generous.
One thing to keep in mind is that the stuffed peppers have a lot of ground beef in each one and can be a bit greasy, so they may not be the healthiest option out there. However, they are a great choice for a quick and easy meal when you don't have time to cook from scratch.
Overall, we would definitely buy these again (and we already have) for easy dinners, leftover lunches, and when we just don't feel like cooking.
Have you tried the Costco stuffed bell peppers What did you think of them? Let us know your thoughts in the comments!
More Costco Meal Reviews