Looking for a quick and easy salad recipe that is both healthy and delicious? Look no further than cucumber tomato salad! This refreshing salad is perfect for summer picnics, barbecues, or as a side dish for any meal.
To make this salad, you'll combine sliced cucumbers, chopped tomatoes, red onion and parsley in a bowl. Drizzle with a dressing made from olive oil and red wine vinegar. Season with salt and pepper to taste. Toss everything together and serve immediately. It's that easy!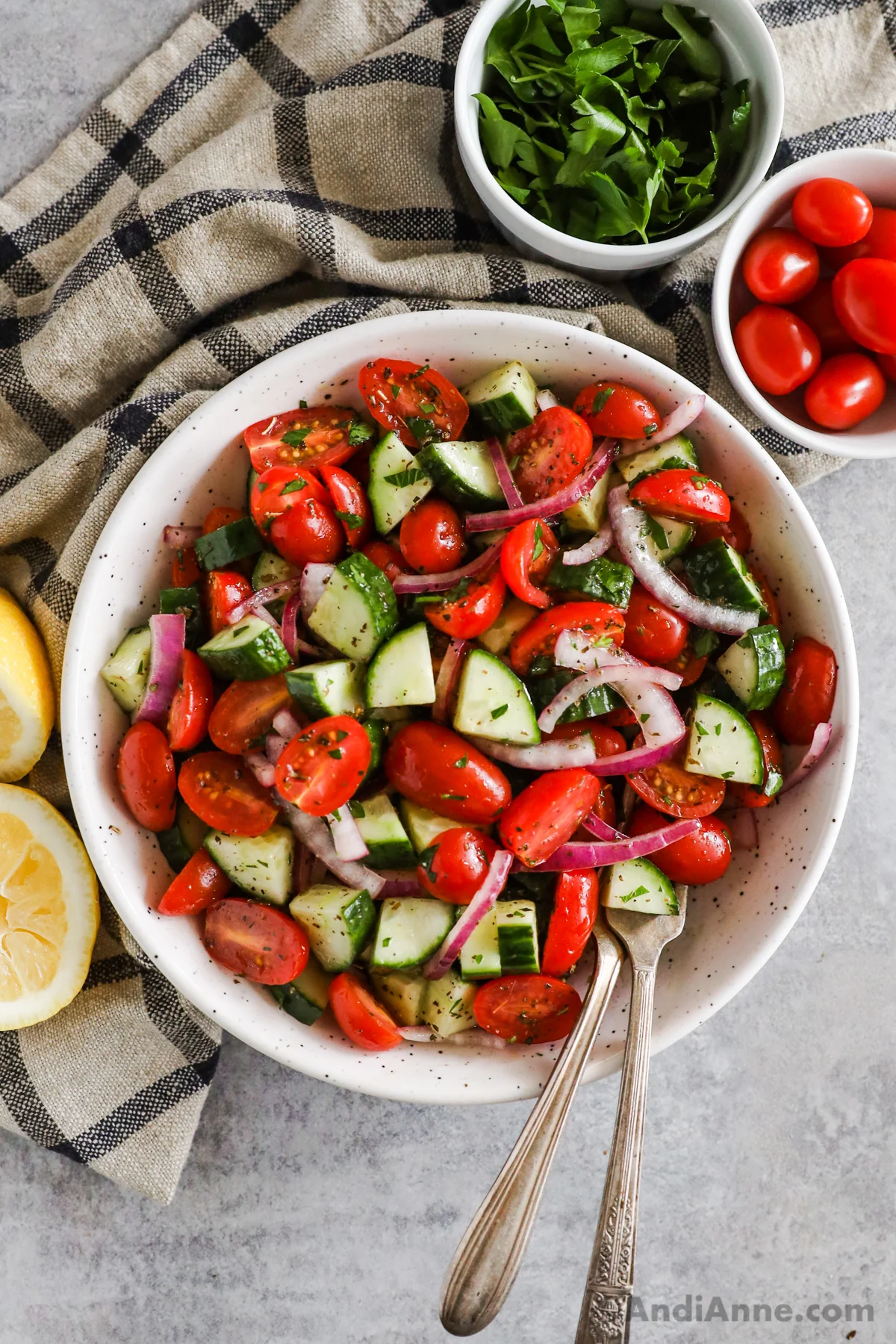 Cucumber and Tomato Salad Recipe
This cucumber tomato onion salad is perfect for those hot summer days when you want something light and refreshing.
Here are some tips to keep in mind when making this salad:
Use ripe and juicy tomatoes for the best flavor.
Cut the vegetables into bite-sized pieces to make it easier to eat.
Serve the salad chilled to enhance the flavors.
One of the best things about this delicious salad is that it's made with fresh produce. You'll need juicy tomatoes and crisp cucumbers to make the perfect salad.
To add some extra flavor to your salad, consider adding more fresh herbs. While I do add fresh parsley, you can also try adding fresh basil, fresh dill or chopped cilantro. These are all great options that will give your salad a burst of flavor.
Overall, tomato cucumber salad is a delicious and healthy option that's perfect for any occasion. Whether you're looking for a quick and easy lunch or a side dish for your next BBQ, this salad will delight you with fresh flavors.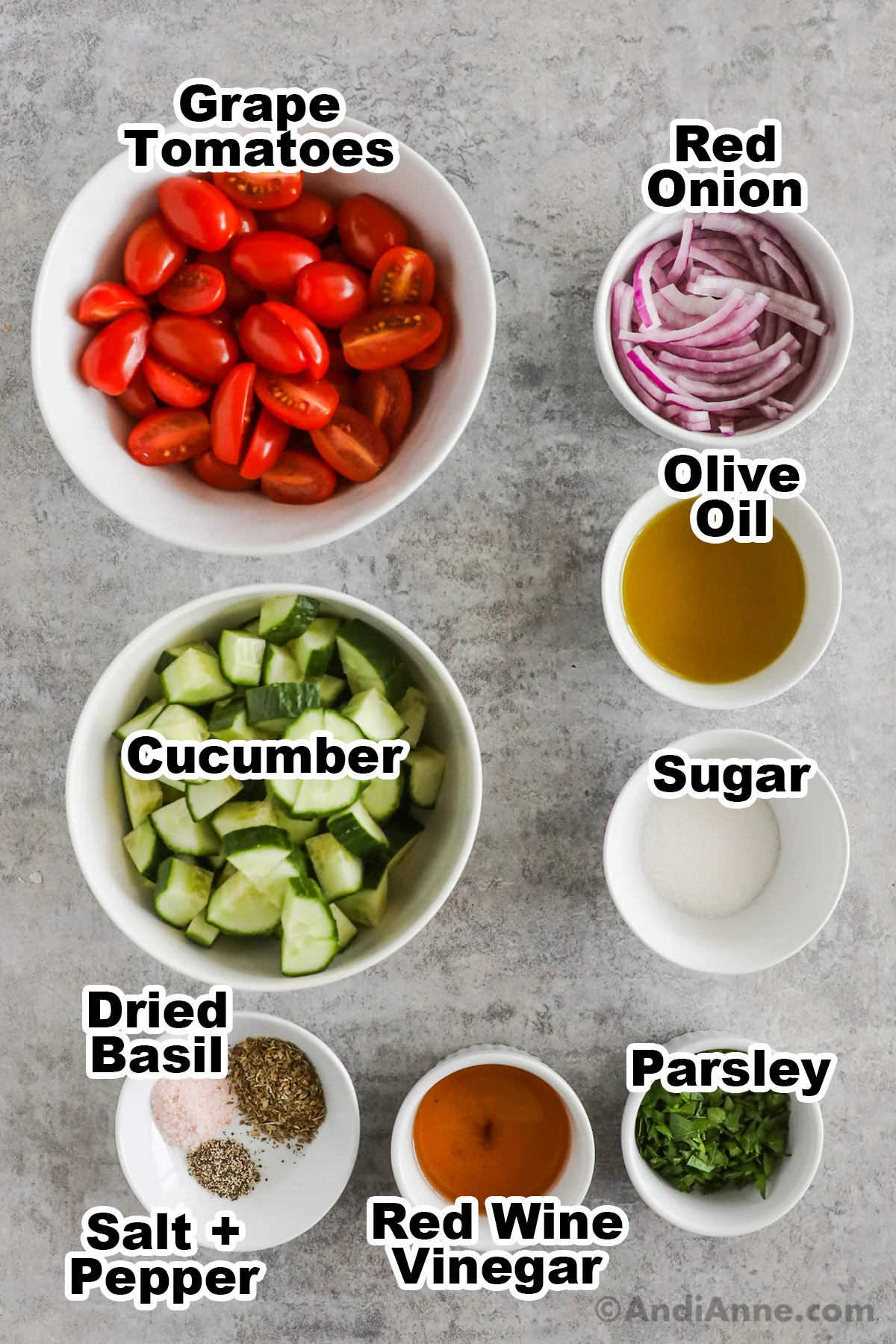 Recipe Ingredients
This salad is made with the simplest ingredients. Here's a list of what you'll need. You can also find the full ingredients list in the recipe card at the bottom of this post.
CUCUMBER – Fresh cucumber adds the perfect refreshing crunch. I recommend using English cucumbers or persian cucumbers. These have a thin skin so there's no need to peel cucumbers. Regular cucumber will have a thicker skin and more seeds. If you don't want to use cucumbers, you can substitute with chopped zucchini or even celery.
RIPE TOMATOES – Juicy tomatoes are slightly sweet and absorb the salad dressing flavors. I used grape tomatoes, but you can use any style of tomato that you'd like including cherry tomatoes. Just remove the seeds from Roma tomatoes or beefsteak tomatoes.
RED ONIONS – Adds a nice crunch and a bit of tang. You can also use sweet onion or chopped green onion. If you don't like onions, you can skip them.
PARSLEY – This herb adds a fresh and bright flavor to the salad. Other herbs that can be added include basil and dill.
OLIVE OIL – Extra virgin olive oil is used to make the dressing for the salad. You can swap out with any neutral flavored oil including avocado oil or vegetable oil.
RED WINE VINEGAR – This adds a tangy and slightly sweet flavor to the dressing. You can also use white wine vinegar, lemon juice or apple cider vinegar instead. Balsamic vinegar could also work here.
WHITE SUGAR – This is used to balance out the acidity in the dressing. You can use honey or maple syrup as a substitute.
DRIED BASIL – This adds a hint of sweetness and a subtle flavor to the salad. If you don't have dried basil, you can use fresh basil or dried oregano.
SALT AND BLACK PEPPER – This is used to season the salad to your taste.
Salad Toppings
FETA CHEESE – Add some crumbled feta cheese, fresh mozzarella balls or goat cheese for salt and tanginess.
CHOPPED NUTS – Add some crunch by adding toasted nuts or seeds.
FRESH HERBS – Fresh basil leaves, fresh dill, cilantro and any other favorites you have!
GRILLED CHICKEN – Add more protein with our easy air fryer chicken breasts.
OLIVES – Try sliced kalamata olives or black olives.
MORE VEGGIES – Try chopped bell peppers, carrots, zucchini, or celery.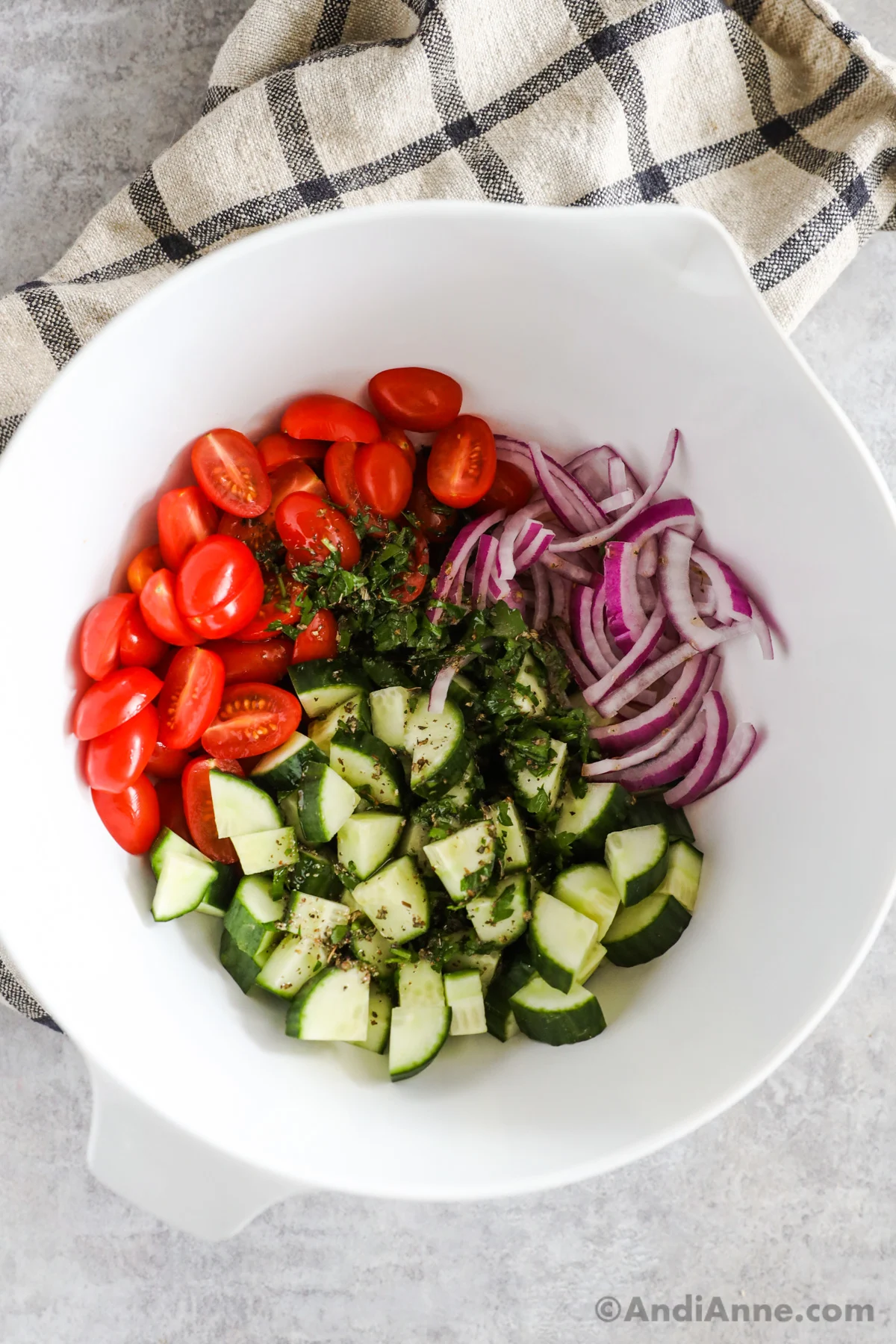 How To Make Cucumber Tomato Salad
Making a delicious cucumber tomato salad is easy and requires just a few simple steps. Follow the instructions below to create a refreshing and healthy salad that is perfect for any occasion.
WASH AND CHOP INGREDIENTS – Start by washing your vegetables thoroughly. Slice one English cucumber into 1/2″ rounds, then slice into quarters. Chop 3 medium tomatoes into bite-sized pieces. Chop 1/2 cup of red onion, and roughly chop some fresh parsley.
MAKE SALAD DRESSING – In a small bowl, whisk together 1/4 cup olive oil, 3 tablespoons red wine vinegar, 1 tablespoon granulated sugar, 1 teaspoon dried basil, salt and pepper to taste. You can also add some fresh herbs like basil or parsley for extra flavor.
TOSS EVERYTHING TOGETHER – In a large bowl, combine the chopped vegetables and the salad dressing. Toss gently until the vegetables are evenly coated with the dressing.
CHILL IN FRIDGE – Cover the bowl with plastic wrap and chill in the fridge for 1-2 hours to allow the flavors to meld together. When ready to serve, give the salad a quick toss and enjoy!
That's it! With just a few simple steps, you can make a delicious cucumber tomato salad that is the perfect summer side dish.
Storing Leftovers
After enjoying your delicious cucumber tomato salad, you may find yourself with some leftovers. Don't let them go to waste! Properly storing your leftovers will ensure that they stay fresh and tasty for the next day.
The best way to store your leftover salad is in an airtight container. This will prevent any air from getting in and causing the salad to spoil or become soggy.
When storing your salad, keep it chilled in the refrigerator. Leftover cucumber tomato salad should be consumed within 3-4 days for best quality.
If you have a large amount of leftover salad, consider dividing it into smaller portions before storing it. This will make it easier to grab a quick snack or side dish without having to dig through a large container.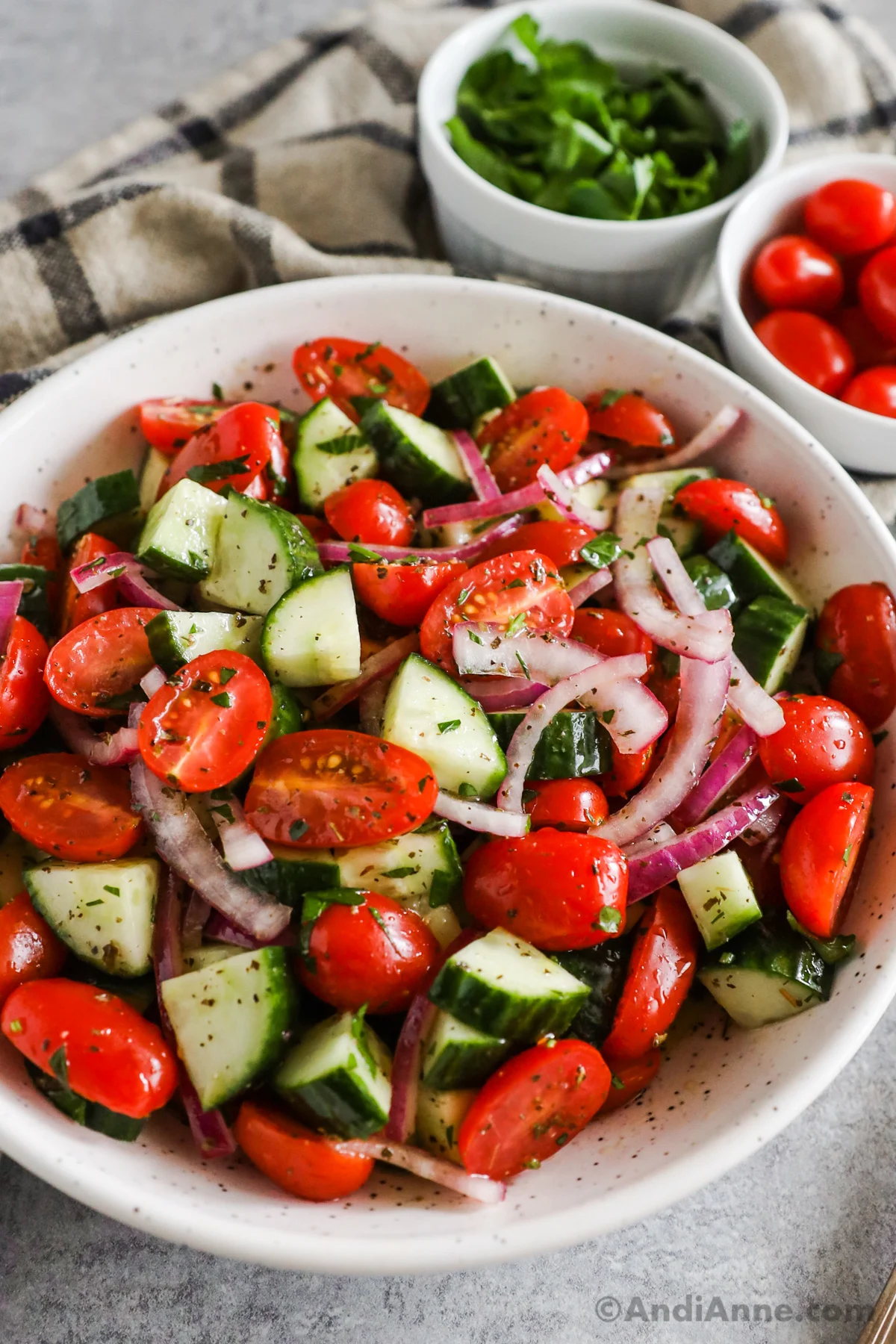 RECIPE TIPS
Here are some tips to help you make the perfect cucumber tomato salad:
SOAK AND CHILL – To allow the vegetables to absorb the flavors of the dressing, make salad ahead of time to soak the cucumber and tomato pieces in the dressing for at least an hour in the fridge before serving.
BITE-SIZE PIECES – Chop the vegetables into bite-size pieces. This will make the salad easier to eat and allow the flavors to blend together evenly.
TOSS BEFORE SERVING – Toss the salad just before serving. This will ensure that the dressing is evenly distributed and that all of the vegetables are coated in a delicious flavor.
KEEP CHILLED – Keep the salad chilled in the fridge until you're ready to serve. This will help to keep the vegetables crisp and fresh.
Frequently Asked Questions
What dressing goes well with a cucumber tomato salad?
When it comes to dressing for a cucumber tomato salad, you have a lot of options. A simple vinaigrette made with olive oil, red wine vinegar, Dijon mustard, and honey is a classic choice.
If you prefer creamy dressings, try a lemon vinaigrette, ranch or Caesar dressing. You can also go for a Greek-style dressing made with lemon juice, olive oil, and herbs like oregano and dill.
Is it better to chop or slice cucumbers and tomatoes for a salad?
It really comes down to personal preference and the texture you're looking for. Chopped cucumbers and tomatoes will give you a chunkier salad with more texture and this may also absorb the dressing flavors better.
Sliced cucumbers and tomatoes will involve a fork and knife to eat and the dressing may not be absorbed as well. If you're adding other ingredients like onions or peppers, chopping may be the better choice to ensure everything is evenly distributed.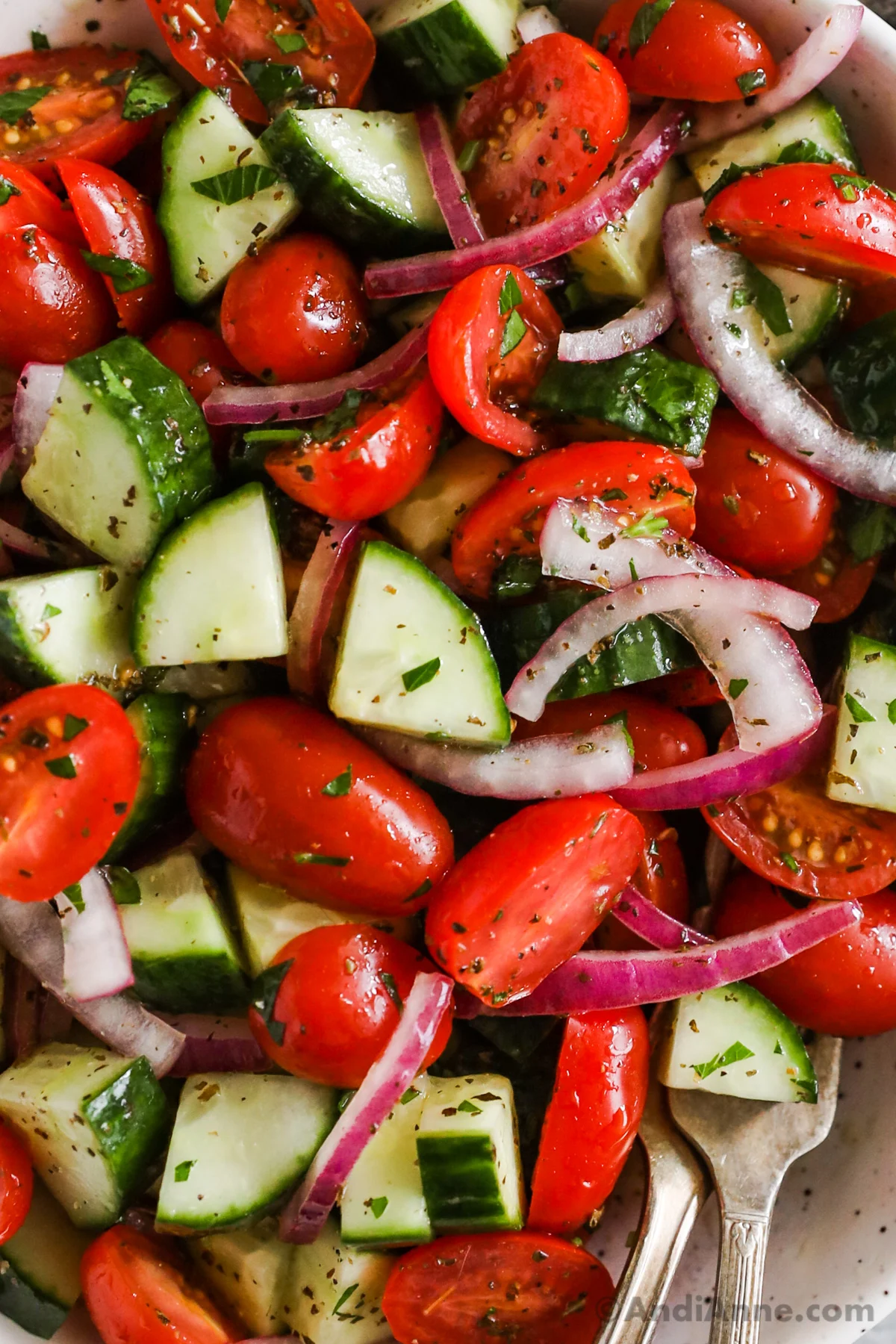 Remember, the key to making a great cucumber tomato salad is using fresh and high-quality ingredients. You can easily customize the salad by adding your favorite herbs, spices, or salad dressings.
I hope you enjoy this recipe and share it with your friends and family. It's a perfect side dish for any occasion, as it's s not only easy to prepare but also healthy and refreshing.
More Salad Recipes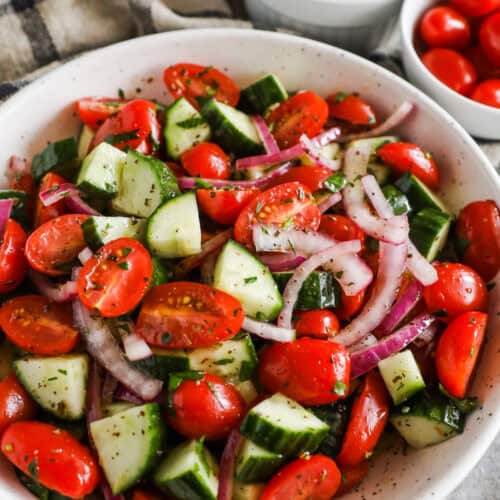 Cucumber Tomato Salad
Cucumber tomato salad is light and refreshing with the perfect dressing recipe. So easy and delicious to feed a crowd with.
Save Recipe!
Saved!
Pin This
Print It
Ingredients
For The Salad:
1

English cucumber

-

sliced into rounds then quartered

2

cups

grape tomatoes

-

sliced in half

½

cup

red onion

-

sliced into thin strips

2

Tbsp

chopped parsley
Instructions
Wash and chop the vegetables. Slice the cucumber into rounds then slice each one into quarters. Slice the red onion into thin strips. Slice the grape tomatoes in half.

Mix together the salad dressing ingredients in a small bowl: olive oil, red wine vinegar, granulated sugar, dried basil, salt and basil.

Add the chopped vegetables to a large bowl. Drizzle the salad dressing overtop. Toss everything together.

Cover with a lid or plastic wrap and place in the fridge for 2 hours to let vegetables absorb the dressing flavors. Stir together just before serving.
Nutrition
Calories:
167
kcal
|
Carbohydrates:
11
g
|
Protein:
1
g
|
Fat:
14
g
|
Saturated Fat:
2
g
|
Polyunsaturated Fat:
2
g
|
Monounsaturated Fat:
10
g
|
Sodium:
299
mg
|
Potassium:
340
mg
|
Fiber:
2
g
|
Sugar:
7
g
|
Vitamin A:
871
IU
|
Vitamin C:
17
mg
|
Calcium:
34
mg
|
Iron:
1
mg